Chocolate Oreo Cookie Ice Cream Cake
What better treat is there than ice cream, especially in the hot months of the summer or if you live in the Caribbean - basically anytime? Who doesn't love ice-cream with a bit of cake? Truthfully, that would be me. The only thing I mix with ice cream is pie and maybe brownies if they are super gooey and chewy. For me cake is a stand alone, but not for my dad and my husband - who combined, have the sweetest teeth I know and the reason I made this ice cream cake. They both have an evening ice cream eating ritual. Either they will go out and grab some or have some at home. They are so bad for each other. They know they shouldn't and yet they can't stop themselves either.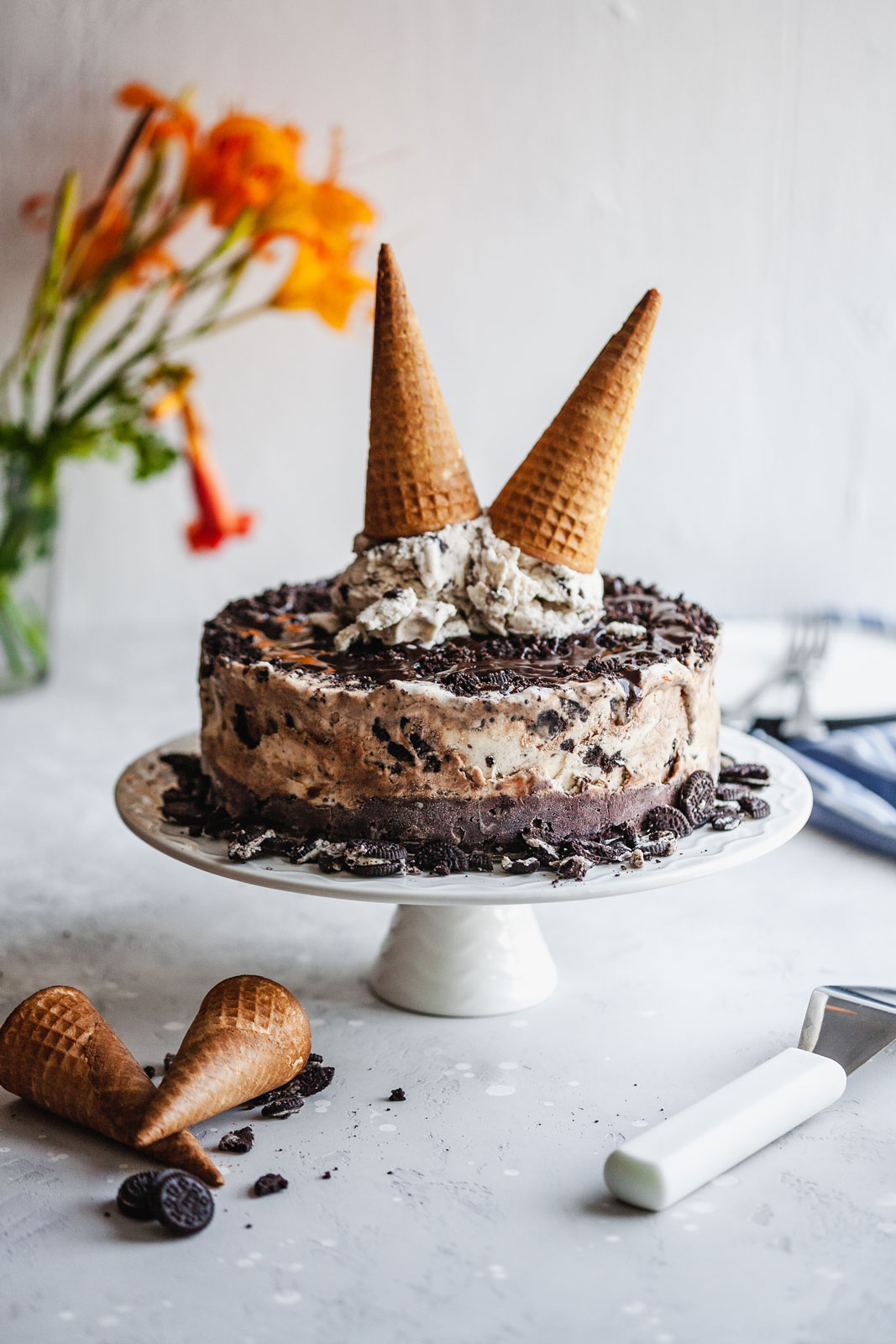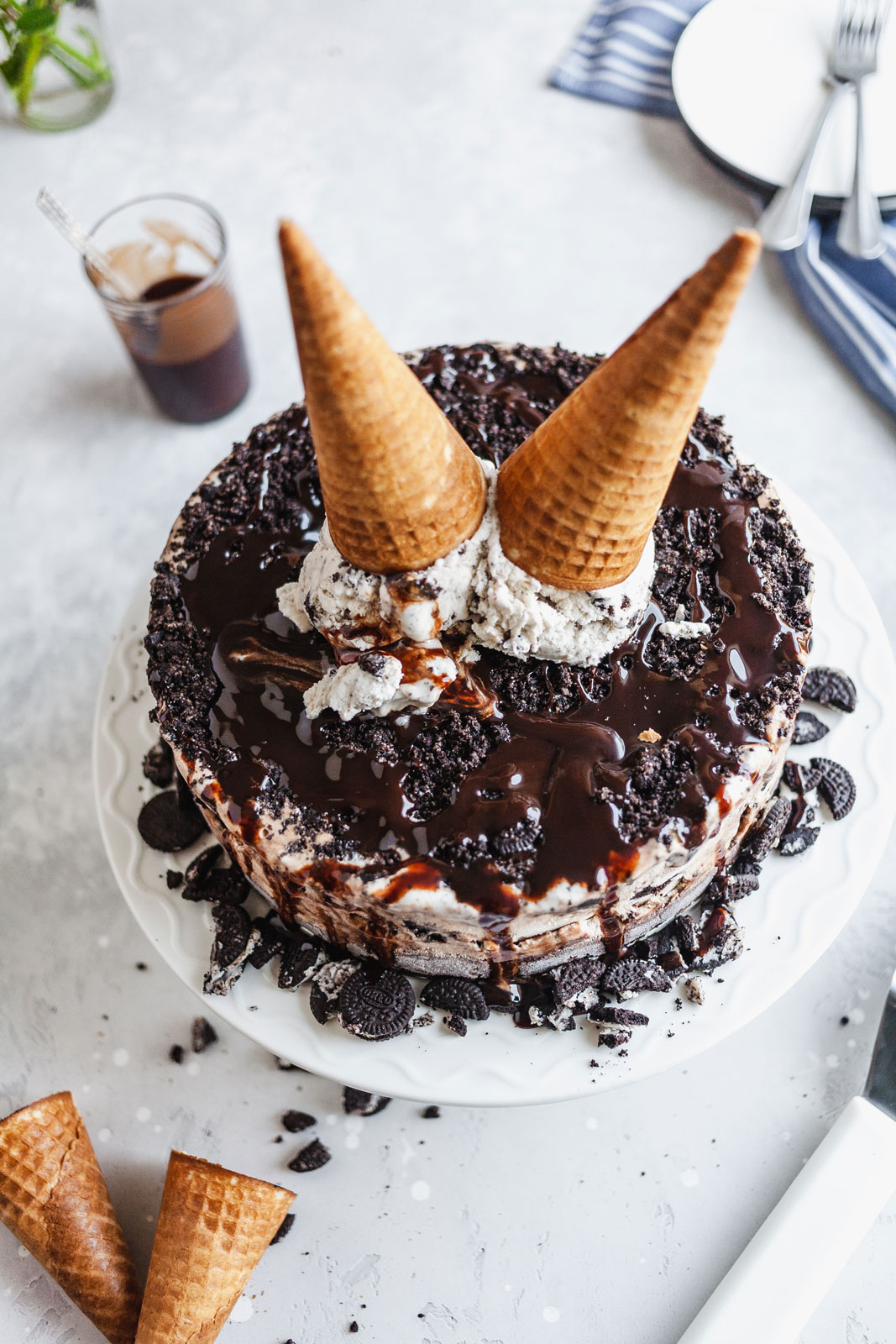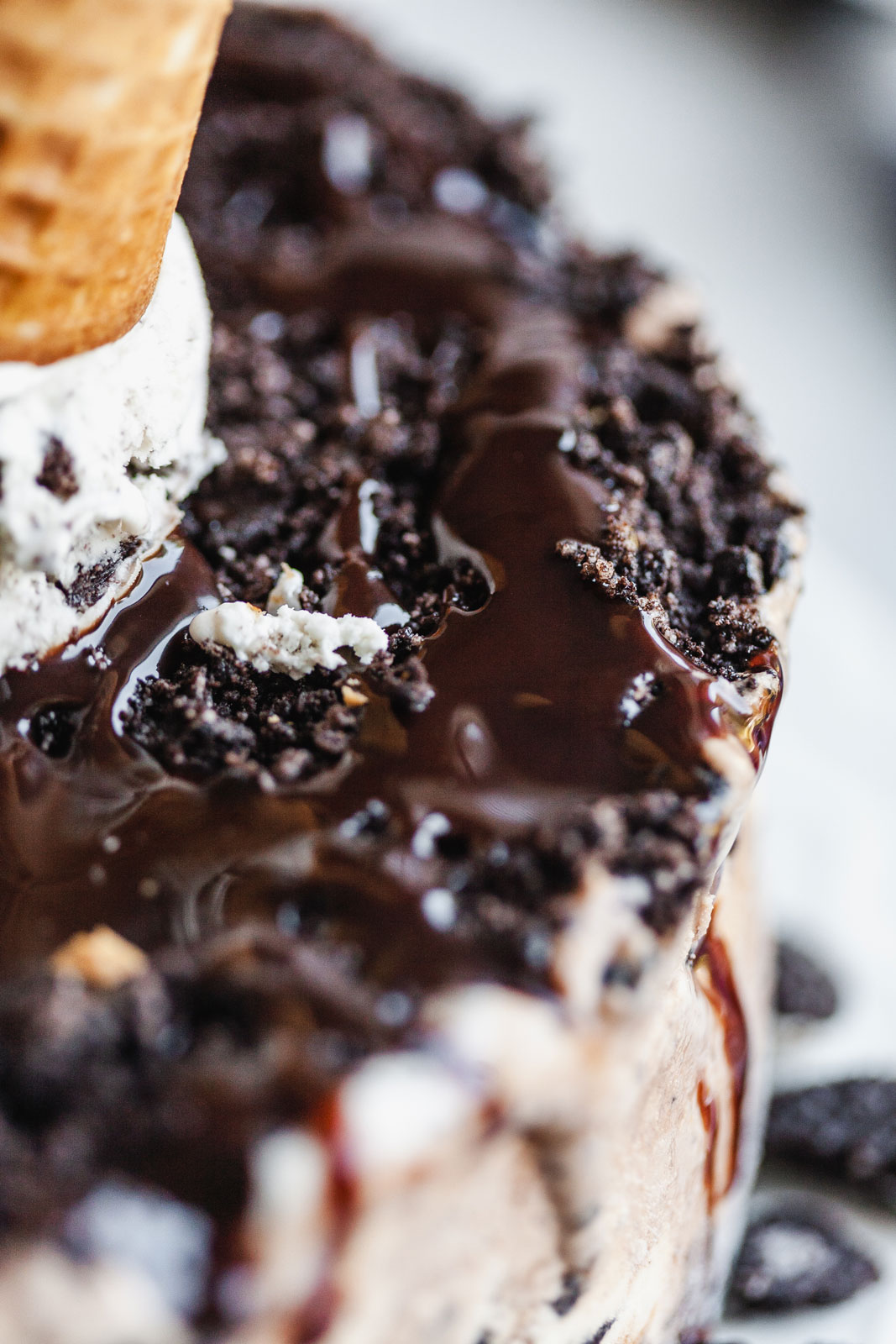 My parents had their anniversary coming up and I was trying to think of something special to make my dad in particular, as he has had a few rough months and thought ice cream cake would be the best option. He kept asking for cheesecake but I said I would save that one for later. I think he was happy I went with the ice cream cake and so was my husband who was rooting for that option right from the start.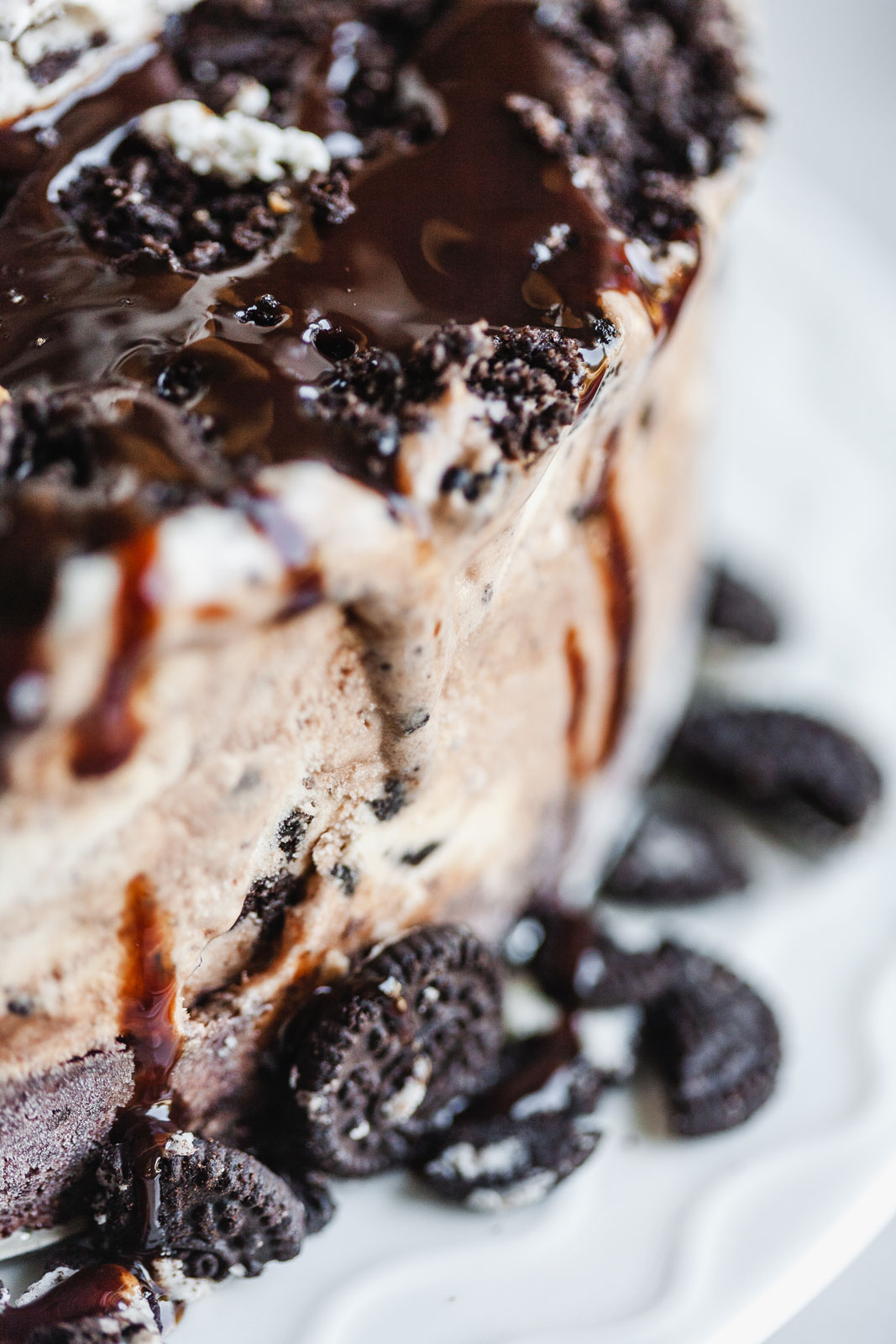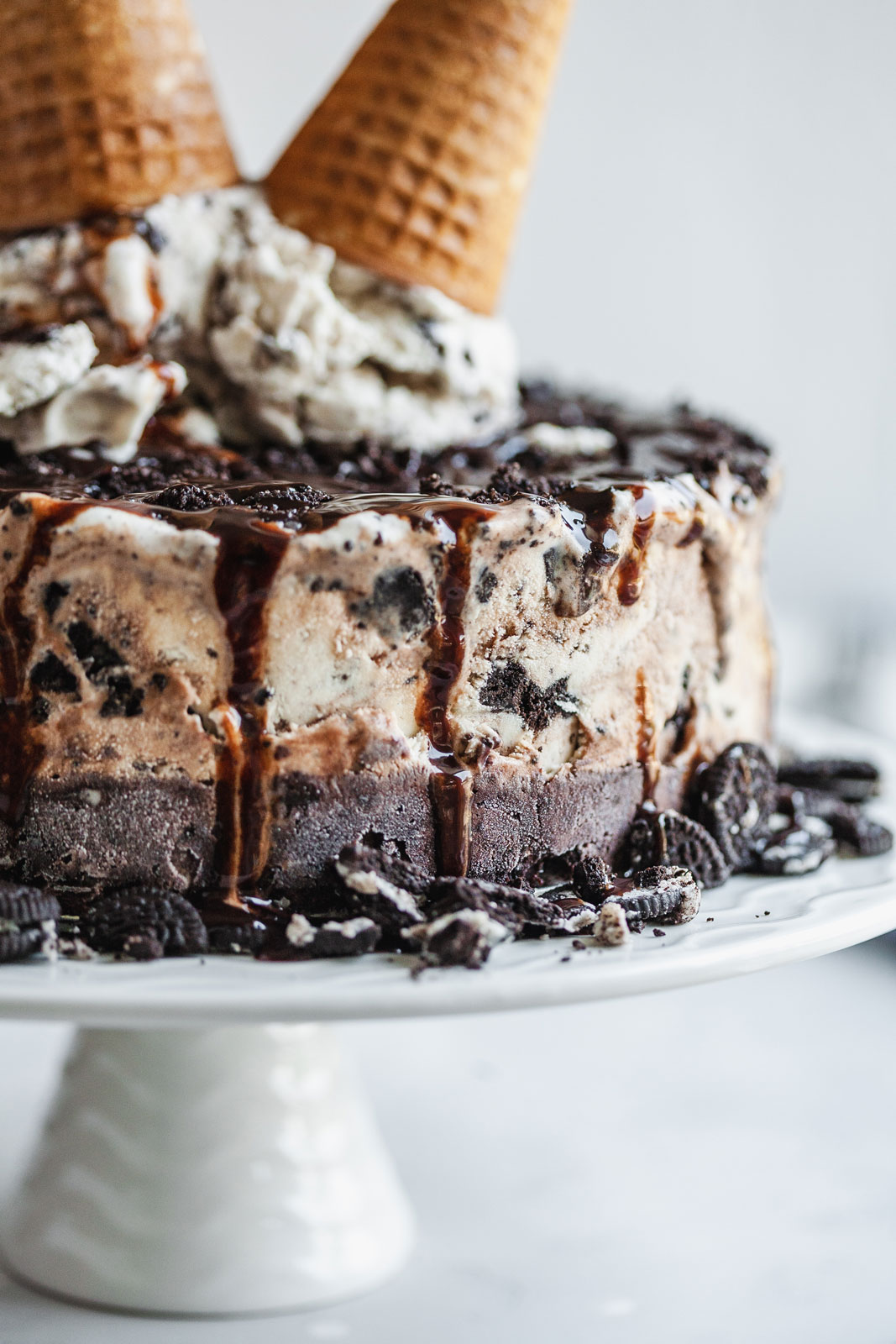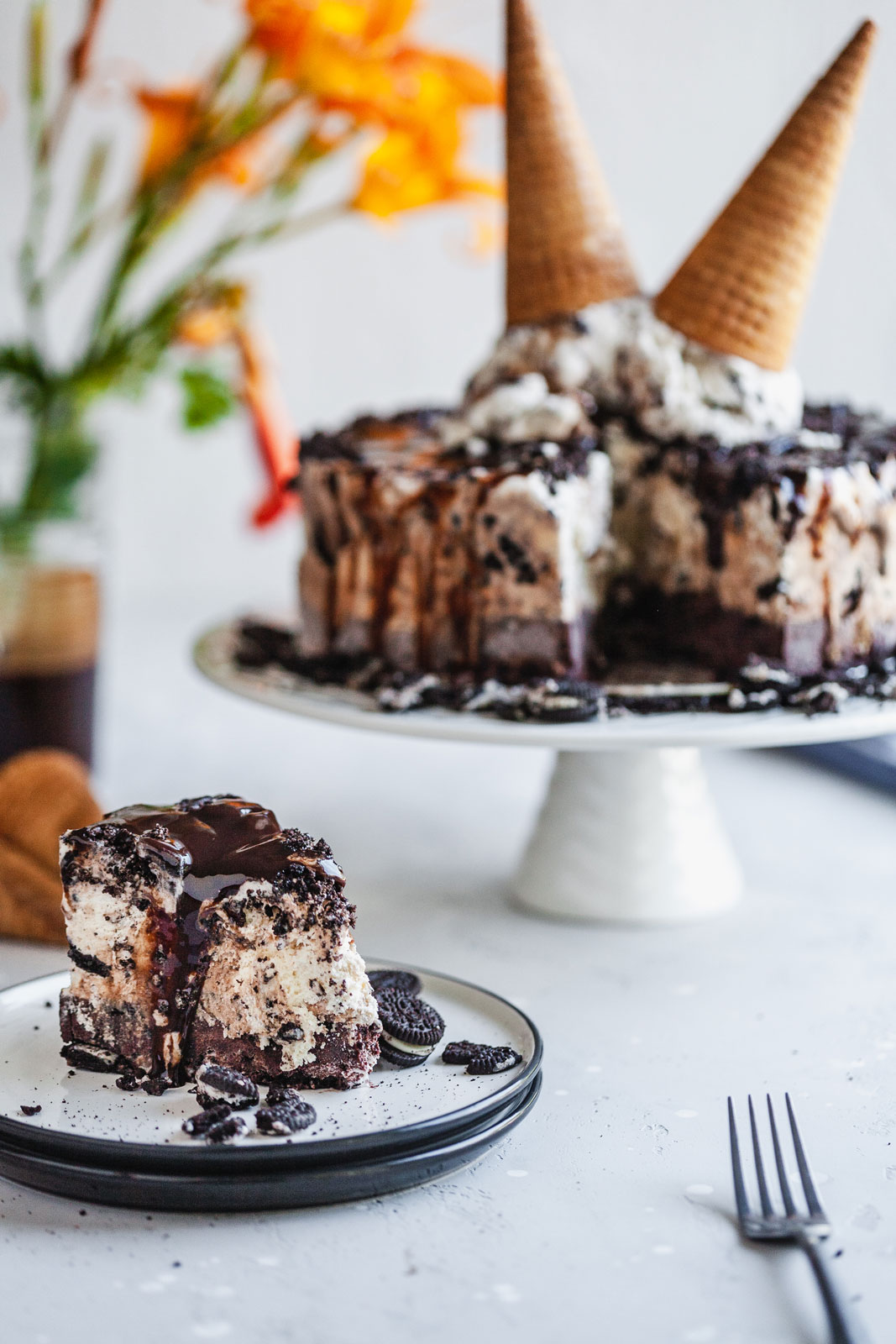 I wanted to do a pretty basic one and I know my dad loves cookies and cream ice cream so this flavour of cake was pretty much the best option. This ice cream cake is incredibly easy to make. I have added the options for making portions of it from scratch but you also have the option of store bought for some of the ingredients too. I made my go to chocolate cake which is super simple to make. I had made it ahead of time and had it ready for when I wanted to put the ice cream cake together and it was fabulous. Using a plain store bought one works just fine as well, so if your tight for time or just don't feel like baking, definitely do store bought. This was much cheaper to make than to buy at any of the ice cream shops and it's way more special when you make it yourself. It was thoroughly enjoyed by the whole family.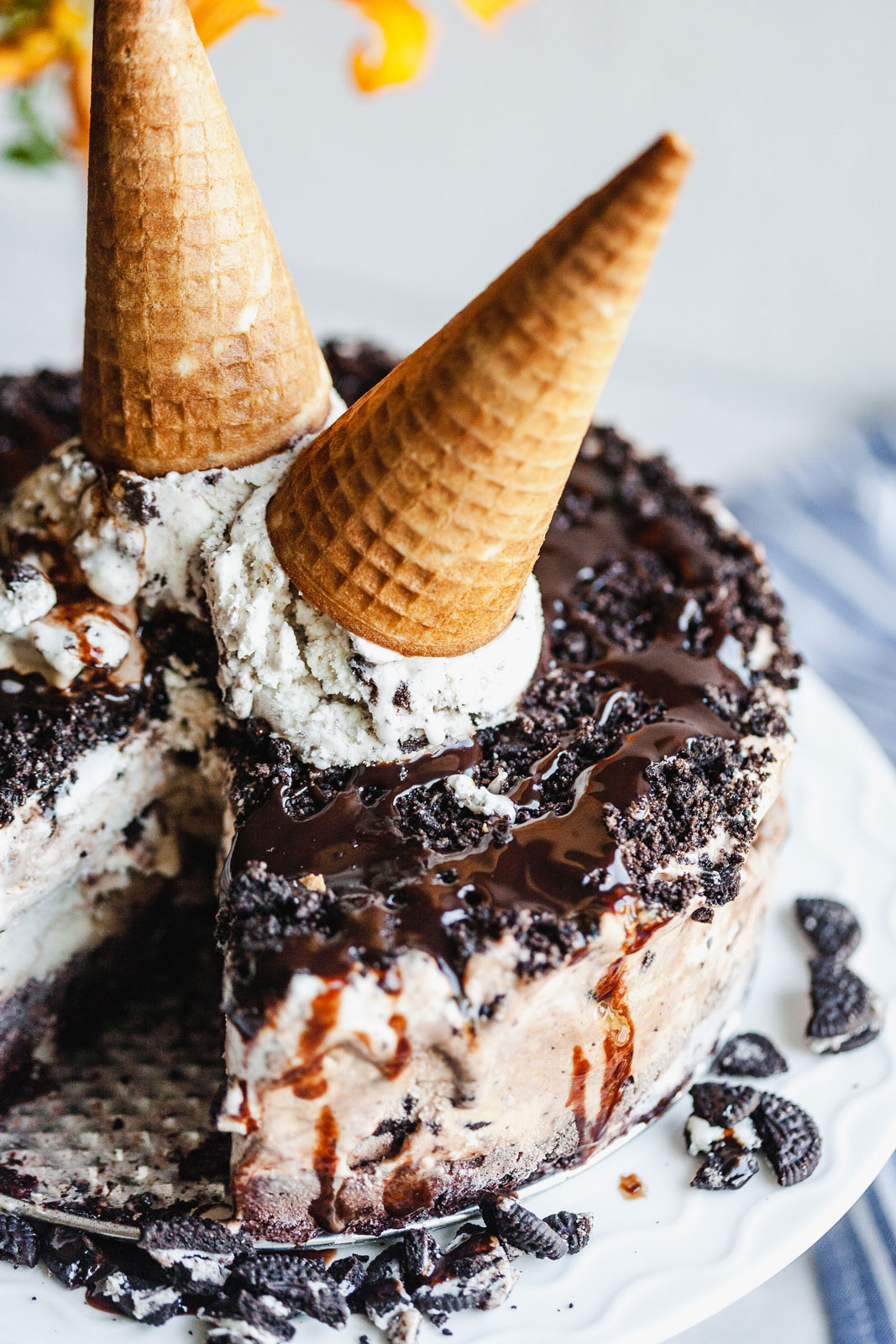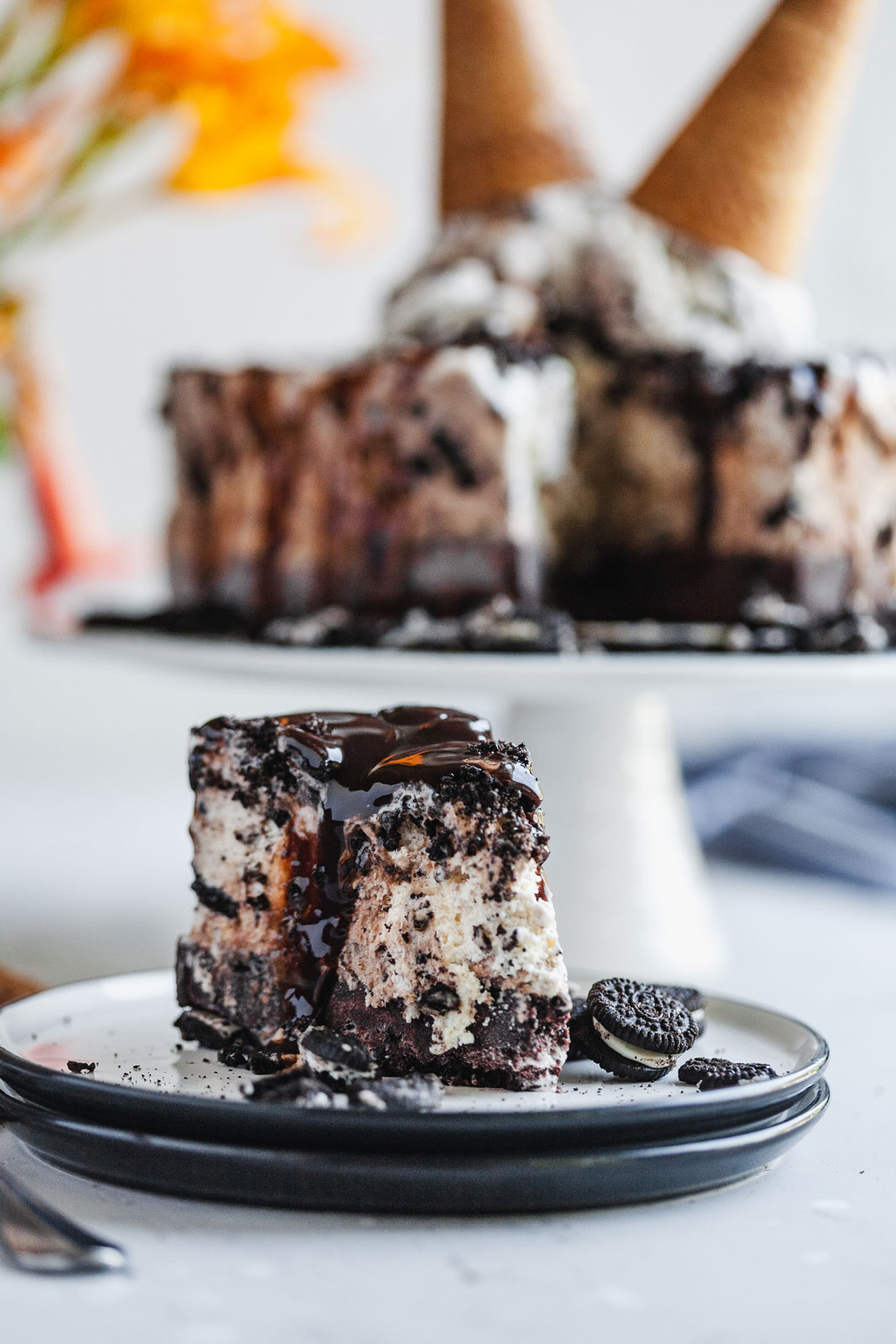 It took very little effort to decorate as well. Chocolate ganache or even extra sauce is the perfect garnish along with more of the cookies. Some people love to add a layer or design the cake with prepared whip cream or homemade whip and that is completely optional. You can also sub out the Oreos for your fav candy bar as well. I may make it again with Kit Kat! I think it will taste amazing with some Ferrero Rocher too. I will experiment and let you guys know how it goes. In the meantime this is definitely a keeper and has already been requested for other occasions!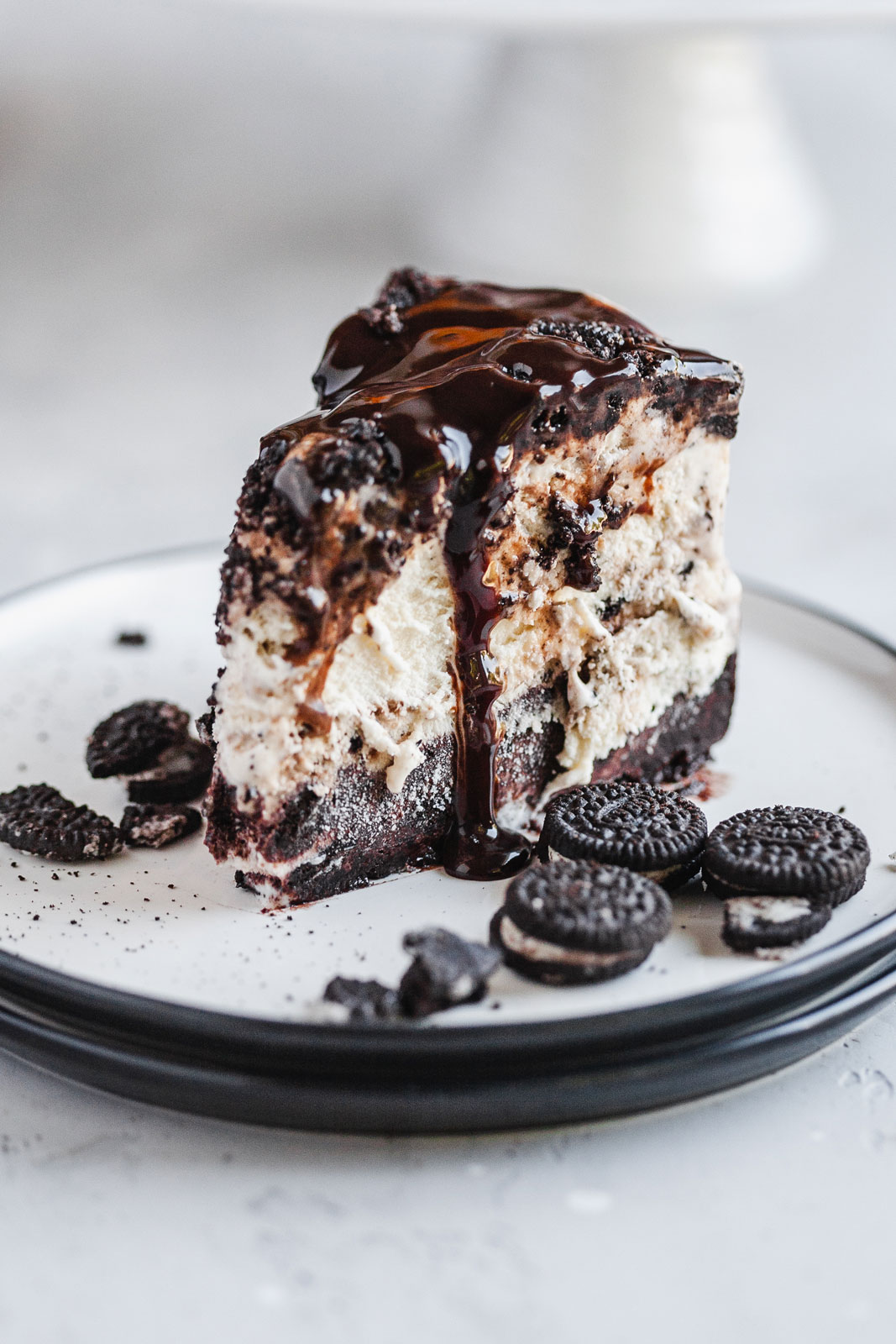 This Oreo Brookie Ice Cream Cake is made with layers of fudgy brownie, chocolate chip cookie ice cream, chocolate ganache and Oreo ice cream. If you like this icy treat you will love these too:
Recipe
Prep Time: 20-30 mins
Bake Time: 30-35 min if baking your own cake and not using store bought
4-12 hours for chilling
Ingredients
1 (13-ounce) package of Oreos or chocolate sandwich cookies, plus additional to garnish

16 ounces ready made chocolate cake, such as a store-bought chocolate pound or Bundt cake, boxed brownie mix, or make your own using my simple recipe below (I used about ¾ of the cake below)

2 quarts or approx 8 cups vanilla ice cream, very soft

1 cup chocolate sauce, any store bought is fine or homemade if you prefer. My homemade recipe is simple and delicious

4 ounces dark chocolate

1 tablespoon butter
Directions
Prepare PAN
Prepare a 9-10-inch springform pan by greasing lightly with butter or baking spray.
Chop and divide OREOS
Roughly chop or crumble the Oreo cookies into bite-sized pieces, and divide into three parts.
For the CAKE layer
In a large bowl crumble the cake and stir in about ⅓ of the crumbled oreo cookies.
Scoop in about ⅔ of a quart (just over 2.5 cups) of very soft vanilla ice cream, and gently stir until the cake and ice cream are well-combined.
Press this mixture evenly into the bottom of the springform pan to form your ice cream cake base.
For the ICE CREAM layer
In a separate medium sized bowl, mix in the the rest 1⅓ quarts vanilla ice cream with another ⅓ of the crumbled cookies, and pour or swirl in about ½ cup of the chocolate sauce.
Press this on top of the cake mixture in the springform pan.
For the TOP COOKIE layer
Press the remaining cookies into the top of the cake and drizzle the remaining sauce over top, swirling it and pressing it in so it doesn't run over the side of the pan.
Lightly cover the cake pan with foil or plastic wrap and freeze for at least 4 hours, ideally overnight.
For SERVING
When ready to serve, let the cake sit at room temperature for a couple of minutes to soften it slightly, and run a knife around the inside of the cake pan. Open the springform mold gently. Re-freeze the unmolded cake while you prepare the chocolate.
For chocolate GLAZE
Gently melt the chocolate with the butter over low heat in a small saucepan or in 30 second intervals in the microwave. When completely melted, drizzle over the ice cream cake and serve in big wedges with additional cookies to garnish.
For a homemade Vegan Chocolate Olive Oil Cake
Ingredients
1½ cups of all purpose flour
¾ cup unsweetened good quality cocoa powder
1½ tsps baking soda
½ tsp salt
¾ cup granulated sugar
¾ cup brown sugar or coconut sugar
½ cup olive oil or any neutral vegetable oil
1½ cups coffee or water (I always use coffee)
1 tbsp cider vinegar or white vinegar
Directions
Preheat oven to 350 ° F and grease line and grease again and lightly dust with a little cocoa powder a 8-9 inch round cake pan
In a large bowl whisk together the flour, baking soda, cocoa, salt and just the granulated sugar. Then add the brown sugar and olive oil and whisk well to combine. Add the coffee and vinegar and whisk until smooth Pour into prepared pan and bake for 30-35 minutes until the top is springy and a tester comes out mostly clean. A few sticky crumbs is OK.
Remove from oven and allow to cool in pan on a wire rack for ten minutes then loosen edges with a knife and flip it out onto a cooling rack to cool the rest of they way
If not frosting it the same day I wrap the cake in plastic wrap and store in the fridge until ready to frost
Recipe adapted from The Kitchn