Creamy Chana Masala
Chana Masala is a very flavorful and delicious chickpea curry (also called chole masala) from India. Chana means chickpea and masala refers to a blend of spices. This is a wonderfully easy version by Smitten Kitchen from her book Smitten Kitchen Keepers by Deb Perelman which I received as a gift from Appetite By Random House. It's everything you want in a chana masala - perfectly spiced chickpeas in a tomato based sauce/gravy. It is one of the most popular recipes around and I have been wanting get a great recipe on the blog for Chana Masala and I finally found one that is easy to make, full of flavor, uses simple pantry ingrendients with room to add extras if you have them on hand. It's a naturally gluten-free recipe and not lacking in depth of flavors and I'm so happy to be sharing Deb's recipe with you for a little taste of her new book. This is as Deb puts it a more 'tomato-forward Chana Masala and a lightly creamy take on makhani chole (butter chickpeas). The result is warming, spiced and lush' and I would have to agree! She created this recipe by combining a few, something I love doing to reach the best version possible and hers is the best easiest version of Chana Masala I have ever made!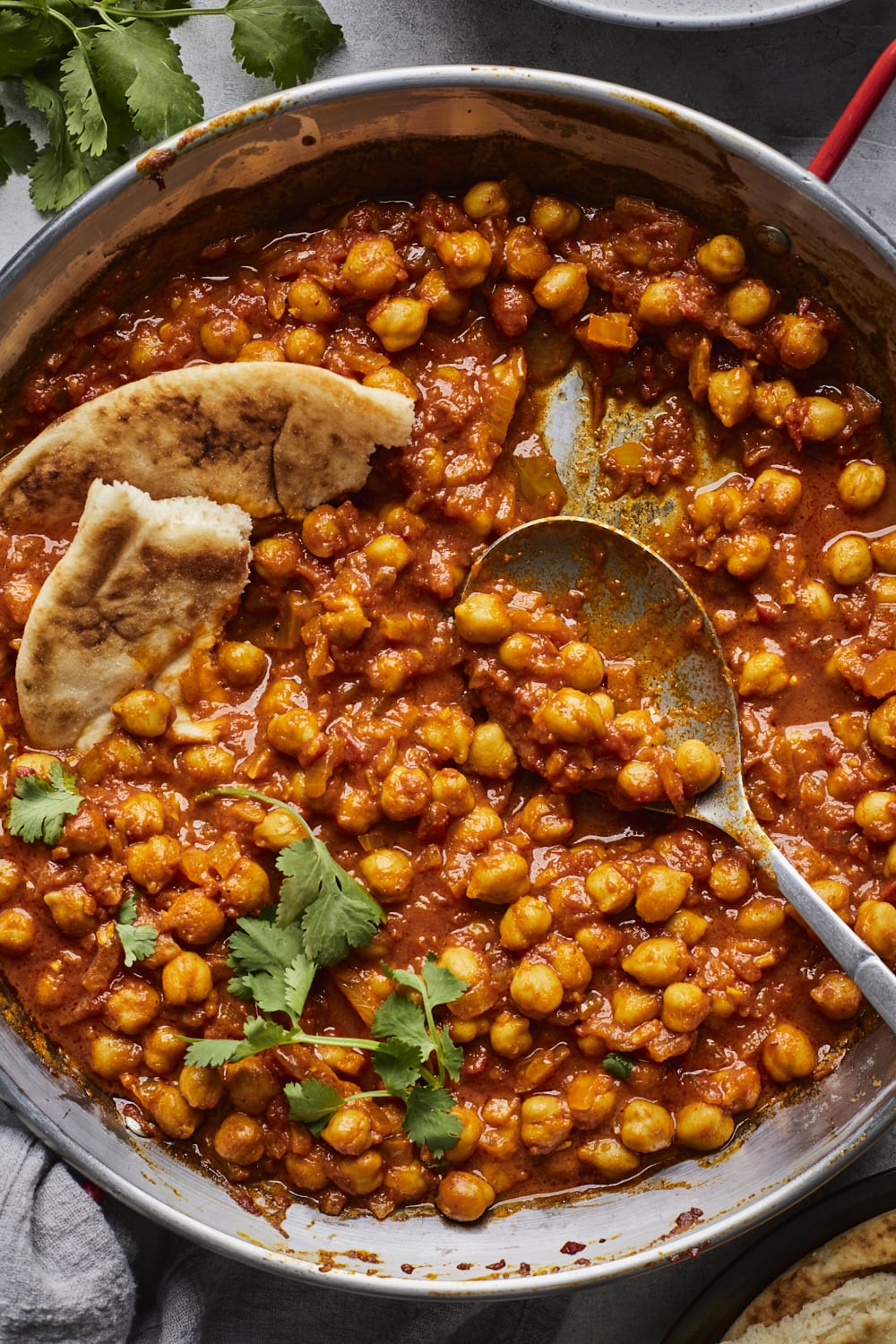 About Smitten Kitchen, Deb Perelman and The Book
Deb Perelman is one of the Internet's most successful food bloggers (I say most popular too) and author of two best selling cookbooks - just in case you didn't already know that. She is a self taught cook with a tiny kitchen, Creator of a homegrown brand and one of my all time fav bloggers. I think many feel that way about Deb because she is quite relatable and I feel she also knows and feels the sometimes pain of a cooking in a tiny kitchen - but still being able to pump out fabulous recipes that feed both her family and friends! This recipe comes from Deb's third book Smitten Kitchen Keepers: New Classics for Your Forever Files. Her blog is full of a collection of recipes worth repeating - her aim for it was to be her very own forever files which she could share with others. Also something I and many other bloggers share when starting out our blogs. The book takes this to the next level with 100 recipes that are rigorously tested with the aim to make shopping easier, preparations more practical and enjoyable and food more reliably delicious for the home cook. This comes not only from testing her recipes but also from the the feedback she receives on her blog from the millions of people who view it and share comments on it - over 350,000 comments on her blog. One of the reasons I love Deb's blog and recipes is because there is so much feedback from Deb in her Recipes posts - but also in her comments - sometimes I end up spending more time reading the comments than the actual post. I also appreciate that Deb always explains any changes and updates she has made and why and also different ways of making the recipe. Well this book is loaded with simple and delicious recipes from Breakfast straight to Sips & Snacks. I have tried so many of her recipes from this book already and her meatloaf is on repeat and a staple and I have many more to try. If you don't already have the first two books I recommend getting the trifecta! They are the perfect books for the home cook! Grab Debs' books here.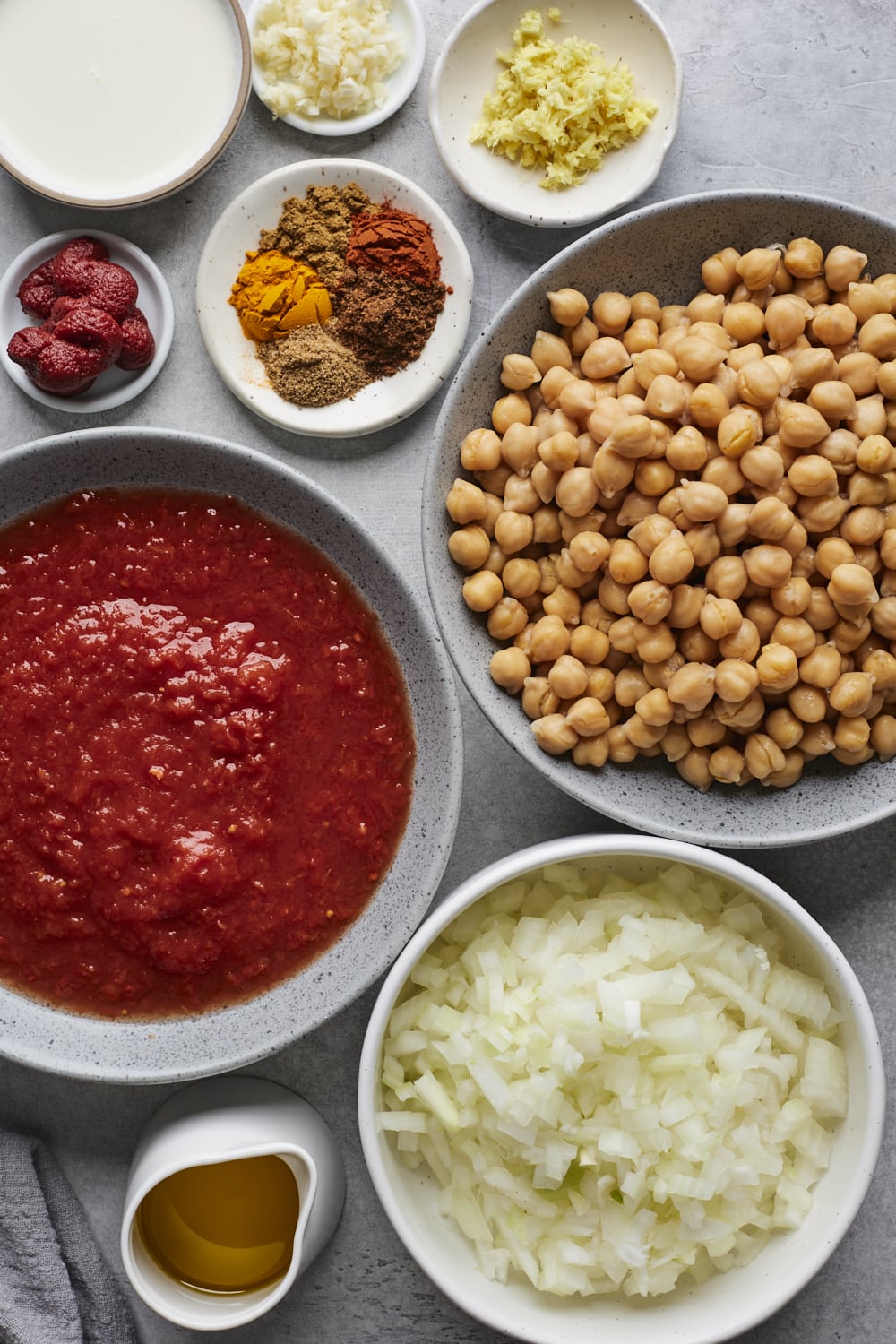 Chana Masala Recipe Ingredients
Neutral oil - or ghee, butter or even olive oil which I used and it was great
Yellow onion
Ginger
Garlic
Spices - This recipe calls for a spice blend of cumin, turmeric, masala, coriander powder, and cayenne or chili powder
Tomato Paste
Crushed Tomatoes or even fresh chopped tomatoes will work too
Chickpeas - canned chickpeas or cooked
Heavy Cream - this is optional for a Debs creamy version feel free to omit or add as little or as much as you prefer
Fresh Cilantro - or fresh parsley if you aren't a fan of cilantro
Optional add ins - splash of lemon juice, pinch of cardamom, toasted cumin seeds, cinnamon , green chilies, dry mango powder , use a pre ground ginger garlic paste
For vegan option leave out the cream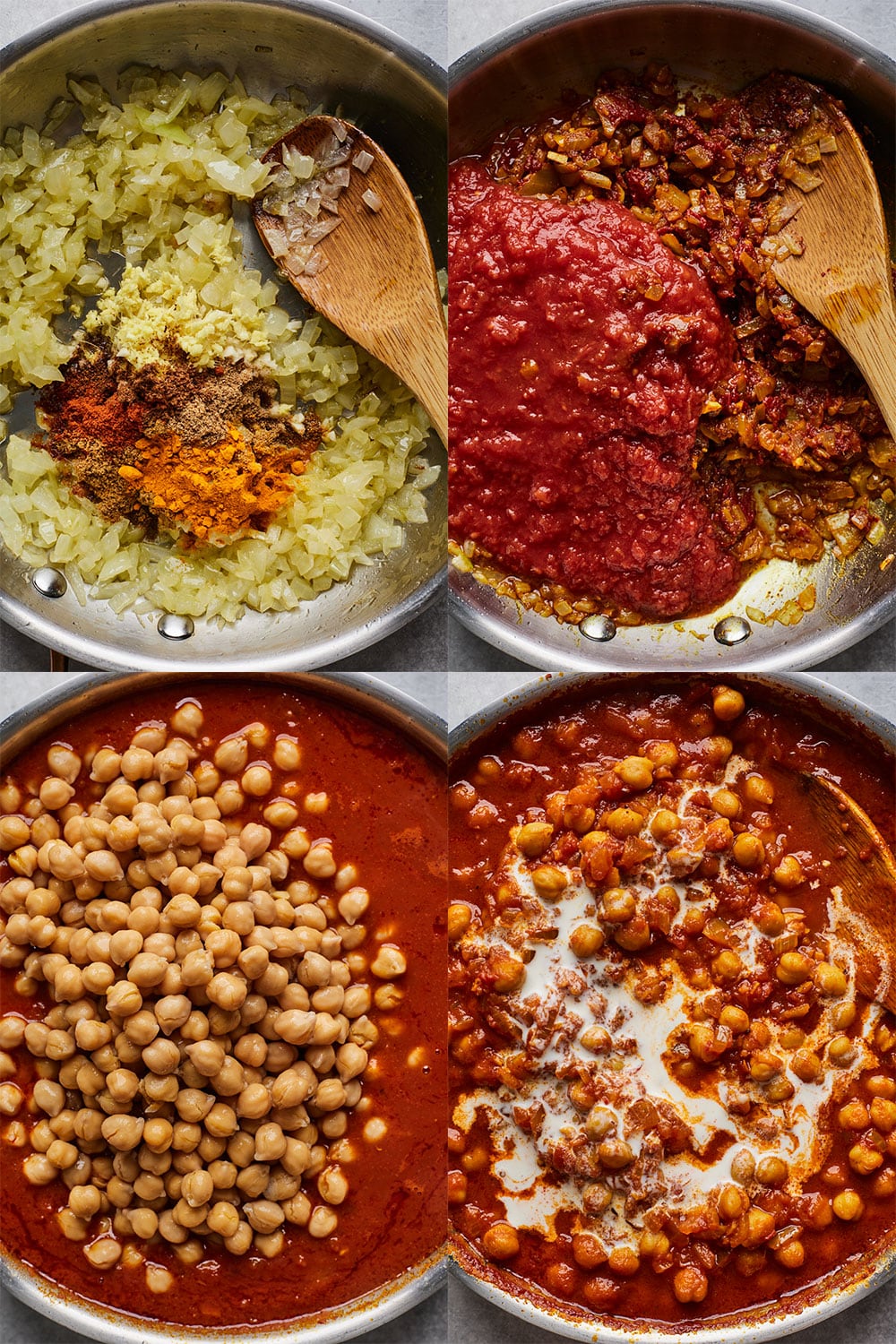 How to Make Easy Chana Masala
SAUTE the onion until nice and tender and browned along the edges
Add the garlic and the spices and COOK until fragrant
Add tomato paste, tomatoes and water and SIMMER until saucy
Add chickpeas and continue to SIMMER until the chickpeas have softened and mixture looks thick and as dry as you prefer adding more water if needed
DRIZZLE with a little cream off the heat if you desire for a creamy chana masala
SERVE with fresh chopped herbs, rice or naan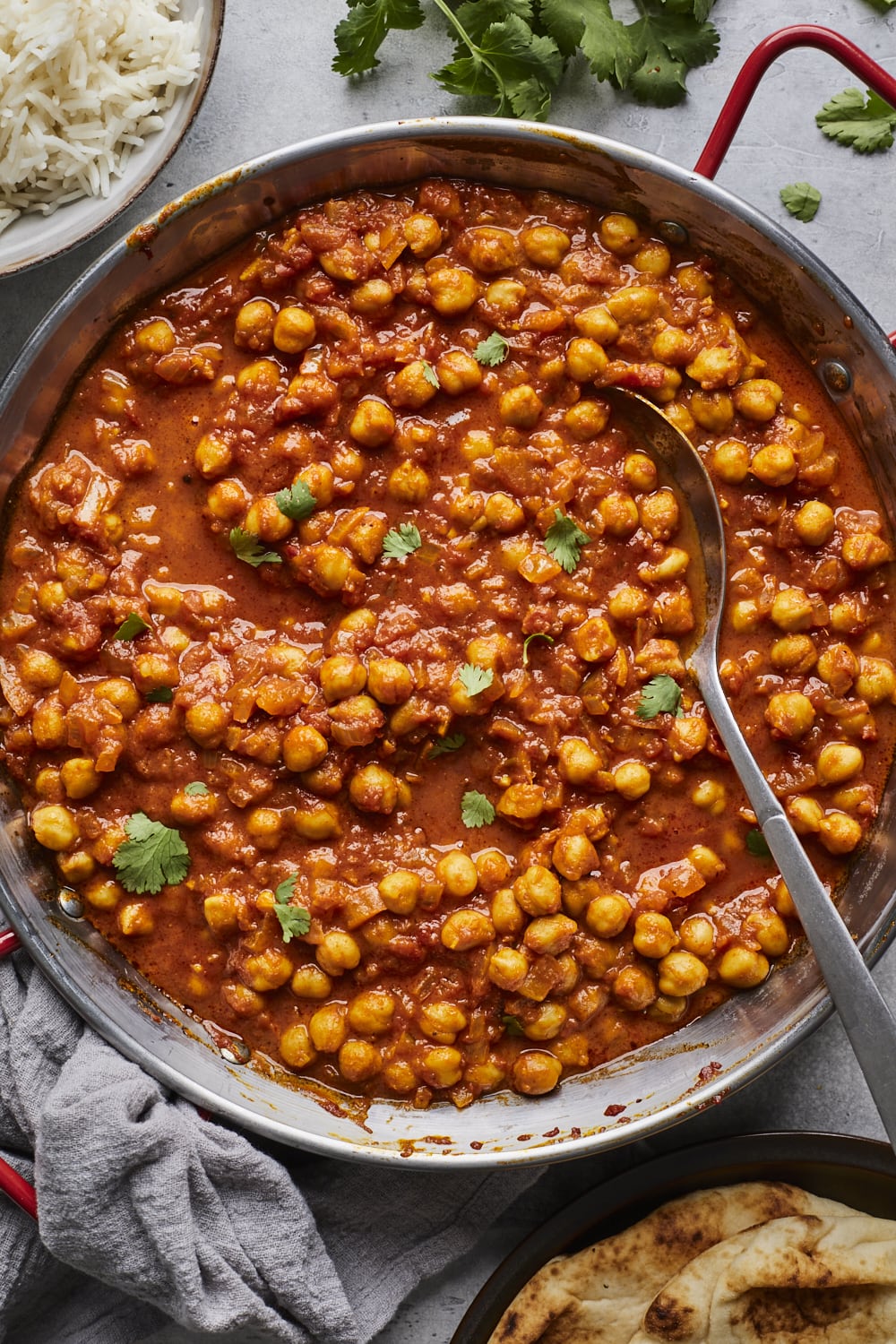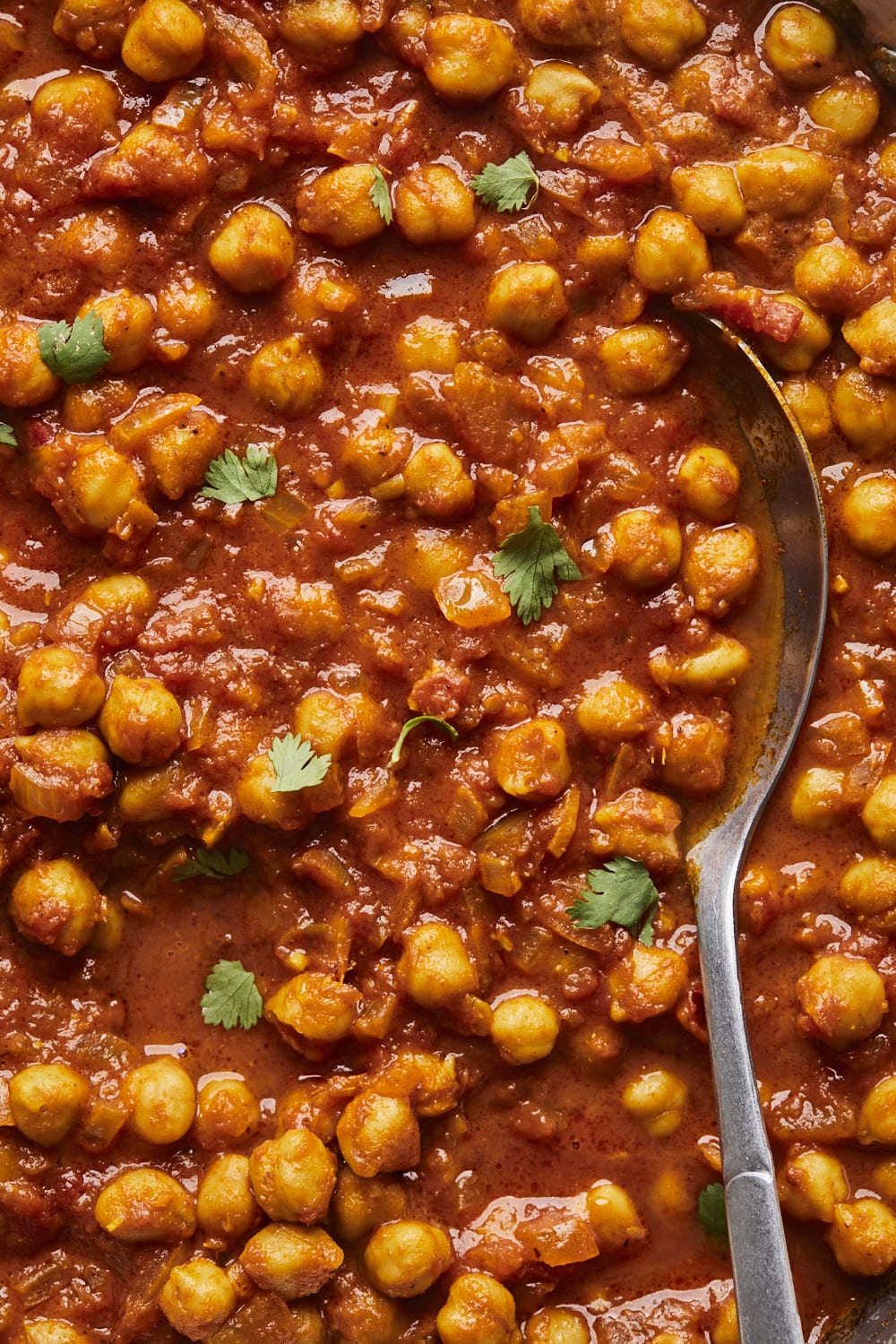 Storage and Freezing
STORAGE - leftovers can be stored in an airtight container in the refrigerator for 1-2 days. Reheat it in the microwave or on a stovetop over medium-high heat.
FREEZING - Cooled Chana Masala can be stored in a freezer safe container and be frozen for up to two months. Thaw in the fridge over night and reheat stovetop or microwave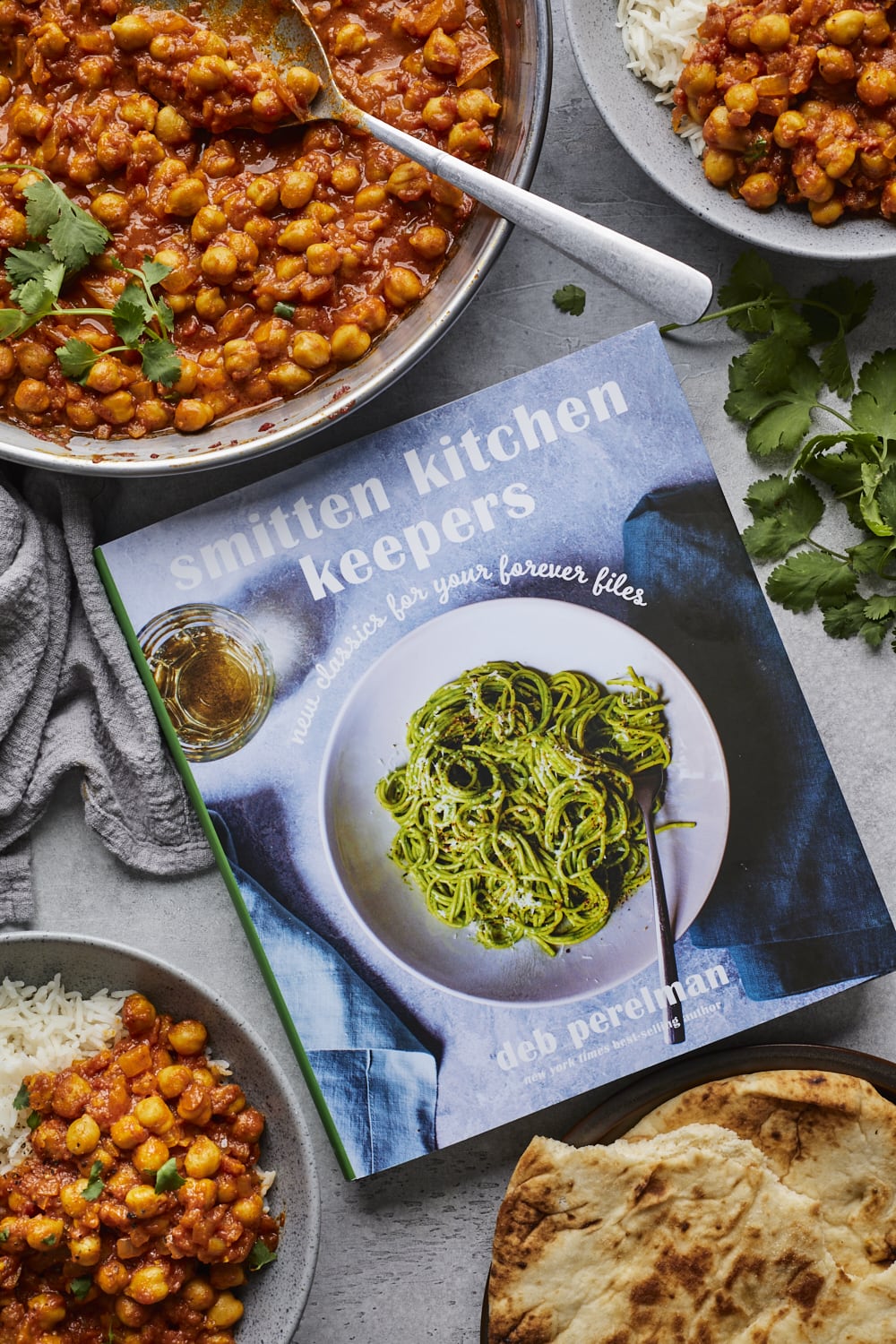 More Tasty Chickpea Recipes You Will Love:
Recipe
Prep Time: 5 mins
Cook Time: 35 mins
Ingredients
3 tablespoons (45 grams) neutral vegetable oil, butter, or ghee 1 large yellow onion, minced

2-inch piece ginger, peeled, and minced or grated

2 garlic cloves, minced or grated

Kosher salt and pepper to taste

1 teaspoon ground cumin

1 teaspoon ground turmeric

½ teaspoon garam masala

1 teaspoon ground ground coriander

½ to 1 teaspoon ground cayenne or mild red chili powder

2 tablespoons (35 grams) tomato paste

One 14.5-ounce can (410 grams) diced or crushed tomatoes, or 1¾ cups small-diced fresh tomatoes

3½ cups (two 15.5-ounce or 440-gram cans) cooked chickpeas, drained, rinsed (see note)

2 to 4 tablespoons (30 to 60 grams) heavy cream

Handful of roughly chopped fresh parsley or cilantro (optional) plus more for garnish

Rice, or naan for serving
Directions
In a medium-large (3-quart) heavy pan with a lid, heat the oil over medium-high heat.
Once it's hot, add the onion and cook for 5 to 7 minutes, until the onion is browned at the edges.
Add the ginger and garlic, and cook for 1 minute more. Add 1 teaspoon salt, cumin, turmeric, garam masala, coriander, and cayenne, to taste, and cook for 2 minutes. Add the tomato paste, and cook until it is one shade darker, 1 to 2 minutes.
Add the tomatoes, stirring up any stuck bits, season with another 1½ teaspoons salt, and bring to a simmer, stirring. Cook the tomatoes until they begin to break down and look saucy, mashing them a bit with your spoon if needed, which takes between 4 and 8 minutes. (Fresh tomatoes cook down faster.)
Add 1¼ cups water, stir to combine, and reduce the heat to the lowest simmer. Cover, and cook for 5 minutes; then add chickpeas, and cook for another 10 minutes, until they have slightly softened. If the chickpea mixture looks dry or thick, add more water to loosen
Taste, and adjust the seasoning if needed. Remove from the heat,and stir in 2 tablespoons cream. Gaze at the color and ask yourself if you're in more of a red, orange, or pink mood today. If the last, add the remaining 2 tablespoons cream. Finish with herbs, if using, and serve with rice.
Serve chickpeas in the sauce with basmati rice or warm naan bread
Recipe Notes From Deb:
I sometimes add some toasted paneer or halloumi cubes here as luxurious croutons. Cut an 8-ounce package of paneer or halloumi into 1-inch pieces. In a large nonstick skillet, heat 1 tablespoon of a neutral oil over medium heat.
Cook the cheese until it's golden underneath, then flip and lightly brown on the second side. Add to the pot of chickpeas the warmth will keep them soft-right before serving.
The biggest debate in my household over this dish is whether it should be entirely chickpeas (my favorite) or one part chickpeas and one part cauliflower (my husband's). Both are excellent. If you'd like to add cauliflower, reduce the chickpeas to one can, the water to 1 cup; then add 3 cups cauliflower chopped into ½-to-1-inch pieces (about 1 pound total, from half a large head). Add the cauliflower when you add the water, and give it 10 minutes to begin softening before adding the chickpeas. The dish is done when the cauliflower is at your desired level of tenderness
If you are planning on using dry chickpeas make sure to soak your chickpeas covered in cold water with a touch of baking soda overnight then drain and simmer in a large pot of water for 1-2 hours or pressure cook until tender. drain then use in this recipe as is.