Creamy Chicken Marsala
Updated 23rd October 2023
This creamy chicken Marsala is a classic chicken dish that's creamy, quick, and irresistible. It's packed with earthy mushrooms, smokey prosciutto, and perfectly tender chicken breast. The creamy sauce is made of mushrooms, marsala wine, and heavy cream and is irresistible. The marsala wine makes it slightly sweet and is what gives it it's distinct flavour. I love it served over buttery noodles or pasta but it can be served with rice, mashed potatoes or with crusty bread.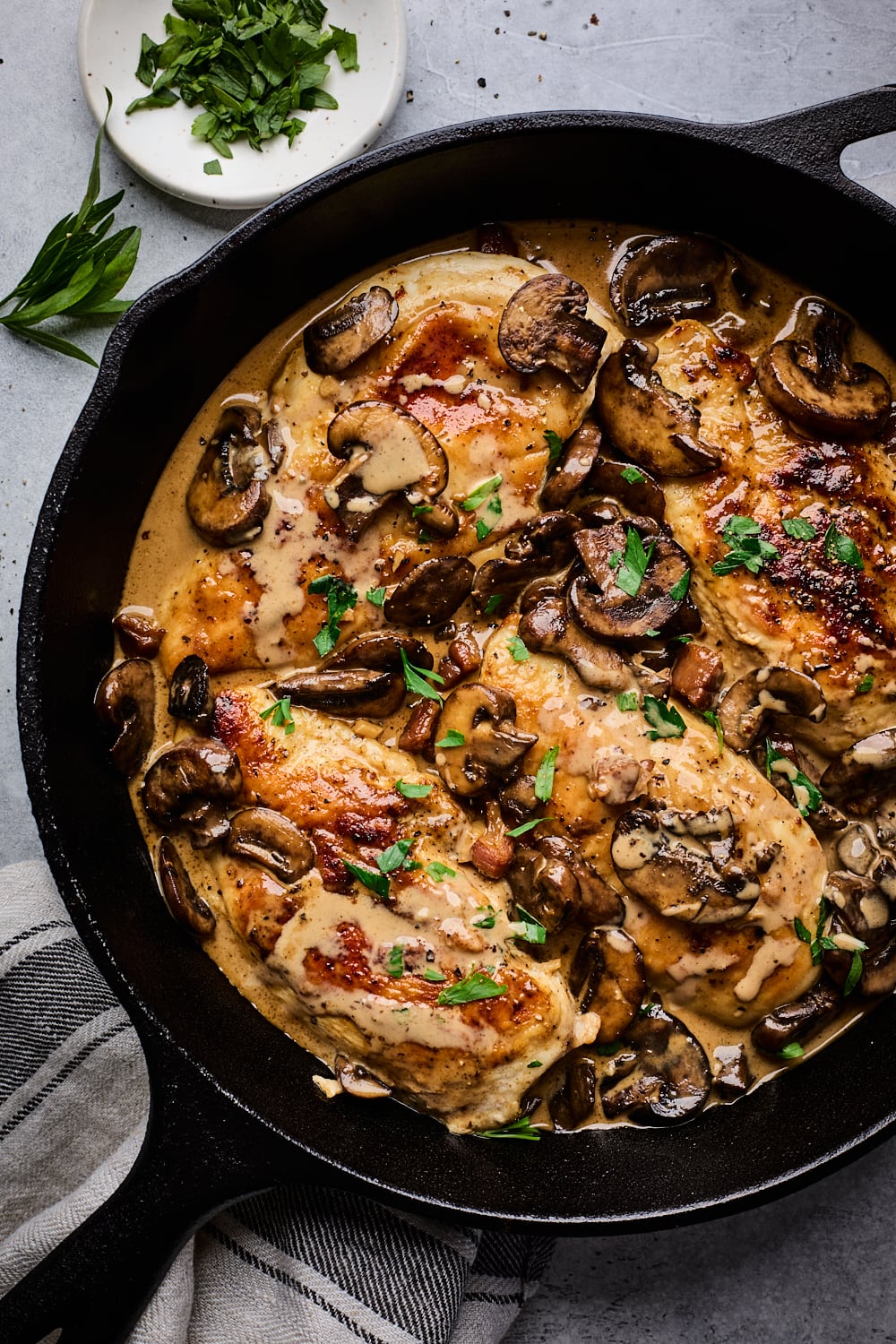 What is Chicken Marsala?
Chicken Marsala is an Italian-American dish of lightly coated chicken breast cutlets that are pan-fried until golden and then braised with mushrooms in a rich one-pan Marsala wine sauce. Though it's a classic and beloved restaurant dish, it's really easy to make at home. This dish doesn't traditionally contain cream or prosciutto in it but I decided to add both as the prosciutto adds a delicious layer of flavour to this dish and the cream makes it extra rich and creamy.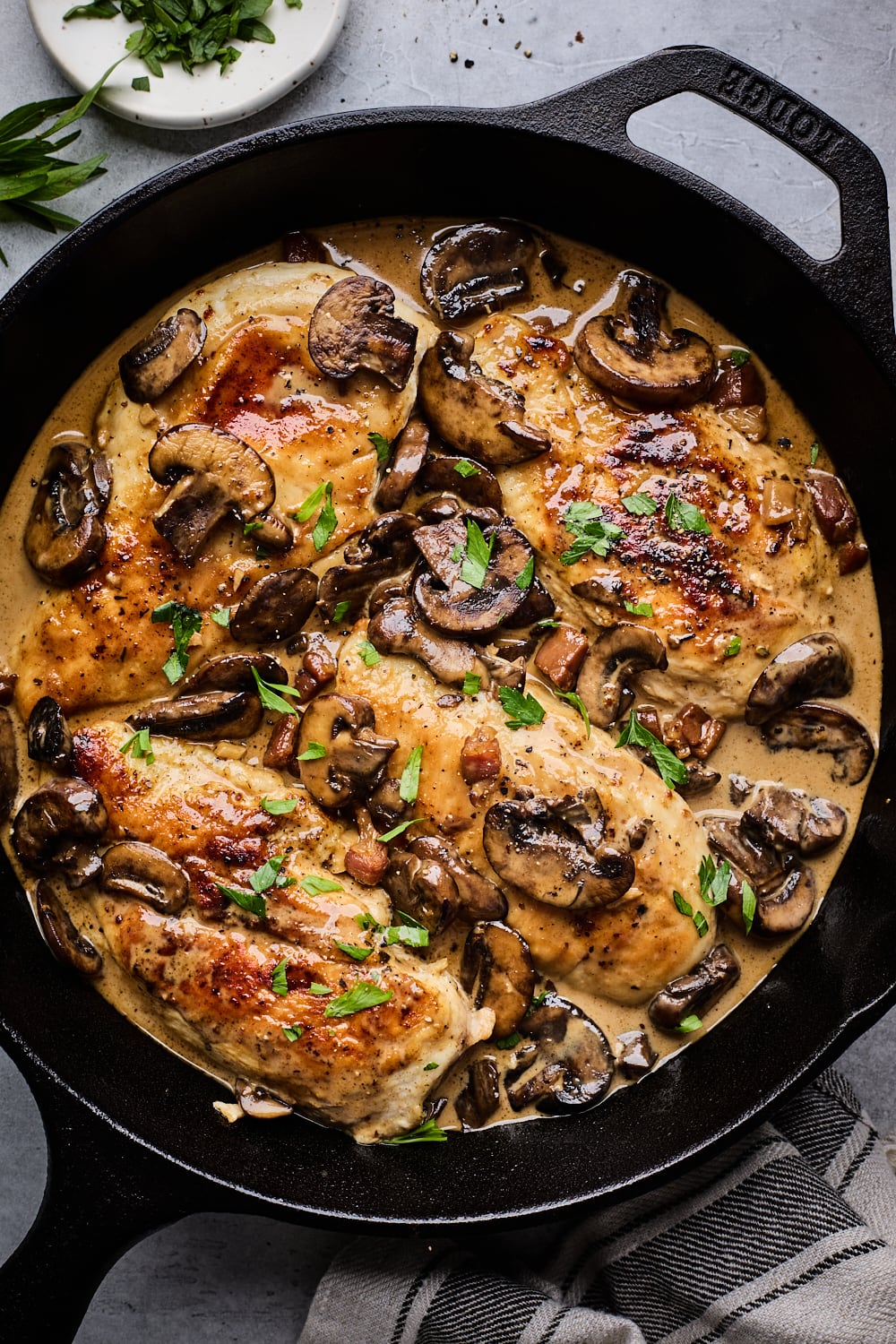 What is Marsala?
Marsala is a fortified wine, either dry or sweet, produced in the region surrounding the Italian city of Marsala in Sicily. It's most commonly used in cooking to create nutty, rich caramelized sauces like the delicious one in this dish. To substitute Marsala you could use sherry - it has a milder flavor, but in terms of cooking it will work. You can also use Port, Madeira wine or white wine - they will add a nice flavour but won't taste the same as a classic chicken Marsala.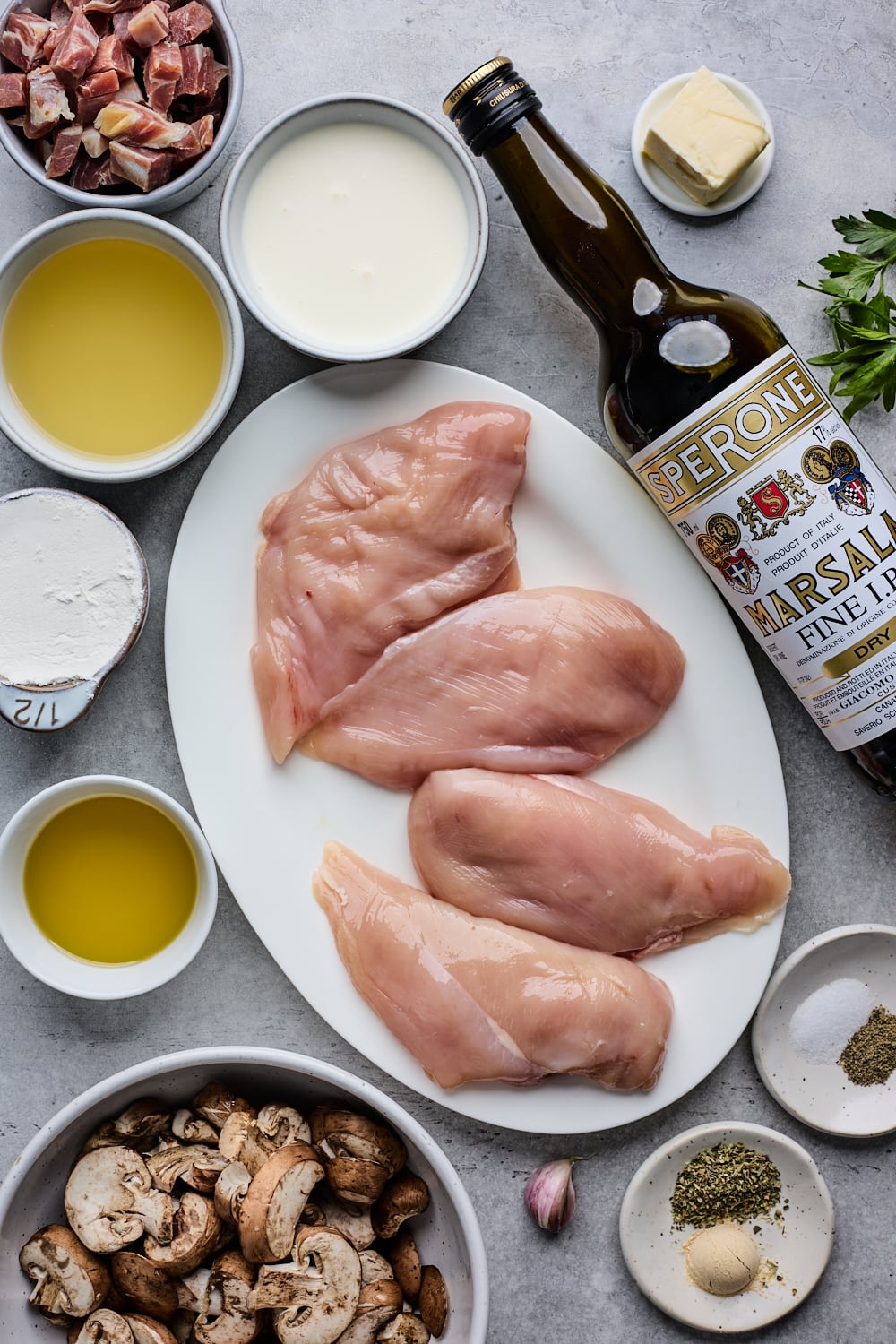 Chicken Marsala Recipe Ingredients
CHICKEN: I use boneless skinless chicken breast for this recipe - I pound them a little to flatten with meat tenderizer or rolling pin, but if they are very large I just use 2 and slice them in half. If you prefer chicken thighs you are more than welcome to use any cut of chicken you like but the searing and cooking time might vary depending size and thickness of your pieces of chicken
FLOUR & SPICES: The flour is for dredging the chicken in before searing to get a nice crust. The spices I used are simple: salt, black pepper, Italian seasoning and garlic powder
OLIVE OIL: I use extra virgin olive oil for searing the chicken - feel free to use any vegetable oil you prefer.
PROSCUITTO: This is an optional add in which builds loads of flavor in the dish and sauce for a nice savoury finish. If you prefer to use bacon or pancetta you are welcome to. Or if you prefer to leave it out you can.
MUSHROOMS: I like to use cremini mushrooms but button mushrooms work as well
MARSALA WINE: It is the name of the dish and it really adds a nice flavor to the sauce but if you don't have marsala feel free to use cognac, or a dry white wine for the creamy mushroom sauce
CHICKEN BROTH: This will help build the sauce and adds flavour - for a thicker sauce feel free to reduce amount by half.
BUTTER: I use unsalted butter to saute the mushrooms in and it is a tasty base for the mushroom sauce
CREAM: I use heavy cream, or half and half to add richness and a nice creaminess to the sauce.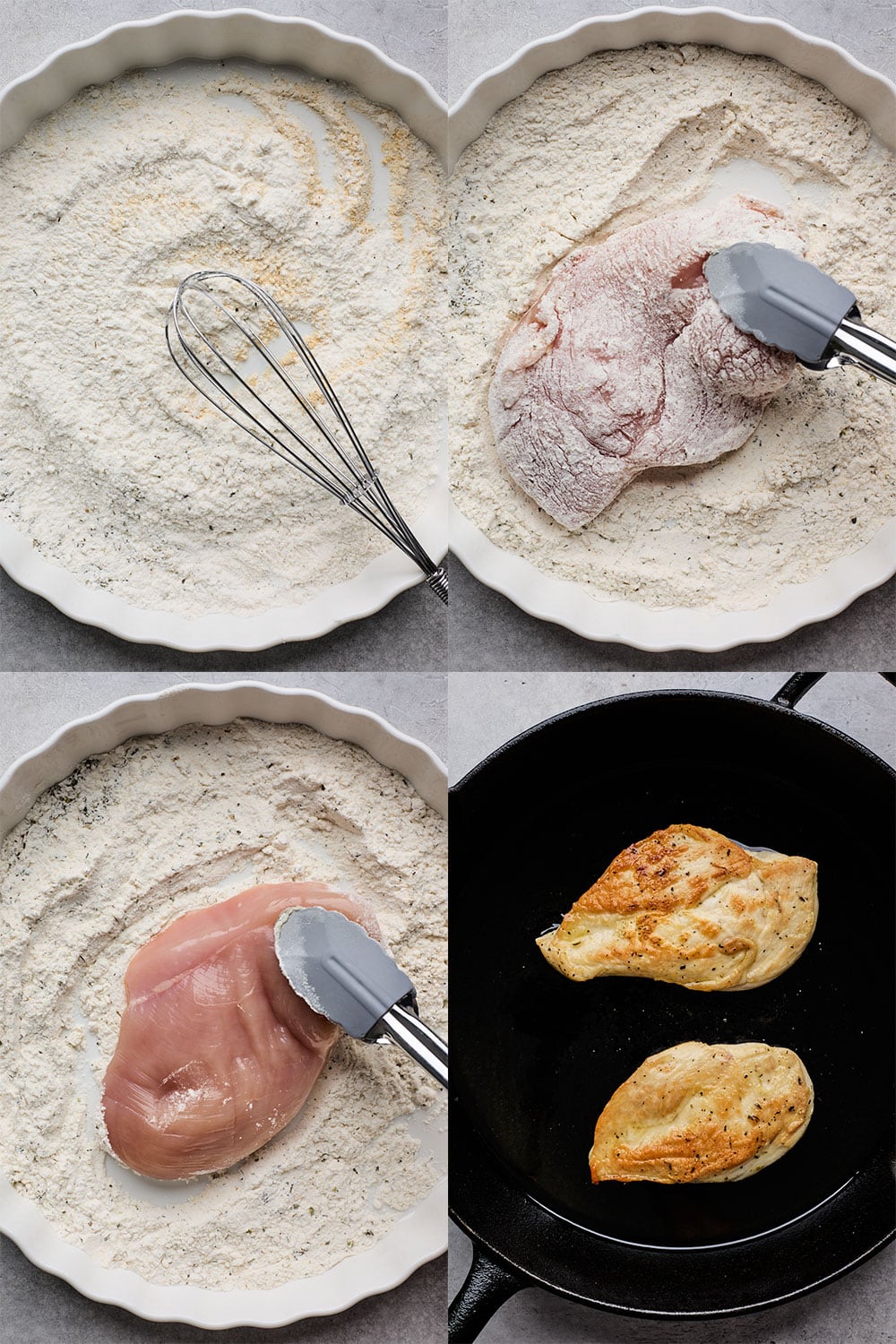 How to Make Chicken Marsala
This simple recipe comes together quickly and in a few stages. Here's all you need to do:
Pound chicken breasts to approx ¼ inch thickness and dredge in the flour mixture. If your chicken breasts are particularly thick then it's best to use 2 instead of four and you can slice them in half lengthwise. Brown the breasts on both sides in a hot pan stovetop then remove from pan and set aside.
For Sauce: In the same pan heat butter and add the prosciutto (if using) and cook until rendered and then add the mushrooms and garlic and continue cooking until mushrooms are nicely browned.
Marsala Sauce: Deglaze the pan with the Marsala wine scraping up all the delicious brown bites from the bottom of the pan and then add the rest of the sauce ingredients and reduce. Place chicken back into pan and spoon over the sauce and serve sprinkled with chopped fresh parsley. Enjoy!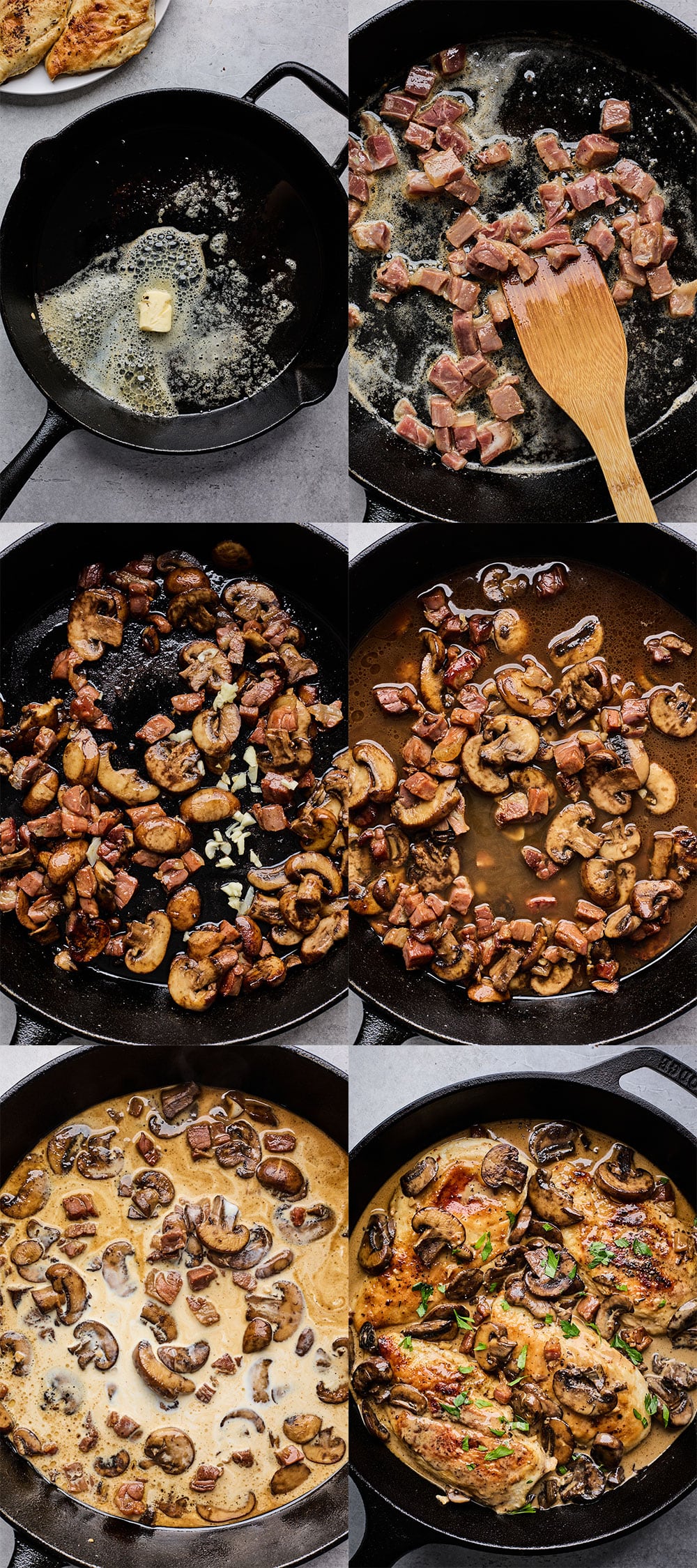 More Chicken Recipes You Will Love
Recipe
Prep Time: 10 mins
Cook Time: 25 mins
Total Time: 35 mins
Ingredients
4 skinless, boneless, chicken breasts pounded flat into ¼ inch thick cutlets (1½-2 lbs total 1 or 2 large ones cut in half lengthwise)

½ cup All-purpose flour, for dredging

¼ teaspoon salt

½ teaspoon ground black pepper

1 teaspoon Italian seasoning

1 teaspoon garlic powder

3 tablespoons extra-virgin olive oil plus more if needed

3.5 oz (100 gr) prosciutto, thinly sliced

8 oz (227 gr) crimini mushrooms, sliced

1 clove of garlic, minced

½ cup sweet Marsala wine

¼ cup Chicken Broth

2 tablespoons unsalted butter

½ cup heavy cream

¼ cup chopped flat-leaf parsley
Directions
Whisk together the flour and the seasoning spices in a shallow plate.
Heat the oil over medium-high in a large skillet. When the oil is hot, dredge both sides of the chicken cutlets in the seasoned flour, shaking off the excess and place cutlets straight into the pan and pan fry for 3-5 minutes on each side until golden and cooked through. (doing this in batches if pieces don't fit comfortably in the pan and adding more oil as needed) Remove the chicken and set aside on large platter, tent with foil and keep warm.
Lower the heat to medium and melt butter in pan and add prosciutto and sauté for 1 minute to render out some of the fat, scraping away any of the leftover brown bits off the bottom of the pan. Then add the mushrooms and the garlic and saute until mushrooms are nicely browned, approx 5 minutes. Season with salt and pepper.
Pour the Marsala into the pan and allow to simmer and reduce a few seconds to cook out the alcohol. Add the chicken stock and simmer until reduced by half and starting to thicken, (about 10 minutes).
Stir in the cream and cook until sauce has thickened a little more 2-3 min. Return the chicken to the pan; simmer gently just enough to heat the chicken through. Season with salt and pepper if needed and garnish with chopped parsley before serving.
Recipe Notes
Chicken is cooked and done when probe inserted into the thermal center of a chicken breast, leg, or thigh and internal temperature reaches and reads 165°F (74°C) when it's time to eat.
Storage - Cooked and cooled leftovers will keep in an airtight container in the refrigerator for up to 3-4 days