Creamy Pumpkin Pasta
This creamy pumpkin pasta is a great fall pasta dish that is easy to make and so creamy and delicious, lightly spiced and flavoured with fresh sage and goes so well with the sage walnut crunch topping - think crunchy bread crumb topping but no bread crumbs. It adds more flavour, a hint of sweetness and loads of crunch to the pasta but it is optional and the creamy pasta is just as good on its own! This pumpkin pasta is a really easy pantry style meal with simple ingredients using either canned pumpkin puree or homemade pumpkin puree. You will love how quick easy and flavourful this simple pasta dish is! You will also love this creamy pumpkin pasta sauce because it's homemade and it's not overly sweet like many storebought pumpkin or butternut squash sauces are because we do not add any sugar to the sauce. You control what goes into it and how much spice or seasoning you prefer!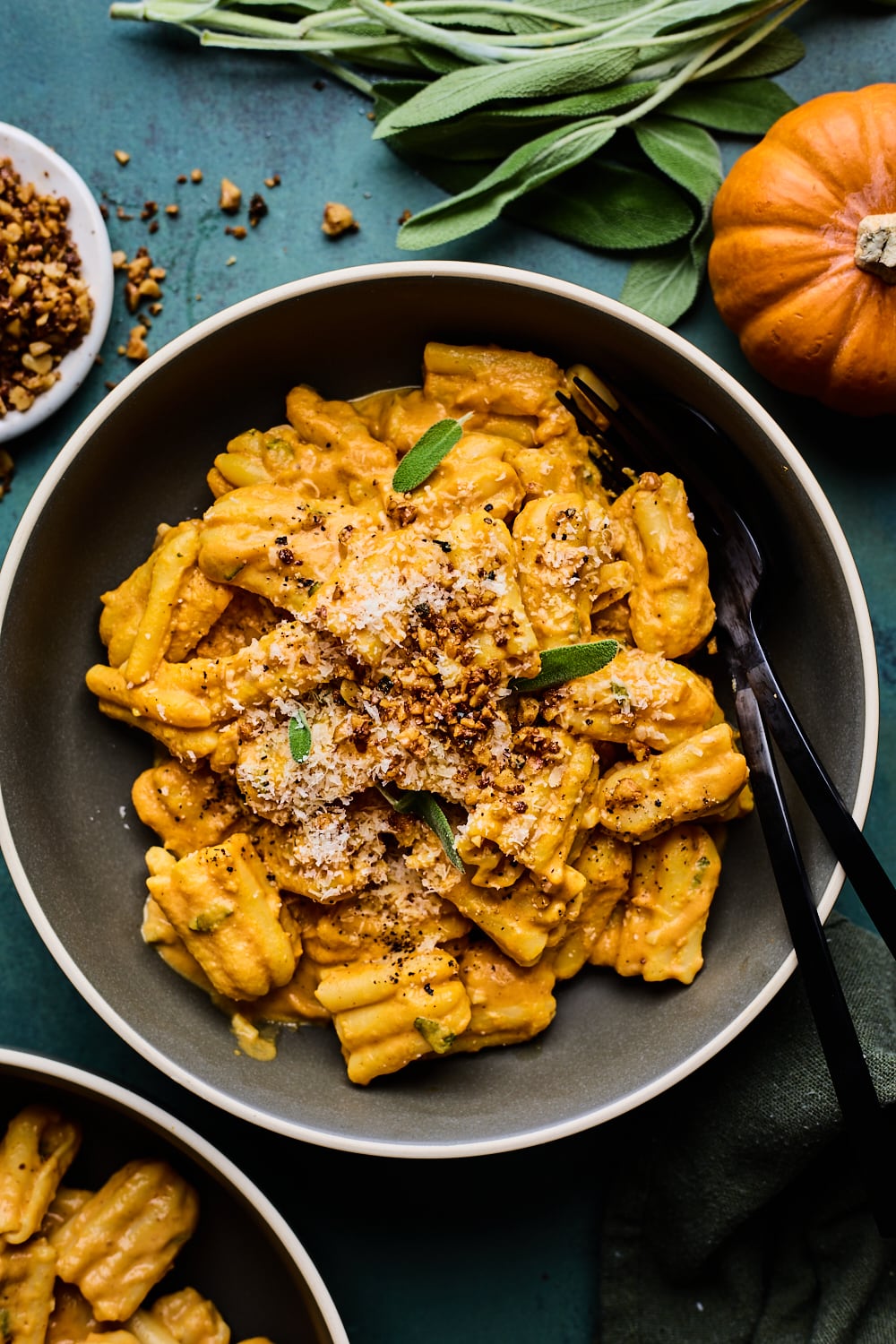 Creamy Pumpkin Pasta Ingredients
PASTA: I prefer a short pasta - I did a squash shaped pasta that was fun to use but penne, rigatoni, farfalle or any shape you like works, you most definitely could use spaghetti or linguine too. Use a regular pasta or gluten-free pasta.
BUTTER: I love starting this pasta with butter for sautéing the shallots and garlic but olive oil or vegetable oil works fine too
GARLIC & SHALLOTS: I recommend freshly garlic cloves for the best flavor and I love using shallots which are nice and mellow but regular yellow or red onion works well too. Use as much or a little as you prefer.
PUMPKIN PUREE: You must use pure pumpkin puree for this recipe either store bought canned or homemade, not pumpkin pie filling which has added sugars and spices which wouldn't work in this recipe. 15 ounces is all you need which is great you get to use a full can of it!
BROTH: I use either vegetable broth or chicken broth (regular or low sodium) to help build the pumpkin sauce
CREAM: I used heavy whipping cream for a really creamy finish on this pasta but feel free to use half and half or whatever cream you prefer
PARMESAN CHEESE: This adds flavour to the sauce and is great freshly grated on top when serving.
SPICES & HERBS: Salt and pepper to taste but we went quintessentially fall or pumpkin with a bit of cinnamon and nutmeg - please adjust amounts to taste. For herbs we used fresh sage leaves which go perfectly with any kind of gourd. You could swap the sage for some rosemary or even thyme.
TOPPING: This is optional to make but it is easy to make and really elevates the pasta dish. You will need fresh sage, walnuts, butter and brown sugar. Instead of sage you could use rosemary or thyme and you can use almonds, pistachios or pecans instead of the walnuts. Brown sugar helps caramalize the topping and adds a bit of sweetness but is optional to add or swap it out for coconut sugar.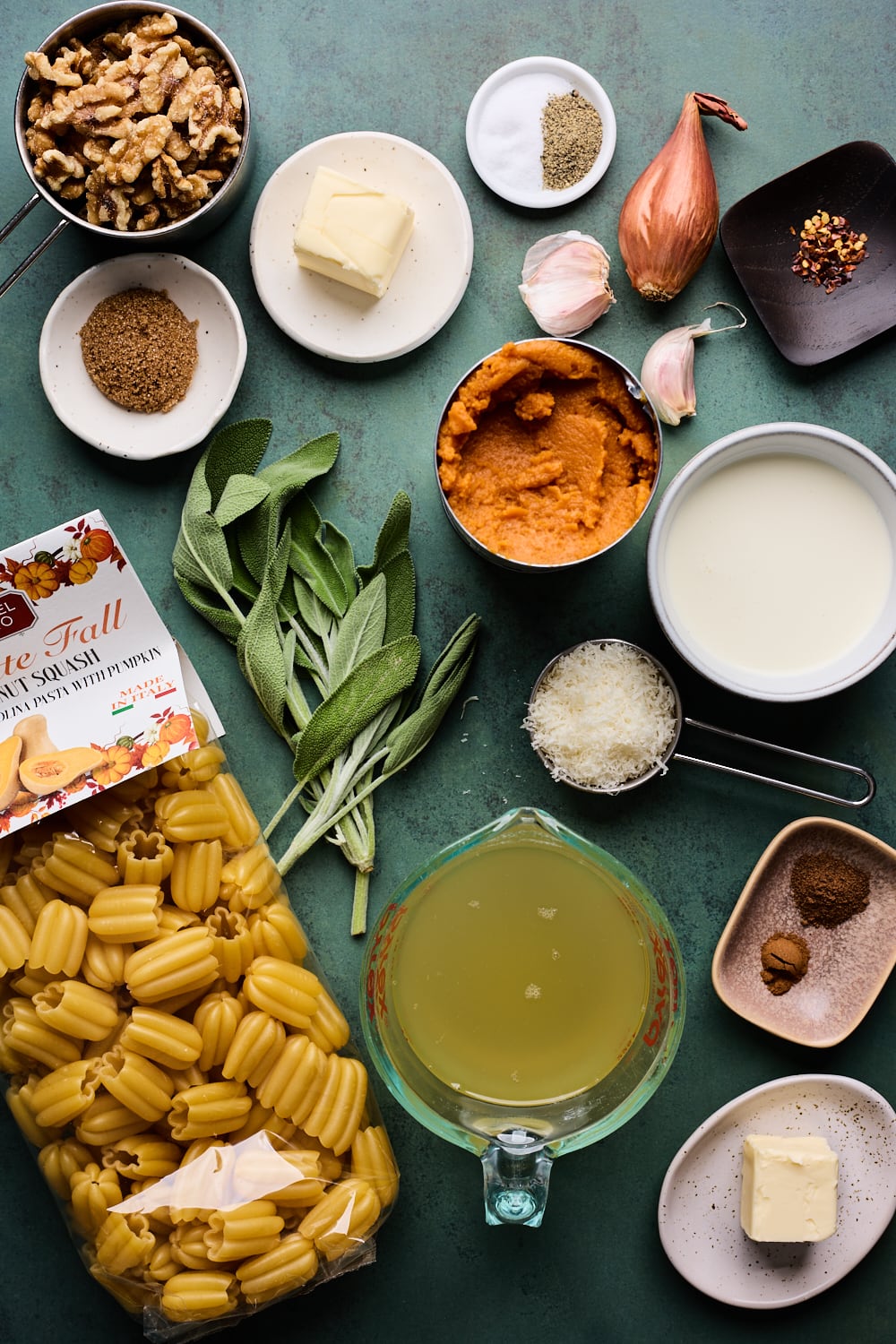 Pumpkin Pasta Variations
Add some veggies or protein: Feel free to saute in some veggies at the start like bell peppers, mushrooms, zucchini or for some protein add in some cooked chicken or shrimp. Feel free to saute cubed chicken and build the sauce from there or you can also do this with ground beef, ground turkey, ground pork, Italian sausage (a great flavorful option), or even a combination of them like a pumpkin meat sauce.
Use butternut squash or sweet potato puree: You can use canned squash puree or sweet potato puree - or you can use homemade versions of either of those for this recipe. Sweet potato tends to absorb more moisture so you may need more broth when creating the sauce and more pasta water at the end to thin out the sauce. Both would be delicious adding the same or similar creamy sweetness as pumpkin.
Vegan version: Use a dairy-free cream or coconut milk and butter or stick to olive oil and skip the cheese - but you could add some nutritional yeast for some added flavour for a more vegan friendly version.
Spice it up: Saute the garlic and onions with extra chilli flakes for a pumpkin arrabbiata version or feel free to add a pinch of paprika, cayenne or chilli powder when you add the cinnamon and nutmeg for a bit of smokiness.
Flavour Boosters: Start the sauce by frying up some bacon, pancetta or guanciale then add the onion and garlic - creating a super flavorful base for your sauce like a pumpkin Amatriciana. Or add a splash of vodka for a pumpkin vodka sauce. Other flavour boosters, splash of soy sauce or a bit of miso paste - a little goes a log way. These enhance the flavour without taking over.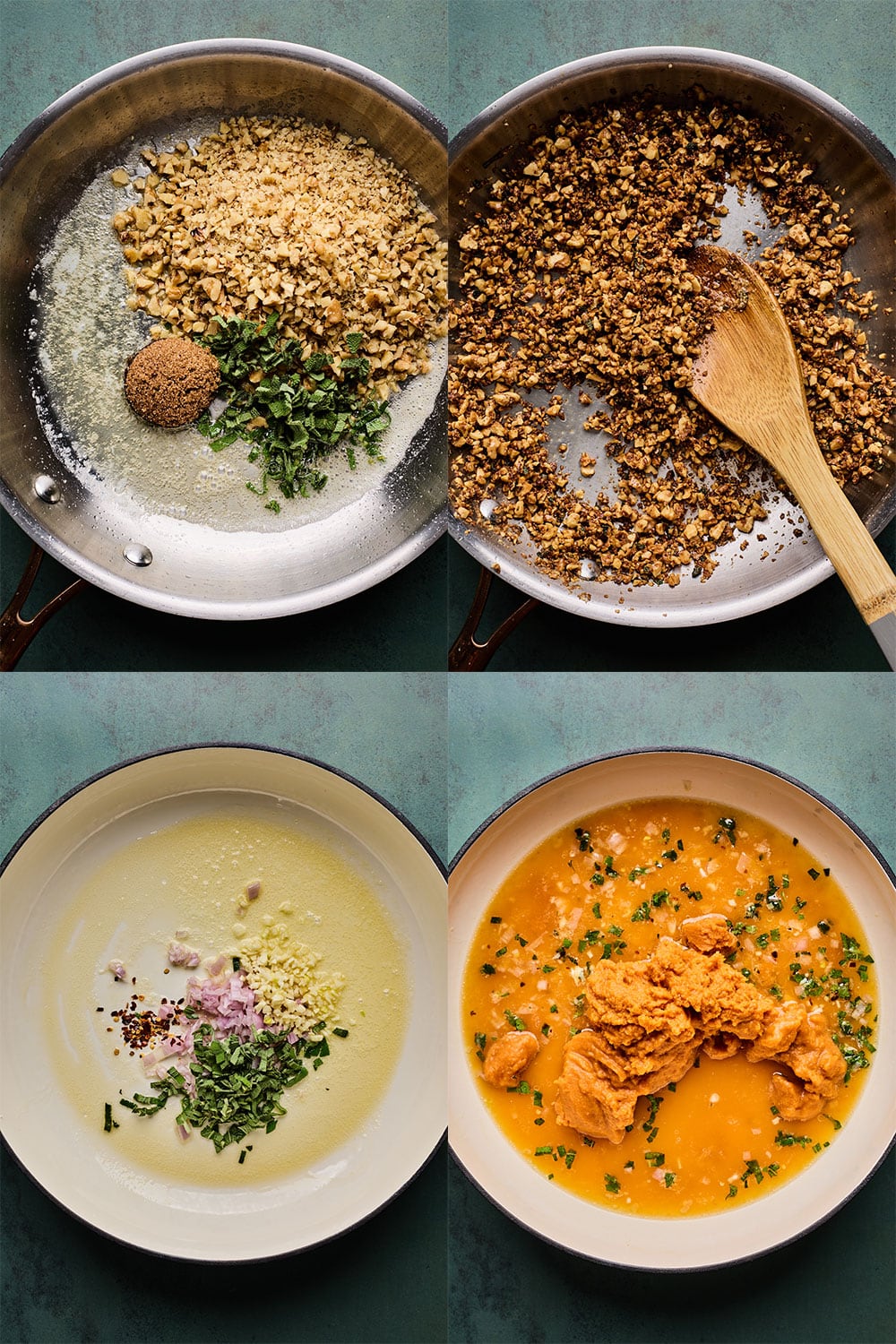 How to Make Creamy Pumpkin Pasta
MAKE TOPPING (OPTIONAL): Toast the topping ingredients in a skillet with melted butter tossing or stirring until nice and golden and crisp. Remove from skillet and set aside while you cook the pasta.
MAKE SAUCE: Saute shallots, garlic with sage and chili flakes, whisk in the pumpkin puree with broth, add parmesan cheese cream and spices.
COOK PASTA: While making sauce cook pasta al dente and reserve 1 cup of pasta cooking water, drain the rest and set aside.
COMBINE: Add pasta to sauce and mix everything well to combine and coat each piece of pasta with the sauce adding the pasta water as needed a little at a time to reach desired consistency
SERVE: Serve IMMEDIATELY with extra grated Parmesan, chilli flakes, and of course sprinkle over the sage walnut topping and enjoy!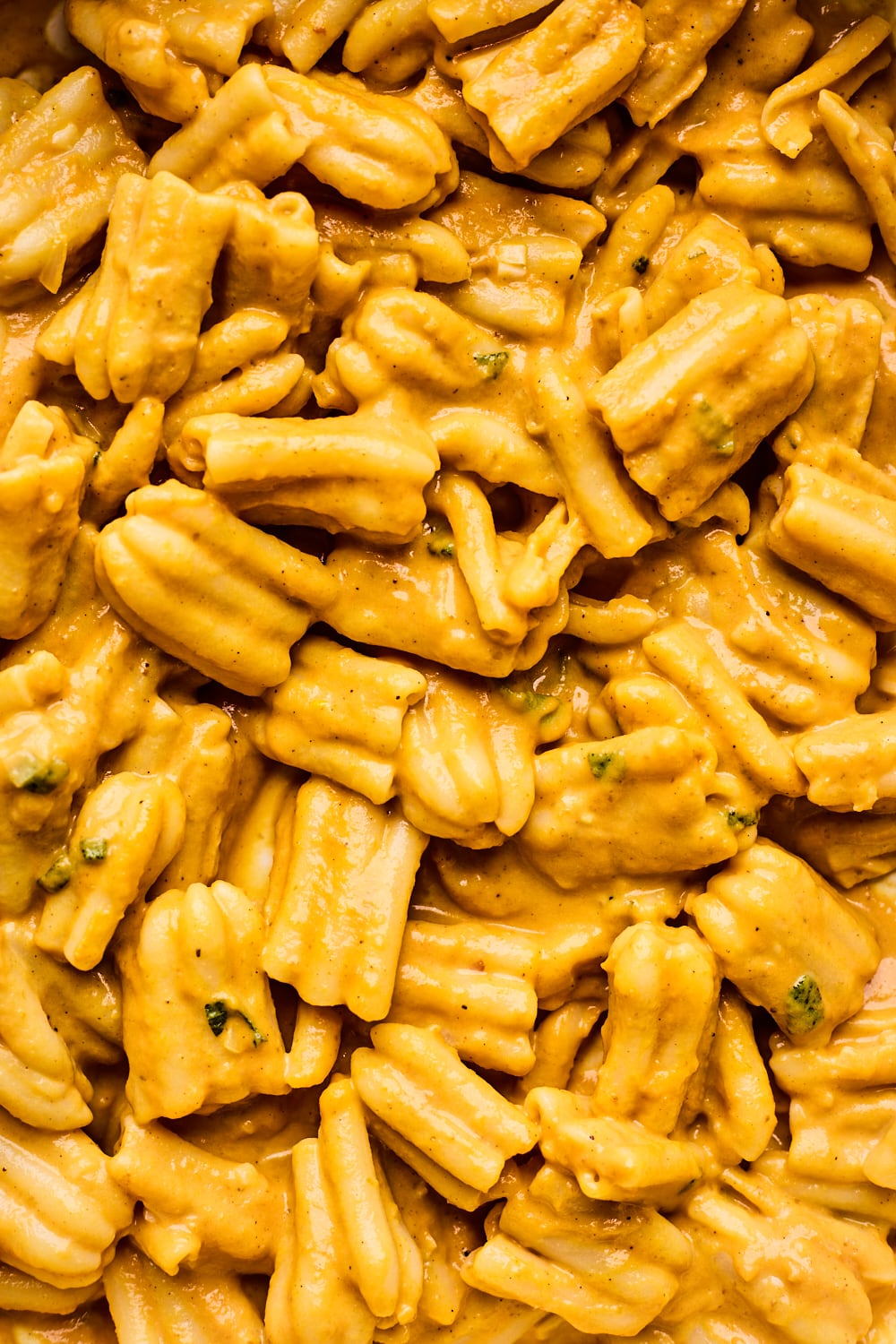 More Easy, Quick Pasta Recipes You Will Love:
Recipe
Prep Time: 5 mins
Cook Time: 25-30 mins
Ingredients
For the Sage Walnut topping (optional)
1 cup walnuts, chopped

1 tablespoon finely chopped fresh sage

2 tablespoons unsalted butter

1 tablespoon brown sugar

½ teaspoon salt

black pepper to taste
For the Pasta
1 pound pasta short pasta

2 tablespoons unsalted butter

3 garlic cloves minced

1 shallot minced

¼ teaspoon red Chili flakes/red pepper flakes

1 tablespoon chopped fresh sage

1 (15 oz) can pumpkin puree

1 cup broth veg or chicken

Salt to taste

Freshly ground black pepper to taste

¼ teaspoon ground nutmeg

1/8 teaspoon cinnamon

½ cup heavy cream or half and half

¼ cup finely grated parmesan cheese plus more to taste
Directions
For the Topping
Finely chop walnuts or run them through food processor pulsing a few times until coarse crumbs are formed.
Heat a 10-12 inch skillet over medium-low heat add the butter. Once melted add the sage, walnuts, and sugar, and toast for about 5-8 minutes, stirring often, until golden and crisp. Reduce temperature to low if needed. Transfer the crumbs to a plate. Season with a pinch of salt and pepper and set aside
For the Pasta
Heat butter in a large skillet or shallow saucepan over medium heat. Add garlic, shallots, chili flakes and sage and saute approx 1-2 minute.
Whisk in the pumpkin puree and stock. Simmer the sauce until slightly reduced and thickened, about 5-10 minutes.
In the meantime cook pasta in a large pot of heavily salted water until al dente. Reserve 1 cup pasta water and drain the remaining
While the pasta cooks, turn sauce down to medium-low heat and add the cheese and cream. Stir to combine and simmer briefly to thicken again, 1-2 min. Season to taste with salt and pepper and stir in the nutmeg and cinnamon.
Transfer the pasta directly to the sauce and toss to coat. Adding a little or as much pasta water needed to reach desired consistency.
Serve immediately, with more parmesan and sprinkle over the sage walnut topping if using. Enjoy!
Recipe Notes
This pasta and sauce gets thicker as it sits so it's VERY important to serve right after it's made.
Cooking water: add pasta water gradually, you might not need all of it. You don't want to water down the flavor, but only make the pasta nice and moist. If you think the reserved water is not enough, you might add a few Tbsps of milk or cream
Storage: Store any leftovers in an airtight container. They will last about 4-5 days in the fridge. You can reheat on stovetop or microwave adding a little water, broth or cream to loosen up the sauce but this dish is BETTER eaten the SAME DAY as it will never be as creamy as it was when first cooked.