Easy Biscuits and Gravy
This creamy rich southern-style sausage gravy is served with easy to make homemade biscuits and totally irresistible. A fabulous breakfast recipe - so tasty, full of flavor and soooooo comforting. Easy to make buttery biscuits & creamy sausage gravy - what more could you want especially on a cold blustery day. Cozy up to a plate of this and then make sure to leave time for a nap cause you might need one!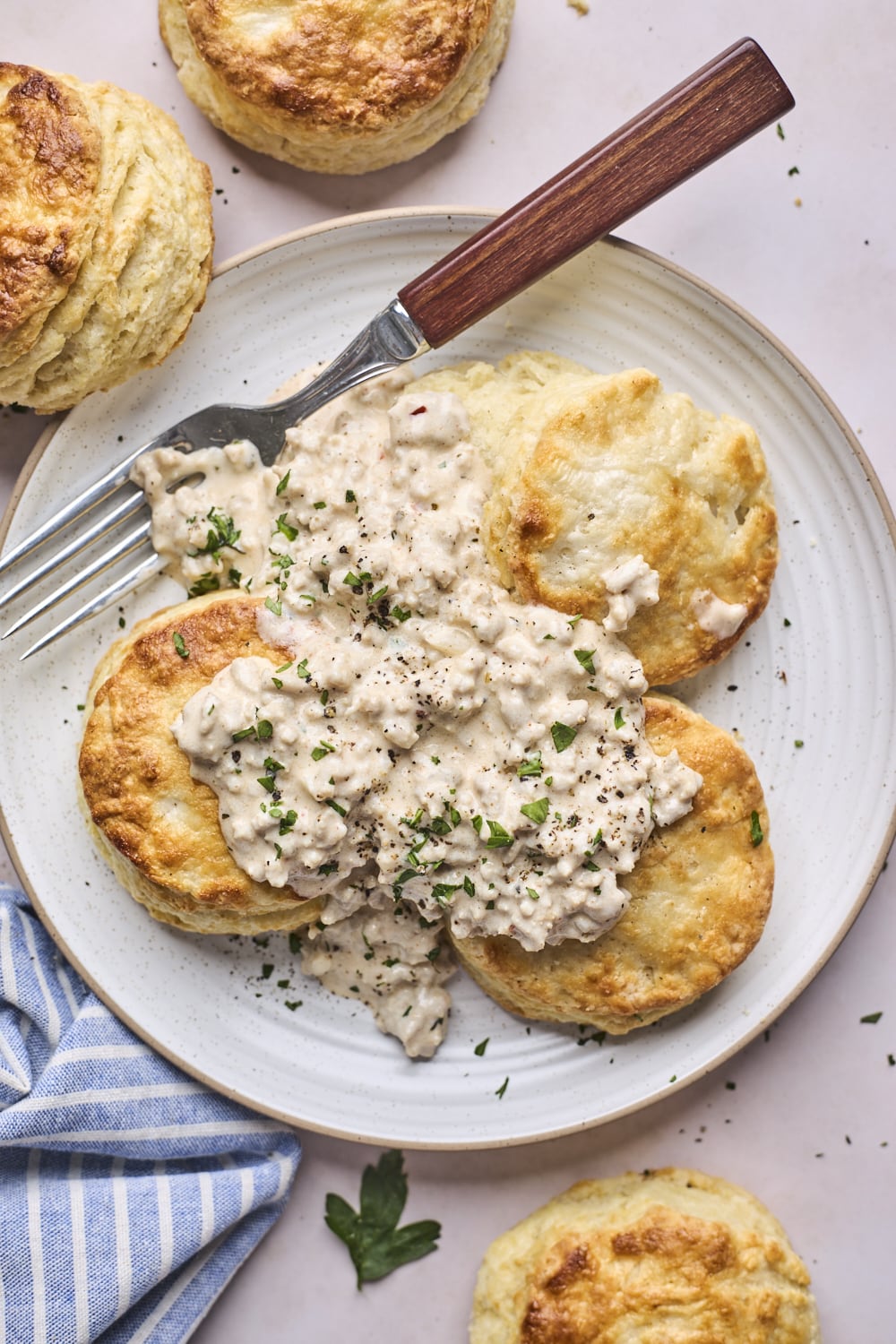 This savory dish actually reminds me of a dish my grandmother use to make - a peasant type of meal made with fat drippings as the base to creating a creamy gravy that you enjoy with fresh warm crusty bread - I just loved it!! Theres a Macedonian name for it but I'm not too sure what it translates to - shutomakalo is what she called it and it was divine. This is very similar but a bit more decadent with the gravy being made with sausage but it's just as comforting being served and paired with my absolute favorite homemade, light and flaky buttermilk biscuits. Comfort food at its best.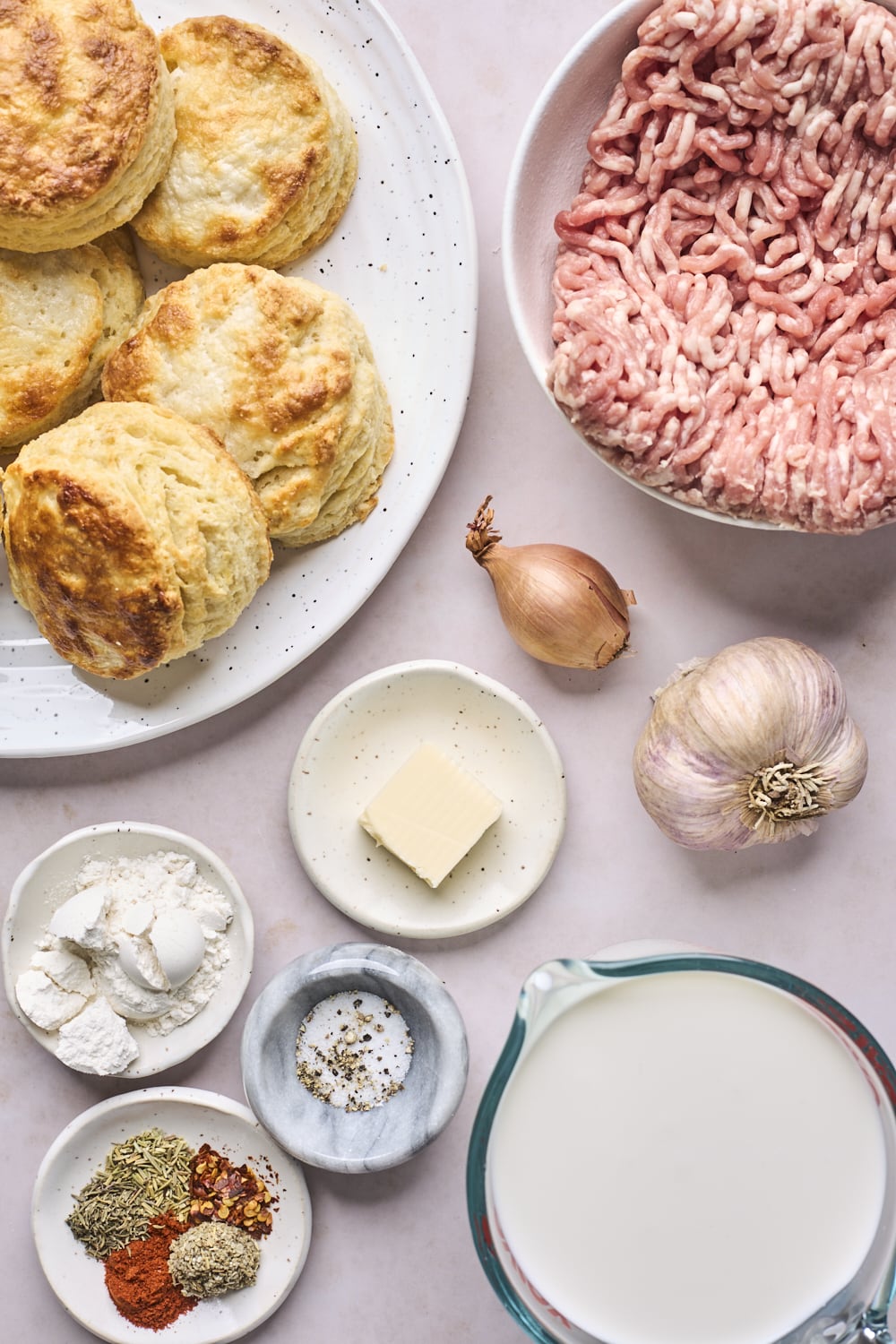 Biscuits & Homemade Sausage Gravy Ingredients
8-10 Warm buttery flaky buttermilk biscuits for serving (storebought or make my easy homemade recipe)
Sausage - Both pork sausage and breakfast sausage will work in this recipe. You may also use a turkey sausage with some added butter or oil (needed for the roux). You an use any flavour you like like hot or spicy or even sweet honey or maple pork sausage. 
Onion & Garlic - Fresh onion or shallot and garlic is what I use - you could substitute with garlic powder and onion powder but for best flavours use fresh. 
Flour & Butter: This is combined with the pork drippings to create the roux which thickens the sausage gravy. I use unsalted butter so I can control the amount of salt in dish
Half and half – or substitute whole or 2% milk. but it may require more cooking time to thicken. I don't recommend using low fat or skim milk for this recipe - its a go big or go home kind of recipe because you will lose a lot of the flavour and richness if you use low fat milk.
Seasoning & Spices - Thyme, Rosemary, Thyme, Paprika, Sage, Crushed red pepper and Salt and Pepper. Feel free to adjust amounts to taste and if you prefer to switch them out with others
Extra add ins - Feel free to add a splash of W sauce, hot sauce or even a pinch of nutmeg for extra flavour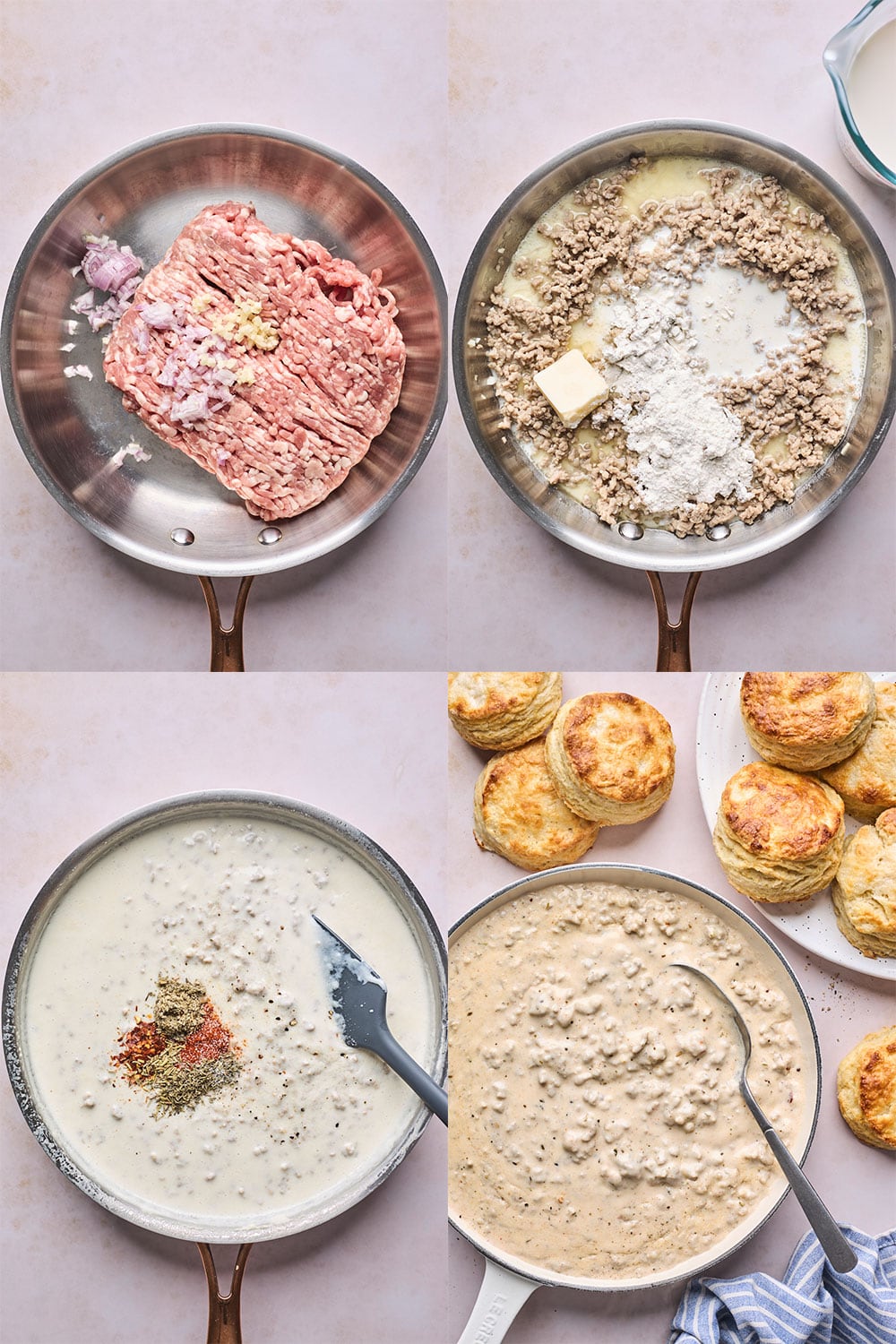 How to Make Gravy for Biscuits and Gravy?
Here's a brief overview of what you can expect when you make homemade biscuits and gravy:
Make my super easy flaky Buttermilk biscuits and bake until golden brown or in a pinch feel free to use storebought prepared biscuits from the bakery section or even bake the ones from the freezer section
Cook and brown the sausage with the shallot and garlic
Add the flour, butter then stir in the cream and bring to a simmer .
Reduce to a simmer and continue cooking until thickened to your liking
Season with all the spices to taste
Garnish with fresh chopped parsley and ladle over warm biscuits and enjoy 
How to Serve Biscuits and Gravy
Split the warm biscuits in half, then ladle the gravy over the open biscuit halves. This stick-to-your-bones comfort dish pairs perfectly with any other breakfast or brunch meals such as bacon and eggs. It is quite filling, though, so you might want to consider serving it with something a little lighter like fresh fruit or a fresh salad.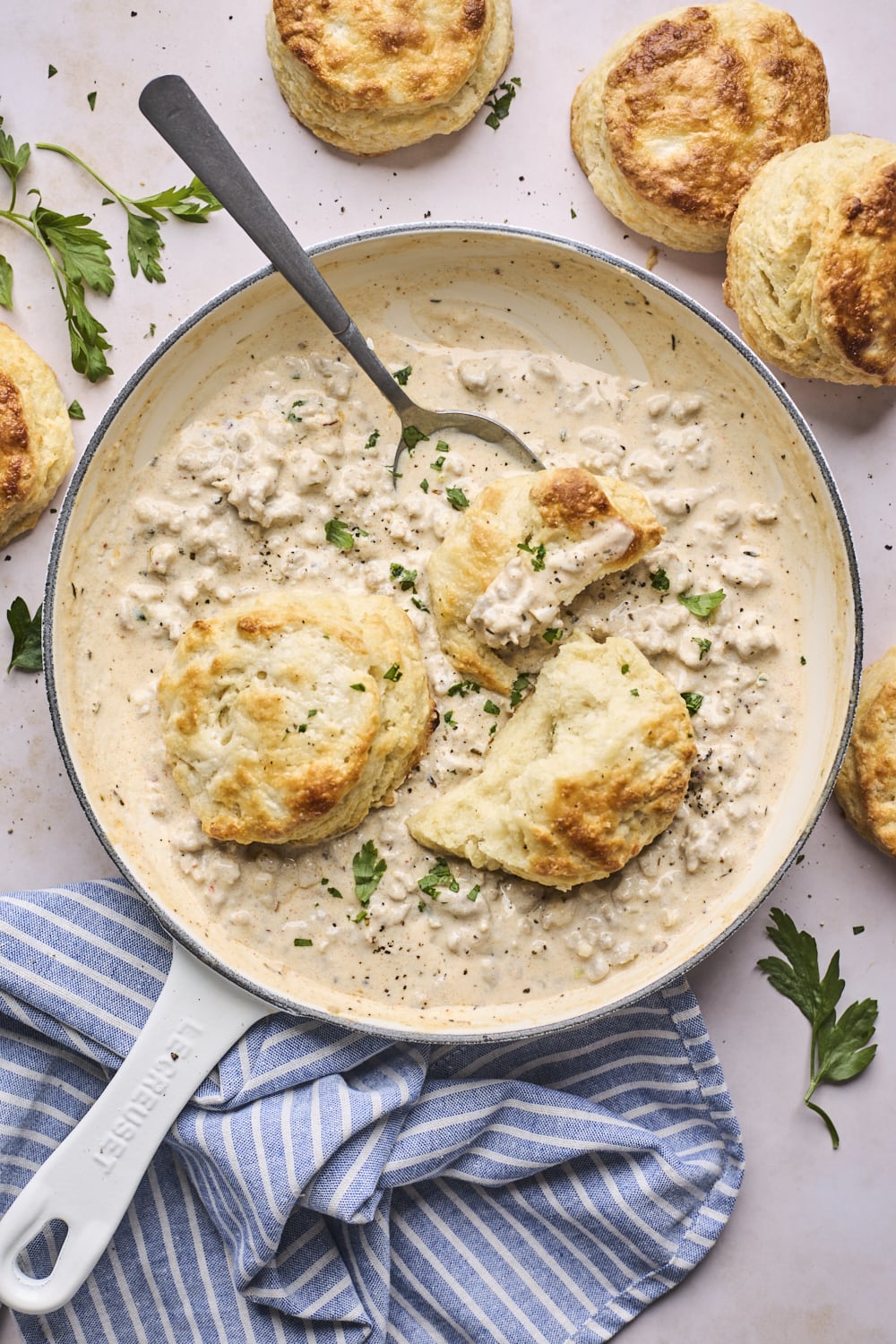 What to Serve with Biscuits and Gravy?
Biscuits and gravy is a full meal in itself. They really don't need anything else and traditionally it's served for breakfast, but that hasn't stopped us from having biscuits and gravy for dinner. Here are some ideas for what goes well with these biscuits and gravy:
A simple side salad
With or oven Roasted vegetables like roasted potaoes or even French fries
Over breakfast a breakfast casserole
Eggs – fried, over easy, scrambled
Fruit salad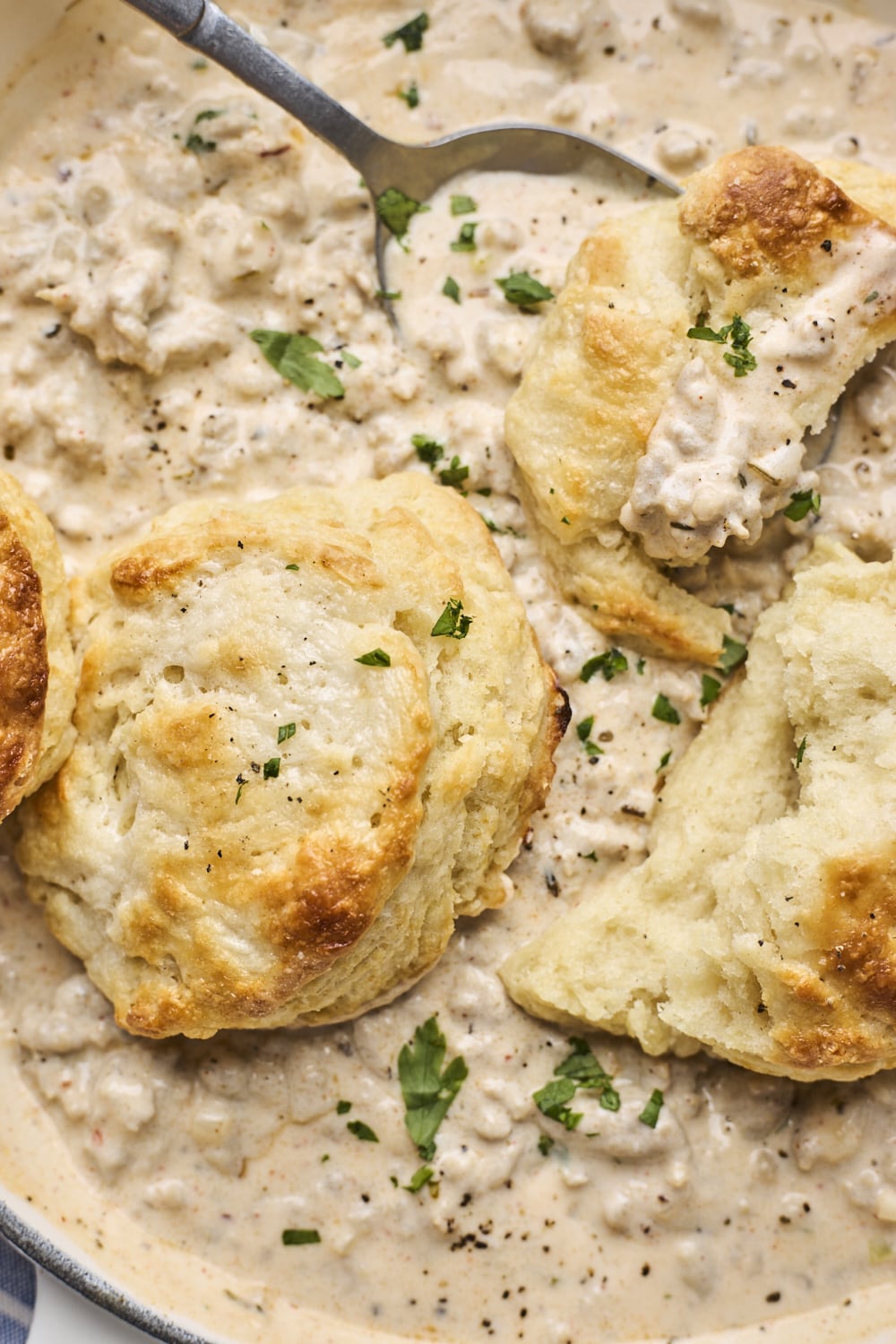 Storage, Make Ahead and Freezing
Gravy Leftovers can keep in an airtight container in the fridge for up to 2-3 days
Make Ahead Instructions
You can make the gravy up to 2-3 days ahead of time and store it in a container in the fridge. Reheat on the stove top adding a splash of half and half or milk to thin it, if needed, and season to taste. The biscuits can be made ahead and stored in the freezer for 3 months. More directions on freezing and make ahead instructions for the biscuits in blog post and recipe for them.
Freezing instructions
You can freeze this gravy but the texture won't quite be the same using cream - so I recommend making it with whole milk if you are planning on freezing it - it may require more time to cook and thicken just a heads up.Thaw overnight in the fridge. Reheat the same as above.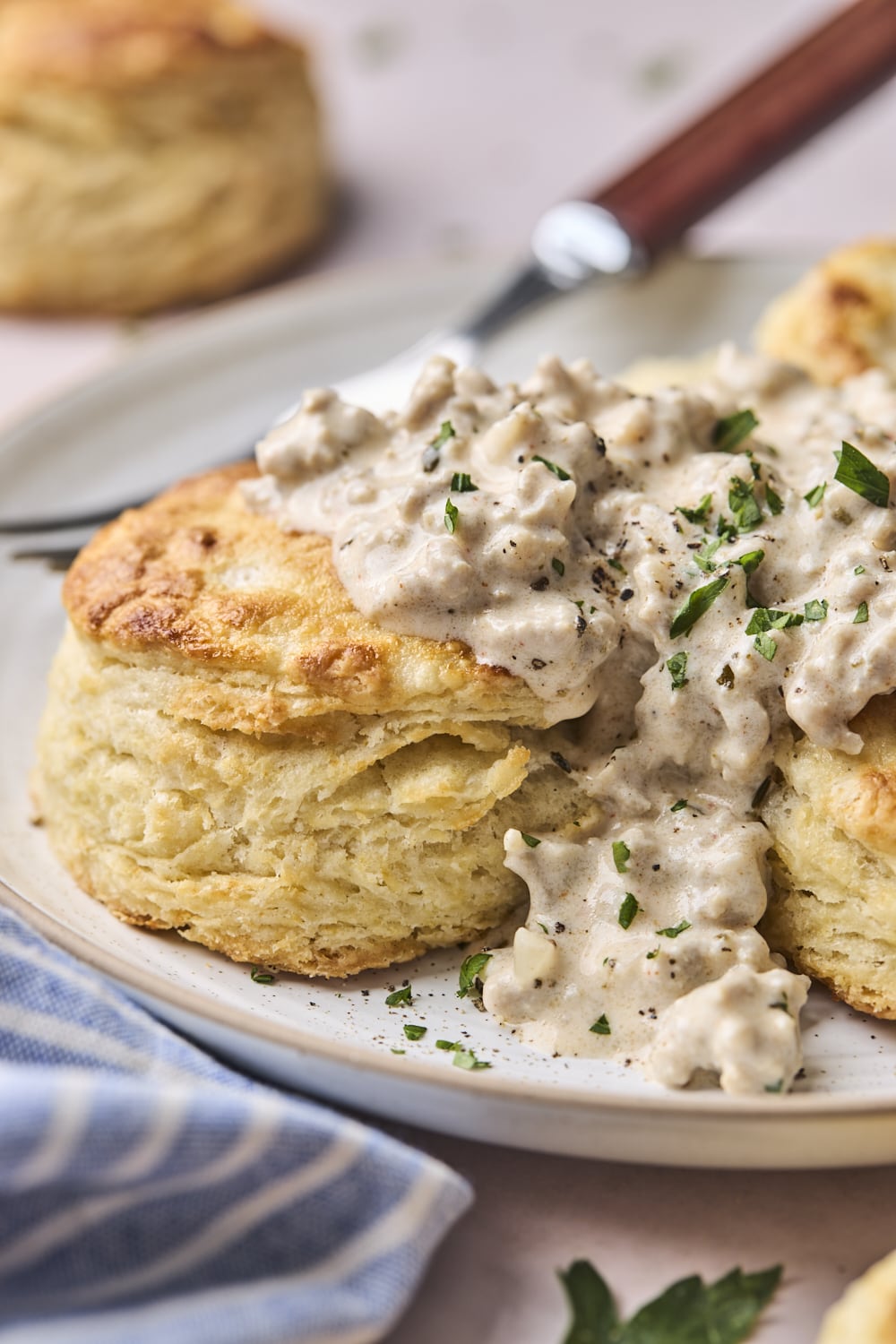 More Breakfast OR Brunch Dishes You Will Love:
Recipe
Prep Time: 5-10 mins
Cook Time: 20-25 mins
Ingredients
8-10 Warm buttery flaky buttermilk biscuits for serving (storebought or make my easy homemade recipe)

1 pound ground pork sausage or breakfast sausage 

1 shallot, peeled and minced 

1 clove of garlic, peeled and minced 

2 heaping Tablespoons all-purpose flour

2½ cups half and half

1 Tablespoon butter

½ teaspoon dried sage,

¼ teaspoon dried thyme 

¼ teaspoon dried rosemary 

¼ teaspoon paprika 

¼ teaspoon chili flakes 

Salt pepper to taste 

Fresh Parsley for garnish 
Directions
Make the biscuit dough and bake until golden brown - use my very now simple biscuit recipe
Prepare the gravy: In a large saucepan, large skillet or Dutch oven, cook shallot, garlic and brown sausage while crumbling the sausage with wooden spoon over medium-high heat.(5-7 min) Spoon out some of the grease from pan if more than1 tablespoon or use a paper towel to blot out some of it from the pan 
Sprinkle over flour, add butter, and half & half. Bring to a simmer and cook on medium-low or low heat, stirring often, for several minutes (5-10 min) until thickened or to your desired thickness 
Stir in spices thyme, sage, paprika, rosemary, red pepper flakes and black pepper, simmer another couple of minutes for flavours to infuse. 
Garnish with fresh chopped parsley and serve over warm tender biscuits.