Easy Blackberry Cobbler
This super easy Blackberry cobbler is the perfect recipe for any hot summer day. Perfectly sweet and tart, with a golden biscuity cakey topping, it's the ultimate easy dessert. Top with a scoop of vanilla bean ice cream and you'll be in heaven. This simple blackberry cobbler recipe is virtually a mix & dump kind of dessert! It can be thrown together in minutes and then you can just let it bake and do its thing. Make in a cast iron skillet or 8x8 baking dish. Either way it will be devoured. It's crispy and chewy around the edges, and soft and sweet in the middle, loaded with fresh blackberries! You'll know its done when the batter bakes up around the blackberries and is all hot and bubbly and browned to your liking. There is no egg in this recipe so it can easily become vegan friendly!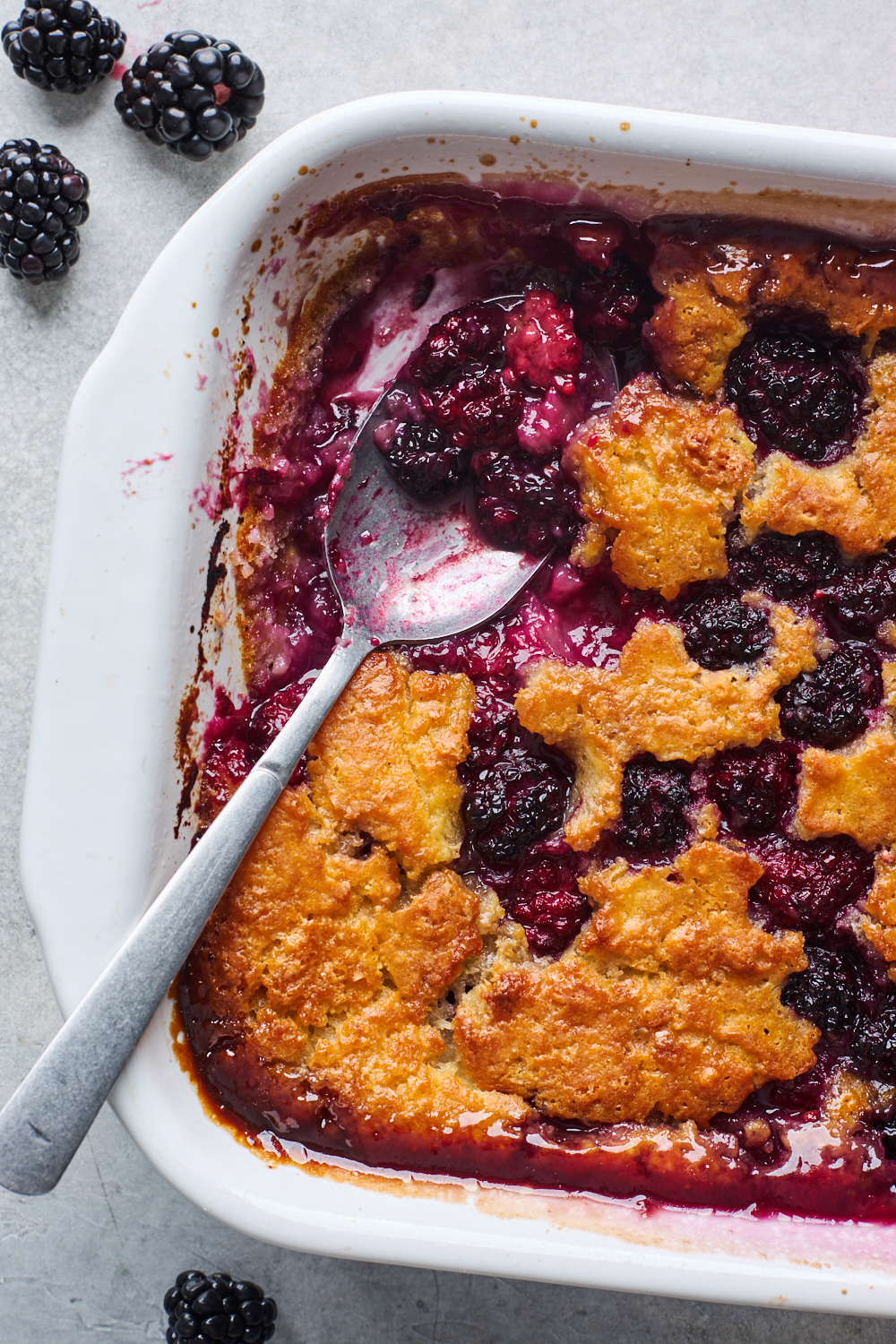 What Is a Cobbler?
What exactly is blackberry cobbler? Everyone has their own idea of what a cobbler is. Cobblers are really easy fruit desserts typically made with a biscuit-like topping. Traditionally speaking though, cobbler is a baked fruit dish that's topped with a biscuit-like top. When baked, the biscuits create a "cobbled" look, similar to a cobblestone street. If we are getting technical, my recipe isn't a true cobbler by definition. It's more like a buckle with a cake like topping. In a buckle, a thin cake-like batter is poured into a pan and topped with fruit that bakes into the mixture. The name of this kind of cobbler is a Texas-style blackberry cobbler or a southern style cobbler. A Texas-style cobbler is a buttery cake speckled with fresh fruit or berries and bakes up with a buttery snack cake. The coolest part is that the berries start on top and as the cake bakes, they move towards the middle, and the bottom and the cake develops a buttery golden top!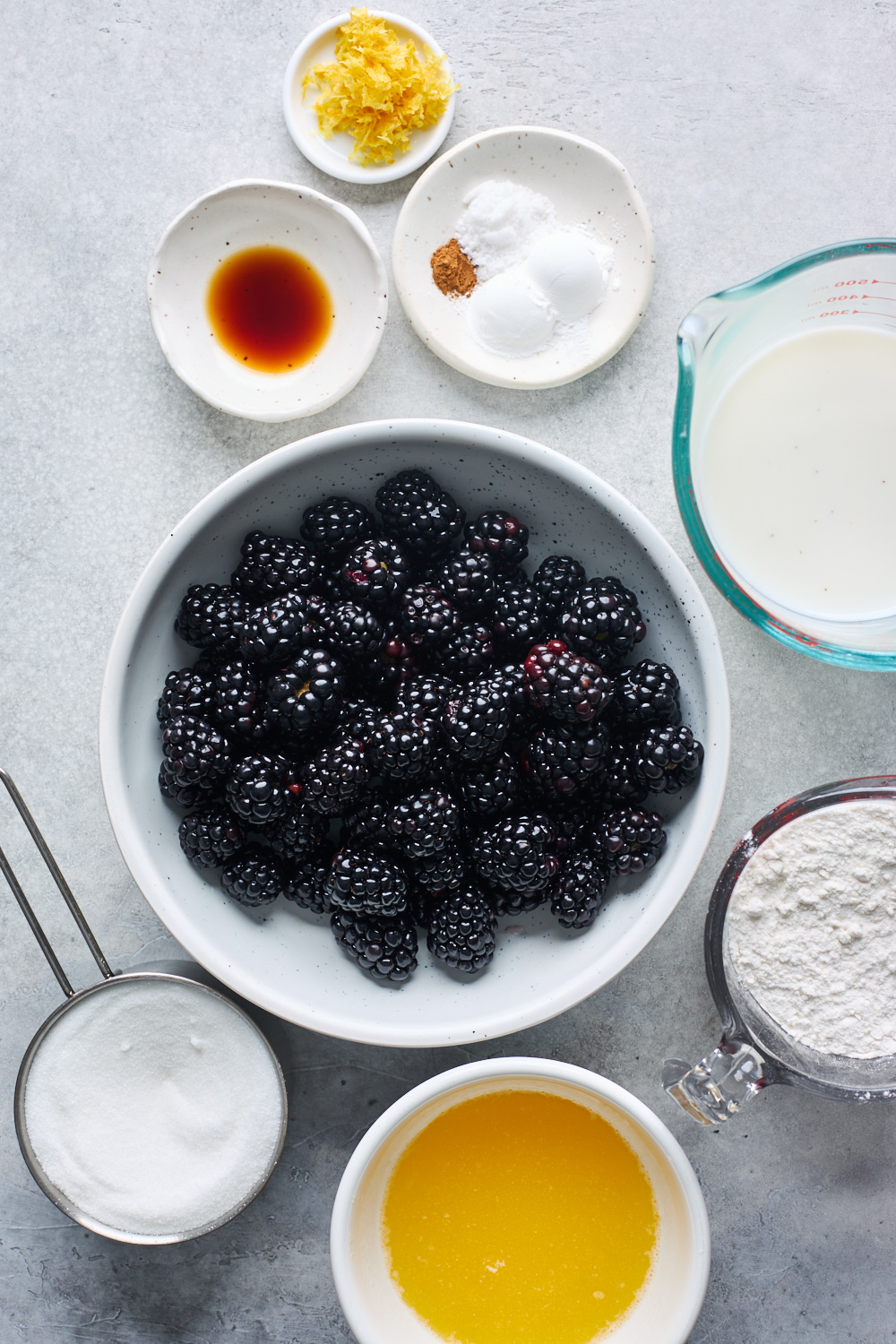 What You'll Need to Make this Old Fashion Blackberry Cobbler:
Here's a quick run-down of the ingredients you'll need to make this cobbler recipe. Be sure to scroll down to the recipe card below for specific amounts.
Blackberries: I recommend using fresh blackberries, but you can use frozen ones if that is all you can find. That being said, fresh berries – especially during the summer months – will have more flavor.
Granulated Sugar: Is used to sweeten up the crust and the blackberry filling.
Butter: You can't have a cobbler recipe without butter! Used unsalted butter - for a nuttier flavour brown the butter in a saucepan to get a caramel / nutty flavor. It's an extra step and an optional one but worth the effort
Lemon zest: Adds a nice pop of flavor to this old fashioned blackberry cobbler.
Milk: We usually use 2% however whole milk or even buttermilk can be used. You can also use a non dairy milk for a vegan option
All purpose flour: 1 cup flour is used in this recipe however make this a gluten free blueberry cobbler substitute gluten free 1-1 all purpose flour
Baking powder: Helps the batter to rise.
Vanilla: Adds a burst of flavor to the cobbler
Spices: I like to add a pinch of ground cinnamon and salt for flavour
What Kind of Fruit to Use:
fresh - is best
frozen - I recommend thawing before using and draining them well
canned - if you are thinking peaches - canned drained ones can work
Anything that you'd use in a fruit snack cake, or make a cobbler with, would work well here to make blackberry cobbler - peaches, nectarines, raspberries, strawberries, cherries, blueberries you name it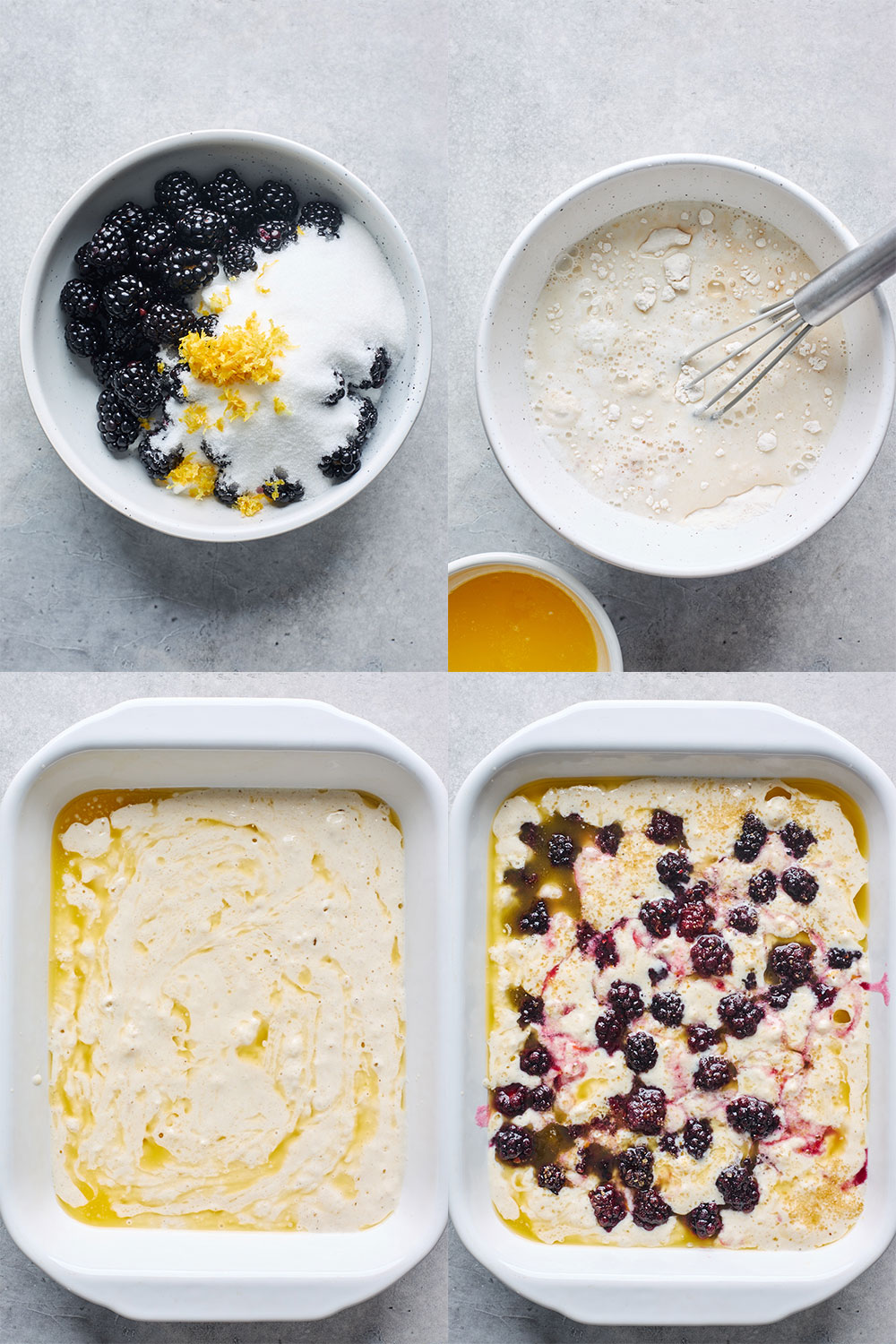 How to Make this Easy Homemade Blackberry Cobbler:
You won't believe how easy it is to make such an iconic dessert! This is not only one of those super quick desserts, but it's also made with very few ingredients. Basically, all you do is make a quick batter of only an handful of ingredients, pour it into a pan, and top it with macerated fruit. Bake until the toppings is puffed up and golden and the blackberries/ fruit is bubblingServe it warm or cooled topped with whipped cream or a side of vanilla ice cream. Here is the simple step by step instructions:
Toss blackberries with sugar, lemon juice and lemon zest and allow to sit and macerate - mash them a little gently to get their juices started, while you preheat the oven
Whisk together flour, cinnamon, baking powder, salt, vanilla and milk. Stir in melted butter to flour mixture
Pour the batter into a well-greased casserole dish. I like to use an 8×12 pan for this recipe you can easily make this in a 9 inch skillet or a 8 inch square baking dish or casserole dish too
Then add the blackberries evenly on top of the batter. They will sink in a little bit, which is totally fine!
Sprinkle more sugar on top if you wish, which will create a nice crackly topping.
Bake for 45 minutes Or until toppimg is golden and fruit is bubbling.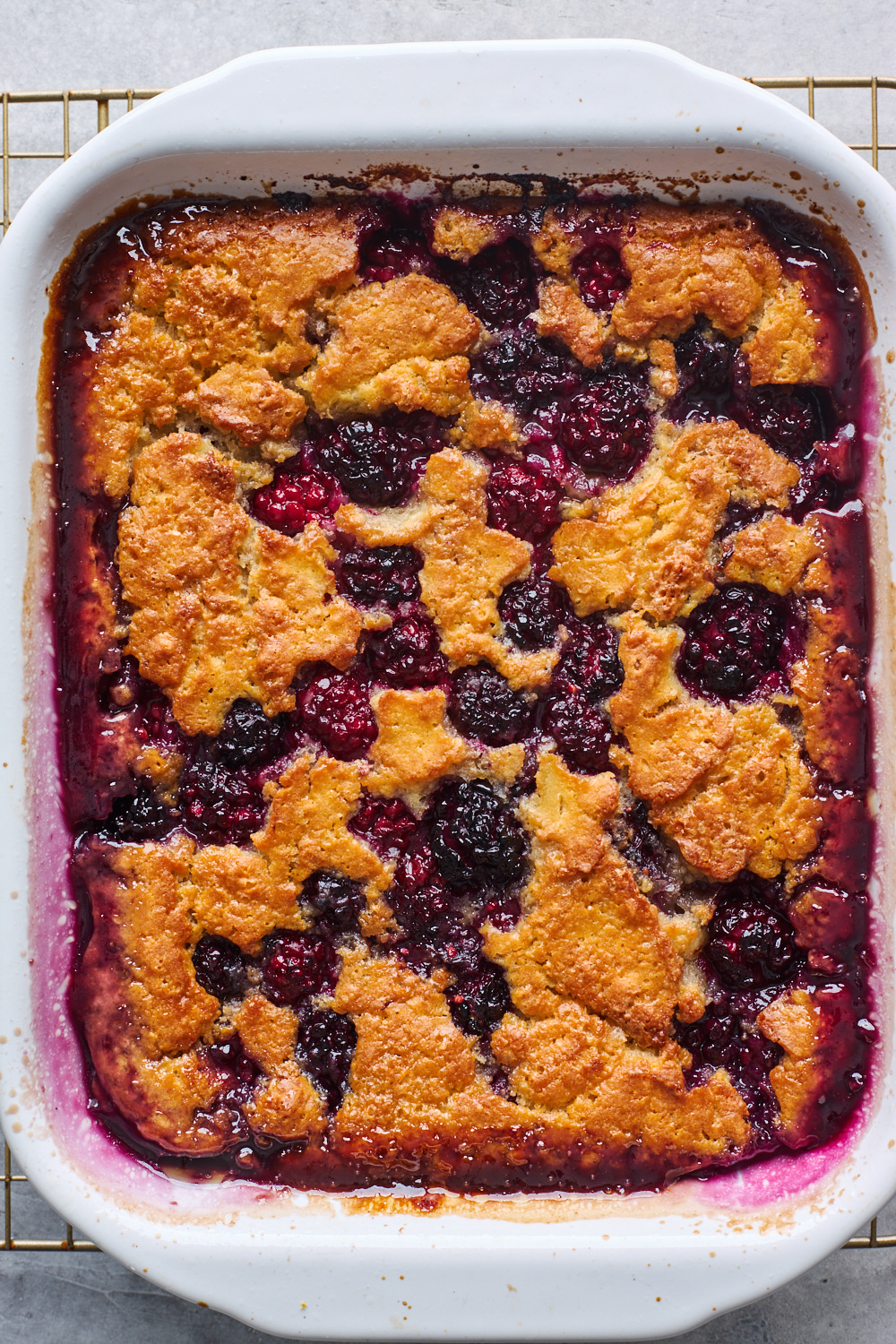 Storage, Reheating and Freezing Instructions
Store: This Southern Blackberry Cobbler can be stored in an airtight container in the refrigerator for up to 5 days.
To Reheat: Leftovers simply warm up in the microwave or reheat the whole casserole covered in foil in a 350 degree oven until warmed through 15-20 minutes.
Freezing: Store baked cobbler in the freezer for up to 3 months. Just make sure to wrap it really good in plastic wrap and foil then store in an airtight container.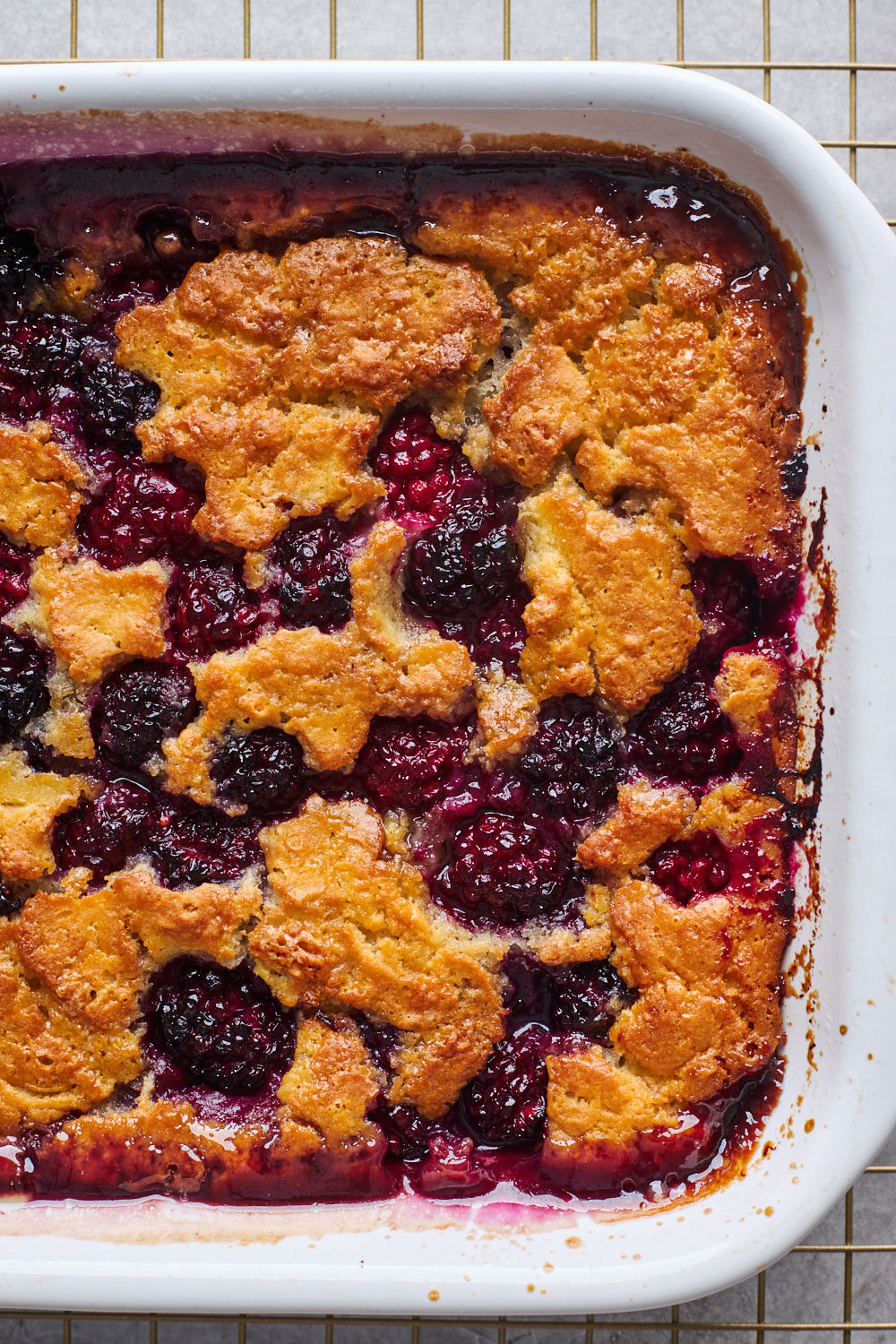 More Berry Recipes You Will Love:
Recipe
Prep Time: 5 mins
Cook Time: 40-55 mins
Non Active Time: 15-20 min for macerating berries and preheating oven
Ingredients
2½ cups fresh or frozen (thawed and drained) blackberries

1 teaspoon Lemon zest

1 cup sugar

¼ teaspoon ground cinnamon (optional)

1 cup all-purpose flour

2 teaspoons baking powder

½ teaspoon salt

1 cup milk

½ teaspoon vanilla extract (optional)

½ cup unsalted butter, melted

1-2 teaspoons of turbinado sugar for sprinkling

Whipped cream or ice cream, for serving if desired
Directions
In medium bowl, toss and stir together the blackberries, lemon zest, and half the sugar. Gently mashing them a bit to get their juices going. Let stand about 15-20 minutes or until fruit syrup starts to form.
In the meantime pre heat oven to 375°F.
In large bowl, whisk together flour, remaining sugar, cinnamon, baking powder, salt, vanilla and milk. Stir in melted butter until combined.
Pour batter into an ungreased 8-inch square pan Or a skillet
Spoon blackberry mixture over batter.
Bake 45 minutes or until batter rises and forms a golden crust. (depending on the oven it could take up to 55 minutes - I usually start checking at the 30 min mark) Let stand a few minutes out of the oven then serve warm with ice cream or vanilla whip cream
Recipe Notes
Use half raspberries or blueberries and half blackberries for a fun flavor combination.
Mix batter as gently as possible, and you'll be rewarded with a tender and moist cobbler!
I didnt need to stew the berries at all before baking - I just mash them a little and allow them macerate with the sugar and they were perfect in the cobbler - tender and juicy. If you are substituting the berries for larger pieces of fruit you make have to simmer it for a couple of minutes with the sugar to soften it a bit before adding to the cobbler. Or simply cut your fruit into smaller pieces
If you don't have an 8×12 inch baking dish you can use any 3- quart pan you have. An 8 inch square pan or 9 inch square pan will work too or even a 9 inch skillet - just be mindful of the baking time as larger pans will make for thinner cobblers that need less time to bake
Baking times vary depending on ovens as they vary and so do the pans you bake the cobbler in. I always recommend you start keeping an eye on this one at the 25-30 mark to ensure you don't over bake it