Easy Blueberry Cake
This Lemon Blueberry Cake Recipe is a very simple cake recipe resembling a buckle cake with a tender light crumb with a fresh berry layer baked onto the top. This cake is perfect for dessert or even for breakfast or brunch - great for baby showers, bridal showers, picnics, any celebration or any day! The simple sweet batter with hints of lemon, vanilla and almond comes together easily and then topped with fresh juicy berries which after being baked sort of get enveloped into the batter without them all ending up at the bottom of the cake. I like it just as it is or dusted with a bit of powdered sugar but if you would like you can serve it with a dollop of creme fraiche, yoghurt, vanilla whip or even with a scoop of vanilla ice cream if you are a cake and ice cream loving person. Either way you will enjoy it!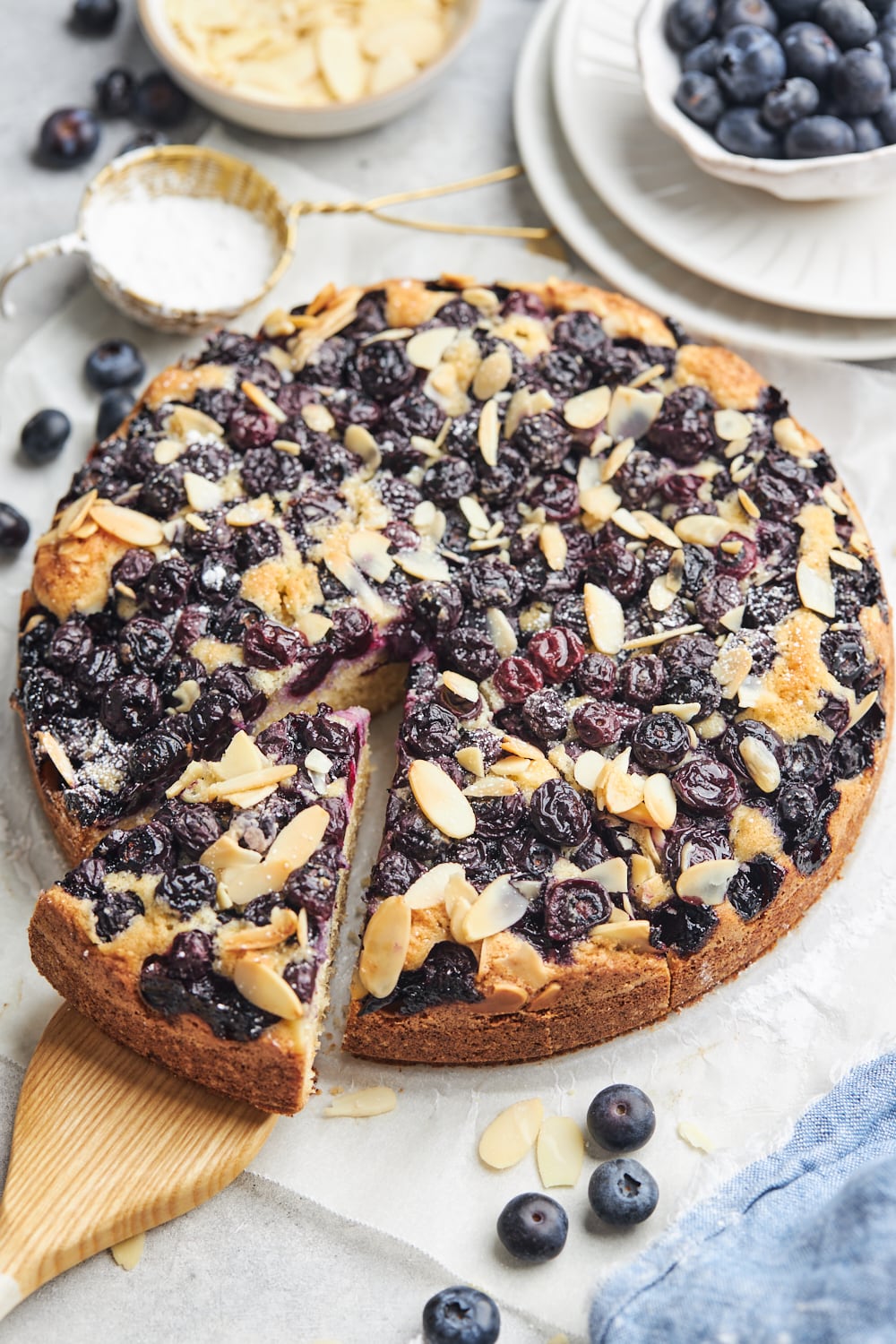 Blueberry Cake Ingredients
The ingredients are simple and the flavourings can easily be adjusted to suit your tastes.
Flour: regular all-purpose flour is what I use but this recipe should work well with a gluten-free all purpose 1-1 flour - the texture may slightly be altered though
Sugar: granulated white sugar to sweeten the cake - you will need ¾ cup sugar
Baking powder: check the date and make sure it is fresh.
Salt: to enhance and balance flavors.
Eggs: you will be needing 2 whole eggs both the egg yolks and egg whites - make sure your eggs are at room temperature
Vanilla extract: always for all my baked good
Almond extract: it adds the perfect almond flavor - but this is optional if you prefer using vanilla only - just add a touch more instead of the almond one
Butter: use unsalted butter that is room temperature
Blueberries: you can use fresh or frozen blueberries (for this cake If using frozen berries I recommend thawing them and patting them dry before adding - if they are left frozen there is a change that the cake will have an altered texture ) If you don't have blueberries feel free to use any fresh berries you like or any fresh fruit you like - just stick to the same amount as the blueberries and make sure to chop or dice your fruit to a similar size of blueberries - ie dice apples pears and strawberries
Turbinado sugar: to add a sweet crunch to the top of the cake - this is optional but a nice add in
Sliced almonds: to sprinkle on top of the cake - also optional but I love the texture they add and hoe prey any almond cake looks
Confectioner's sugar: optional, but it makes the cake extra pretty and adds a light touch of sweetness to each bite
Lemon Zest & Juice: fresh lemons and fresh lemon juice is what I recommend always. Both add a very subtle lemon flavour to the cake that always works well with berries, vanilla and almond
Optional Add Ins: feel free to flavour the cake by adding some spice like a pinch of cinnamon or cardamon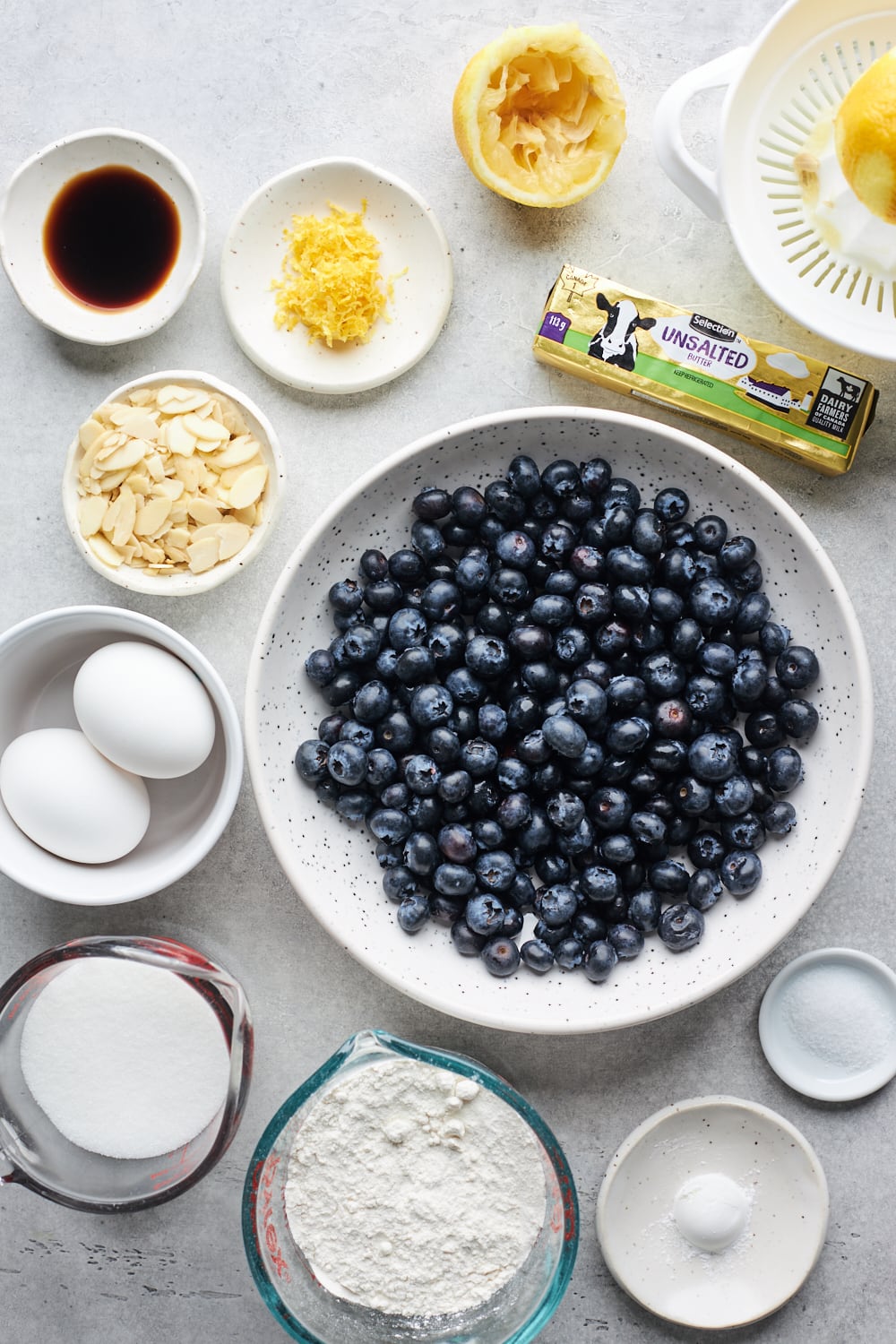 How to Make This Simple Blueberry Cake
The instructions fo this cake a simple and straight forward. Here is a breakdown of the steps (full directions below in recipe card)
PREHEAT oven to 350°F and PREPARE pan
In a large bowl, WHISK together dry ingredients: flour, baking powder, and salt.
CREAM butter with sugar and lemon zest then add the extracts
BEAT in Eggs one at a time
Gradually MIX the dry ingredients into the wet ingredients until just incorporated
SCRAPE batter evenly into the prepared pan
TOSS blueberries with lemon juice and remaining flour
SPOON berries over top batter evenly
SPRINKLE top with turbinado sugar and sliced almonds.
BAKE until golden brown and a toothpick inserted into the center of the cake comes out clean an estimate of 45-55 min
COOL cake
DUST the cake with confectioner's sugar, if desired.
SLICE & SERVE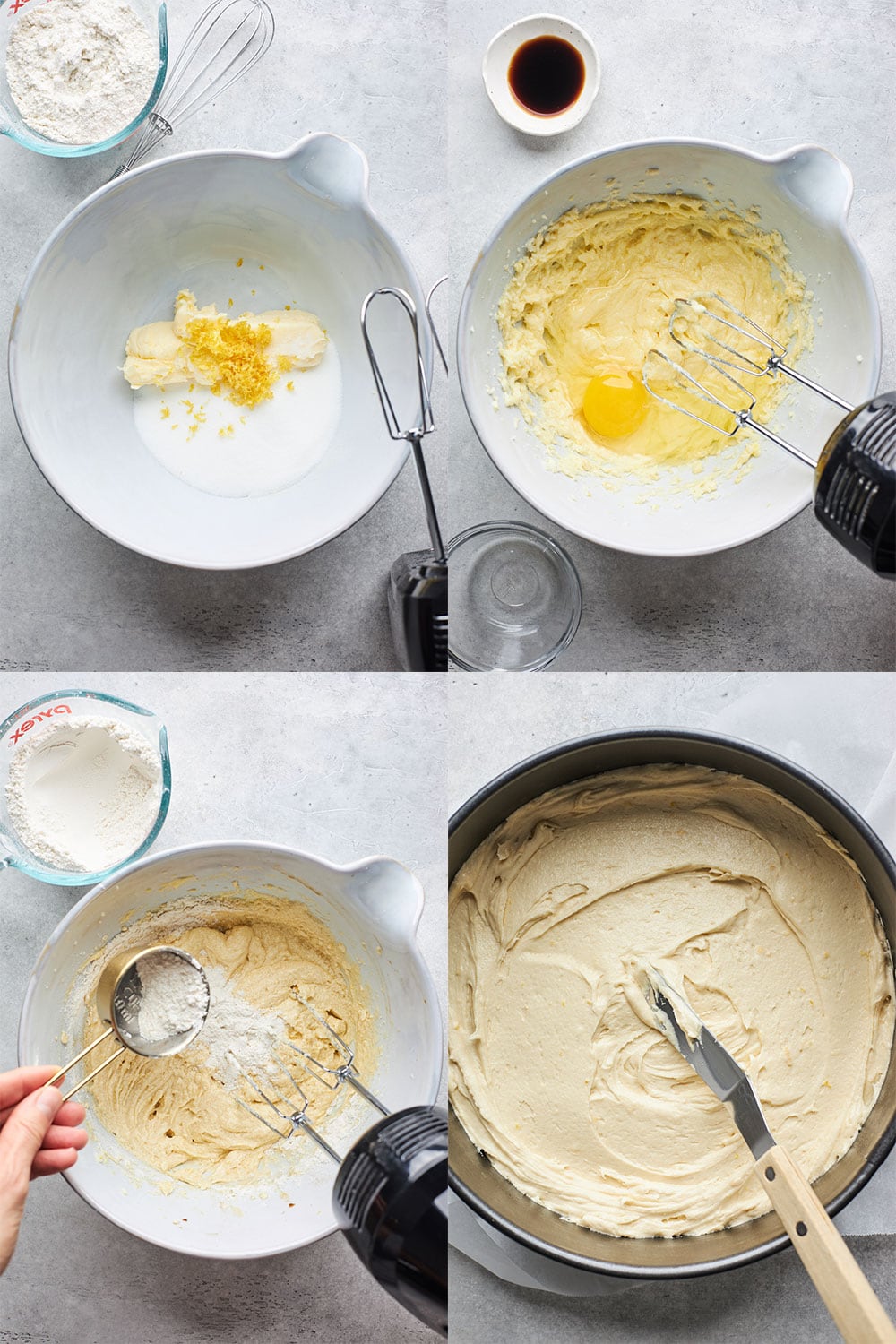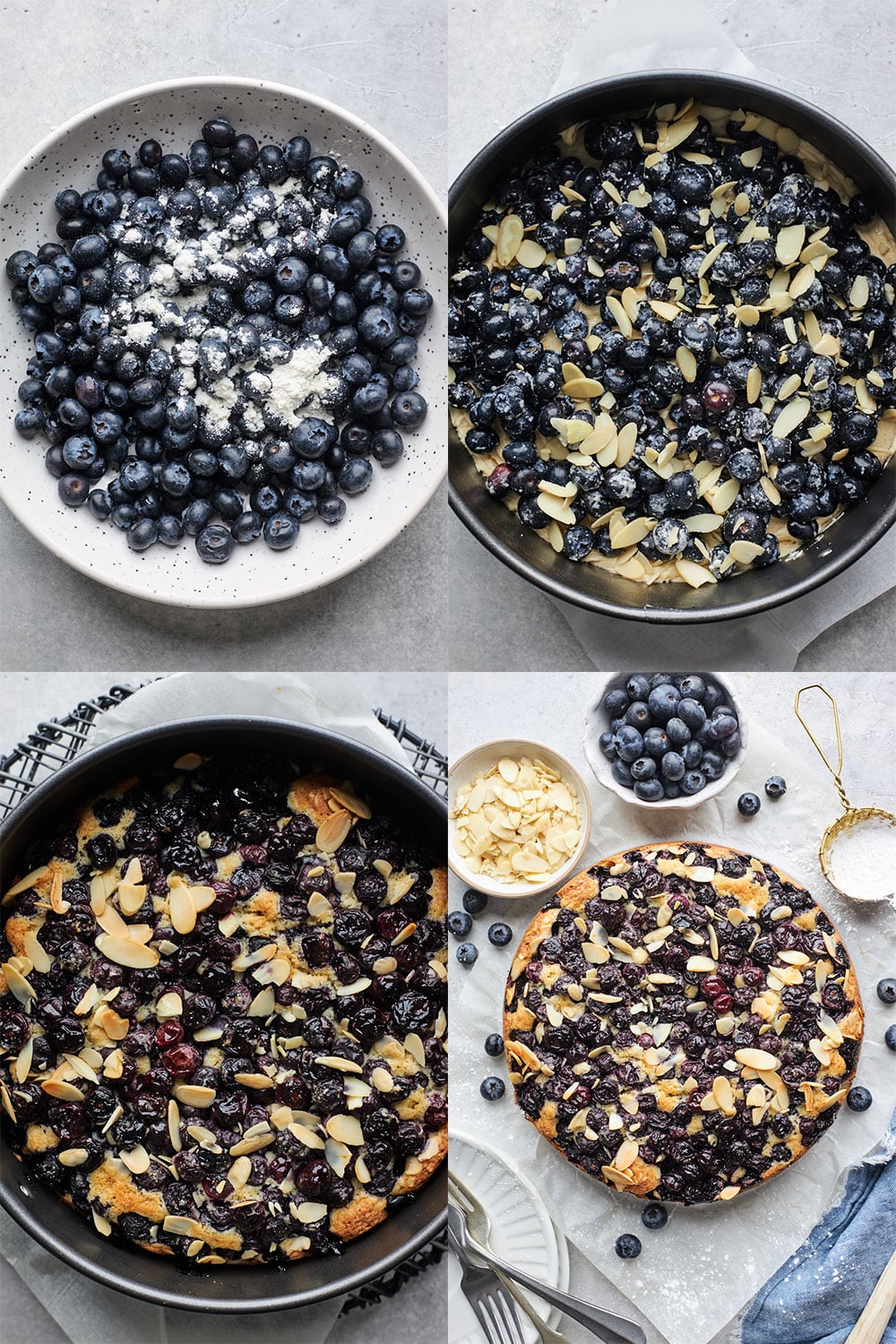 Blueberry Cake Storage & Freezing
STORAGE: Let the cake cool completely then store covered at room temperature for up to 3 days. It will get moister as it sits. You can also store cake in an airtight container in the refrigerator. Let the cake come to room temperature before serving.
FREEZING: You can also freeze the cake for up to 2 months. Wrap the cooled cake in couple of layers of plastic wrap and then cover in aluminum foil and place in the freezer. You can freeze the whole cake or individual slices. Thaw before serving.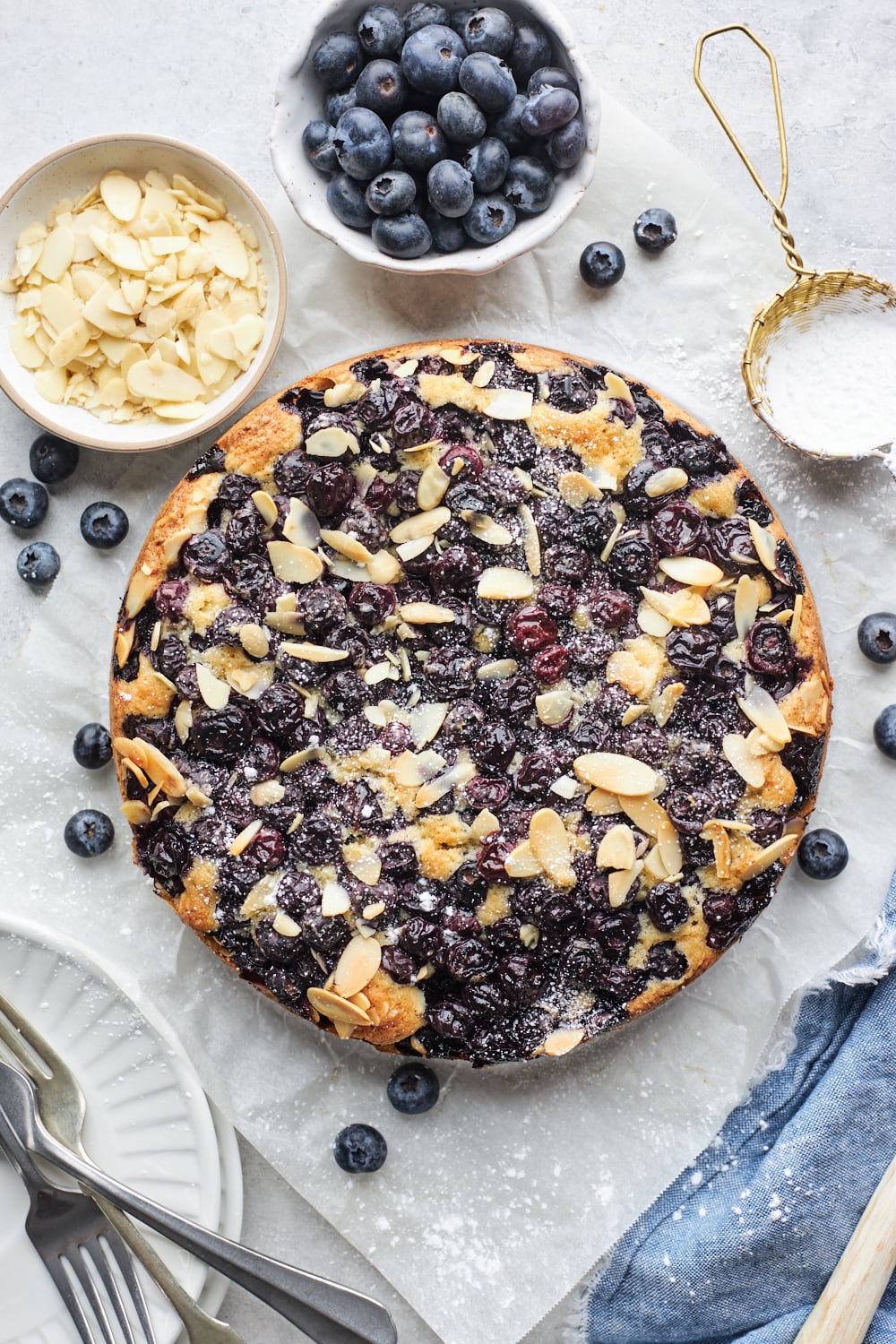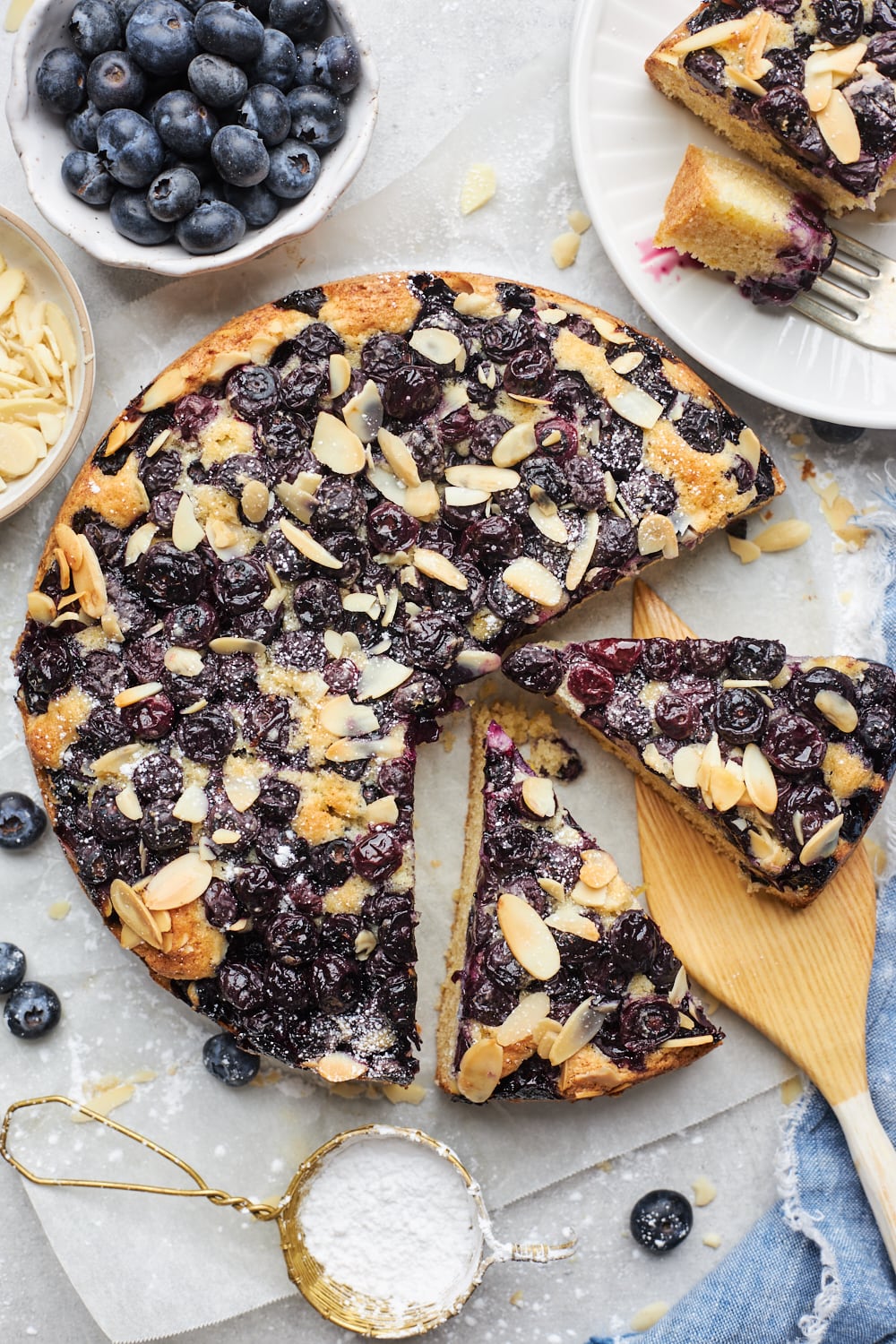 More Berry Loaded Recipes You Will Love:
Recipe
Yields: one 8 or 9 inch round cake
Prep Time: 15 mins
Cook Time: 45 mins
Ingredients
1 cup (130g) all-purpose flour plus 1 teaspoon flour, divided

1 teaspoon baking powder

½ teaspoon salt

½ cup (113g, 1 stick) unsalted butter, softened, plus more for buttering the pan

¾ cup (160g) sugar

1 teaspoon vanilla extract

¼ teaspoon almond extract (optional)

2 large eggs

Zest of 1 small lemon

2 cups (325g) fresh blueberries, rinsed, drained, and patted very dry (if using frozen blueberries, thaw and drain first)

1 teaspoon lemon juice

½ cup of sliced almonds (optional)

Option add on - 2 tablespoons turbinado sugar for topping berries with

Powdered sugar for dusting (optional)
Directions
Preheat the oven to 350°F and lightly butter or grease and line bottom of an 8 or 9-inch springform pan or round cake pan with parchment paper
In a small-medium bowl whisk together the flour, baking powder and salt to combine then set aside
In a large mixing bowl using a hand mixer or stand mixer cream the butter and sugar along with the lemon zest 1-2 minutes until light and fluffy. Beat in the vanilla extract and almond extract if using
Add the eggs one at a time and beat until well blended and scraping down the sides of the bowl as needed.
Reduce the speed of the mixer to low and gradually add the flour mixture, beating until smooth. The batter will be thick.
Scrape cake batter into prepared pan, smoothing the top with a spatula.
Toss berries with lemon juice and remaining 1 teaspoon of flour then spoon evenly over batter. Leave as is or gently press them into batter slightly so they will be more imbedded into cake (I did not do this but you can if you wish- they will sink into the batter either way)
Sprinkle with turbinado sugar if using and sliced almonds on top evenly and bake for 45 to 55 minutes at 350°F, or until a tester inserted into the center comes out clean. (If you are using a 9-inch pan, the cake will bake a little faster, so start checking for doneness on the early side)
Once cake is done baking allow cake to cool in pan over cooling rack for 10 minutes then run a knife or thin spatula around cake and remove springform collar. Allow cake to cool completely then transfer to platter and dust with powdered sugar before slicing and serving