Mixed Berry Crumble Slab Pie
This mixed berry slab pie uses a super flaky homemade pie dough - my favourite all butter pie crust and extra juicy berry filling. This is a very easy way to make and serve pie! The perfect dessert for a crowd, plus more flaky crust in every bite. Use a mix of berries for best flavor. A berry slab pie, in my opinion, is the best way to serve dessert to a crowd. Instead of baking your pie in a round tin, as is traditional, it's baked in one big sheet pan. Pie is always a great make head dessert and the same goes for this berry slab crumble pie. The pie crust and the crumble topping can easily be made in advance making it even faster and easier to put together the day of.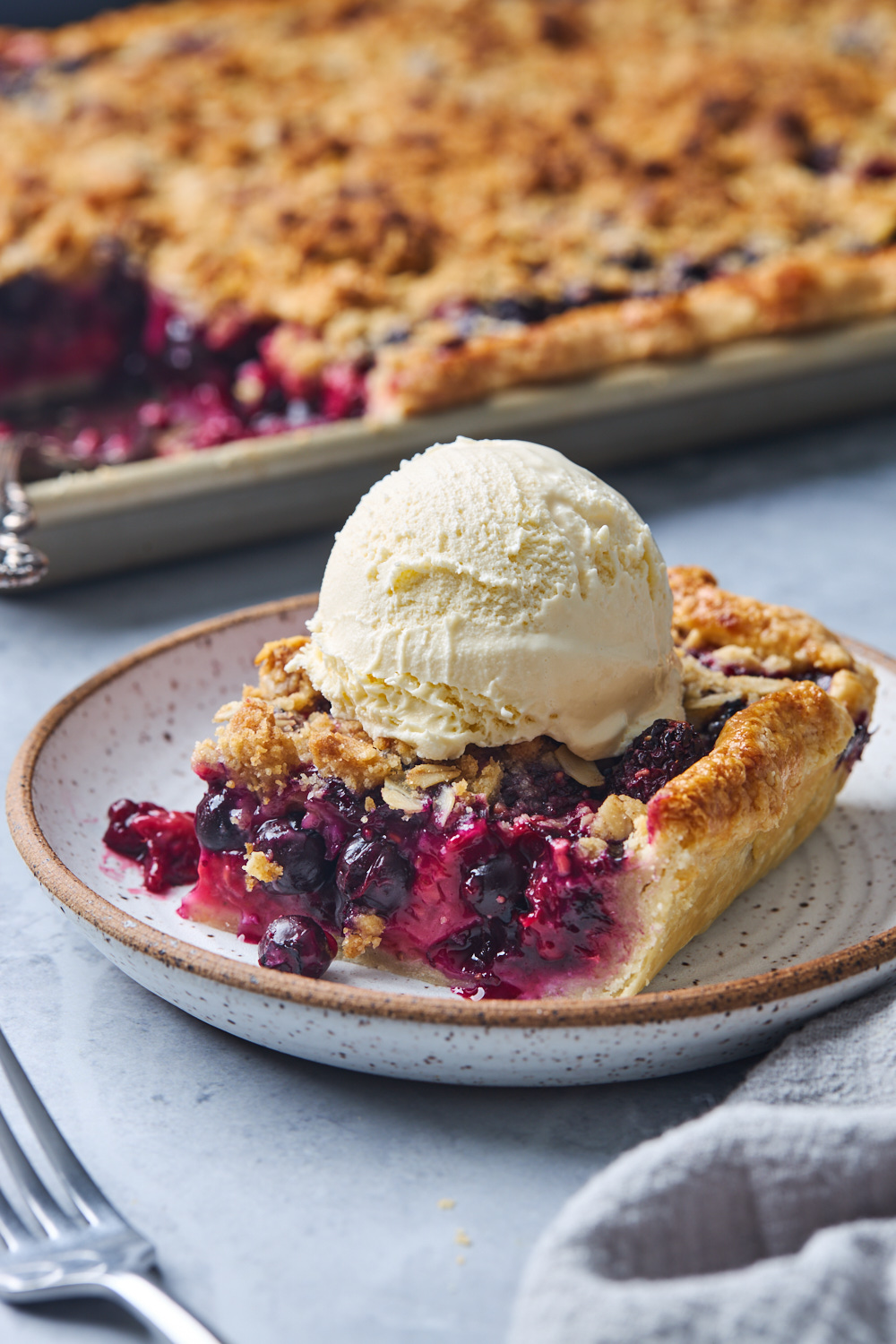 Why you are going to love this Mixed Berry Slab Pie
I love a slab pie for a number of reasons. This rectangular shaped pie - aka slab pie is made in a Sheet pan or jelly roll and is easy as pie to make. There's no better way to feed a crowd with a load of sweet summer produce than with a sheet pan pie that can easily be sliced for guests. Here is why you will love it:
Slab pie is cut into bars so it's easy to slice, serve, and eat.
Slab pie feeds a crowd.
Easy to make ahead and even freezing leftovers
More curst in every bite - I know that's everyone's favorite part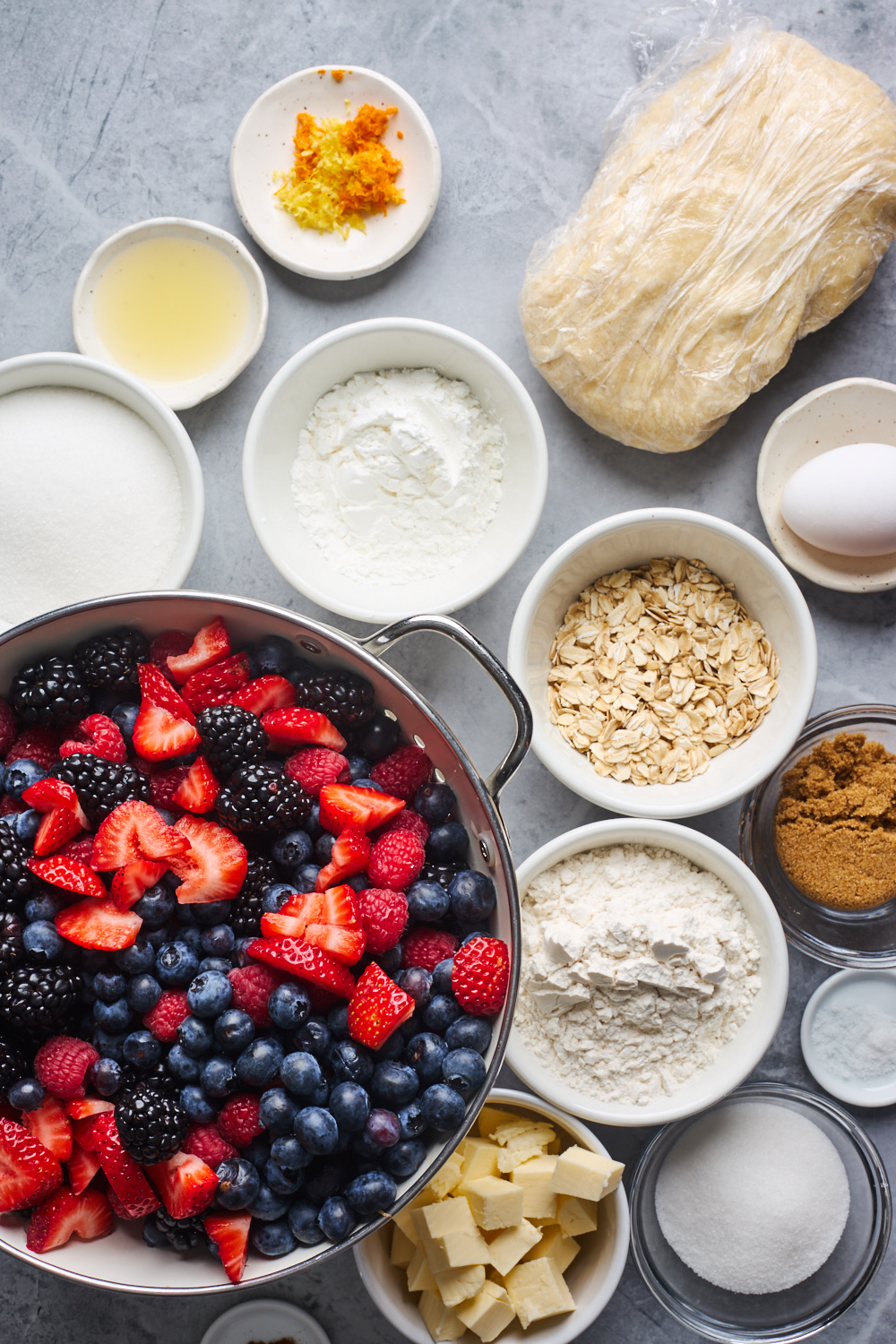 Slab Pie Crust & Crumble Topping
This pie crust recipe is like any regular pie crust that you would use for a regular pie but it yields double to almost three times the size. (Slab pies are larger, so we need more pie dough.) It is a very simple all butter pie crust that I love and use for all my slab pies. It's a wonderful balance of tender and crisp and browns beautifully in the oven. The pie dough must chill for a couple hours, so it's easiest to prepare the crust in advance. It can hang out in the refrigerator for a few days or in the freezer for 3 months. The CRUMBLE topping is easy to make and combines sugar flour and butter along with some oats. Its easy to make and can be made ahead of time and refrigerated or frozen as well once its made. I usually make it ahead and put it in a freezer bag and chill it until I'm ready to use it. If you prefer to use store-bought crust in this recipe you definitely can - you will need 1 box for the bottom crust or 2 pieces of thawed dough on top of one another and rolled out to make a piece large enough to fit the bottom of the pan.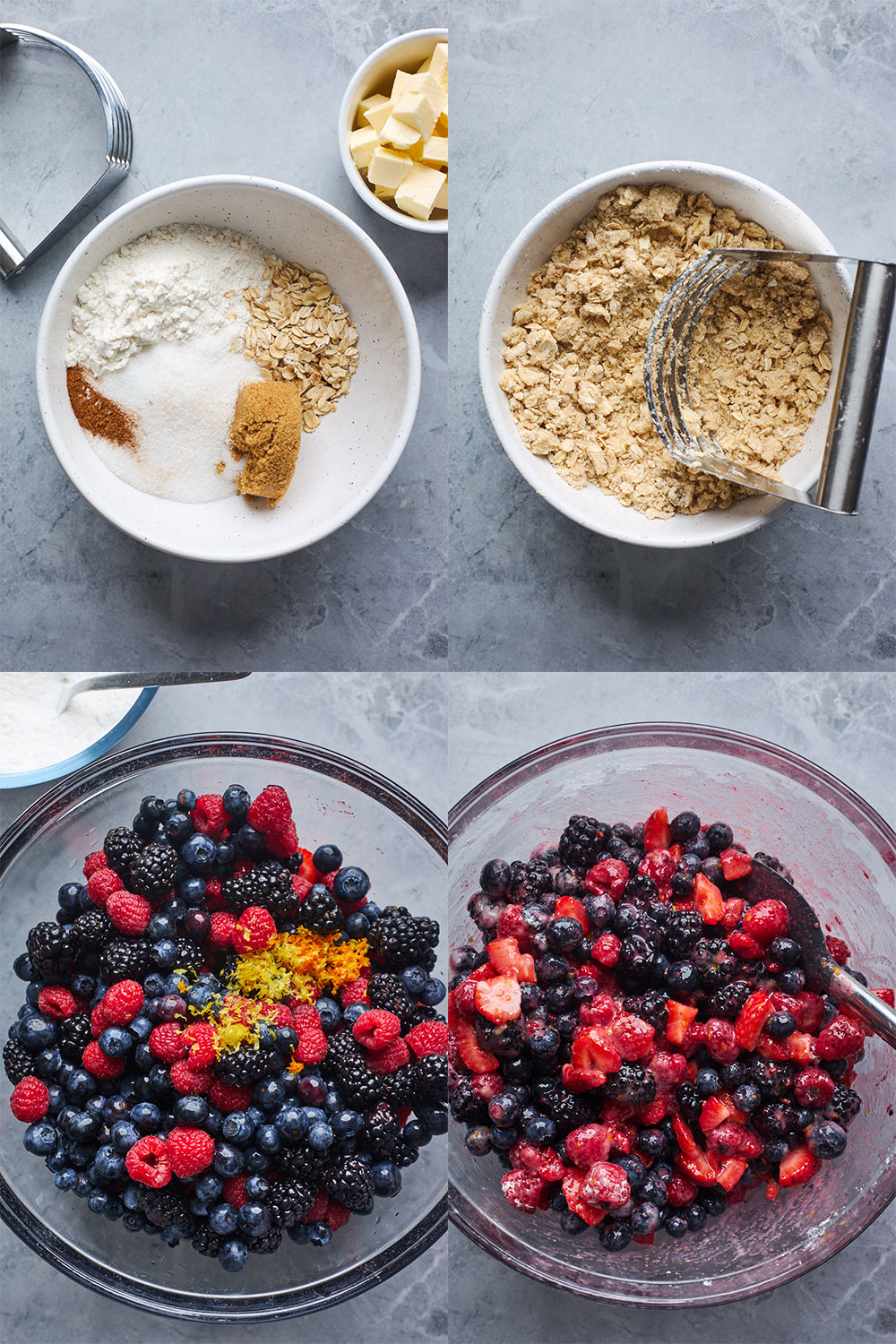 Slab Pie Filling
Berries: I always recommend using a mix of berries for more complex flavor in each bite– a sweeter variety and a tart variety, too. Most of the berries especially the blackberries and raspberries will cook down to juices when baked to its good to vary them and add chunkier ones like chopped strawberries which hold they shape a bit better than the rest - that goes for the blueberries as well.
Sugar: Granulated sugar adds sweetness.
Corn Starch: It thickens the filling while it bakes. I use a half cup for this recipe - if you prefer a juicier filling feel free to reduce amount by 1 tablespoon
Orange Juice & Orange Zest: Adds brightness and a delicious flavour but feel free to use lemon juice and lemon zest in its place if you prefer a more tart filling.
Extra Add Ins: Feel free to add a dash of Vanilla Extract or even a touch of almond extract for more flavour or you can also add a pinch of spice to your filling as well like ground cinnamon, ground nutmeg, ground ginger or ground cloves.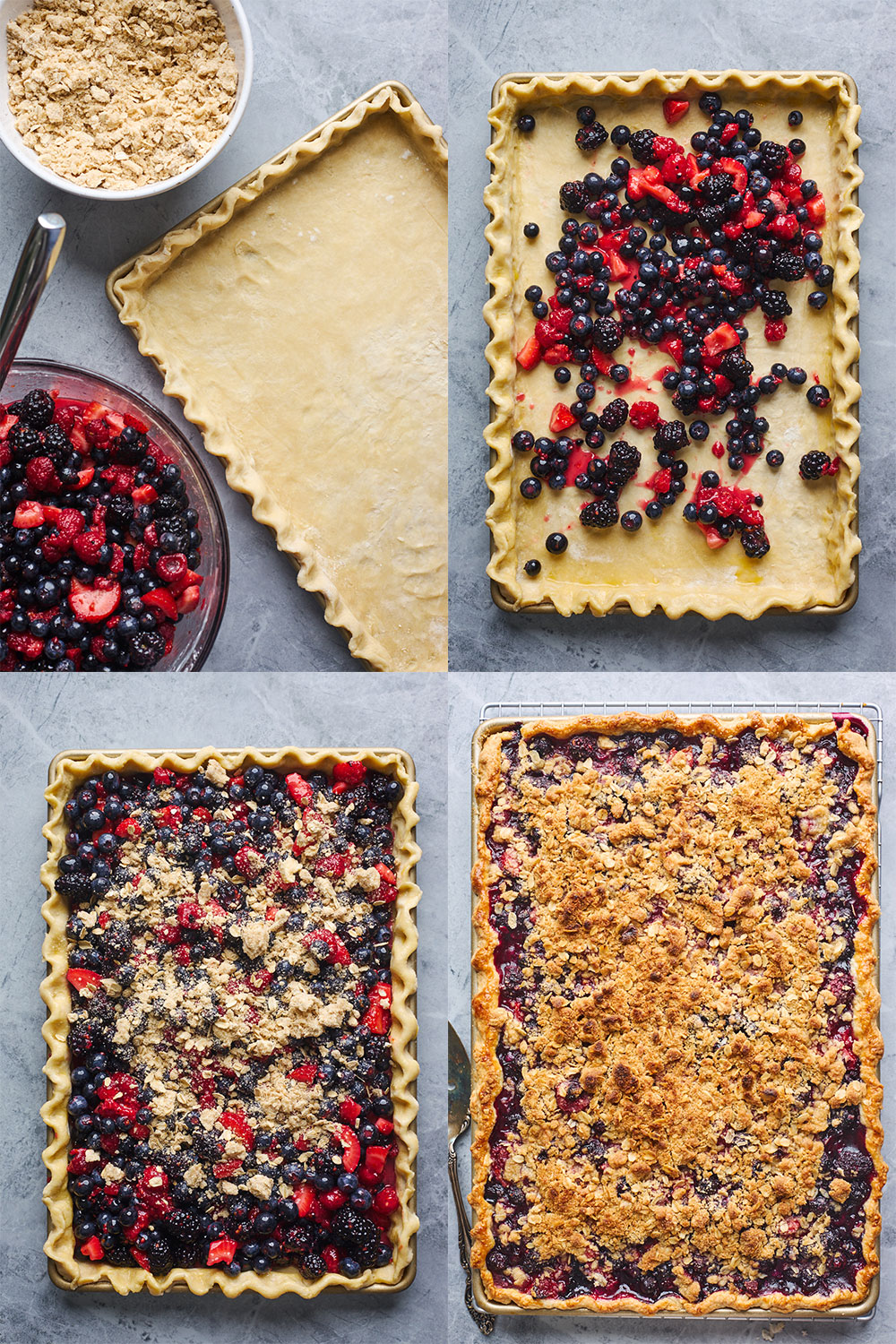 How to Make Berry Slab Pie
As you can see, the pie takes on a rectangular shape here. It's such a unique way to make and serve a pie and quite easy and forgiving to make. Here is a quick overview of the simple instructions (full details in recipe below):
After you make and roll out your pie dough and have the sheet of dough nestled in the pan, trim and crimp edges and brush with egg wash. You will chill it while you prepare the filling and crumble topping (can be made ahead)
Make the crumble topping (can be made ahead)
Toss the filling ingredients together
Assemble pie - place filling into pie, sprinkle the crumble topping over it and then bake until crust is golden and filling is bubbling.
Allow to Cool once out the oven. The hardest part about making this berry slab pie recipe, is waiting for it to cool before diving in but its a must to allow the filling to set and make it easier to slice Berry Slab Pie Tips
Berries are naturally juicy and will excrete or give out plenty more juices after you mix the filling ingredients together. If there is a lot of liquid in bowl do not pour the excess liquid into the pie because that excess liquid leads to a soggy crust. Use a slotted spoon to transfer the filling to the pie crust, leaving excess liquid behind. A little liquid is fine though.
Keep ingredients cold to ensure a flaky crust - chilled butter and ice cold water is key
Refrigerate the dough after every step to prevent soft crust
Handle the dough as little as possible - Over-handling makes the pastry tough.
Use as little flour as possible when rolling out the dough.The pastry can absorb extra flour, which will also make it tough.
Use aluminum foil or "pie shields" or tent the whole pie loosely with foil if its browning too quickly.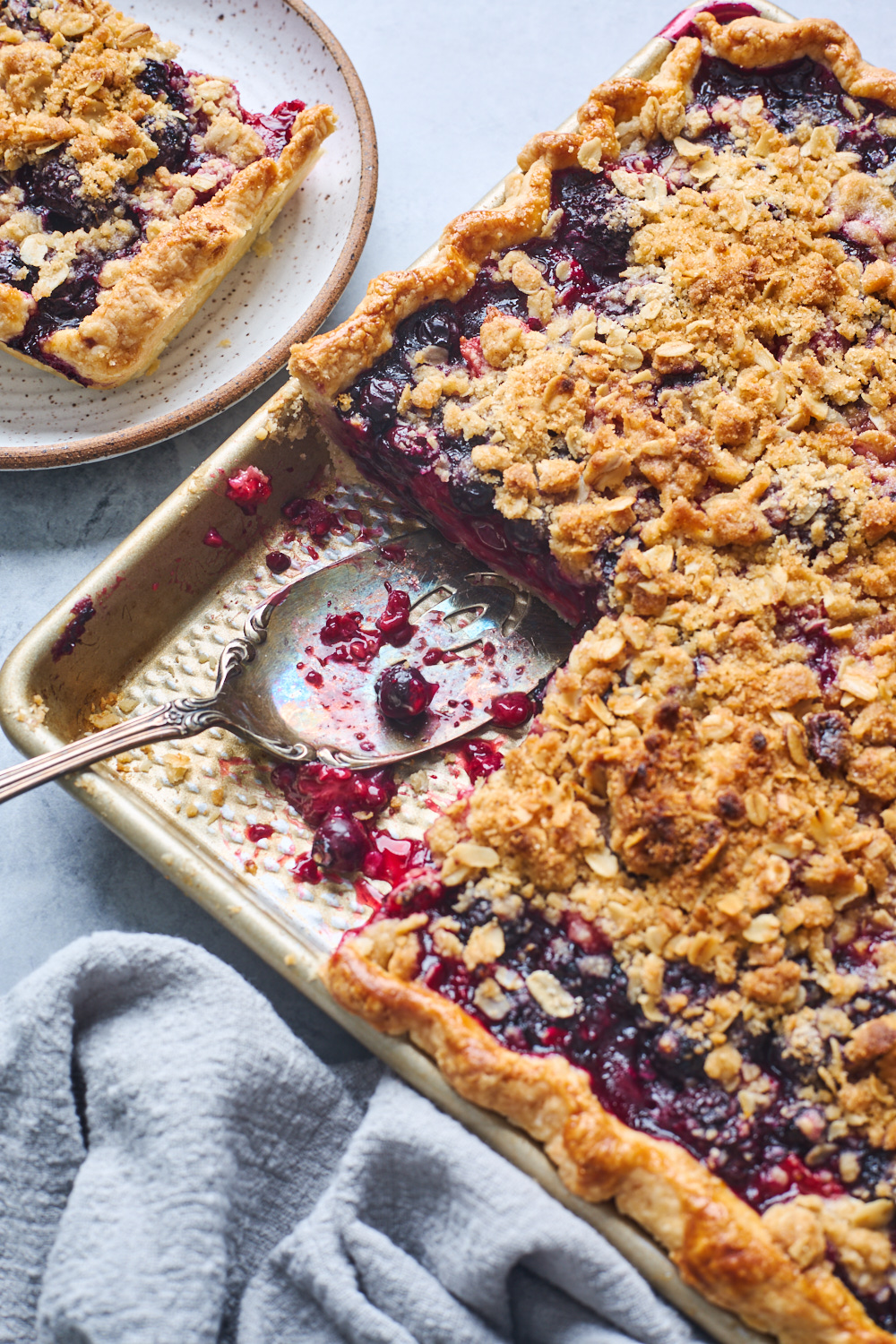 More Pie Recipes you will love:
Recipe
Yield: 1 slab pie (15 x 10 x 1-inch baking pan or sheet pan)
Prep Time: 30 mins
Non Active Time: 1 hour 30 min for chilling dough and cooling pie
Cook Time: 40 mins
Ingredients
For the crust
2 ½ cups of all purpose flour

2 tablespoons granulated sugar

½ teaspoon of the salt

1 egg whisked or beaten for egg wash

1 cup (2 sticks) cold unsalted butter, cut into cubes

9 tablespoons cold water
For the filling
10 cups fresh or frozen mixed berries, blueberries, strawberries, raspberries, blackberries (thaw and pay dry frozen berries if using)

2 teaspoons orange zest or lemon zest

2 tablespoon orange juice or lemon juice

1 cup granulated sugar

½ cup cornstarch
For the crumb topping
1 cup all-purpose flour

1 cup rolled oats

⅓ cup granulated sugar

⅓ cup light brown sugar

¼ teaspoon salt

¼ teaspoon cinnamon

8 tablespoons unsalted butter, cold (½ cup)
Directions
For the crust
In a large bowl, combine 2½ cups of the flour, 2 tablespoons of the sugar, and ½ teaspoon of the salt.
Using a pastry blender, (or you could do this in the food processor) cut in 1 cup of the butter until the mixture resembles coarse crumbs. Stir in the cold ice water (or as needed) with a fork just until the flour is moistened. Chill for 30 minutes or overnight.
Roll out the dough onto a lightly floured work surface with a rolling pin into a 19x14-inch rectangle.
Place the pie pastry onto the bottom of an ungreased 15 x 10 x 1-inch baking pan (lining the pan with parchment paper is optional), quarter-sheet pan or jelly roll pan, and fit it into the corners gently pressing it against bottom and sides. Trim and fold edges under and crimp. Brush edges with beaten or whisked egg. Transfer pan the fridge and chill while preparing the next steps.
For the filling
Toss all the filling ingredients together
For the crumble topping
In a medium bowl toss together the flour, oats, spices, and sugars to combine.
Add the butter and rub it through until the mix is crumbly using your fingers, forks or a pastry cutter.
Assembly
Preheat oven to 400°F
Remove the prepared crust from the refrigerator and pour the berry filling into the crust.
Sprinkle the crumble topping over evenly on top of pie
Bake at 400°F for 38 to 42 minutes or until crust is browned and filling is bubbly.
Remove and pan cool on wire rack to room temperature, about 45 minutes to 1 hour. Slice and serve slightly warm or room temperature or cold. Serve with vanilla ice cream or whipped cream.
Cover leftovers tightly with foil or plastic wrap and store in the refrigerator for up to 3-4 days.
Recipe Notes
Make Ahead Instructions: The pie crust dough and the crumble topping can be made ahead of time and stored in the refrigerator for up to 5 days or in the freezer for up to 3 months. Thaw pie crust overnight in the refrigerator before using. Baked whole pie or sliced pie bars freeze well for up to 3 months. Thaw overnight in the refrigerator and allow to come to room temperature before serving.
This pie is best served on the day you make it but if you're in a pinch, it can also be made in full one day in advance. Make the pie as instructed, leaving it in the baking sheet, covered with foil, at room temperature or in a cool room, then reheat it at 300°F until warmed through (about 20 minutes). You can crank the broiler on in the last couple of minutes to crisp up the top a little if you wish - just watch it carefully to avoid burning that beautiful buttery crumble
To make the pie with a lattice top or top pie layer just double the pie crust above and split dough into two portions one for the crust and one for the top layer. Use a pizza cutter to slice the lattice portions or if completely covering berries make sure to cut slits into top crust with sharp knife before baking and also make sure to brush the top layer with egg wash