Easy Homemade Garlic Knots
These Homemade garlic knots recipe is easy to make using frozen or store bought pizza dough or my simple homemade pizza dough recipe included. These buttery garlic knots are so very irresistible and make a great appetizer with marinara as a dipping sauce, a snack and great served alongside any meal including salads soups and pasta. They are also great as mini slider buns too! They are soft, garlicky and slightly chewy. They are brushed with parmesan garlic butter before baking and after they come out of the oven while they are warm - then watch them disappear!!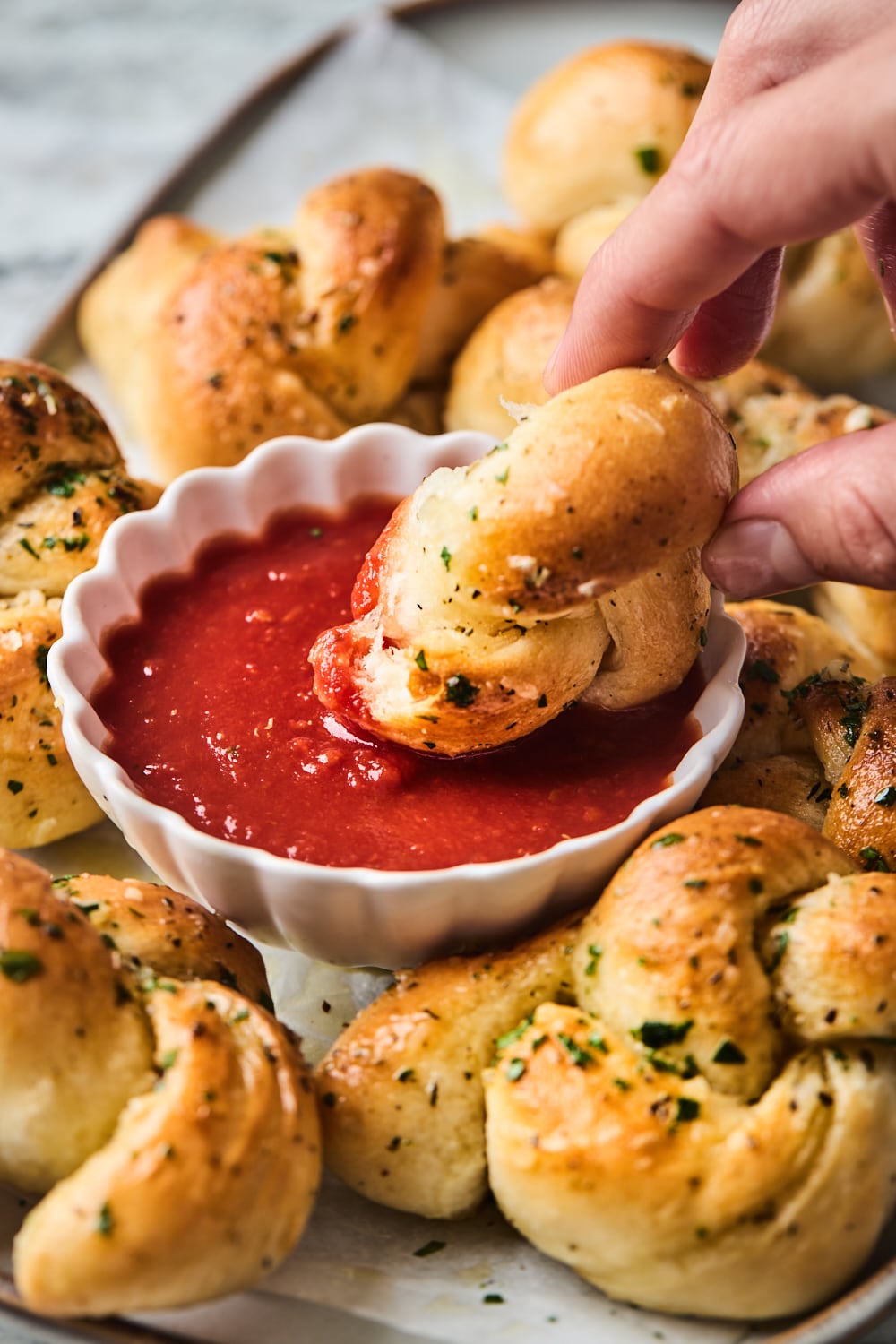 Garlic Knots Ingredients
For the Easy Homemade Pizza Dough
WATER OR MILK: I usually use water but you can use 2% milk as well. And you want it warm not hot but just under hot or approx 100-110 F.
FLOUR: All purpose flour or you can use bread flour.
INSTANT YEAST: You can also use active dry yeast. If using active dry yeast instead of instant yeast let the yeast mixture sit for 5-10 minutes or until foamy.
GARLIC POWDER: For flavor - make sure to use garlic powder, not garlic salt.
SUGAR: Feeds yeast and helps with fermentation
OLIVE OIL OR BUTTER: Add richness and moisture to the dough
For the Topping
BUTTER: I use unsalted butter so it's easier to control the amount of salt.
GARLIC: I prefer to use fresh garlic for best garlic flavor but feel free to use garlic powder
SPICES: I always use Italian seasoning which is a nice blend of dried oregano basil and thyme but feel free to use whatever seasoning you like. I also season with salt and even like to sprinkle on some flaky sea salt before serving.
PARMESAN CHEESE: This is optional but recommended for the really delicious flavour it adds
FRESH HERBS: I like to chop fresh parsley for garnish but feel free to use any herb you like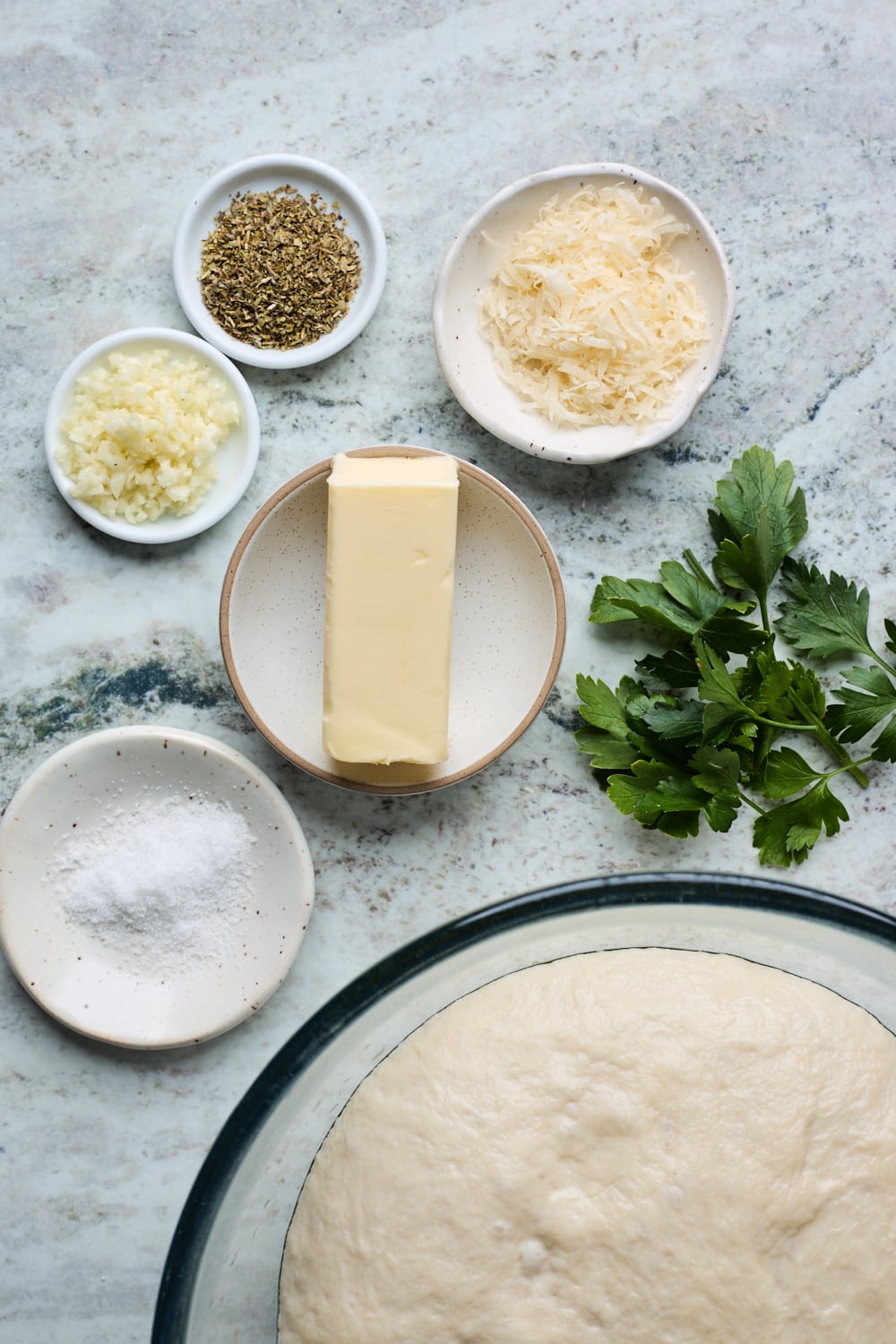 How To Make Homemade Garlic Knots (full detailed instructions in recipe below)
MAKE DOUGH: Skip if using store bought pizza dough and pick up the recipe in the SHAPE DOUGH section. If using store bought dough bring it to room temperature before shaping. If making homemade dough start by stiring together half the warm water with the yeast and sugar. Then add the flour and salt and remaining warm water with the olive oil. Stir to combine then knead with dough hook for 3-4 minutes or 5-10 minutes by hand. Set aside covered to rise, approx 30 min.
SHAPE DOUGH: Roll out dough and cut into even strips. Roll strips then knot and tuck ends
REST: Allow garlic knots to rest on large baking sheet covered for second rise, approx 30 min.
MAKE HERB & GARLIC BUTTER: Combine melted butter with the garlic, salt and seasoning.
BRUSH, BAKE & BRUSH: Brush knots with garlic butter, bake then as soon as they come out the oven brush again with remaining garlic butter and enjoy!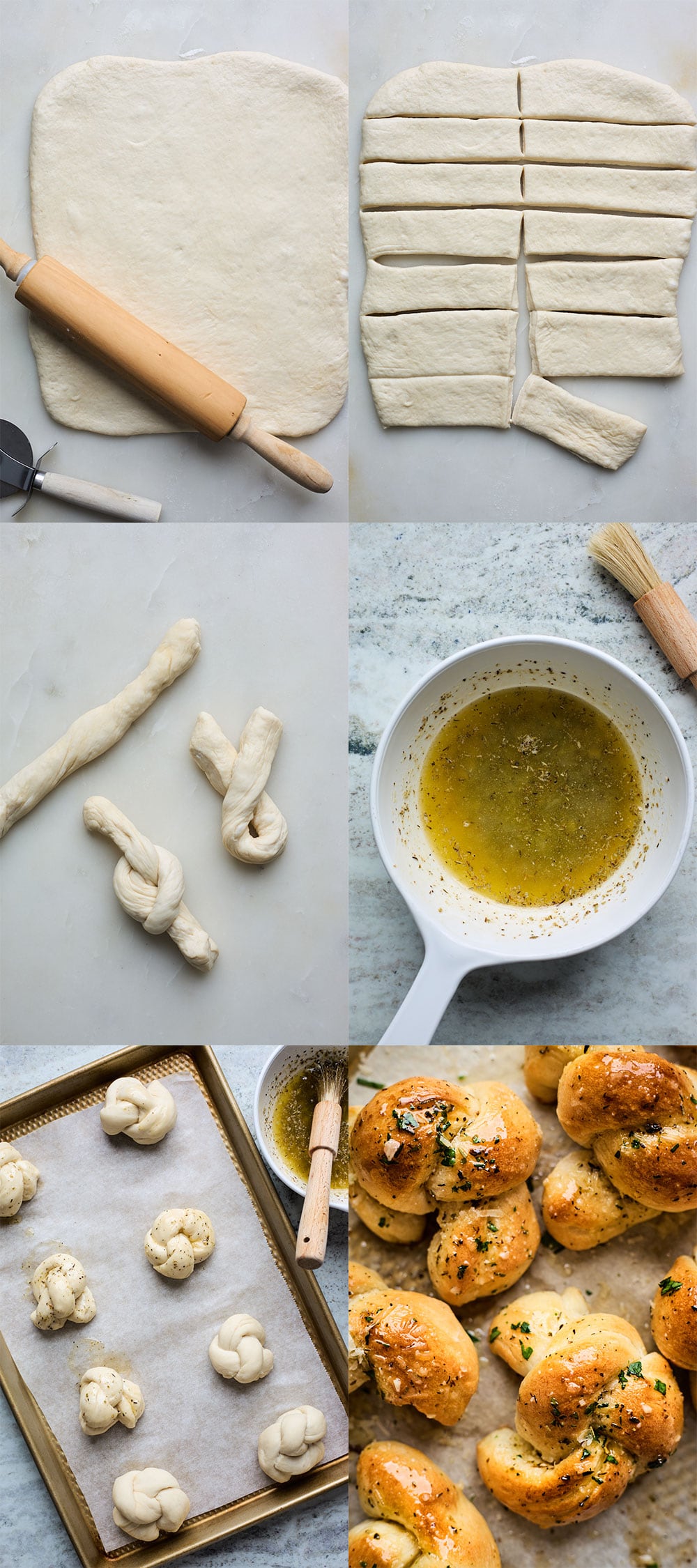 Garlic Knots Make Ahead, Storage & Freezing
STORAGE: Leftover knots can be stored in and airtight container at room temperature for up to 2 days or in the refrigerator for up to 1 week. Reheat in the microwave, in the oven or toaster oven as desired.
MAKE AHEAD: The pizza dough can be made ahead. You can refrigerate the dough after almost any step, but after the first rise works best. Store it, covered, in the refrigerator for 1-3 days. Allow room for the dough to expand as it will continue to rise in the fridge. After taking the dough out of the refrigerator, reshape and let rise again as it comes to room temperature, preferably covered, in a warm place. You need it to at least come to room temperature before stretching out or rolling - when it is cold the gluten is tight and it's hard to stretch the dough, it will keep springing back. If that happens the dough needs more time to rest and rise.
FREEZING PIZZA DOUGH: Prepare the dough and allow to fully rise before you freeze it. The dough can be frozen for up to 1-2 months and just needs to be thawed in the fridge overnight before you use it! Let it come to room temperature before rolling out.
FREEZING BAKED KNOTS: Freeze baked and cooled knots in and airtight container for up to 3 months. Thaw on the counter, then reheat as desired, in the microwave, in the oven or toaster oven.
FREEZING UNBAKED SHAPED KNOTS: Shape the knots as directed and flash freeze them on baking sheet until firm, 1 hour. Transfer to a resealable plastic bag; freeze up to 3 months. Thaw in the refrigerator or on the counter. Bring to room temperature, arrange on baking sheet, cover lightly, and allow to rest/rise as stated in recipe before brushing and baking.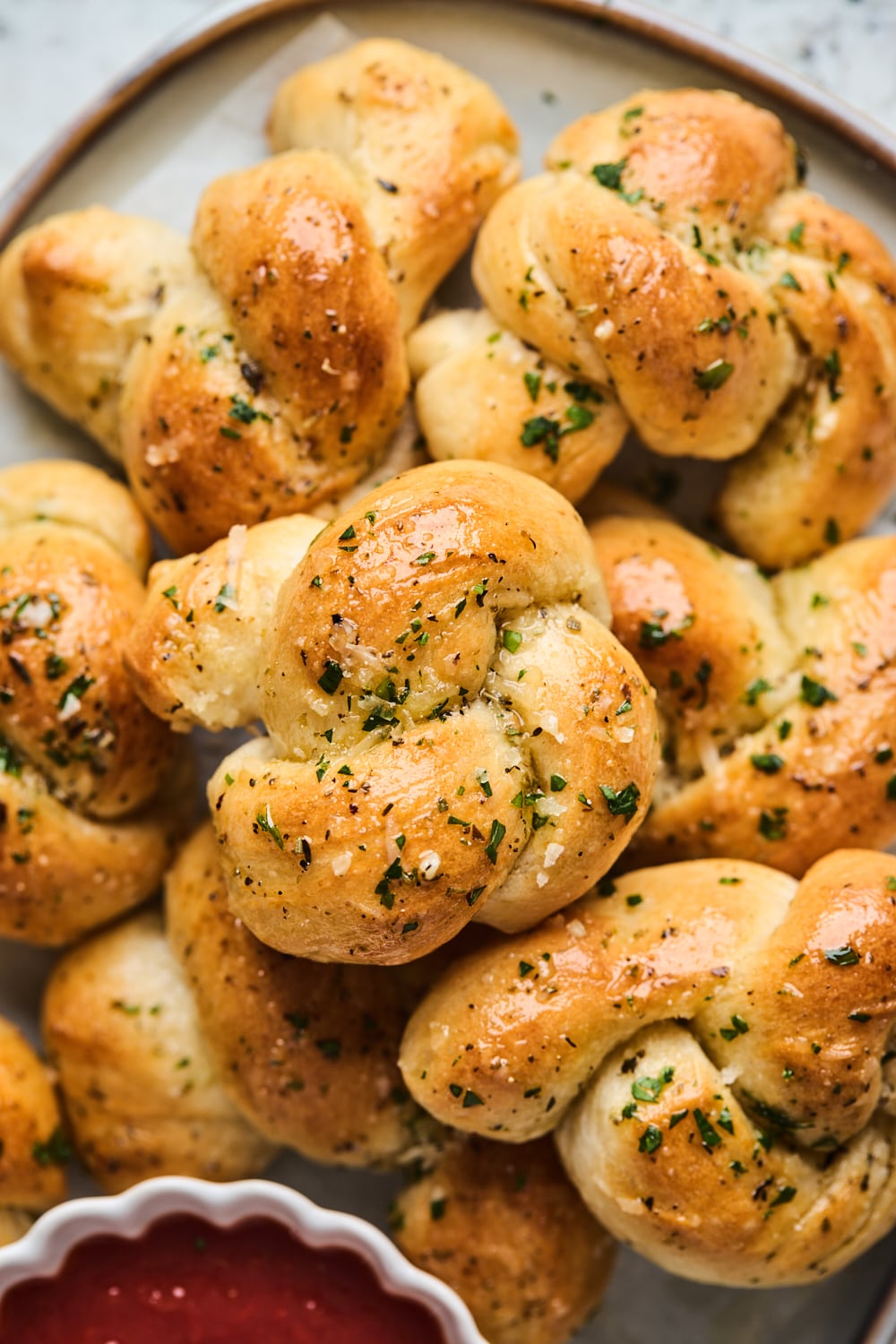 More Recipes I Know You Will Love
Recipe
Servings:
10-14 small garlic knots
Prep Time: 10 mins
Non active time: 30 min or up to 1 hr 15 min if making dough from scratch
Bake Time: 12-20 min (depending on size)
Ingredients
1 lb refrigerated store-made pizza dough or frozen pizza dough, thawed, (OR make your own using the recipe below)
For Homemade Pizza Dough
½ cup warm water (not hot approx 100-110°F)

1 tablespoon instant yeast or active dry yeast

1 teaspoon sugar

2 cups (300 g) all-purpose flour

½ teaspoon salt

½ teaspoon garlic powder (optional)

1 tablespoon olive oil or melted butter
For the topping
5 Tablespoons unsalted butter, melted

3 garlic cloves, peeled and minced or ½ teaspoon garlic powder

1 teaspoon Italian Seasoning

¼ teaspoon salt

¼ cup grated Parmesan cheese for sprinkling after baking (optional)

2 Tablespoons chopped fresh parsley for serving (optional)
Directions
MAKE PIZZA DOUGH
Add ¼ cup of the warm water to a large bowl stand mixer fitted with a dough hook, along with the sugar and yeast over the water. Stir and let stand a few minutes. (If using active dry yeast instead of instant yeast let the yeast mixture sit for 5-10 minutes or until foamy.)
Add flour and salt to yeast mixture in the bowl. Stir the olive oil into the remaining ¼ cup of warm water and pour into the bowl. Stir with dough hook to combine everything and until dough comes together. Knead for 3-4 minutes if using a stand mixer or empty dough out of the bowl and knead by hand for 5-10 minutes or until you have a smooth dough that is not sticky. Feel free to add a touch/sprinkle of water or flour in only as needed.
Lightly coat a large bowl with oil and place dough ball into bowl. Cover with plastic wrap or clean kitchen towel or and set aside in a draft free warm spot of your kitchen for 30 minutes to rise.
SHAPE DOUGH
Once the dough has risen, punch it down and empty onto a lightly floured surface and sprinkle top of dough with a little flour as well and lightly flour your rolling pin. Roll out dough into a rough square or rectangle
Using a sharp knife or pizza cutter, cut and divide into 10-14 strips as evenly as you can - they don't have to be perfect but similar in size. Roll each piece into rope and tie each into knots. Either tuck the two ends of the knots underneath into the centre of the knot or leave them out. They do not need to be perfect!
Place on prepared baking sheet/baking pan lined with parchment paper or silicone mat or sprayed with cooking spray and repeat with remaining dough. Cover the knots loosely with plastic wrap or a damp towel and let rise and rest for 30 minutes at room temperature and up to 45 minutes
Preheat oven to 400°F
MAKE TOPPING & BAKE
Melt butter in the microwave or a small saucepan over medium-low heat. Add garlic, Italian seasoning, and salt into melted butter and stir to combine and heat until garlic is fragrant, 2-3 minutes
Brush on the knots. Reserve some of the topping for when the knots come out of the oven.
Bake for about 12-20 minutes or until golden brown on top, depending on size. Remove from the oven and immediately brush the warm knots with remaining garlic butter mixture. Sprinkle with parmesan cheese and/or parsley, if using. These are best served hot and fresh.
Serve plain or with marinara sauce for dipping.
Recipe Notes
If using store bought dough bring it to room temperature before shaping.