Flatbread Pizza With Pesto Asparagus Prosciutto and Burrata
This is the perfect spring flatbread pizza, with asparagus, peas, prosciutto and delicious creamy burrata. I have been anticipating the warm weather, sun and all the veggies and it's finally here - well almost. It's officially spring but the weather and sun have some catching up to do. The best parts of spring include all the green veggies I love and this flatbread is one of my favorite ways to showcase and enjoy them. This makes a great meal or even an appetizer perfect for the midweek or date night too.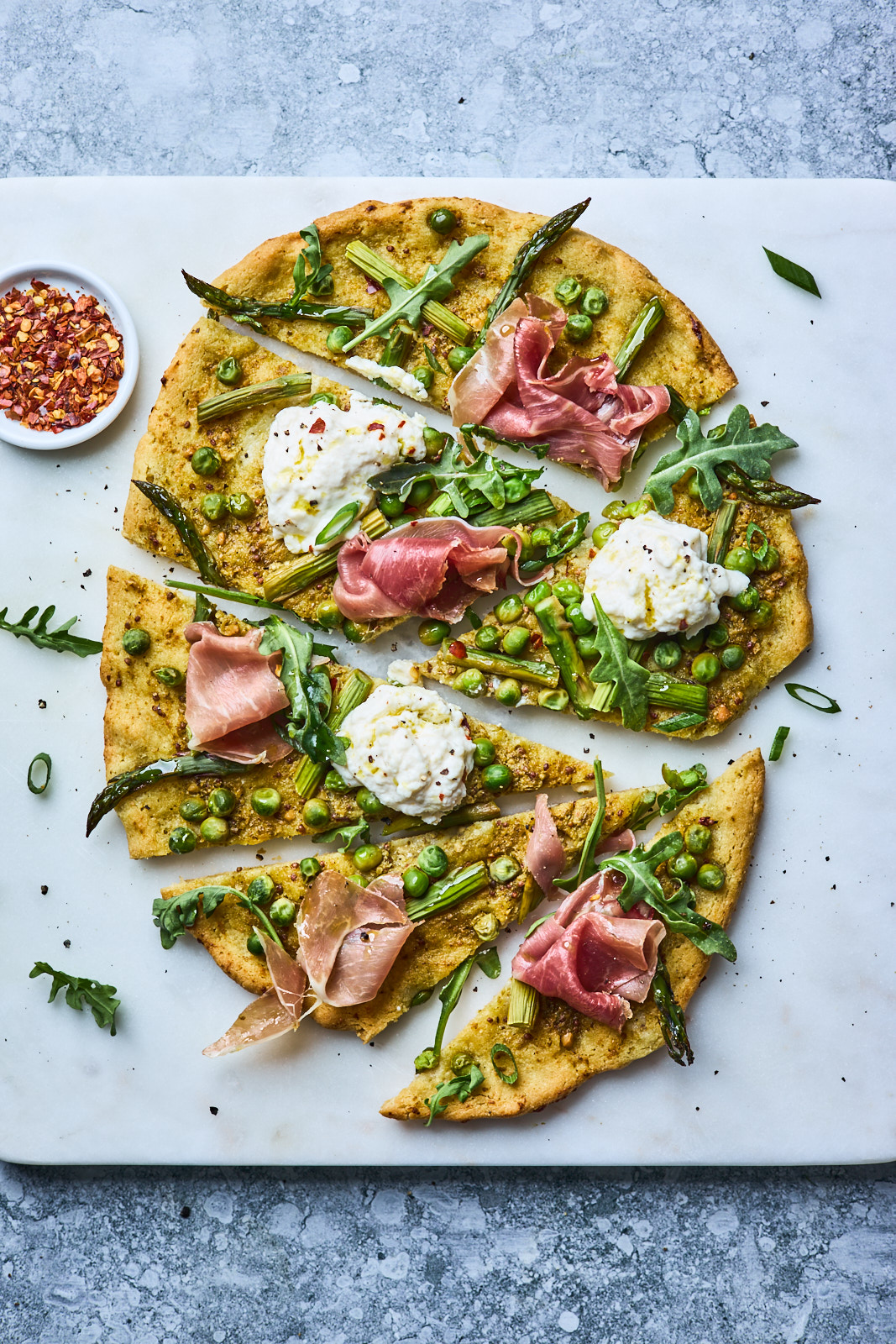 If you like pizza like I do you will really like this flatbread pizza. I love any kind of pizza but I have a soft spot for thin crust. At least once a week we are eating pizza or flatbread pizza of sorts. This particular one is a fun one I made in partnership with Bob's Red Mill and their new Grain Free Flatbread Mix. It's a great mix to have on hand if you want to make a grain free flatbread pizza at home. It's simple to make and only requires a few basic add ins. It has a subtle nuttiness and sweetness to it that actually plays off really well with the spring veggies. Bob's Red Mill always has you covered with so many grain free options for baking and cooking for all your dietary needs.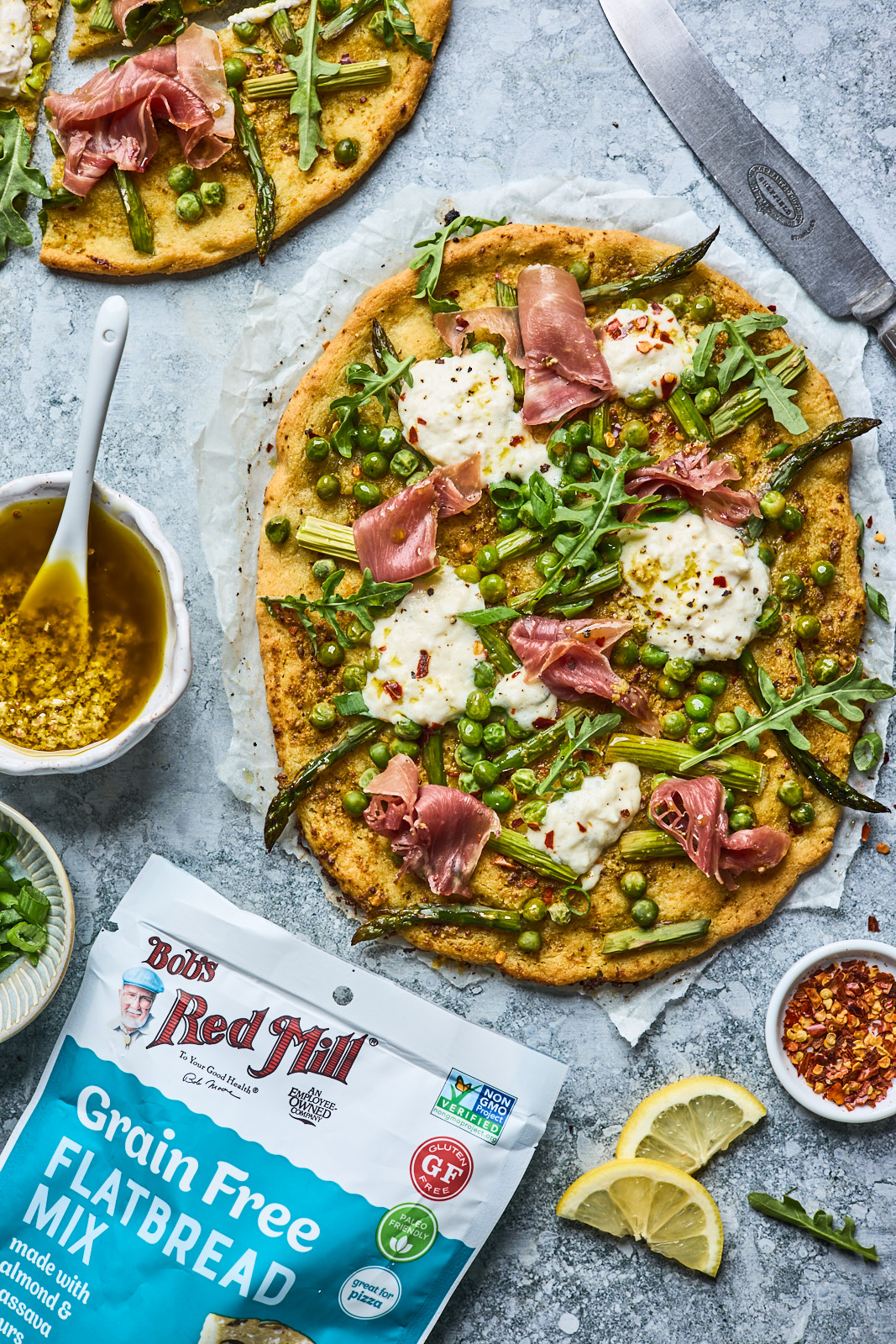 How to make this easy flatbread pizza:
Blanch the asparagus and the peas
Make the lemony pesto base sauce with homemade or store bought pesto
Combine all the ingredients for the flatbread, allow to rest then split dough in half and press out into 6-8 inch rounds. (You can also use store bought flatbread, naan, pitta bread or pizza dough)
Brush pesto sauce over the flatbread rounds
Scatter asparagus and peas between the two flatbread evenly
Bake in a preheated oven until flatbread is golden
Once out the oven place the burrata on top along with the prosciutto, slice green onions, arugula and chili flakes
Drizzle with remaining pesto sauce, slice and enjoy.  
The burrata gets even creamier form the warmth of the pizza making it extra irresistible. This spring flatbread pizza has the tastiest combo of flavours - from the lemony pesto sauce, creamy burrata, tender veggies, salty prosciutto and a hint of heat with the chili flakes. It's super easy to throw together and just the most perfect thing to make anytime but especially on a busy night. Enjoy!
I have partnered up with Bob's Red Mill to bring you this fabulous recipe, but all opinions are my own. Thank you for supporting Olive & Mango.
Recipe
Servings:
Two 6-8 inch flatbread pizzas
Prep Time: 15-20 mins
Cook Time: 10-15 mins
Ingredients (for 2 flatbread pizzas)*
For the flatbread *
For the pesto base sauce
4 tablespoons pesto (store bought or homemade)

100ml olive oil

Juice and zest of 1 lemon

1 tablespoon wholegrain mustard
For the topping
12 asparagus spears, woody ends snapped off

100g garden peas fresh or frozen

200g burrata cheese torn (7 oz)

6 slices of prosciutto (100 g /3.5 oz)

2 spring onions, sliced

½ cup of arugula

2 teaspoons chilli flakes (optional)
Directions
Prep Veggies
Blanch the asparagus spears in boiling water for 1-2 minutes, then drain and rinse with cold water and drain again - slice in 1-2 inch pieces and set aside.  Similarly, blanch the garden peas and set aside.
Prep Pesto sauce
In a medium bowl whisk together the pesto, olive oil, lemon juice and zest, and mustard and set aside.
Prep Flatbread pizza
Preheat oven to 400°F; line 2 baking sheets with parchment paper. Whisk together eggs, oil, water and bread mix in a large bowl. Let sit for 5 minutes. Divide dough in half and press each into two 6-8 inch rounds, using wet hands to smooth edges.
Assembly
Brush the flat bread pizza bases generously with the pesto sauce (reserve remaining sauce for serving) and then scatter the asparagus and peas over top. Bake for 10-15 minutes or until the base is golden. Remove from the oven and arrange pieces of the burrata over the hot pizzas, along with the prosciutto, sliced spring onions, arugula and chilli flakes. Drizzle with remaining pesto sauce, slice and enjoy.
Recipe Notes
Feel free to use store bought flatbread, pita bread, naan or pizza dough for this recipe.
If you enjoy making your own breads, check out my recipe for homemade pita/flatbread… it's easier than you may think!