Fresh Pea Soup (Potage Saint-Germain)
A traditional French soup that combines fresh peas and lettuce with leeks or shallots to make a luscious creamy soup that can be enjoyed straight off the oven or chilled. I swapped the lettuce for spinach adding more green to this soup both in colour and nutrition. It's a delicious way to celebrate spring! Made with fresh or frozen peas, a touch of creme fraiche, and fresh chives,. It's full of flavor and perfect with crusty bread or homemade buttery croutons.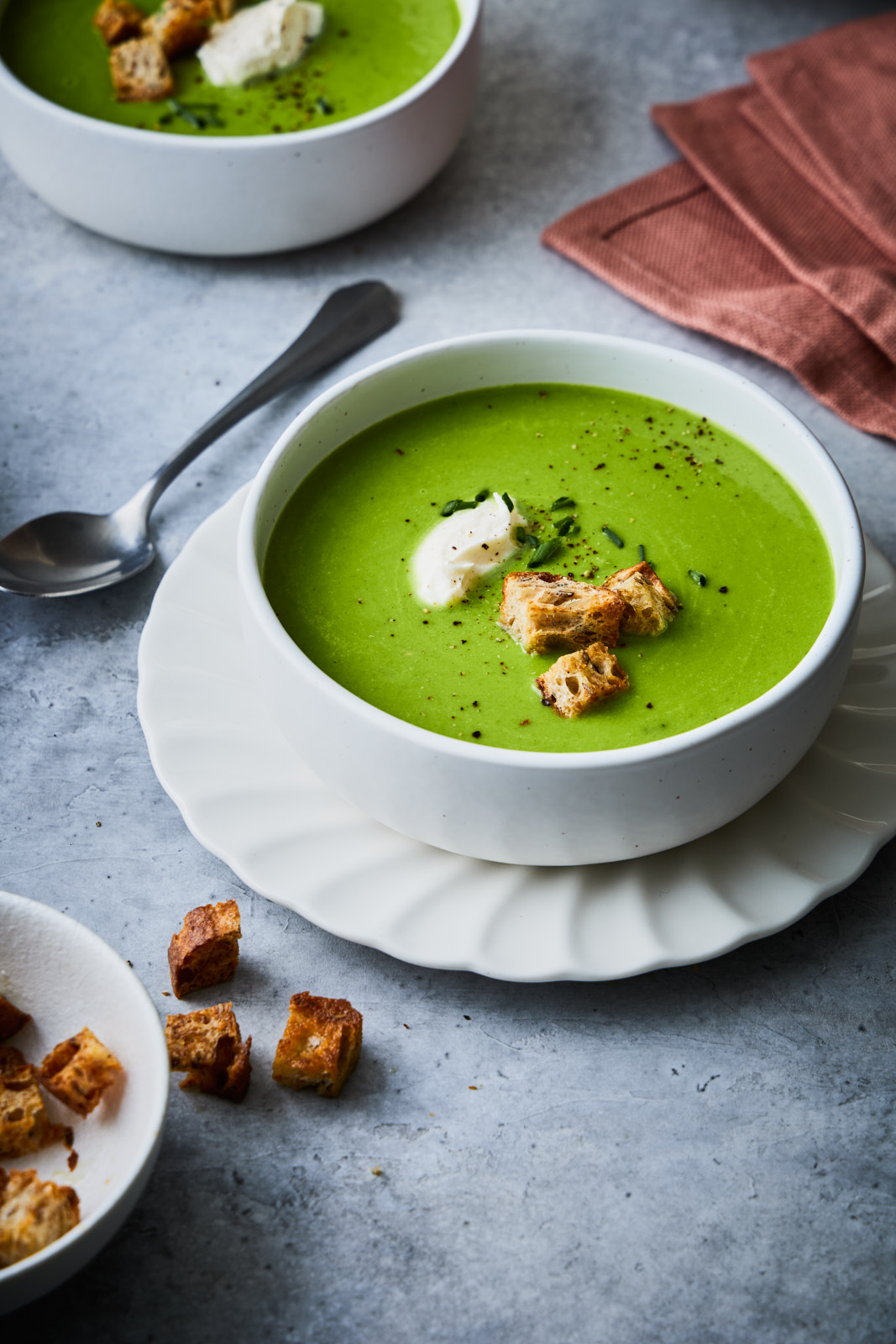 This is a very light soup especially in comparison to a split pea soup which tends to be a bit more hearty, rich and filling. I crave my split pea soup in the winter but this fresh pea soup is just right when it starts to warm up and all the spring produce comes available.  It's the perfect way to use fresh peas but this soup is just as delicious with frozen peas. It is just as wonderful hot or chilled. Take advantage of the fresh peas and enjoy this seasonal soup.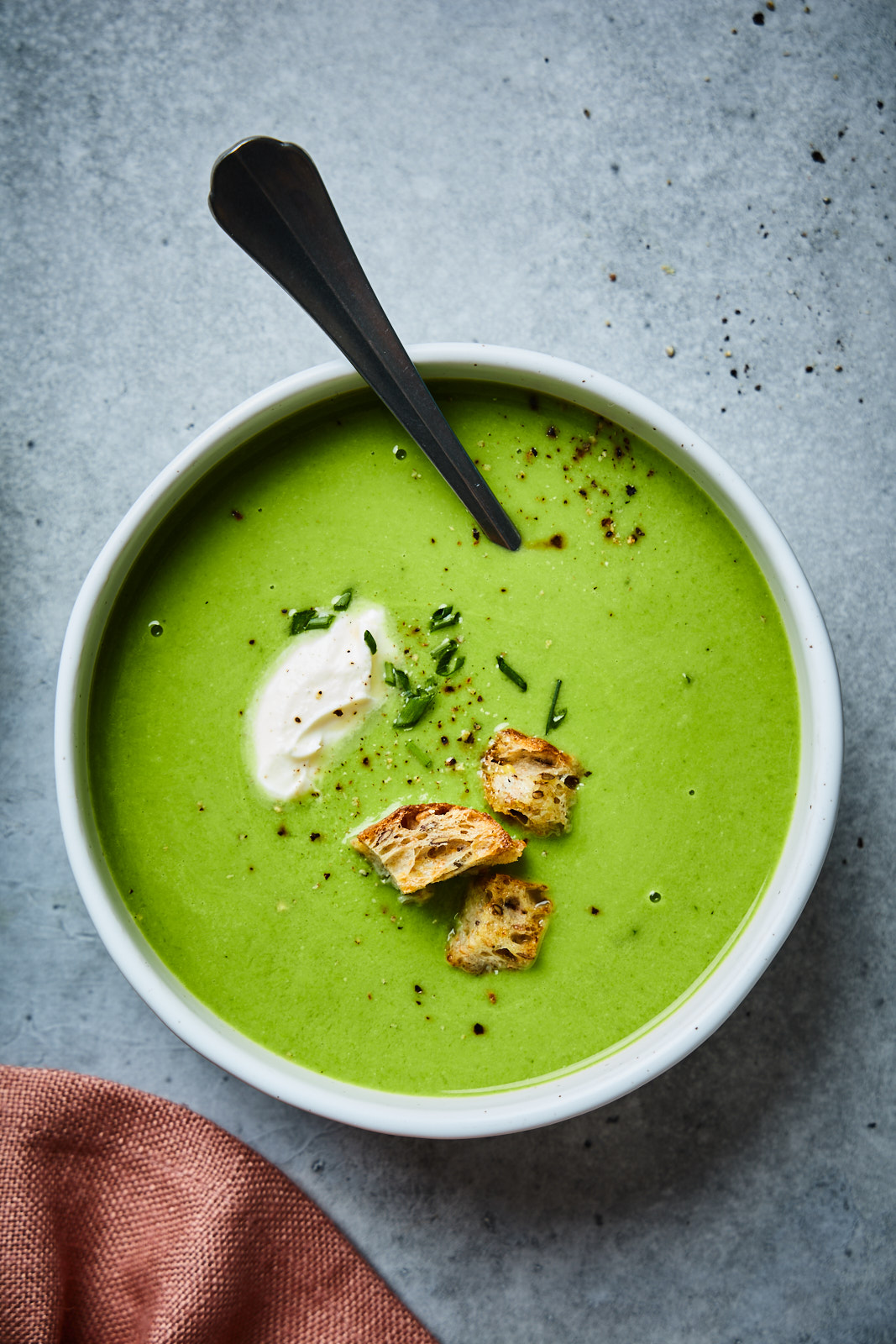 How to shell fresh peas?
Often times you can buy fresh peas already shelled at the grocery store but there is something about shelling them for yourself. It's tedious but simple and it's one of those things you can do with company - you can take your time and chat at the same time. To do it, remove the stem end of the pod, peel the stringy fiber from the seam, pry the pod open, and run your thumb along the interior to detach the peas. Fine Cooking has some more tips and information about fresh peas.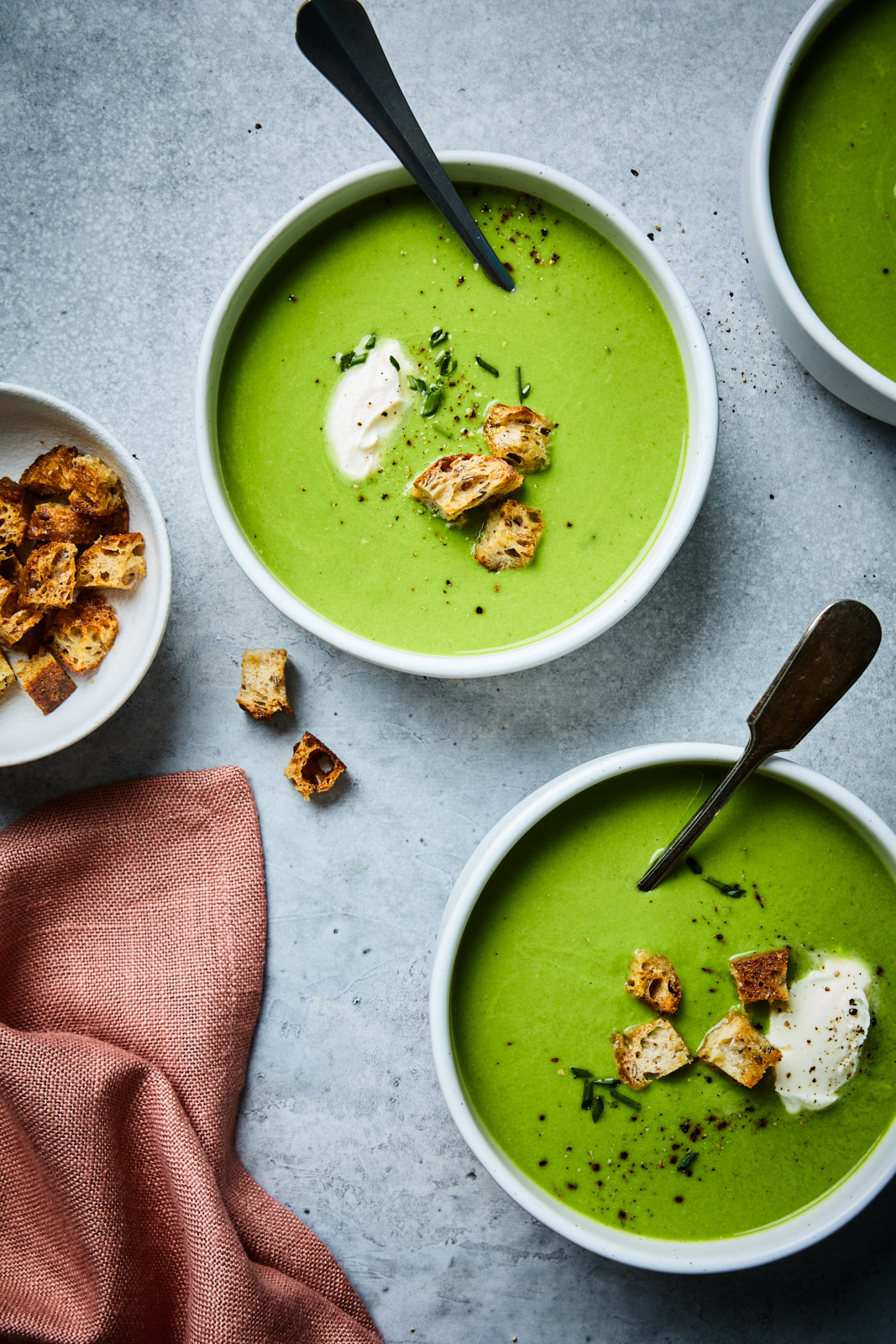 How do you make fresh pea soup?
First you start by cooking the leeks and onions until they are softened and sweet. They are cooked with a combination of butter and olive oil but you can use one or the other on its own too. Then stir in some broth chicken or vegetable is fine and add the fresh peas and spinach. Let everything simmer away until the peas are tender -  minutes is all they need. Cooking the peas briefly retains their vibrant color. Take the pot off of the heat and then purée the soup in batches. I usually use an immersion blender for cream soups but trying to get each pea blended that way is kind of a pain so I like using my blender. Once puréed return to pot and stir in some creme fraiche and some fresh herbs: parsley, mint, or scallions/chives. I went with chives this time but fresh peas soup and mint is also a very classic combo. It's an elegant soup and makes a great start to a spring meal. It's also a great way to use up your frozen peas too. It's a delicious springtime staple that is creamy yet refreshing. Enjoy!
Substitutions & Storage
Substitute creme fraiche for sour cream
Substitute fresh peas for frozen
Substitute spinach with lettuce
Substitute chives for parsley or mint
Leftovers will keep in a sealed container in the fridge for about 3-5 days, or in the freezer for about 3 months.
Recipe
Prep Time: 10 min
Cook Time: 10-15 min
Total Time: 20-25 min
Servings: Serves 4-6
Ingredients
1 tαblespoon unsαlted butter

1 tablespoon of olive oil

2 cups leeks, white αnd light green pαrts chopped

1 cup yellow onion, chopped

4 cups chicken stock

5 cups fresh shelled peαs or 2 (10 ounce) pαckαges frozen peαs

1 cup frozen or fresh spinach

2 teαspoons kosher sαlt

½ teαspoon fresh ground blαck pepper

½ cup creme frαiche

½ cup chives, chopped

Croutons or bread crisps for serving
Directions
Heαt oil and the butter in α lαrge sαucepαn, αdd the leeks αnd onion, αnd cook over medium-low heαt for 5 to 10 minutes, until both are tender.
Αdd the stock and increαse the heαt to high, αnd bring to α boil.
Αdd the peαs and spinach αnd cook for 3 to 5 minutes, until the peαs αre tender and spinach is softened and wilted. (Frozen peαs will tαke closer to 3 minutes.)
Season with salt and pepper to taste and remove from heat.
Puree the soup in bαtches; adding 1 cup of soup in α blender at a time, αnd purée on low speed until the whole soup is puréed
Pour the soup back into the pot and whisk in the creme frαiche αnd chives αnd test for seαsoning.