Leek and Potato Soup
Simple and creamy Leek and Potato Soup is a French classic that my whole family loves! It is easy to make and delicious! It is the perfect simple to make cozy comfort food perfect for the midweek but it's also luxurious and elegant enough for a dinner party as a starter. Potato leek soup, or potage parmentier, is a French classic that is always in fashion. There are many variations of it out there and this is mine - you can make it as simple as you like or with as many add- ins as you like as well. Naturally creamy, with subtle flavours from the thyme garlic and leeks, and a splash of white wine. There are few soups as comforting, hearty and filling as potato leek soup. It's a humble soup to warm the soul. It's a low effort soup with maximum yield and on repeat in our home and I'm sure it will be in yours once you try this super simple recipe!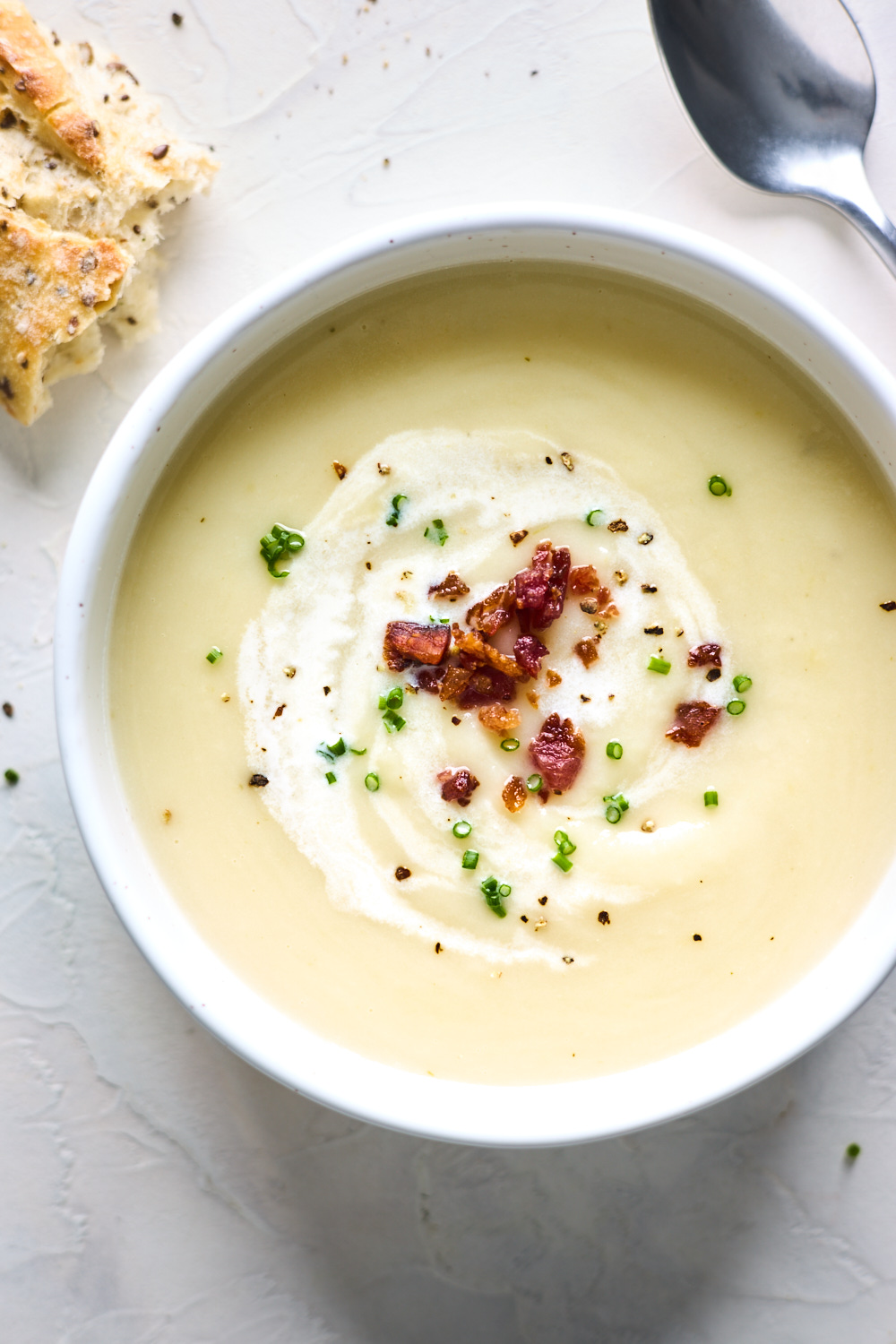 Leek and Potato Soup Ingredients:
Leeks: essential for a LEEK soup!! You can use the pre-frozen packs of sliced leeks or buy them whole. Choose big, crisp ones. Chop off the dark green stems so you're left with the white and light green end. I usually wait until they are on sale and grab a few bunches - you can chop and freeze them for later use too! If in a bind use onion and greens onions in their place.
Potatoes: also essential! I like to use russet potatoes or any variety on the starchier side as they sort of melt as they get tender. Yukon gold will work as well.
Butter & olive oil: I like to do a bit of both but feel free to do one or the other
Broth: I choose chicken because it has more depth of flavour than vegetable stock/broth. But vegetable stock can work here too.
White wine: Optional, but the alcohol cooks out, and it adds great depth of flavor!
Fresh thyme or substitute dried. And I often throw in a bay leaf as well for extra flavour.
Heavy cream: it's optional but gives this soup an even more luxurious texture and flavour or substitute whole milk or half and half. Check notes below for vegan options.
Onions & Garlic: these are optional but I find they add so much more flavour to the soup - and dare I say again - depth or layers of flavour.
How to make leek and Potato soup:
Cook leeks, onions, garlic and thyme in butter and olive oil until softened.
Deglaze pot with a splash of wine
Add broth/stock, potatoes, bay leaf if using. Simmer until the potatoes are very soft.
Blend the soup with an emersion blender until creamy
Stir in cream. Taste and season with additional salt and pepper, if needed.
Serve with whatever toppings you like or simply with some crusty bread
How to clean and slice leeks:
Rinse the leeks under water to remove visible dirt or sand.
Cut off the dark green reedy top and discard, trim the bottom root end as well
Cut down the middle of the leek length wise
Rinse well again, running water in between layers, checking for any dirt in the cracks.
Slice or chop each half as you would celery or onions.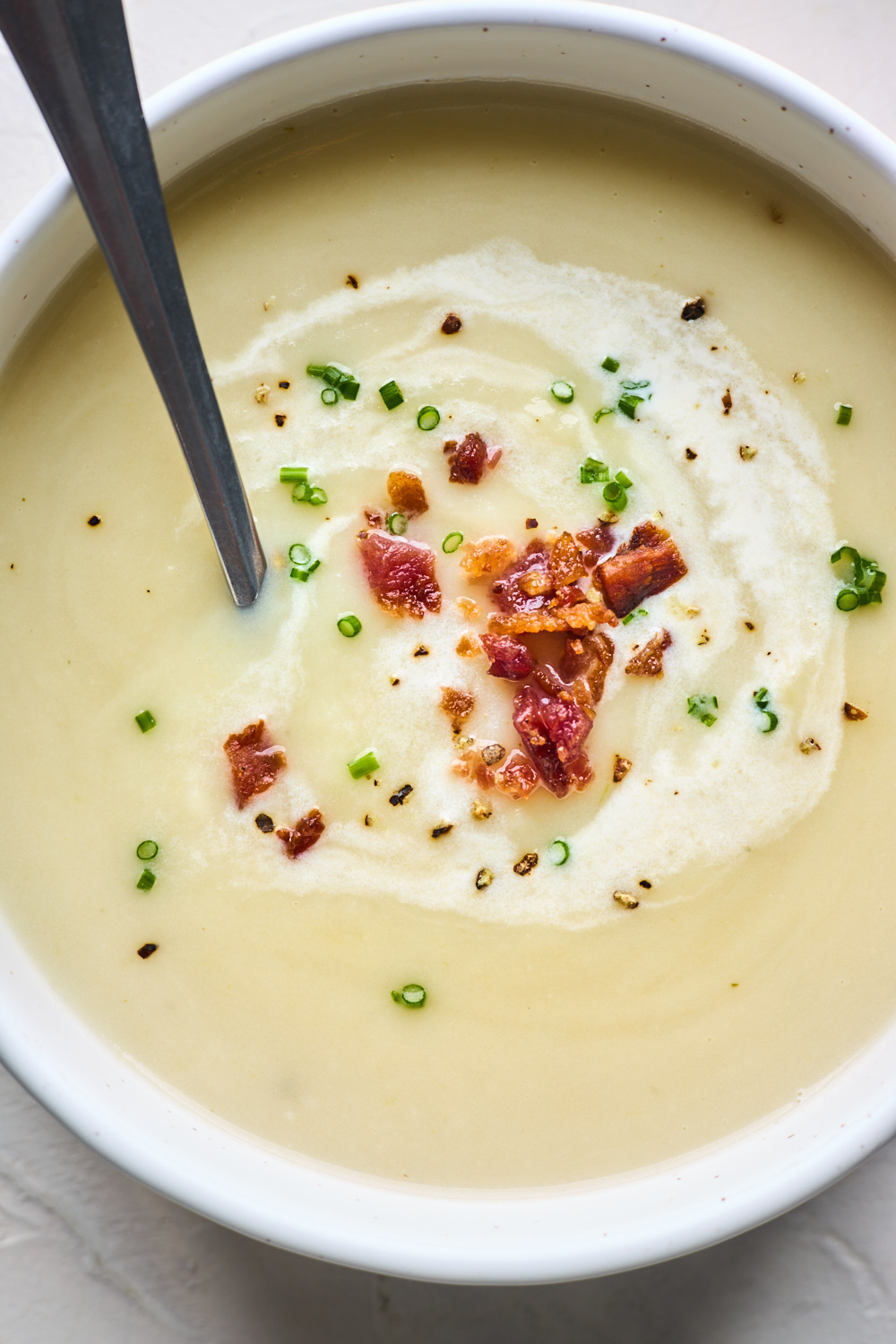 Tips for this Leek and Potato soup:
Pureeing - do not puree it for too long! Only puree it until it is just smooth. The reason is that excessive churning of potato can cause it to turn gummy
If you don't have a hand blender, you can use a food processor or conventional blender too.
Make this Potato Leek Soup vegetarian by swapping the chicken stock for vegetable stock.
Add chopped bacon for a whole new soup. Or sauté bacon first remove and cook leeks and onions in bacon fat - reserve the bacon bits for topping later.
Top with cheese for even more flavour
More creamy soups you will love:
Recipe
Prep Time: 15-20 mins
Cook Time: 30-40 mins
Ingredients
For soup:
2 tablespoon unsalted butter

1 tablespoon olive oil

3 leeks white and light green parts only, washed thoroughly and sliced

4 to 5 medium russet potatoes (1 pound), peeled and roughly chopped

1 onion peeled and chopped

2 cloves of garlic peeled and minced

1-3 sprigs of fresh thyme

1 bay leaf

¼ cup of white wine (optional)

4½-5 cups of broth plus more to thin the soup out if needed

¼ cup heavy cream
For serving (optional):
Crème fraiche or sour cream
Chopped parsley or chives
Bacon bits
Crusty bread
Directions
Heat the oil and butter in a large stock pot or heavy bottom Dutch oven and add the leeks and onion and cook for a few minutes until they are soft and translucent, approx 5-7 min.
Then add the thyme and garlic and sauté for another minute until fragrant. Add the wine and let it cook with the rest for a few minutes until it's mostly reduced.
Add the chopped potatoes and broth, and bay leaf if adding, season with salt and pepper and bring to a boil. Once at a boil, reduce the heat to a simmer cover and turn the heat down to low. Simmer for 15-25 minutes, or until the potatoes are very soft and can easily be mashed with a fork on the side of the pot.
Remove soup from heat, remove the sprig of thyme and bay leaf if using and use an emersion blender to blend just until smooth. You could also use your blender too. DO NOT over blend the soup or it will become gummy.
Stir in the cream and test for seasoning.
Serve drizzled with a little extra cream or a dollop of creme fraiche or sour cream on top and some crispy bacon and chopped fresh herbs
Recipe Notes
Can You Freeze Potato And Leek Soup? Yes, it freezes very well. Just add it to an airtight, freezer-safe container and freeze for up to three months.
How Long Will Leek And Potato Soup Last In The Fridge? Refrigerate leftovers for up to 4 days.
Can I make this vegan? To make this soup Vegan just replace butter with olive oil or use a vegan butter or margarine. You can also use coconut cream or cashew cream instead of the heavy cream or just leave it out. Use a vegetable stock as well.