Gluten Free Lemon Custard Cream Tart With Swiss Meringue
This gluten free tart with the creamiest of lemon cream fillings is bright and delicious and will have you craving slice after slice. Citrus season had to include something lemony and something lemony always needs a bit of meringue when it comes in pie or tart form- thus this little creation. Let me tell you more about each element of it.
The Crust (The Easiest Gluten Free Almond Flour Tart Crust)
Going into making this tart I knew I wanted to keep the crust as simple and as no-fail as possible as I knew any lemon filling I chose would require quite a few steps to make a good one. That is why I wanted to keep the crust as simple as possible. I thought of doing a graham cracker crust or a biscuit crust but then I started reading about how easy it is to make an almond flour crust so I tested some of them out and decided this was my favourite because it had the least ingredients, didn't require blind baking and also great with a filling that doesnt requires baking or one that does. Using Bob's Red Mill Superfine Almond Flour from blanched whole almonds gave this tart exactly the crust I wanted and the flavour I wanted in a crust as well.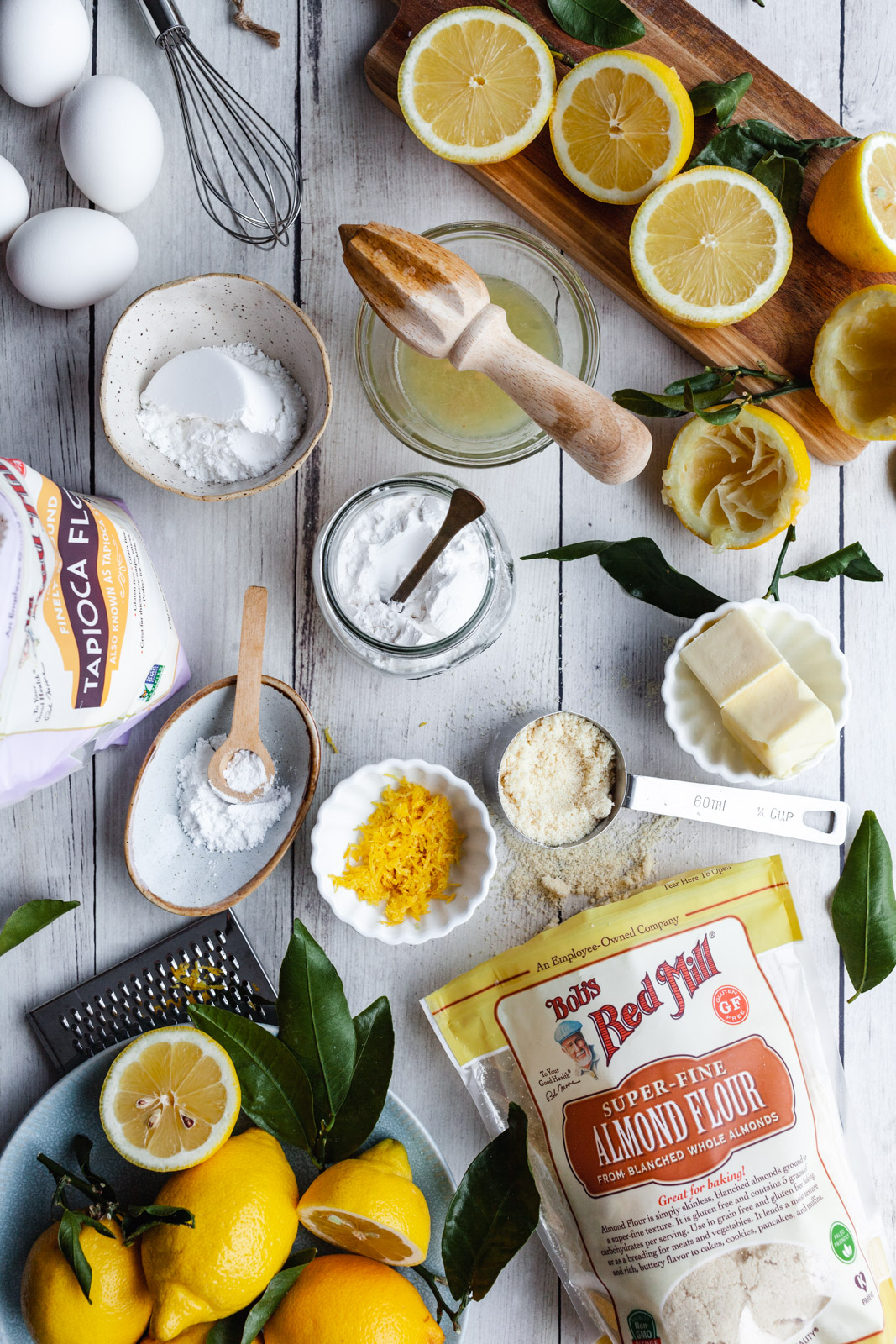 Using almond meal is interchangeable but almond meal is made with the whole almond including the skin, making a crust darker in colour and with a slightly coarser finish. I opted for Bob's Red Mill Superfine Almond Flour for a tender shortbread kind of crust with a paler finish. A quality product that I love and use in my baking. For over three decades, Bob's Red Mill has been committed to providing people everywhere with the best quality foods available and helping their customers live a life through better nutrition especially in providing products that fit into some of the most restrictive diets. Their almond flour being one of them. The best part about this crust is how simple it is to make. It's just a matter of processing your ingredients, then pressing them into the pan, punching some wholes into the bottom of the crust and baking. Easy peasy and you got yourself a simple GF tart crust.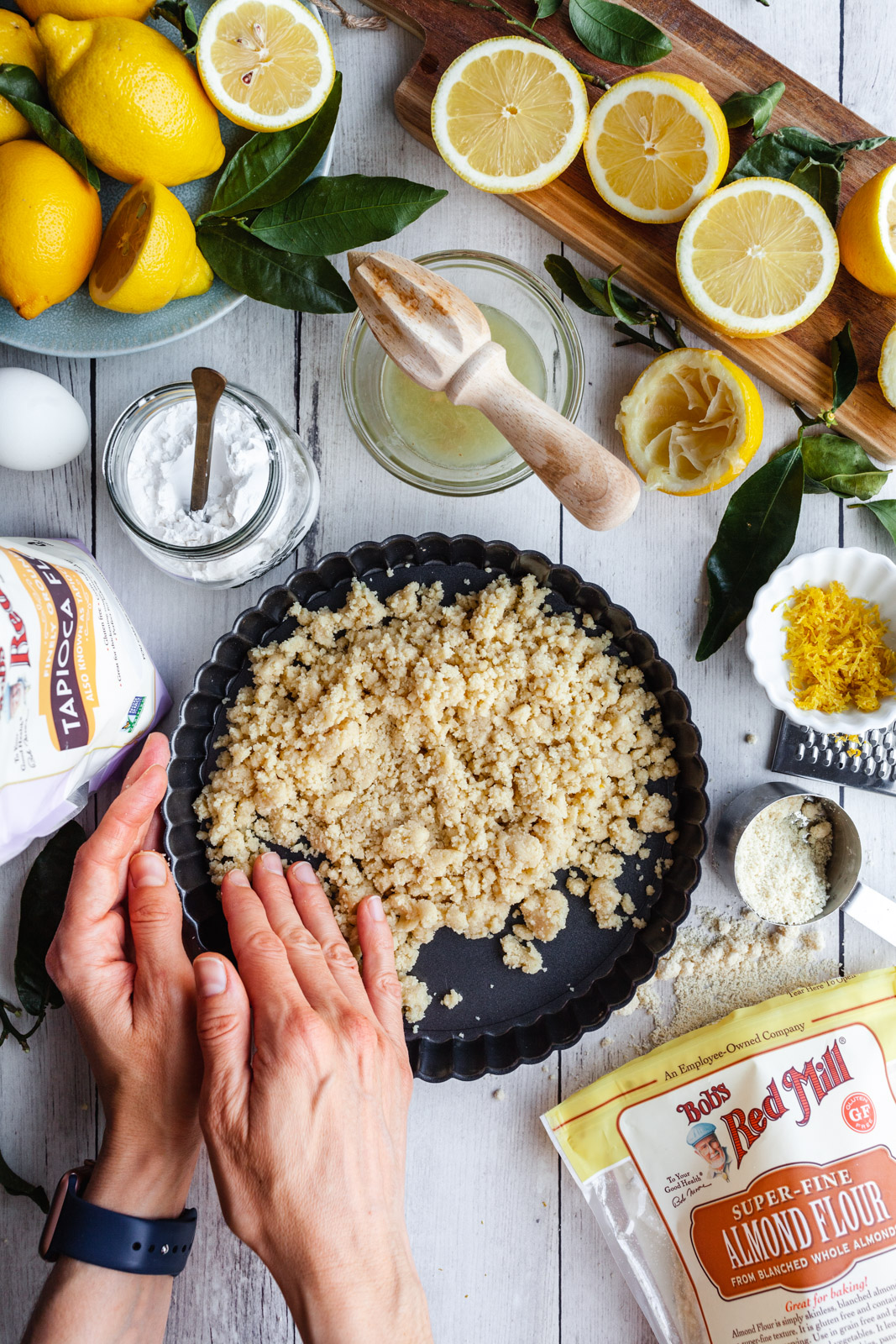 The lemon custard cream filling
I wanted a very very creamy and lemony filling and for this I turned to a French style lemon tart filling which is different than curd. For a lemon curd you usually heat together the eggs, sugar, lemon juice, and butter, then cool into a spoonable, flexible substance to be used in all sorts of jam-like ways. But this French lemon custard takes butter out of the process and then whips it back in without giving it a chance to melt (that is why you have to allow the custard to get to room temp before adding the butter) The butter emulsifies and expands, capturing large amounts of air. The filling had a wonderful in texture, like a smooth aioli or French buttercream rather than a pourable curd. It's heavenly and worth the extra simple steps to achieve it. I found it easier than nailing a good curd to be honest.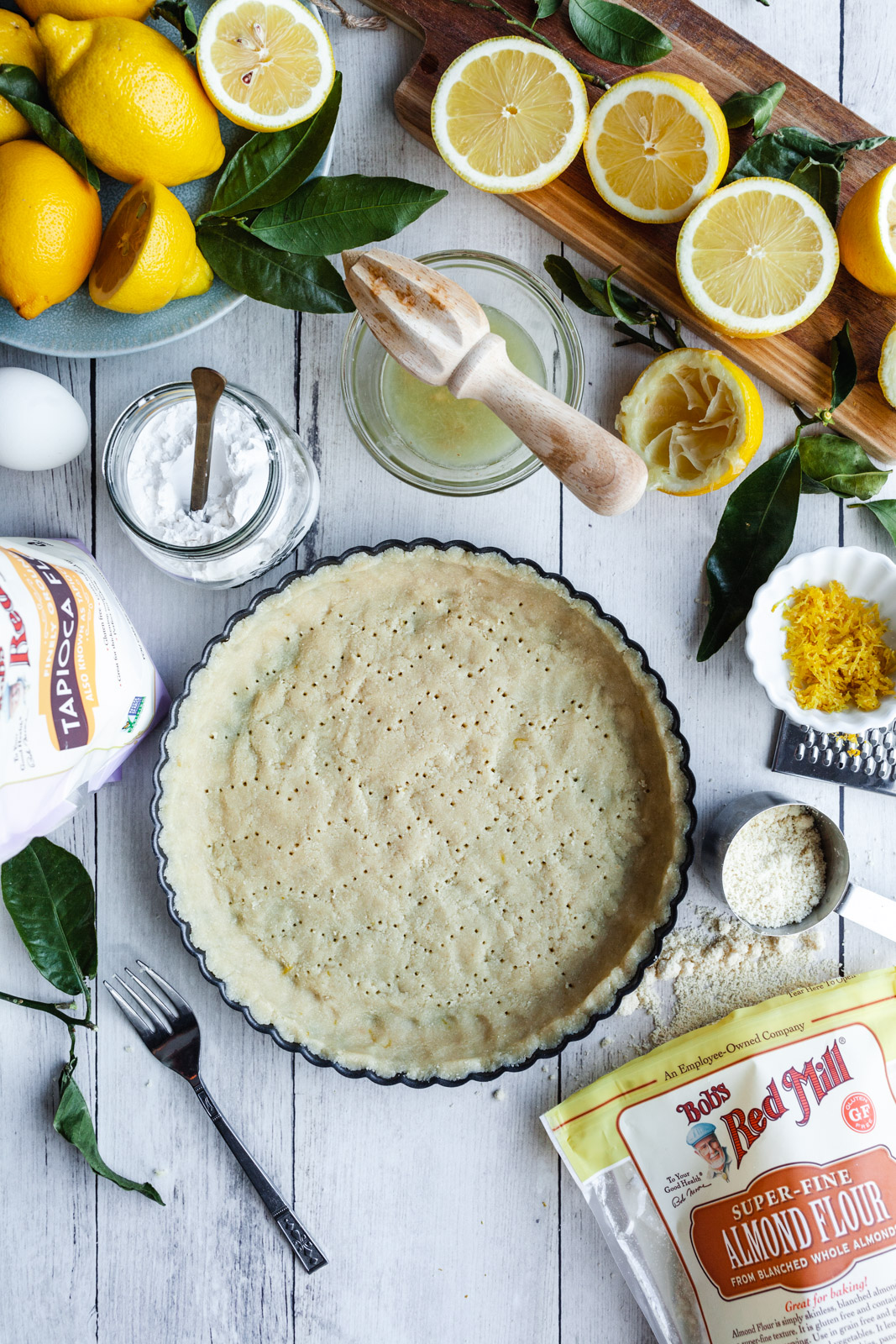 I decided to use Bob's Red Mill Finely Ground Tapioca Flour for both the filling and the meringue as it's one of my favorite grain free thickeners. Tapioca flour is a much better substitute for corn starch when using it with citrus or anything with a strong acidic component or a high sugar one as well. It also provides a much more transparent and glossy appearance and finish to a cream like this. It's also great for those who have corn allergies and want a good alternative to corn starch. It worked beautifully in the Swiss meringue as well. Speaking of that Swiss meringue, let's get to talking more about it.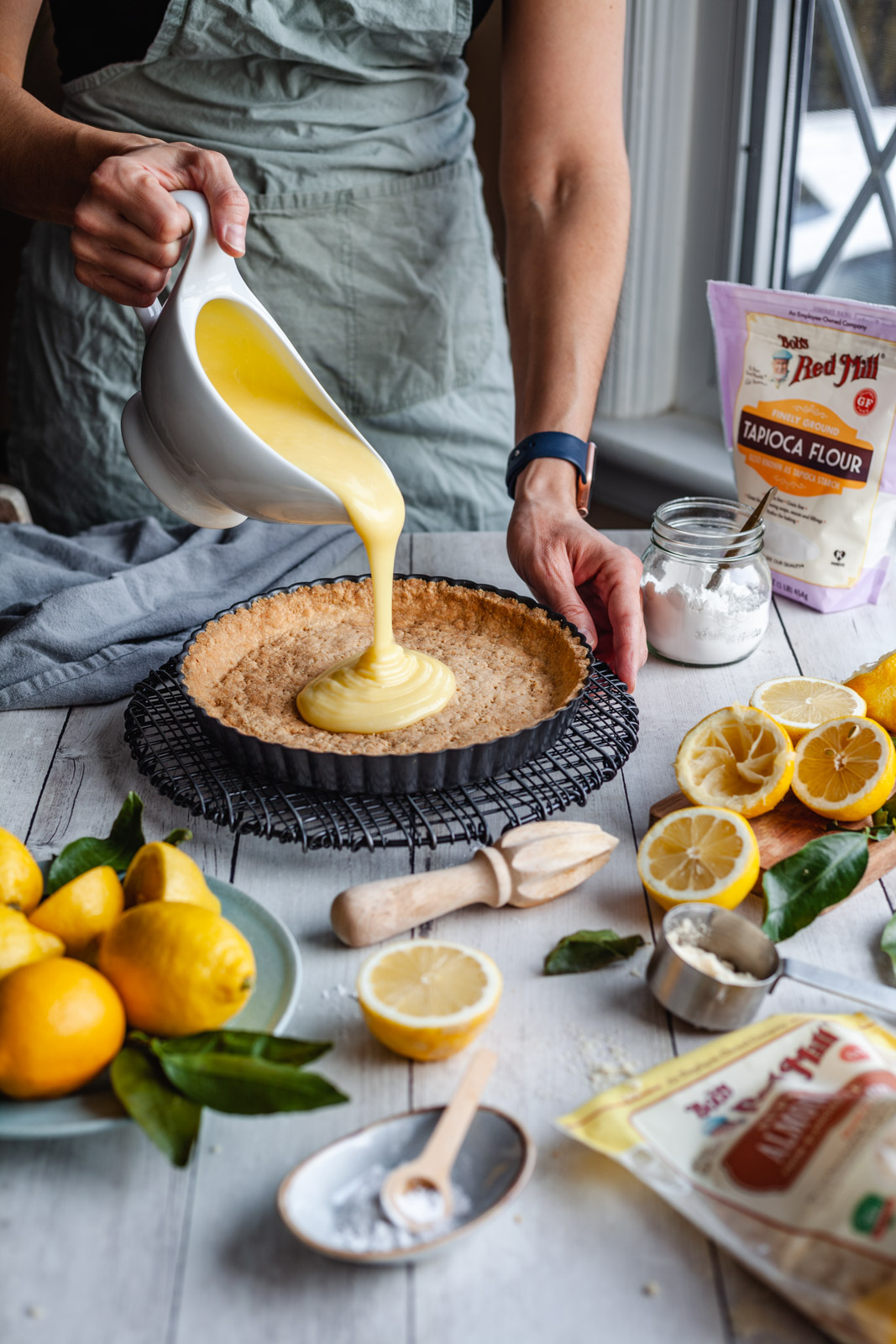 The fluffy meringue topping
Choosing which type of meringue I would use for the tart was a no brainer. Swiss meringue is the most perfect meringue for topping tarts or pies. It requires one extra step than a French meringue but its definitely the way to go. Swiss Meringue is the most stable of all meringues. It is also more dense and glossier, almost marshmallow like. It pipes like a dream and holds its shape well without weeping (weeping is when a meringue releases droplets of liquid and doesn't adhere to the filling) for a much longer time than French meringue. For this reason, it is great to use as a pie topping especially if you aren't serving it immediately. The preparation of Swiss meringue also makes it safer to eat if you aren't baking it because you heat the mixture during the preparation. This recipe really is a no fail one for a great Swiss meringue, perfect for this lemon tart and any other tart. I always follow it to a tee and it always turns out beautifully.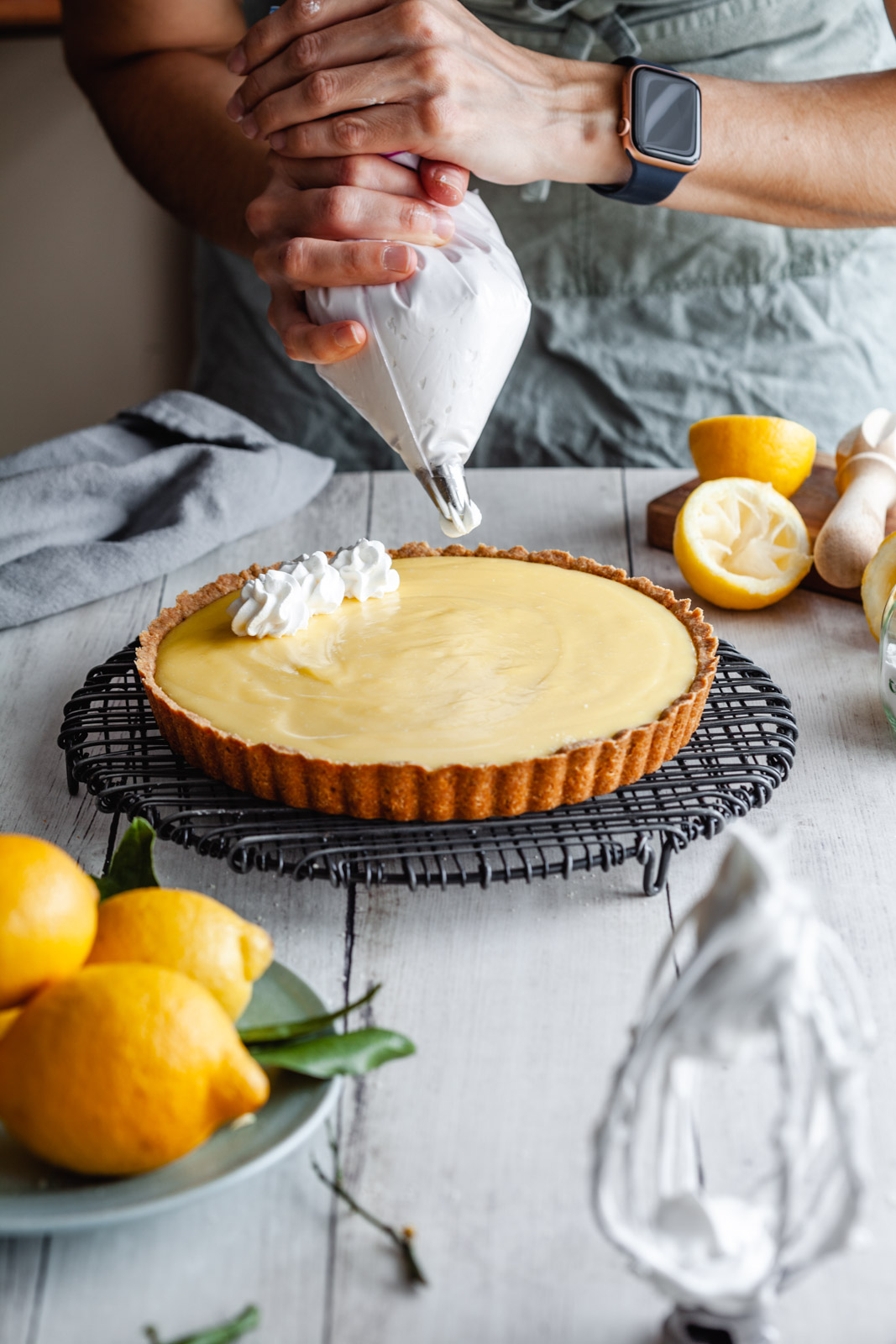 We enjoyed this tart with friends at their home as they hosted a card game night. They all seemed to really enjoy it. Unlike a curd filled tart that holds up well when left out at room temperature this lemon custard cream one tends to soften. It's rich, creamy and just heavenly, but much easier to slice and serve when slightly chilled. Just an FYI if you are serving it out or taking it over to someone's house. Keep it in the fridge until a few minutes before serving. You will love it and I do hope you give it a try.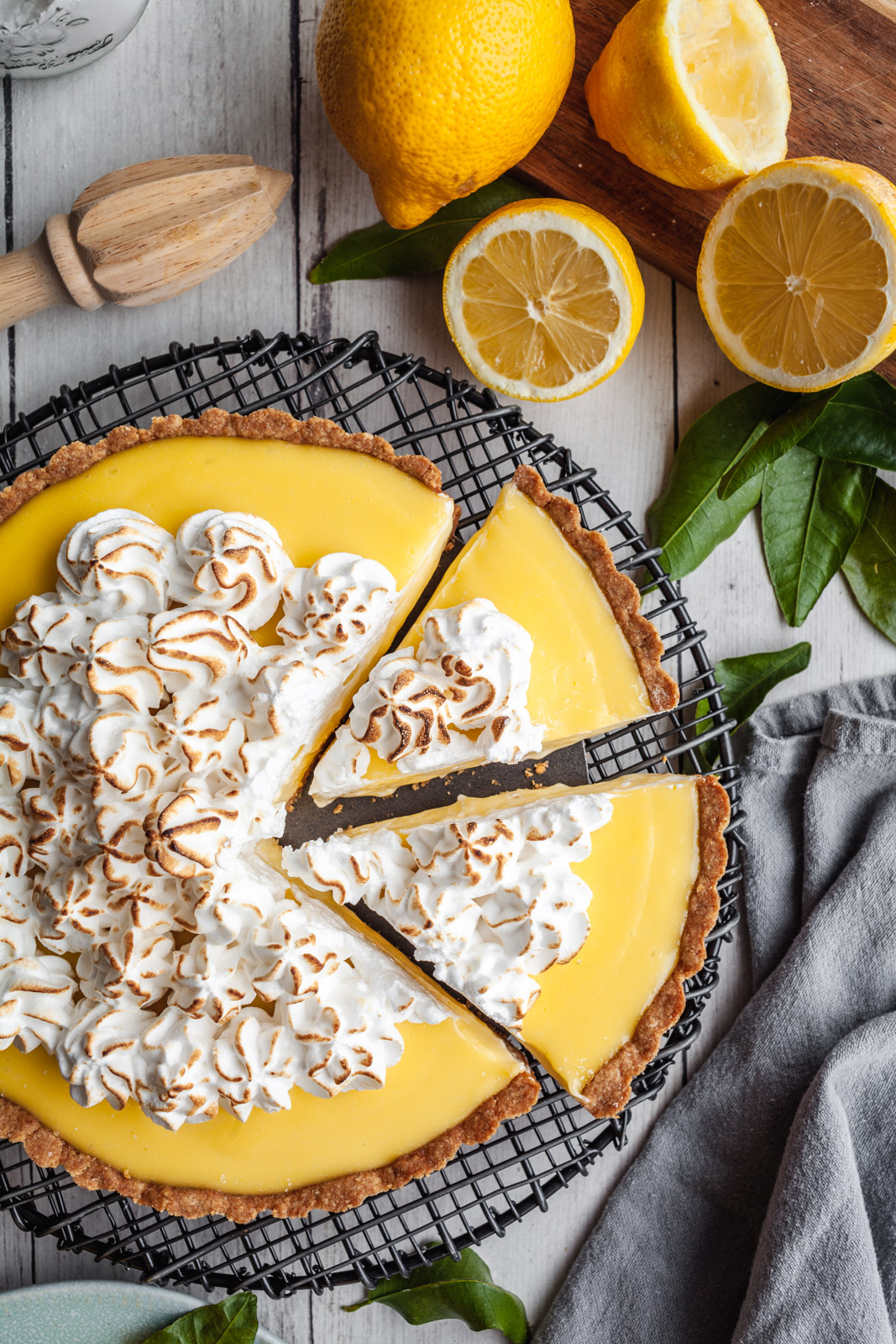 I have partnered up with Bob's Red Mill to bring you this fabulous recipe, but all opinions are my own. Thank you for supporting Olive & Mango.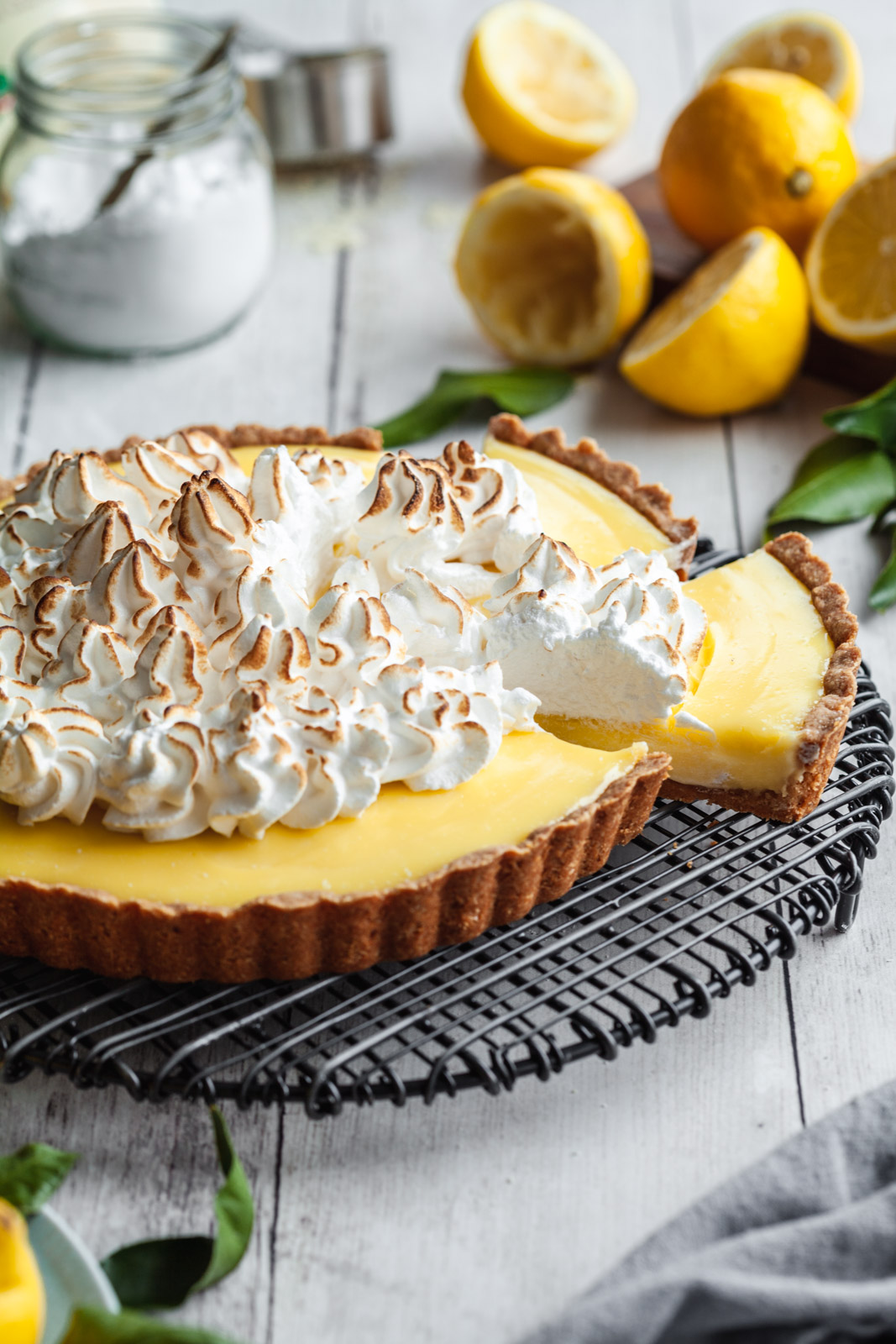 Recipe
For the almond flour pie crust
Ingredients
¼ cup powdered sugar (granulated as an alternative)

¼ tsp salt

¼ cup butter melted

¼ tsp of lemon zest
Directions
In a medium bowl, whisk together almond flour, sugar, lemon zest and salt. Stir in melted butter until dough comes together and resembles coarse crumbs.
Turn out into a 9 inch pie plate or greased tart pan with removable bottom. Press firmly with fingers into bottom and up sides. Use a flat bottomed glass or measuring cup to even out the bottom. Prick all over with a fork before baking.
To bake unfilled, preheat oven to 325°F. Bake until edges are golden brown, about 20 minutes.
To bake a filled pie, pre bake for 10-12 minutes before adding fillings. You may need to cover the edges in foil to avoid over-browning.
For a savoury pie crust, leave out the sweetener, use ½ tsp salt, and add ½ tsp garlic powder.
For the lemon custard cream filling
Ingredients
10 oz. (300 ml) of fresh lemon juice

¾ cups (150 g) of caster sugar (to mix with the lemon juice)

3 whole eggs

3 egg yolks (save the egg whites for the meringue

¼ cup (50 g) of sugar (to mix with the eggs)

2 tbsp (25 g) of Bob's Red Mill Finely Ground Tapioca Flour

½ tsp of vanilla extract

1 cup (200 ml) of heavy whipping cream

5 tbsp (70 g) of butter cut into pieces and allowed to soften to room temperature
Directions
Pour sugar in a medium sauce pan along with the lemon juice and whisk together
Bring lemon mixture to a low boil and whisk until all the sugar has dissolved
Pour cream and vanilla extract in another small sauce pan and bring to a rolling boil
As soon as both the cream and lemon mixtures are brought to a boil turn off the heat
In medium mixing bowl place the eggs in and add the remaining ¼ cup of sugar and whisk them vigorously for a few minutes until a slight foam forms and eggs are a paler yellow.
Add tapioca flour and whisk throughly until smooth
Add the lemon syrup slowly to the tapioca flour and egg mixture until all is incorporated
Using a sieve, strain mixture into a pan and place on medium-low heat
Remove any excess foam that may form on the surface with a wire mesh or sieve as the mixture heats up while you whisk it.
Bring to a rolling boil, stirring constantly for 1 minutes until thick
Turn heat off once thick
Pour in the warm cream through a fine mesh sieve and whisk until smooth
Allow to cool to room temperature
Whisk in softened butter until fully incorporated and silky smooth.
Pour into prepared tart pan or pie crust and let set in the fridge for a couple of hours.
Make meringue before serving. Details below.
For the meringue topping
Ingredients
Directions
Fill a small to medium saucepan with about 2 inches water and bring to a simmer.
Combine sugar, egg whites, and salt in a heatproof standing mixer bowl.
Set bowl over (not in) simmering water, and whisk until mixture is warm to the touch and sugar dissolves, 2 to 3 minutes. (Test by rubbing mixture between your fingers; the mixture should be smooth and not grainy.)
Attach bowl to standing mixer fitted with the whisk attachment.
Whisk on high speed until stiff, glossy peaks form and mixture is cool, about 10 minutes.
Whisk in vanilla and Bob's Red Mill Finely Ground Tapioca Flour until incorporated.
Transfer meringue into a large pastry bag fitted with a large round tip; pipe meringue to cover filling, as desired.
Place under broiler or use a kitchen torch to brown.
Serve immediately.
Crust adapted from All day I dream about food, lemon cream by French Cooking Academy and Swiss meringue by Martha Stewart