Greek Shrimp Scampi Pasta
Updated 26th November
This Greek shrimp scampi with pasta is one of my favourite simple to make date night or weeknight meals and I'm positive it will quickly become a weekly staple for you guys too. Pasta is tossed with juicy shrimp, fresh tomatoes, olives, capers and feta with a lemony white wine butter sauce, in this easy, delicious no fuss meal! It is so quick and easy to put together and loaded with flavour. This dish always proves that simple can also be delicious!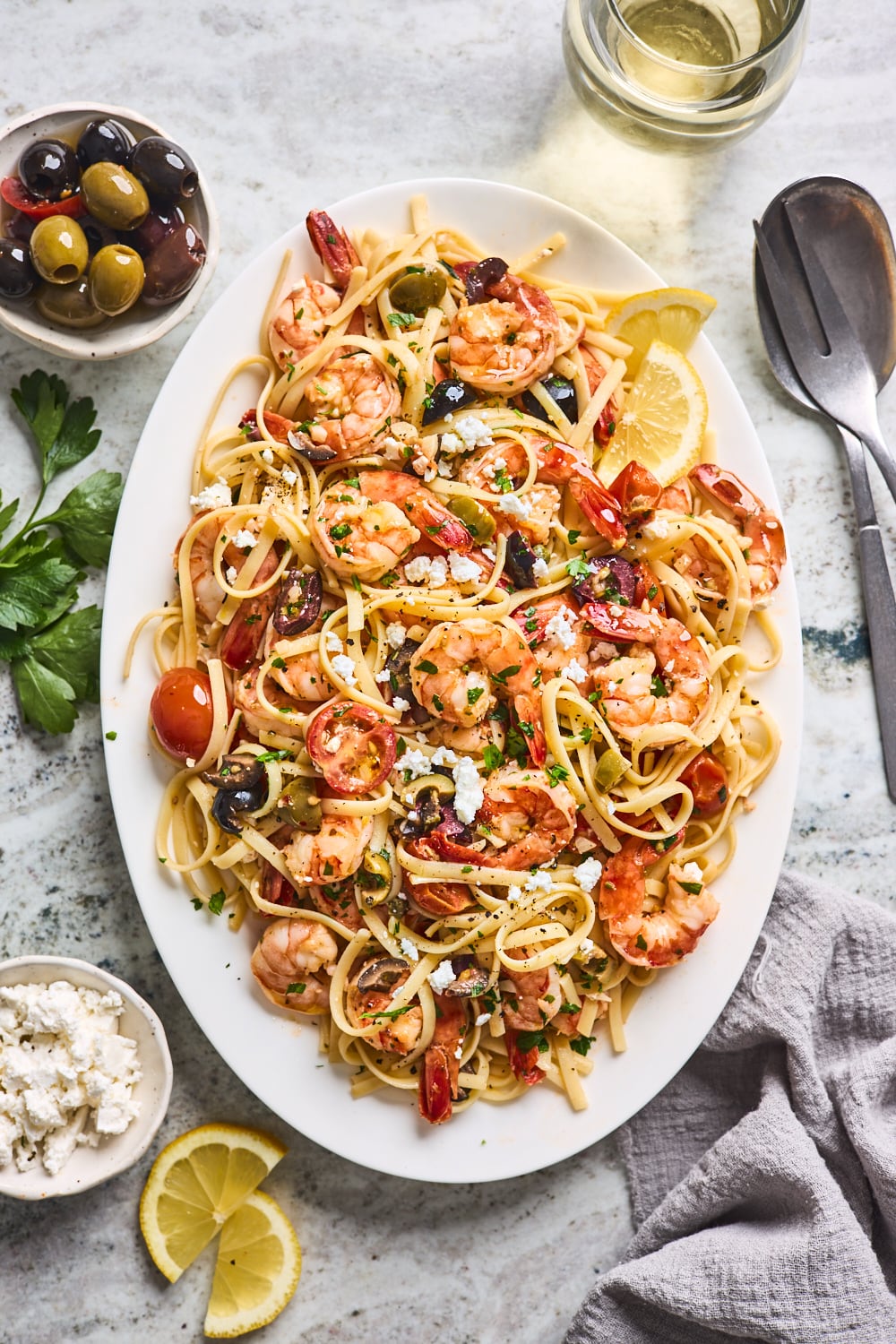 This recipe is a combination of my regular lemony shrimp scampi and my Greek shrimp saganaki, both recipes you guys already love. All the flavour we all love in one pan tossed with pasta. A tried and true speedy weeknight dish you are guaranteed to make on repeat.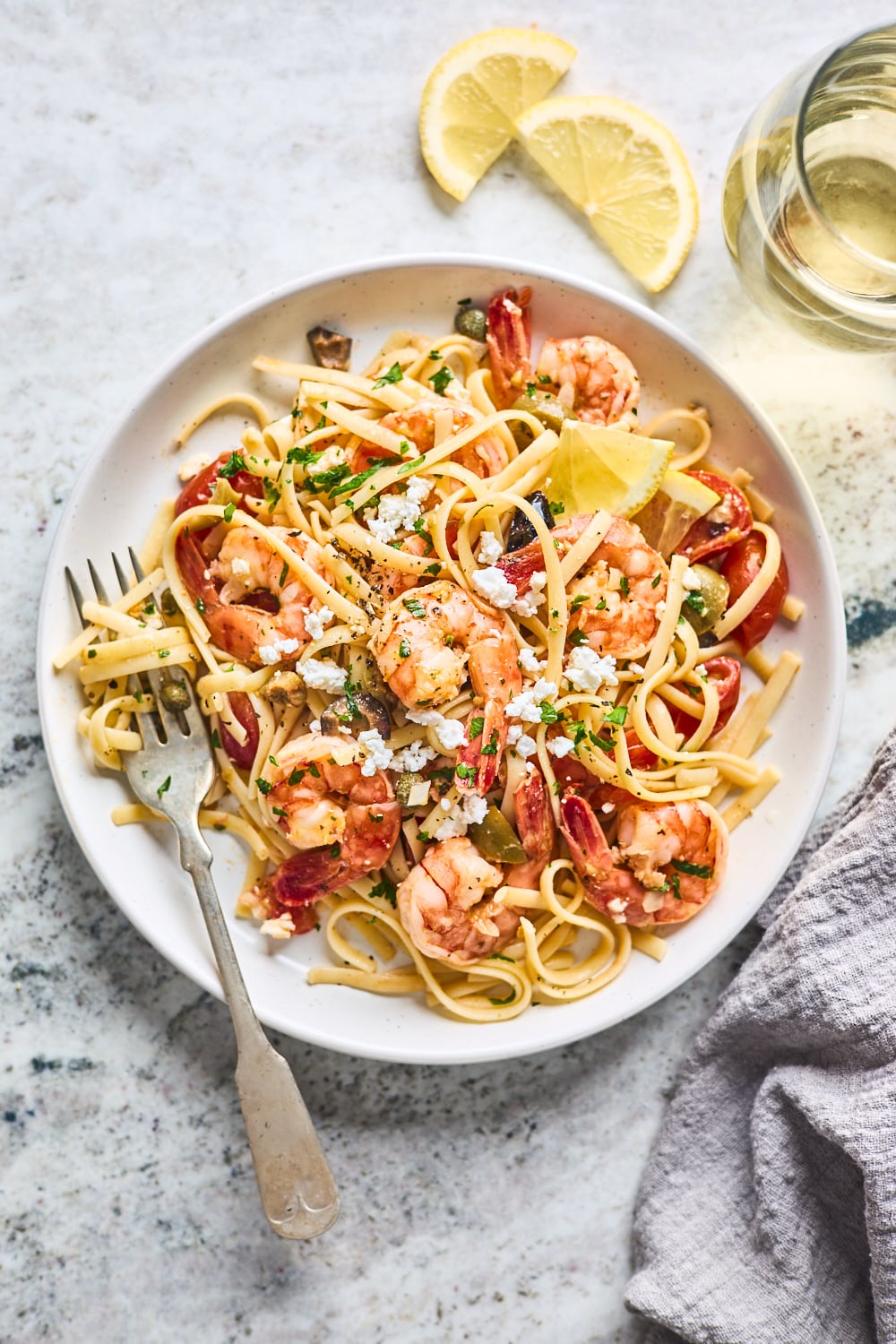 What does scampi mean? What is scampi?
Shrimp scampi means different things to different people. Scampi is another term used for large shrimp or prawns, especially when cooked in butter. Scampi recipes almost always involves butter, garlic, shrimp and white wine sauce. This Greek version adds a little extra flavour to an already delicious and classic dish. Tomatoes, olives, capers, wine and feta of course. Add pasta to the mix and you have yourself and complete meal.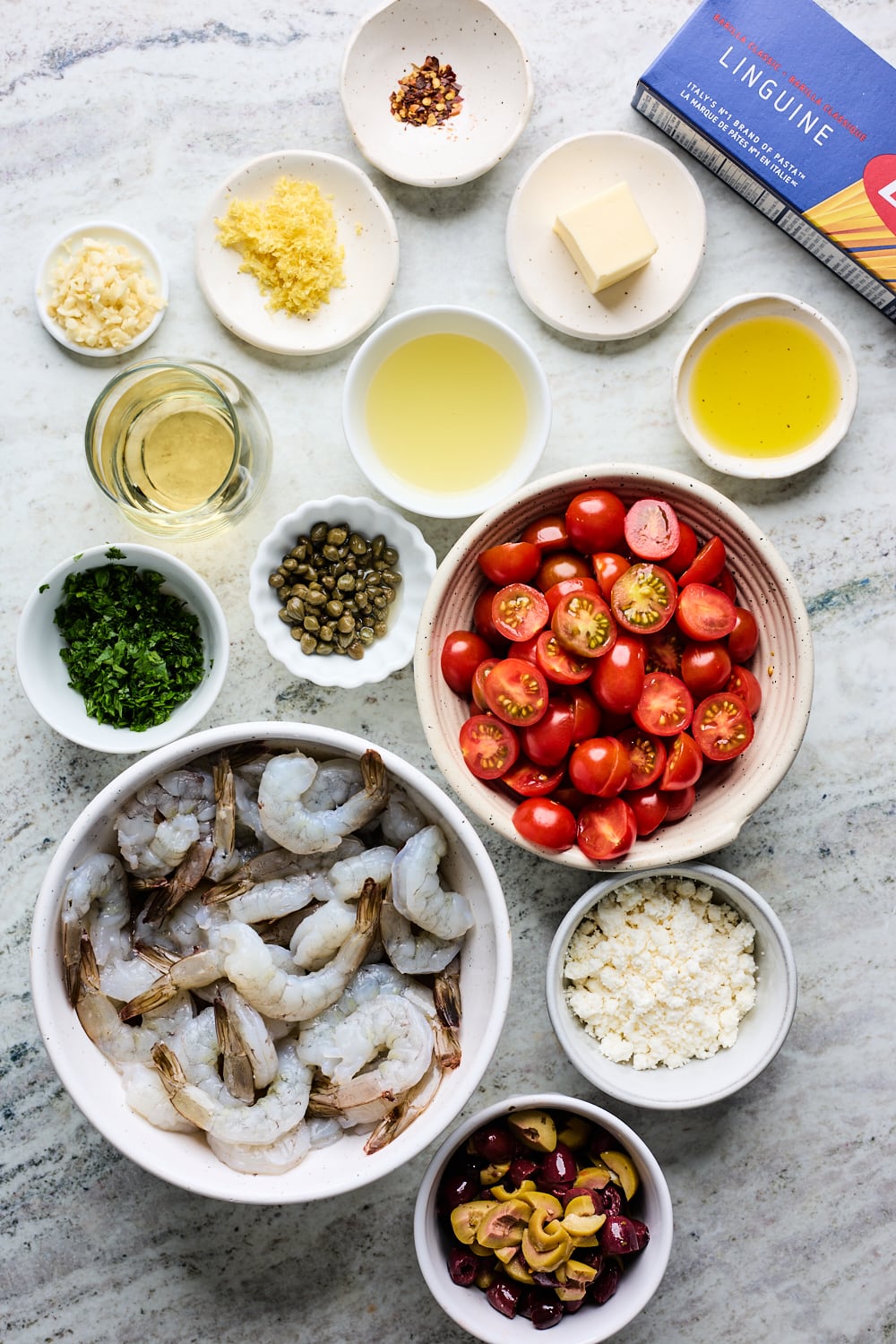 Greek Shrimp Scampi Recipe Ingredients
PASTA: I like linguine with this recipe but any long pasta, Angel hair pasta or spaghetti you like would work
BUTTER & OLIVE OIL: Butter is essential - I like the mix of the two but feel free to use one or the other if you prefer
SHRIMP: Peeled and deveined is always a good idea (I leave the tails on but that is optional)
GARLIC: I love loads of it in my scampi - so beware. Feel free to reduce to 2-3 cloves if you prefer a less garlicky scampi
CHILI FLAKES: You guys know I throw chili flakes into just about everything - they add a nice bit of flavour and just a touch of smokiness I would say more than heat. If you want extra heat you will need to add more than what the recipe calls for.
TOMATOES: I like to use cherry tomatoes but any tomatoes will work just chop them into bite size pieces. While I prefer the taste of fresh cherry tomatoes, you could certainly use seasoned canned tomatoes too.
WHITE WINE: Perfect way to add even more flavor to your scampi. I typically use a dry white wine like a pinot Grigio or Sauvignon Blanc but use whatever you have. Skip if you prefer no wine in yours and use chicken broth instead.
LEMON ZEST & LEMON JUICE: A must in a scampi and in Greek food - adds just the right amount of lemony zing to this scampi - feel free to adjust according to taste
CAPERS & OLIVES: I love the brininess they add - feel free to do just one or the other according to taste and adjust amounts to taste as well
FRESH HERBS: I like fresh parsley but some other tasty ones would include fresh dill and mint to brighten this pasta up even more. I also like to add dried oregano to the shrimp but that is optional - feel free to use whatever dried herbs or fresh herbs you like along with any other seasoning blend you might prefer.
FETA: YES! Whatever kind you like is good here. If you are making it Greek style feta is def a good idea - or if you prefer feel free to use grated Parmesan cheese.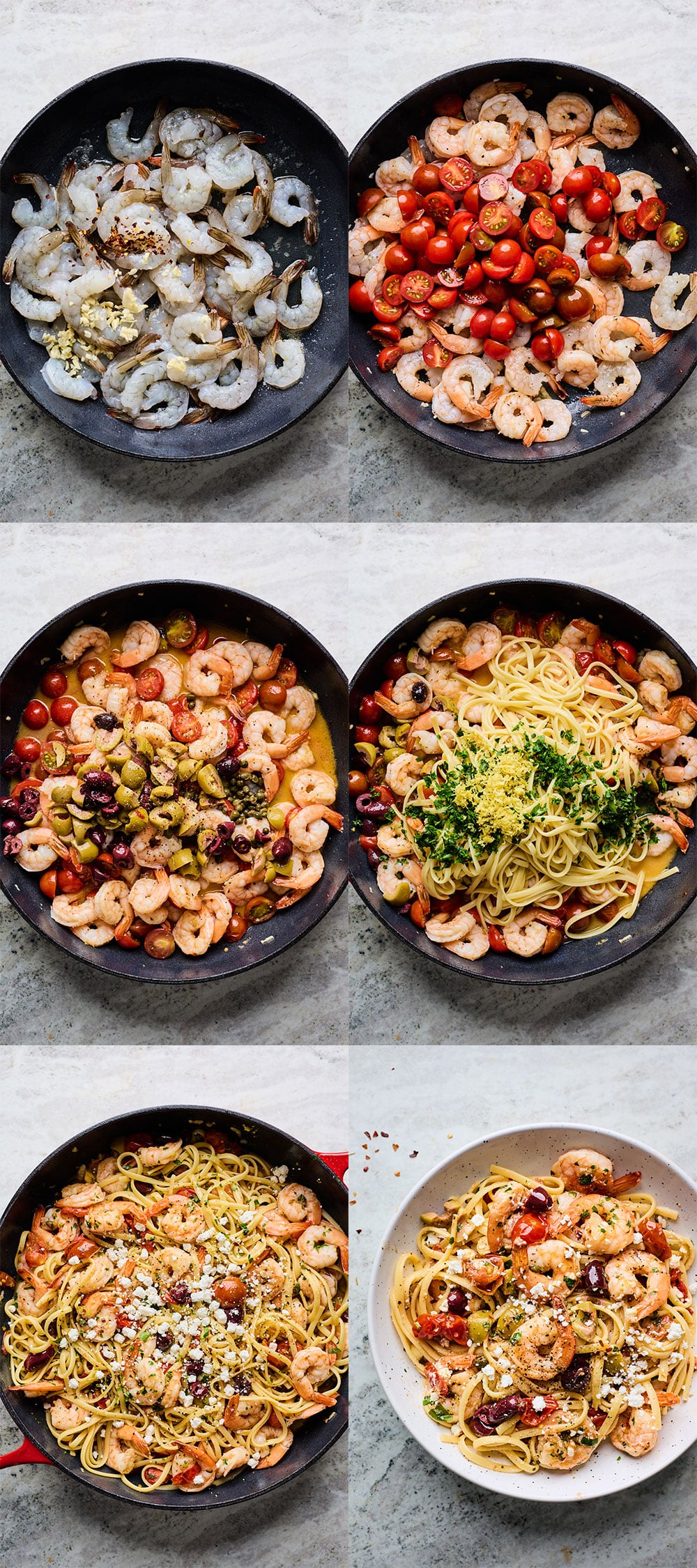 How To Make This Greek Easy Shrimp Scampi Recipe
COOK PASTA: Cook pasta in a large pot of salted water as directed on the package to al dente. Drain your pasta and set aside. If it's sitting for a while before you start on the scampi just toss it with a teaspoon of olive oil so it doesn't stick together.
SAUTE SHRIMP: In a medium saute pan, add some oil and tbsp butter - add and sauté the shrimp, garlic and chili flakes
CREATE SAUCE: Cook the shrimp for 1 min before adding the tomatoes. Add tomatoes and cook another minute, before adding the olives, capers, lemon juice and wine. Cook until shrimp is cooked through.
ADD COOKED PASTA: Toss in the pasta, lemon zest and parsley. Then the feta.
GARNISH PASTA: Serve with extra feta and parsley and even an extra drizzle of olive oil if you wish, and enjoy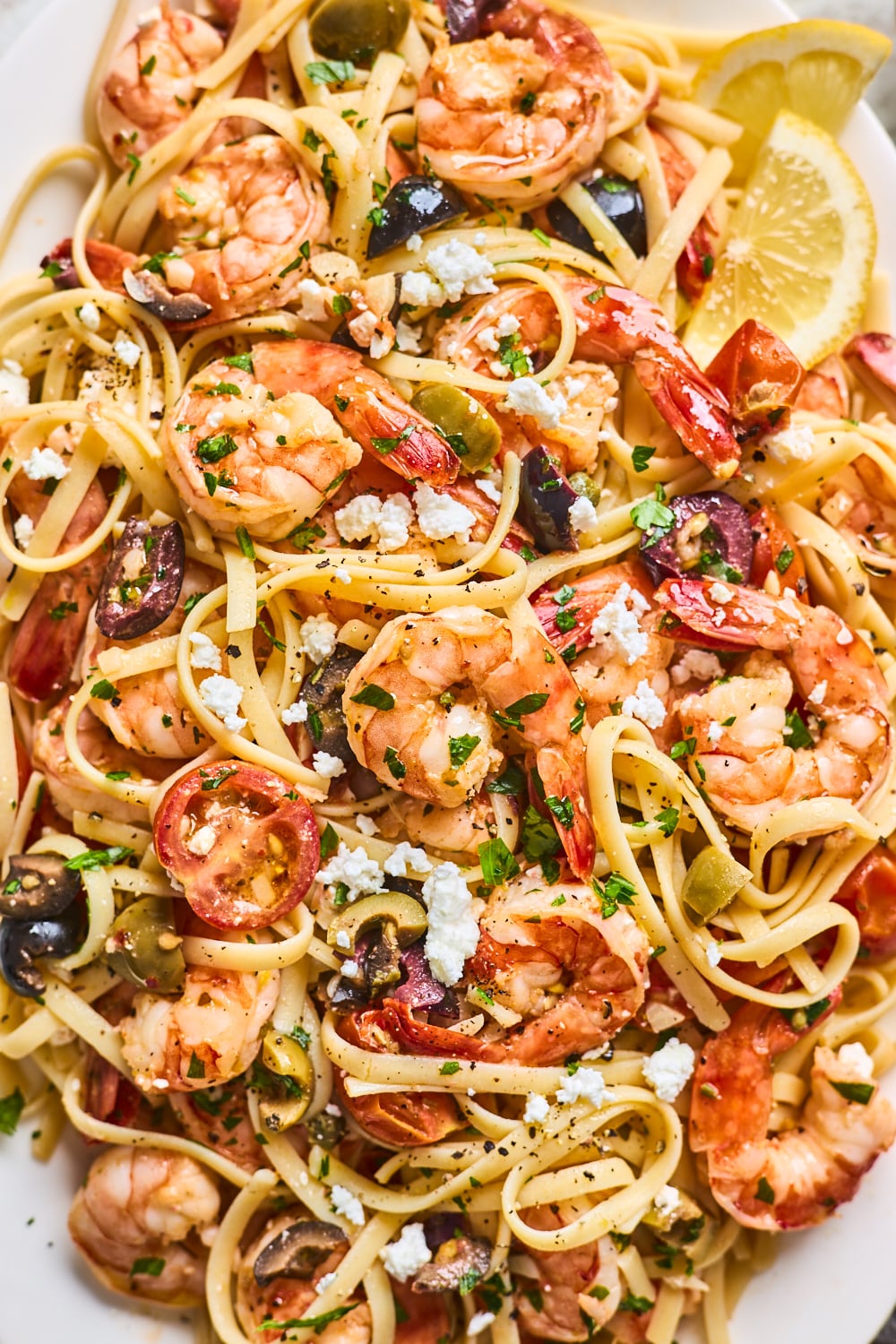 Shrimp Scampi and Pasta Tips & Variations
This dish comes together very quickly so it's a good idea to have all your ingredients prepped and chopped before you even heat up your skillet.
Not a fan of shrimp - feel free to use a different protein like sliced or cubed chicken. Shrimp doesn't need much time to cook but you will need to saute the chicken longer until it's cooked through before adding the tomatoes. Feel free to season the chicken before adding to the skillet.
Do not over cook your pasta as it will cook a little longer in the sauce.
Add more veggies into the dish. Use quick sautéing vegetables like asparagus or broccoli and feel free to add in sliced onion or shallots. You can also toss in some greens like baby spinach at the end.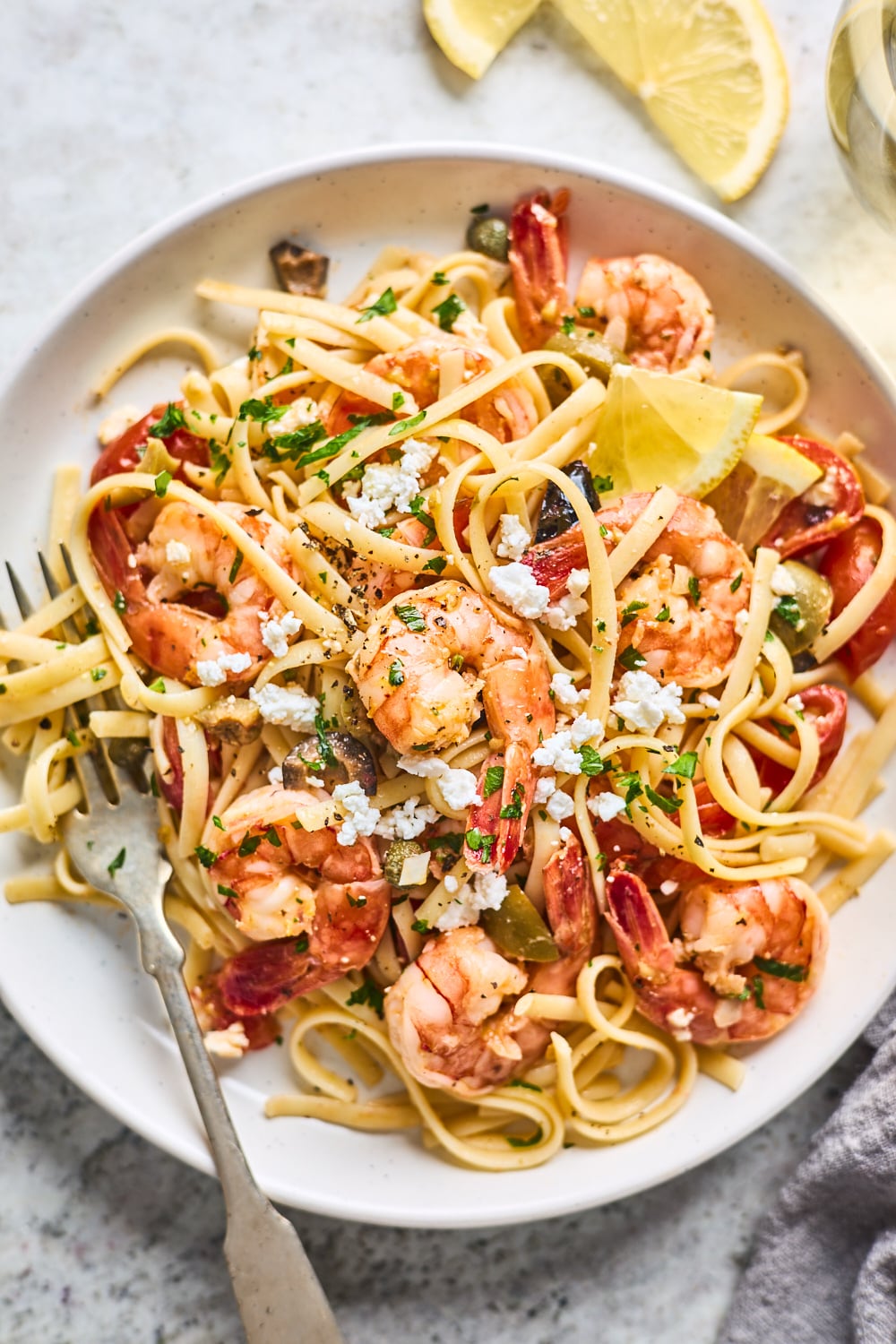 If you liked this recipe you will love these:
Recipe
Prep Time: 10 mins
Cook Time: 15 mins
Ingredients
8-10 ounces (½ lb) linguine or any long pasta you like

2 tablespoons unsalted butter

2 tablespoons olive oil

1½ lbs medium shrimp, peeled and deveined (I leave the tails on but that is optional)

4 cloves garlic, peeled and minced

¼ teaspoon crushed red pepper flakes, or more, to taste

2 cups sliced cherry tomatoes (or one 14.5 oz can chopped tomatoes)

¼ cup white wine

¼ cup freshly squeezed lemon juice

1 tablespoon capers

½ cup chopped pitted olives

Salt and pepper, to taste

Zest of 1 lemon

¼ cup chopped fresh parsley leaves

½-1 cup crumbled feta
Directions
In a large pot of boiling salted water, cook pasta according to package instructions; drain well.
Heat oil and Melt butter in a large skillet over medium high heat. Add shrimp, garlic and red pepper flakes. Cook, stirring occasionally, until pink, about 2-4 minutes.
Add tomatoes cook 1-2 minute until shrimp is cooked through and tomatoes are softened
Stir in wine lemon juice, capers and olives; season with salt and pepper, to taste.
Bring to a simmer; remove from heat and stir in pasta, lemon zest and parsley.
Serve immediately, tossed with crumbled feta
Recipe Notes
STORAGE: This pasta is best served the day it is made but it will hold up for 2-3 days in and airtight container in the refrigerator. Rewarm leftovers in a large skillet stove top or in the microwave. You may need to refresh it with a little broth.
Do you have to devein the shrimp? If you want to avoid eating the shrimp's digestive track, then I would suggest deveining the shrimp. However, you can find peeled, deveined raw shrimp at most major grocery chains. I like to leave the tails on but that is optional.