Greek Stuffed Tomatoes (Gemista/Yemista)
Updated 25th September 2023
Greek stuffed tomatoes or yemista/gemista are a healthy satisfying meal that screams of flavours of Greece! This makes a great family meal, or great for company too. Serve with some fresh crusty bread extra feta and some red or white wine and everyone will enjoy. It also makes for some fantastic leftovers! With the potatoes tucked between the stuffed vegetables and the tasty tomato sauce poured over the top, this is a balanced one pan meal. This is a very versatile recipe. You can add meat or lentils to the filling. You can use different vegetables like zucchini/courgette or eggplant and peppers. The filling is wonderful in all of them. You can add pine nuts and/or sultanas or raisins to the stuffing too. These are similar to my stuffed pepper recipe but this is a vegetarian version I love making with homegrown tomatoes or heirloom ones toward the end of the summer when the tomatoes are sweet and to die for.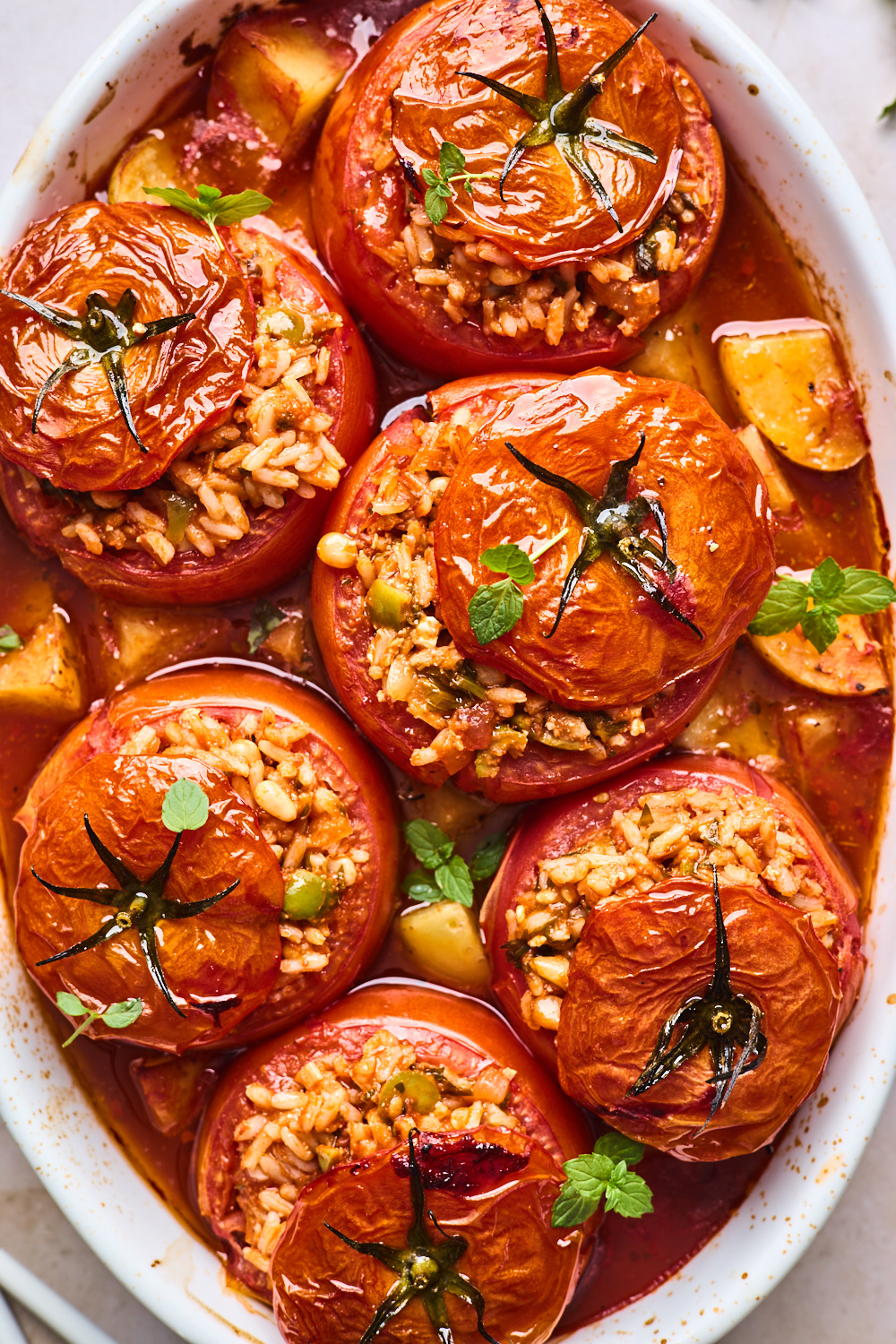 Every family has their own Gemista recipe and every region has its own variation of this Greek dish. This is a classic and typical recipe for Gemista. Loaded with delicious fresh herbs and some briny add ins to the filling. This beautiful dish is one of those that tastes best the day after it has been made. It is usually eaten at room temperature (rather than steaming hot) and a glass of chilled white wine or some red if you prefer goes well with it. You can definitely serve it with Greek salad and some crust bread too. A classic Greek dish you will enjoy!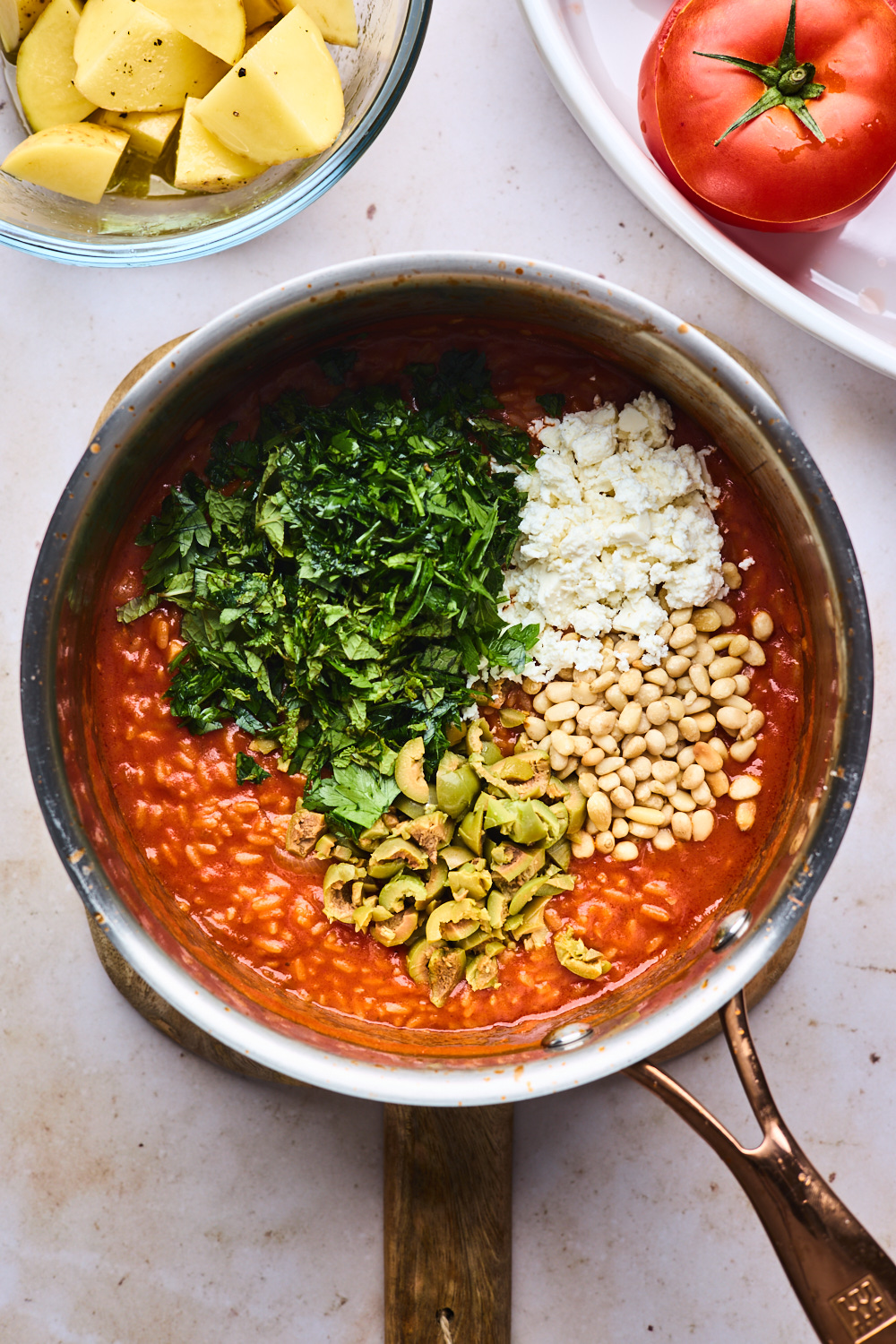 Ingredients for these Greek style stuffed tomatoes:
TOMATOES: I like to use medium to large beefsteak or heirloom tomatoes for this recipe but any ones you like will work - I like to chose ones that are ripe but still firm because they hold up better when roasted
CRUSHED TOMATOES: There is usually quite a lot of pulp or tomato flesh in the tomatoes that can be used but I still like to add extra crushed tomatoes - usually canned or bottled ones - feel free to reduce the amount if you prefer your rice to have less sauce or be less tomato based, but be sure to replace with water or broth as needed to cook rice properly
FRESH HERBS: A must if you want to make the Greek version of these stuffed tomatoes. Dried herbs can be a bit more potent so if replacing fresh with dried - the correct ratio is one tablespoon of fresh herbs to one teaspoon of dried herbs.In this recipe I used a combination of fresh parsley, fresh mint and fresh dill
RICE: I used long grained rice this time but you can use Arborio rice or I have even used quinoa in this recipe too or wild rice. Just be sure to adjust water or broth for cooking it in as different grains may require a bit more water to cook halfway
PINE NUTS: I love the texture they add to this dish but feel free to use chopped almonds in their place or omit if you are allergic to nuts
OLIVES: They add a wonderful salty briny flavour to the filling. Feel free to use any variety you like.
FETA CHEESE: I like to serve my Gemista with feta but I also love to add it to the filling. My dad always likes his this way - you could also use Parmesan cheese if you prefer that over feta too.
POTATOES: This is an optional add in to the base of the pan and they cook along with the tomatoes but feel free to omit these if you don't like potatoes. If you prefer yours less saucy omit the sauce and just replace with a little extra broth or water at the base of pan and a little extra drizzle of olive oil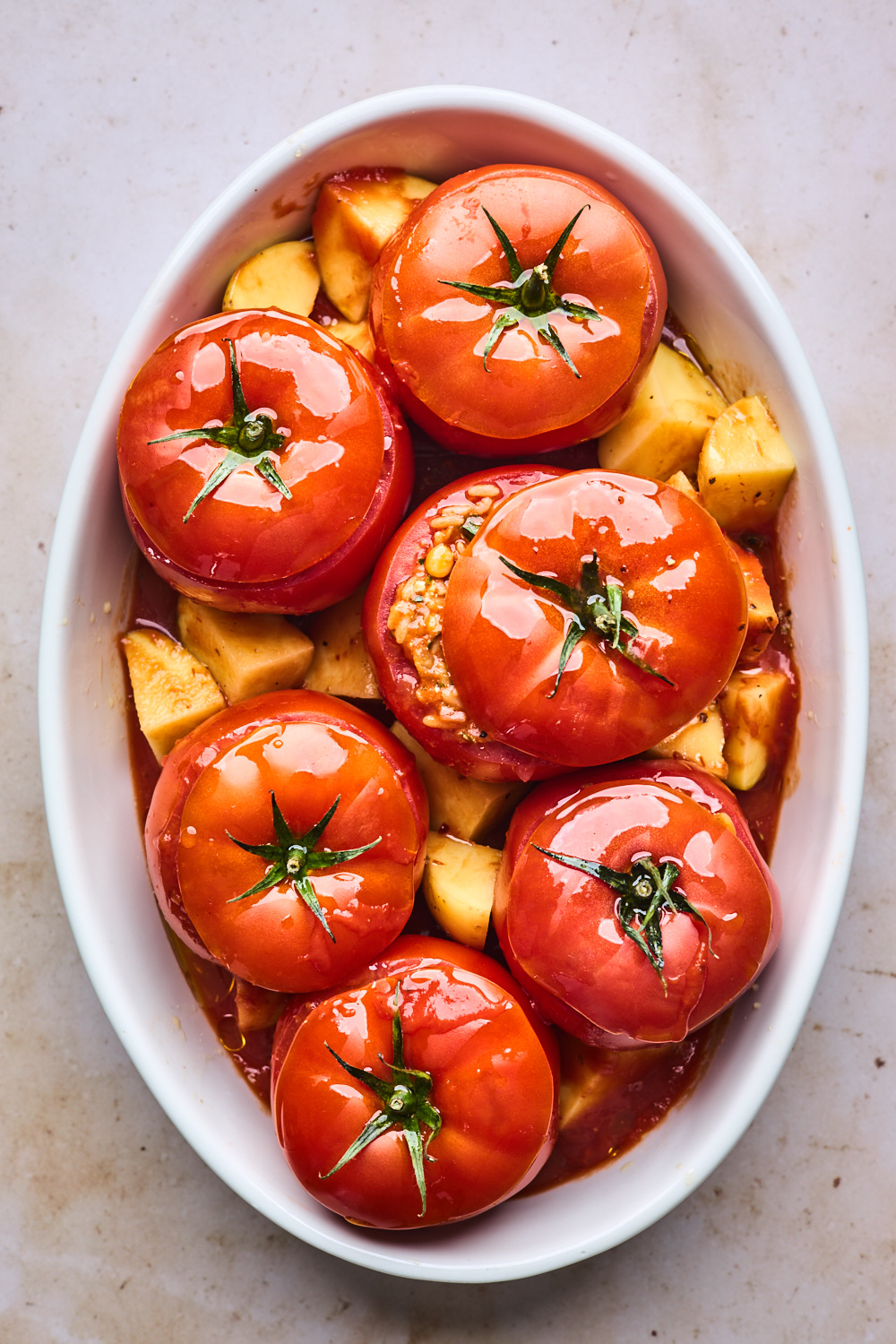 Optional add ins:
2 tablespoons sultanas/raisins or chopped dates to filling
1 teaspoon capers for extra brininess to filling
1 teaspoon of Honey or sugar to sweeten the sauce
1 lb of ground beef browned before adding the veggies and rice
½ cup of chopped greens kale or spinach for extra kick of greens stirred into rice mixture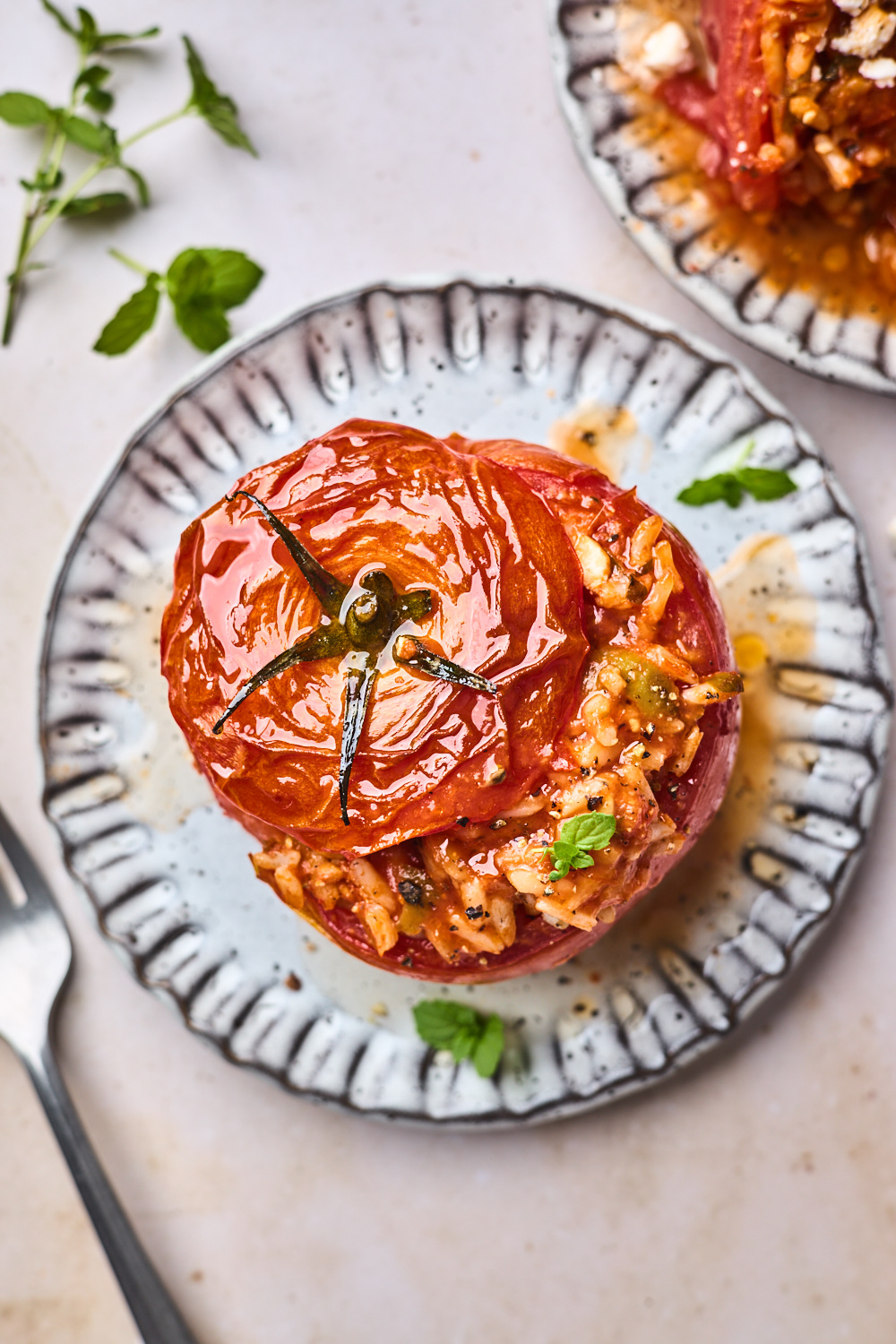 5 Easy steps to making Greek stuffed tomatoes (full instructions below):
Slice tops of tomatoes and scoop flesh out of tomatoes and reserve.
Stand hollowed-out tomatoes in a big baking dish.
Make a simple rice, vegetables and herb filling on the stove top. Cook it until the rice is halfway cooked.
Stuff vegetables with rice filling. Tuck potato wedges into the spaces between the stuffed veggies or underneath tomatoes.
Pour tomato sauce/tomato puree over the top, along with some olive oil then bake. Serve with a big wedge of feta cheese and crusty bread.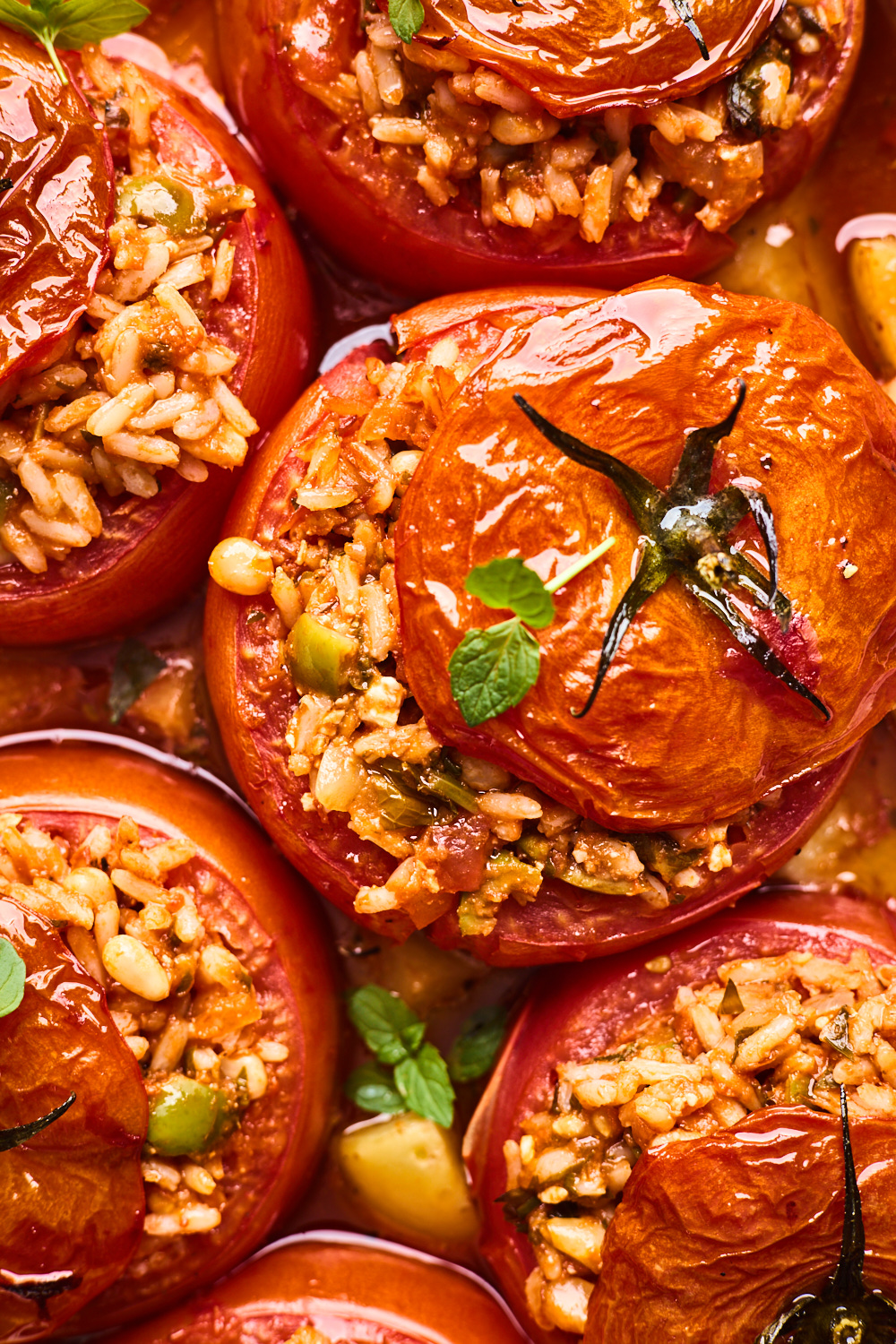 Don't be afraid to create your very own perfect recipe. This recipe is quite easy to customize. Some recipes leave out the tomato sauce but I think that's one of the things that makes it so delicious.
Try stuffing different vegetables such as zucchini/courgette, large onions, mushrooms, peppers, or eggplant/aubergine.
Add beef or turkey mince or lentils for extra protein.
Vary the herbs and spices.
Use a different kind of rice for the filling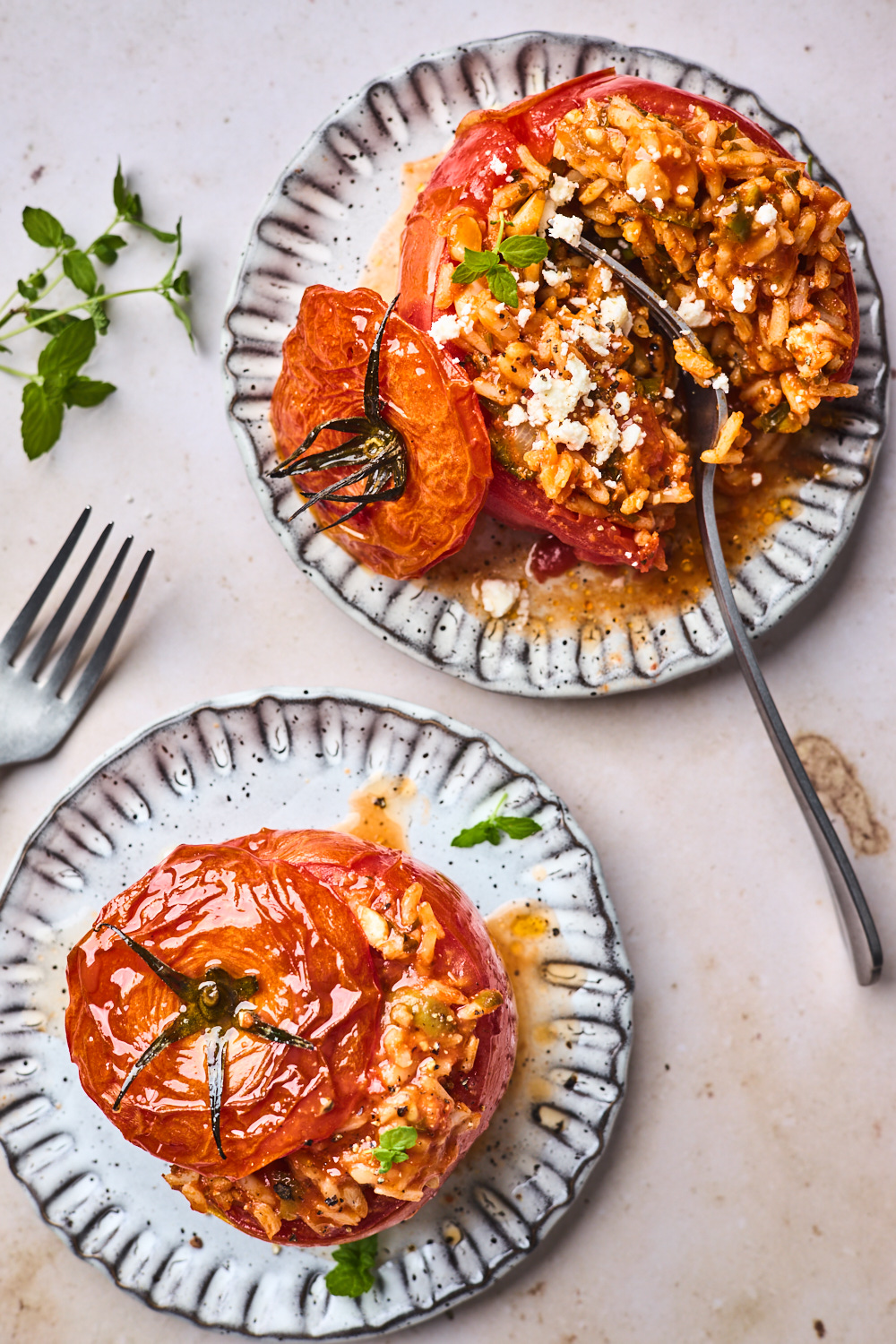 If you're looking for some other tasty Greek recipes, check these out:
Recipe
Prep Time: 20 mins
Cook Time: 1-1½ hours
Ingredients
6 medium-large tomatoes

4 tablespoons Extra virgin olive oil plus more for drizzling

1 yellow onion, peeled and minced

4 cloves garlic, peeled and minced

1 ½ cups crushed tomatoes (I used canned)

¼ cup white wine

¼ teaspoon oregano

½ cup long-grained white rice or arborio

½ cup water/broth

½ cup flat-leaf parsley, chopped

½ cup fresh mint, chopped

¼ cup fresh dill, chopped

¼ cup toasted pine nuts or chopped almonds

½ cup of pitted olives, chopped (I used Castelvetrano olives)

¼-½ cup feta cheese, crumbled

2 small-medium yukon gold potatoes scrubbed,and diced into small bite size pieces

Salt and pepper to taste
For the sauce
½ cup crushed tomatoes/ purée

½ cup water

Pinch of chili flakes

Pinch of garlic powder

Pinch of oregano

Salt and pepper to taste
Optional add ins
2 tablespoons sultanas/raisins or chopped dates
1 teaspoon of Honey or sugar to sweeten the sauce
1 lb of ground beef browned before adding the veggies and rice
½ cup of chopped greens kale or spinach for extra kick of greens stirred into rice mixture
Directions
For the veggies
Cut the top quarter off of each of the tomato and reserve for later. Scoop out the pulp from the insides of the tomatoes and set aside discarding any tough parts.
Toss the potatoes in olive oil, pinch of salt and pepper and place in a 9x13 baking pan.
Place tomatoes over potatoes
Preheat oven to 375°F
For the Filling
In a medium saucepan heat olive oil over medium heat and add the onion and garlic and sauté for 4-5 min until softened
Add the tomato pulp, crushed tomatoes and wine. Season with salt and pepper and oregano and simmer for a few minutes.
Add rice and water bring to simmer, then lower heat and simmer on low for 8-10 min until rice is halfway cooked.
Take off the heat and stir in the pine nuts, feta, olives and herbs
Assembly
Stuff tomatoes then place the top part over them
Stir together the sauce ingredients and then pour over to potatoes in the pan. Roast for 59-60 mins or until potatoes are done and the tomatoes are blistered
Once they are done, remove them from the oven and carefully lift them from the dish with a large spoon to serve. Serve with the potatoes. Any liquid at the bottom of the dish can be spooned over the vegetables as they are served. Enjoy!
Recipe Notes
To make this dish vegan just remove the feta
Feel free to omit the sauce if you prefer a less saucier dish - it is delicious either way. Just add a bit of water to bottom of pan and drizzle a little extra olive oil over the tomatoes and potatoes
Make ahead directions: Assemble to the point where you'd put it in the oven, then cover and keep refrigerated until you are ready to bake- up to 1 day ahead. Uncover and bake when ready.
Leftovers will keep well for a few days in the fridge. You can also freeze it in sealed containers.
This meal reheats well. Just cover and microwave until heated through or reheat in oven
When you remove the insides of the tomatoes, make sure not to scrape too much out or they will collapse when baking. It's normal for them to split a little bit but to prevent that from happening don't overfill the tomatoes.
When precooking the rice, you want to cook it just until it's halfway cooked through this will prevent it from overcooking later.