Italian Style Fig Cookie Bundles (cucidati)
These delicious little fig bundles are made with notes of citrus and a deliciously spiced moist, tender and sweet, fruit filling sandwiched between buttery short bread cookie dough that is easy to work with and fun to make. Before they are baked off they are sprinkled with some course sugar for a little extra sparkle and crunch. They cookie recipe is special treat for any time of the year. This recipe is based on a very delicious Italian fig cookie called cucidati. They hail from sicily and traditionally are log shaped or when circular-shaped are called buccellati. They are often covered in a glaze or topped with colourful sprinkles. This is my fun spin on the 'packaging' of these fig cookies and one I know you will love. They require a couple of steps to make but this fig cookie recipe is worth it. The best part is the dough and the filling can be made in advance and then once you have your dough rolled out they are not only fun to make but easy to make as well.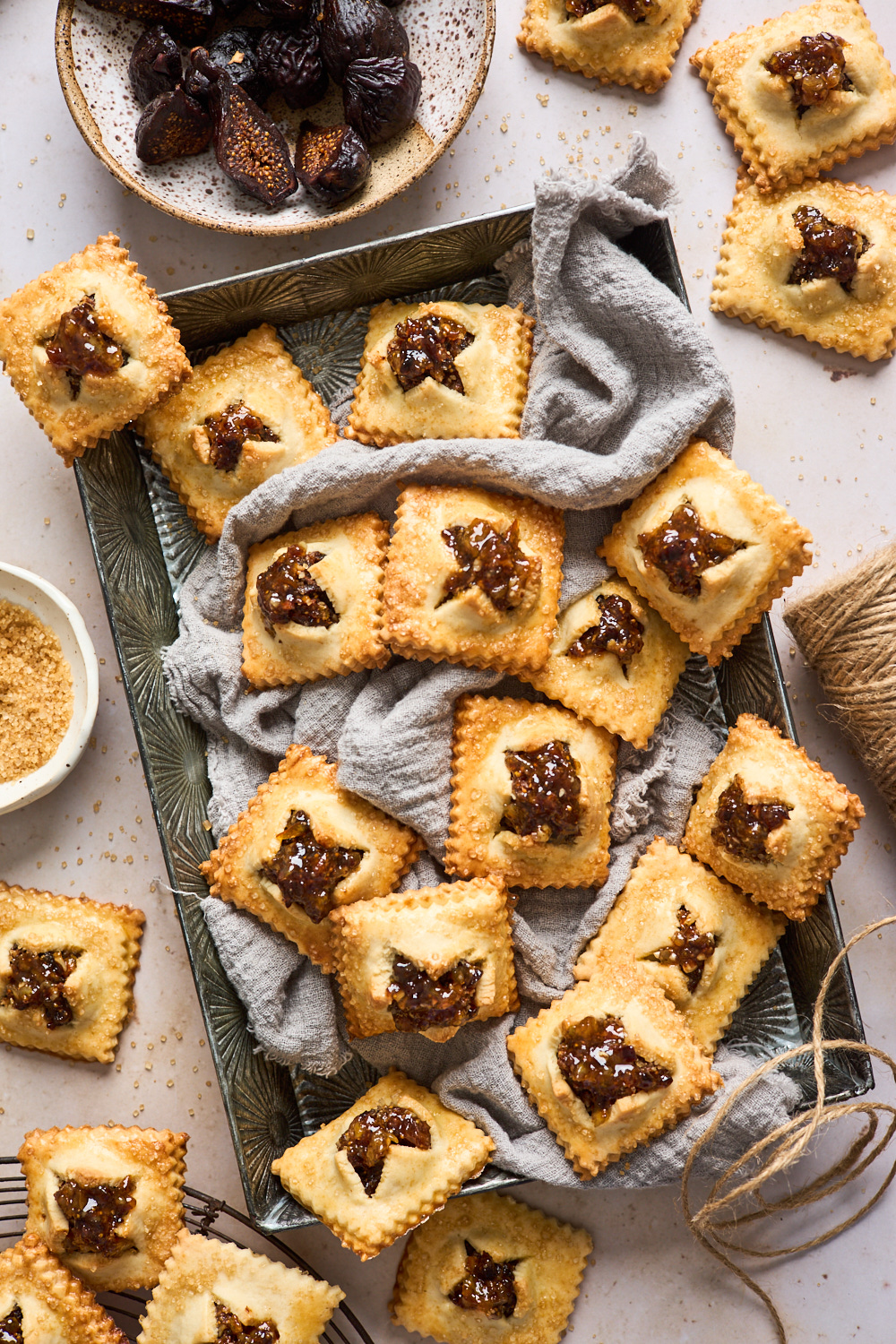 What are figs?
This is actually a legitimate question. Living in the Caribbean for a few years, I learned quickly that figs can also refer to baby bananas. These cookies are definitely not referring to those 'figs' but the more commonly known pear shaped pod that matures into fruit. They are actually inverted flowers. Their flowers bloom inside the pod which then mature into the fruit we know and love. I used California figs in these cookies. California actually produces 100% of the dried and 98% of the figs grown commercially in the US. Nearly 50% of the fresh ones are exported to Canada. I teamed up with California Figs to create some tasty recipes using both their fresh figs and their dried ones. My Skillet Balsamic Chicken with Fresh California Figs is a favourite and I know you will love these cookies too.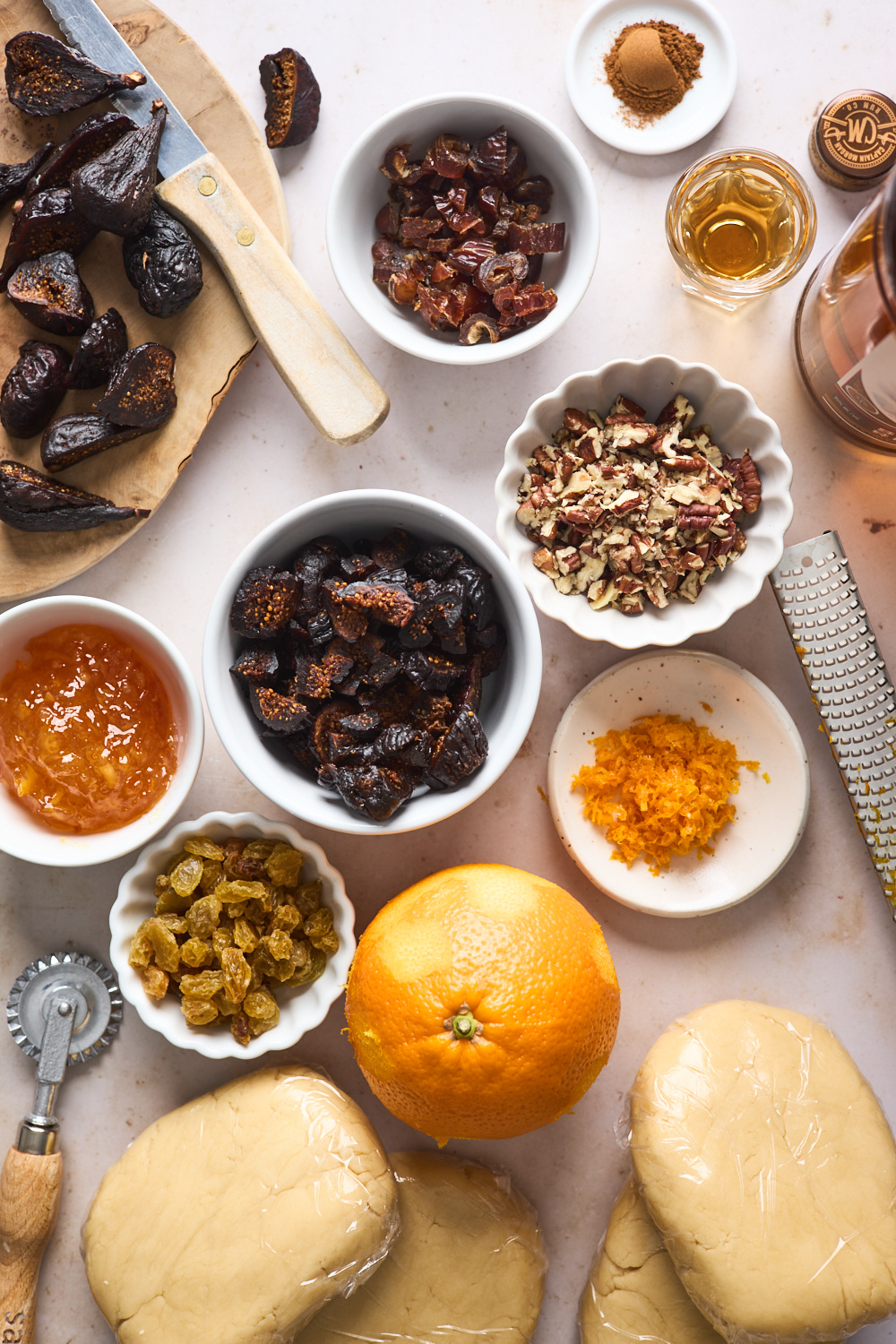 Dried figs are so versatile. They are perfect to snack and add to your favorite bars or mixed nuts but they also pair well with savoury cheeses making them the  perfect addition to your cheeseboard. They even make great additions to sauces, jellies and chutneys too. Because they are naturally sweet adding them to baked goods and even these cookies is a no brainer. They are rich in dietary fiber and antioxidants - a great digestive aid. The filling in these cookies is made by mixing the figs with chopped dates, raisins, a touch of spiced rum, or orange juice, cinnamon and orange or lemon zest. Chopped pecans or almonds or pine nuts are also in them mix for a bit of extra texture. Creating a thick and delicious filling for these cookies.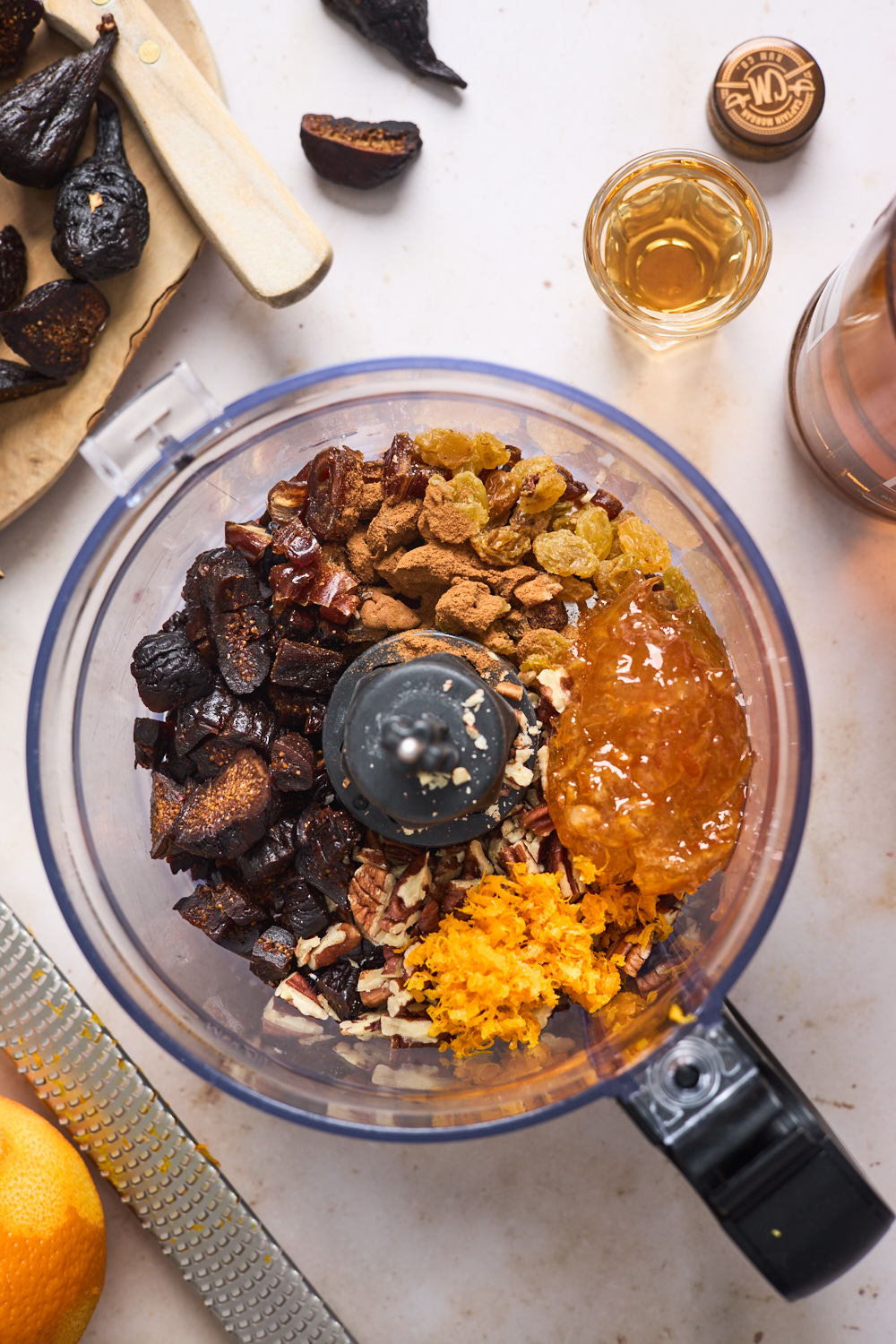 Italian Fig Cookie (cucidati) Variations:
I imagine every Italian household has their own version of these cookies just like every Greek household has their own version of all the Greek cookies. As I mentioned before the names of these cookies vary depending on their shape and the ingredients in them. Some use all figs, some combine dates, figs and raisins like this recipe. Some add orange, some add lemon. Some use nuts, some don't have nuts. Some add chocolate, some don't. Some are made with dough cut-outs, some are in rings, some are in little bites. The basic flavours stay the same and no version is truly wrong if it's enjoyed by the one making it. Most at least include dried figs, usually dates and raisins and in most cases nuts in the filling. (Make sure to check out the recipe below for any substitutions if needed)They all have a buttery shortbread-like pastry on the outside. These Italian fig cookies are often compared to Fig Newton - although they have figs in common they are very different in flavour. The filling is brightly flavoured in these cookies and the pastry or dough, instead of being soft is deliciously crisp, crumbly and buttery.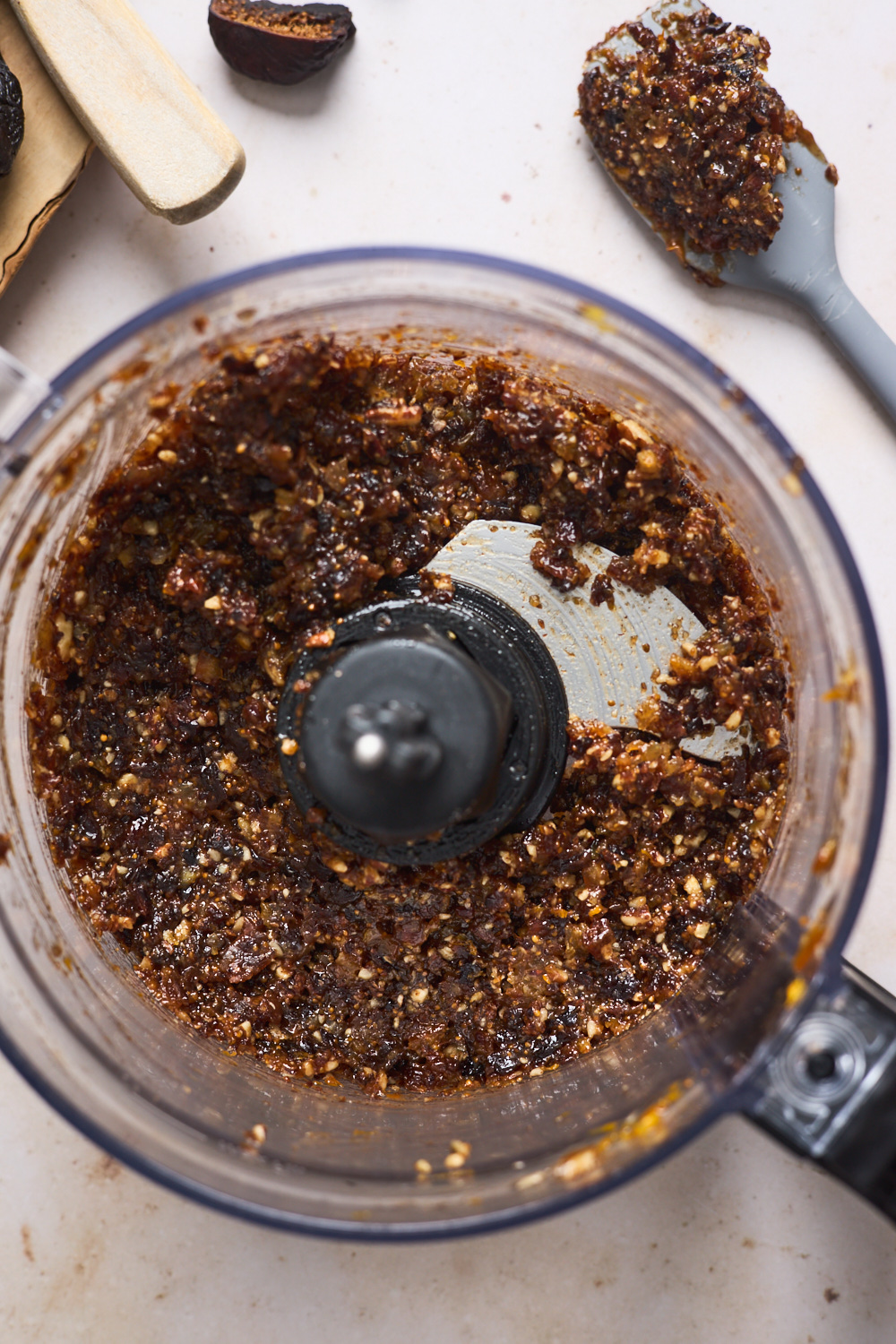 How to make Italian fig cookie bundles:
Although they may seem intimidating they are are actually quite easy to make and loads of fun to boot. An extra set of hands whether they are your children's helping out or a few friends getting together to bake makes them even more fun to make. Here are the simple steps involved:
MAKE THE DOUGH: the dough is simple to make - no kneading or cutting in butter  required just a bowl and a mixer. Start by creaming the butter with the sugar, salt and baking powder then the wet ingredients. Then beat in and incorporate the flour until dough forms. Divide the dough into 4 portions then wrap and chill.
MAKE THE FILLING: place all the filling ingredients into a food processor and process into a paste-like mixture
ASSEMBLE & BAKE: Roll the dough out into a rough rectangle and use a cutter or a sharp knife to cut dough into a cleaner cut rectangle, approx 8x10 - cut into 2x2 squares - place a spoonful of filling in the middle of half of the squares, brush edges with egg wash, cut an 'x'into remaining square - place one over the filling and press edges to seal. Brush pastry with egg wash then bake until golden. Repeat with remaining 3 portions of dough.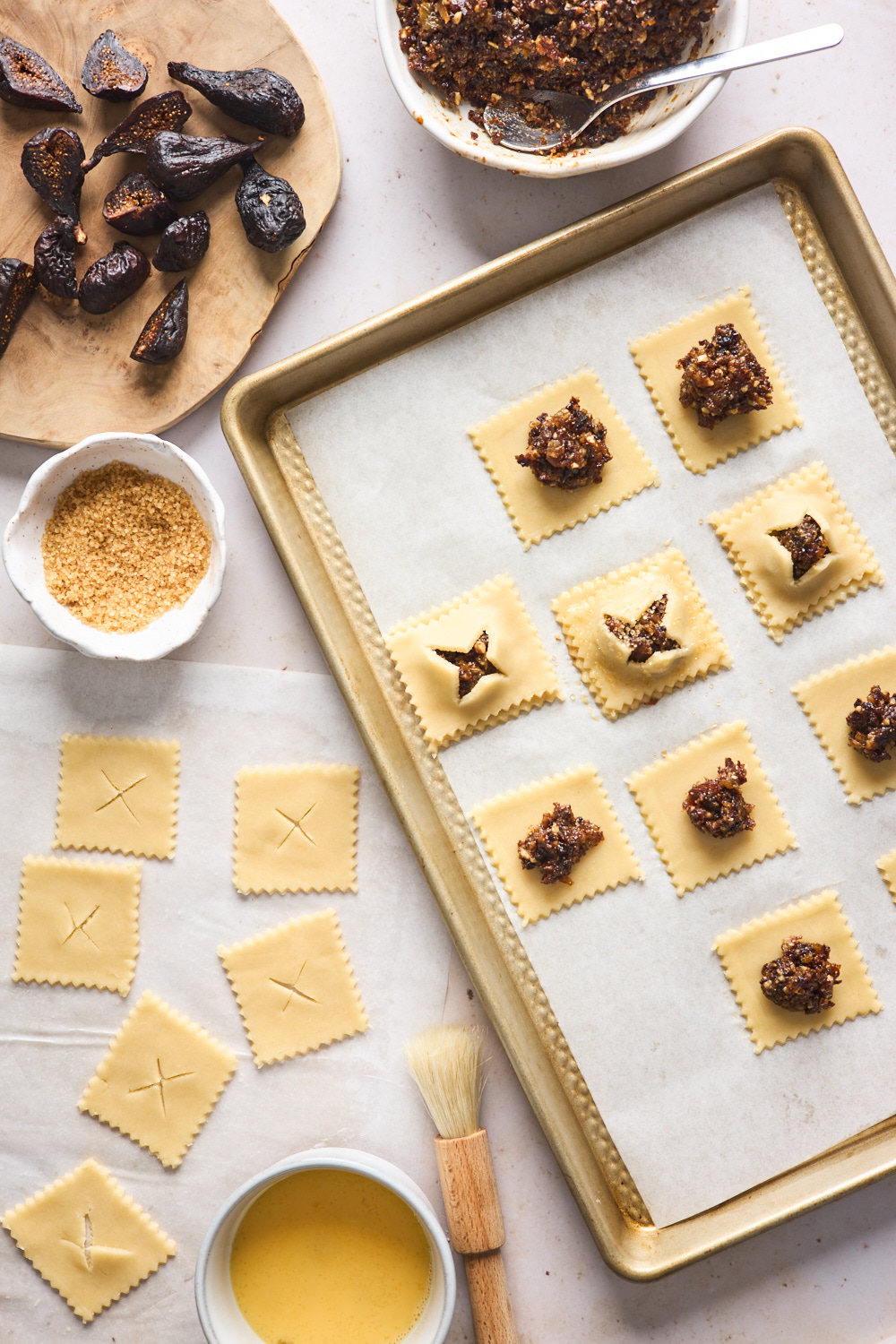 Tips for Making These Fig Cookies:
Make the pastry ahead of time to make sure it chills and firms up.
Let the food processor do the work in chopping and mixing - make sure to chop the figs and dates up a bit to help for everything to process evenly- and make sure to trim the tough end from the figs)
Flour your work surface well or roll dough between two pieces of wax paper when rolling the dough so the dough doesn't stick too much and stays easy to work with. Stick back in the fridge to chill for a few minutes if it gets a little too soft.
Keep the other dough portions in the fridge between batches.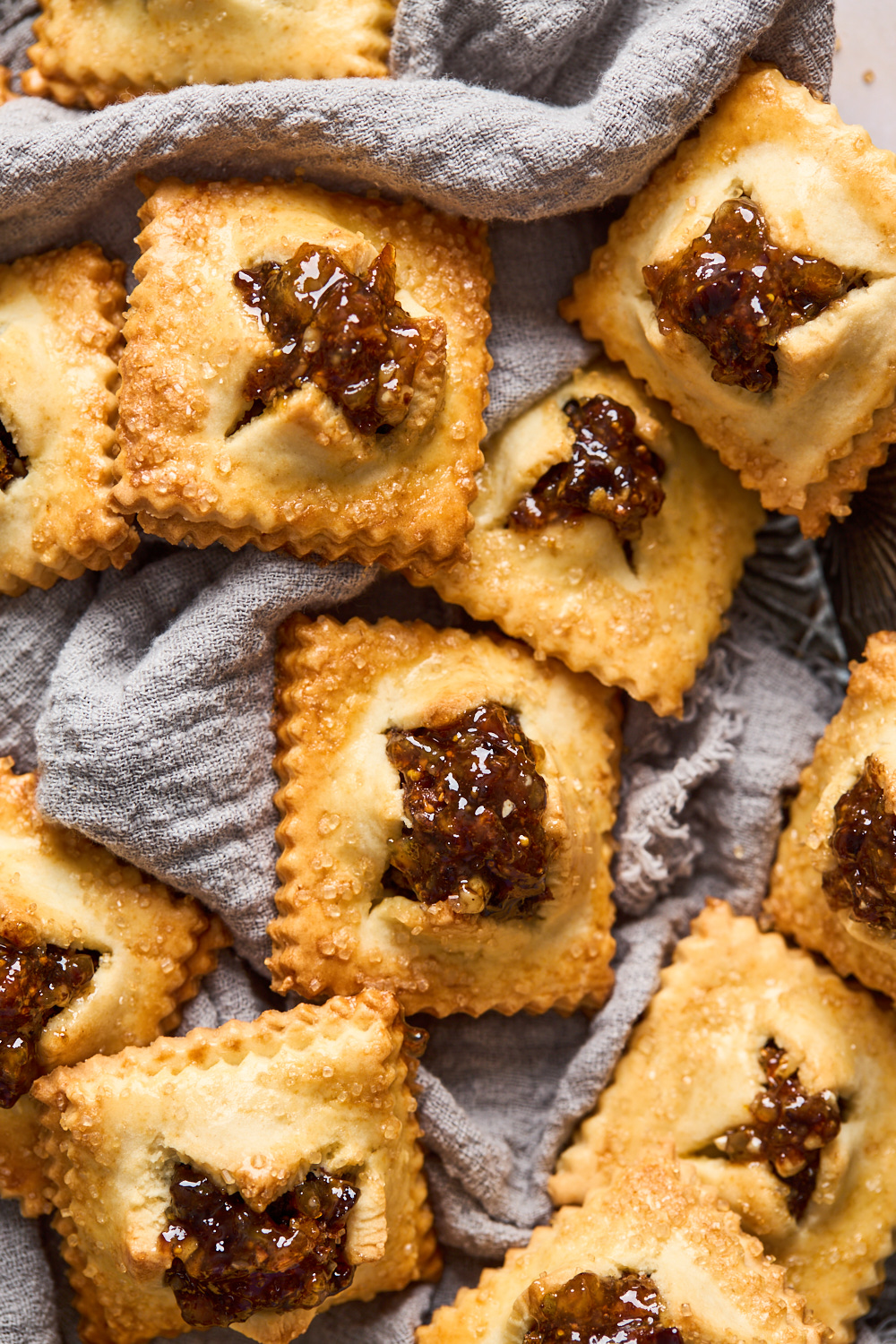 Can you freeze Italian Fig Cookies?
As I mentioned above, the dough and the filling can be made ahead of time and even frozen. In fact the flavours of the filling get better over time. That is why they also keep well even after they have baked. They freeeze well. Layer cookies between waxed paper in an airtight container; cover. Store at room temperature for up to 3 days or freeze for up to 3 months.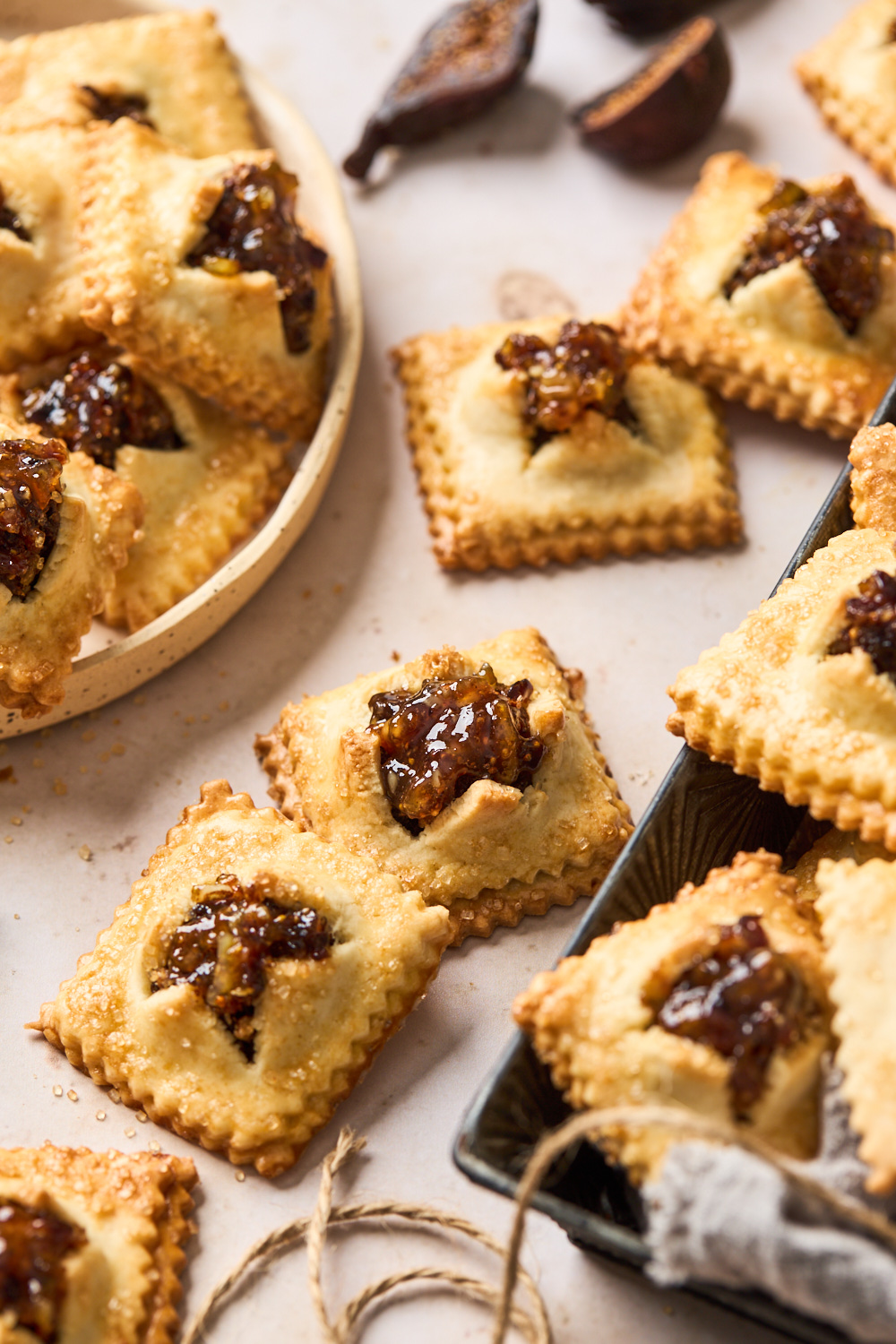 For more delicious fig recipes make sure to check these out:
Recipe
Servings:
approx 40 cookies
Prep Time: 50 mins
Cook Time: 12-15 mins
Non Active Time: at least 30 minutes to chill the dough
Ingredients
For the dough
¾ cup butter, softened

¾ cup granulated sugar

1 tablespoon baking powder

¼ teaspoon salt

¼ cup milk (I used whole milk but any milk will work)

1 egg

1 teaspoon pure vanilla extract

3 ½ cups all-purpose flour
For the fig filling
1 cup dried figs, tough ends trimmed and chopped

⅓ cup chopped pitted dates

⅓ cup pecans, almonds or pine nuts

¼ cup golden raisins

1 teaspoon finely grated or chopped fresh orange peel or lemon peel

3 tablespoons dark spiced rum or whisky ( or orange juice)

½ teaspoon ground cinnamon

2 tablespoons orange or apricot preserves (or you could also use honey)
For egg wash and topping
1 egg

1 tablespoon water

Coarse sugar for topping
Directions
For the Dough
In a large bowl, beat butter with a hand mixer or stand mixer on medium to high speed for 30 seconds.
Add sugar, baking powder, and salt and continue beating until combined, scraping side of bowl occasionally. Beat in milk, egg, and vanilla until combined.
Beat in as much of the flour as you can with the mixer. Then stir in remaining flour using a wooden spoon.
Empty out onto clean surface and knead a few times to get a uniform dough. Divide dough into 4 portions.
Cover each portion and chill for 30-60 minutes.
For the Filling
In a food processor, add figs, dates, pecans, raisins, orange peel, spiced rum, preserves and cinnamon. Cover and process with several on/off pulses until finely chopped; it will be paste-like fig mixture.
Assembly
Preheat oven to 350°F. Lightly grease or line a large baking sheet with parchment paper and set aside.
Roll out dough: On a lightly floured surface, roll out one of the dough portions to an 1/8-inch-thick rectangle. Using a fluted pastry wheel, trim dough to a 10x8-inch rectangle. Cut with the fluted pastry wheel into 2-inch squares.
Place half of the dough squares on prepared cookie sheet.
Spread 1 rounded teaspoon of the filling onto the center of each square on cookie sheet.
Using a small sharp knife, cut an "X" on top of each remaining dough square.
In a small bowl, combine 1 egg and the water. Brush egg wash on edges of squares with filling. Place cut squares on top; gently press edges together to seal.
Brush tops with egg mixture and sprinkle with coarse sugar.
Bake in the preheated oven for 12 to 15 minutes or until golden brown. Transfer cookies to a wire cooling rack; let cool. Repeat with the remaining dough portions and bake as directed. Makes approx 40 cookies.
Recipe Notes
Filling can be made 1 week ahead and chilled, covered.
Dough can be chilled, wrapped in plastic wrap and then foil, up to 3 days.
Cookies keep, layered between sheets of wax paper or parchment paper, in an airtight container at room temperature 1 week.
Layer cookies between waxed paper in an airtight container; cover. Store at room temperature for up to 3 days or freeze for up to 3 months.
Alternative way to make filling: Many recipes call for reconstituting the figs, dates and raisins along with the spices, rum or orange juice and preserves in a sauce pan over medium-low heat - simmering them for a few minutes until the dried fruit is softened. Once cool transfer to food processor and process along with the pecans and the rest of the ingredients. This infuses them with a little more flavour and the filling processes a little smoother and because they are softened its a lot less taxing on your food processor too.
For the Glaze and sprinkle version: I think the corsage sugar is enough sweetness and sparkle on these cookies but they are isolated glaze and sprinkled with nonpareils. If you would like to add the glaze and sprinkles (don't add the coarse sugar) here is how:  Whisk together ¼ cup confectioner's sugar and ½ tablespoon lemon juice then drizzle over cookies - then sprinkle with the nonpareils
Recipe adapted from Better Homes & Gardens