Easy Herb Butter Roast Turkey
This is a very simple recipe that always makes for a delicious moist roast turkey - no brining (dry brine or otherwise), basting or any extra steps required. It's a no frills whole turkey recipe for a tender delicious turkey full of flavor that everyone will love. Cooking a turkey doesn't have to be complicated - it's like cooking a chicken - but a larger one so don't stress or overthink it - just follow the simple steps and enjoy! I have included a few sides like my easy homemade cranberry sauce along with a few more to serve this tasty turkey with along with some desserts for your turkey dinner, and even suggestions on how to use up and leftovers - not just soup I promise! Hope you enjoy!!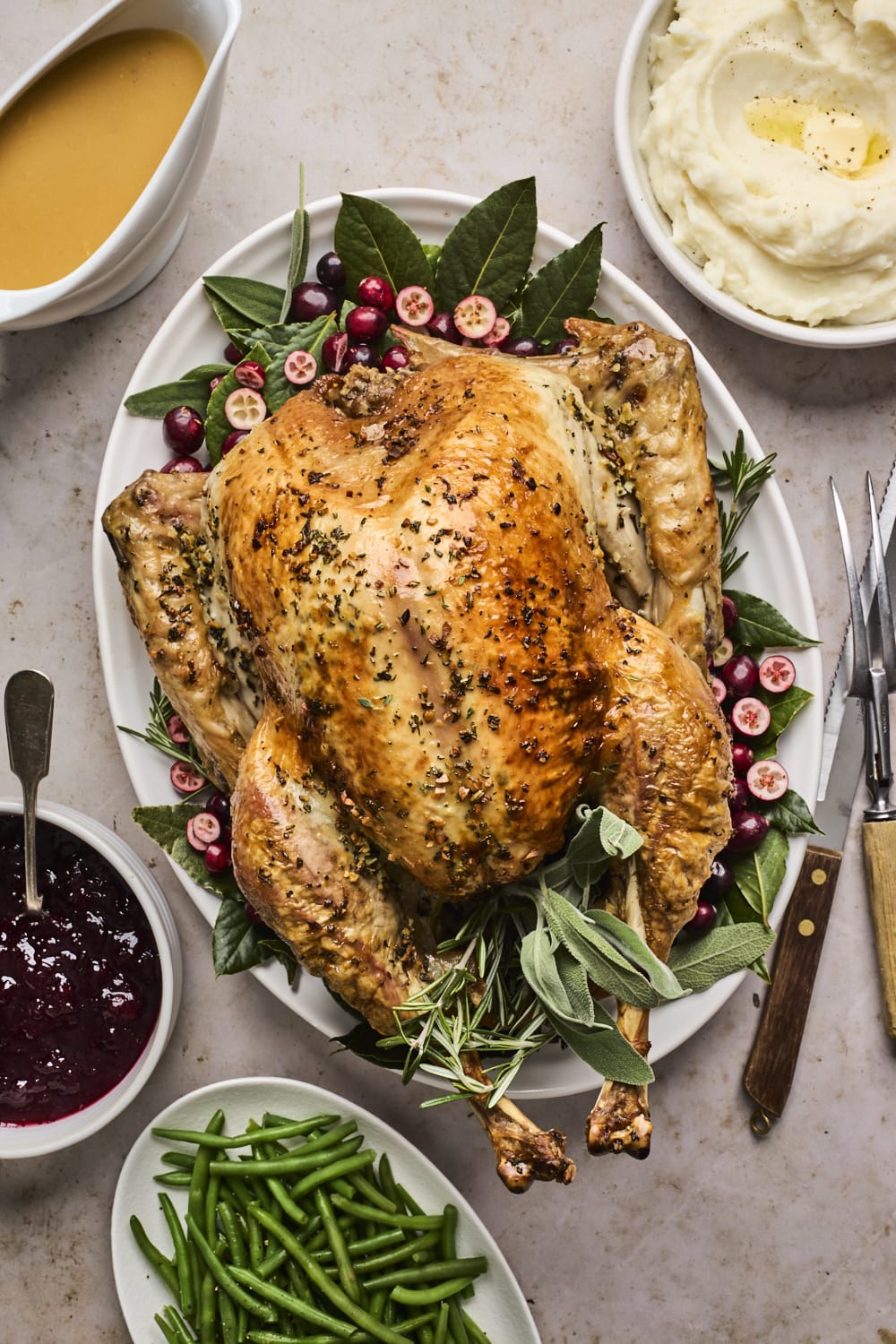 Simple Roast Turkey Ingredients:
TURKEY: Use fresh or frozen whole turkey for this recipe - you will need an unseasoned one. This recipe works for turkeys from 10-18 lbs but that doesn't mean it won't work for smaller or larger turkeys - you will just need to adjust the amounts of herb butter and veggies and seasoning to accommodate for a smaller or a larger turkey.
HERB GARLIC BUTTER: use three tablespoon's of chopped fresh herbs - my favourite blend is rosemary, thyme, and sage but feel free to use any blend you like and if you don't have fresh you could use dried but fresh is always a bit more flavourful. Minced fresh garlic is what I use in the garlic butter for best flavour. Season garlic herb butter with plenty of salt and pepper or any spice blend you prefer.
VEGETABLES: I like to stuff the turkey with some aromatics and I like to prop up the turkey in the pan over a bed of veggies - usually its whatever I have ie: chopped carrots, chopped celery, sliced onion or shallots, and even some fruit like chopped pears or apples and definitely lemon wedges. I don't overfill the turkey - just a couple of quarters of lemon, apples and chopped celery and a few sprigs of whole herbs and use as many veggies as you need or prefer to prop the turkey up. Of course its totally optional to stuff or prop the turkey with anything but I'm just sharing my preference. The veggies add nice flavour to the pan drippings as well.
ALTERNATIVES:

Can I use olive oil instead of butter? If you prefer to use olive oil instead of butter to rub your turkey you can just use ¼-½ cup of olive oil and mix it with the herbs and the garlic and brush it also over the turkey as you would the butter - Add a little more olive oil if needed
Can I use dried herbs instead of fresh? You absolutely can use dried herbs instead. Use any blend you like and use as much or as little as you prefer. If you would like to use other spices or spice blends in the herb butter or to sprinkle on seasoning salt instead of regular salt feel free to use what you like and use as much or as little as you prefer.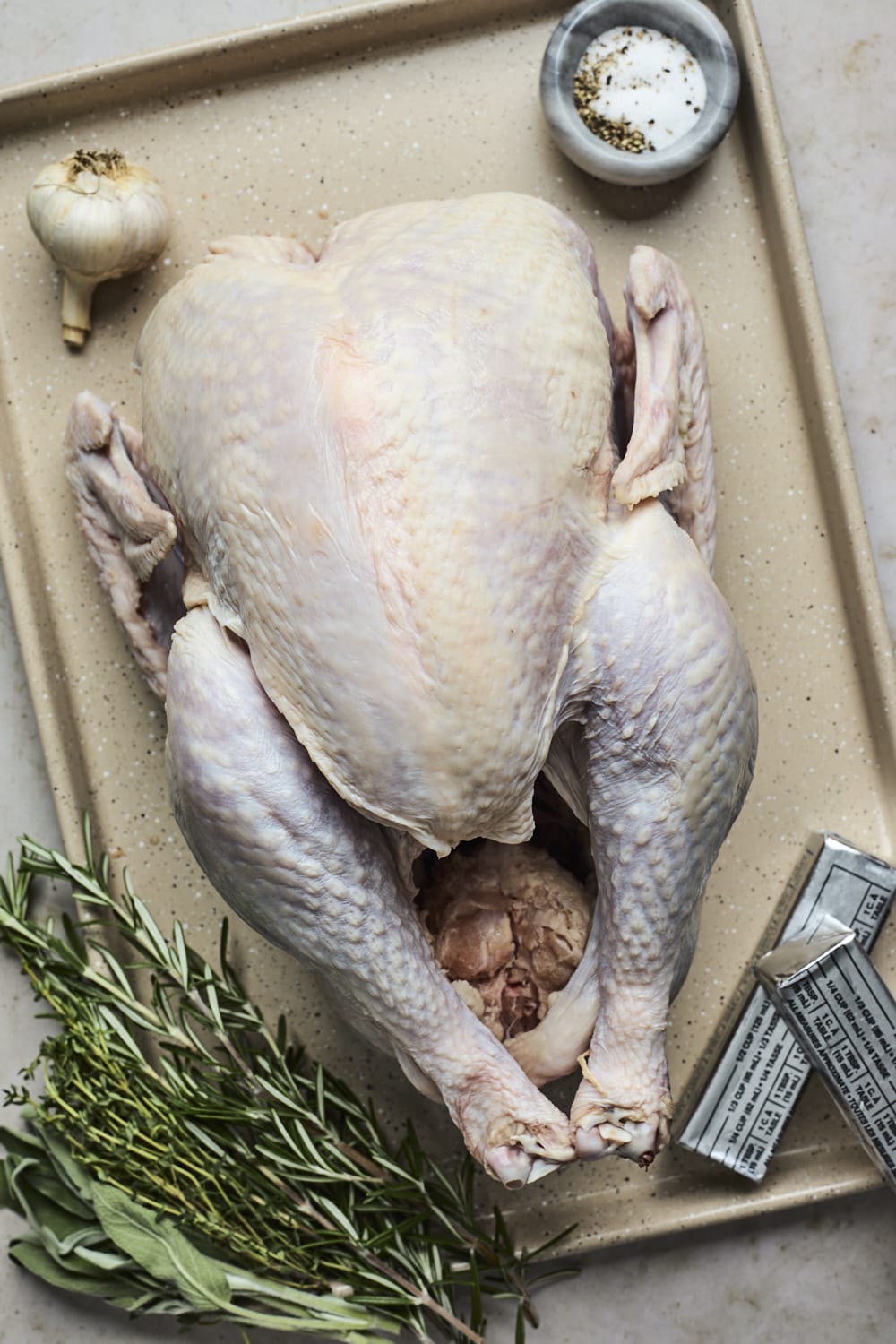 What Is The Best Way To Keep a Turkey Moist:
Do not overcook the turkey - that is my number one tip for cooking turkey and keeping it moist
Make sure to use an instant-read thermometer/ meat thermometer to help you know when turkey is done and when to take it out of the oven. Make sure that your oven is preheated
A little extra moisture in the bottom of the pan always helps - that is why I like to add ½-1 cup of broth to the bottom of the pan.
Make sure to tent the turkey with foil when turkey is golden brown so the breast doesn't overcook and burn
Allow 20-30 mins after turkey is cooked to allow it to rest and to allow the juices to be reabsorbed into the fibers of the meat. If you skip resting, you will lose more flavorful juices when the meat is cut and it will be dry.
I tend to undercook turkey by 4-5°F below ideal temperature because the internal temperature of the meat will always continue to rise a little during the resting period, so you should remove your meat from the oven or grill prior to reaching its target doneness temperature. Otherwise, it will be overcooked.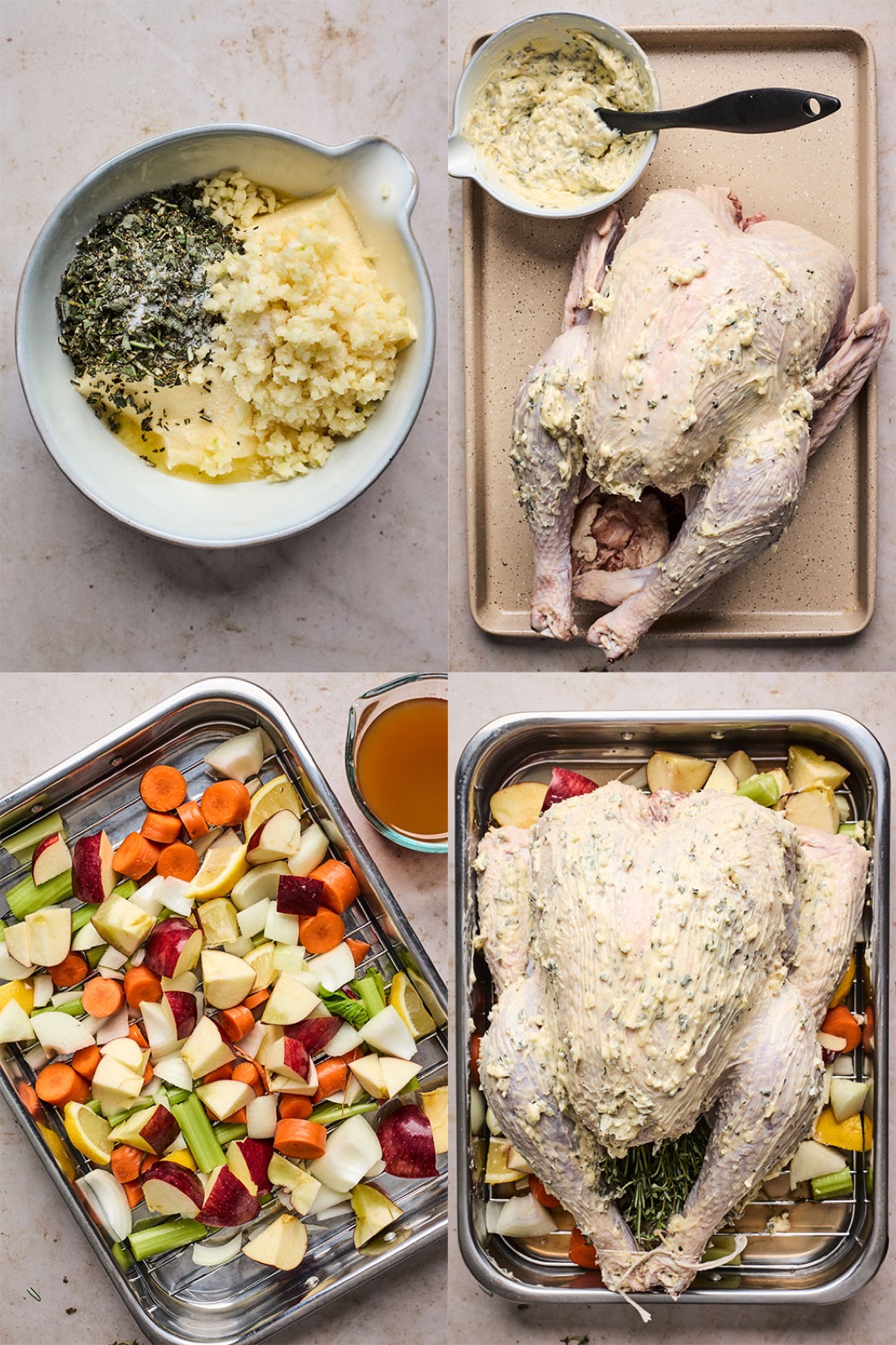 What Oven Temperature is Best to Cook the Turkey?
Is it better to cook a Turkey at 325°F or 350°F? The is a good question - the clear answer here is that it will definitely take longer to cook the turkey at 325°F, whether it is better and bakes a juicier turkey - I haven't found a drastic difference between baking the turkey at 325°F vs 350°F other than the time. So feel free to use either temperature. I always do 13 minutes per pound at 350°F and 15 min per pound at 325°F - but I would not use that as a general rule but more like just a guide - ALWAYS keep an eye on your turkey and use a thermometer to gauge when to take it out of the oven.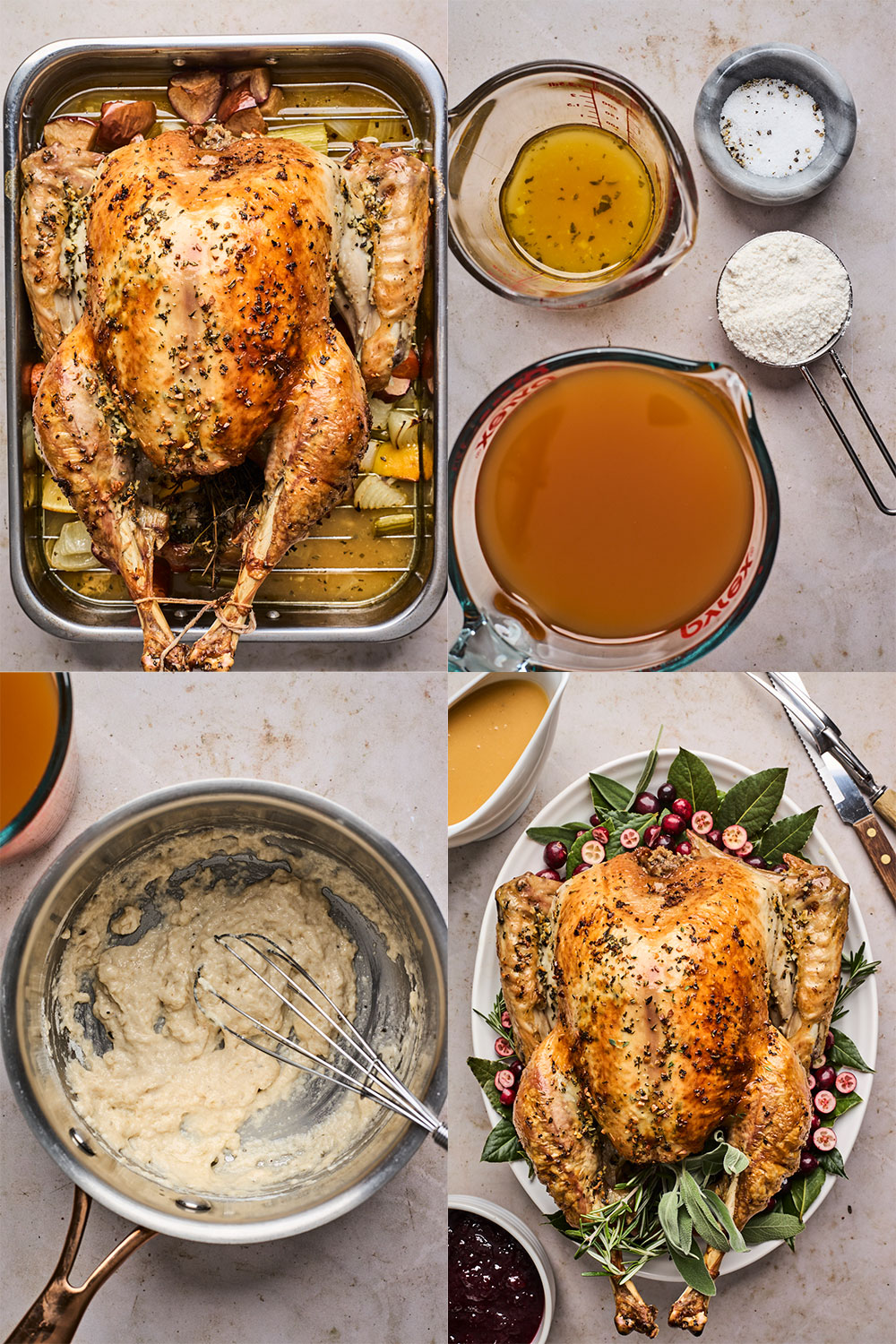 Is It Better to Use a Convection Oven /Setting to Cook Turkey?
Using a convection oven or the convection setting in your oven is a great way to roast or cook large pieces of meat so that they cook evenly and brown evenly too because the convection heat circulates all through the oven - therefore evenly cooking and browning the meat. Cook your turkey at 350°F on convection and prepare turkey as you would using regular cooking methods just keep in mind that the convection setting will cook you turkey 10-40% faster than usual so be sure to check on your turkey a lot sooner - 30-45 min sooner and you may have to tent your turkey with foil much sooner as well to avoid burning or over cooking your turkey.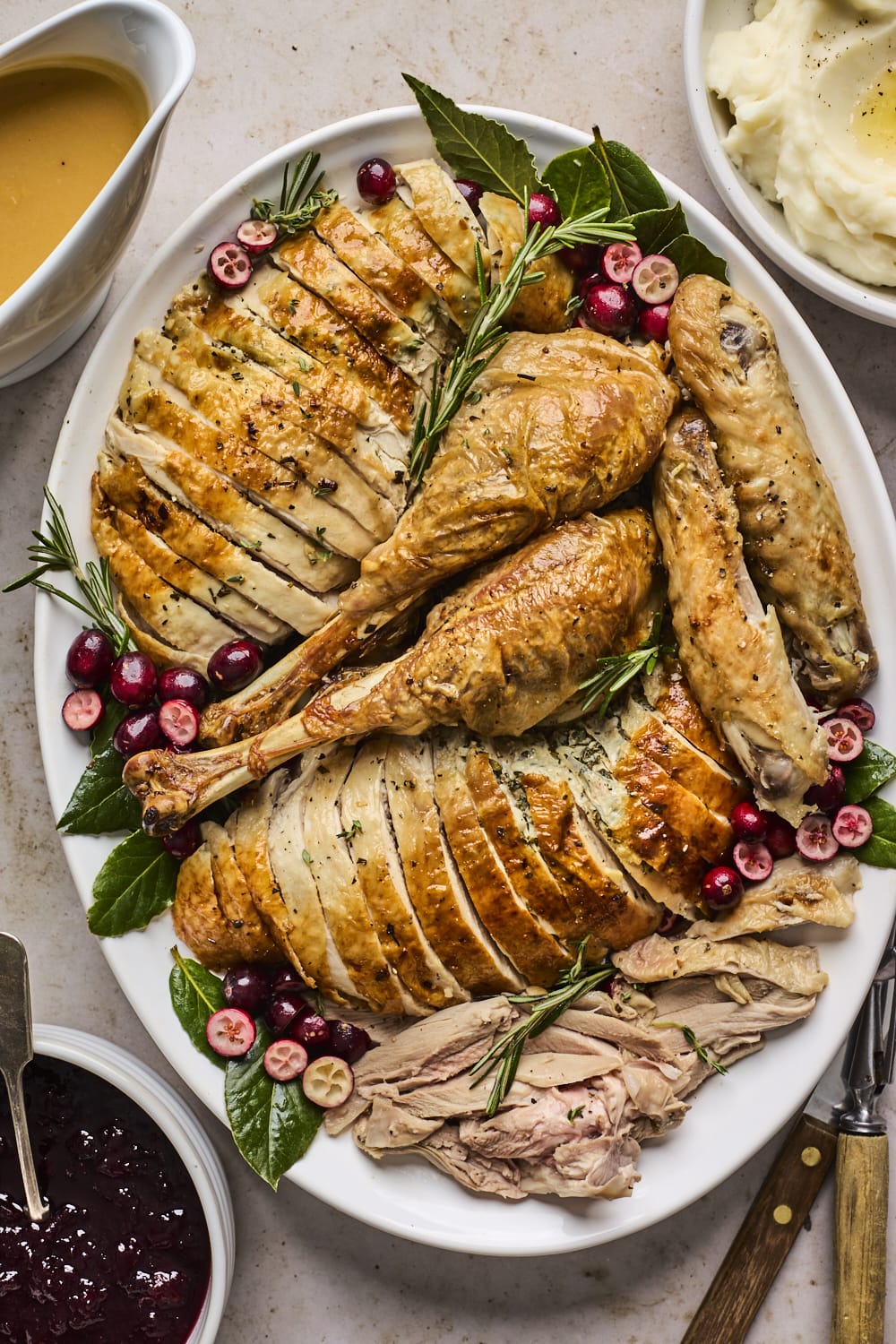 5 Easy Steps To Cook A Turkey:
Prepare Pan: it's important to elevate the turkey so that it browns evenly. To do this use a roasting pan with a rack or create a rack resting the turkey on chopped aromatic veggies. Choosing a shallower roasting pan helps as well if your rack is'nt quite cutting it or do both like I did - rack and veggies under the turkey. I like to pour a little chicken or vegetable broth into the bottom of the pan but that is optional.
Prepare Turkey: Preparing your turkey takes a bit of forethought days in advance because that is when you need to start thawing turkey if you are using a frozen turkey (which most of you may be using). I just keep the turkey in the fridge from the freezer and allow it to thaw in the fridge (approx 24 hours for each 4-5 lbs). Once its completely thaw I remove it from the fridge and its packaging along with anything in the cavity and pat it dry and let it sit on the counter to come to room temperature while I prep the herb butter and get organized. Once the oven is preheated season the turkey inside and out with salt and pepper, slather the turkey all over with the herb butter and place some herbs and slices of veggies into the cavity. Tuck the wings under (optional but helps the turkey sit more evenly on the rack) tie the legs (also optional) then place turkey on the rack or bed of veggies breast side up in pan.
Roast/Cook Turkey: Roast turkey in preheated oven at 350°F until turkey registers 160°F on a thermometer: usually about 13 minutes per pound. Make sure to keep an eye on it and tent the top or the breast area so that it doesn't burn or overcook. I usually check the turkey about halfway through cooking, and once the skin gets golden brown, cover the top of the turkey with tinfoil, to protect the breast meat from overcooking.
Rest Turkey & Carve Turkey: Make sure to tent your turkey loosely with aluminum foil once out of the oven and allow turkey to rest to redistribute all the juices in the turkey. This will allow the turkey to come up to temperature as well. Once ready to carve either separate the turkey into pieces and portions or set on a platter whole and slice at the table.
Prepare Turkey Gravy: I love to use some of the delicious pan dripping (infused with the veggies you used as a bed along with the turkey and herb butter) to make a very simple gravy. It entails making sort of a roux with the drippings and flour spice blend then heating it through with broth. Its super simple and doesn't require too many extra ingredients or steps.
Perfect Side Dishes For Your Turkey Dinner:
Delicious Desserts For Your Turkey Dinner:
More Roasts You Will Love:
Delicious Ways To Use Up Your Leftovers:
Recipe
Servings:
10-12 (11 lb Turkey - approx 1 lb per serving)
Prep Time: 20 mins
Cook Time: 2½-3 hours (for 11/12 lb Turkey)
Non Active Time: 1 hour for resting (pre/post baking)
Ingredients
One 12-18 pound turkey, thawed completely and room temperature *
Herb Butter
1 cup unsalted butter (2 sticks) softened

3 tablespoons chopped fresh herbs of choice (I like to use a blend of rosemary thyme and sage)

6 cloves garlic peeled and minced

1 teaspoon salt

½ teaspoon pepper or to taste
Inside the Turkey Optional)
1 lemon halved
Onion or shallot
Apple
A few sprigs each fresh sage, thyme, and rosemary
Vegetables Under Turkey (Optional)
1 onion, peeled and quartered
3 ribs celery, roughly chopped
2 carrots, roughly chopped
1 Apple, rough chopped
1 cup broth - chicken, Turkey or vegetable (or water)
Easy Turkey Drippings Gravy
¼ cup turkey drippings (fat and juices from roasted turkey)
2 cups liquid (juices from roasted turkey, broth, water)
¼ cup all-purpose flour
½ teaspoon salt,
½ teaspoon pepper
Directions
MAKE HERB BUTTER: combine room temperature butter, minced garlic, salt, pepper, and 3 tablespoons of mixed chopped fresh herbs.
PREPARE OVEN: Preheat the oven to 350°F. Lower oven rack to allow the turkey to be put into the oven in the lower half of the oven. Place rack inside roasting pan or use veggies to line pan to elevate Turkey or do both. Pour broth over rack in pan (optional)
PREPARE TURKEY: Pull the neck and giblets out of the cavity; Dry the turkey with paper towels (pat it dry), then season inside and out with salt and pepper.
BUTTER TURKEY: Use your fingers or the back of a spoon to loosen and gently lift the skin above the breasts (on the top of the turkey) and smooth a few tablespoons of the herb butter underneath. Take the remaining butter and spread all over the outside of the turkey. Over the breasts, legs and wings. Tie the two legs together with kitchen twine (This step is optional).
FILL TURKEY: Fill the turkey with aromatics like chopped onions, carrots, apples and herbs, then place turkey breast-side up in a roasting pan (also optional), do not over fill just a few wedges of fruit or veggies and some sprigs of herbs.
ROAST TURKEY: Roast at 350 ° F for about 13 minutes per pound, or until internal temperature (inserted on middle or thickest part of the thigh and breast without hitting the bone) reaches about 160 °. Cook the turkey at 350°F. Don't be tempted to increase the temperature, this will only cause the turkey to burn before it's cooked through. Start checking if after 1 hour and 45 minutes. (If using convection setting - Turkey will cook faster so check Turkey 30-60 minutes sooner for doneness) Once the skin gets golden brown, cover the top of the turkey with aluminum foil, to protect the breast meat from overcooking.
REST TURKEY: remove the turkey from the oven once it reaches 160 °. Then tent it with foil, and let it rest on the counter. It will continue cooking under the foil, to reach 165 ° F. Allow turkey to rest for 20-30 minutes. Remove Turkey from pan carefully to cutting board or serving plate. Remove the vegetables and herbs from the roasting pan and use the drippings for gravy.
FOR THE GRAVY: Measure out ¼ cup drippings from pan and add it to a small saucepan. Whisk together flour salt and pepper then whisk it into the pan drippings. Cook over medium heat, stirring constantly, until mixture is smooth and bubbly. Stir in liquid. Heat to boiling, stirring constantly. Boil and stir 1 minute or until gravy reaches consistency you prefer -add more liquid if needed. TIP: (Measure accurately because too little fat makes gravy lumpy or too greasy)
Recipe Note
Leftover turkey should be placed in an airtight container or bag and will keep for up tot 4 days in the refrigerator. Leftovers can also be stored the same way and frozen for up to 6 months.