Spatchcock Turkey
This spatchcock turkey is the most delicious and juicy roast turkey! The spatchcock method (butterflied turkey) allows the turkey to cook faster, more evenly and results in crispier skin. You'll never want to make roast turkey any other way!It is the best way to cook a turkey Quickly and Evenly. I like to use a simple dry brine for tender juicy flavourful turkey with crispy skin. The dry brine is an optional step but an easy one to incorporate especially if you are spatchcocking your turkey the night before you roast it!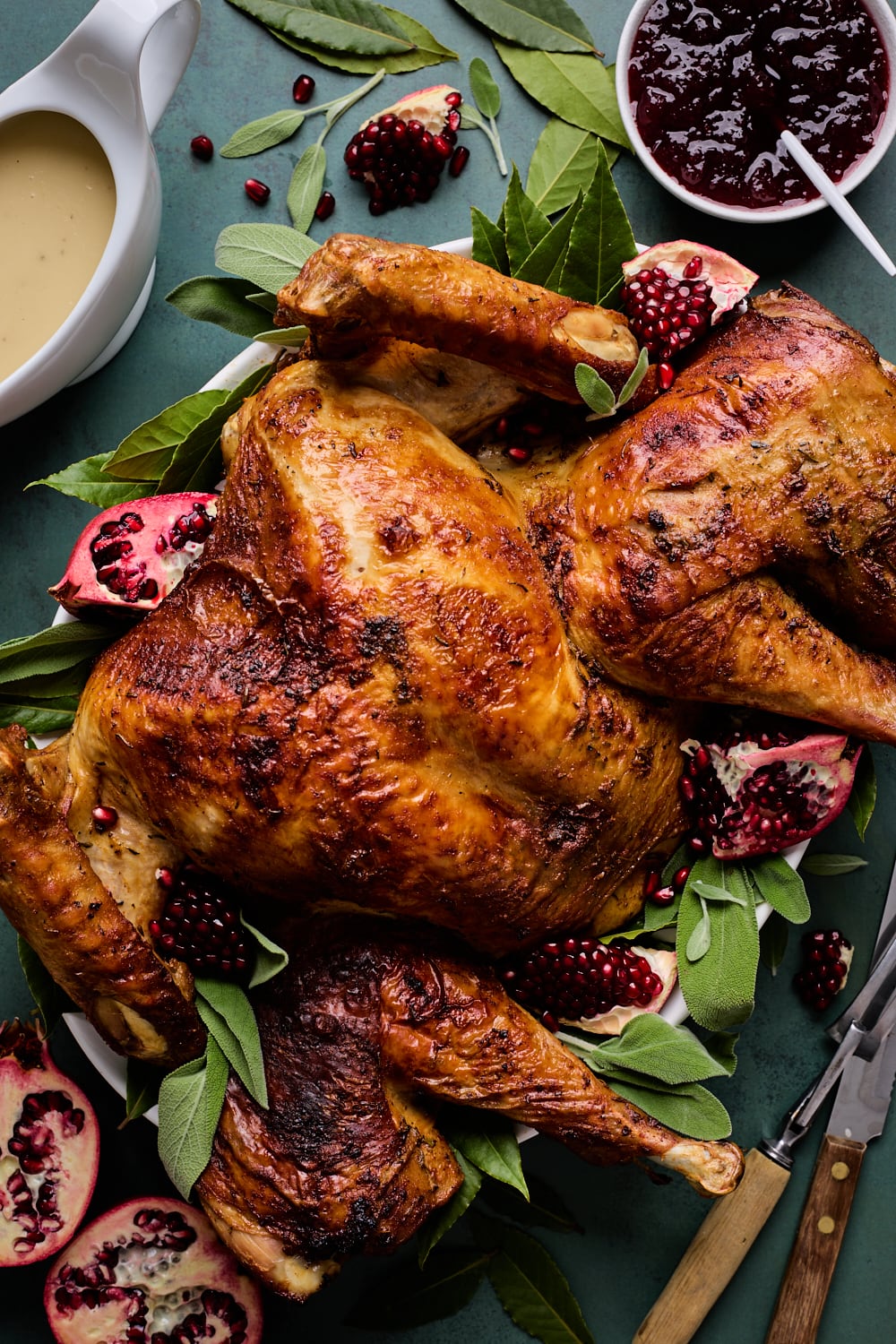 What is Spatchcock Turkey?
The term "spatchcock" comes from an old Irish abbreviation of "dispatching the cock". It's a cooking method involving cutting out the backbone of the turkey essentially butterflying whole turkey so it cooks flat, resulting in a faster, more evenly cooked turkey with crispier skin. You need poultry shears to cut through each side of the backbone, open up turkey and lay it breast side up, press firmly in the middle to flatten. That is it. It is pretty easy but you might need to put a little muscle into it. If you prefer to have your butcher do it that is an option as well.
To Brine Or Not To Brine
Brining is the process of infusing proteins/meat with salt, sugar and flavor. In addition, it tenderizes and moisturizes the meat. Brining is an extra step but it is worth it for extra flavourful tender turkey with nice and crispy skin. Most often people think of a turkey in loads of liquid sloshing around when they think of brining but it is possible to dry brine with salt. Dry brining is the process of salting meat in advance of cooking. It is the only kind of brining I recommend for turkey! You salt the surface of the meat and then allow it to rest in the refrigerator for a period of time until that salt has penetrated and absorbed into the meat. It uses the food's own moisture to form the brine that then soaks back in. A dry brine is simply a mix of salt and spices rubbed on the turkey that helps tenderize and flavor the turkey. It then is placed in the refrigerator for at least 24 hours as the brine tenderizes the turkey. Dry brining is much easier and less messy than wet brining and less potential for mopping up poultry water accidents! Dry brine in the fridge to air dry uncovered for at least 12 hours, will also give your bird a beautiful, crispy, golden-coloured skin. This recipe uses a dry brine but of course it is optional - if you prefer to skip the dry brine or don't have the time for it that is fine simply reduce the amount of salt by half and make an herb butter with all the rest of the ingredients and simply roast as directed without the dry brine. You will still get a really delicious turkey.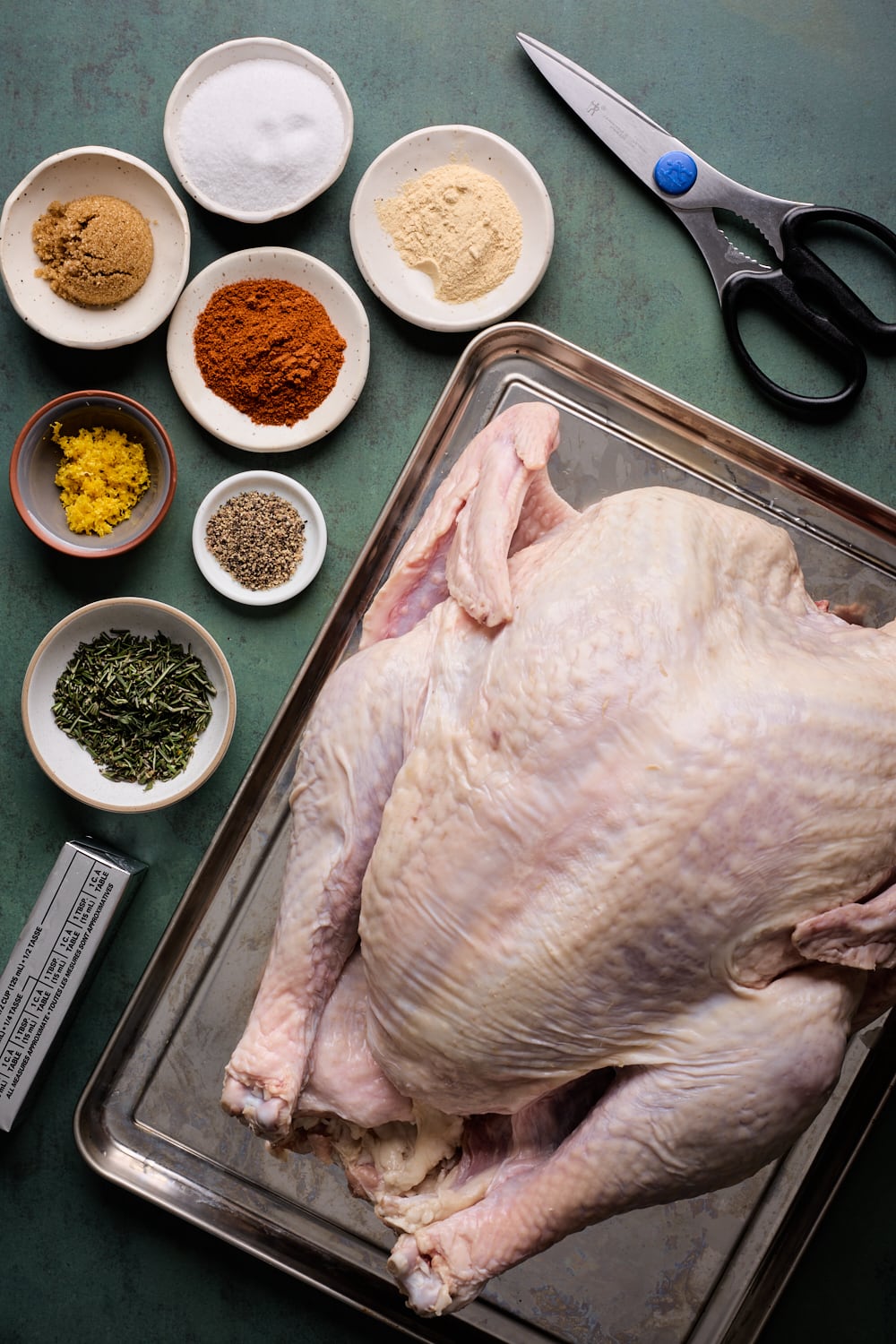 Easy Spatchcock Turkey Recipe Ingredients
TURKEY: I use a plain turkey - NOT a Self-basting and pre-brined turkeys that have been injected with broth, salt, seasonings, beer, and/or other flavorings. This recipe works with a turkey that is 10-14 lbs. Mine was 14 lbs so the only change you need to make with the recipe if yours is smaller is keep an eye on the time. Fully thaw the turkey in your fridge. Rule of thumb is 24 hours for every 5 pounds of turkey.
SPICES: I included a few spices to the dry brine which is not limited to salt. I like to add some smoked paprika, garlic powder, and brown sugar. A very basic blend and can easily be adjusted to taste. Some like to use poultry seasoning blend instead or include other spices - feel free to adjust as needed. When it comes to brining - its recommend to use Kosher salt because of he coarseness of the salt but if you don't have kosher salt simply use regular sea salt with the amount adjusted as written in recipe.
HERBS: I prefer to use hearty herbs not only for flavour but how they hold up when roasted. My preferred blend of herbs is rosemary and thyme but sage works well too. Feel free to adjust amounts and blends to taste. If you must substitute dried, use one-third the amount.
VEGETABLES: I roast my turkey on a bed of chopped onions, carrots, celery, and fresh herbs. Not only does this flavor the bird, but you get the best pan drippings for gravy.
BROTH: You can use store bought chicken broth for the turkey gravy or make your own turkey broth using the the neck, backbone, and giblets. Instructions for that below in recipe notes.
ALL PURPOSE FLOUR: This is for the homemade turkey gravy to thicken it.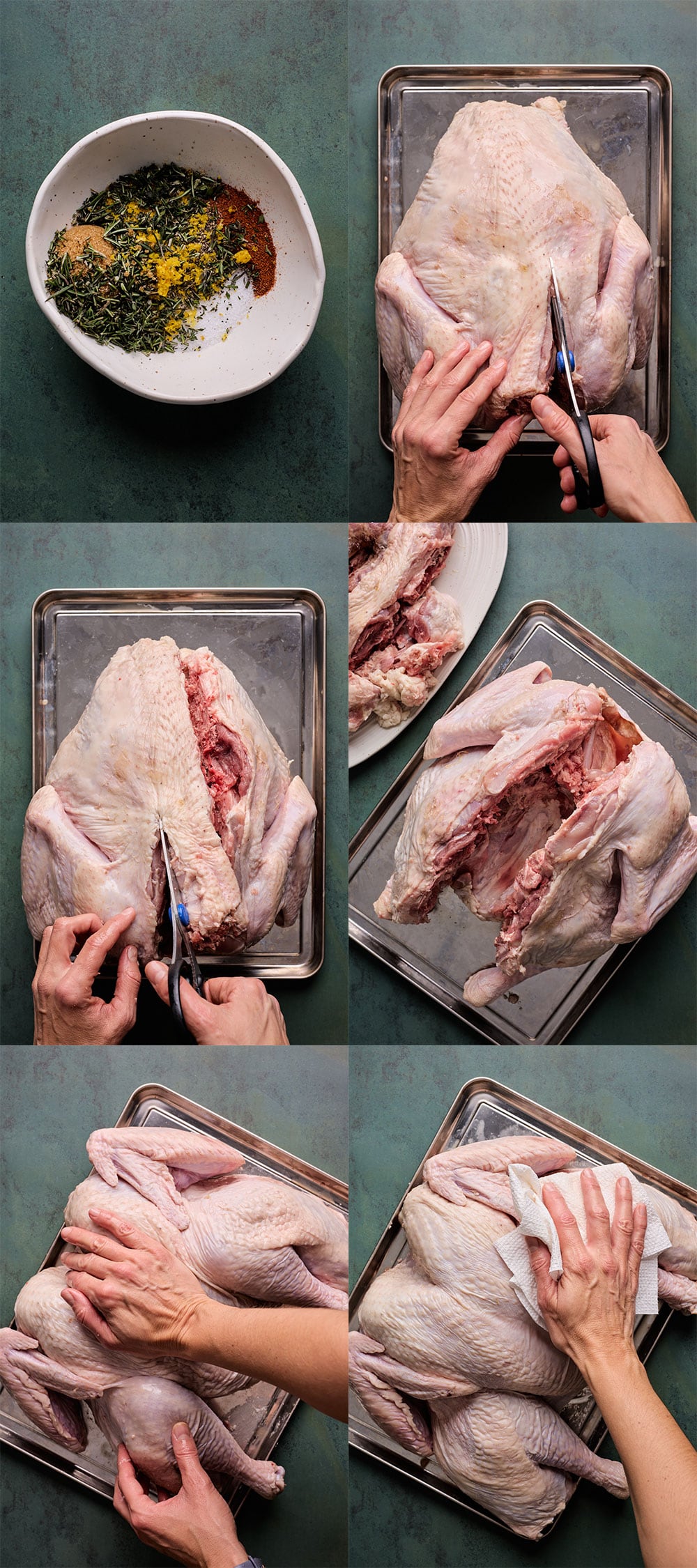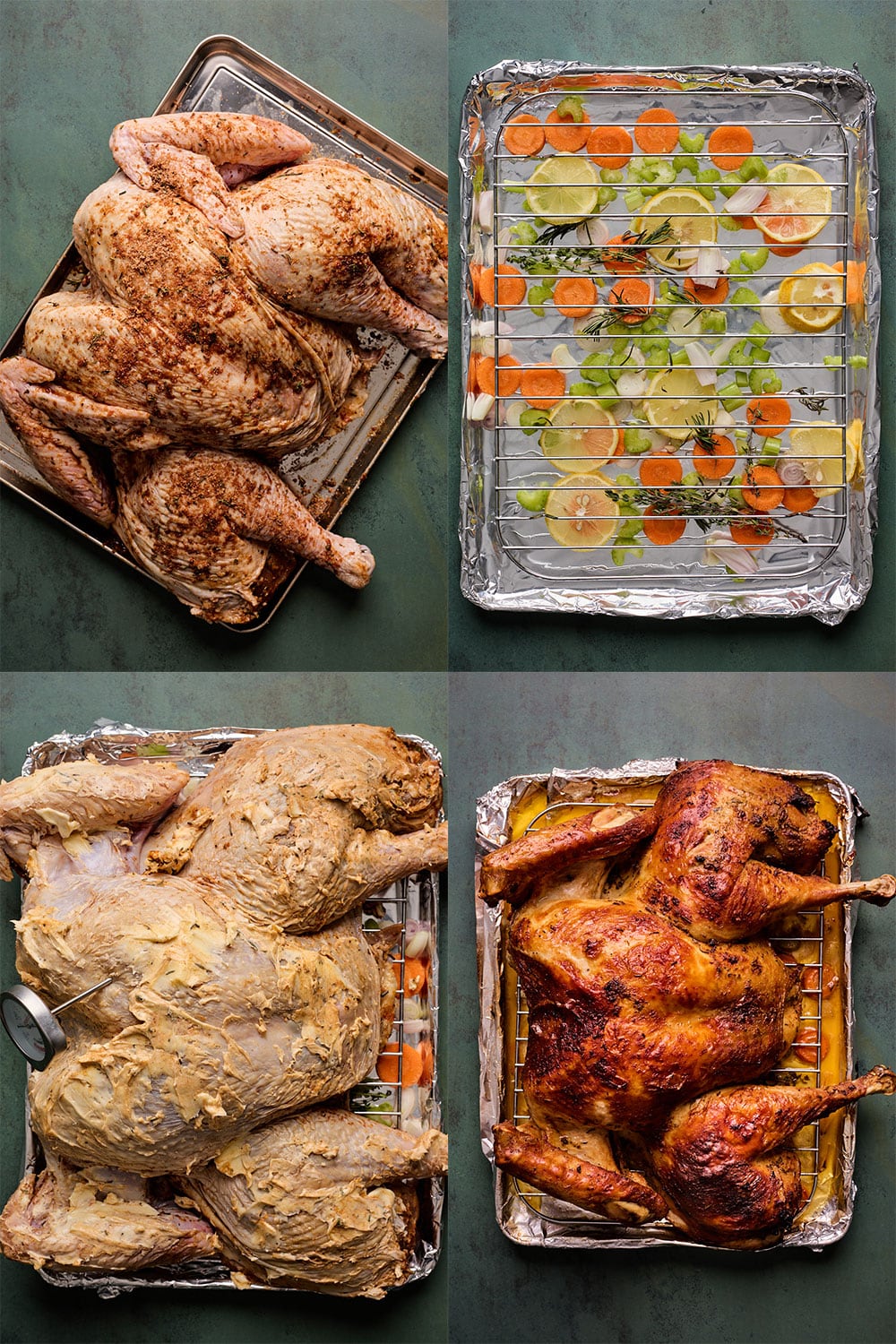 How To Make Spatchcock Turkey
SPATCHCOCK: Turn turkey breast-side down on a clean cutting board. Using sharp kitchen scissors, cut out backbone of chicken. Turn chicken over and open back, so the legs are facing inward. Place palms over the center of the breastbone and press down firmly to crack. (this will allow the chicken to lay flat). I usually do this the day before I'm roasting the turkey.
DRY BRINE: If you chose to dry brine its simple - combine the dry brine spices and sprinkle and rub onto the skin and carcass of the turkey along with under the skin where possible. Allow turkey to dry brine overnight or up to 24 hours in the fridge uncovered. Pay attention to the type of salt you are using and adjust amounts carefully according to written recipe below
BAKE/ROAST: Do NOT wash off the brine simply pat chicken dry if needed then slather turkey all over wit the softened butter. Place turkey over rack on baking sheet and over veggies if using then place a preheated oven until cooked through and golden. Use a meat thermometer to gauge roasting time.
REST: Once the turkey is out of the oven transfer it to a cutting board or a platter and tent lightly with foil and allow it to rest for 20-30 minutes to allow all the juices to redistribute and settle.
MAKE GRAVY WITH DRIPPINGS: This is optional but if you want to make a very simple gravy with turkey drippings. Whisk the drippings with flour and spices. Then whisk in the broth and cook stirring until it reaches desired consistency.
CARVE TURKEY & SERVE: If carving - Remove the tips of the wings and then cut through the joint that attaches the wing to the turkey. Remove the leg from the thigh by cutting through the joint. Remove the breast meat by cutting down both sides of the breast bone then slice each piece of breast meat into serving slices. Remove any small pieces of meat and include them on your meat tray or save them for leftovers.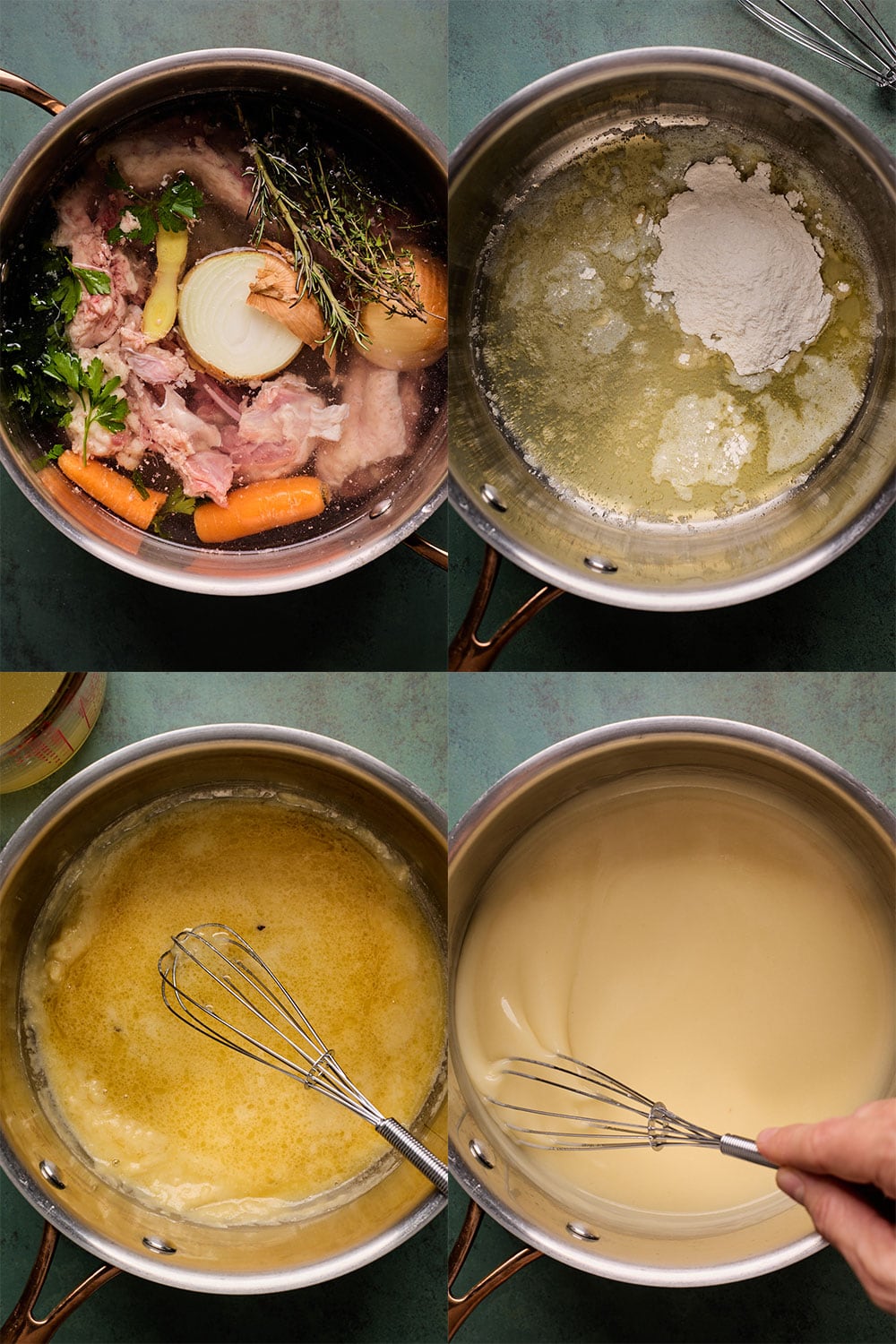 Spatchcock Turkey Roasting Tips
Fully thaw the turkey in your fridge. Rule of thumb is 24 hours for every 4- 5 pounds of turkey.
Place the turkey skin side up, laying it flat on the sheet pan and place it in the fridge, uncovered for 12-24 hours. Make sure nothing is touching it, and that nothing stored in the door will touch it when closed.
Save the giblets and backbone to make a delicious homemade turkey broth for the gravy! Simple recipe and instructions included below which you can make while the turkey is in the oven or the night before if spatchcocking turkey ahead of time.
Trim the tips of the wings off at the joint (save it to make broth), as it burns easily or you can tuck the wings under the body of the turkey.
Minimize opening the oven door. It drops the temperature which will affect the cooking time and you won't get that golden brown, crispy skin. This is why I don't recommend basting the turkey every half hour as some recipes require.
To check the doneness, place the thermometer deep in the thickest part of the breast. You should also check the temp near the wing joint, where the wing meets the breast.
You can spatchcock a turkey at any size. However, roasting a spatchcocked turkey bigger than 15 pounds will be hard to fit on a roasting pan and in the oven. Roasting two smaller birds from 12 to 14 pounds will give you meat that's more moist and tender.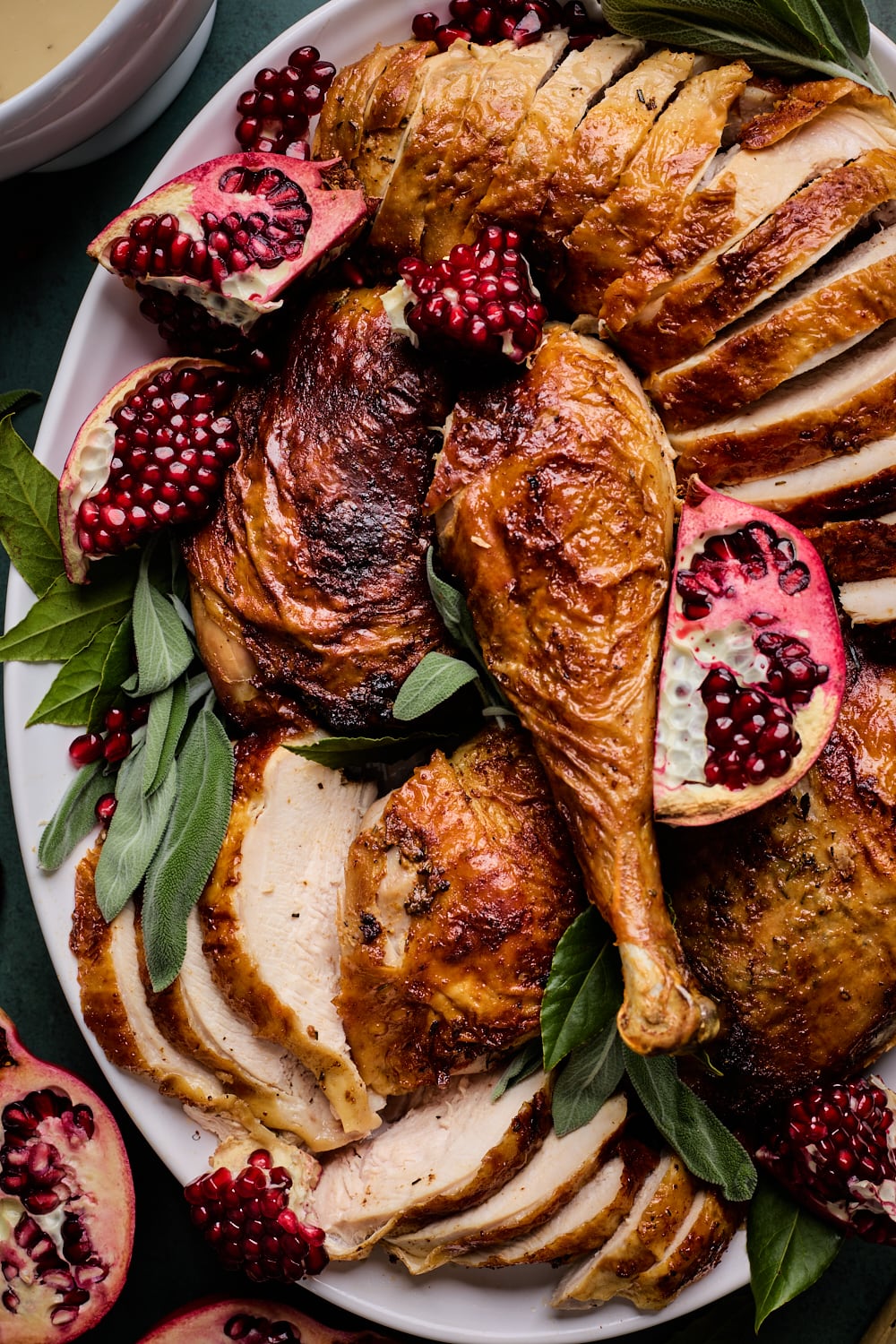 Make Ahead Spatchcock Turkey
If you have some time the night before your big dinner, taking 30 minutes to get a head start on prepping the turkey is a great place to start. Spatchcock the turkey, place it in a roasting pan and dry brine or at the very least let it sit, uncovered, in the fridge overnight. This helps the turkey skin lose some of its excess moisture, resulting in an even crisper golden brown herb butter turkey. This not only cuts down on day-of prep time quite a bit, but will also make for an even tastier turkey!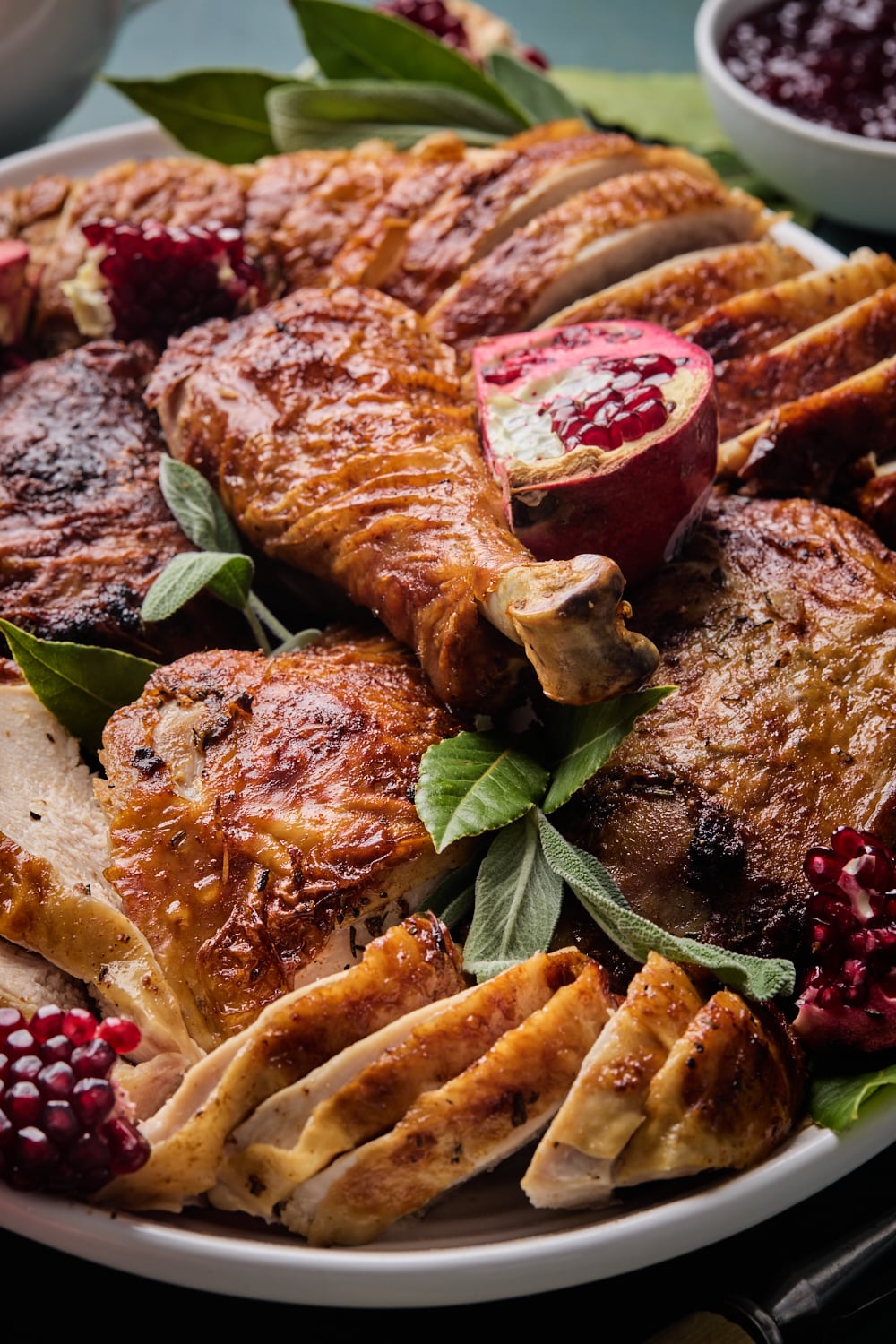 Storage & Freezing Turkey Leftovers
STORAGE: The cooked turkey will stay fresh in the refrigerator, in an airtight container, for around 3 day
FREEZING: Place pieces of turkey into a resealable bag, with as much air removed as possible, and store in the freezer for up to 3 months.
What To Serve With Spatchcock Turkey
What to Make With Leftover Turkey
Leftovers are the best when it comes to turkey dinner - here are a few fun ideas for using leftover turkey including but not exclusively soup:
Recipe
Servings:
8-12 (depending on size of turkey)
Prep Time: 20-30 mins
Cook Time: 1½ hrs
Non Active Time: 0-24 hours (if you chose to brine turkey)
Ingredients
For The Dry Brine and Seasoning
10-14 lb Turkey, thawed

4 tablespoons Kosher Salt Or Coarse Grain Sea Salt (or ¾ the amount sea salt regular grain - or 3 tabspoons)

1 tablespoon Freshly Crushed Black Pepper

1 tablespoon Smoked Paprika

1 tablespoon brown sugar

1 tablespoon Garlic Powder

1 tablespoon fresh thyme

1½ tablespoons fresh Rosemary, chopped

Zest of 1 Lemon (save lemon for slicing)

1 stick unsalted butter softened (for slathering turkey right before roasting)
Vegetables Under Turkey (Optional)
1 onion, peeled and sliced or rough chopped
1-2 ribs celery, roughly chopped
1-2 carrots, roughly chopped
2-4 sprigs of fresh herbs (I used them and rosemary)
1 sliced lemon
Easy Turkey Drippings Gravy
¼ cup turkey drippings (fat and juices from roasted turkey)
2 cups liquid (juices from roasted turkey, chicken broth or turkey broth)
¼ cup all-purpose flour
½ teaspoon salt,
½ teaspoon pepper
Directions
Spatchcock Turkey & Brine (allow for 12-24 hours)
Whisk the dry brine ingredients together (except for the butter) in a small bowl.
Remove the turkey neck and giblets from the body cavity along with the kidneys if they have not been removed.
Locate the backbone, facing it up towards you (breasts down). Using heavy duty sharp kitchen shears, cut along each side of the back bone from the tail to neck. Use scissors to snip at the skin and fatty tissue near the neck as needed.
Turn the turkey over, skin and turkey breast side up. Use the heel of your hands, apply pressure (put your weight into it!) on the upper middle of one side of the the breast bone to break it. You will hear cracking noises. Repeat on the other side of the breast bone.
To season and brine the turkey, use paper towels to completely dry the inside and outside of the turkey. Place the turkey on a clean and dry roasting sheet. Season the cavity of the turkey first, using ⅓ of the seasoning. Then turn it over and season the skin with the remaining seasoning.
Place in the fridge as is uncovered for 12-24 hours. (See notes if you don't want to dry brine turkey)
Roast Turkey
Remove the turkey out of the fridge and let it come to room temperature before baking. This step is crucial and helps so that the turkey cooks evenly. It generally takes 1 to 2 hours for the turkey to come to room temperature.
Preheat oven to 400°F.
In a large roasting pan or a large rimmed baking sheet lined with foil, mix the onions, carrots, lemon slices, herbs, and celery together. Top with wire rack if using.
Place turkey on top of rack or the veggies. Optional: Tuck the turkey wing tips under the rib cage to prevent them from burning as the turkey cook
Smear the softened butter all over the skin and under it, evenly coating the turkey.
Roast until a probe thermometer registers 165 F at the thickest part of the thigh and 155 F at the thickest part of the breast, about 70-80 minutes for a 14 lb turkey. Less for a smaller one.
Remove from the oven and transfer to a cutting board and lightly tent with foil. Rest 20-30 minutes before slicing or placing on serving platter.
Make Gravy
Measure out ¼ cup drippings from pan and add it to a small saucepan.
Whisk together flour salt and pepper then whisk it into the pan drippings. Cook over medium heat, stirring constantly, until mixture is smooth and bubbly.
Stir in liquid. Heat to boiling, stirring constantly. Boil and stir 1 minute or until gravy reaches consistency you prefer -add more liquid if needed. TIP: (Measure accurately because too little fat makes gravy lumpy or too greasy)
Recipe Notes
If you want to skip the brine - use the butter half the salt and mix with spices rub all over skin and under skin and bake right off the bat
Whether you dry brine or not I think its a good idea to spatchcock your turkey the night before will save you loads of time the day you want to roast it and even without the brining spices the turkey left uncovered in the fridge overnight will help the skin roast up nice and crisp.
Make your own stock by simmering the neck, backbone, and giblets Bring to a boil and reduce to a bare simmer. Allow to cook 45 minutes, then strain through a fine mesh strainer into a 2-quart liquid measuring cup and discard solids. Skim off any fat from the surface of the broth.
For convection bake: Heat the oven in the Convection Roast Mode or Convection Bake mode at 400°F (220°C). Set the timer for 15 minutes and when the timer has elapsed, reduce the oven temperature to 350 degrees. Allow approximately 1 hour for a 10 - 12lb turkey to roast in this method and 1 hour 15 mins for a 12 - 15lb turkey to cook to perfection.
Roasting times: Check the temperature of the thickest part of the thigh with an instant thermometer.

An 11-pound spatchcock turkey generally takes 70-75 minutes
A 12-pound spatchcock turkey generally takes 80-85 minutes
A 14-pound spatchcock turkey generally takes 90-95 minutes

I used a 15x11 Stainless steel sheetpan lined with aluminum foil and a stainless steel rack over it for this recipe with a 14 pound turkey. It was a bit larger than I wanted but the smallest one I could get my hands on (for reference). I line the sheetpan with foil for easy clean up.
Be careful pulling the turkey in and out of the oven as the accumulated pan drippings are hot and can really smoke up the oven if they drizzle out. Feel free to use a sheetpan with a wider lip to help with this or use a regular roasting pan with flat rack.