Easy Turkey Meatballs
These juicy turkey meatballs are great for any occasion. They are easy to make and can either be cooked stove top or in the oven and can be served as a meal with pasta and tomato sauce or in meatball sandwiches or as an appetizer or with rice or buttery orzo with my lemon parsley sauce. They are great for meal prep and freeze well too. A really great staple meatball recipe that will forever be on your meatball rotation. Turkey meatballs have a reputation of being bland and or dry - but these ones are full of flavor and nice and tender and juicy! One of my favourite meatball recipes that is always on repeat. You can have these delicious turkey meatballs on your table in just a few simple steps, and total time - 30 minutes.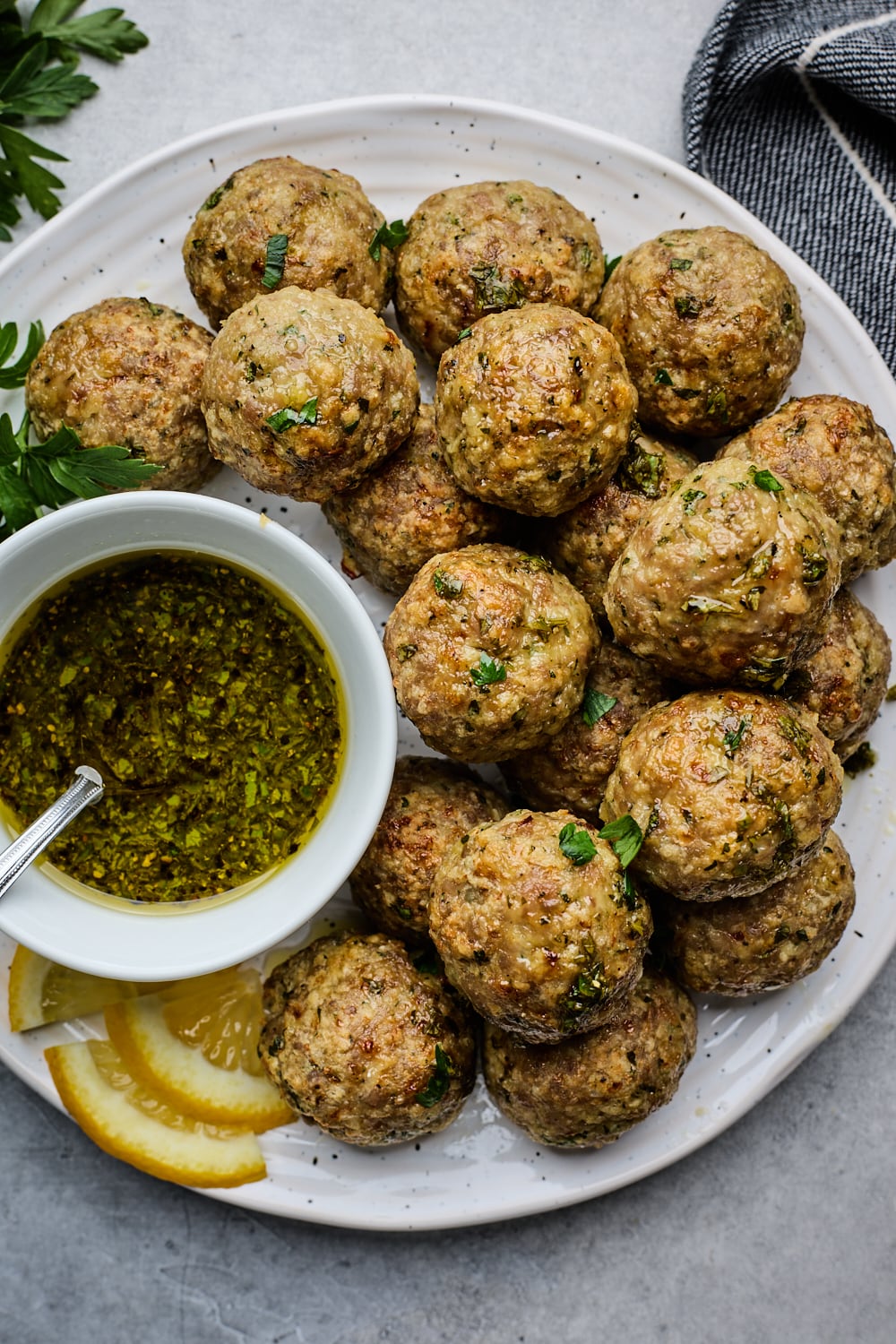 Turkey Meatball Recipe Ingredients
GROUND TURKEY: I recommend using a ground turkey with a little bit of fat to it, such as 93%. The leaner the ground turkey, the drier the meatballs will be. You can also use ground chicken or ground beef or even ground pork or a mixture.
EGG: One egg helps to bind the meat mixture together.
FRESH HERBS: I like to use fresh parsley or fresh basil or a combination of both.
PANKO BREADCRUMBS: Breadcrumbs help to bind the meatballs together. Panko breadcrumbs work best because the larger crumb pieces trap more moisture in the meatballs, making them juicier. Feel free to use gluten-free breadcrumbs if needed.
PARMESAN CHESSE: Grated Parmesan cheese adds delicious flavor to the meatballs.
SEASONINGS: Salt, black pepper, garlic powder, onion powder, chili flakes, and oregano give these turkey meatballs the best flavor. Feel free to season them with Italian seasoning if you prefer or any other herb blend you prefer. If you would like to use fresh onion or garlic you can just grate ½ a small onion or a small shallot and finely mince or grate a small clove of garlic
OLIVE OIL: I like to brush the meatballs with a little olive oil before baking them. If I'm making these stove top in a skillet I use the olive oil to pan fry them.
EXTRA ADD INS: Some people like to add a touch of ketchup for a hint of sweetness and moisture, Worcestershire Sauce for some umami flavor and a slightly beefy flavor.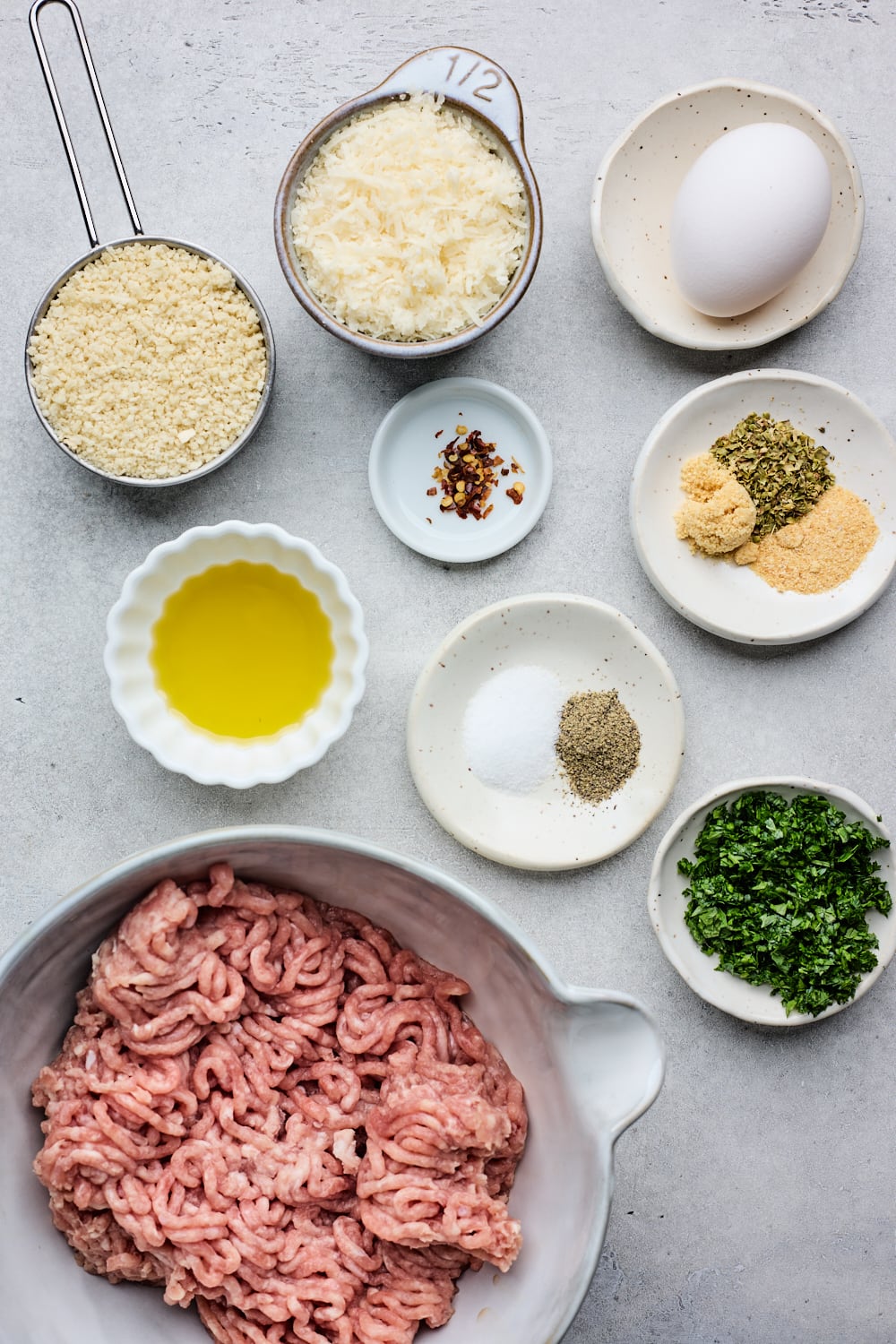 How to Make Turkey Meatballs
In a large mixing bowl, combine all of the ingredients including ground turkey.
Mix with hands until just combined.
Shape the meat mixture into 1½-inch meatballs and place them on the prepared baking sheet.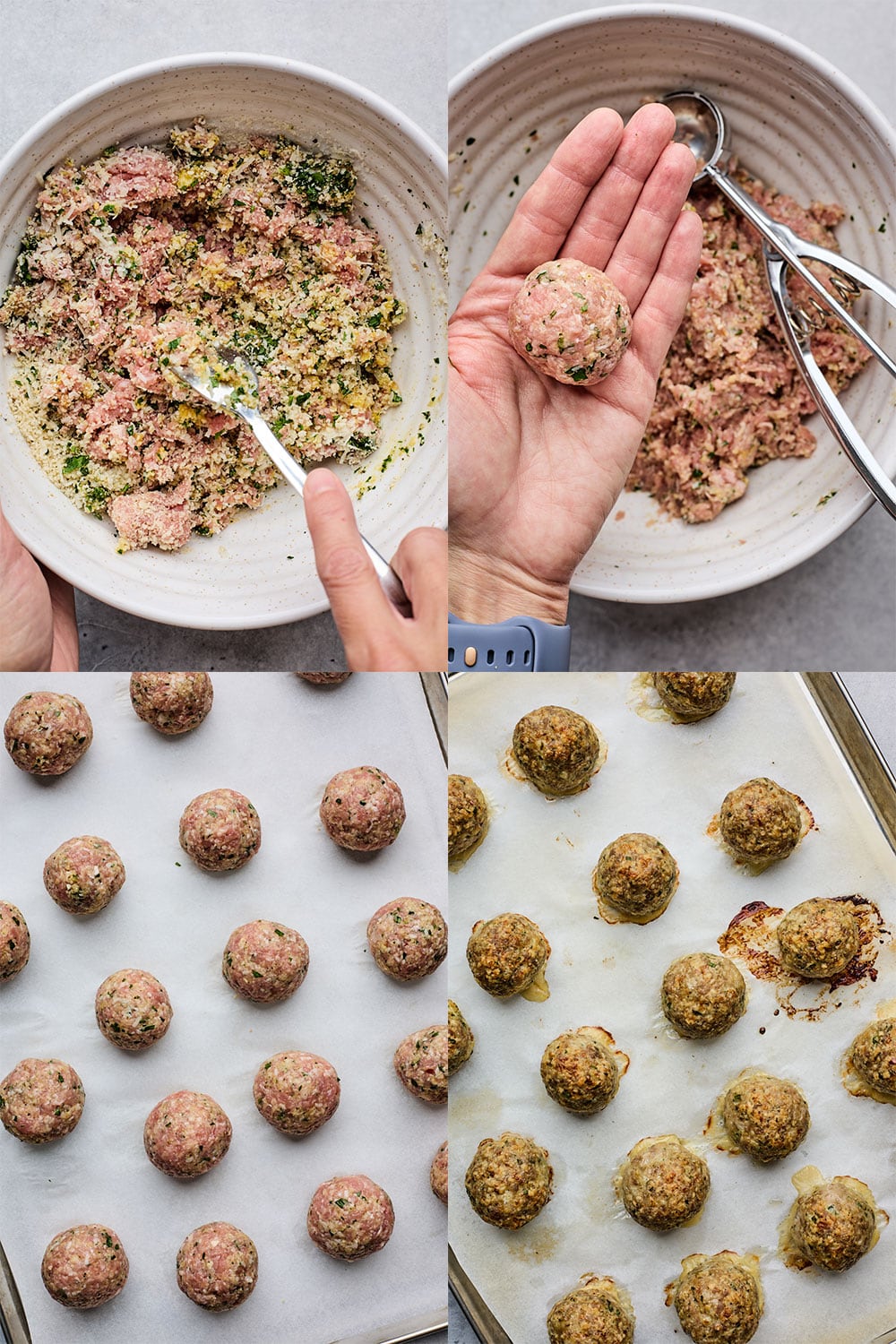 How To Cook Meatballs
Meatballs can be cooked many different ways from pan frying to dropping them into boiling soup or sauce or baking them in the oven. My favorite way to cook them is to bake in the oven as there is way less mess and no splattering, no flipping the meatballs and they come out perfect every time! That being said I included the stovetop skillet method in recipe instructions below. If you wanted to par cook these meatballs either in the oven or in a skillet to add them to simmering marinara sauce you can - just sear them or bake them half way or just a little more than half way, then add to marinara sauce, cover and simmer in sauce until meatballs are fully cooked through and 165°F in center.
How to Bake Meatballs
Preheat your oven 375°F and spray your pan (or foil) with cooking spray, or line baking pan with parchment paper. (Most meatballs will contain a bit of fat so lining your pan with foil is optional but makes cleanup a breeze.)
Brush meatballs with a little olive oil
Bake the meatballs on a greased or lined rimmed baking sheet for 15-20 minutes, or until cooked through.
For a little more colour on them - switch to broil for the last minute or so of baking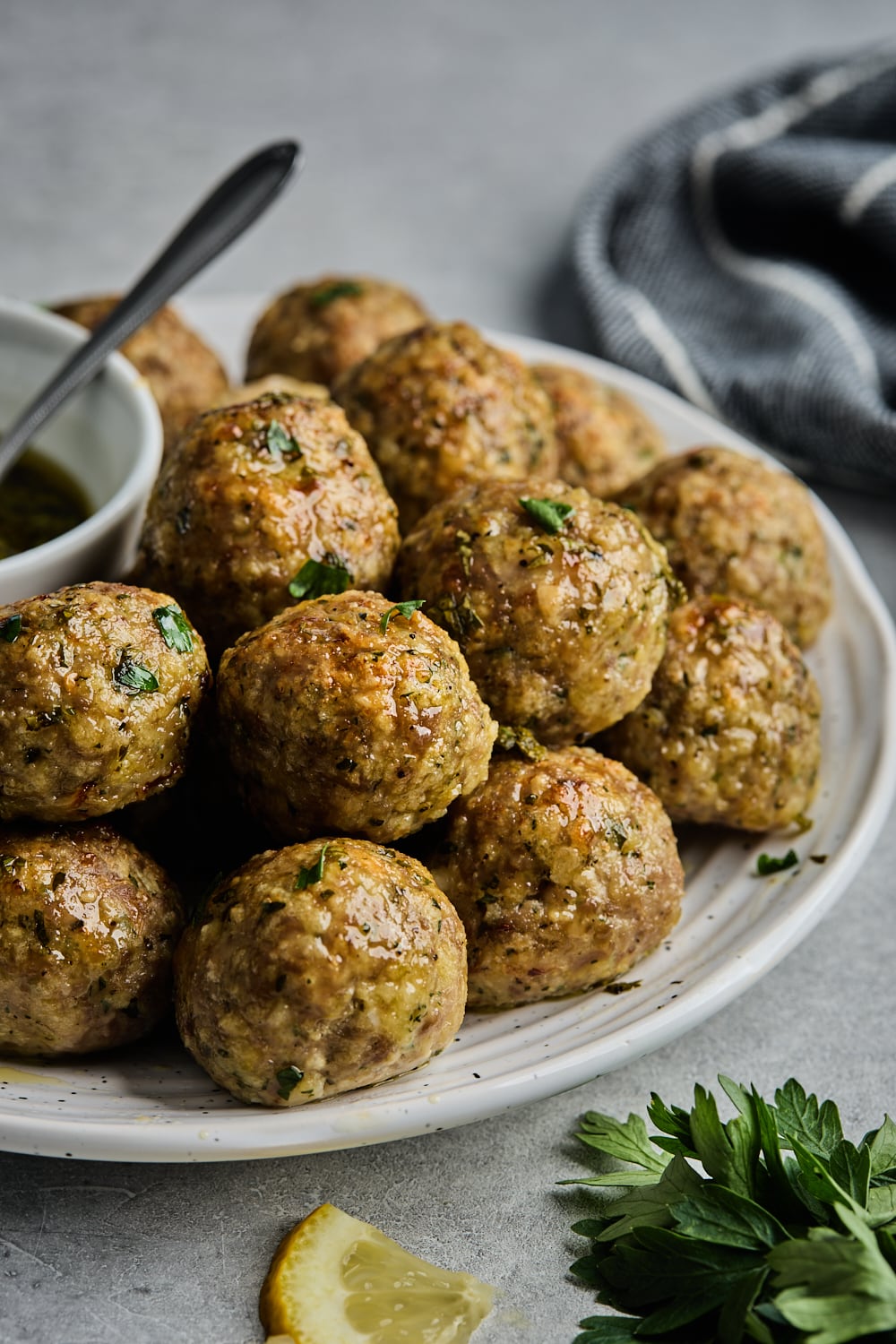 Homemade Meatball Tips
To make moist and tender turkey meatballs, use a half cup of breadcrumbs and one egg for every one pound of ground meat. This ratio allows the turkey to bind and retain moisture without drying out. Ofcourse different ground turkey brands contain more or less moisture so you may have to adjust amount of panko if needed.
Don't over-mix meatballs - Use your hands to mix the ground meat and form the meatballs. Over working the meat mixture can make it tough or rubbery. Additionally, only combine the meat and ingredients until just mixed.
You can make the meatballs larger or smaller than suggested; just be sure to adjust cooking time as needed. (If you're making them a lot larger, I would sear them in batches until browned, then transfer the skillet to the oven to finish cooking them.) Bake at 375°F oven for 5-10 minutes then test for doneness
If your meat mixture happens to be a little sticky, dip hands in water before rolling. If that still doesn't do the trick, toss in 1-2 extra tablespoons of breadcrumbs into the mixture.
Try to maintain an even size of meatballs so they bake even and finish at the same time.
I strongly recommend an instant-read thermometer to test for doneness. Judging by color isn't always accurate and they may end up over-baked.
Overcooking the meatballs can cause them to turn out dry. Start checking them after 10-12 minutes in the oven.
What to Serve Turkey Meatballs With
Spaghetti & Meatballs: Serve the meatballs over spaghetti noodles, topped with marinara sauce or your favorite pasta sauce. Enjoy with crusty bread, or garlic bread and salad.
Meatball Sub: Serve them with cheese and marinara sauce on toasted hoagie rolls to make delicious meatball sub sandwiches.
With Rice: Brown, rice, white rice, cauliflower rice you name it or orzo
Zucchini Noodles: For a low carb meal, serve the meatballs with zucchini noodles instead of pasta.
As an Appetizer: Serve these on a platter with toothpicks, and marinara sauce for dipping or with my lemon parsley sauce included below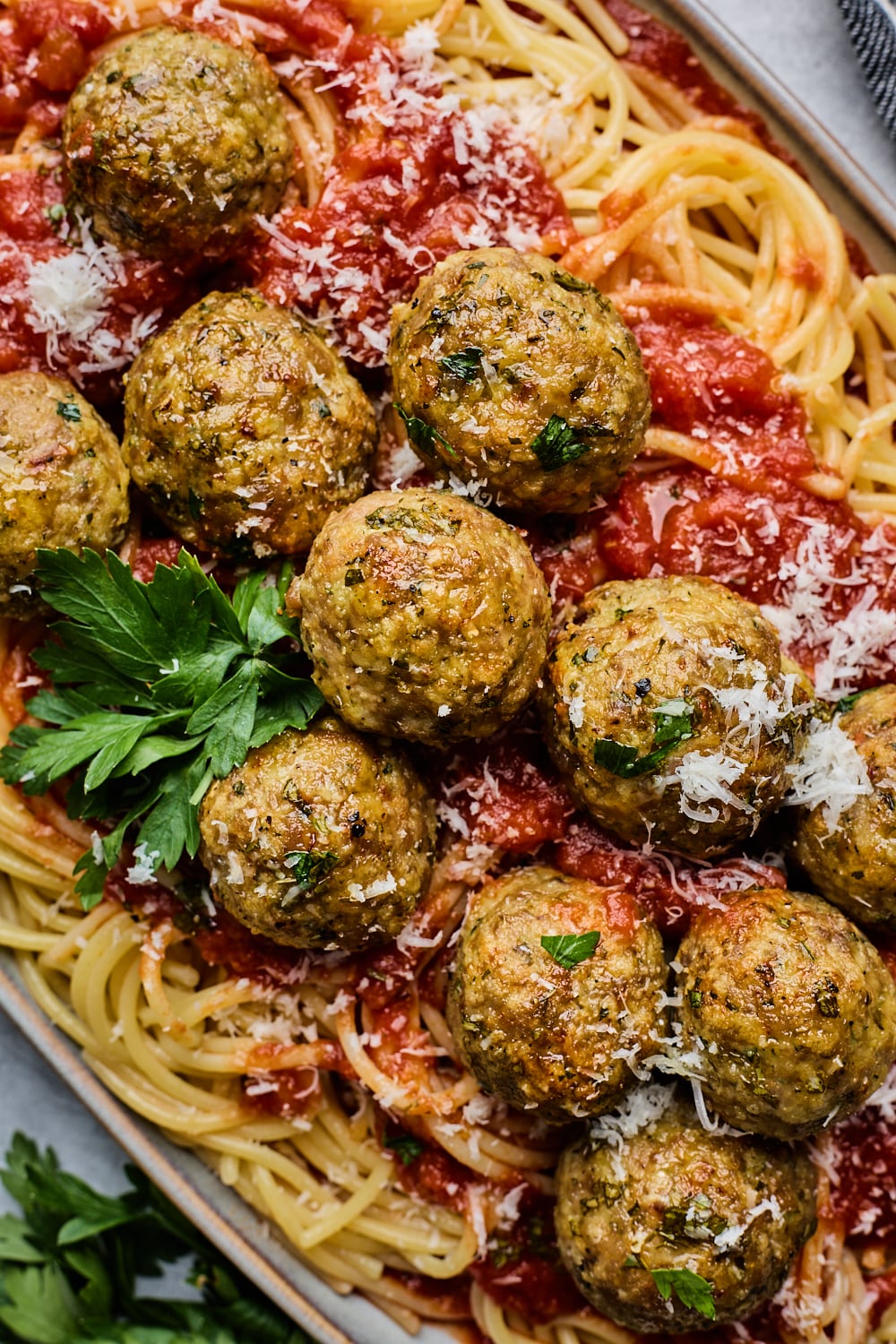 Storage & Reheating Turkey Meatballs
STORAGE: Homemade meatballs are perfect for meal prep, and they freeze wonderfully for quick meals later on. Store them in an airtight container in the refrigerator for up to 3 days, or in the freezer for up to 3 months.
REHEATING: The best way to reheat meatballs is to heat them together with marinara sauce over medium-low heat on the stove. Individual portions may also be reheated in the microwave. If frozen, thaw overnight in the refrigerator before reheating
How to Freeze Meatballs
Simply place them on a baking sheet and flash freeze for 1-2 hours. Once frozen, transfer to a plastic freezer-safe bag and keep them frozen for up to 1-3 months. Thaw overnight in the refrigerator before reheating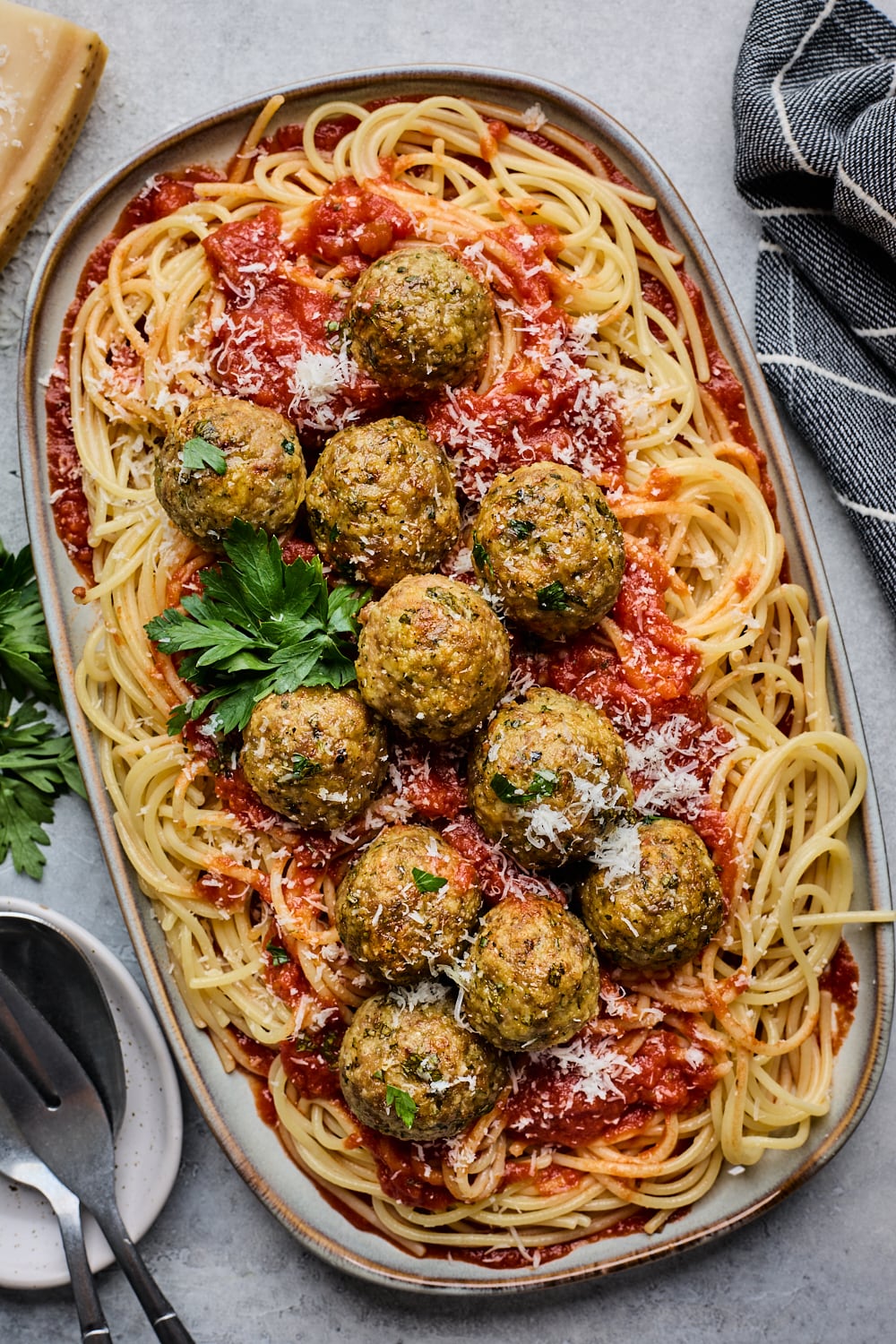 More Recipe You Will Love
Recipe
Servings:
Yields 18-20 meatballs
Prep Time: 10 mins
Cook Time: 15-20 mins
Total Time: 30 min
Ingredients
For the Baked Turkey Meatballs
1 lb ground Turkey (Not extra lean)

½ cup grated Parmesan cheese

½ cup panko bread crumbs or bread crumbs

¼ cup fresh herbs, minced (flat-leaf parsley or fresh basil)

½ teaspoon salt

½ teaspoon ground pepper

¼ teaspoon garlic powder

½ teaspoon onion powder

½ teaspoon dried oregano

¼ teaspoon red pepper flakes optional

1 large egg lightly whisked

1½ tablespoons extra-virgin olive oil for brushing
For Lemon parsley sauce (optional)
¼ cup fresh parsley chopped

3 tablespoons olive oil

Juice of half lemon

Salt and pepper to taste
For Serving With Sauce & Pasta
one (24 ounce) jar marinara sauce (or use homemade marinara sauce)

1 box spaghetti noodles

¼ cup parmesan cheese shaved
Directions
In a large bowl mix together the ground turkey, egg, panko, fresh herbs and spices. Form mixture into to 1 ½-inch meatballs.
Cook the meatballs all the way through either in a skillet on the stovetop or on a sheet pan in the oven.
Skillet method: Heat the oil in a large skillet over medium heat. Once hot, add the meatballs and cook on 3-4 sides until browned and cooked through, tossing every 4 minutes until cooked through. Reduce burner temperature slightly if needed while cooking so meatballs do not burn.
Oven method: Preheat the oven to 375°F, and brush meatballs with the olive oil bake the meatballs on a greased or lined rimmed baking sheet for 15-20 minutes, until a meat thermometer inserted into the middle of the meatball registers 165°F. Feel free to broil them for last couple of minutes so top of the meatballs are slightly golden.
While the meatballs cook, make lemon parsley sauce or warm marinara sauce and cook paste or rice or whatever items you are serving the meatballs with. Serve the meatballs hot, topped with the sauce, cheese, herbs, and any other additions.
Recipe Notes
Do not over work or over mix meat mixture
Do not over bake meatballs - as ovens and baking sheets/baking pans vary start keeping an eye on your meatballs at the 10-12 minute mark
Making your meatballs larger or smaller will require you adjusting baking time accordingly
GROUND TURKEY: I recommend using a ground turkey with a little bit of fat to it, such as 93%. Do not use extra lean ground turkey. The leaner the ground turkey, the drier the meatballs will be. You can also use ground chicken or ground beef or even ground pork or a mixture.