Kaiserschmarrn – Austrian Pancakes
I just got back from a couple of days in Collingwood (Ontario's popular skiing region) and thought it was the right time to finally write this post and share a recipe I made from Alpine Cooking - a book by the very talented food writer Meredith Erickson which I received as a gift from Penguin Random House Canada. I love cookbooks like this one because they are more than just recipes. The photography is breathtaking of the landscape and the food and the stories are adventurous and the history and stories behind the food and the people who make the food are intriguing. I especially love reading these stories about places I can only dream of visiting.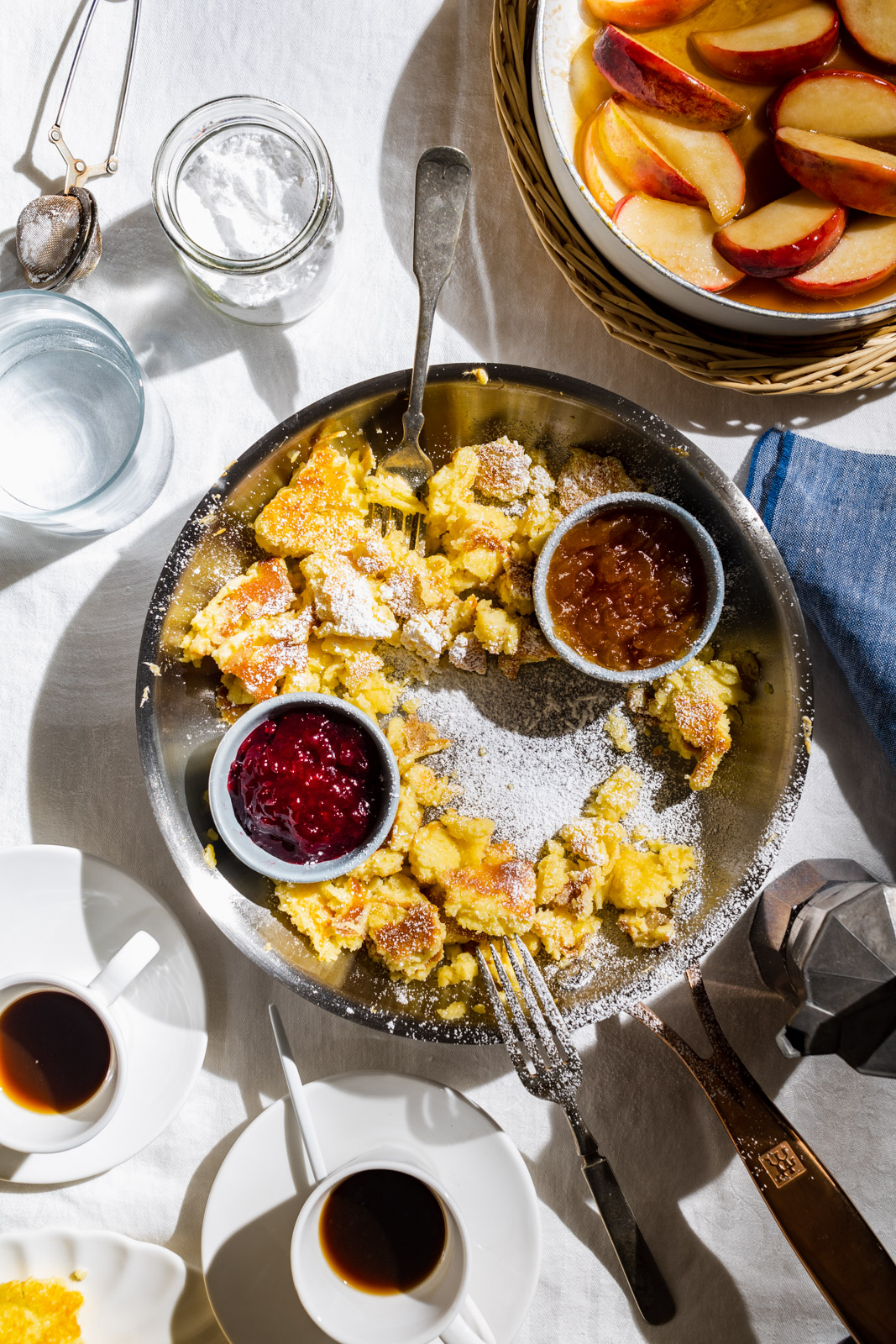 The Alps are magnificent and I have only caught a short glimpse of them many many years ago on a bus ride from Germany to Greece - yes that really happened it was the longest bus ride I have ever been on and if I ever had to repeat it today I think I would die or at least have to be heavily medicated to take it. The bus ride was pretty treacherous and felt as though it was on the edge of mountain cliffs for the majority of the ride, through Germany and then Austria (where I got to see the Alps) through Hungary and then Serbia through North Macedonia and then into Greece. I just remember my 9 year old eye balls glued to the windows trying to take in everything. I had never seen mountains like those, first time using public toilets with no actual toilets just a tiled room with a hole in the ground - more rustic toilet experiences awaited me in Greece though in my grandparents' village so that kind of broke me in. Truly was the best and most unforgettable experience and although the longest bus ride ever, I was so glad we took this budget route to get to Greece. I don't know if I will ever see those majestic Alps again but even if I don't, I get to enjoy some Alpine cooking thanks to Meredith's beautiful book.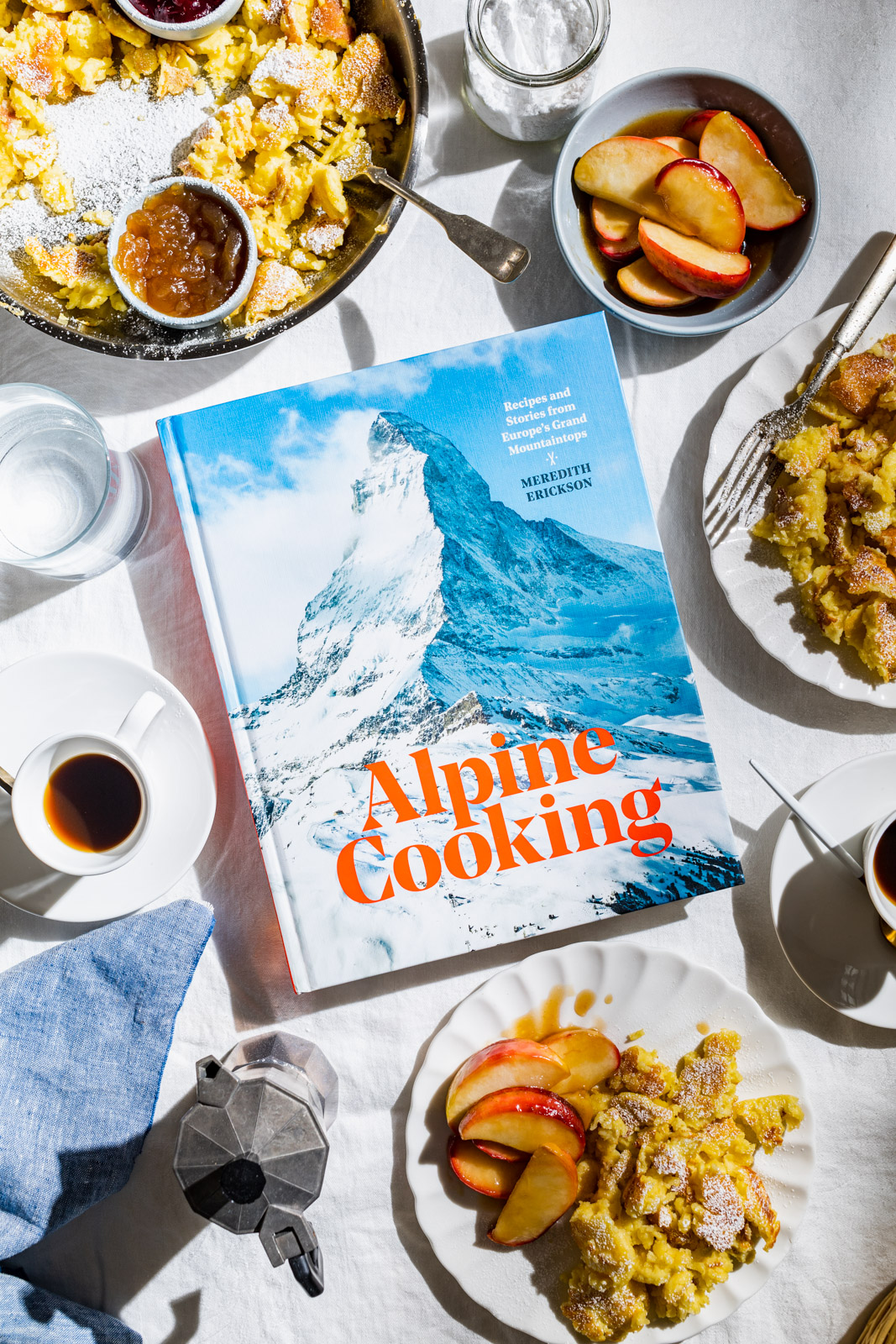 About the book
This wonderful book lets you see and eat the Alpine range (200,000 square kms) through Italy, Austria, Switzerland and France. It includes recipes and stories of Meredith's adventures from Europe's Grand Mountaintops. It includes over 75 must-have recipes because of their value and uniqueness or because of the story they come with from Meredith's Alpine trip. It also includes 4 maps which identify mountain hut locations that inspired the corresponding recipes. Each recipe is color coded the same way the the ski runs are coded according to difficulty which is quite cute and the chapters are broken up by country and the corresponding recipes from each. It includes spectacular photography both scenic and food. It's not just a cookbook but a travelogue that highlights recipes, travel tips and hacks recommendations for bars, restaurants, places to stay, and stand out attractions.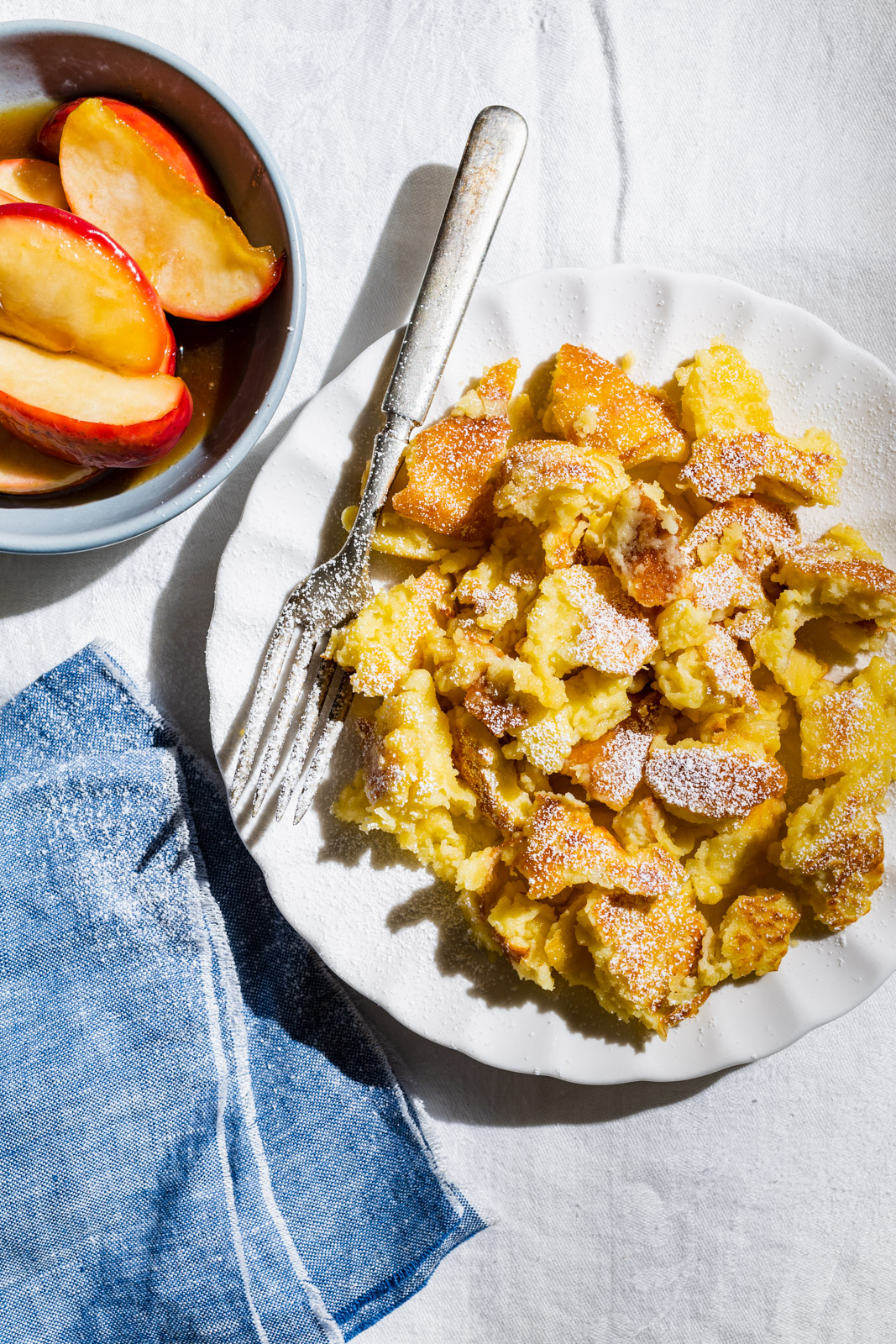 About the recipe
Kaiserschmarrn (Emperor's Mess) is a sweet Austrian classic dessert - basically a giant fluffy shredded or scrambled pancake. It's served right out of the frying pan. It's buttery and served dusted with powdered sugar with a variety of jams or jellies. Although a popular dessert, we enjoyed it for breakfast and we loved it!! It's a very hard recipe to mess up because even if you don't get the perfect flip on your pancake it's ok because you end up shredding it before serving. It's delicious and fun and easy to make and a must try.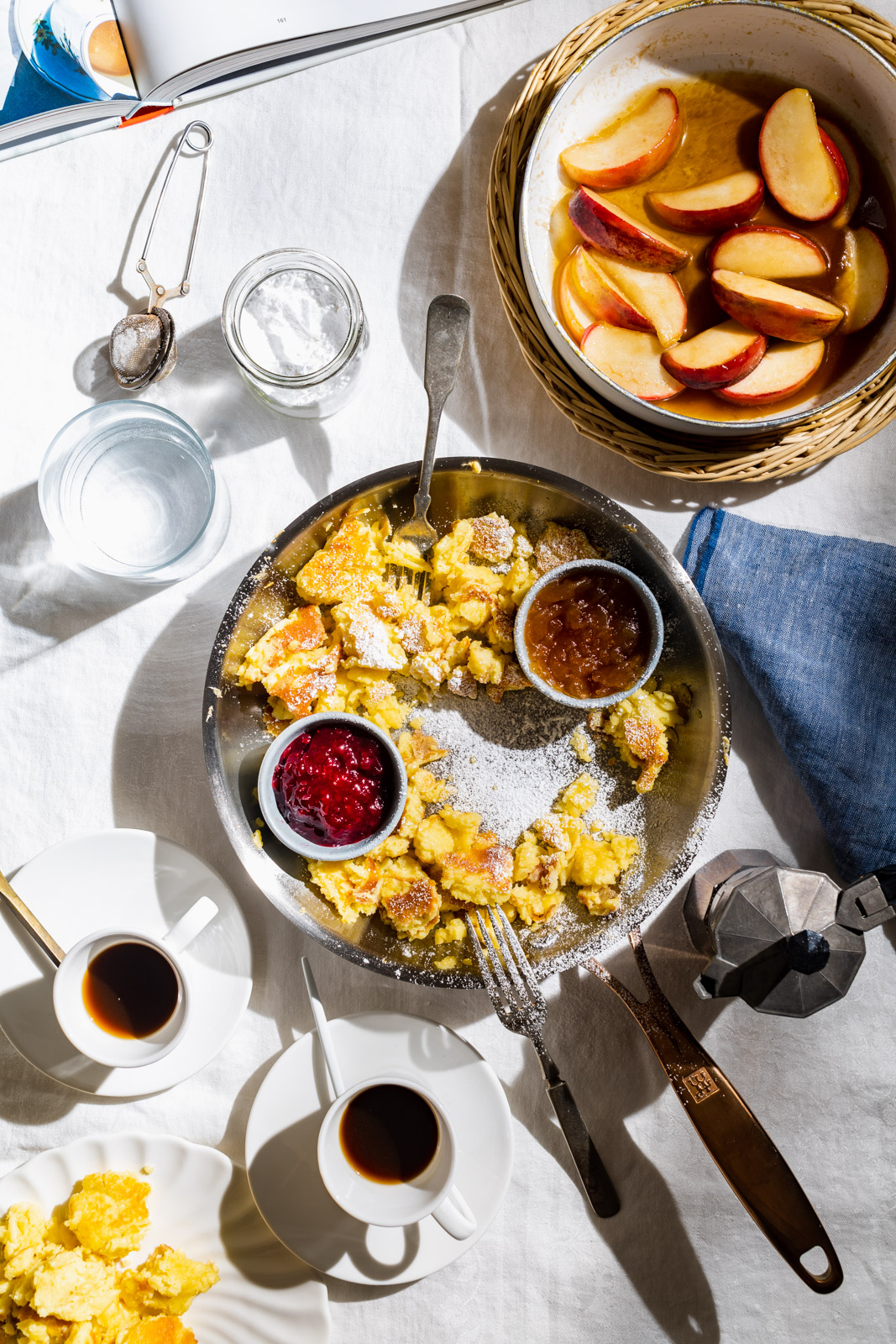 I was in Collingwood with friends and we had a blast. I am not a skier at all by choice and I'm actually not a winter person and hate all outdoor winter activities. I wish I was a ski bunny but I am not - definitely more of a beach bunny. But I do love hikes and since being back from Trinidad I have been determined to do things outdoors in the winter to find some enjoyment in the season. We did some snow shoeing and I loved it and I also love cross country skiing as long as there is a hot toddy, some mulled wine or hot cocoa to look forward to after. This book made me want to be a skier but deep down inside I know I would be the one happily watching from inside the sun drenched chalets enjoying my warm drink.
Recipe
Ingredients
1 cup (120g) all-purpose flour, sifted

1 cup (240ml) whole milk

3 eggs

¼ (55g) unsalted butter, melted

Fine sea salt

¼ (60ml) grape seed oil

½ (60g) confectioners' sugar

2 tablespoons rum (optional)

Apple jam or compote and/or cranberry jam for serving
Directions
In a large bowl, combine the flour, milk, eggs, melted butter, and a pinch of salt and whisk well to combine into a loose batter. Let rest at room temperature for 20 to 30 minutes.
In a large, well-seasoned frying pan over medium heat, warm the grape seed oil until it shimmers. Pour in the batter and let it sit in the pan, untouched, so it can start to slightly brown on the bottom, Using a flat spatula, or a deft flick of the wrist, flip the pancake and continue to cook until brown on the other side, about 2 minutes.
Using two forks, and working directly in the pan, coarsely cut the pancake into pieces, 1 to 2 inches (2.5 to 5cm) in size. Sprinkle liberally with the confectioners' sugar.
Harness your Alpine bravado by splashing the rum onto the pancake, then setting the pan aflame. Let the fire subside and serve up the Kaiserschmarrn in its pan, accompanied by apple and/or cranberry jam.
### Recipe Notes The possibilities for _Schmarrn_ (translated as "shredded or chopped pancake") variations are endless! To make _Apfelschmarrn_ (apple) or _Kirschschmarrn_ (cherry), simply add a few thin slices of apple or a handful of pitted and halved cherries to the batter before you pour it into the pan. You can also add 2 tablespoons raisins to the batter, or stir in the finely grated zest of one lemon if you prefer.