Lemon Ricotta Pancakes
These lemon ricotta pancakes are crave-worthy any time of the year - they are thick and fluffy and have just the perfect amount of lemony flavour. The instructions and steps are simple for this lemon ricotta pancakes recipe so you can have a batch of these pancakes on the table in no time! A lot of recipes out there call for separating eggs yolks from whites and beating the egg whites to stiff peaks and into sort of meringue using a mixer - I love this technique and I have used it to make my Perfectly Light And Crisp Waffles recipe. Its a great technique to get super light as air waffles with crispy edges. You can use the same technique for pancakes too. This time around we are using lemon and milk to create almost the same effect as using buttermilk in pancakes - loads of air bubbles, puffy thick soft, super fluffy pancakes with loads of lemon zest for the perfect lemon flavor. The ricotta helps in giving these pancakes their fluffy texture as it does to other baked goods like waffles and cakes. This is a fabulous recipe to use up any leftover ricotta from making a lasagna.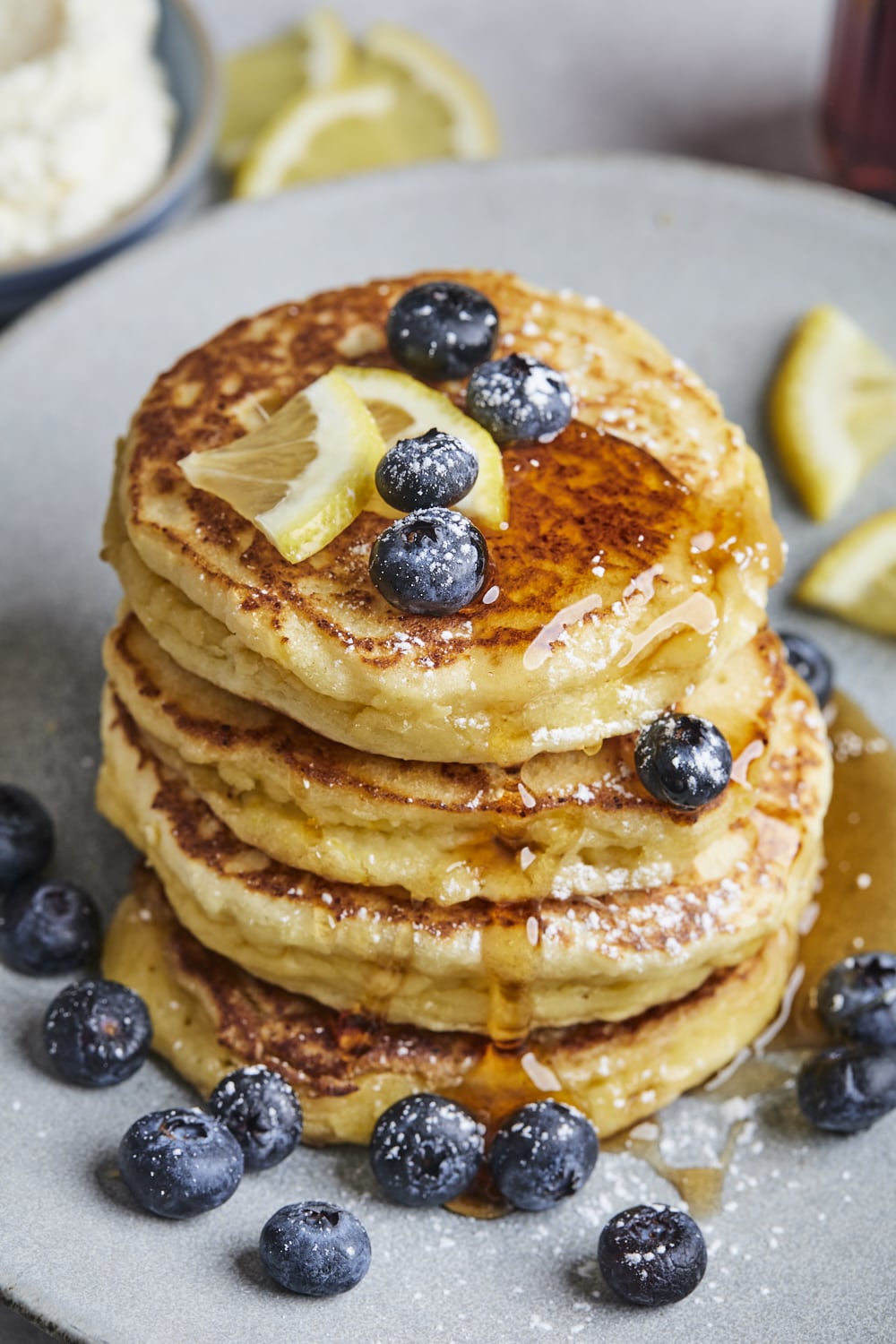 Why Add Ricotta To Pancakes?
Ricotta is so creamy rich and delicious and gets a lot of use in lasagnas and other savoury dishes but it also has a place in baked good and sweet bites too like these pancakes. As I mentioned above, ricotta adds a really nice fluffy texture to the pancakes and who doesn't want fluffy pancakes with golden crisp edges? Ricotta isn't something you necessarily taste in baked goods - the pancakes definitely don't taste "cheesy", but rather, the ricotta adds a really nice milky richness and creaminess to each bite.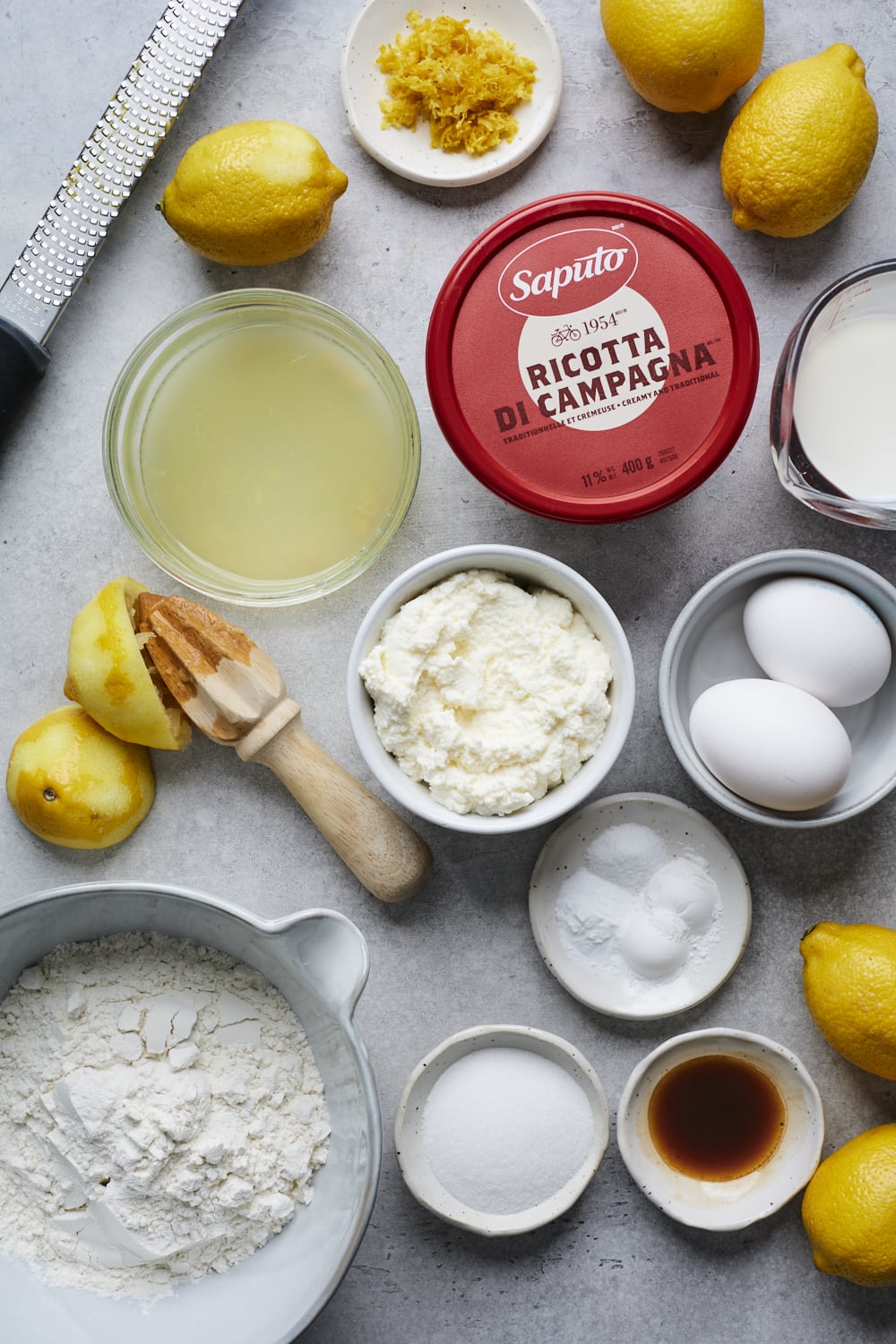 Lemon Ricotta Pancakes Ingredients:
Dry Ingredients
Flour -all purpose is what I use 
Sugar - adds a little bit of sweetness to the batter
Salt
Baking Powder - supports that light and fluffy structure and gives the pancakes lift
Baking Soda - same as baking powder
Wet Ingredients
Milk - room temperature - I like to use whole milk for best flavor but any percentage would work - thins the batter out and brings the batter together (feel free to add 1-2 teaspoons extra if you are finding the batter too thick for your liking) 
Ricotta Cheese - full fat is what I use but feel free to use any brand you like, also room temperature 
Eggs - room temperature 
Vanilla Extract - pure vanilla extract for best flavour 
Freshly squeezed Lemon Juice - for the fresh lemon zest and lemon juice
Freshly Grated Lemon zest - for more lemony flavour feel free to add a little extra lemon zest o the batter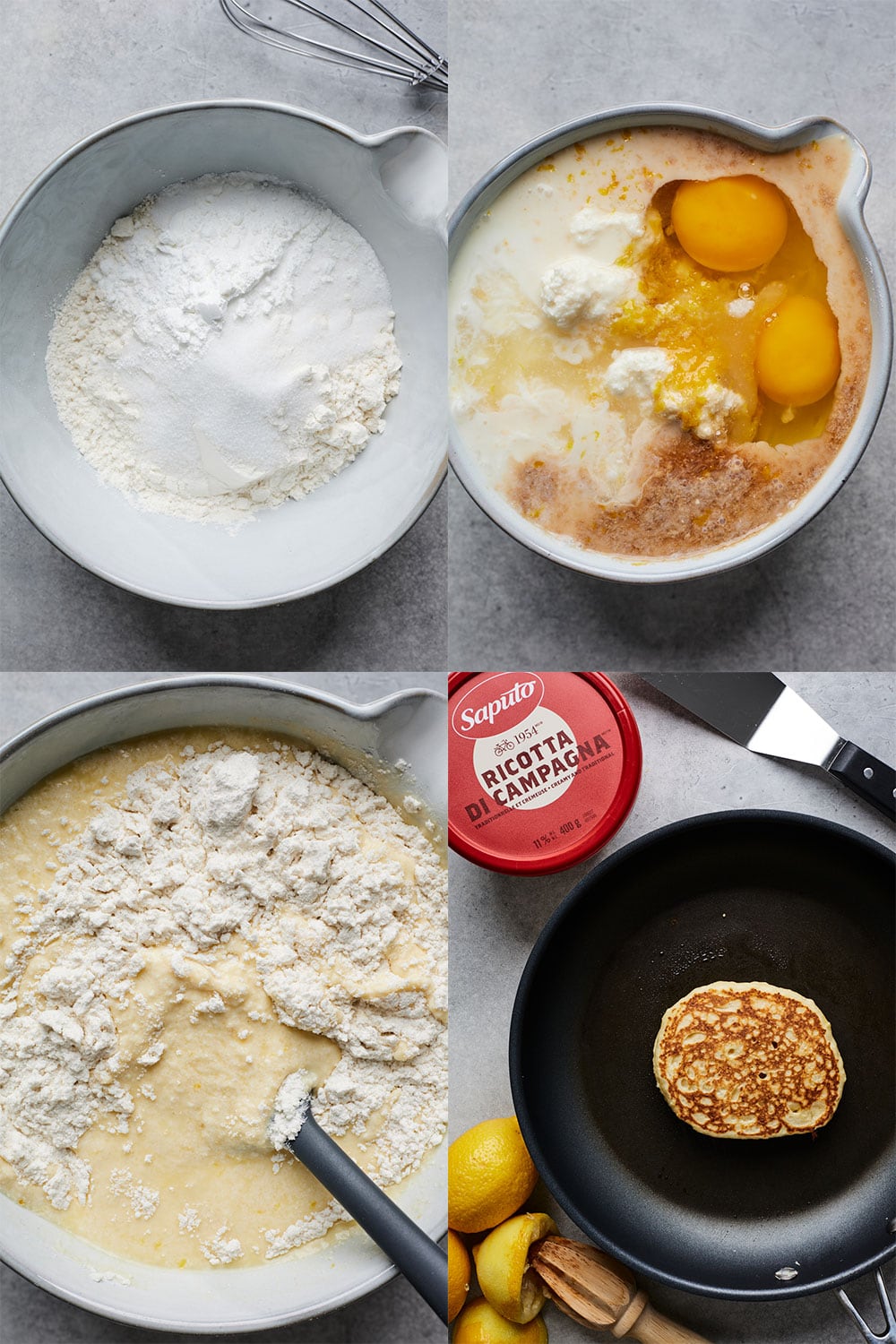 Tips for Making Great Pancakes Every time:
Avoid over-mixing the batter; some lumps are ok! If you over-mix, you'll end up with a more rubbery or dense pancakes than tender pancake.
Watch the pan–it can be tempting to walk away, but you'll need to monitor the temperature of the pan and adjust as needed.
You'll know your pancake is ready to be flipped when bubbles form on top and the edges begin to brown (this usually takes about 2 to 4 minutes).
If your pancakes are browning too quickly before cooking through, adjust heat down to medium low. With pancakes, you'll need to monitor and adjust the heat of your pan as you go. 
What To Serve These Lemon Ricotta Pancakes With:
A drizzle or two of maple syrup (many drizzles if we are being honest) 
Whipped cream 
Confectioners sugar/powdered sugar 
Fresh fruit - especially fresh berries
Blueberry sauce cause lemon & blueberries are just perfect together 
How to save leftovers
Storage - Leftover cooked and cooled pancakes can be stored in an airtight conatiner in the refrigerator for up to 3-4 days. 
Freezing - To Freeze pancakes arrange your cooked pancakes in a single layer on a Sheetpan lined with parchment paper. Freeze until the pancakes are solid. Transfer to a labeled ziplock bag or freezer bag and store for 3-4 months. Warm frozen pancakes in the oven, or the toaster as stated below.
Reheating - You can reheat leftover pancakes in the toaster if you wish but pancakes are always best right off the griddle. Warm pancakes in the toaster/toaster oven for 3-4 minutes - use a medium level of heat. Or warm them in the oven at 350° for 3-4 minutes. I like to just place them on the open rack so that they warm and get a little crispy on all of the surfaces or place them on a Sheetpan. You can also reheat on the griddle or in a pan on low heat too as well as the microwave for 30 seconds or so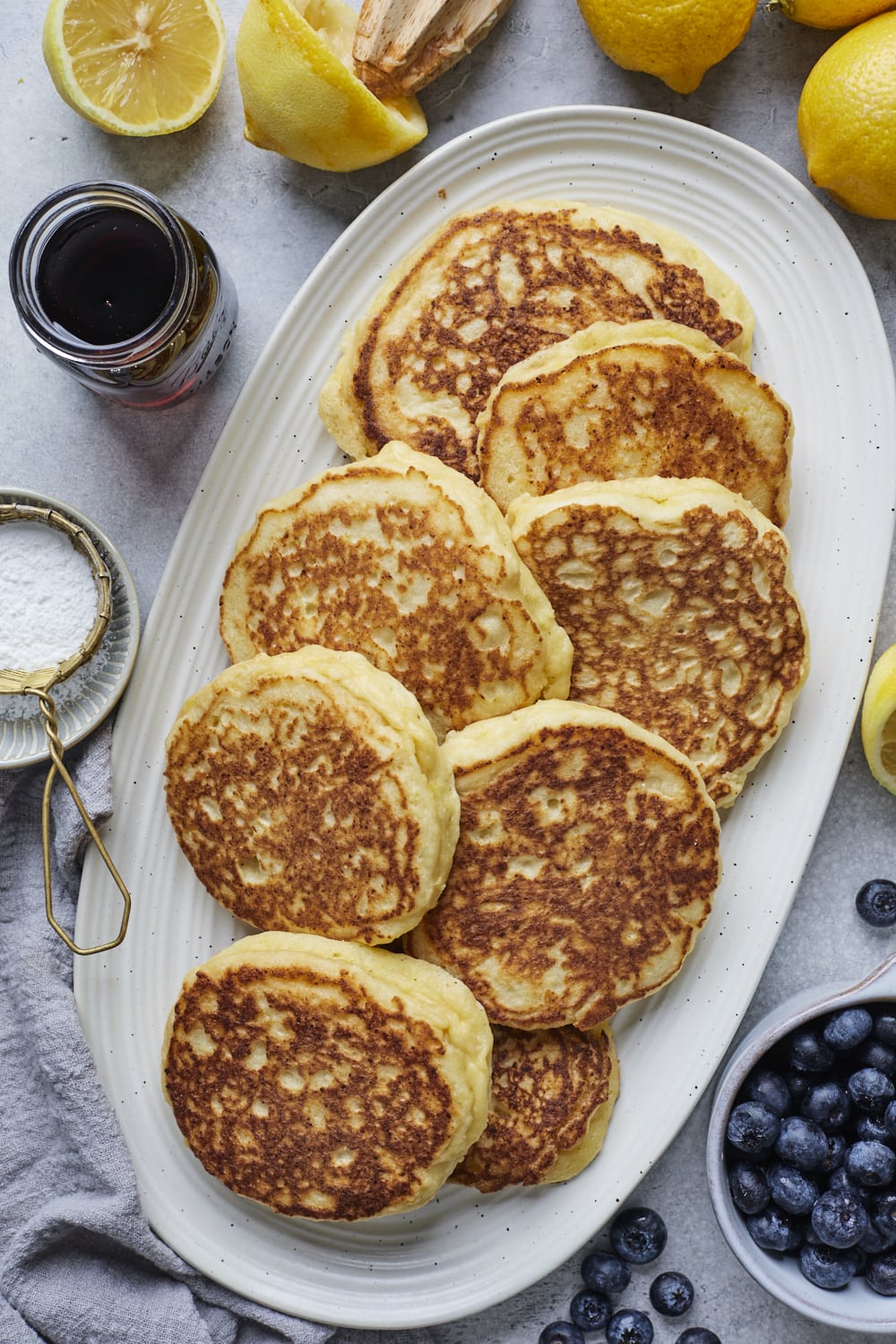 More Pancake Recipes You Will Love:
More Lemon Ricotta Recipes You Will Love:
Recipe
Prep Time: 5-10 mins
Cook Time: 20-25 mins
Ingredients
1½ cups all-purpose flour

2 tablespoons sugar 

2 teaspoons baking powder 

½ teaspoon baking soda 

½ teaspoon salt 

¾ cup ricotta 

½ cup milk 

1 teaspoon pure vanilla extract 

2 large eggs, room temperature 

2 tablespoons fresh lemon juice

1 tablespoon fresh lemon zest

Butter or vegetable oil/cooking spray, for cooking 
Directions
Whisk together the dry ingredients: flour, sugar, baking powder, baking soda and salt in a large mixing bowl.
In a separate bowl (medium size) whisk together the wet ingredients: ricotta cheese, milk, vanilla, eggs and lemon zest and lemon juice.
Pour the wet ingredients into the dry ingredients and stir or fold with a wooden spoon or rubber spatula until just combined. Be careful not to over-mix
Preheat the oven to 175°F. to keep the pancakes warm while you make the whole batch of them 
Heat large nonstick skillet or griddle over medium heat with butter or vegetable oil. 
When the butter or oil starts to foam, reduce the heat to medium-low and ladle or scoop out a heaping ¼ cup pancake batter into the skillet. Cook until bubbles start to form in the batter and the pancakes are golden underneath and around the edges, about 3 minutes. Flip and cook the other sides until golden, another 3 minutes. Repeat with remaining batter - wiping to the pan in between batches if needed and of course adding more oil or butter as needed.
Place the finished pancakes on a baking sheet tray in the oven while you finish cooking the remaining batter, to keep them warm. 
Serve warm with warm maple syrup, lemon slices, powdered sugar and fresh berries and even a dollop of whipped cream. 
Recipe Adapted From Food Network