Lemon Poppy Seed Loaf
This is a light and fluffy lemon poppy seed cake filled with fresh citrusy lemon flavor sprinkled with just the right amount of poppy seeds will keep you coming back for slice after slice. Topped with a lemon glaze, this quick bread makes the perfect breakfast, brunch, tea time or dessert. It's a no frills recipe that doesnt require bringing butter to room temperature meaning no extra planning is needed to make this tender moist cake. When you crave it (like I know you will) you can whip it up in a flash! Serve it as-is, with the glaze or dust it with powdered sugar, pile it with whipped cream and fresh berries or berry compote or even a dollop of yogurt and enjoy!
Lemon Poppy Seed Loaf Cake Ingredient:
Lemon zest and juice – We're using both the juice and zest of the lemon. Fresh lemons are a must for the best flavours
Greek yogurt – full fat regular yoghurt or Greek yoghurt works well here adding yogurt to loaf cakes adds moisture and helps keep the cake soft for days. If you don't have Greek yogurt on hand, use sour cream instead.
Vegetable oil - I like to use olive oil but you can use canola oil, vegetable oil or melted coconut oil. A neutral oil like vegetable oil or canola oil won't lend any flavor to the cake, while olive oil will provide a hint of savory flavor that's buttery and a touch peppery. Choose whichever oil you like—or really, whatever you happen to currently have in your pantry.
Baking powder – gives the cake texture and rise.
Flour - I used all purpose flour for this recipe but feel free to use a good all purpose gluten free 1-1 flour for a gluten free version
Sugar - granulated sugar is what I used in this recipe and I used 3/4 cup - just sweet enough
Eggs - I usually use large eggs and room temperature when baking
Vanilla – I like to use pure vanilla extract for the best flavour
Poppy seeds – the perfect amount to add to this loaf cake. Of course this bread can be easily made without the poppy seeds, if you do not like them, you will end up with a delicious Lemon Bread. No need to alter the recipe if you skip the poppy seeds.
Confectioners sugar/Powdered Sugar – perfect for the glaze. The glaze is optional but delicious. You can also make the glaze with milk and vanilla extract instead of lemon.
How to make this Lemon Poppy Seed Cake
The instructions for this lemony pound cake are quite simple. All you need is a bowl, whisk and spatula to make it but if you prefer to use an electric mixer you can. Here is how it's done:
Whisk together the dry Ingredients
Whisk the eggs with the sugar until pale and creamy then whisk in the oil, yoghurt, vanilla, lemon juice and lemon zest
Mix the dry ingredients into the wet then fold in the poppy seeds
Transfer batter to prepared baking pan and bake then when done allow to cool
Make glaze and spoon over cooled cake and enjoy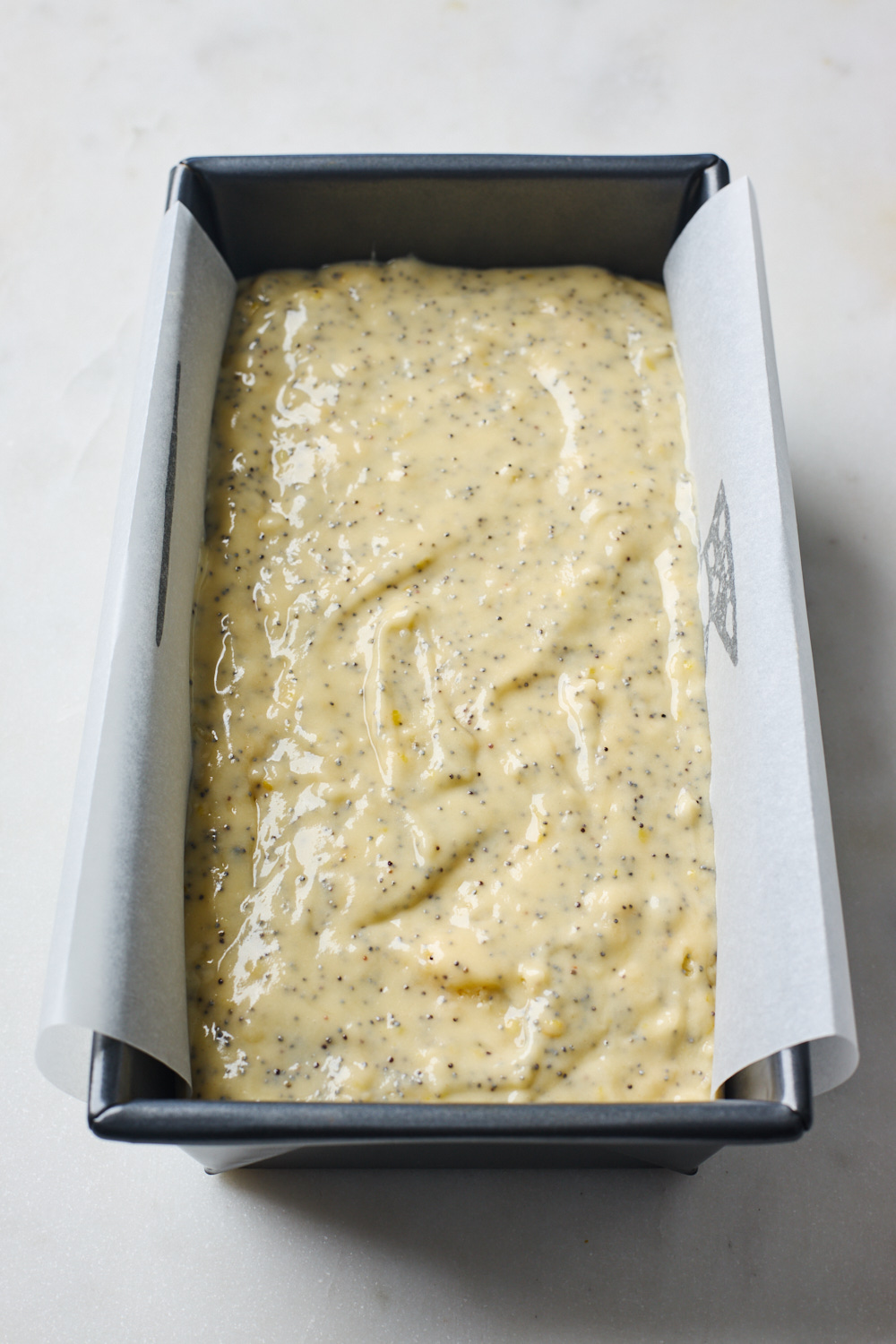 Lemon Poppy Seed cake Tips
Use room temperature ingredients. To get that light and tender texture you'll want to have your, eggs and yogurt at room temperature before mixing them with the dry ingredients. This helps to ensure that your batter comes out smooth and bakes up nice and fluffy and moist. To bring whole eggs to room temperature quickly, fill a small or medium bowl with warm water and carefully place eggs in it for 5-10 min while you prep the rest of your ingredients. You want the temperature to feel like a warm bath (you don't want to end up cooking the eggs). The yoghurt can be microwaved for a few seconds at a time to get it to room temperature - this won't take long at all.
Do not over bake. Bake this loaf cake as directed, keeping in mind that all ovens run differently. Do not over bake this loaf or it will be dry and crumbly. If the top is browning too quickly, loosely tent the top with a piece of aluminum foil. The cake is done when a toothpick inserted in the center comes out nearly clean or with just a few crumbs remaining. Watch the bread closely after 30 minutes of baking, to make sure not to over bake it. I like to check on it at the 30-minute mark and if it still needs more baking, check on it every 5-7 minutes until done. A toothpick inserted in the center of the bread should come out clean or just with some crumbs, but not raw batter.
Cool completely. This light and lemony cake is delicious all on it's own, but the extra thick drizzle of lemony Glaze is a optional but so delicious. Wait to make the glaze until the cake is completely cool. The glaze will set within minutes. Then slice and enjoy.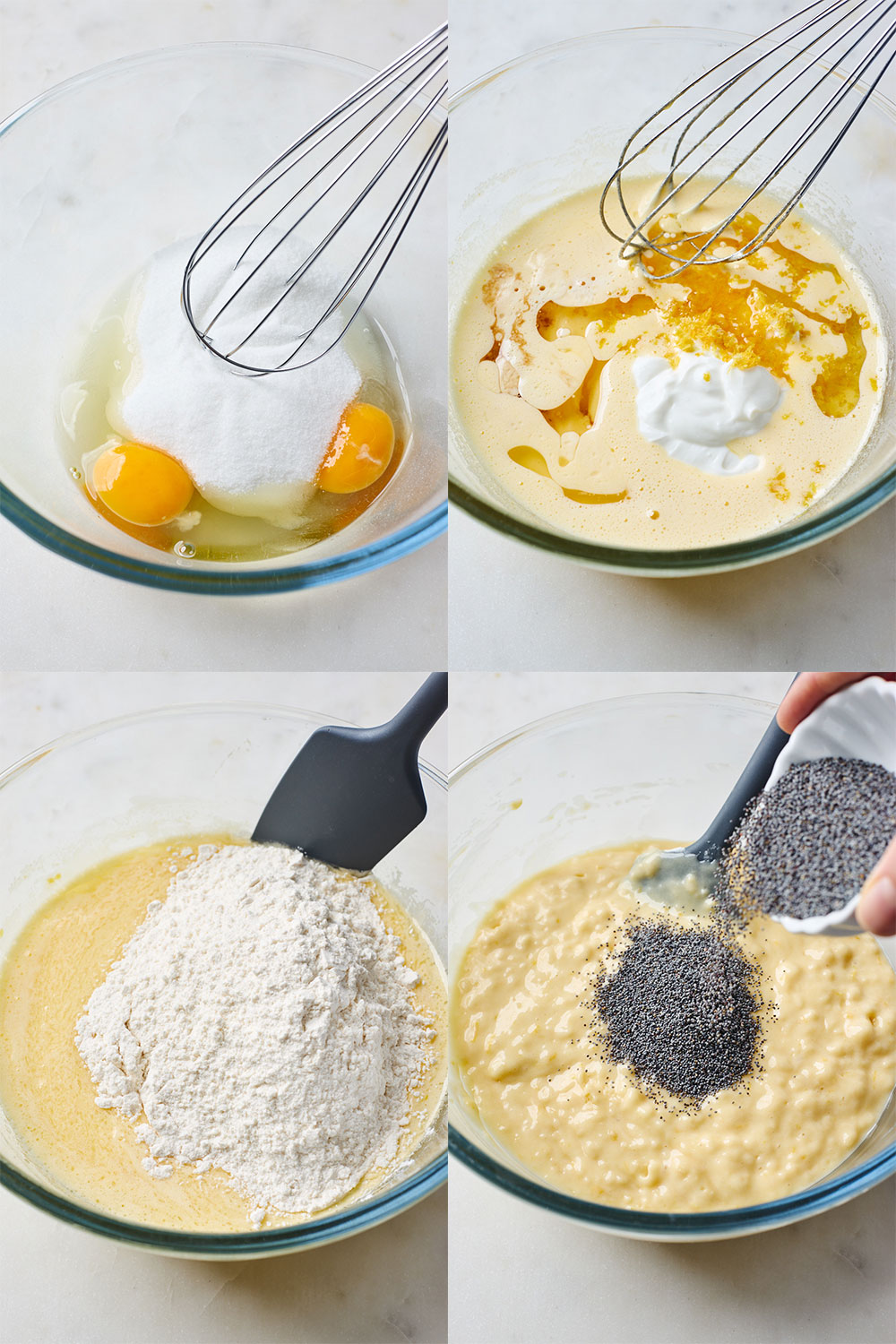 Can I make this cake in a bundt pan?
This cake was created for a 9 x 5 inch or 8 ½ x 4 ½-inchloaf pan but if you double the recipe, it should bake up nicely in a 10 to 12 cup bundt pan. You can also bake it in a 9-inch round cake pan. You can use this recipe to make Lemon Poppy Seed Muffins too, bake for 20-25 minutes.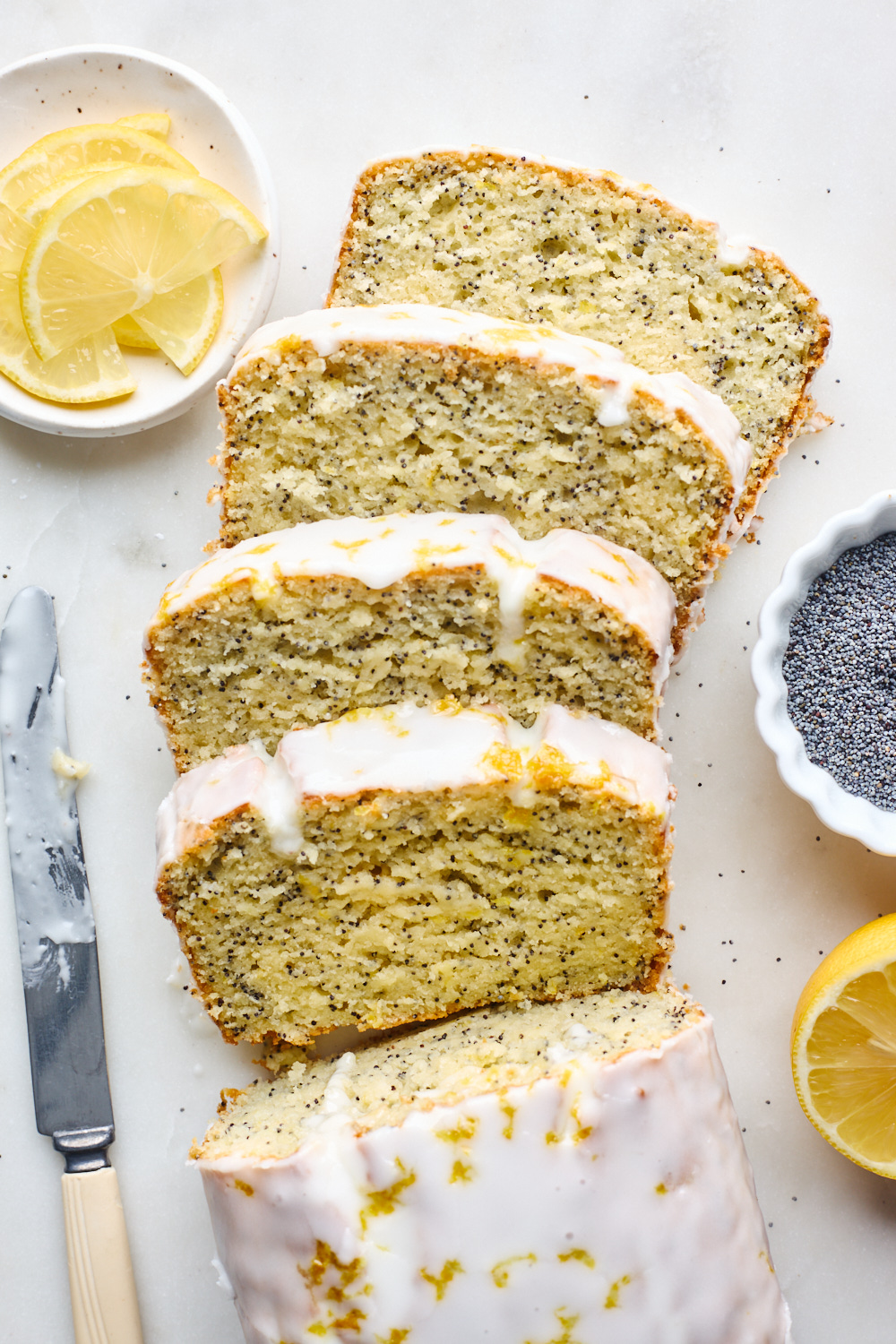 Make Ahead and Storage Instructions:
This cake keeps exceptionally really well Store it well wrapped on the counter for up to 3-5 days. The yogurt and oil provide lots of moisture, so it can sit on your counter for a few days without any fear of it drying out. In fact, I actually prefer it on day two, once the texture softens even more. Alternatively, it can be frozen for up to 2 months. Defrost it on the counter overnight before serving at room temperature.
This cake keeps well and is the perfect make-ahead treat. Once the cake is baked, let it cool completely and then store it tightly covered in a cool, dry place. Wait to glaze the cake until just a few minutes before serving.
If you like lemony treats like this one you will love these:
Recipe
Yields: one 9x5-inch or 8½ x 4½-inch loaf pan
Prep Time: 10 mins
Cook Time: 35-45 mins
Ingredients
1½ cups all-purpose flour

2 teaspoons baking powder

½ teaspoon salt

2 eggs at room temperature

3/4 cup granulated sugar

1 cup plain whole milk yogurt, or Greek yogurt at room temperature

½ cup vegetable oil, canola oil, or olive oil, plus more for greasing pan

Zest of one large lemon

2 tablespoons lemon juice

1 teaspoon vanilla extract

2-3 tablespoons poppy seeds
For the lemon glaze/Icing:
1 Cup icing sugar

1 Tablespoon lemon juice fresh

2 Tablespoon milk or cream or more if needed
Directions
Preheat the oven, and prepare pan: Arrange a rack in the middle of the oven. Preheat the oven to 350°F. Grease a 9x5-inch or 8 ½ x 4 ½-inch loaf pan lightly with olive oil or cooking spray and line it with parchment paper, leaving about a 1 inch overhang on the long sides, to make a sling for easy removal.
Combine dry ingredients: In a medium bowl whisk together dry ingredients: flour, baking powder and salt, set aside.
Combine the wet ingredients: Crack eggs into a large bowl, add the sugar, and whisk vigorously until pale yellow and frothy, about 1 minute. Whisk in the yogurt, oil, and vanilla, lemon juice and zest. (you can use an electric mixer or stand mixer if you prefer)
Add the dry ingredients: To the bowl with the wet ingredients, add the flour mixture and stir folding it in with rubber spatula until just combined and all of the flour is incorporated. Stop to scrape the sides of the bowl and bottom of the bowl.(A few small lumps in the batter are fine, be sure to not overmix.)
Fold in the poppy seeds to the batter using a spatula until combined
Bake: Pour batter into prepared pan and bake for 35-45 minutes, or until a toothpick inserted in the center of the bread comes out mostly clean, with just a few crumbs attached and no raw batter. Start checking on the bread at the 30 minute mark, and if it still needs to bake more, check on it every 5 minutes.
Once fully baked, remove the pan from the oven and set it on a wire rack. Let the bread cool in the pan for 15 minutes. For easy removal, run a knife around the edges of the bread and gently lift from the pan with parchment paper onto the cooling rack. Cool completely before frosting.
For the Frosting: Whisk all the glaze ingredients until smooth adding a little more milk or cream as needed to reach desired consistency then spoon over cooked lemon poppy seed loaf