Lemon Ricotta Cake
This Lemon Ricotta Cake is light, fluffy, with a moist crumb and full of lemon flavor. It has a soft, buttery texture and a rich lemon flavour, it's my new go-to dessert. You only need a handful of ingredients, but the fresh lemons and creamy ricotta change everything. It's such a simple and delectable cake to whip up any day of the week. The perfect dessert but light enough for brunch or even a sweet breakfast cake.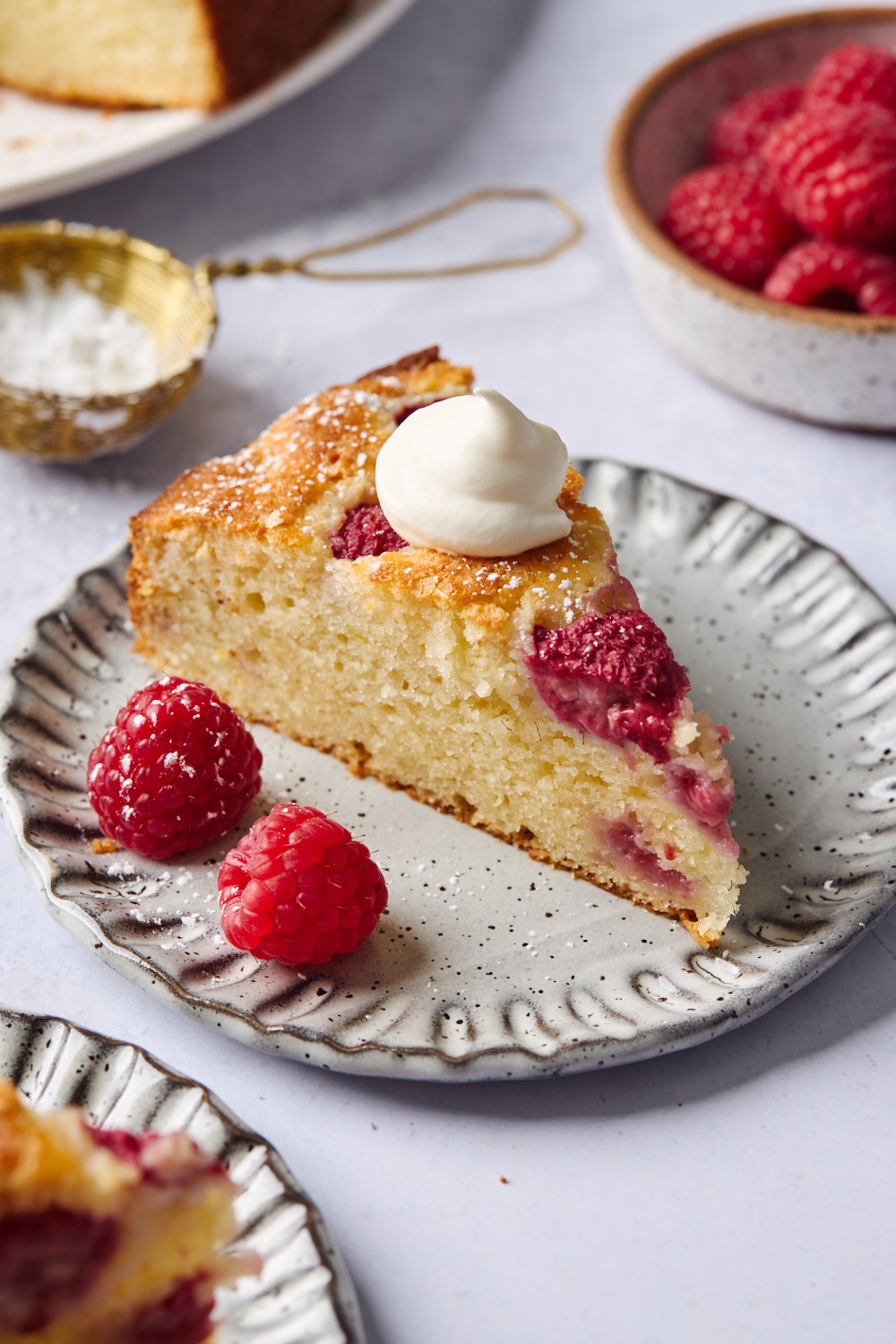 What is lemon ricotta cake?
Lemon ricotta cake is traditionally an Italian recipe that originated in Sicily. It's made with ricotta cheese and lemon. It is often referred to as a Ricotta torta or Italian style lemon ricotta cake. French call this lemon cake a gâteau au citron et à la ricotta or gâteau italien à la ricotta. All versions have similarities, this is an easy and simple recipe based off a Bon Appetite recipe that always turns out perfectly. The ricotta makes every bite of this cake feel like a bite of heaven in your mouth.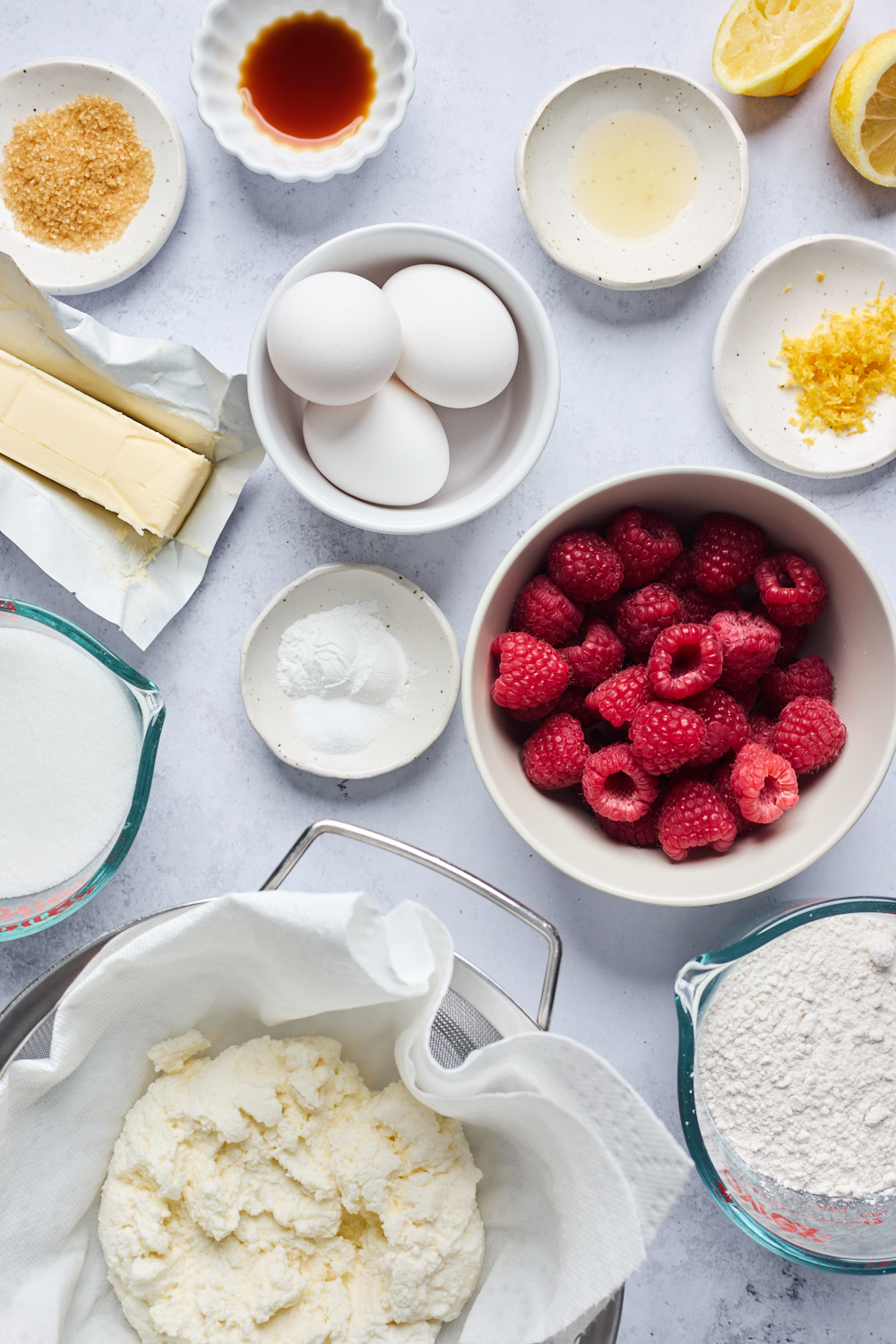 Some Key Ingredients in Lemon Ricotta Cake
Ricotta cheese, lemons, and almond extract are really the only special ingredients here – the rest are pretty basic like flour, butter, vanilla, sugar, baking powder and eggs.
Ricotta Cheese: Think: creamy, moist, soft, and airy. Store-bought ricotta works wonderfully here. Keep in mind that the higher the fat percentage, the creamier the ricotta will be. Whole milk, full fat ricotta for creamy is what I recommend, moist texture with a hint of sweetness. Some stores sell ricotta that has been stored in water, it's best to avoid these versions, but if your ricotta is watery I strongly recommend that you strain it over a paper towel lined sieve. I usually do this while I'm prepping all the rest of the ingredients.
Lemon Zest & Juice: We love the light lemon flavor of this cake, especially paired with the vanilla extract and the raspberries. If you're out of lemons, swap it for orange or lime instead.
Raspberries - Any fresh berries will work but I love raspberries with this cake. Fresh berries hold up nicely but if you only have frozen you can use frozen just toss them with 1 tablespoon of flour before folding them into the batter - no need to thaw them first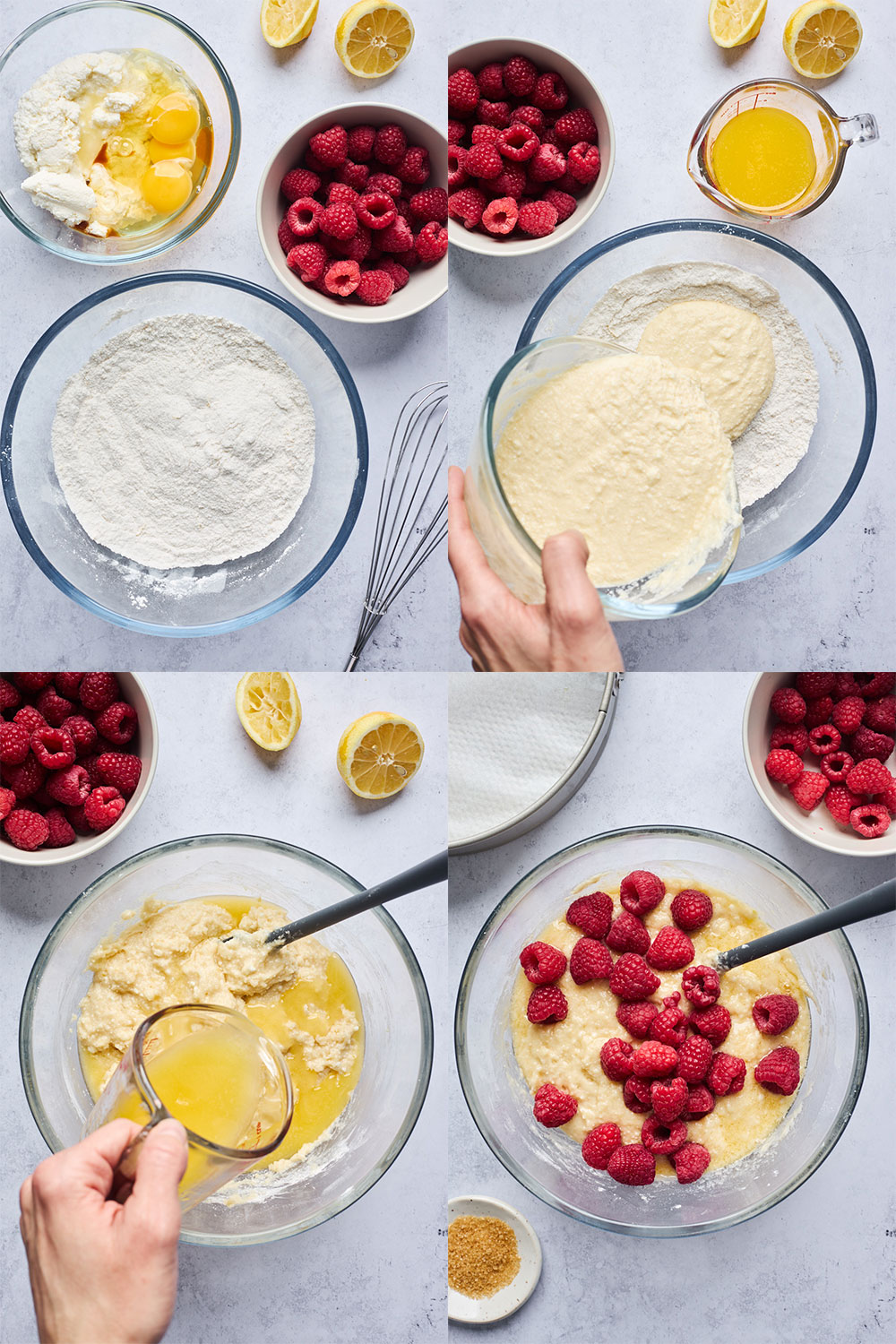 How to make this Lemon Ricotta Cake:
No need for an electric hand mixer for this recipe just a couple of bowls and a whisk and spatula. Here is how its done:
Preheat your oven and grease and line the bottom of a your springform pan with parchment or baking paper.
Whisk together the dry ingredients: flour, sugar, lemon zest, baking powder, and salt
Whisk the eggs, ricotta, lemon juice and vanilla until nice and smooth
Fold the egg mixture into the dry ingredients
Drizzle the melted and slightly cooled butter into the batter and fold it in until combined
Fold in the raspberries, sprinkle with coarse sugar and remaining raspberries and bake until golden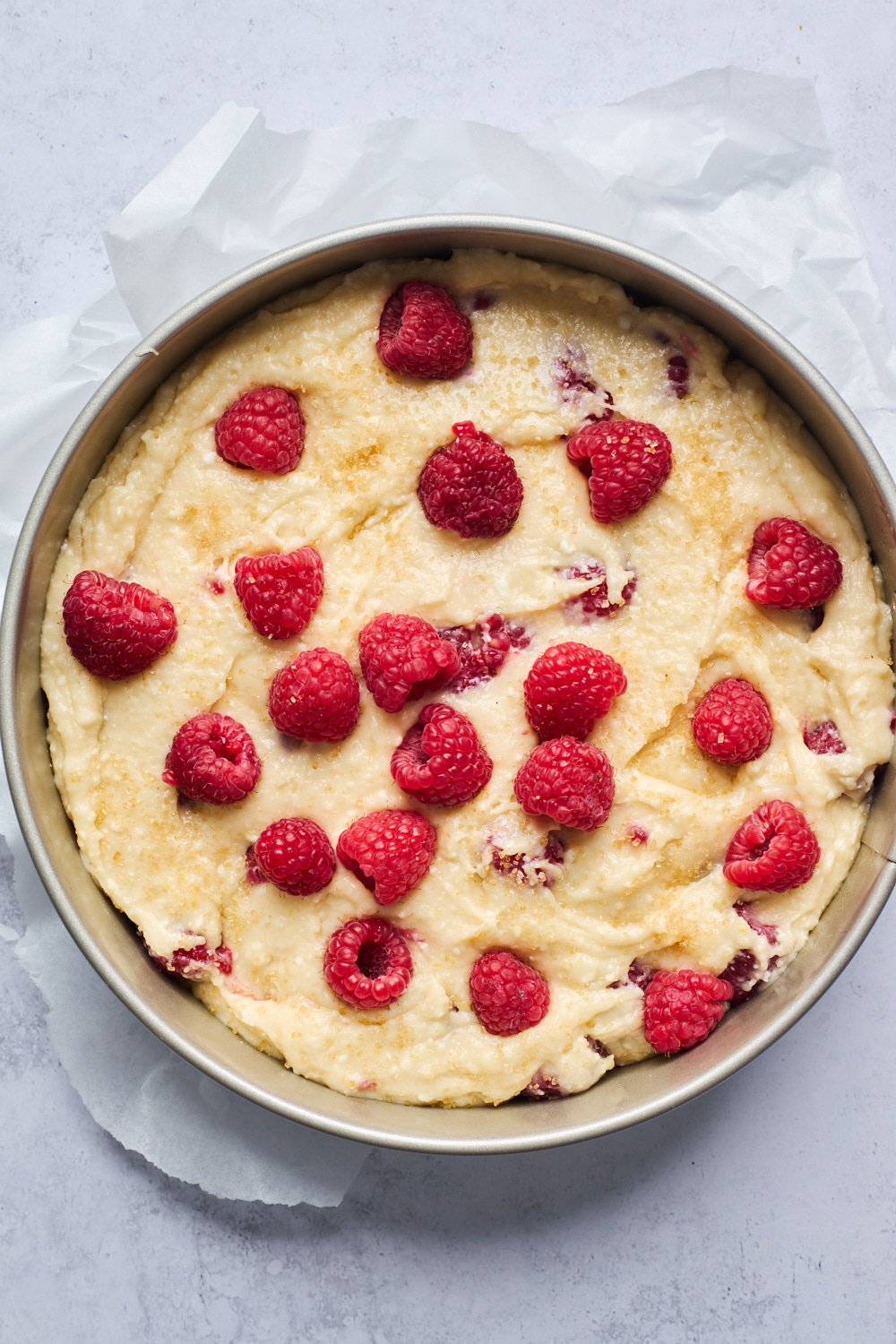 Does ricotta cake need to be refrigerated?
This cake does not need to be refrigerated. You can leave this cake out at room temperature for 1 day. Like many other cake recipes, you should probably refrigerate the cake after a couple of days to preserve its freshness.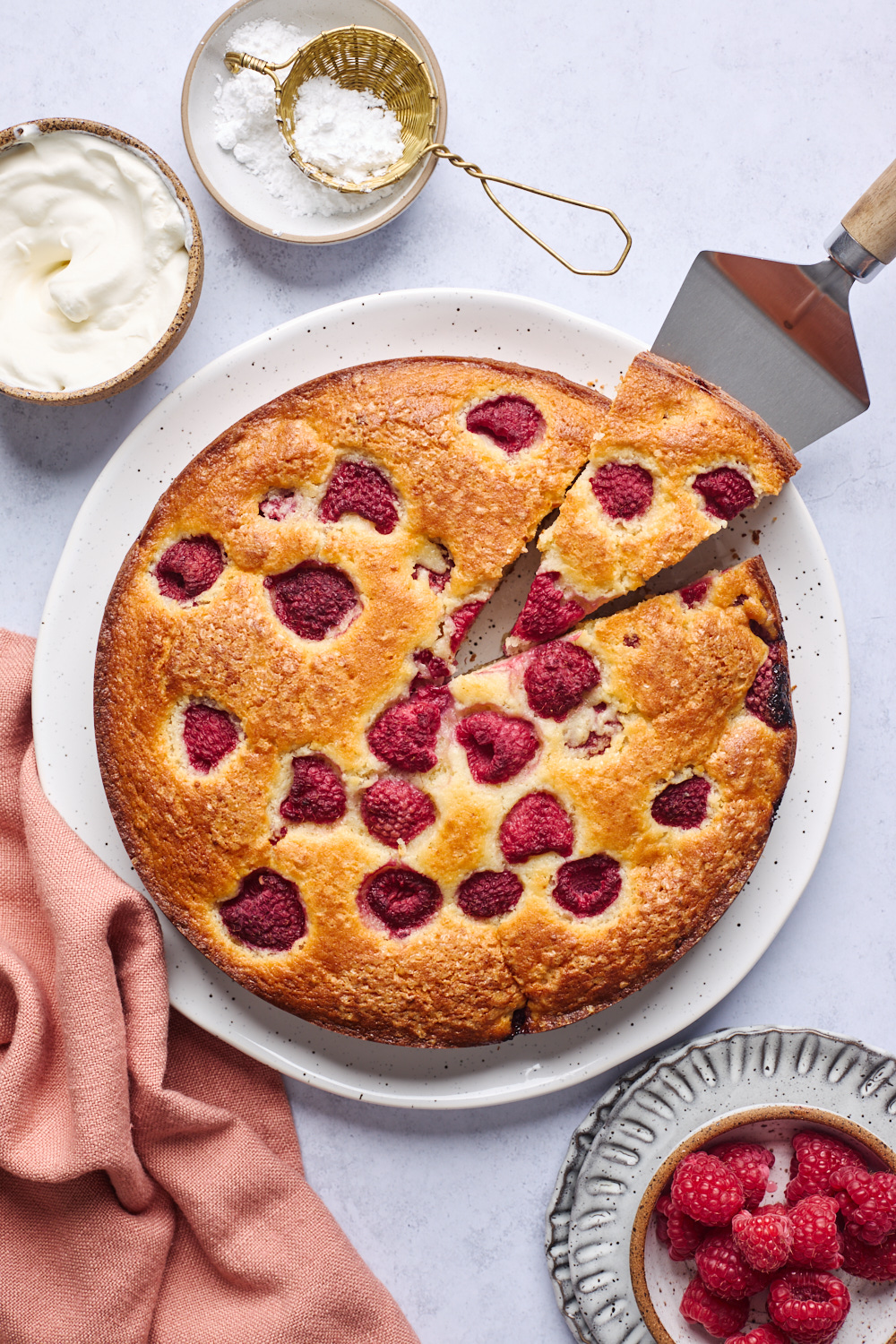 Lemon ricotta cake tips
Use fresh lemon zest, don't use extract. This cake tastes best with the real thing.
Make it a day in advance. The flavors will be more absorbed and the cake settles over time making it even more moist than the day it was made.
If you have a watery ricotta, always drain it first. This will give you the best texture in the final cake.
More delicious lemony and ricotta recipes:
Recipe
Prep Time: 15 mins
Cook Time: 50-60 mins
Ingredients
1½ cups all-purpose flour

1 cup sugar

2 teaspoons baking powder

¾ teaspoon salt

3 large eggs

1 teaspoon pure vanilla extract

1 large lemon, zested

1 teaspoon fresh lemon juice

1½ cups whole milk ricotta, strained

½ cup (1 stick) unsalted butter, melted and cooled slightly

1½ cup raspberries, blackberries, or blueberries, divided

Coarse sugar for sprinkling (optional)
Directions
Preheat oven to 350°F.
Invert the bottom of an 8 or 9-inch springform pan and line with parchment paper. Attach the sides of the pan and lightly grease
In a large mixing bowl whisk together the flour, sugar, lemon zest, baking powder, and salt in a large bowl.
In a medium bowl whisk together the eggs, strained ricotta, lemon juice and vanilla until a smooth and fluffy mixture. Fold into dry ingredients with a spatula or wooden spoon just until combined, batter will be thick.
Drizzle in the butter then fold it into the batter until combined. Gently fold in 1 cup raspberries, taking care not to crush berries.
Scrape batter into prepared cake pan and scatter remaining ½ cup raspberries over top. Sprinkle with turbinado sugar.
Bake cake until golden brown and a tester inserted into the center comes out clean, 50–60 minutes or until toothpick comes out mostly clean when testing. Feel free to tent lightly with foil if the top starts to brown too quickly
Let cool in pan on wire rack 15-20 minutes before removing the collar and base of the pan. Allow to cool completely then slice and enjoy with a dollop of whip cream or a dusting of powdered sugar or icing sugar and fresh berries on top of the cake.
Leftover cake can be lightly wrapped for 1 day at room temperature after that it should be refrigerated for up to 3 days in the refrigerator.