Lemon Ricotta Cookies
These Soft, tender and fluffy Italian Ricotta cookies with a simple lemony glaze have a cake-like texture that just melts in your mouth. I have wanted to get these on the blog for a while now and finally got a change too and I'm so happy to share them with you guys! The dough can be made two days in advance making it a great make ahead recipe.
The history with me and these Italian cookies is simple. I grew up with lots of Italian friends and their moms became adopted aunts to me. I have been to many many Italian weddings and showers and although there were always a phenomenal spread of cookies on the build-your-own-and -take -home-your-own-package-of-desserts-table (if you have been to one of these showers you know what I mean by that - amazing!), these lemony ricotta cookies were by far my favourite. They may look very unassuming but oh boy once they hit your mouth you won't be able to resist. I love them chilled - they get more dense and moist when they are chilled and I love that about them - that is definitely the effect of the ricotta. They are a cross between a sweet Madeleine like my easy to make Easy Lemon Almond ones and a delicious lemon cake like my Food processor Lemon Olive Oil Loaf or my tender and moreish Lemon Bundt Cake. Can you tell I have a thing for lemony desserts?!?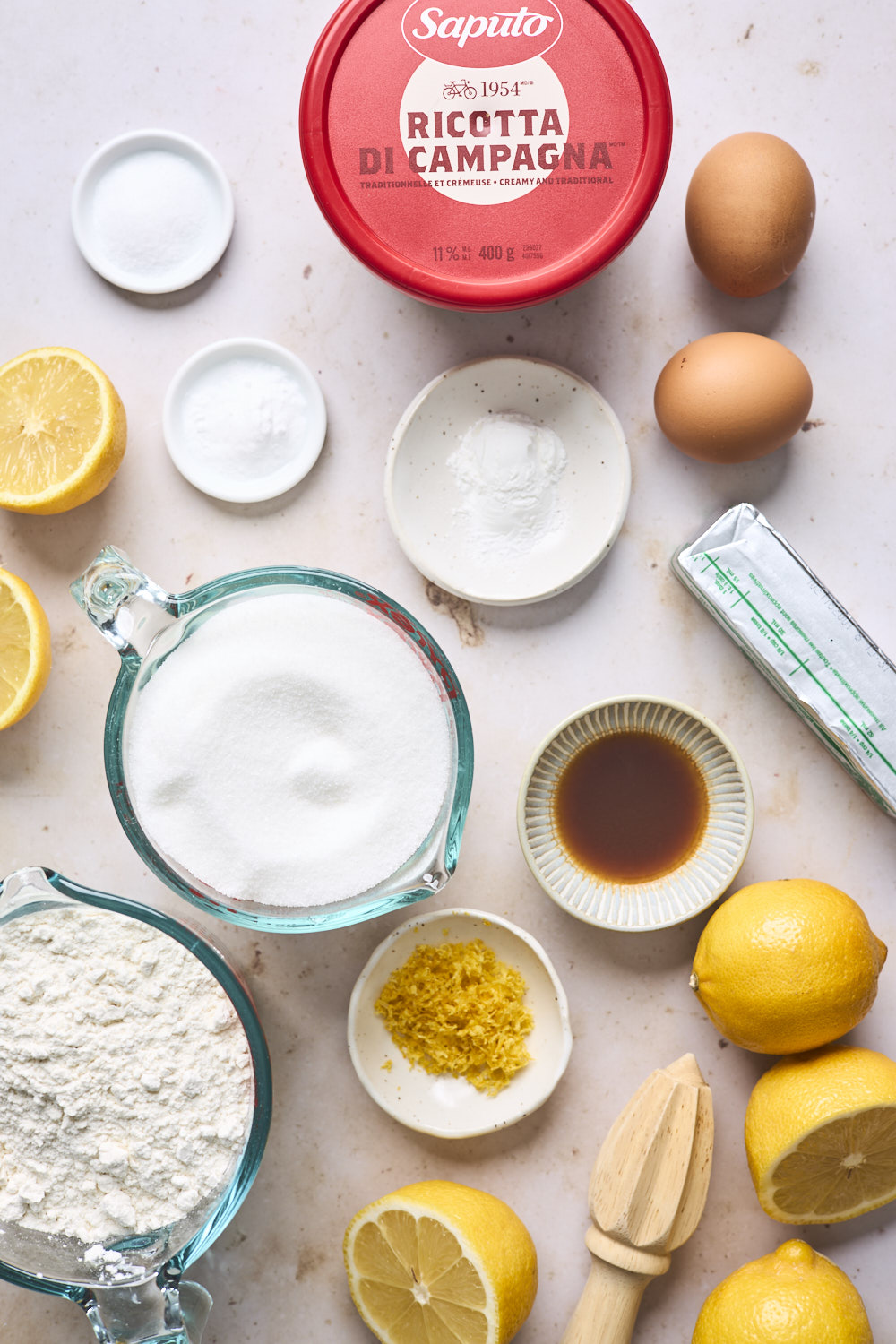 What is ricotta cheese?
Simply put ricotta cheese is an Italian fresh whey cheese made from sheep, cow, goat, or Italian water buffalo milk;whey left over from the production of other cheeses. The everyday ricotta we may be use to buying at the grocery store is commonly made of cows milk. When traditionally made; it's a way to put all that leftover whey to good use. But most of the quick and easy recipes out there, ones that I have made and loved, use a more straightforward process similar to making any other cheese: heat the milk, coagulate it in some way, and then strain the curds from the whey to form a soft, fresh, spreadable cheese product. Whether you are making it yourself or buying it - it has a very useful and delicious place in the kitchen.
Is Ricotta Cheese the same as Cottage cheese?
They are often mistake for each other and can sometimes be used interchangeably but not in this cookie recipe. Ricotta is a soft cheese that has a fine, moist, grainy texture. Cottage cheese is a lot lumpier and can be wetter too. Some savoury recipes like lasagna or stuffed shells can accommodate either cheese. But because of the extra liquid in cottage cheese, the end result will be runnier than if you use the drier ricotta. This can definitely wreak havoc on dessert recipes, and baked goods, where liquid and dry ingredient measurements have more of a critical effect.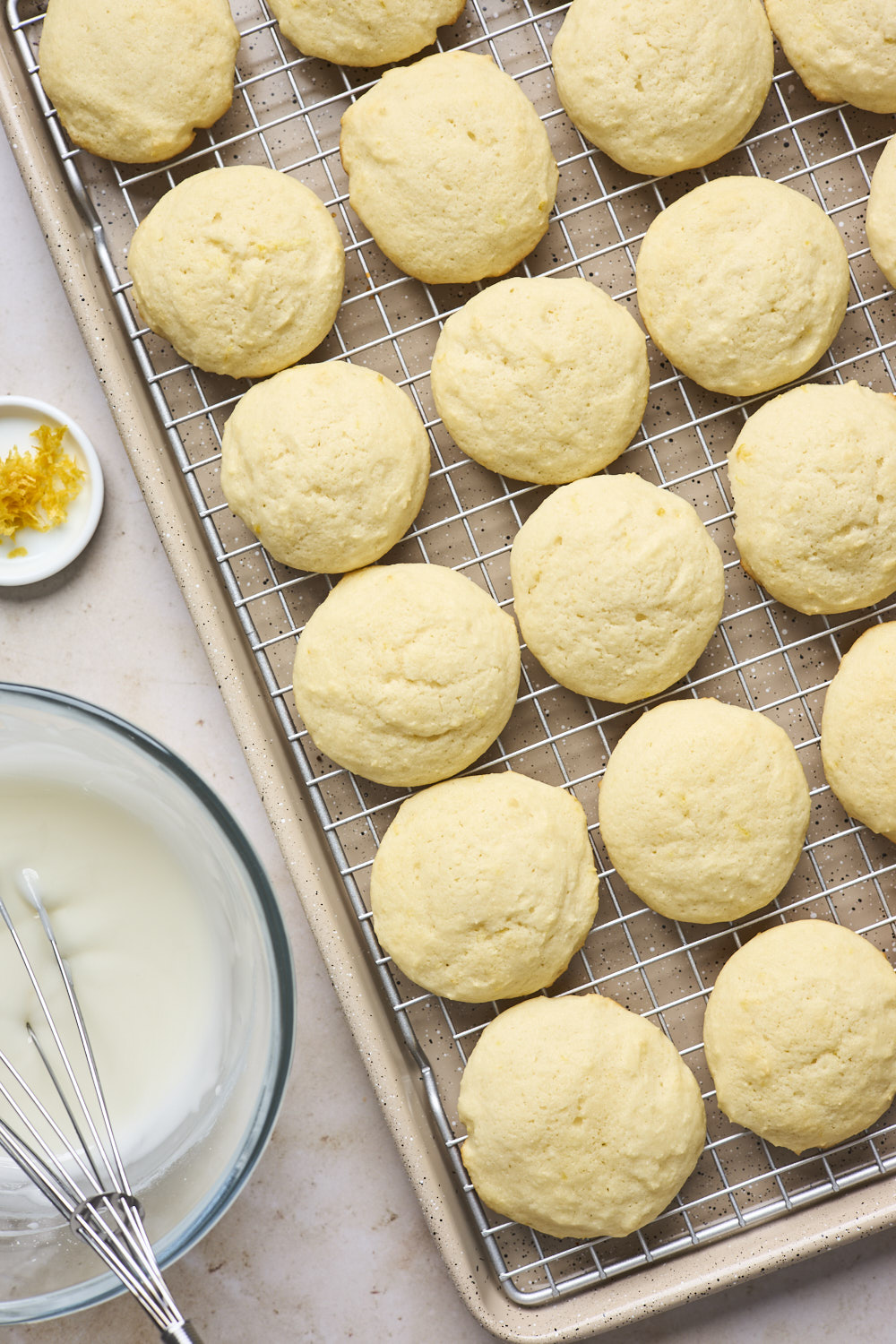 Baking with ricotta
Speaking of ricotta - have you ever baked with ricotta? I love ricotta and can literally eat it by the spoonful. It's so fabulous in lasagna and my lemon ricotta pasta and is equally delicious in sweet desserts, bake ups and my fluffy lemon ricotta waffles. When baked in a cookie, cake or waffle, ricotta is less about flavor and more about texture. Think: creamy, moist, soft, and airy. That is exactly how I would describe these Italian Ricotta cookies. I adapted this recipe from no other than Giada - her no fail recipe is straightforward and delicious and I just tweaked a few things to make them even easier to make. I think you are going to love these as much as I do.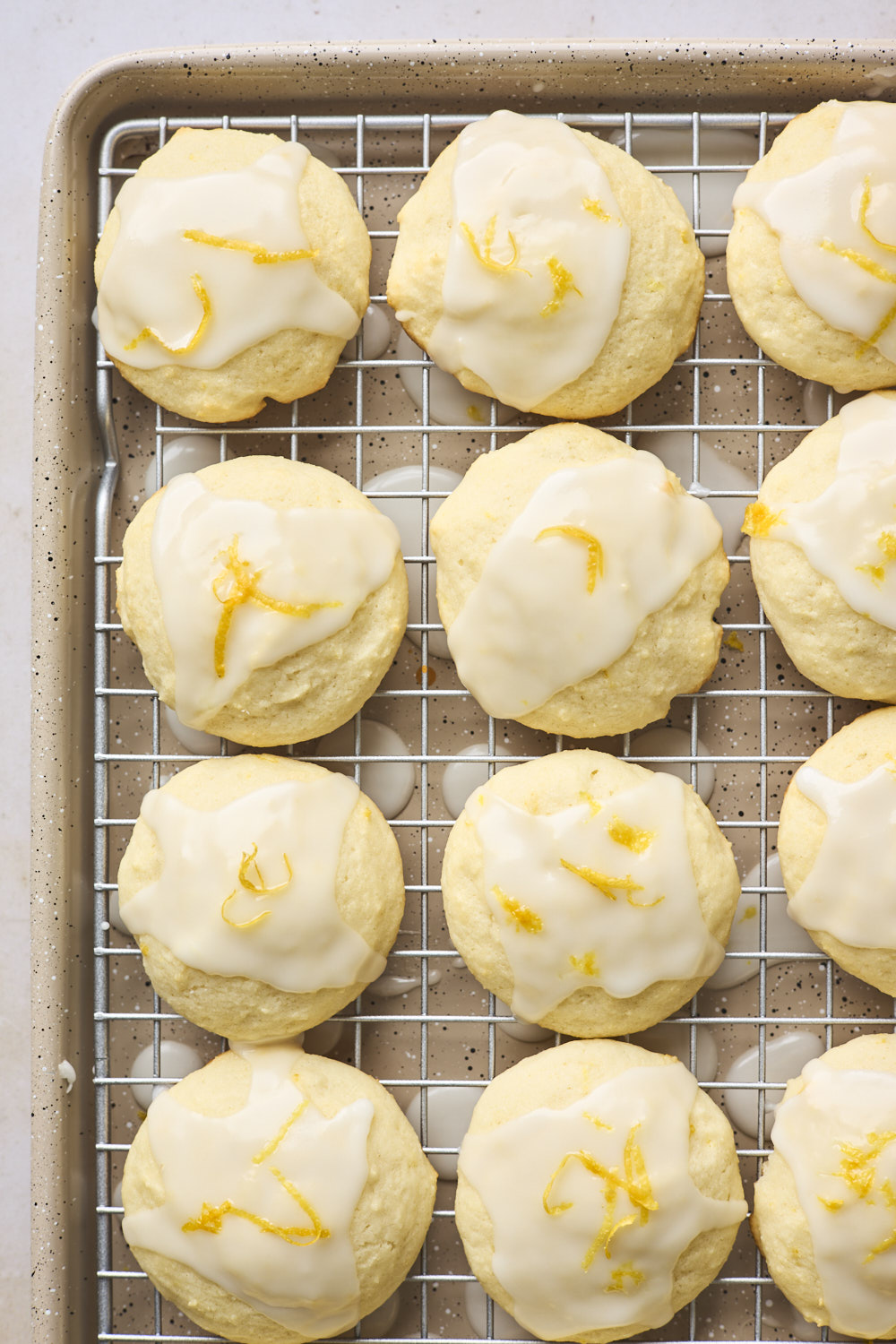 Italian lemon ricotta cookie ingredients
What I love about this recipe is that it calls for basic ingredients to create a tasty treat!! I call these little lemon ricotta cakelets! Here is what you will need:
Flour - I used All purpose flour for this recipe and have not tested it with gluten free flour.
Baking powder, Baking soda & Salt - a good balance of all three - creating a light and airy cookie with just enough rise.
Butter - I used unsalted to control salt in recipe and room temperature too
Sugar - granulated works well in this recipe
Eggs - I used large eggs at room temperature
Ricotta cheese - I used full fat creamy ricotta. Feel free to use homemade or store bought
Lemon juice and zest - Fresh lemons and fresh lemon juice is always best
Vanilla extract - optional but I can't bake a cookie without it - you can also use almond extract in these cookies instead of vanilla.
Powdered sugar/Confectioners sugar - it is perfect for the glaze
How To Make Lemon Ricotta Cookies
In a medium bowl combine or whisk the flour, baking powder, soda and salt and set aside.
Add the butter and sugar to the bowl of your stand mixer fitted with the paddle attachment or into a large bowl if you are using a electric mixer/ hand mixer. Cream the two together until fluffy.
Add the eggs one at a time and mix until well combined.
Add the ricotta cheese, lemon juice, lemon zest and vanilla and beat on low speed until combined.
Gradually stir in the dry ingredients until just incorporated. Then cover and chill dough for 20 min or even up to two days if you are making the dough ahead of time. This will make it easier to scoop out the dough, will allow the flour to hydrate fully for maximum delicious texture in these cookies, and will prevent exaggerated spreading while they bake.
Spoon the dough onto a prepared baking sheet when ready using a spoon cookie scoop or using a tablespoon measuring spoon or scoop. You want to leave about 2 -3 inches between each cookie as they will expand a bit.
Bake and when done, let the cookies sit on the baking sheet for about 5-10 minutes before transferring them to a cooling rack
Glazing the Lemon Ricotta Cookies
Place the cooling rack over a baking sheet for easy clean up.
Spoon the lemon glaze over each cookie. Use a butter knife, back of the spoon or icing spatula to spread the glaze if needed.
If you would like you can decorate the cookies by adding sparkling sugar and sprinkles at this point.
Let the glaze set for a couple of hours before storing or transporting the cookies
Recipe Tips
Chilling the dough in the refrigerator for 20 -60 minutes is important. It makes it easier to scoop the dough out evenly and prevents the cookies from getting too flat when baked.
Scoop out no more than 1 tablespoon of the dough so you get the maximum rise In your cookies - less than 1 tablespoon is fine but not more than 1 tablespoon
Room Temperature Ingredients: All refrigerated items should be at room temperature so the batter mixes together easily and evenly.
If you want to infuse these cookies with even more intense lemony flavour. You can add the lemon zest to the sugar before adding it to the butter and rub the sugar and lemon zest together with your fingers, until fragrant. This method releases every last bit of essential oil from the zest into the sugar, so you can have a totally flavor-packed cookie.
Freeze cookies unglazed and then defrost and glaze them on the day you plan to serve them.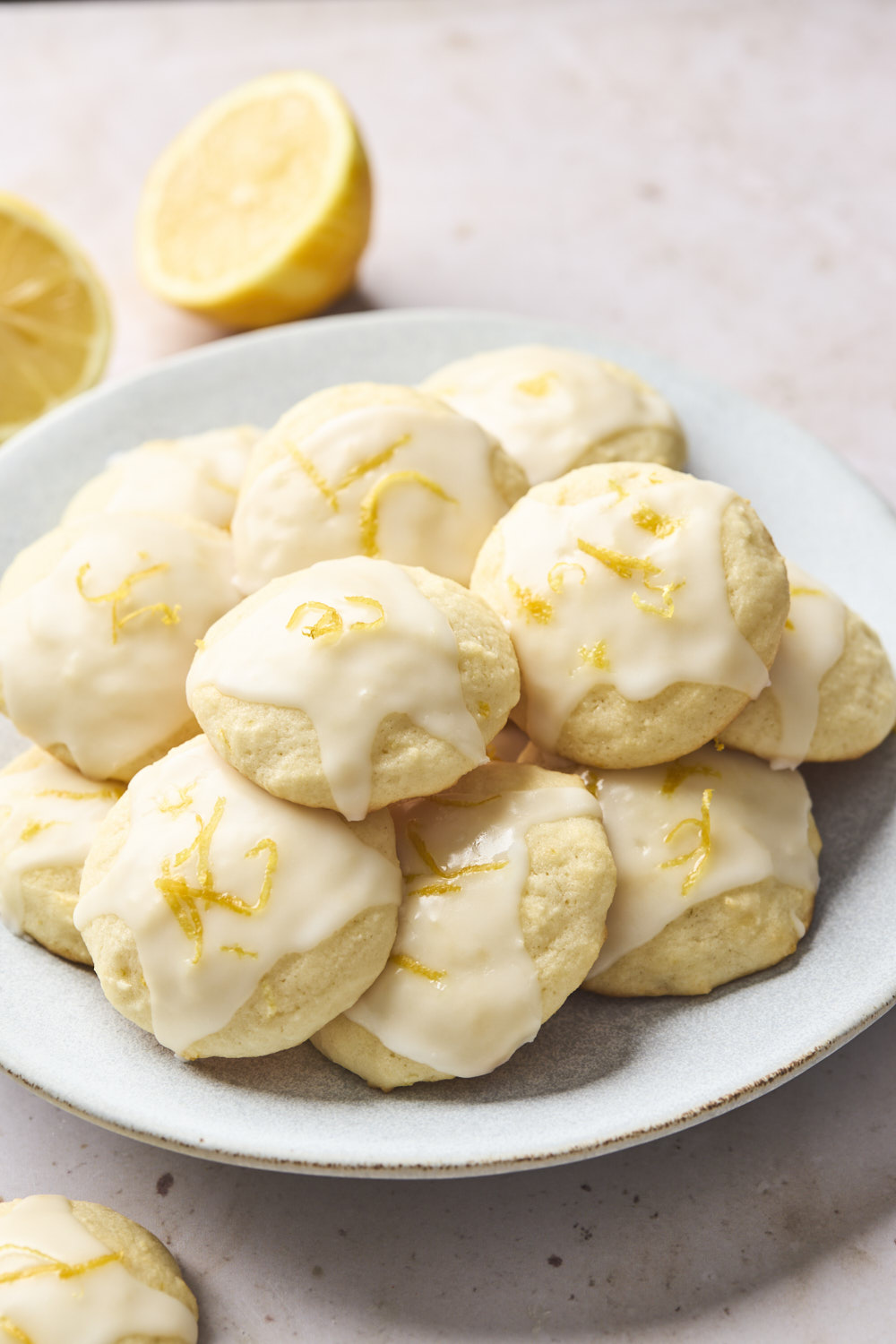 If you liked this lemon ricotta cookie recipe you will love these:
Recipe
Servings:
Approx 40 cookies
Prep Time: 20 mins
Bake Time: 15 mins
Non Active Time: 20- 60 min for chilling cookie dough
Ingredients
For the Cookies
2½ cups all-purpose flour

2 teaspoon baking powder

½ teaspoon baking soda

¾ teaspoon salt

1 stick unsalted butter, softened

1⅔ cups sugar

2 large eggs, room temperature

1¾ cup ricotta cheese (15 ounces), room temperature

2½ tablespoon lemon juice

1 tablespoon lemon zest

1 teaspoon vanilla extract
For the Lemon Glaze
2 cups powdered sugar

¼ cup lemon juice

Lemon zest for topping
Directions
Whisk the flour, baking powder, baking soda, and salt together in a large bowl.
Cream butter and sugar in a large mixing bowl until light and fluffy.
Add eggs, ricotta, vanilla, lemon zest and juice and mix to combine.
Add in the dry ingredients and mix until just combined.
Cover and chill cookie dough for 20 min to up to 2-3 days. (I usually do 1 hour and keep dough chilled between batches)
Preheat oven to 350°F and line baking sheets with parchment paper.
Scoop out dough using a 1 tablespoon measurement and place on baking sheet. (Use your finger or another spoon to help place then on baking sheet or use cookie scoop with release)
Bake for 13-15 min or until lightly golden around the edges. Cool on rack 5 min then slide cookies onto wire rack and cool completely.
Whisk together glaze ingredients and drizzle over cookies. I like to sprinkle lemon zest over them but you could leave as is or even use decorative sprinkles over them.
Glazed cookies will stay fresh in a sealed airtight container or bag at room temperature for 2 days or in the refrigerator for up to 1 week.
Recipe Notes
Can I make these cookies ahead if time? Yes you can do this 2 ways. The FIRST away is to chill the cookie dough in the refrigerator for up to 2-3 days, but it can also be frozen for up to 3 months. Allow to thaw overnight in the refrigerator before baking. And the SECOND way is to Freeze the unglazed and baked up to 2-3 months. Thaw overnight in the refrigerator and bring to room temperature before glazing and serving.