Mediterranean Style Baked Cod
Updated 15 May 2023
This healthy Mediterranean style baked cod is easy, fast, and an incredibly healthy dinner perfect for any night of the week. It is such a great cod recipe I know you guys will love. It's a combination of perfectly cooked, flaky and tender cod. The fish is served over a medley of colourful veggies. What I love about this dish is that it's a roasted fish dish plus veggies all in one. Besides the convenience of a one pan meal, both the fish and the vegetables roast together mingling their flavors as they cook side by side producing some very delicious pan juices. It's a great fish recipe that the family will love! The recipe calls for a firm white fish, such as striped bass, halibut, or hake fillets but salmon would also work beautifully with this dish.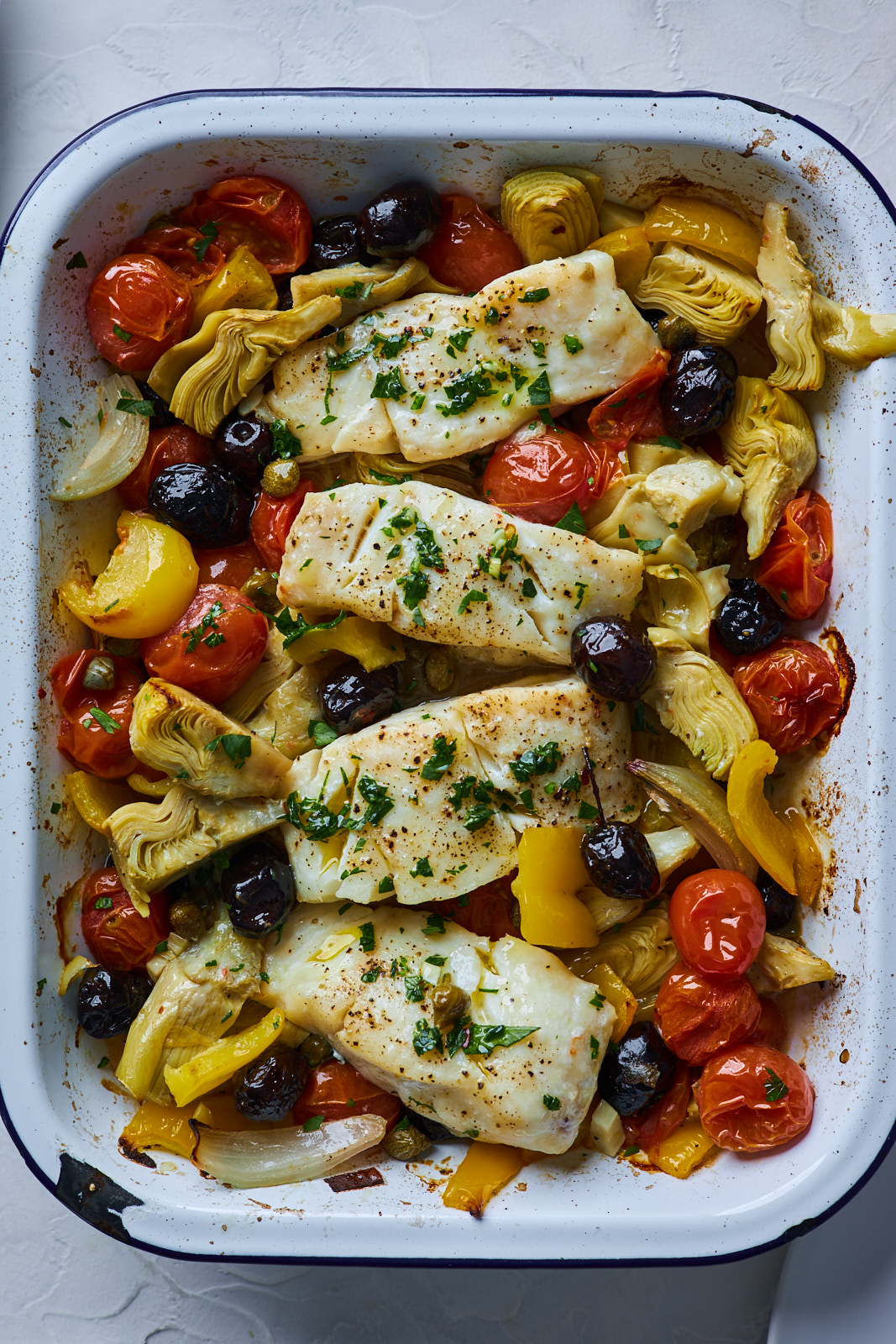 This is a wonderful recipe from the Epic 30-Minute Meal Roasts book by Maja and Jernej Zver of Jernej Kitchen. I have been following their blog for quite a while and I just love all their work - their recipes, photos and especially their videos. They are a talented husband and wife duo and their book is just what every home cook needs. It's the perfect inspiration for simple and quick roasts that are great for the midweek and delicious and fancy enough for Sunday lunch or dinner. We can all feel a little intimidated sometimes when it comes to roasting different types of meat or seafood and even certain veggies. They really help take the guess work out when it comes to roasting anything from appetizers to desserts in this book. The book features 100+ quick and easy recipes and is split up into various sections: a variety of meat sections including beef, lamb, poultry, pork and seafood where this tasty recipe comes from and of course a roasted veggie section along with sides and appetizers, brunch dishes, hands off sweet treats and essential sauces. Their recipes are simple to follow and so tasty and each dish is elevated further by a sauce recommendation. I was so happy that they sent me a copy of their book and couldn't wait to share one of their recipes on the blog - one I make a lot as we are a seafood loving family.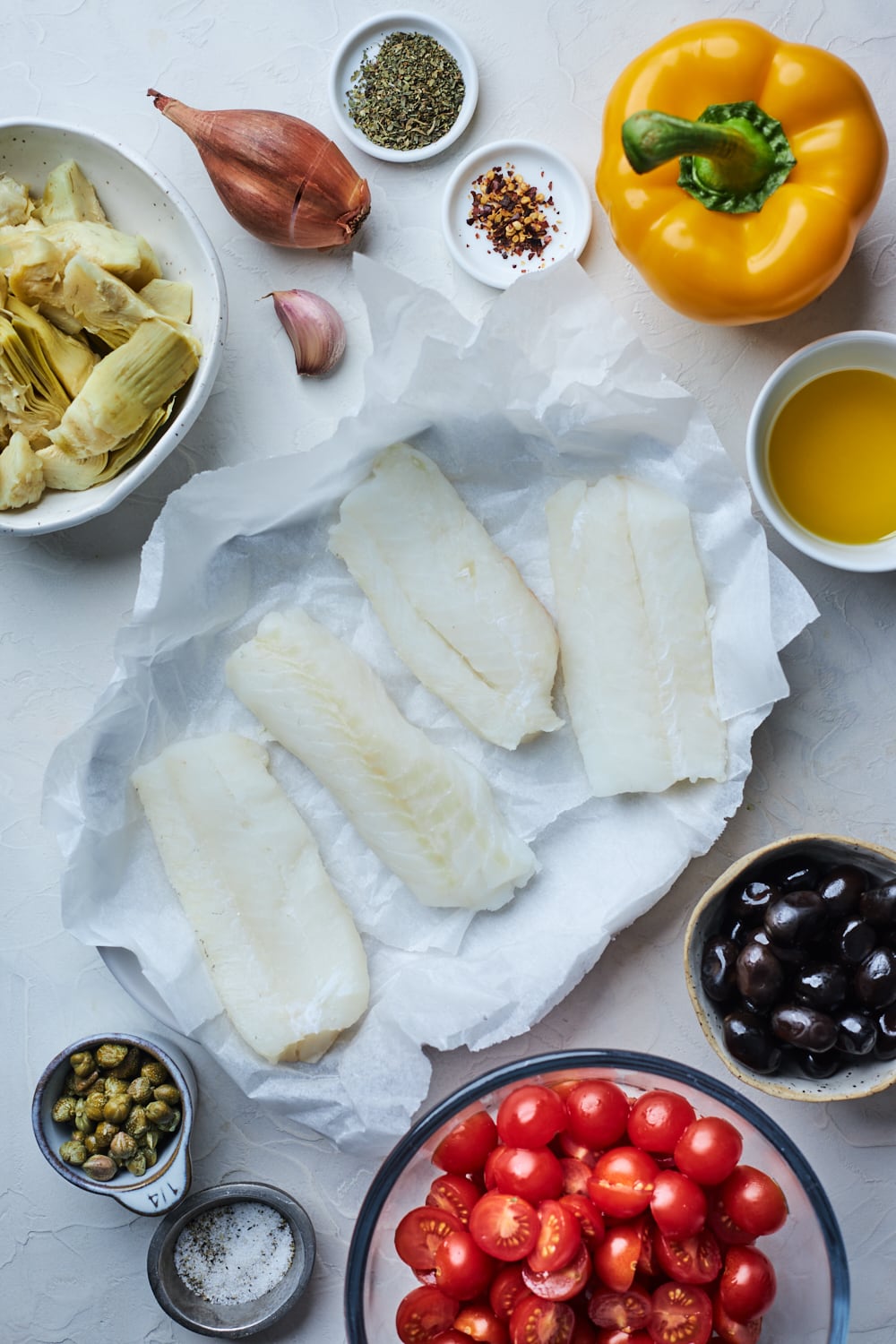 Baked Cod Ingredients
This recipe includes pantry items that I always seem to have on hand along with the fresh ingredients in the recipe. This is what you will need to make this Mediterranean Style Baked cod:
Cod Fillets: or any firm white fish like striped bass, halibut, or hake fillets but salmon would also work beautifully with this dish. Cod has great nutrition stats- a good source of lean protein and loaded with vitamins and minerals
Artichoke Hearts: I always use cooked canned ones but the jarred ones in oil are fine to use too once drained
Olives: I like to use Nyon ones or the black wrinkled ones but any ones you like would work pitted or not pitted
Shallot & Garlic: these add flavor to the dish - adjust amounts to taste and
Capers: gotta love them for the tangy brine, drain and rough chop if desired
Vegetables: an assortment - I usually go for cherry tomatoes and bell peppers but feel free to use green beans, asparagus or zucchini too
Spices: salt and pepper, chili flakes and oregano or Italian seasoning (a blend of thyme, rosemary and oregano) is all I use but feel free to use whatever herbs and seasonings you like. The cod is seasoned simply with salt and pepper in this recipe but feel free to season it with a little more Italian seasoning, a pinch of garlic powder or onion powder or even some lemon pepper seasoning too and you can definitely switch up the spice blend to suit your taste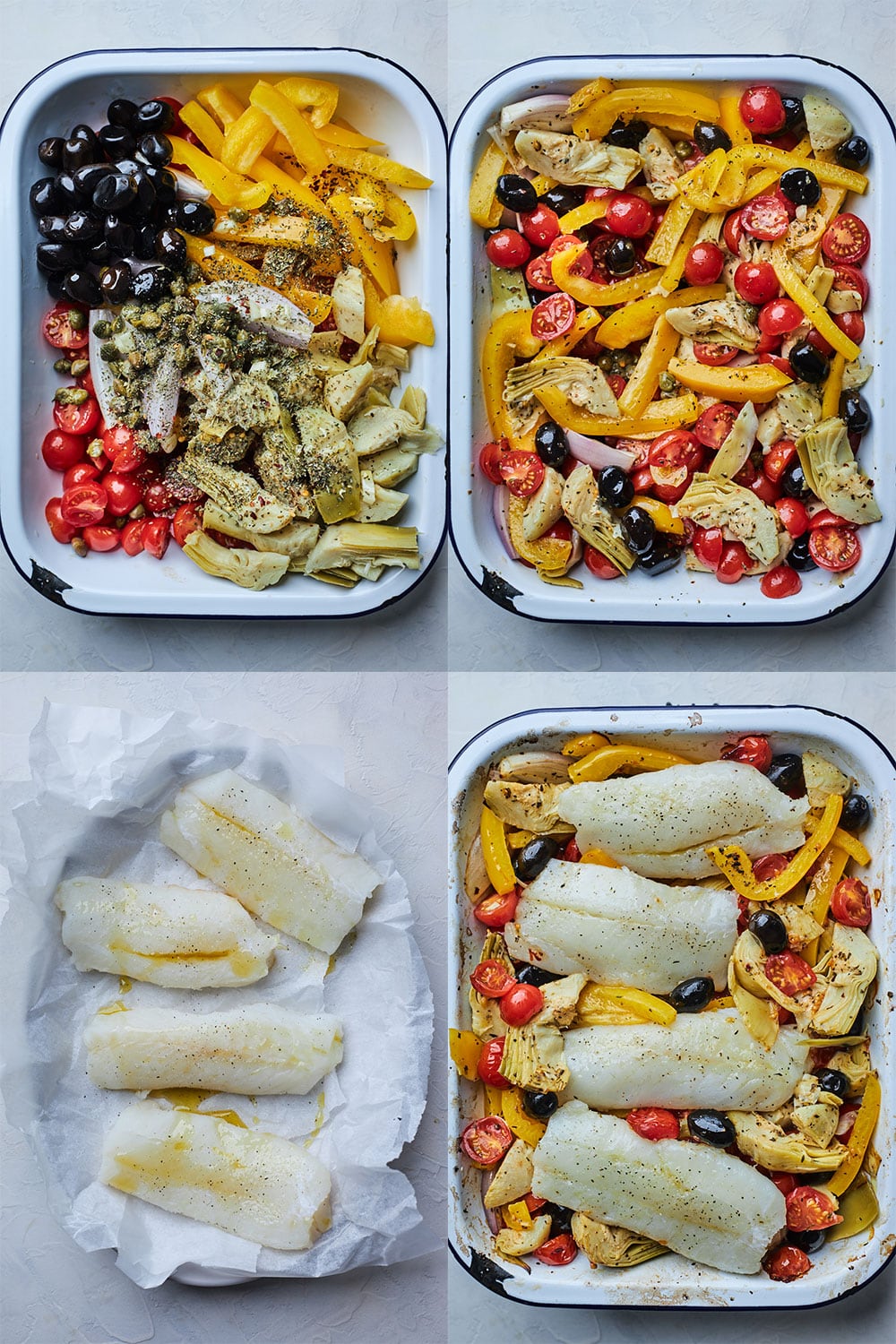 How to make Mediterranean Style-baked Cod
This is such an easy baked cod recipe. Simply toss the veggies, olives and capers with the spices and olive oil, roast then add the seasoned cod and roast until its cooked through. Serve the cod with the wonderful pan juices, and veggies and then serve with a side of rice, potatoes or crusty bread to mop up the pan juices and enjoy. The book recommends serving this dish with a Gremolata sauce and I couldn't agree more. It's so good with the extra fresh flavours from the sauce. I also included the book's recipe for the Gremolata sauce below. Enjoy and if you are looking for a little inspiration in the kitchen I recommend picking up this book. Make sure to check out their website where you can order your very one copy.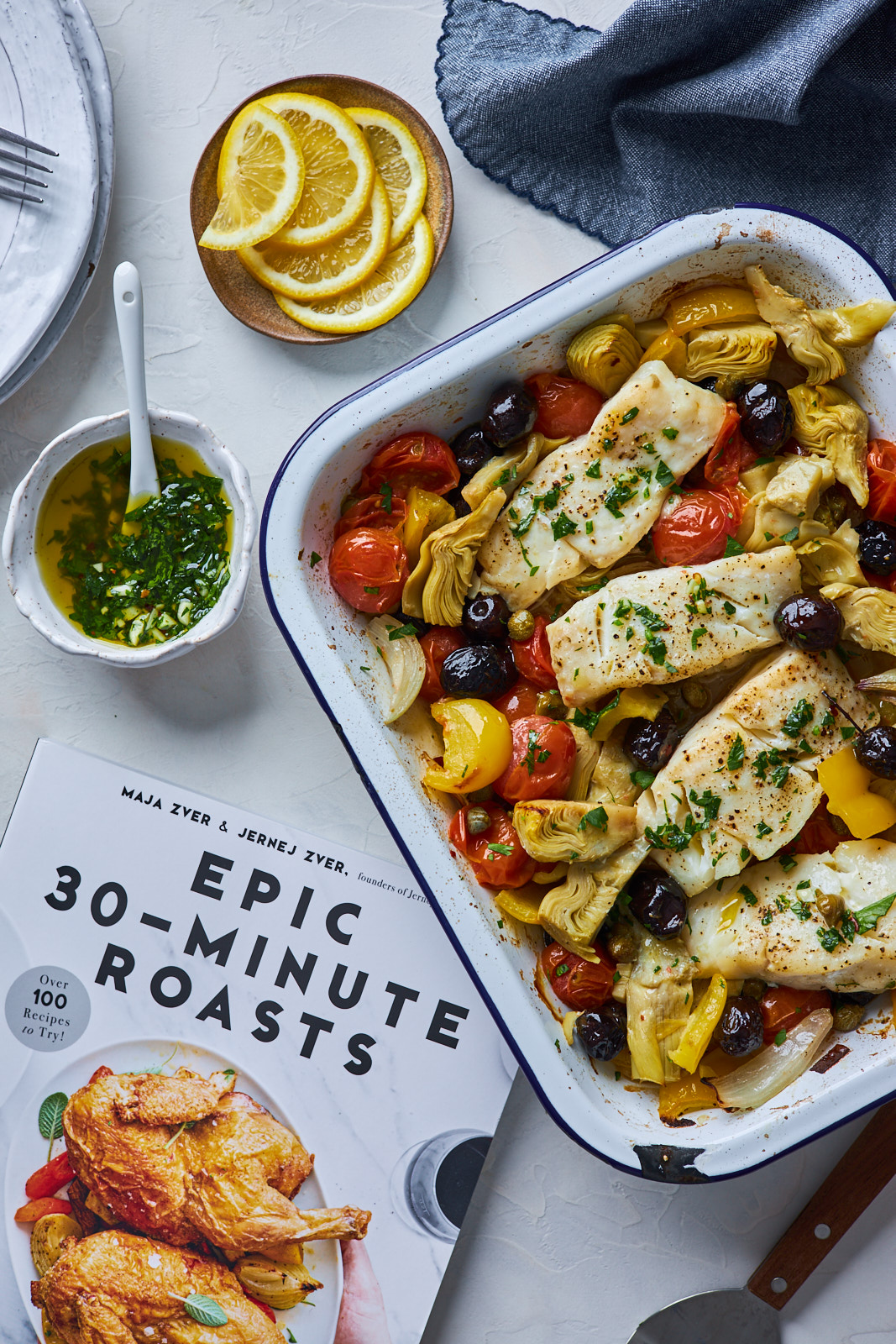 Baked Cod Storage, Reheating & Freezing
TO STORE: Place leftovers in an airtight container in the refrigerator for up to 2 days. I prefer to store the cod and vegetables separately for easy reheating.
TO REHEAT: To avoid drying out the fish, rewarm it in a baking dish in the oven at 350 degrees F until heated through.
TO FREEZE: I don't recommend freezing this dish but you can technically freeze baked cod well wrapped or in an airtight container for up to 3 months and thaw overnight in the fridge and reheat as stated above but the texture may change a bit.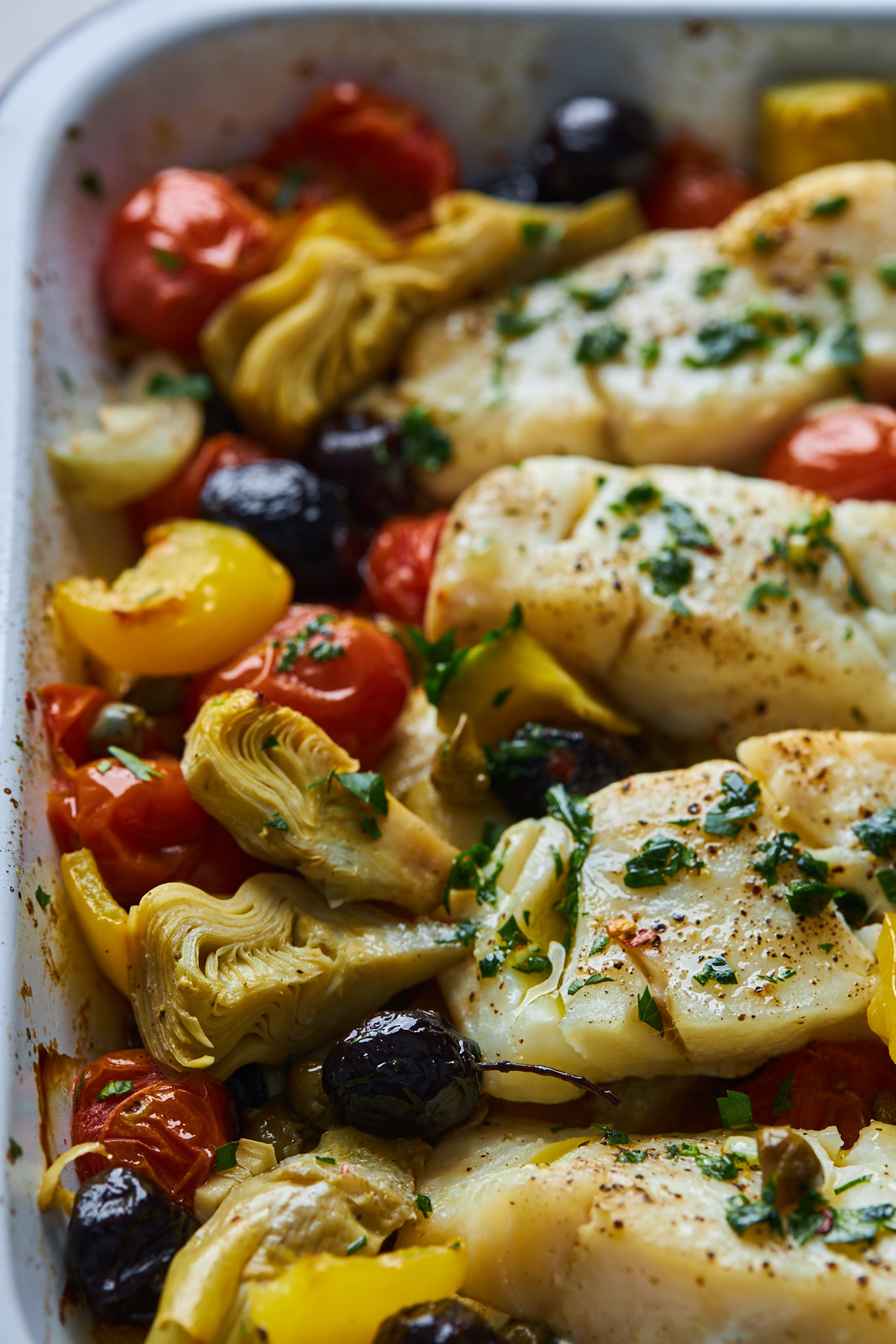 More Seafood Recipes You Will Love
Recipe
Prep Time: 5 mins
Cook Time: 22-24 mins
Ingredients
For the Cod
1 lb (450 g) cherry tomatoes

One 14 oz (398 ml) can or jar of cooked artichoke hearts, drained and quartered

1 yellow or Orange bell pepper, stemmed, seeded and sliced

1 shallot, peeled and quartered

1-2 garlic cloves, peeled and chopped

½ cup of black olives

¼ cup of capers

3 tablespoons olive oil

Kosher Salt and Black pepper to taste

1 teaspoon oregano or Italian seasoning

½ teaspoon chili flakes

4 (½-lb / 220g) cod, halibut or hake fillets or cod loins
For serving
Chopped fresh parsley

Freshly squeezed lemon juice

Ground sumac

Gremolata sauce
For the Gremolata sauce
2 cloves of garlic

2 tablespoons fresh lemon juice

1 teaspoon lemon zest (optional)

4 tablespoons olive oil

Salt and Pepper

¼ teaspoon chili flakes

3 tablespoons chopped fresh parsley
Directions
Arrange a rack in the middle of the oven, then preheat it to 450°F.
In a medium size baking dish (lining with parchment paper is optional) combine the tomatoes, artichokes, bell pepper, shallot, garlic, olives, and capers. Drizzle the veggies with 2 tablespoons of olive oil and seasoning with salt, pepper, chili flakes and oregano or Italian seasoning. Toss to combine and then roast on the middle rack of the oven for 12 minutes.
Remove baking dish from the oven, and REDUCE temperature to 410°F. Season the cod fillets with salt and pepper, and drizzle it with remaining oil. Place the fillets over the vegetables in the baking dish. Roast on middle rack of the oven for a further 10-12 minutes, or until a meat thermometer inserted into the thickest part of the fish registers 125°F for the internal temperature. The fillets will be opaque and fork tender.
Storage: Store cod and vegetable leftovers in the refrigerator in an airtight container for up to 2-4 days. Reheat in the microwave or in the oven.
For the Gremolata Sauce (optional)
In a small bowl, stir to combine the garlic, lemon juice and zest if using, and olive oil. Season with salt and pepper, then stir in the chili flakes and parsley.
To serve, plate the fish and roasted vegetables, then sprinkle them with the parsley, lemon juice, and sumac. Top the fish with the Gremolata sauce if using.