One Pot Hamburger Helper
Updated September 28th 2022
This very creamy one pot pasta and ground meat meal is lighter than the classic version and even has greens in it for a boost of veggies. It's a great recipe - quick to make and pure comfort in a bowl. The ground meat is seasoned and cooked then the pasta is added and it cooks in broth and a bit of cream and finished is off with cheese for a delicious homemade version. Its sort of the grown up version but one that the kids will love as well.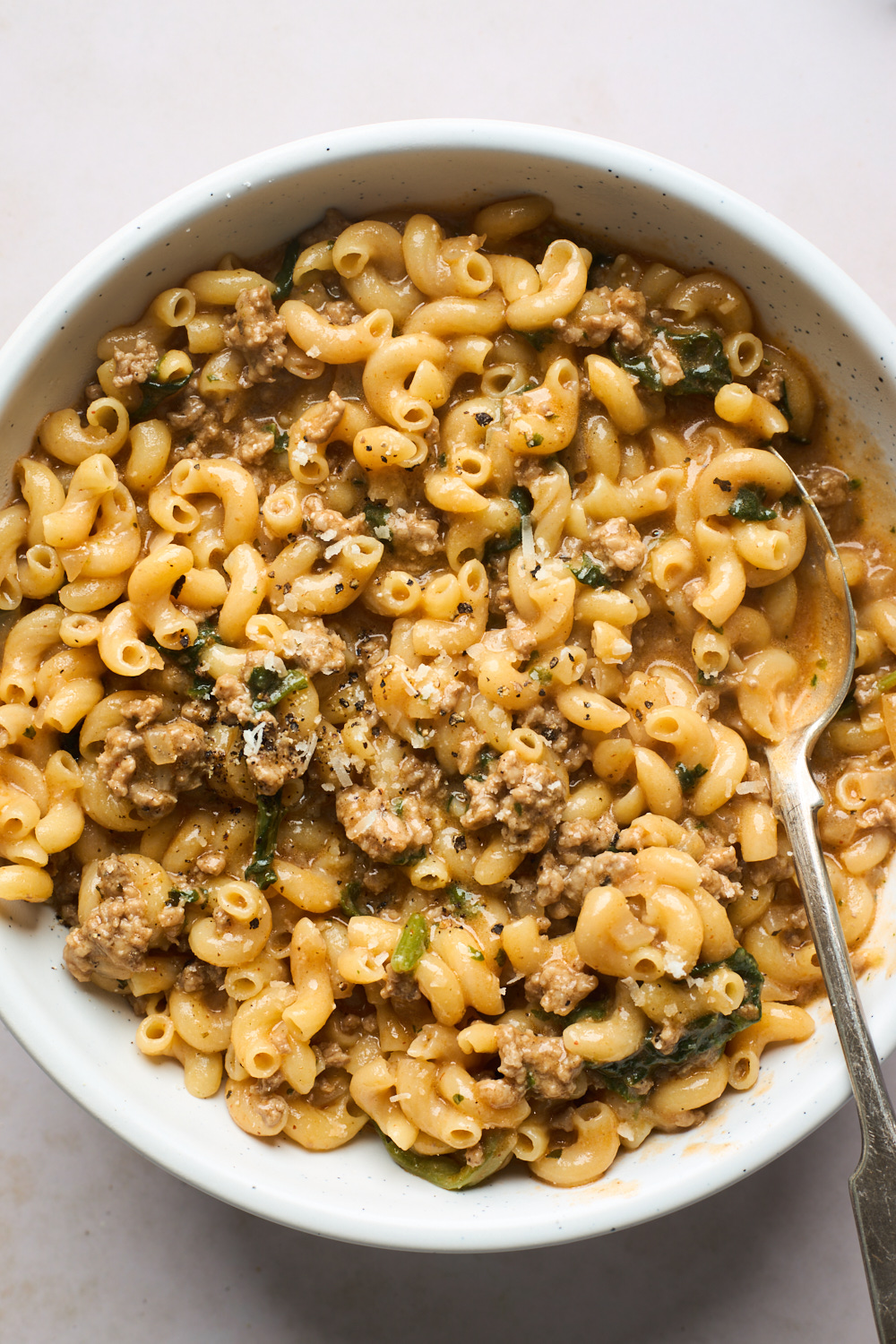 What is hamburger helper?
I have to be completely honest with you when I say I have never had it in my life but the concept of it is amazing. The boxed stuff I was exposed to growing up included KD (Kraft Dinner), pizza pockets and Mr noodles and all of those things required a lot of puppy eyes and begging. Hamburger helper is basically like Kraft Dinner - a box of dried noodles and seasoning that you cook up with meat and add liquids to according to the package instructions. Hamburger Helper was introduced in 1971 in response to a meat shortage and escalating meat prices. Hamburger Helper allowed homemakers to stretch a single pound of hamburger into a meal for a whole family. They were onto something. One pot meals are the best for that. Feed many with one pan of food. No need to boil pasta separately. Its also known as cheeseburger macaroni.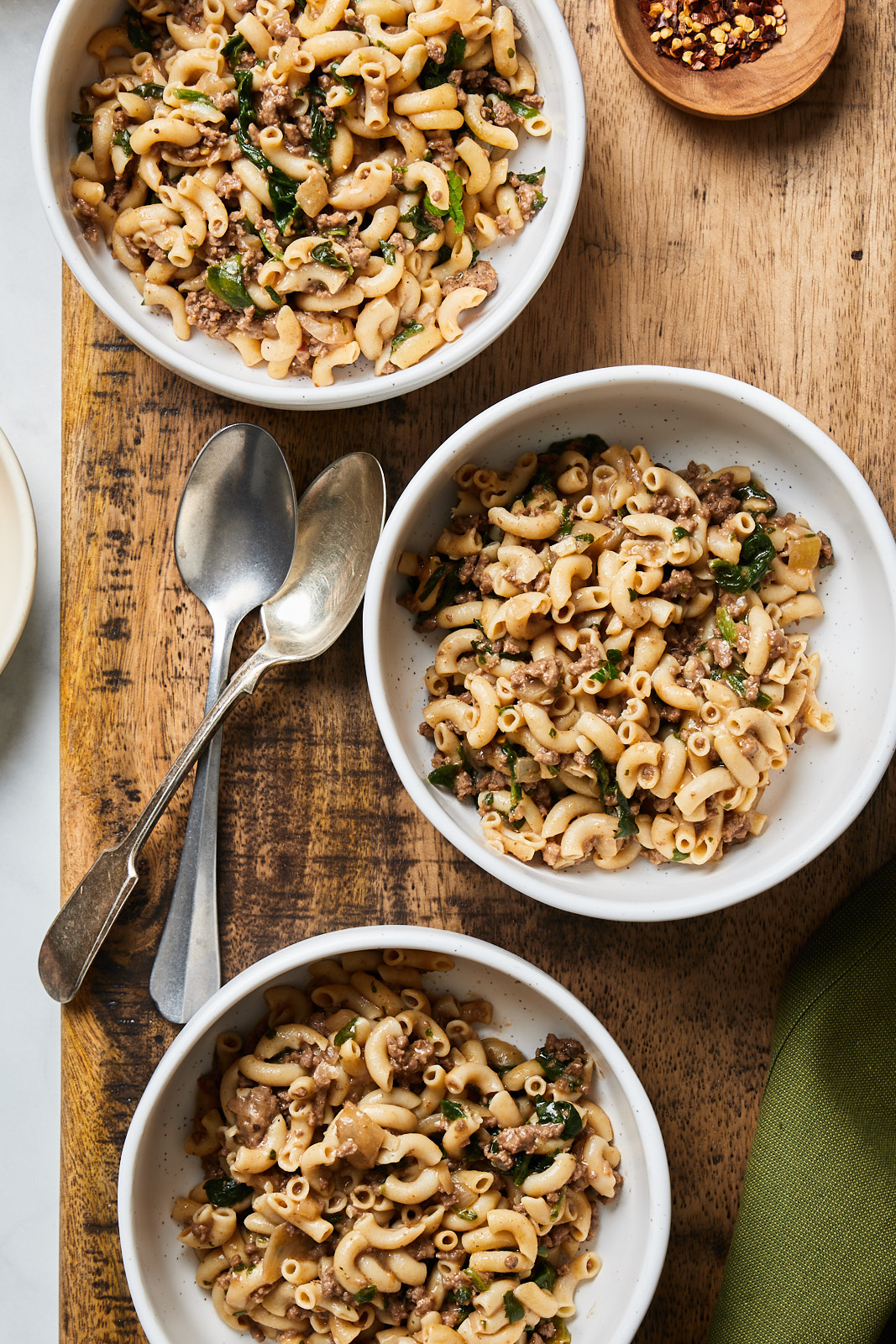 Why is Homemade Hamburger Helper Better?
That is an easy one. Anything homemade is always better then the packaged product because you can make it the way you like it and can control what goes into it. Apart from that a lot of the boxed stuff out there has stuff in it that you just don't want or need in your meal so it just makes sense that making it from scratch is way better. Don't get me wrong there are moments when I need a little KD in my life but generally homemade is the better way to go. This is a sort of lightened up version with less cheese than a lot of recipes out there but just as delicious. It also doesn't use tomato sauce in it juts some tomatoes paste for some richness but feel free to add more or even some tomato sauce for a more tomato based sauce and flavor.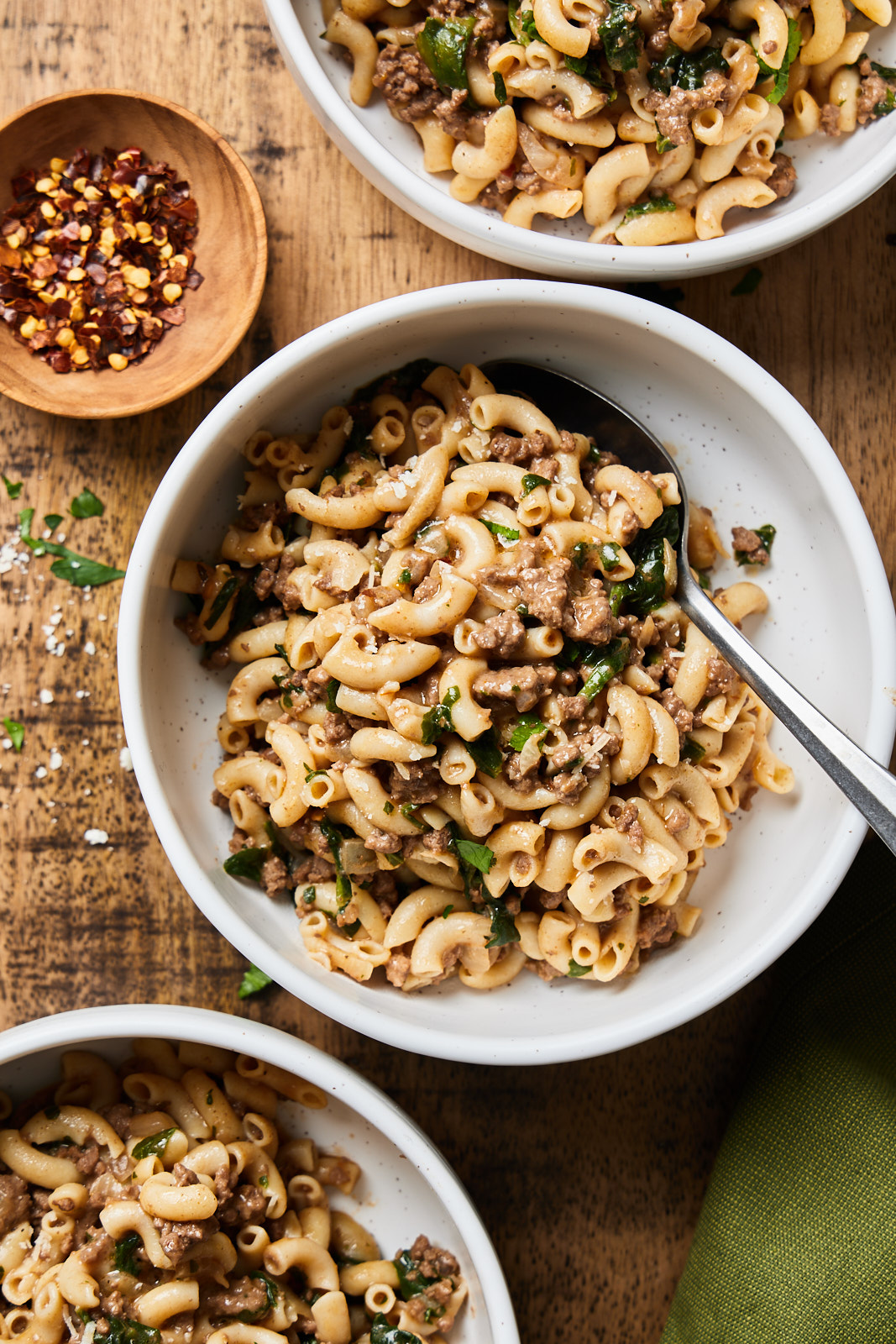 Homemade Hamburger Helper Recipe Ingredients (specific amounts in recipe card below):
PASTA: classic hamburger helper uses elbow macaroni but any short pasta like ditalini or even penne will work. I use a gluten free pasta for mine and its works great for a wheat free option
ONION & GARLIC: I like using fresh garlic and fresh onion but feel free to use dried onion powder and garlic powder
SPICES:I like using a combination of paprika, Italian seasoning, chili powder or red pepper flakes and of course salt and pepper. Feel free to add some dried mustard or use fresh herbs instead for extra flavour or switch the flavourings up to taste.
TOMATO PASTE: this adds some richness to the sauce but the amount doesn't make it a tomato based pasta - feel free to add more for that to even adding up to 1 cup of tomato sauce for a richer tomato based sauce.
WORCESTERSHIRE SAUCE: This is optional but always adds delicious flavour - feel free to use a little soy sauce in its place for extra flavour or leave it out
BEF BROTH: beef broth has a bit more rich flavour than chicken broth or vegetable broth - but you can use whiter you prefer in this recipe. I usually chose a low sodium one so that I can control the amount of salt in the recipe.
GROUND BEEF: classic hamburger helper is made with ground beef - I always like to use lean ground beef, but feel free to use ground chicken or ground turkey or even a vegan mince
WINE: red or white wine for a more flavourful and grown up flavor to this easy homemade hamburger helper
MILK: milk is optional - you can use more broth in its place or for a richer sauce you can use heavy cream
SPINACH: I love to add in some greens to mine just because why not - totally optional and you can use chopped kale or spinach - fresh or frozen. Feel free to leave out or add other veggies its place like green peas or even chopped broccoli.
CHEESE: You can add whatever shredded or grated cheese you would like - I used parmesan cheese but most recipes use sharp cheddar cheese - feel free to use what you like or what you have on hand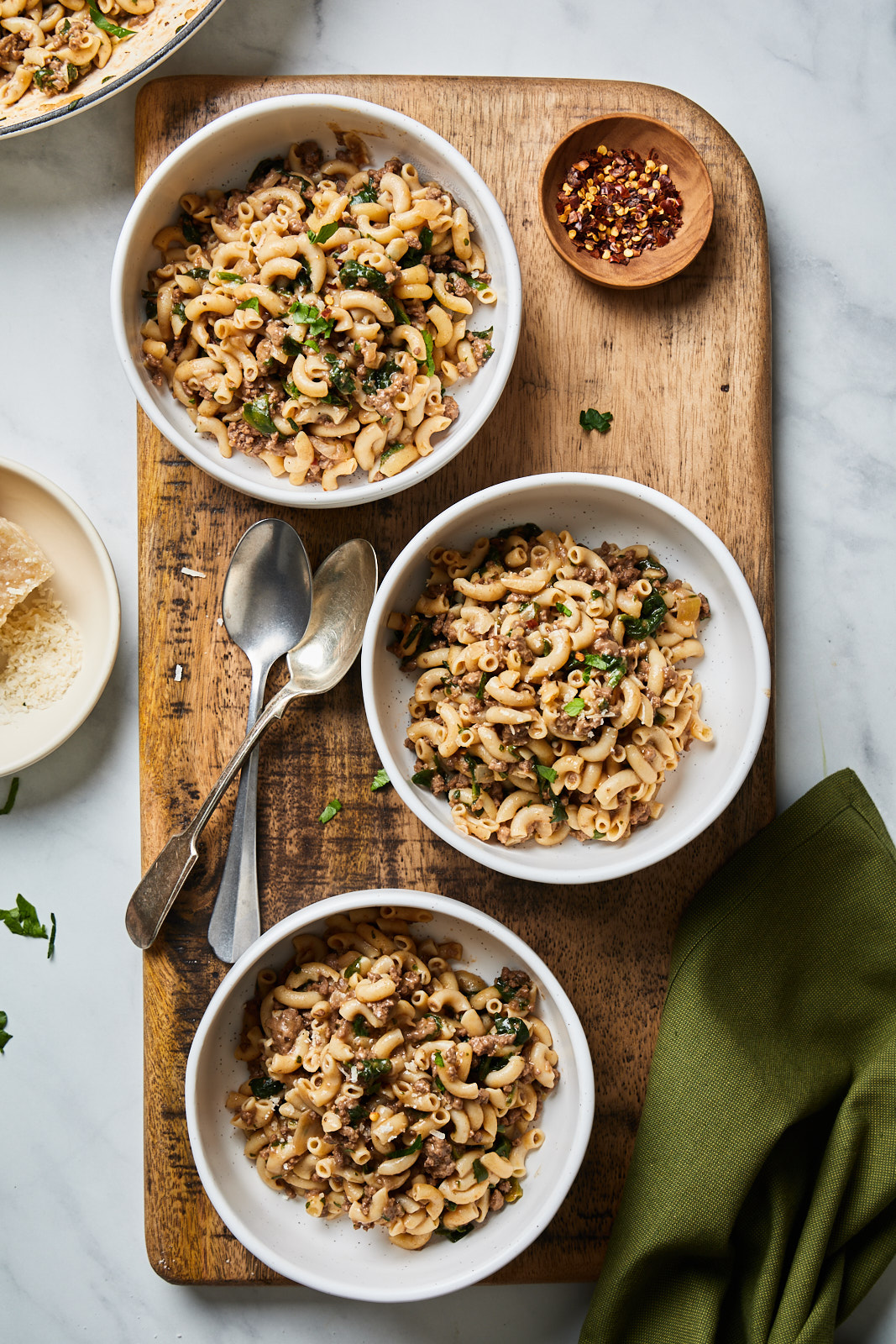 How do you make Homemade Hamburger Helper?
You are basically building the meal with everything that the box would have. So you need pasta. You need seasoning. That is where things get fun. You can play up the seasoning to your taste. I chose the traditional route - safer route or more familiar with pantry basic seasoning but you can experiment with different spices and flavours. I heard that the boxed version comes in different flavours like Italian, cheesy and Mexican. Feel free to chose the seasoning according to the flavour you want your hamburger helper in. I have yet to try Mexican but I'm loving the idea already. Here are the simple steps to making this one pot hamburger helper:
Brown Ground Beef - with seasonings, onion and garlic
Add tomato paste & W sauce and deglaze pan with wine if desired, stir in greens if using
Stir in pasta, broth and milk - bring to simmer and then reduce and simmer until pasta is tender
Stir in grated cheese and serve with extra cheese and chopped fresh parsley
The liquids you add will definitely change the flavours too. If you want a heavier creamier version feel free to go for a full cup of cream instead of just a half cup and reduce the broth accordingly. I have made it with broth alone for an even lighter version and didn't mind it, my hubby did though so that never happened again. You can add a lot more cheese too, making it more of a mac and cheese hamburger helper or some call it a cheeseburger helper. A lot of people love to switch the tomato paste to ketchup for a little bit of sweetness and that is ok too. When it comes to the meat component there are options there too. I use lean ground beef but you can use any ground meat or even a vegan ground meat option. I find that ground beef takes really well to the seasoning - whereas the others require a bit extra seasoning to add flavour to the broth and the overall meal so keep that in mind while making it. Just check and adjust as you go along. No where in any of the boxed stuff with you find greens of any kind in hamburger helper but you know how I feel about greens - there's always a place for them in my books. You dont have to add them but I do every time - maybe I feel that adding them negates the cream and cheese. I always use gluten free pasta and this recipe works with whatever pasta you have. I just recommend sticking to the classic and using short pasta to make this dish.
I do love a one pot meal. But with every one pot meal that has pasta in it, the longer it's left the thicker it gets because obviously the pasta soaks up the liquid. The longer it sits the more it will absorb. If you have leftovers remember to add a bit of broth when reheating to add back some creaminess - that is if there are any leftovers. Quick, easy and better than the boxed stuff - I call that a winner of a dinner! Enjoy
Make Ahead, Storage, Reheating & Freezing
Can I Make This one pot Homemade Hamburger Helper In Advance?
It can technically be made ahead BUT Like any one pot pastas - it's best when enjoyed hot off the stove top as the pasta will continue to absorb the sauce and soften. That being said you can make the meat sauce mixture part of it and store in the fridge for up to 4 days in advance and then when you are ready to cook it completely just add in the pasta, broth and milk and simmer until pasta is cooked. When it sits and is allowed to cool, the pasta will soak up the extra liquid and it won't be as wonderful as it is fresh. The leftovers are still good, just not AS good as they are fresh off the stove.
Store: Leftovers in an airtight container or covered in plastic wrap in the refrigerator for up to 4 days.
Reheat: To heat up the leftovers, simply add everything to a saucepan on the stove until warmed through. You may need to add extra brot, milk or cream to help loosen up the sauce as with any one pot pasta dishes.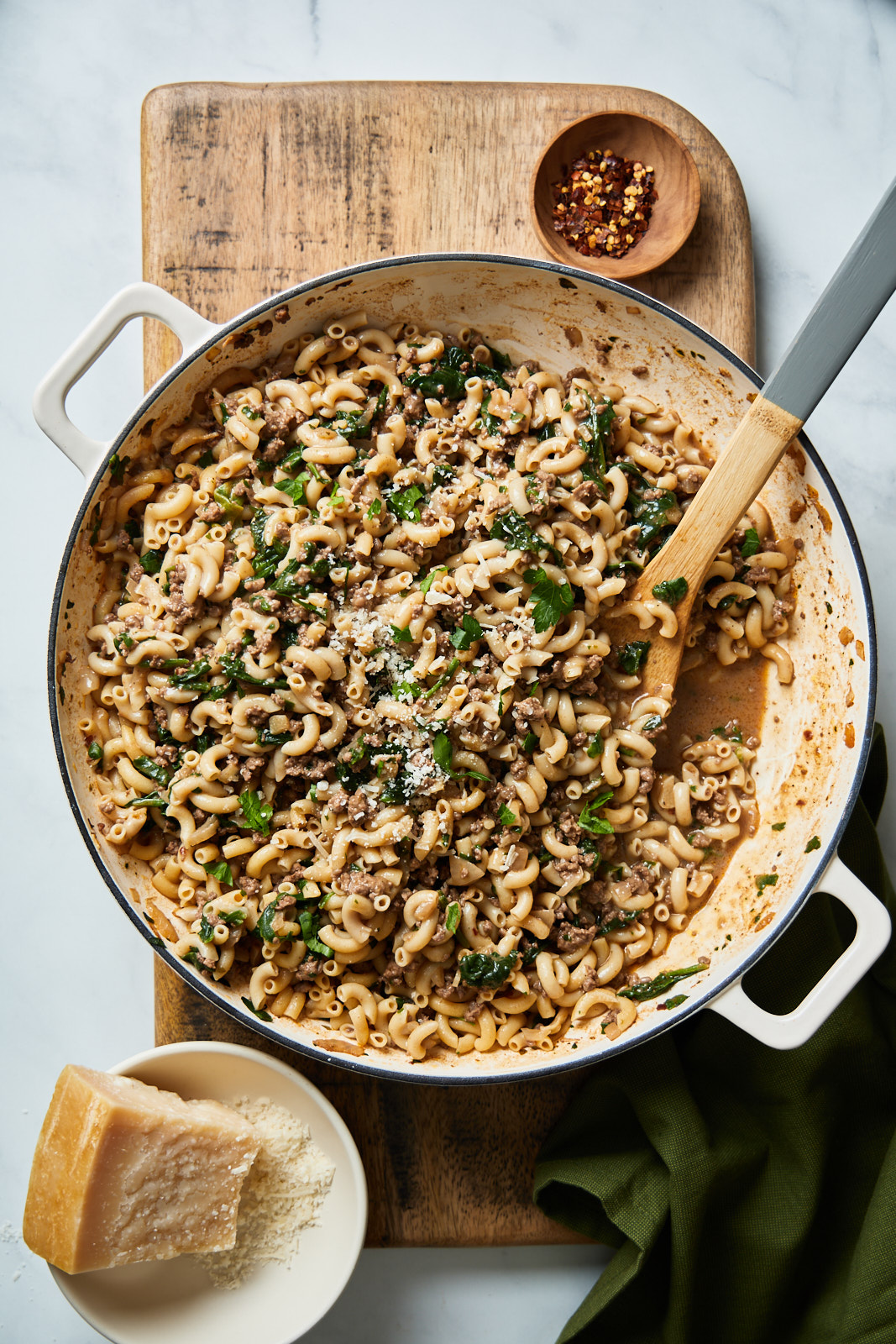 More One Pot Meals You Will Love:
Recipe
Prep Time: 10 mins
Cook Time: 20-30 mins
Setting Time: 2-4 hours
Ingredients
2 tablespoons olive oil or vegetable oil

1 yellow onion, peeled and diced finely

2 cloves of garlic, peeled and minced

½ teaspoon chili powder or chili flakes

1 lb. lean ground beef

1 teaspoon salt

½ teaspoon black pepper

½ teaspoon paprika

1 teaspoon Italian seasoning

2 tablespoons tomato paste

1 tablespoon Worcestershire sauce

¼ cup red or white wine (optional)

12 oz. uncooked macaroni (elbow pasta)

3½ cups beef broth

½ cup cream or milk (or more broth to keep the dairy free)

1-2 cups fresh or frozen chopped kale or spinach (optional - for added greens)

1 cup shredded cheese, plus more to taste and for serving (old cheddar cheese or Parmesan Cheese)

¼ cup fresh parsley, minced for garnish (optional)
Directions
Heat olive oil in a very large skillet, large pot or dutch oven, over medium-high heat.
Add onions, garlic, ground beef, chili flakes, paprika and Italian seasoning. Sauté, breaking up the ground beef with the back of a spoon, until the beef is cooked through, approximately 5-8 minutes.
Add in the tomato paste and Worcestershire sauce and cook and stir to combine for a minute then add the wine if using to deglaze the pan then stir in the greens if using and cook until wine has reduced, 1-2 min
Add the pasta, the beef broth and the milk. Stir to combine and bring to a boil then reduce to a simmer and let cook stirring often until pasta is tender or al dente and the liquid is soaked up, usually between 7-10 minutes depending on pasta. (stir often to prevent pasta from sticking to bottom of pan)
Remove from heat and stir in the cheese, if using.
Serve immediately with extra cheese and garnished with chopped parsley.