Peach and Tomato Salad
Peach and tomato Caprese Salad is a summery sweet and spicy twist on classic Caprese Salad. Sweet, juicy peaches paired with creamy, melty burrata cheese, salty prosciutto, and a spicy dressing.  A crowd-pleasing dish to enjoy the best of peach season. You'll love this quick peach burrata salad for a light dinner on hot nights, as a super easy appetizer for company, a snack while sipping chilled wine or a side dish to any grilled dinner!
A fun take on a classic Caprese salad. Creamy burrata replaces mozzarella and peaches make a luscious addition to the tomatoes. Traditional caprese salad is often made with fresh mozzarella. A soft cheese, but solid enough to slice. Burrata is all the deliciousness of mozzarella, but creamier. It lives up to the Meaning of its name -  "buttery" in Italian. The outer shell is solid mozzarella cheese, while the inside is a blend of fresh mozzarella and cream. Once the outer pouch of the burrata is broken, the creamy, cheesy inside spreads out, making it perfect for salads or to sop up with crusty bread. It adds a heavenly creaminess to this salad, but fresh mozzarella works deliciously, too. And, if you're vegetarian, you can skip the prosciutto.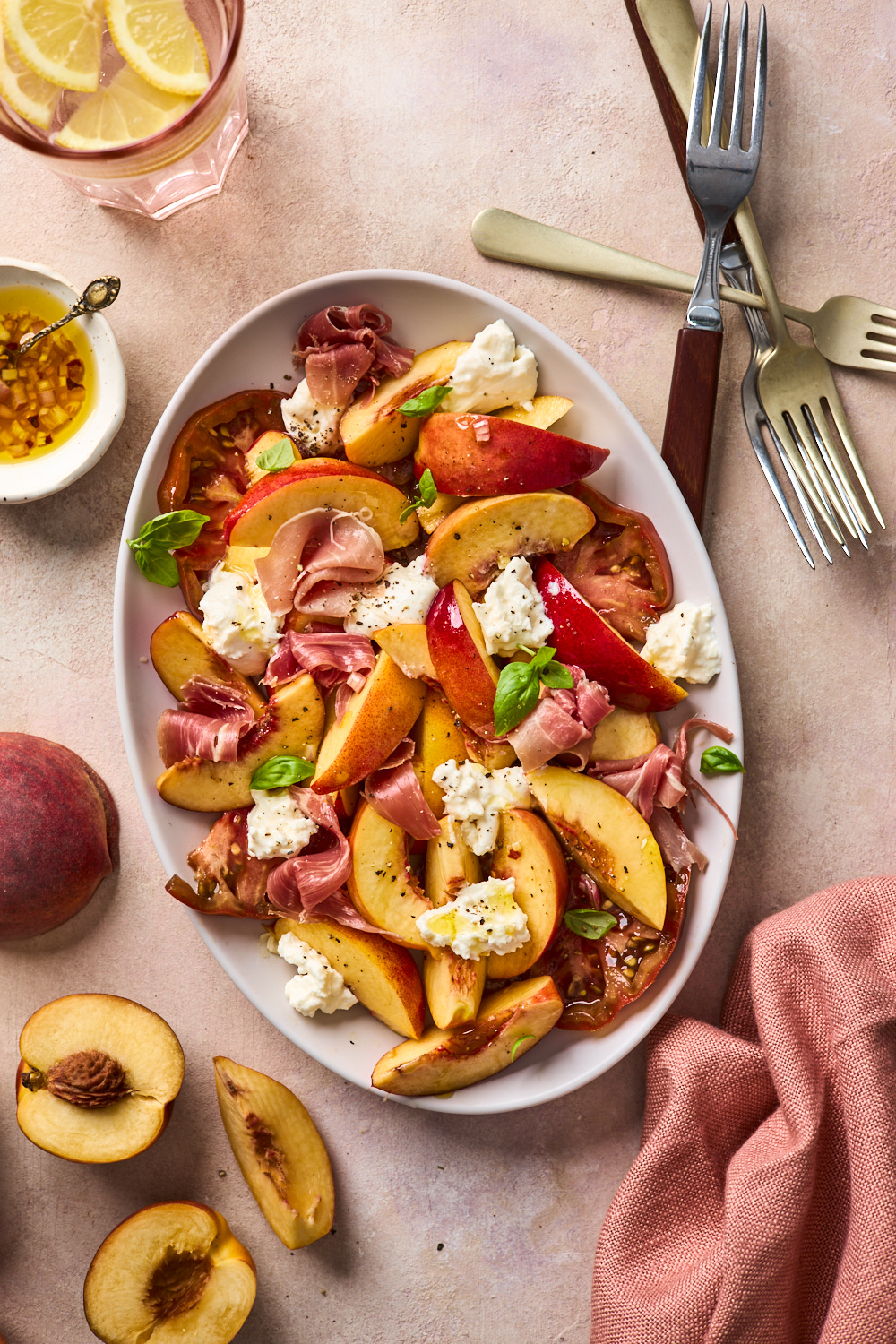 It's peach season and we need to bask in the glory of these fuzzy sweet fruit. They make the most perfect sweet addition to a classic caprese. This quick and easy tomato peach salad celebrates the best of summer at its peak. It's pretty, colorful, and full of fresh, summertime flavors, including juicy peaches and a spicy dressing that compliments the sweet, tangy flavours in this salad.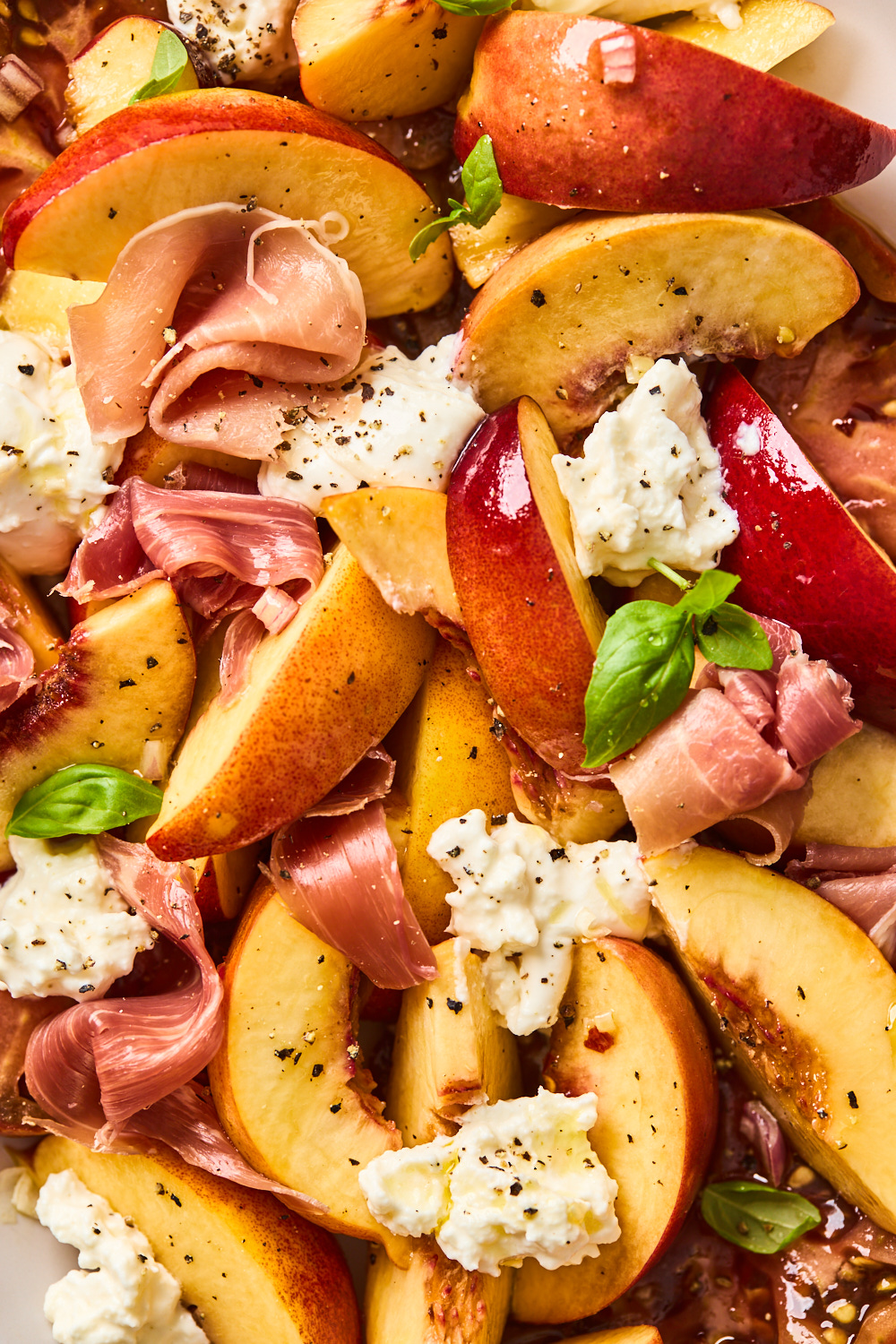 Tomato Peach Burrata salad Ingredients and substitutions:
Olive Oil - rich and delicious in this salad dressing.
Hot Sauce & Chili Flakes - I love this spicy dressing it goes so well with the sweet and tangy ingredients. Feel free to adjust amounts to taste or omit if you don't like a bit of heat in your dressing.
Honey - love the way it sweetens a dressing - feel free to use maple syrup or a touch of sugar instead as alternatives
White balsamic vinegar- you can use Apple cider vinegar, white wine vinegar or you can use lemon juice instead
Fresh peaches and tomatoes - ripe is always best because they taste sweeter when they are on the ripe side. Use whatever tomatoes you can find at your farmer's market! Heirloom, beefsteak, cherry – they all work! And you could use nectarines in place of the peaches or do a combination of both if you like.
Creamy Burrata - If you can't find burrata, mozzarella will also work. You could also dollop fresh ricotta over the salad instead as well or even crumbled feta. For vegan option - a nice creamy cashew ricotta or cream cheese would be nice too
Prosciutto- love the salty bite of it with the sweet peaches and the tangy tomatoes. For vegetarian just leave it out.
Fresh Basil- a classic for a caprese but any fresh herbs would work like tarragon or parsley too.
Optional Add ins- Roasted, salted almonds or toasted pine nuts for some crunch, Arugula or baby kale for some greens And Olives for some briny goodness.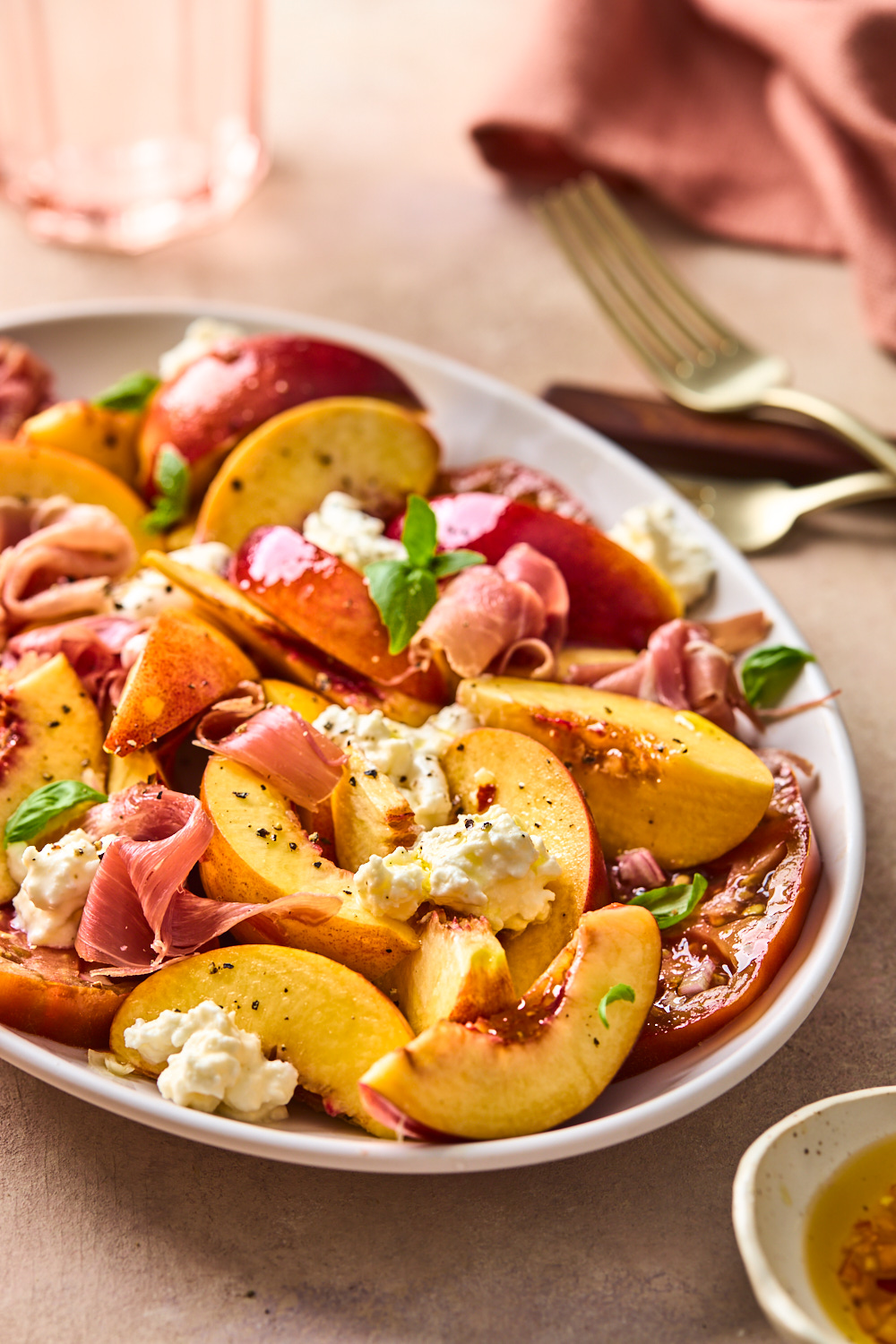 Steps to make peach and tomato caprese salad with burrata
In a small bowl, whisk together the dressing ingredients. Season with salt and pepper. 
Slice large tomatoes into ¼-inch pieces and slice peaches into wedges. Toss with a couple teaspoons of the dressing and allow to sit and marinate - this is optional but it really brings out the juicy flavours of the peaches and tomatoes.
Arrange the large tomatoes and peaches on your platter. Nestle the prosciutto around them
Tear the burrata into pieces, and try to keep the creamy part from spilling out. Nestle the burrata around the platter. 
Sprinkle everything with salt and pepper. Drizzle with the vinaigrette. Tuck basil leaves all over.
This is a fork-and-knife type of salad, so make sure to provide those utensils for your guests. Serve and enjoy! For more salad recipes like this one make sure to check out these:
Recipe
Prep Time: 10-15 mins
Ingredients
For the Dressing
4 tablespoons olive oil

1 teaspoon mild hot sauce (like Frank's)

2 teaspoons honey

2 teaspoons white balsamic vinegar

1 small shallot peeled and finely minced

Salt and pepper to taste

¼ teaspoon chili flakes (optional)
For the Salad
3 ripe peaches or nectarines, cut into wedges

2 large ripe heirloom tomatoes or 1 lb. mixed tomatoes, sliced

2 ounces prosciutto, torn into long strips

8-oz. ball burrata or fresh mozzarella, torn into large pieces

½ cup loosely packed fresh basil leaves
Directions
In small bowl whisk the olive oil, hot sauce, vinegar, honey, shallots, chili flakes and salt and pepper.
Toss peaches, tomatoes, with a couple teaspoons of the dressing and let sit a few minutes to marinate.
Transfer to a serving platter if desired. Top with torn burrata, prosciutto and basil and drizzle with remaining dressing.
Recipe Notes
Can this be made ahead of time?
I'd only recommend making this an hour or so ahead of time. It's really quick and easy to put together, so hopefully it shouldn't be an issue.