Peaches and Cream Cake
This peach cake recipe is made with a vanilla cake base that is lightly spiced, topped and soaked with a peachy puree made with fresh peaches and lightly flavoured with bourbon and finally topped with a light and fluffy cream cheese vanilla whipped topping. I like to garnish with fresh peach slices and some springs of fresh thyme or basil. It is sort of like a poke cake but without the condensed milk or cream (which I think would make it into sort of a tres leches cake) - the puree sort of soaks through some the cake while the rest stays suspended as a peachy layer over the cake. The cake ends up being perfectly moist and squidgey from the peach puree and each bite has a generous amount of creamy goodness to balance the textures and flavors. No box cake mix, gelatin for this one or instant pudding mix - this is a from scratch peach poke cake dessert with so much flavor, substance and flair that you just can't get from a box!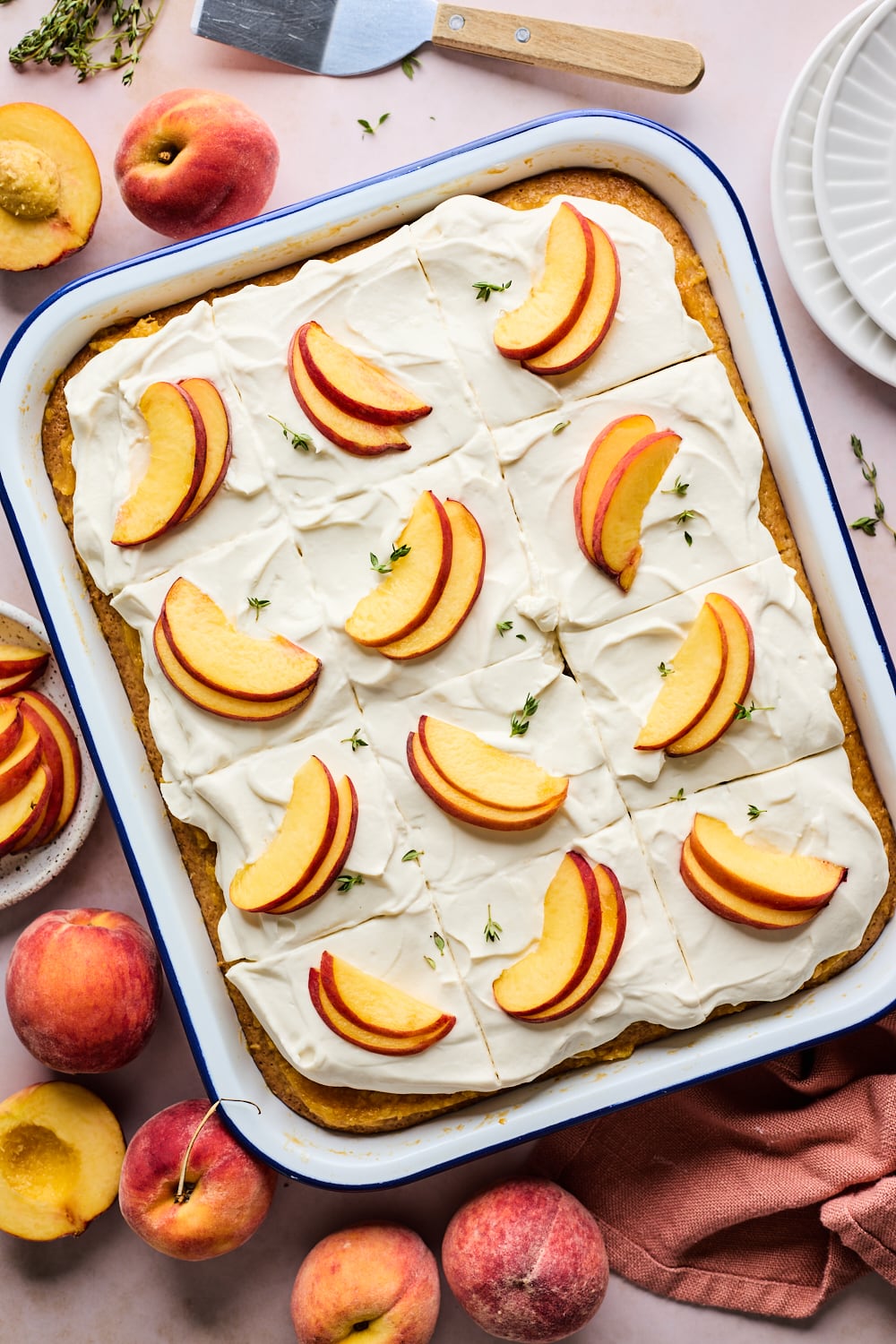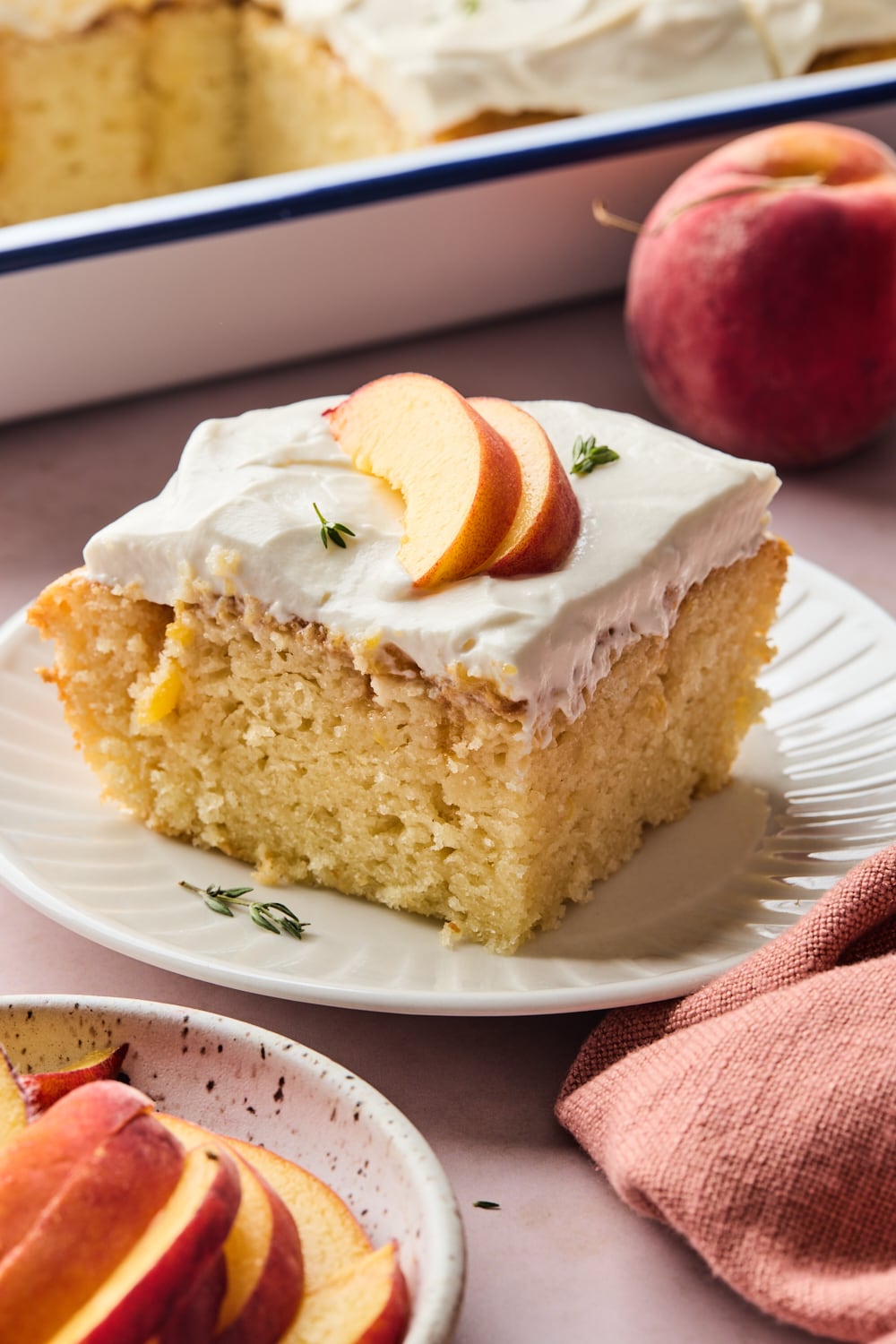 Peach Cake Ingredients (full ingredient list and details in recipe card below)
Flour: All Purpose flour is what I use for this recipe - no need to use cake flour for this recipe - you could use a good quality 1-1 gluten free all purpose flour for a gluten free version but I have not tested this recipe with it.
Sugar: I use granulated sugar for both the cake and the peach puree (if I'm using peaches that are not particularly sweet I may increase the amount of sugar in the puree to sweeten them up a little more - adjust taste to suit)
Vegetable Oil: I use a neutral vegetable oil like canola for this cake not butter
Eggs: You will need 3 large eggs at room temperature
Greek Yogurt: You can use yogurt or sour cream in this cake - usually it comes down to what I have in the fridge - both are great - again room temperature
Baking Powder, Baking Soda & Salt: Leavening agents and a pinch of salt for flavor
Butter Milk: I love the flavour that buttermilk gives baked goods but you can use regular milk in this cake as well - the flavour and texture may be altered very slightly - again room temperature
Vanilla Extract: I always add it to most if not all my baked goods for that signature flavour
Spices: I like to add a pinch of Cardamom to the cake which brings a bit of floral with hints of citrus flavour which I love with the peaches - but feel free to use cinnamon instead cardamom or swap it out for ginger or nutmeg or a blend of all three
Peaches: Fresh Peaches is always best for a recipe like this but you can definitely use frozen peaches - thawing the frozen peaches is optional as they will get blended/ pureed and simmered
Lemon Juice & Bourbon: I like to add some freshly squeezed lemon juice which always balances out the flavours and I like to add a splash of bourbon, spiced rum or even peach schnapps for extra flavour to the peach puree - the alcohol is optional and does not need to be replaced with any thing if you are not including it
For the Whipped Topping: Cream cheese, granulated sugar, heavy whipping cream and powdered sugar
For Serving: Sliced peaches and fresh herbs purely for edible decoration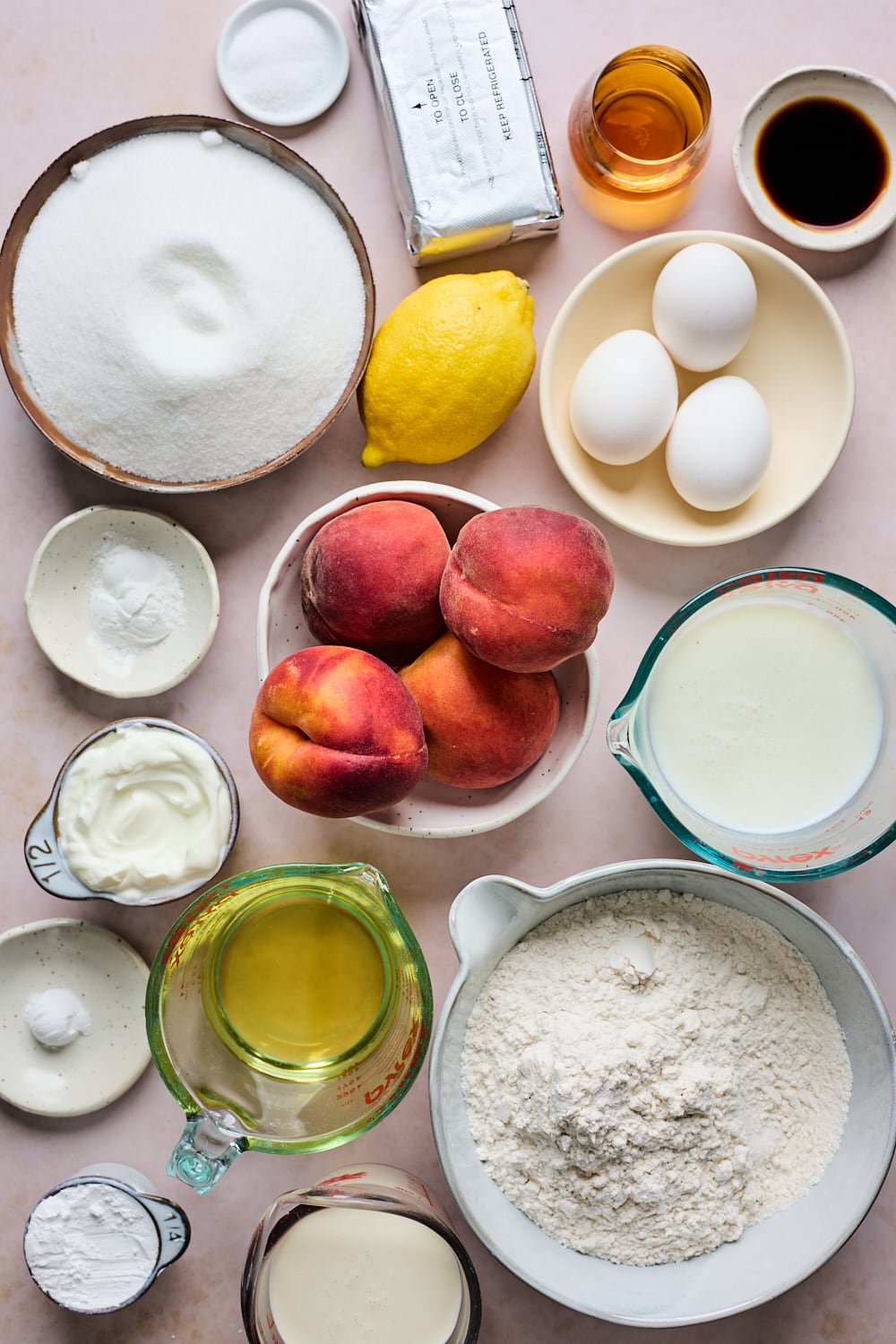 How To Make Peach Poke Cake (Full Instructions in recipe card below)
This from scratch peach poke cake does take a little more time to make, but it's definitely worth it! Here is a breakdown of the simple steps:
MAKE THE CAKE LAYER: Whisk together dry ingredients then beat together eggs, oil, sugar and vanilla followed but the yogurt. Add the flour mixture in two additions alternating with the milk. Pour batter into prepared cake pan and bake
POKE CAKE: Poke holes about 1 inch apart all over cake using a handle of a wooden spoon then allow cake to cool completely
MAKE PEACH PUREE: Puree or blend peaches then simmer peaches with sugar, lemon juice and bourbon if using until thickened lightly
POUR PEACH SYRUP / PUREE OVER CAKE: Pour reserved peach juice/puree over cake evenly all over then chill cake
MAKE WHIPPED TOPPING: Beat cream cheese and granulated sugar until smooth, in a separate bowl beat heavy cream, vanilla and powdered sugar together until stiff peaks then combine the two by folding them together gently - top the puree (cake) with topping evenly
CHILL: Chill cake for at least 1-2 hours before slicing and serving - the cake can actually be made a day ahead and chilled
GARNISH & SERVE: Garnish with slices of fresh peaches and sprinkle fresh herbs or edible florals for a nice touch of flavor and colour if desired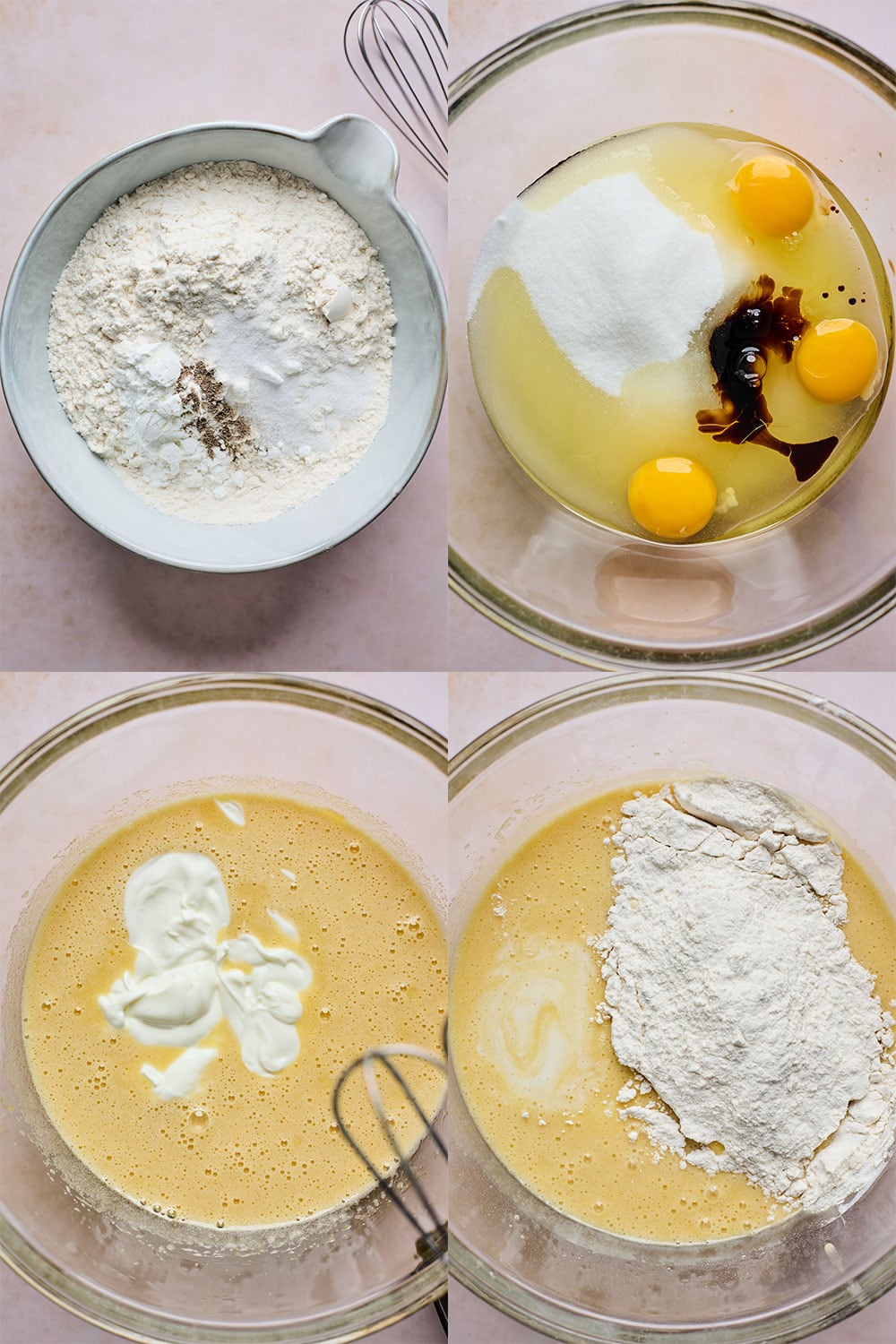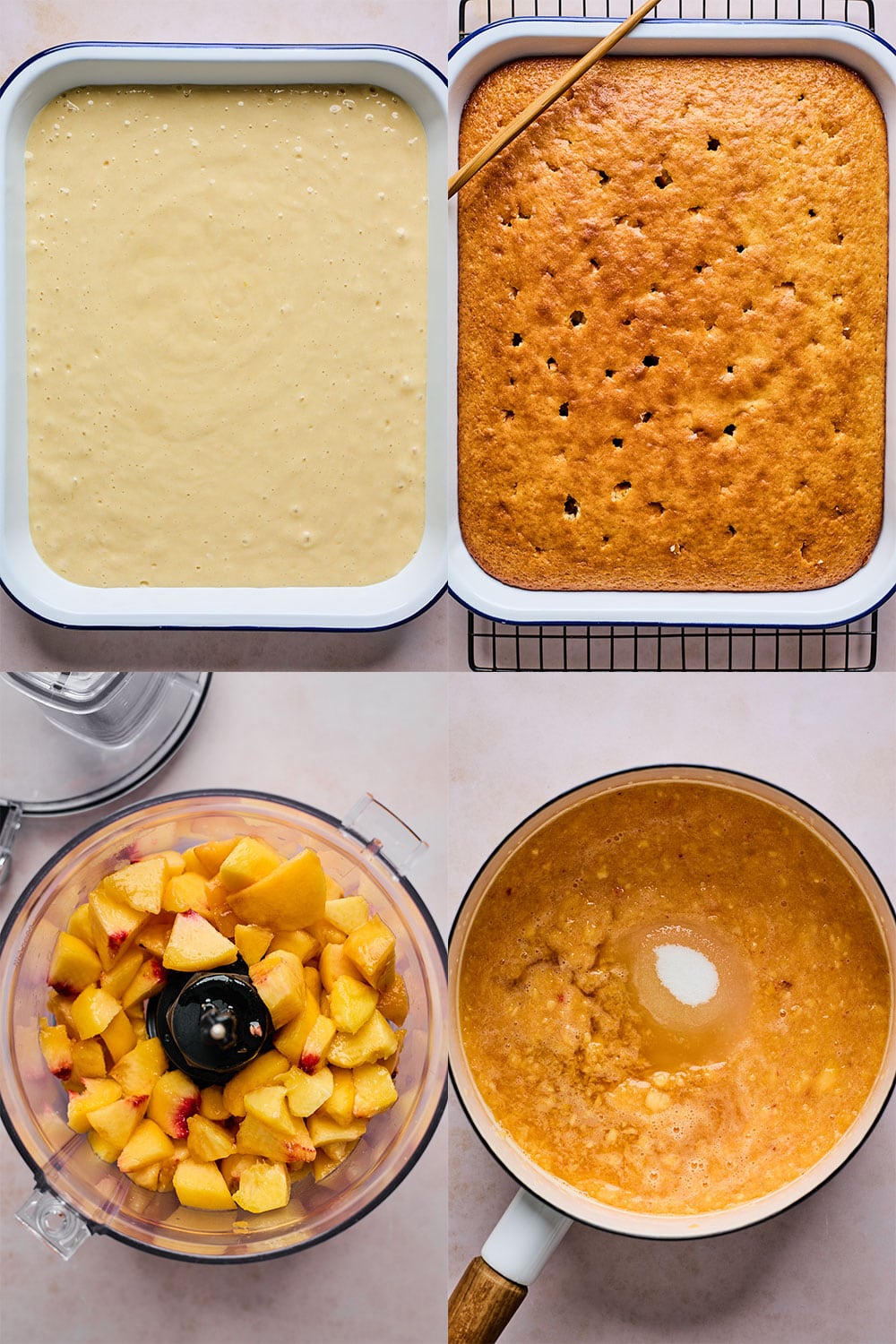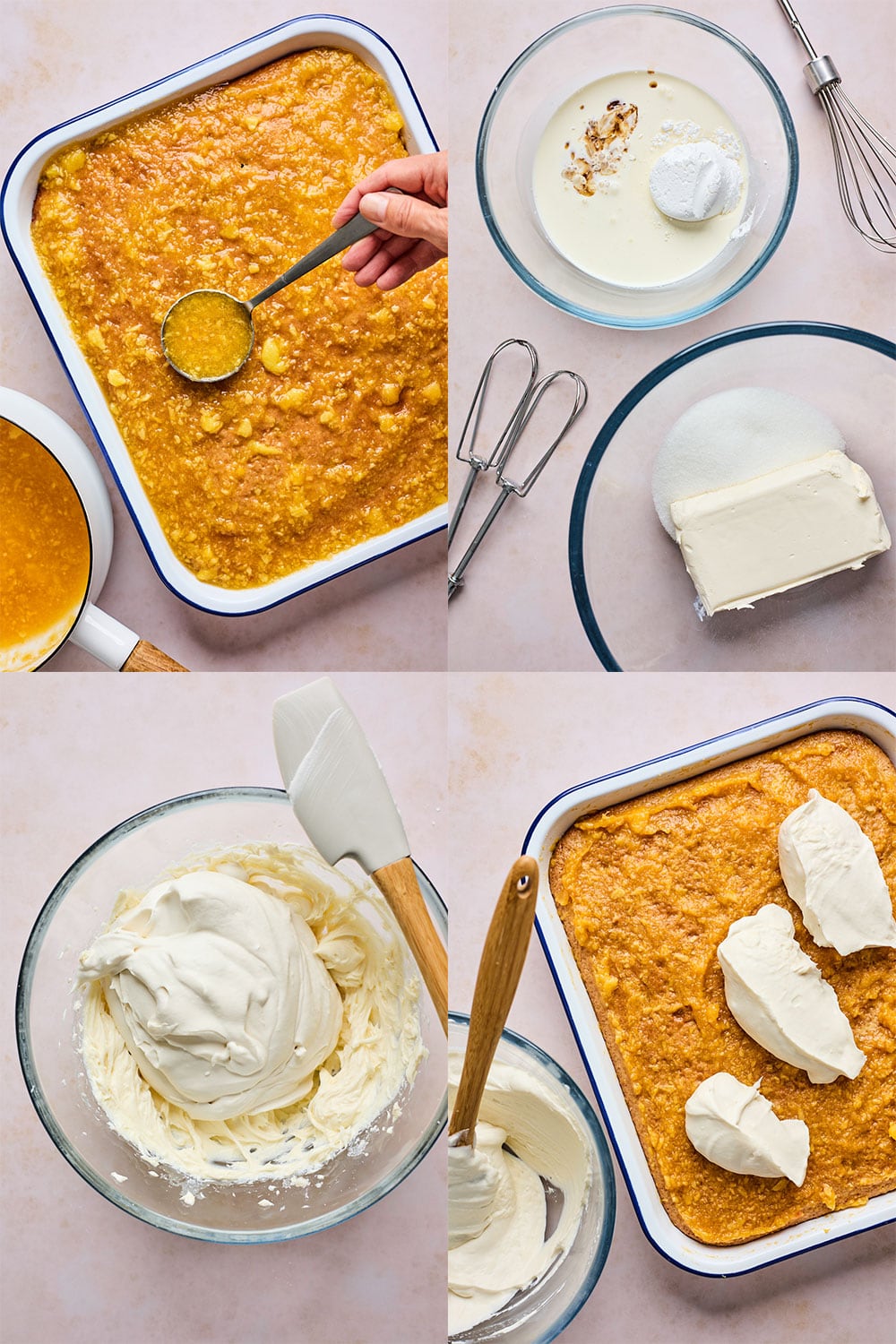 Cheaters Version Peach Poke Cake
If you don't want to make your cake from scratch use box cake mix for the cake portion following the instructions on the box for a 9x13 cake.
If you don't want to whip your own cream, use a 8 oz tub of Cool Whip in place of the heavy whipping cream, vanilla and powdered sugar.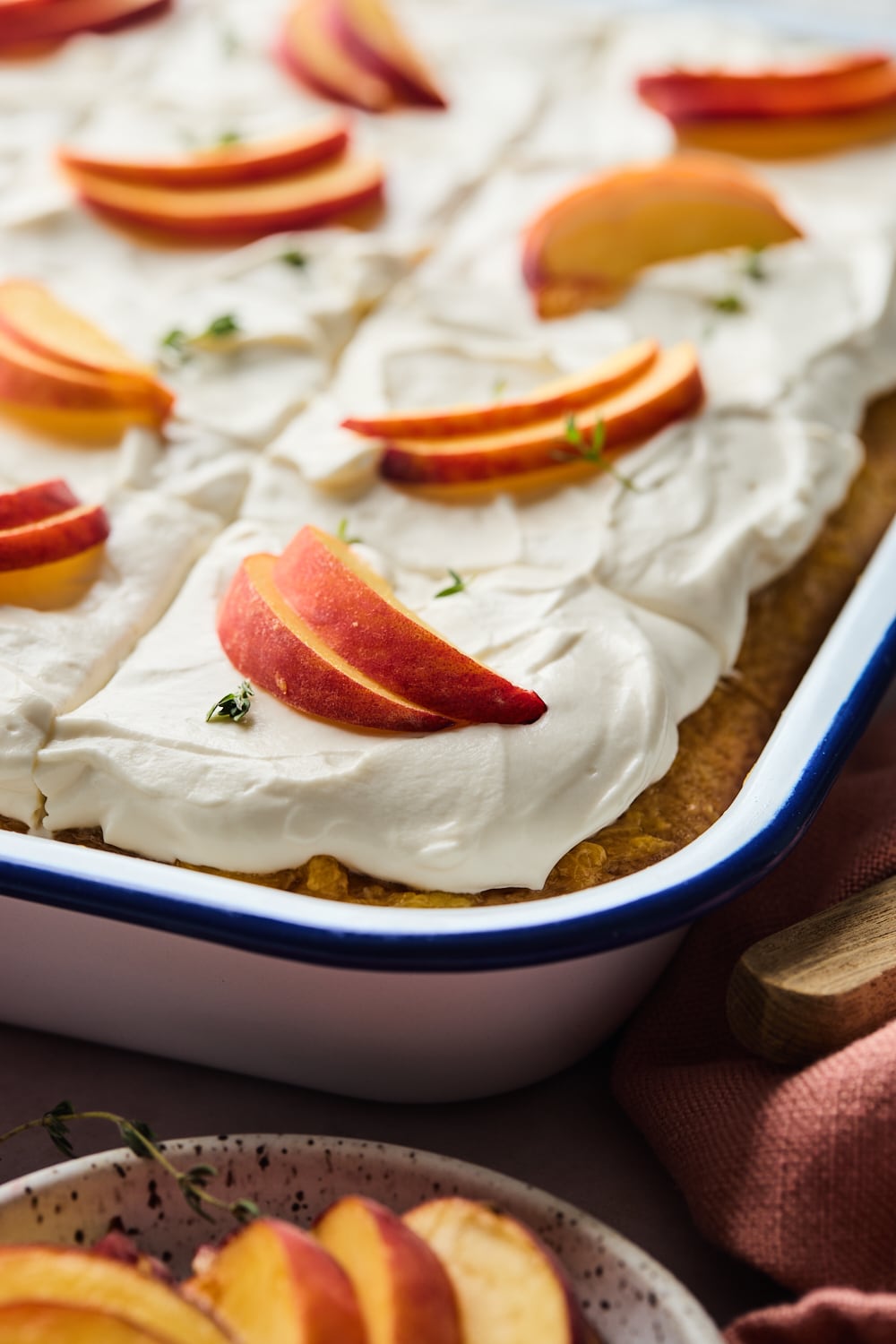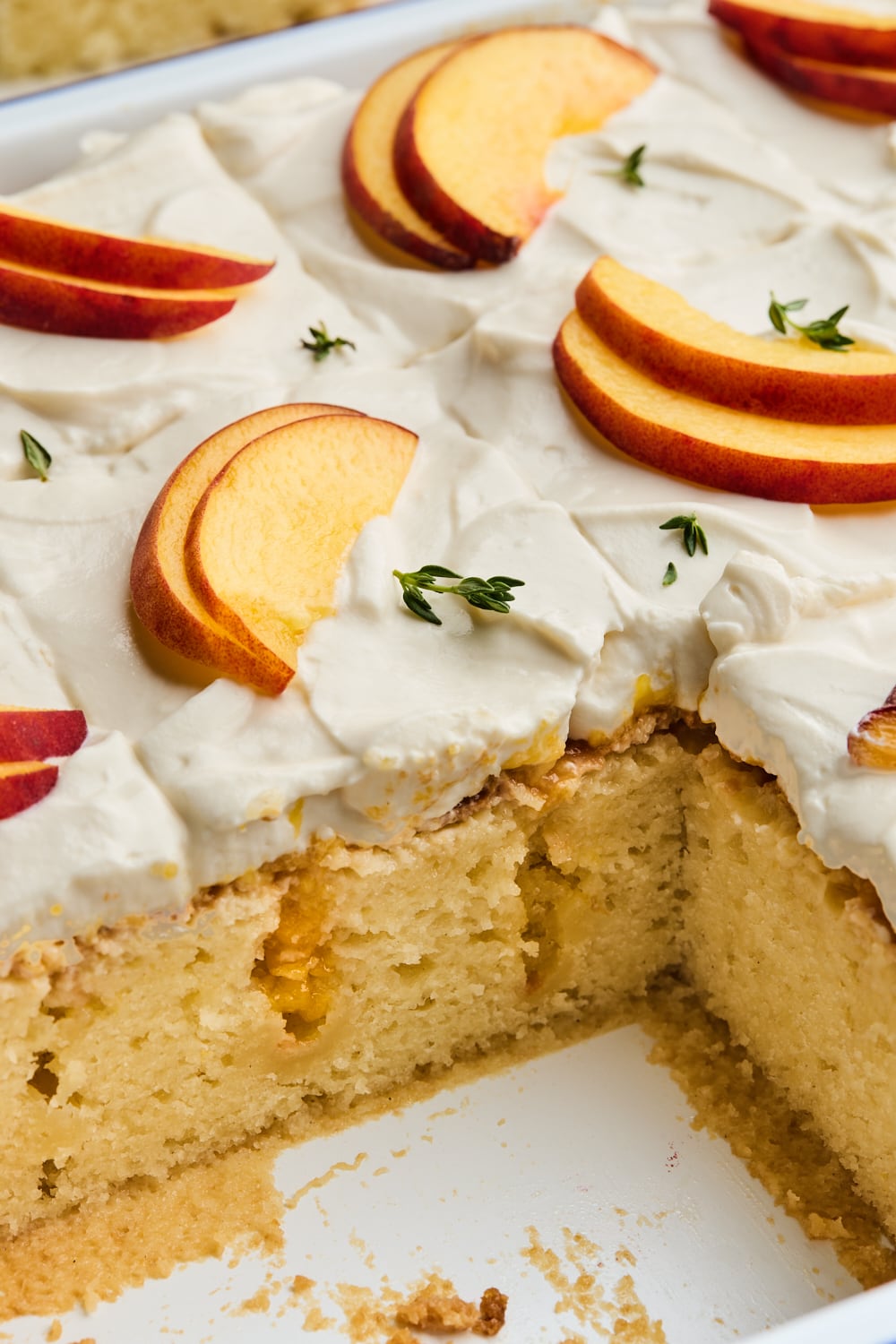 How to Store Peach Poke Cake and Leftovers
MAKE AHEAD: Poke cake is the best to make a day ahead before serving to allow to soak well and set - the perfect make ahead dessert. The peach puree can be made a day ahead of putting the cake together. Simply allow it to cool and and store in a sealed container in the fridge. Allow to come to room temperature before spreading over cake.
STORAGE: You can store the whole cake or leftovers for up to 1 week covered in the fridge.
More Peach Recipes You Will Love
Recipe
Servings:
12 (uses a 9x13 pan)
Prep Time: 20 mins
Cook Time: 35 mins
Chill Time: 2-4 hours
Ingredients
For the cake
2 cups granulated sugar

½ cup vegetable oil

3 large eggs, room temperature

1 tablespoon pure vanilla extract

½ cup Greek yogurt or sour cream

2½ cups all-purpose flour

2½ teaspoons baking powder

½ teaspoon baking soda

½ teaspoon cardamon

1 teaspoon salt

1¼ cups buttermilk (or milk)
For the peach filling
4 large peaches, peeled and cut into large pieces/chunks

1-2 tablespoons bourbon or peach snaps (optional)

⅓-½ cup granulated sugar

1 teaspoon lemon juice
For the whipped topping
1 block (8 oz) cream cheese, softened

⅓ cup granulated sugar

1 cup heavy whipping cream

¼ cup powdered sugar

1 teaspoon vanilla extract (optional)

Fresh peach slices for topping
Directions
For the Cake Layer
Preheat the oven to 350°F. and lightly grease a 9x13 baking dish or baking pan. You can also line the bottom the pan with parchment paper if your prefer.
In a medium bowl whisk togtehr the dry ingredients: flour, baking powder, baking soda, salt, and cardamom if using then set aside
With a stand mixer fitted with paddle attachment or hand held electric mixer, beat the sugar, oil, eggs and vanilla extract on medium speed until well combined, scraping down the sides of the bowl as needed. Next mix in the yogurt and beat until well combined.
Add the flour mixture in two additions. Add half the dry ingredients, and half the milk, beat on low speed just until it is mostly incorporated then repeat and continue mixing unit just combined, stopping to scrape the bottom and sides of the bowl.
Pour the cake batter in a 9-inch by 13-inch cake pan and bake at 350°F for 28-35 minutes until cake is golden and center bounces back when touched gently. Test the cake for doneness by inserting a toothpick/knife into the center of the cake. If the toothpick comes out clean, or mostly clean the cake is done.
Remove cake when done and place on a cooling rack. Use the end of a wooden spoon or I used the thicker end of a chop stick to poke holes all over cake to create holes - not tiny ones but larger approx 1 inch holes so the peach mixture soaks through. Allow cake cool while you prepare the peach filling.
For the Peach Filling
While the cake is baking, place the peach chucks and the bourbon if using into a food processor or a blender and blend up. I like to leave some larger chunks and some pureed peaches.
Empty out the peach puree into a small saucepan along with the sugar over medium-high heat. Stir and let it come to a low boil and simmer until it thickens slightly and sugar has dissolved, approx 3-4 mins.
Remove from heat (You should have approx 2½ cups of peach puree at this point). Pour or spoon over the cake evenly over cake and all the holes in the cake making sure they are filled.
Cover and let refrigerate for 1-2 hours.
For the Creamy Topping
In a large mixing bowl beat the cream cheese and granulated sugar until creamy and well combined.
In a separate bowl, or a stand mixer, beat the heavy whipping cream, vanilla if using and powdered sugar until stiff peaks form.
Add whipped cream into the cream cheese mixture and fold it in until combined
Frost the cake, cover, and let refrigerate for at least 1-2 hours or this cake can be made up to 1 day ahead.
Once ready to serve garnish or decorate the cake with fresh slices of peaches, slice cake and enjoy