Pecan Chocolate Chip Cookies
These brown butter pecan cookies with chocolate chips are just my favourite - I say that about all my cookies - I have a soft spot in my heart for loaded cookies or cookies chock full of nuts and chocolate chips or chocolate chunks. These totally fit the bill and if you chose to brown the butter as I do in this recipe (although optional) it will take them to the next level! They are also very easy to make. No special ingredients, equipment (ie electric mixer), or skills required! This quick and easy recipe makes a lot of cookies in a short amount of time. Perfect for no-fuss bakers who want big flavor without a big mess. I like to chill the dough for 30 minutes for best results and over night if you would like to make these little beauties ahead. These were declared the best cookie recipe I have made thus far by my hubby (he is partial to anything pecan - bare in mind) but I will let you guys be the judge of that. Let's break down the ingredients and recipe shall we.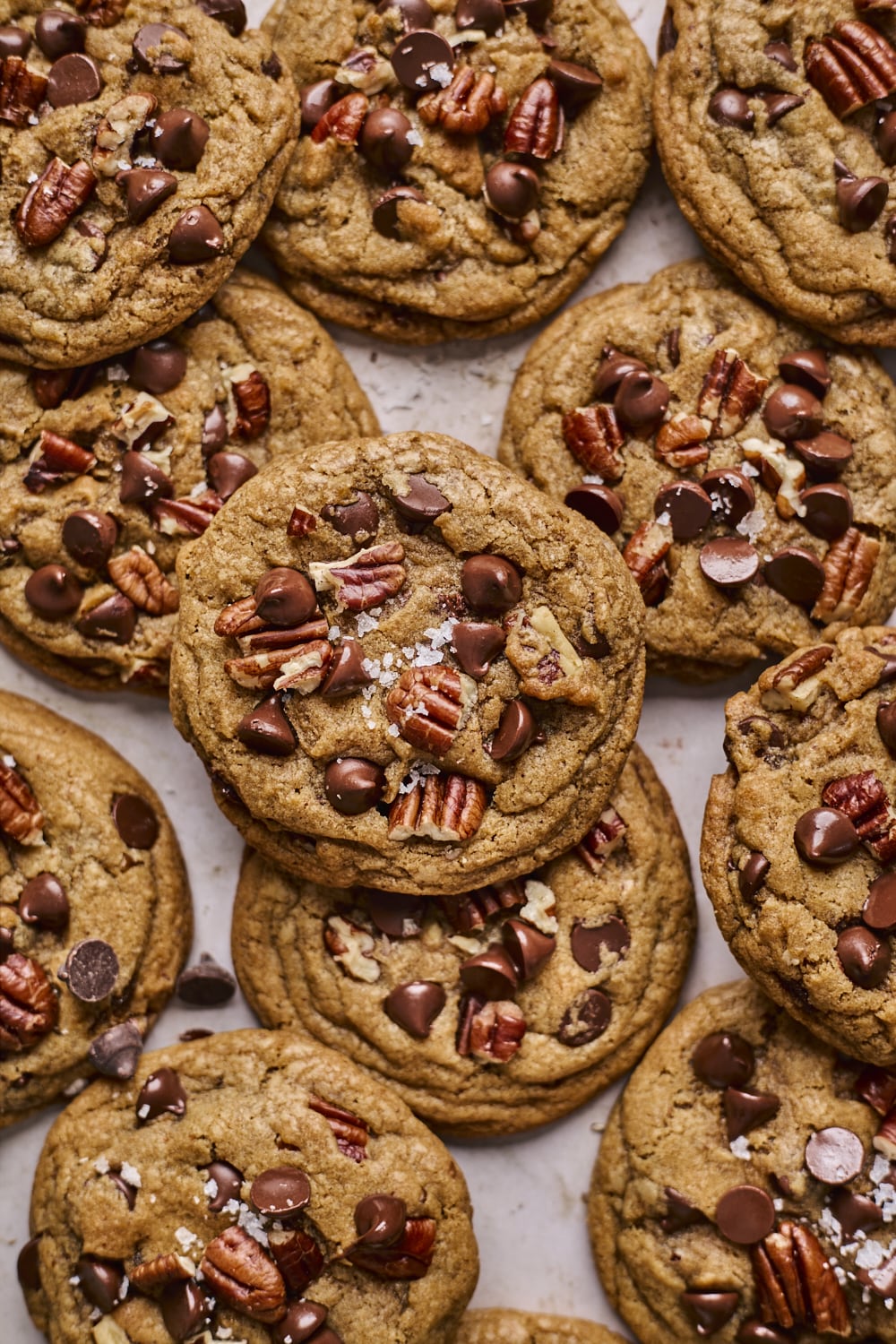 Chocolate Chip Pecan Cookies Ingredients:
Butter: I used unsalted butter because it makes it easier to control the amount of salt in recipe. You will melt or brown the butter for this recipe so no need to soften the butter 
White Sugar & Brown sugar: The combination of white sugar and brown sugar give these cookies their distinct texture.
Molasses: molasses always adds to the texture of any cookie - adds moisture or extra hydration for a chewy cookie - a good substitute for it is honey, maple syrup or dark corn syrup 
Flour: I recommend using all-purpose flour to make these brown butter pecan chocolate chip cookies. You could definitely make them gluten free with a good quality flour like Bob's Red Mill 1-1 gluten free baking flour.
Chocolate Chips: As you can see from my cookie collection, sometimes I use chocolate chunks, chopped chocolate, or chocolate chips. It doesn't matter what you use, as long as you use the allotted amount. I find that chopped chocolate melts a lot better and gives you more chocolate puddles in your cookies. I like to use a mixture of bittersweet or dark chocolate chips and either semi-sweet chocolate chips or milk chocolate chips but you could use one or the other.
Pecans - I like to rough chop them and keep some in larger pieces for-resting in to the cookie dough balls. Feel free to toast your pecans a little or even make them into butter pecans but toasting then in some butter for a couple of minutes - infusing them with even more buttery flavor 
Eggs: There are two in this recipe. Make sure they are room temperature.
Baking Soda: just a bit but essential for leavening
Vanilla: A definite must in this recipe - they just won't be the same without it for that delicious flavour vanilla adds to them
Espresso Powder: Instant espresso powder is a great addition to these cookies - it adds even more flavour - this of course is optional and feel free to leave it out or replace it with a hint of spice - like ground cinnamon 
Extra Add Ins: I like to sprinkle some flaky sea salt over these cookies for some sparkle and also the savoury salty flakes bring out the flavours in these cookies in delicious way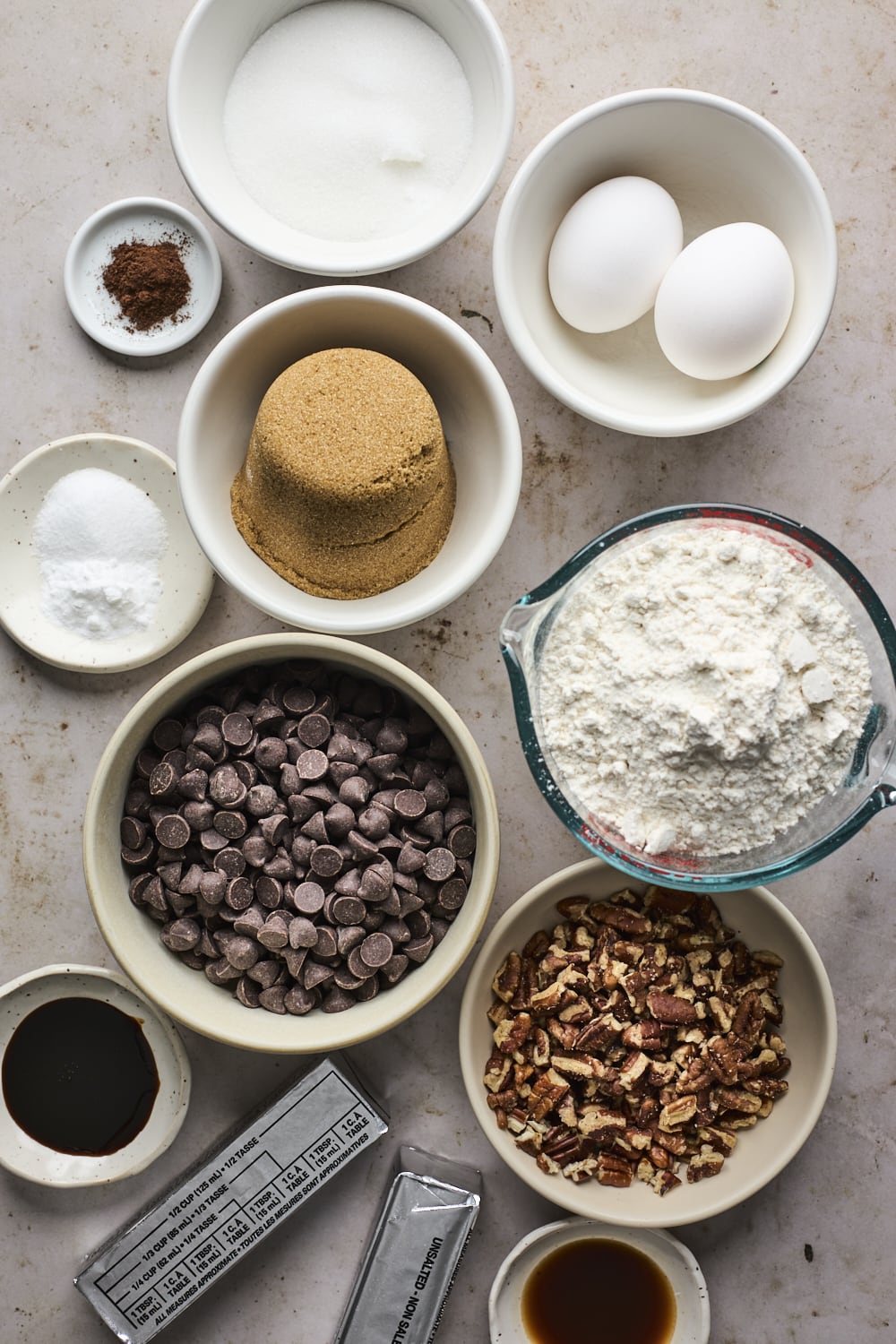 How To Bake These Brown Butter Pecan Chocolate Chip Cookies
Here are the simple Instructions/steps involved in making these tasty cookies:
Brown the butter or simply melt it if you don't like the flavour of brown butter then set aside to cool to room temperature 
Whisk together your dry ingredients
Use a whisk to whisk the butter with the sugars, it will be crumbly or look sort of like slush, then add the eggs and vanilla and mix until smooth and ribbony
Gently fold in the dry ingredient/flour mixture until just combined. Do not over mix
Mix or fold in the the Chocolate chips and pecans
Cover and chill the dough for 30 min or overnight
Scoop dough onto prepared pans and bake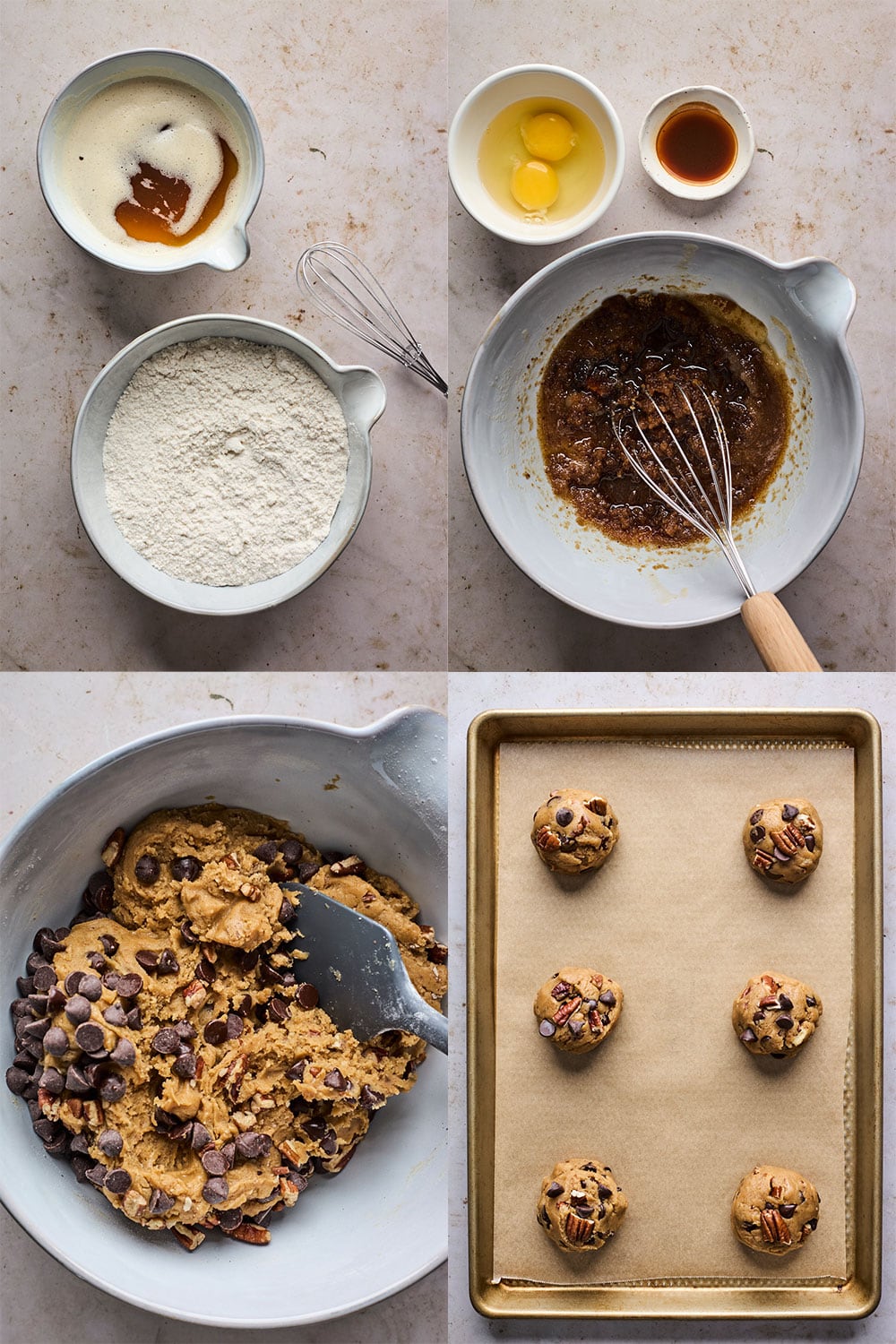 Why Chill the Pecan Chocolate Chip Cookie Dough Before Baking
Chilling the dough allows more time for the dough to hydrate and results in chewier thicker cookies. Here is the breakdown.
No chilling: What happens if you don't refrigerate dough before baking? The cookies will spread out a little more and the edges will be crispier.
Chill for 30 min to 1 hour: The cookies will be little thicker, chewier and crispy edges, chill the dough for 1 hour.
Chill for 2+ hours: The cookies will be thicker with less crisp, chill the dough for 2 hours or longer. I usually chill the dough between baking each batch and the result is always perfect. You can experiment and see which you like best - you won't be disappointed whatever you decide.
Is it better to put cookie dough in fridge before baking? that is up to your taste and also how much time you have on hand and how strong your craving is for these cookies. If you prefer thicker chewy cookies than by all means chill the dough - if you need to fill that cookie craving fast then feel free to bake these off right away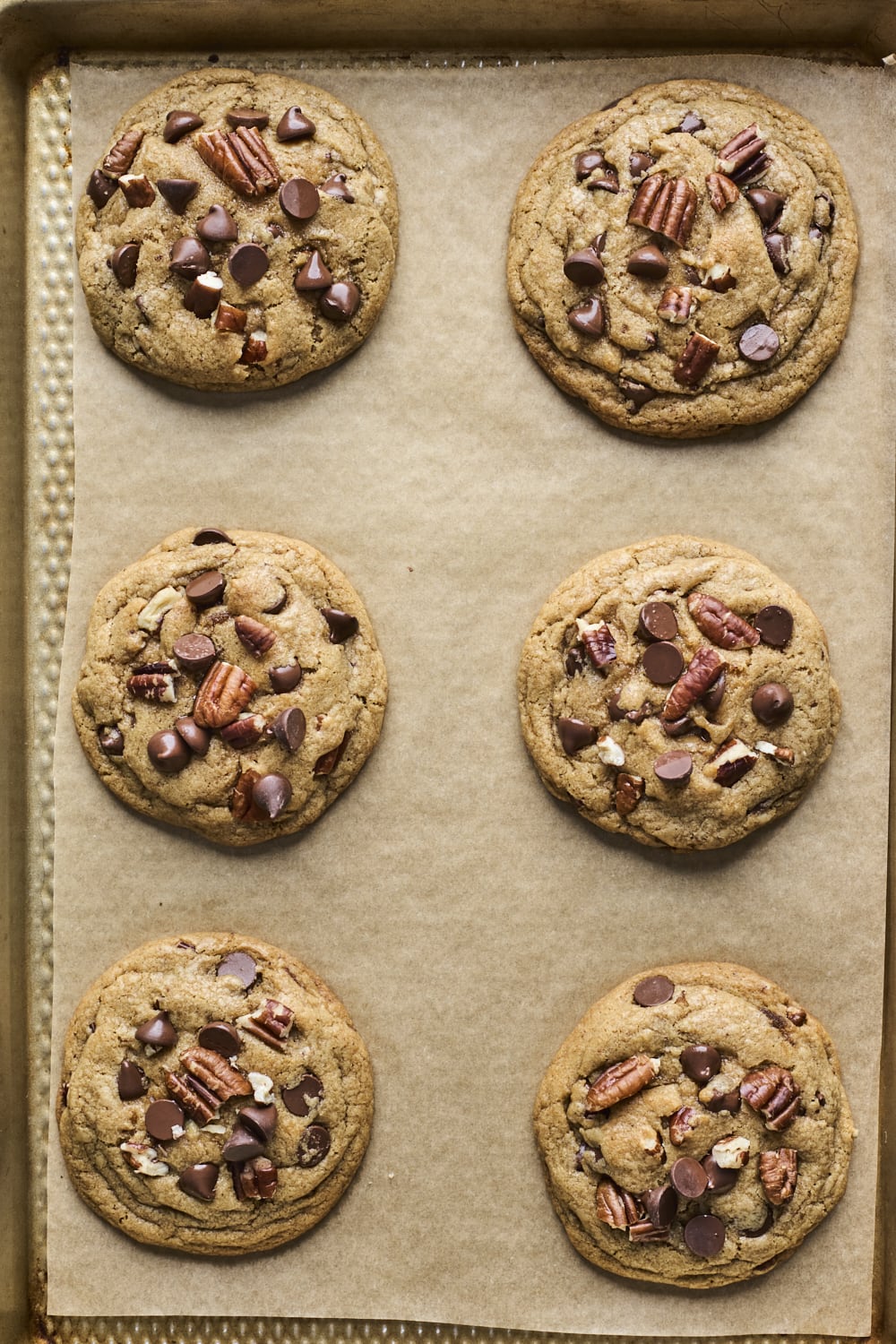 My Cookie Baking Tips for Making the Best Cookies Every time
Here are some of my favourite cookie baking tips and also tips for baking perfect pecan chocolate chip Cookies: 
I recommend using high-quality chocolate chunks for this recipe or chocolate chips. You can buy bars of chocolate and chop them into chunks that is what I usually do. I prefer this method because it allows me to control the size of the chunks and I find the melt better too. Of course, you could also use an equal amount of chocolate chips like I did for these cookies.
Don't over bake! Your cookies should be set at the edges and golden but may still look soft in the center.They will continue to bake on the hot pan out the oven.
Be sure to allow the cookies to cool on the baking sheet for 5 minutes before transferring baked cookies to a cooling rack or wire rack so they don't fall apart as your transfer them.
Chill dough in between batches 
Start checking cookies at the ten minute mark because all stoves are different and ensure your oven is preheated 
For that bakery style look ( or Instagram worthy look) make sure to add extra chocolate chips and pecans to dough balls before and after baking - simply press some into the cookies they will settle into the dough from the heat of the cookies - then sprinkle them with some flaky sea salt if desired 
The pan you bake these cookies on definitely matters - I use heavy duty light coloured non stick baking sheets which really distribute the heat evenly. Stainless steal pans will cause some spreading and possible uneven baking. Never use dark colored pans to bake cookies - they tend to over bake cookies
Try to measure your ingredients carefully to prevent a dry crumbly cookie and also do not over mix the dough because it will affect the texture of the cookies.
Have you tried the pan banging method for cookies - this gives your cookies extra crinkles. This is optional but at the 10 minute mark I take the pan out of the oven give it a few taps on the countertop then place it back in the oven to finish off baking for the remaining 1-2 minutes. This will cause your cookies to spread slightly more just an FYI
Do you want more uniform looking cookies - sometimes no matter how hard you try even when you measure your your dough balls carefully you will get uneven looking cookies and that is normal especially when you have all the extra nuts and chips in the dough. A very quick fix is to use a small rubber spatula and just gently tuck in or gently press in uneven edges with it as soon as the cookies are out of the oven and still warm and moldable.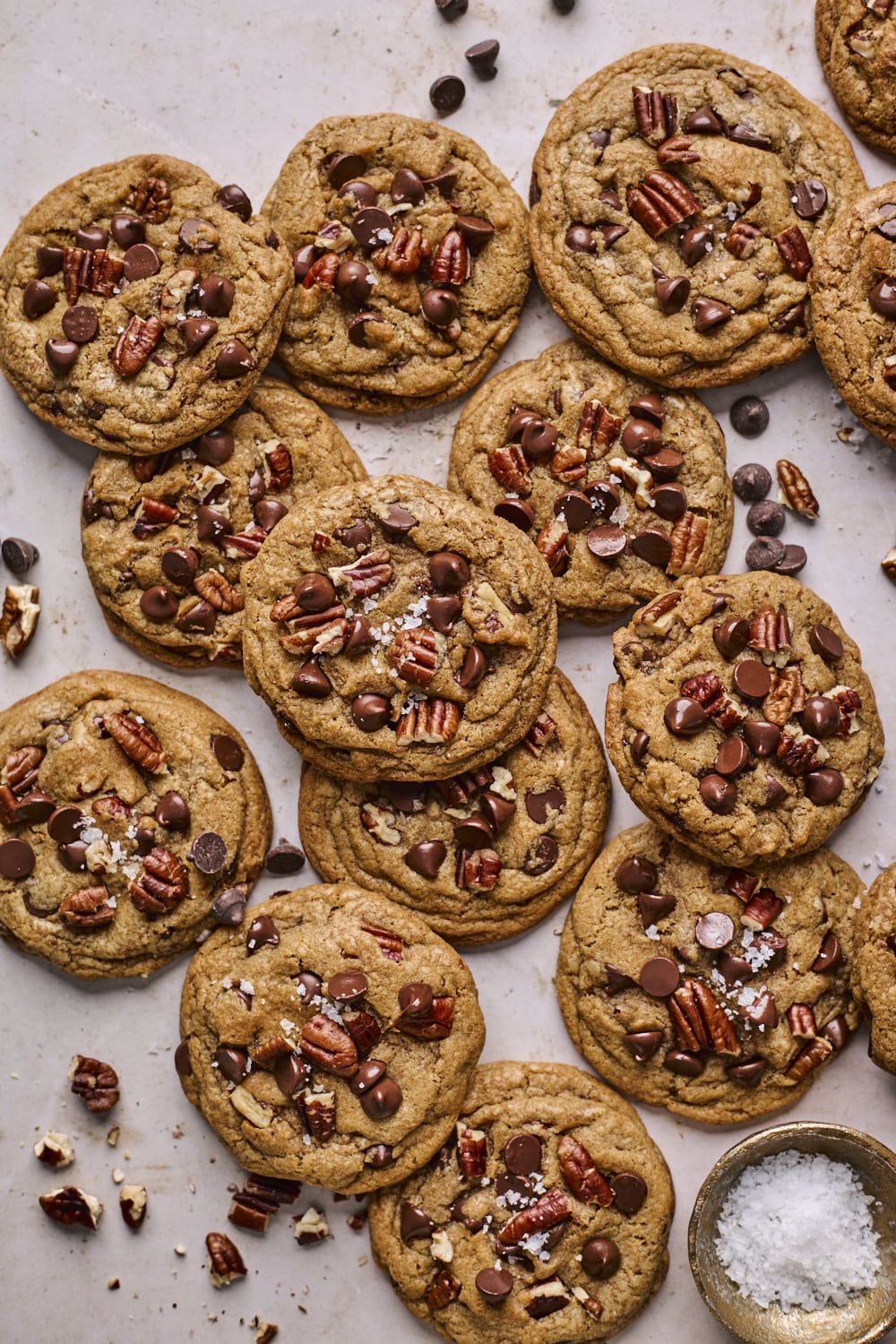 Freezing Cookie Dough
Can I freeze the cookie dough and bake it later? Yes. This dough can indeed be frozen. Scoop it into equally-sized balls on a parchment-lined cookie sheet and place in the freezer. Once they're frozen, store the cookie dough balls in an airtight container or ziplock bag for up to 3 months.
How do I bake these from frozen? Place the frozen dough balls on a parchment-lined cookie sheet and bake at the same temperature. They'll need 1-2 minutes extra to bake fully. 
What if the cookie dough is too hard to scoop after refrigerating overnight?
If your cookie dough is too firm to scoop after chilling, leave it at room temperature to warm up for 15 minutes. I usually find this happens after an overnight chill - and I usually take it out of the fridge while I'm preheating the oven and find that that is enough time to make it scoop-able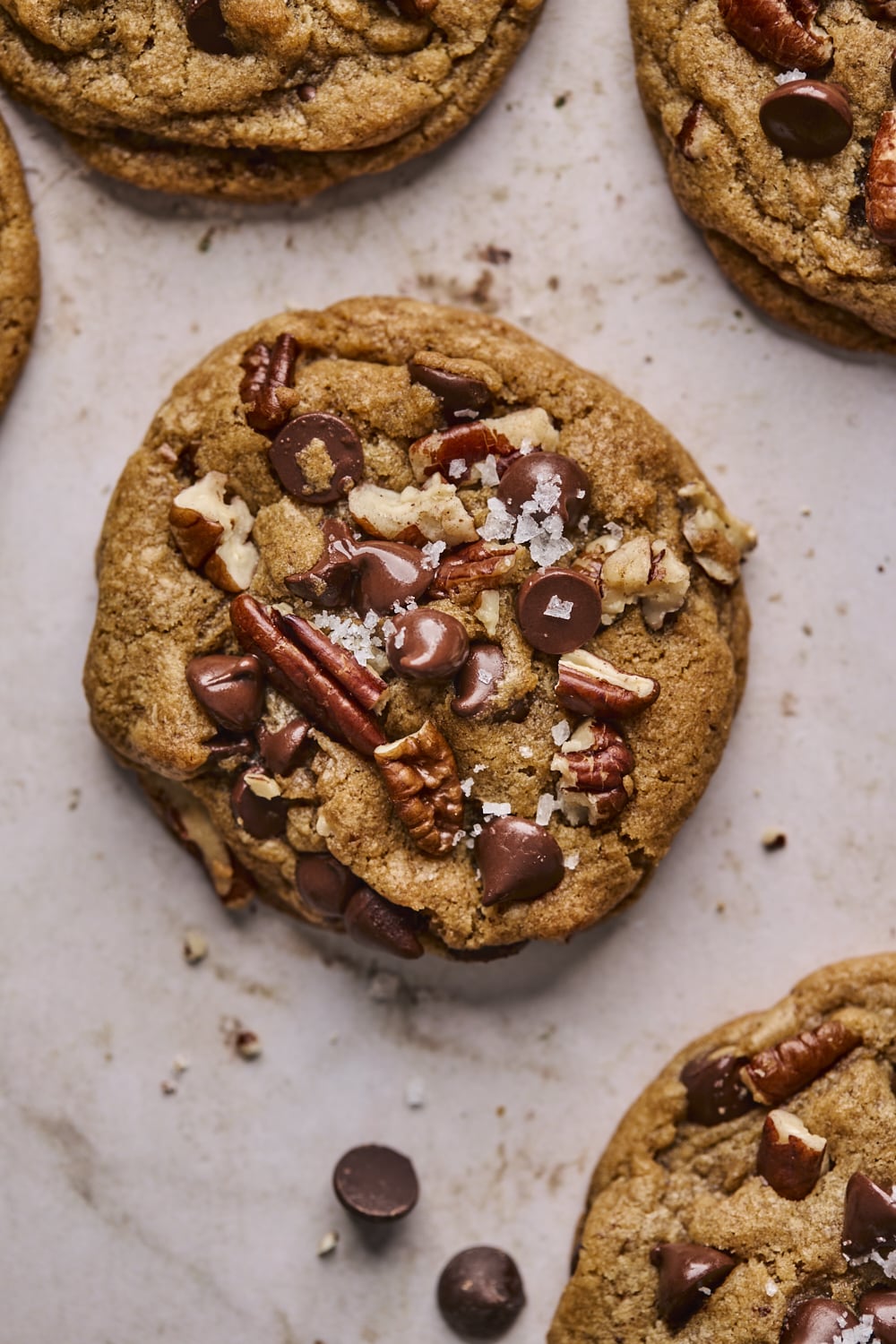 More Cookies You will Love:
Recipe
Prep Time: 15 mins
Cook Time: 10 min for browning butter 
Bake Time: 10-12 min
Ingredients
1 cup (2 sticks) butter

2½ cups all-purpose flour

1 teaspoon baking soda

1 teaspoon salt

½ teaspoon ground instant espresso powder or cinnamon (optional) add more if you prefer 

1 cup packed light brown sugar

½ cup granulated sugar

1 tablespoon molasses

2 large eggs, whisked

2 teaspoons vanilla extract

1 ½ cups semisweet chocolate chips plus more for topping cookies after they bake 

1 cup chopped pecans plus more for topping cookies 

Flaky sea salt, for sprinkling
Directions
Brown the Butter or Melt it: In a medium saucepan, melt the butter over medium heat, then bring to a simmer. Once it starts simmering, swirl the pan constantly until the butter passes the foamy phase and becomes a deep amber color. Remove from the heat, pour into a separate mixing bowl (this allows the butter to stop cooking) and allow the butter to cool for 20 minutes.
In a large bowl, whisk together the flour, baking soda, espresso, and sea salt. Set aside.
Once the brown butter is no longer hot and at room temperature now, add the brown sugar, sugar, and molasses to the bowl. Whisk vigorously to combine - approx 1 min. Then Whisk in the eggs and vanilla until fully combined. (you could use a stand mixer or electric hand mixer if you wish to do this too - but not necessary) 
Add dry ingredients to brown butter mixture and stir using a wooden spoon or rubber spatula until the dough comes together and the ingredients are evenly incorporated. 
Stir or fold in the chocolate chips and pecans then cover bowl with plastic wrap and chill dough 30 minutes (chill for at least 30 minutes, but they can also be left overnight)
Once ready to bake pre reheat the oven to 350°F and line a baking sheet with parchment paper or line baking trays with silicone mat
Using a medium (2-tablespoon) cookie scoop, scoop out cookie dough and place on prepared pan approx 2 inches apart. Gently press in extra chocolate chips and pecans on top of each cookie dough balls if you wish. Transfer Sheetpan to oven and bake for 10 to 12 minutes, until edges are lightly golden brown 
Remove from oven and allow the cookies to cool for 5 minutes on the baking sheet / cookie sheet as they will still be soft, then carefully transfer them to a wire rack to cool completely. If desired, sprinkle a small amount of flaked sea salt on top of the cookies as they are cooling.
Store airtight at room temperature in an airtight container for up to 3 days.
Recipe Note
I like to bake them for 10 minutes remove pan from oven give it a few taps on the countertop then place back in the oven with the pan rotated for remaining 2 minutes - this is by all means optional - I love the crinkly texture this pan banging gives my cookies 
Recipe Adapted from - Food Network