Penne alla Vodka
Updated Jan 23rd 2023
This penne alla vodka recipe is easy to make and only requires a few ingredients to make a pasta dish rich in flavour and comfort! We make this at least once a week especially on a long day when my brain is zapped and has no capacity for creativity in the kitchen. This super simple penne all vodka recipe always saves the day - It requires so little effort and time but does not sacrifice flavour. When you need a quick midweek meal, or a little comfort or having company over or planning date night this is the perfect dish to make and serve. It's creamy, saucy, full of flavor from each component in the sauce - the pancetta, tomatoes, shallots and garlic and of course the vodka - the perfect little rose sauce if you ask me. Serving it with a little crusty bread is always recommended to make sure you mop up every last drop of that luscious sauce its great with a side salad making it the main dish or even with some chicken as side dish.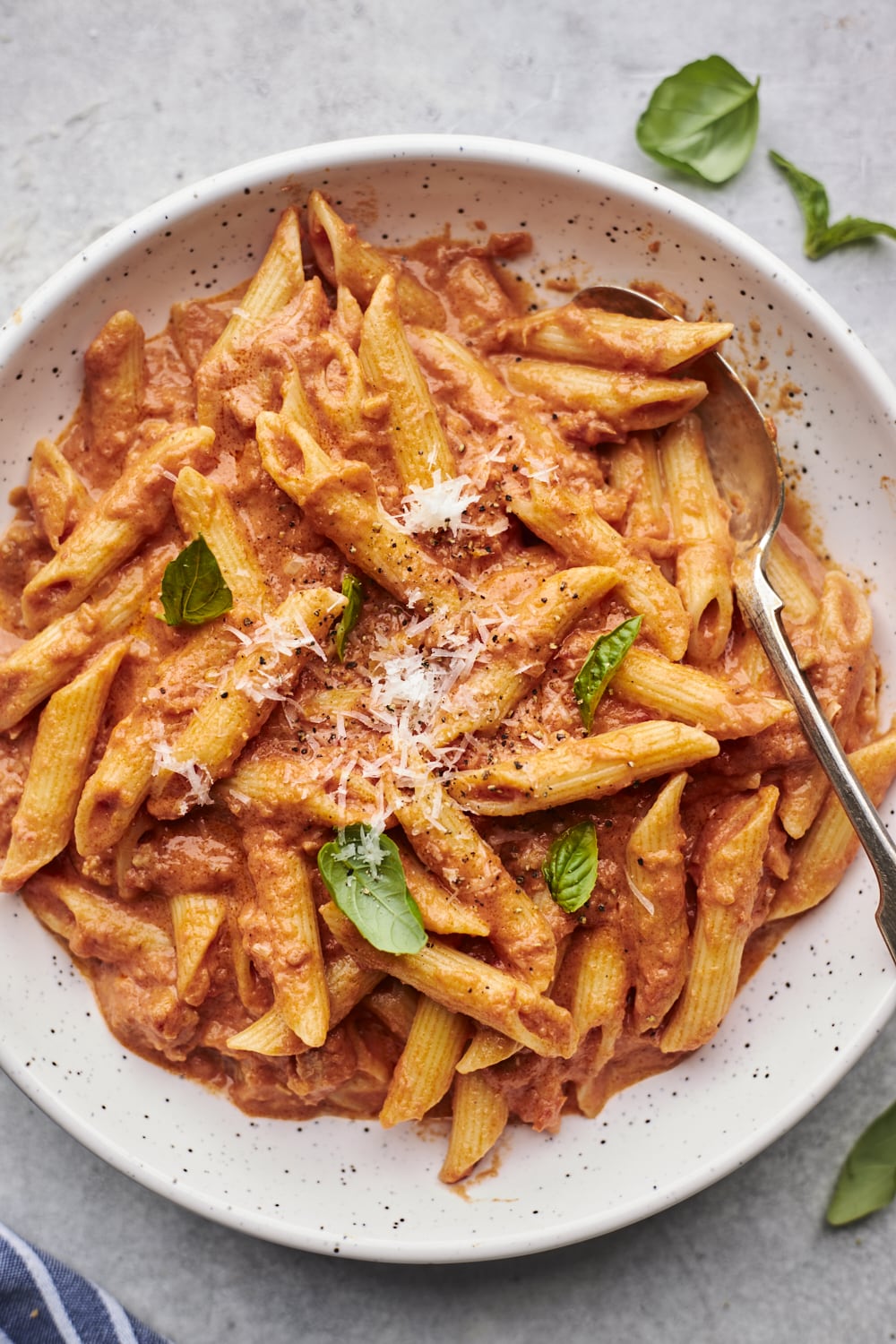 Penne Alla Vodka Recipe Ingredients
Vodka - chose a brand you like or use whatever you have on hand - I usually use a full cup of vodka sauce but that is just me cause I want vodka in my vodka sauce - but feel free to use half of that or even just a 1/3 or a 1/4 cup is fine too - the alcohol taste cooks off while the sauce simmers
Penne Pasta - If you don't have penne pasta, use any pasta shape you like - I recommend a short pasta or bite size but this will work with long pasta too
Pancetta - No pancetta? you can use thick cut prosciutto or smoked bacon roughly chopped instead. Some people have very strong feelings about whether to add anything like this to their vodka sauce - I don't - so if you want your sauce with extra flavour add the pancetta or alternatives - if not don't add it but replace the fat with 1-3 tablespoons of butter to sauté the shallot and garlic in
Shallot & Garlic - feel free to use a yellow onion if you prefer over shallots and use as little or as much as you prefer
Spices & Seasoning - I kept it simple with salt and pepper and chili flakes - use as little or as much of each according to taste and if you prefer no chili flakes that is fine also
Tomatoes - I use crushed tomatoes (if I buy canned whole San Marzano ones or even diced or finely chopped I run them through the food processor to crush them for a smoother finish of this sauce) and tomato passata which is strained tomatoes and thicker than crushed tomatoes or a bit more concentrated - I love the combination of both along with tomato paste which adds richness and more concentrated flavour to the sauce - feel free to adjust amounts to taste
Heavy Cream - I always use heavy cream but feel free to use half and half or even evaporated milk for a lighter version but the sauce will not be as thick - you can use less if you want a more tomato based sauce or more for an even creamier version
Penne Alla Vodka Recipe Instructions (step by step)
Start by BROWNING the pancetta if using (meatless version below in variations)
While that is browning COOK Pasta to al dente according to package instructions, reserve ½ cup of pasta water then drain and set aside
Add onion and chili flakes to pan with pancetta and SAUTE until softened and starting to golden then add the garlic and cook another 30 seconds until fragrant
Add the crushed tomatoes, passata, and tomato paste STIR well and cook a couple of minutes to combine and thicken slightly 2-3 minutes
Stir in the vodka and SIMMER 10-15 minutes until the sauce has reduced and the vodka and strong alcohol smell has cooked off
Lower the heat or remove pan from heat and STIR in the cream
Add the pasta to pan and gently TOSS to coat adding a little pasta water to pan to reach desired consistency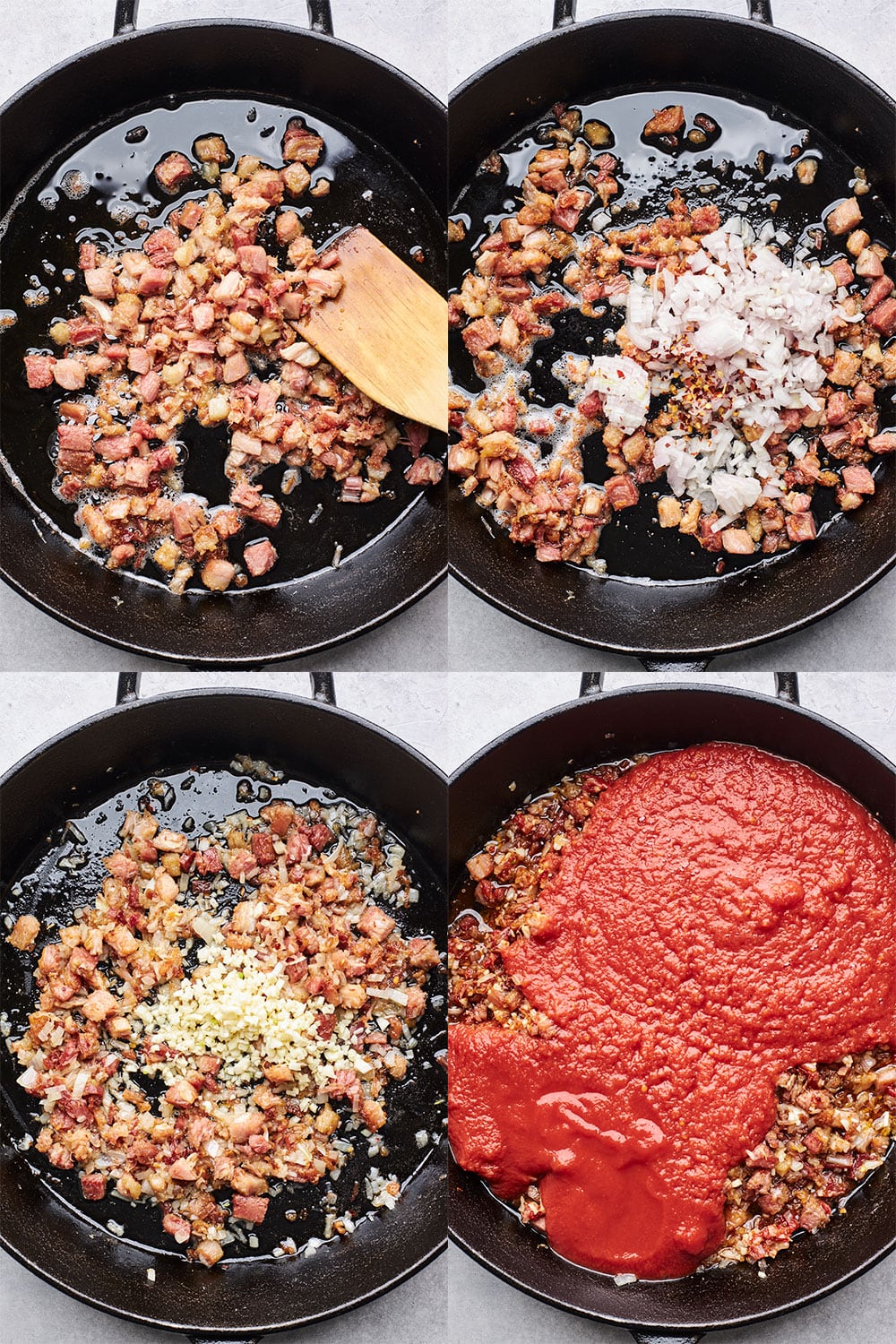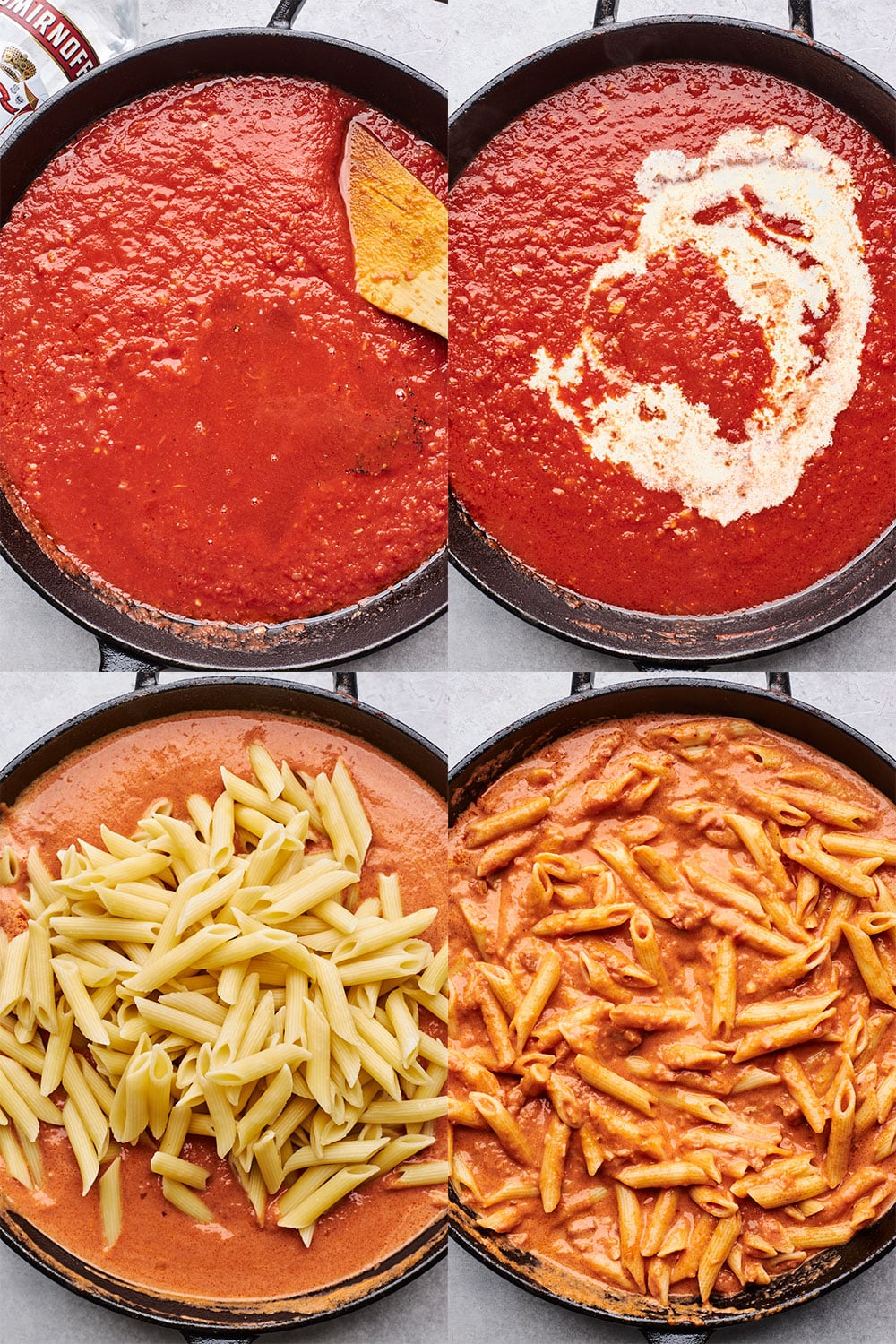 Penne Alla Vodka Variations
For a completely smooth sauce I recommend making this recipe without the pancetta and just sautéing the shallots and garlic in a couple tablespoons of butter or if you decide to use it, once its browned remove it with a slotted spoon and place on a paper towel linded plate - feel free to sprinkle it over when serving or use it in another recipe (essentially you are using it to flavour the sauce). Once the sauce has simmered after adding the vodka and before adding in the cream transfer the sauce carefully to a blender or use an immersion blender to blend the sauce until it's nice and smooth - then pour back into pan and stir in the cream.
For a vegan or dairy free version substitute oil for the butter, omit the pancetta and parmesan cheese, and substitute with a vegan milk or creamer preferably a neutral tasting one - but note that the sauce will be thinner.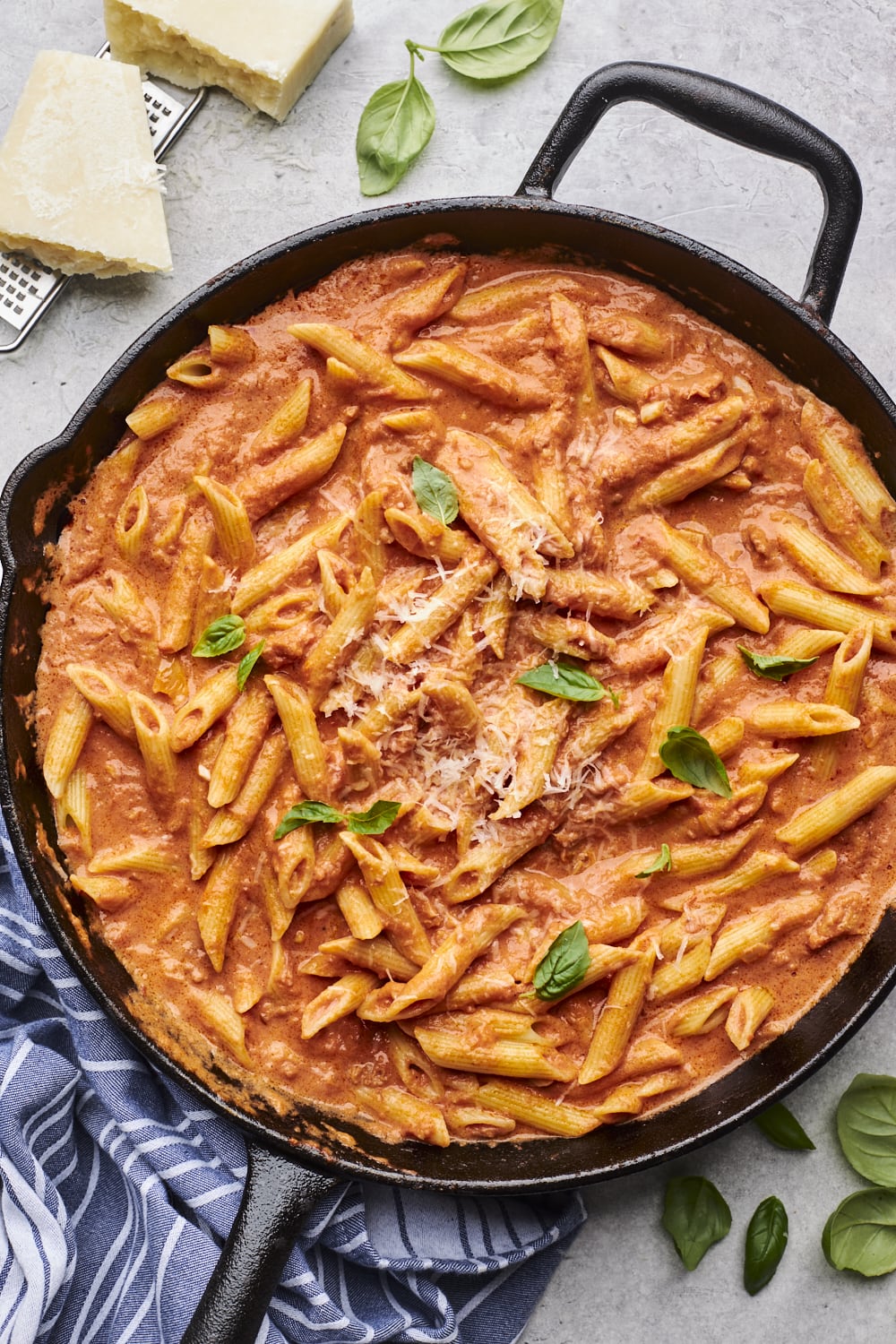 Penne Alla Vodka Tips
Want your vodka sauce Spicier? Add more chili flakes
Want it creamier? Add more cream
Want it more tomato sauce based? Reduce the amount of cream by a half or two thirds
Want it less boozy? Use less vodka and/or simmer the sauce longer after you add the vodka to cook off more of the vodka
Want it meatless? Omit the pancetta and just use butter 2-3 tablespoons to sauté the shallots
Want to add a protein to this dish? No problem feel free to sauté some chicken with the pancetta or stir in cooked shredded chicken into the sauce after or even sauté some shrimp or Italian sausage
Use good quality tomatoes if possible - this will always affect the flavour outcome of ant sauce
It's important to turn the heat to low or if you are worried take the pan off the heat before adding the cream or it might split or some say it looks curdled - This will not affect the taste of the dish but the sauce will look a little grainy
Make sure to reserve pasta water, this helps emulsify the sauce and thin it out to desired consistency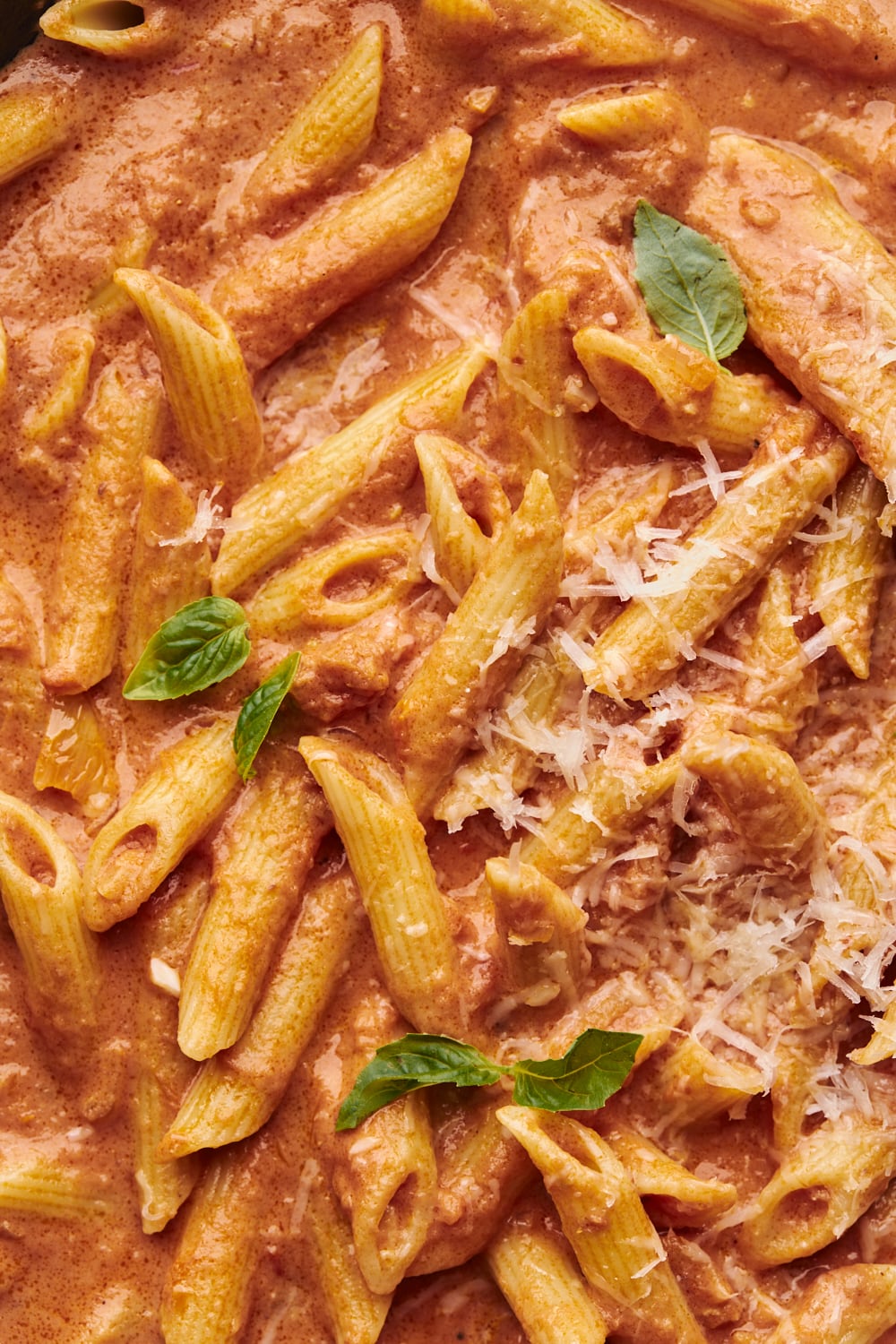 Storage & Make Ahead
STORAGE - Leftovers can be stored in an airtight container in the fridge for up to 3-4 days. I don't recommend freezing it, as the cream will become grainy when thawed and reheated. Reheat leftover pasta stove top or in the microwave with a splash of broth or cream to loosen up the sauce a bit if needed.
MAKE AHEAD - You can make this sauce in advance keep it in the fridge for up to 5 days. Cook your pasta when ready to serve and gently heat up the sauce low heat stove top and once pasta is cooked drain (reserving some pasta water) and toss with sauce. The hot pasta will help heat up the sauce as well. Stir in pasta water as needed. If you make ahead your pasta you can store it in an air tight container and stir it in once the sauce is heated through.
FREEZING - Like I mentioned above, cream sauces are not great for freezing as the cream may separate and become grainy - that being said there is a way to make ahead and freeze the vodka sauce. Make the sauce right up to BEFORE adding the cream or pasta - do not add cream. Allow the sauce to cool and then freeze for up to 2 months. Thaw in the fridge overnight, or over low heat in a saucepan. Once warm in saucepan, add cream, and cooked pasta as written in recipe and thin out with received pasta water as needed.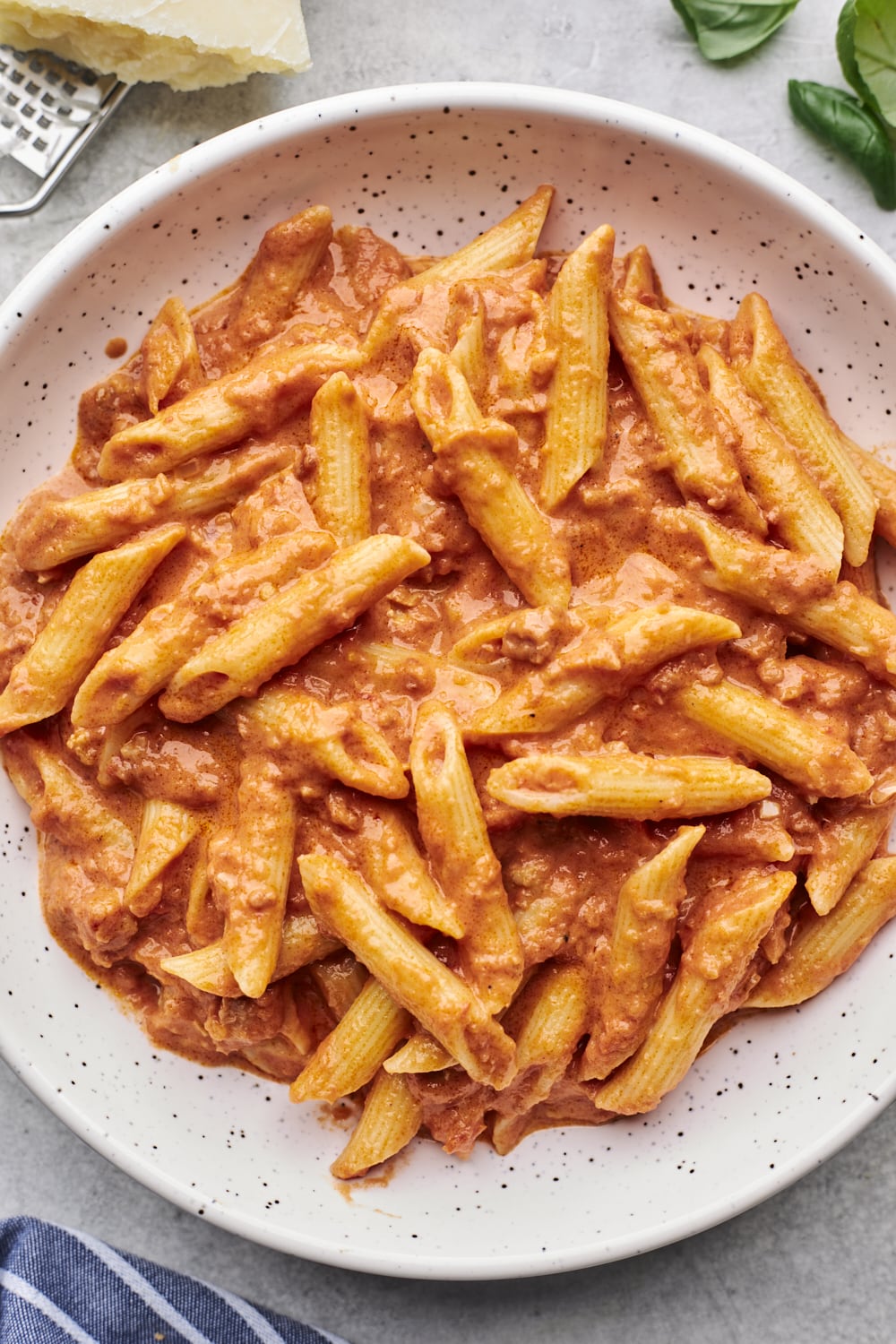 More Pasta Dishes You Will Love:
Recipe
Prep Time: 5 mins
Cook Time: 35 mins
Ingredients
1 pound penne pasta

½ cup reserved cooking water from pasta

1 cup pancetta, cubed or thick cut prosciutto or thick cut bacon

1 large shallot or medium size yellow onion, peeled and finley chopped

½ teaspoon salt plus more to taste

½ tsp of crushed chili pepper flakes (red pepper flakes)

3-5 cloves garlic, peeled and minced

1 can crushed tomatoes or finley diced (28oz), I like to use Mutti finely chopped tomatoes

1 cup of tomato passata

1 tablespoon tomato paste

½-cup vodka or up to 1 full cup

1 cup heavy cream

Freshly grated Parmigiano-Reggiano, and chopped fresh basil, fresh oregano or fresh parsley, for garnish
Directions
Bring a medium sauce pan or large pot of salted water to a boil. Add the pasta and cook until just al dente. Remove a ½ cup of cooking water and set aside. Drain pasta in a colander and set aside.
In the meantime, heat a large skillet, or dutch oven over medium heat. Add the sliced pancetta, prosciutto or bacon and cook, stirring, until browned, 5-8 minutes.
Add the shallots or onions, and chili pepper flakes and cook, stirring, until the onions are soft and starting to golden, about 3-5 minutes.
Add the garlic and cook until fragrant, about 30 seconds.
Add the crushed tomatoes, passata and the tomato paste and cook, stirring until combined and sauce is slightly thicker, about 2 minutes.
Add the vodka and cook/simmer until the sauce has reduced and vodka or strong alcohol scent has cooked off, approx 10-15 minutes, stirring occasionally. Adjust temperature so that you have a nice even gently simmer.
Reduce heat to medium-low heat or low and stir in the cream and cook until the sauce heats through and thickens, just a couple of minutes.
Add the pasta to the sauce and gently toss to coat adding a bit of the reserved cooking water a bit at a time to get the desired texture.
Season well with salt and pepper and stir in some grated parmesan cheese or chopped fresh basil if desired and serve immediately and sprinkle over more cheese if you prefer.