Plum Crumble
Updated August 9th 2022
Fresh jammy tart plums and a crunchy oat topping, this crisp is a lighter and easier alternative to a classic fruit pie. It's simple to make, portable and great for making ahead, making it the perfect summer dessert to bring to BBQs, picnics and Potlucks. I love mine served with some vanilla ice-cream but it's also great with whip cream too.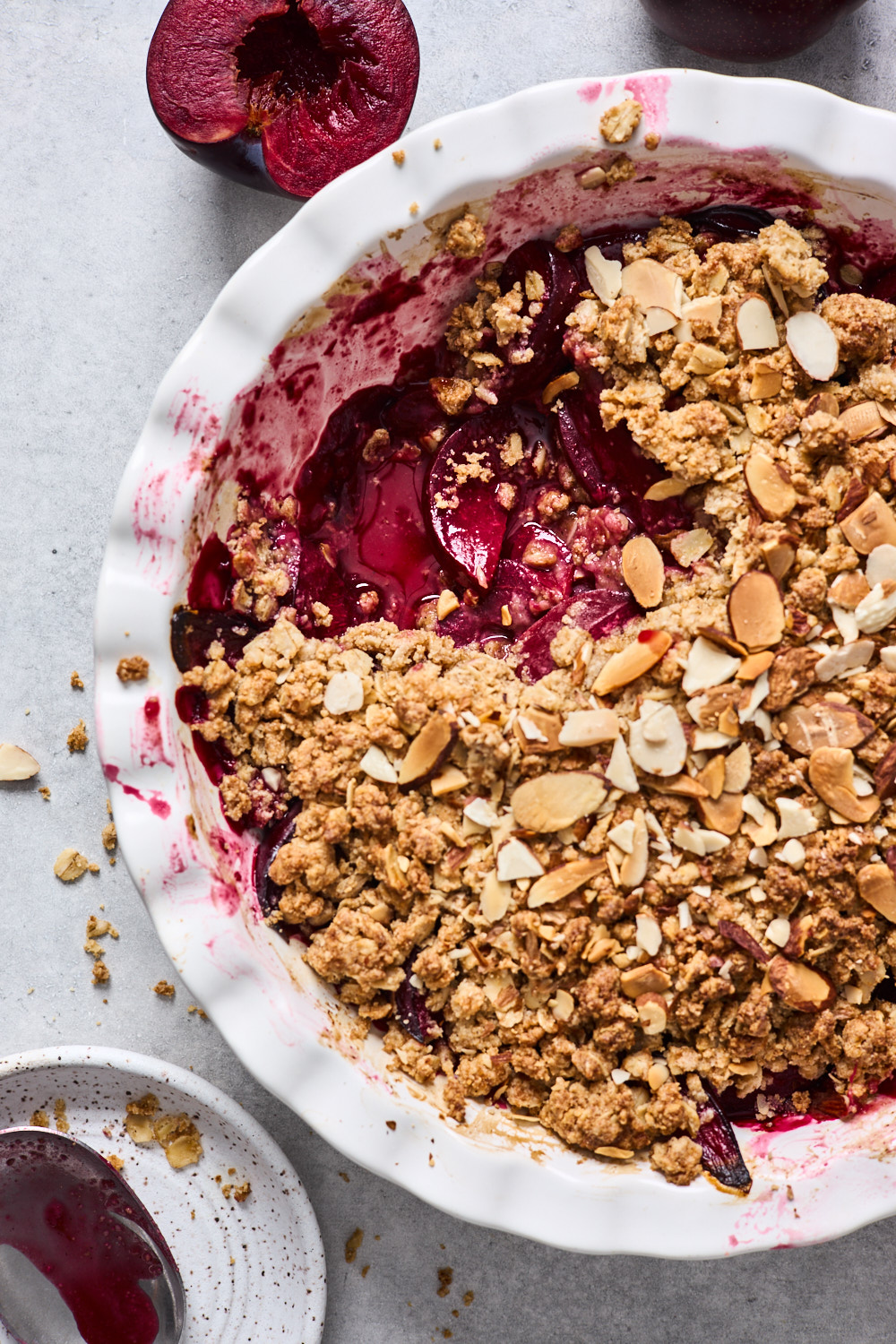 Making a fruit crisp (or some say crumble - to me they are interchangeable - but that's just me - crisps usually have streusel topping crumbles an oat - this is a mixture of both I guess) is very easy and can also be made with any fruit you might have on hand. This delicious filling is made with fresh sliced plums tossed with some sugar, and spices. The crumble clumps above it and tastes like broken-up sandy cookies, softening as they soak up the bubbling plum juices beneath, similar to the texture in my Peach and Nectarine Pecan Sandy Crumble.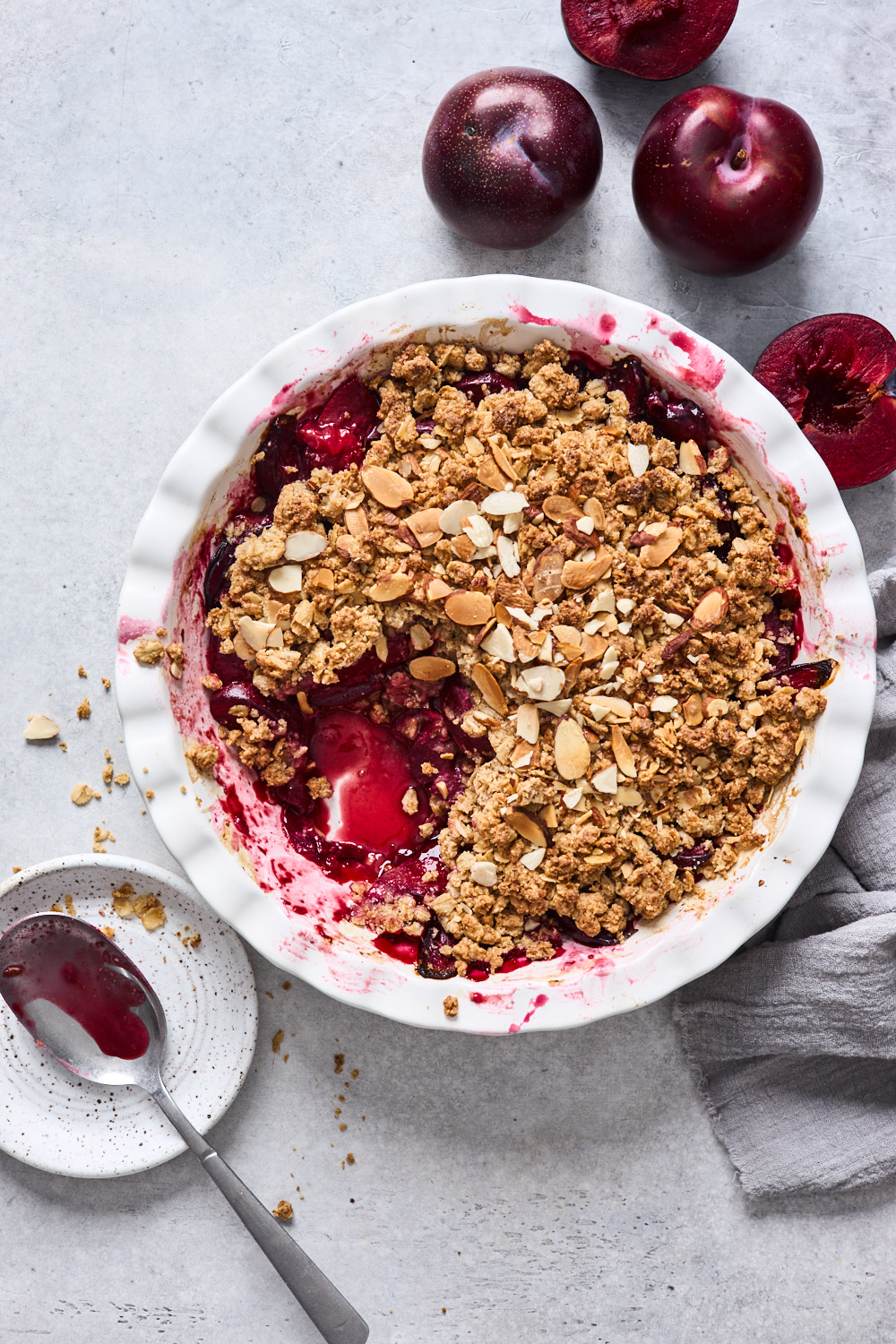 Plum Crumble Ingredients:
FLOUR - all purpose or a good quality gluten free all purpose 1-1 flour
OATS - rolled oats
ALMOND FLOUR - ½ cup
SPICES - cinnamon & cardamom (or any warming spices you prefer)
PLUMS - any variety - approx 2 lbs
BUTTER - unsalted
SUGAR - brown sugar and granulated
CITRUS - juice/zest - lemon or orange
VANILLA EXTRACT - pure (feel free to add a touch of almond almond extract too)
SLICED ALMONDS - optional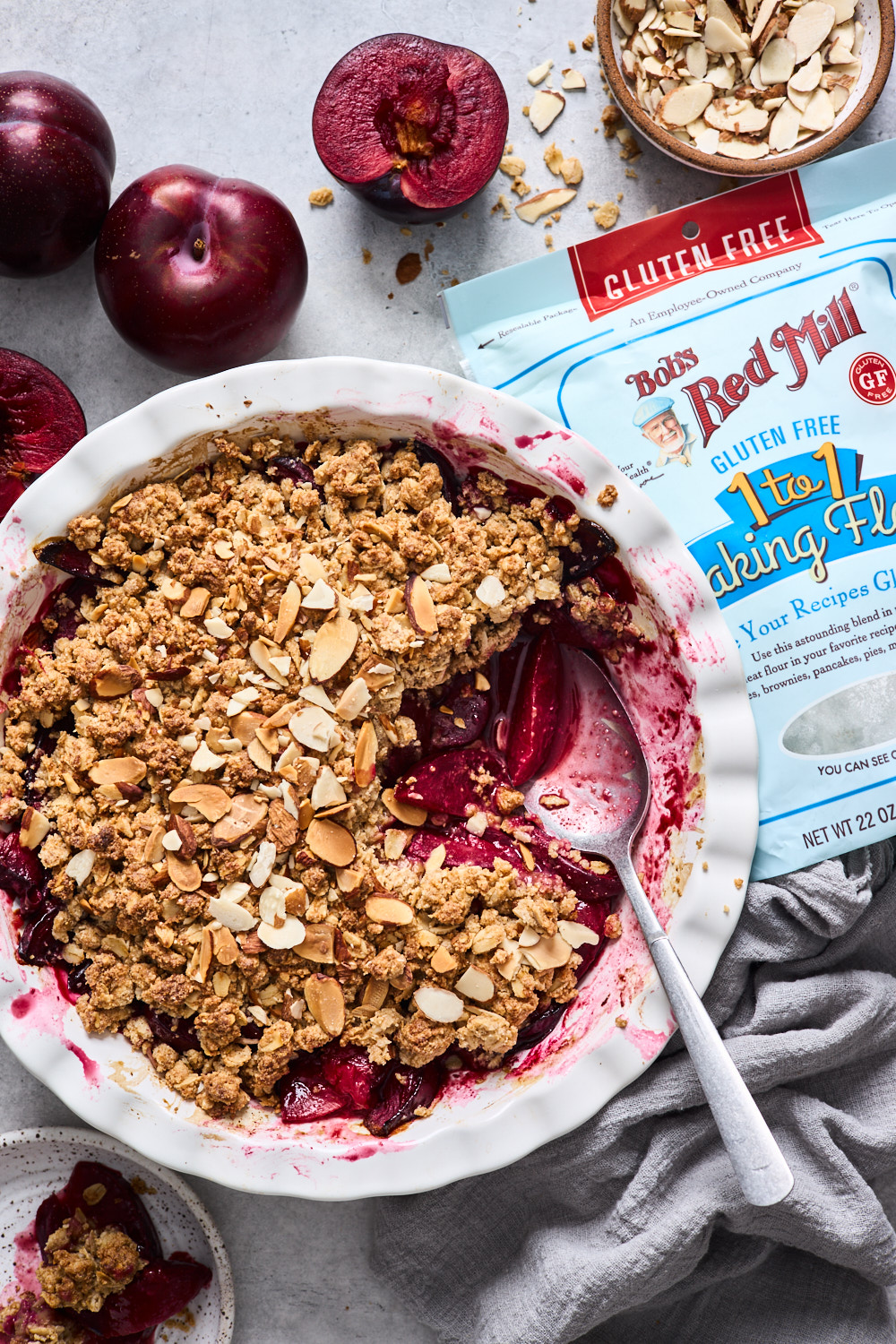 How to make Plum Crumble:
Toss your crumble topping dry ingredients together then simply pour over your melted butter and use a fork to mix until clumps and large crumbles form. No need to cut in cold butter here. Easy peasy.
Toss the plums with the sugar spices and cornstarch. The sugar really creates a rich syrup when tossed with the plums. The brandy is optional but adds a nice flavour to the plums. Brandy has a fruity and subtly sweet taste and so good with stone fruit especially. Feel free to use freshly squeezed orange or lemon juice instead though. The corn starch helps to thicken the syrup so you have a wonderful sauce to mix with the ice cream once it's baked.
Transfer plums to baking dish. Place the plums in baking dish. I like to toss my plums right in the dish I will be baking them which helps save a step and is one less thing to wash. Pat them down a bit in the dish so they are in an even layer.
Add the crumble topping. Sprinkle crumble evenly over the plums. I like to add sliced almonds to my crumble but you also could use pecans or walnuts too. I add them at the last 10-15 min of baking so they don't burn. Lightly press it down onto the plum mixture and then BAKE until it's golden, plums are tender and the filling is bubbling.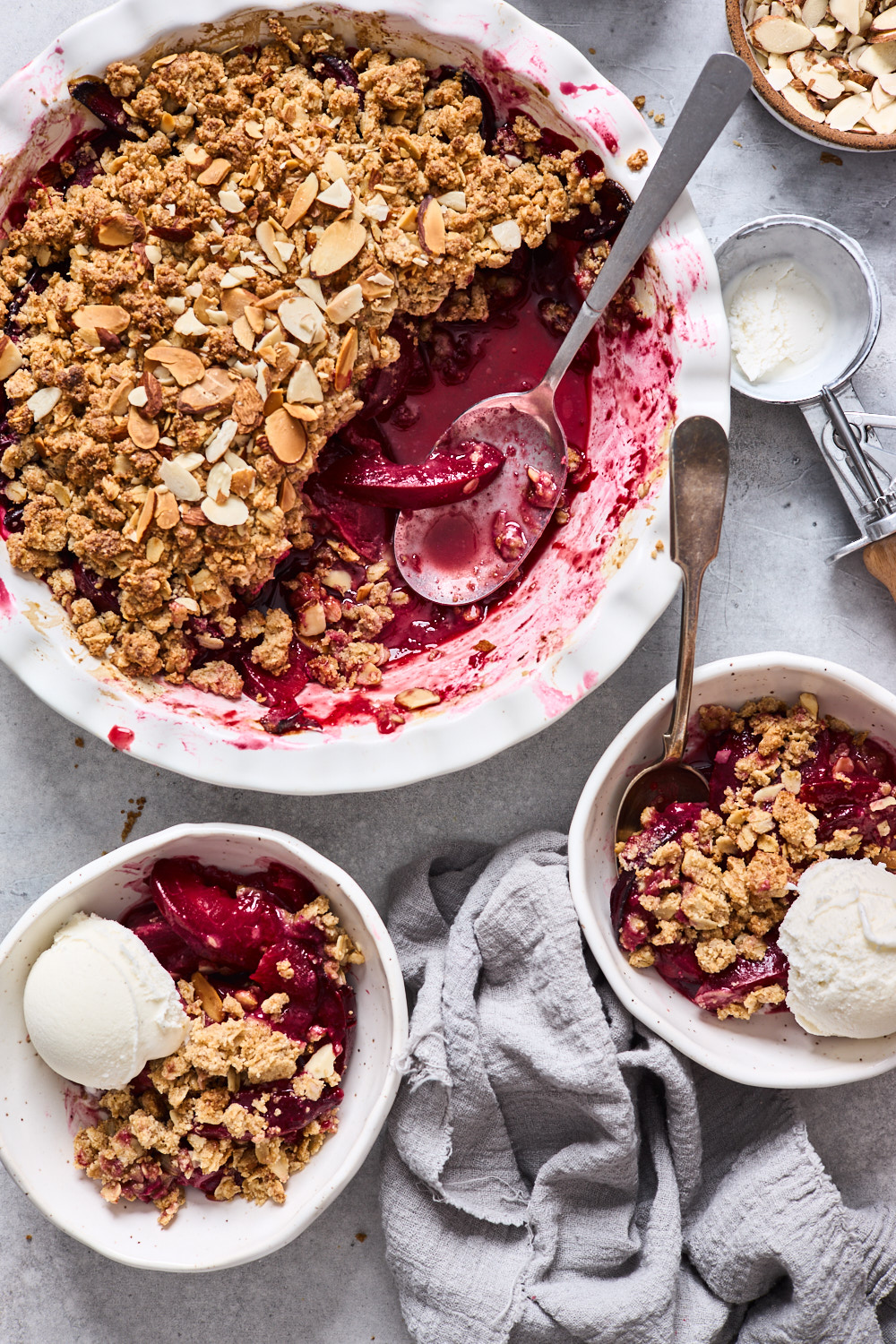 Can you make this ahead of time?
You absolutely can! The best part about a crisps or crumbles is that you can assemble them ahead of time and just pop them in your fridge. Then when you sit down to dinner, pop it in the oven and bake. If you are worried about your filing getting soggy simply make it ahead and pop it in a ziploc bag separately In the fridge until you are ready to top the plums with it and bake your crumble.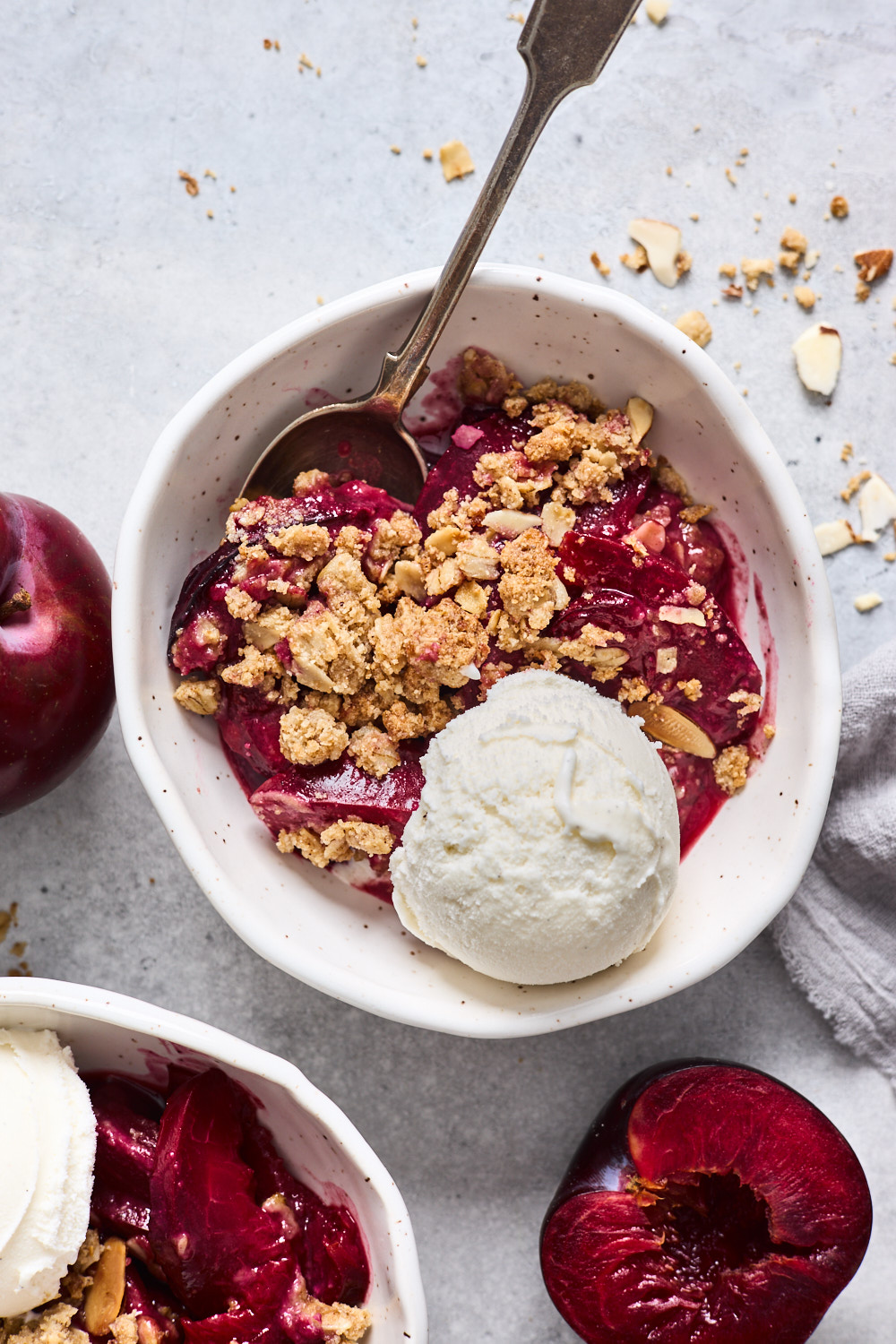 More delicious fruit desserts: If you are looking to turn this recipe into a plum cobbler then follow the base for this recipe and top with the cobbler recipe from my Mixed berry Cobbler or my Peach cobbler with almond flour biscuit topping both great options! And if you like this recipe you will love these too: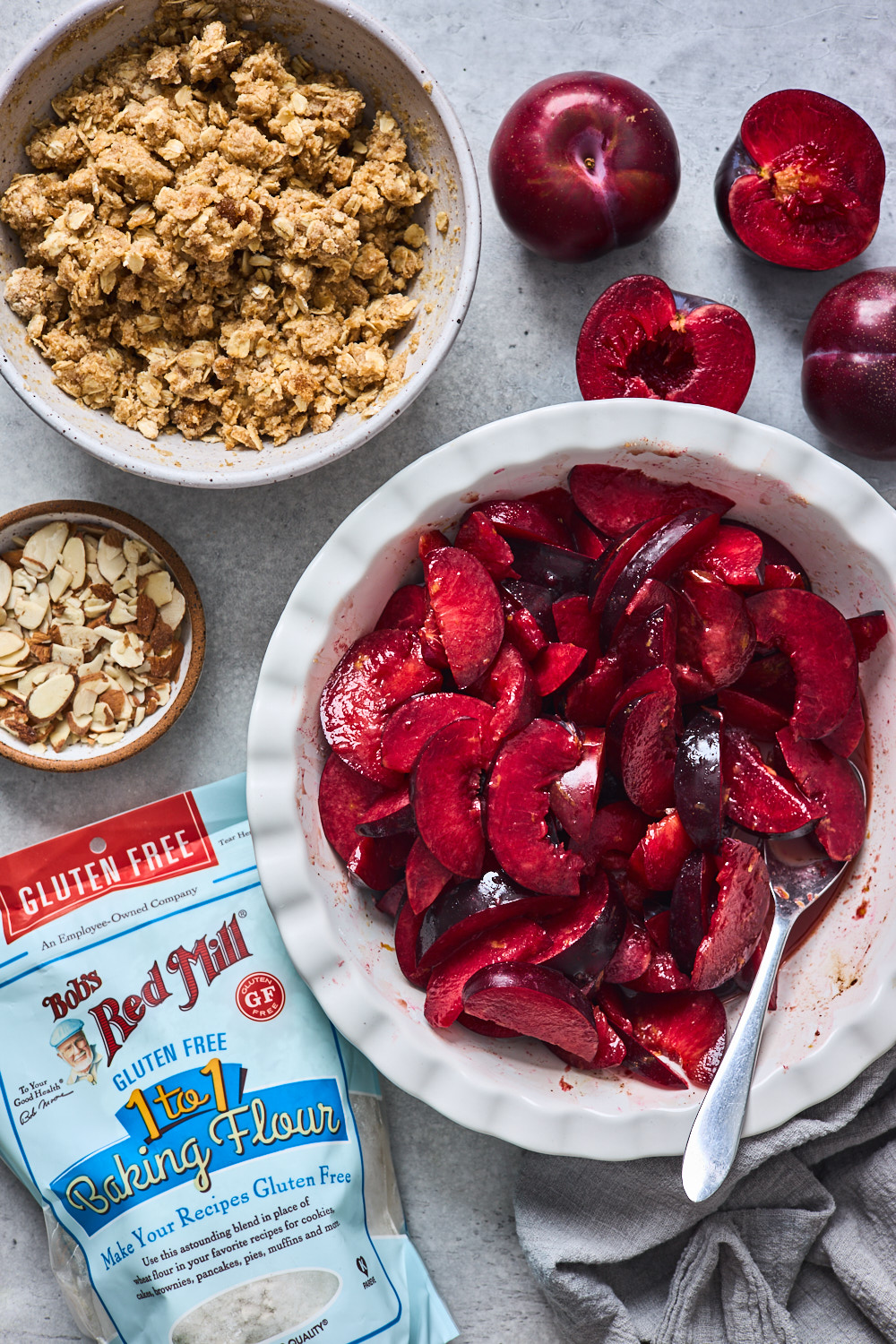 Recipe
Prep Time: 15-20 mins
Cook Time: 45-55 mins
Ingredients
For the crisp/crumble top
1 cup Bob's Red Mill Gluten Free 1-1 Baking Flour

½ cup Bob's Red Mill Almond flour

¾ cup brown sugar

1 teaspoon cinnamon

¼ teaspoon cardamom

¼ teaspoon sea salt

10 tablespoons unsalted butter, melted

¼ cup sliced almonds for sprinkling (optional)
For the fruit
2 lbs plums approx 6-8 plums, pitted and thinly sliced

⅓ cup brown sugar or granulated

½ teaspoon cinnamon

¼ teaspoon cardamom

1½ tablespoons cornstarch

1 teaspoon orange or lemon zest

1 tablespoon Brandy or orange or lemon juice

½ teaspoon vanilla
Directions
Preheat the oven to 350°F.
Make crisp topping: Mix the flour, almond flour, brown sugar, cinnamon, cardamom and salt together in a medium bowl. Pour in the melted butter and work it into the dry ingredients with your hands until the crumble topping begins to clump together and all of the ingredients are incorporated.
Make the fruit filling: combine the sugar, cornstarch, plums, spices, brandy, zest and vanilla in a bowl. Gently stir until we'll combined.
Spoon fruit into a 9-inch square baking pan or deep dish pie plate and sprinkle crisp topping generously on top. Bake on a sheet pan until golden and juices are bubbling, approx 45-55 min. During the last 10-15 min of baking remove and sprinkle over the sliced almonds if using.
Recipe Notes
Feel free to use any fruit for the filling like apples, berries apricots, nectarines or peaches and whatever plum variety you have on hand or mix a few varieties. Keep in mind the riper the fruit the juicier the filling. So you may have to adjust the amount of cornstarch in the recipe if you want a thicker filling. Make sure to allow time for it to cool and set after its out of the oven.
You can use any ground nut flour you like in place of the almond flour or you could also use oat flour in its place as well. For a non gluten free version you could use an all purpose flour in its place - I use Bob's Red Mill All Purpose Flour. Fresh jammy plums and a crunchy oat topping
To make this on the grill: Make the recipe as directed but in a heavy duty skillet. Place the skillet over indirect heat, cover the grill and cook until the plums are completely tender when pierced with a knife and the crumble is golden brown and crispy, 30 to 40 minutes.
To make this vegan just use a plant based butter