German Plum Cake with Streusel (Pflaumenkuchen)
Updated Sept 10, 2022
This sweet and slightly tart and jammy plum cake is irresistibly buttery and delicious. It's so easy to make and I bet you have all the ingredients you need for it in your fridge and pantry right now. It's perfect when you have loads of plums to enjoy. We love to have as many as possible while they are in season, but I also love making a Plum Galette or cobbler, delicious spiced Plum crumble with them too and of course this super tasty German style plum cake. It's great with tea, coffee, breakfast cause I don't judge and most definitely with a dusting of powdered sugar and a dollop of whipped cream. Heaven in each bite I'm telling you.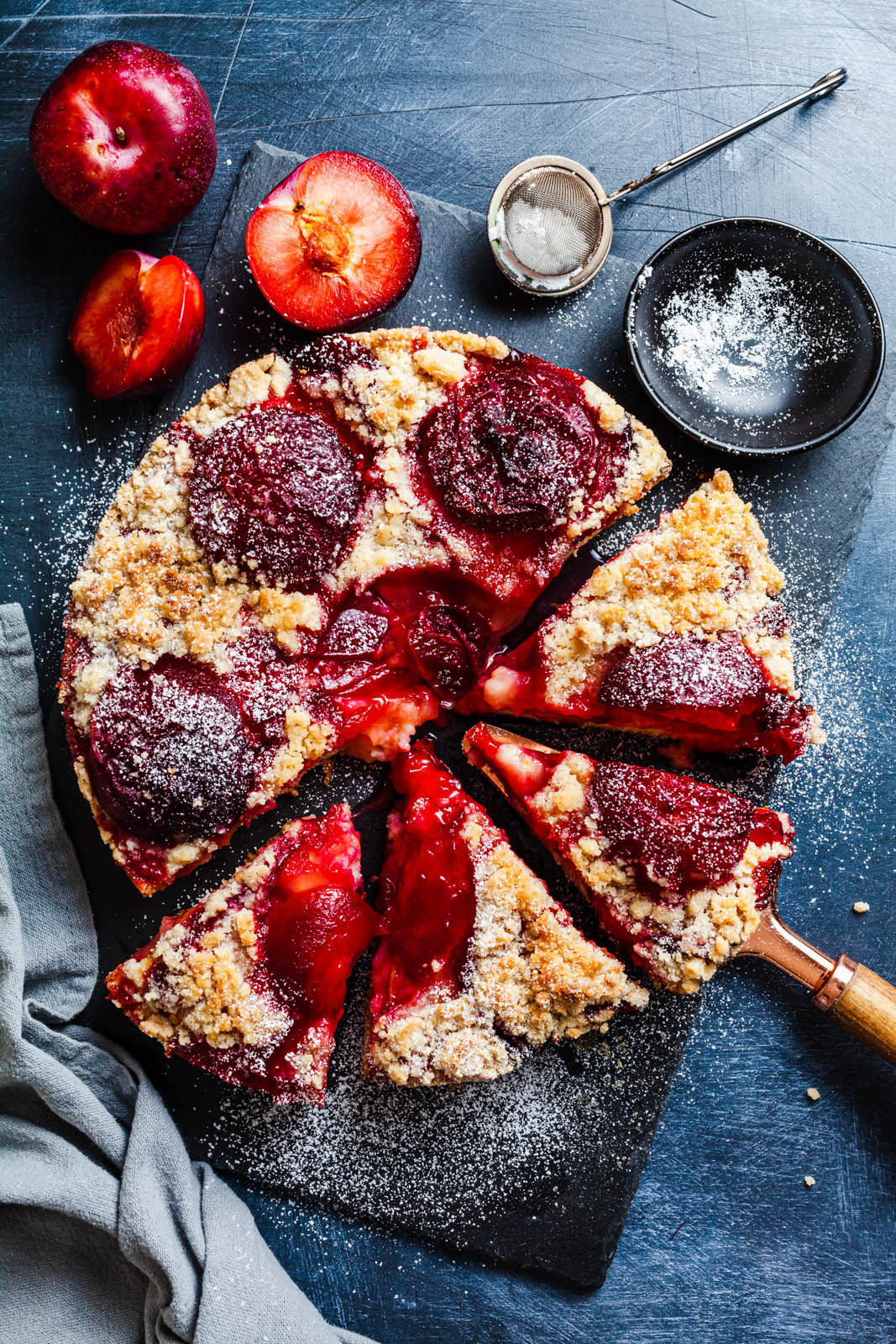 The first time I heard about this cake is when I googled plum recipes. (I do that for every fruit and veggie in season for inspiration.) I saw the German name for this one pop up quite a few times in my search so I had to investigate. It's also known by these other names zwetschgendatschi, zwetschgenkuchen, and quetschekuche depending on where you are in Germany. I was totally sold on it after each recipe went on about how simple it is and how fabulous it is. There are several variations in how you make this cake. Some have streusel on top, others don't and some recipes call for a yeast dough base but this recipe is the variety made with more of a shortcrust pastry base (my personal fav) - the batter is buttery and thick and when it bakes it sort of puffs up and envelopes the plums. I chose to go off the simplest recipe for both the cake and the streusel as you can imagine there are a whole whack of variations out there for both. So this might not be the most traditional German plum cake but it is a simple and delicious version I love. The cake is a popular German cake – which could almost pass as a tart if you ask me. It's most often made like this in a cake tin or in a sheet pan or slab cake/pie fashion. I went the cake route as it was the simplest with the fewest steps.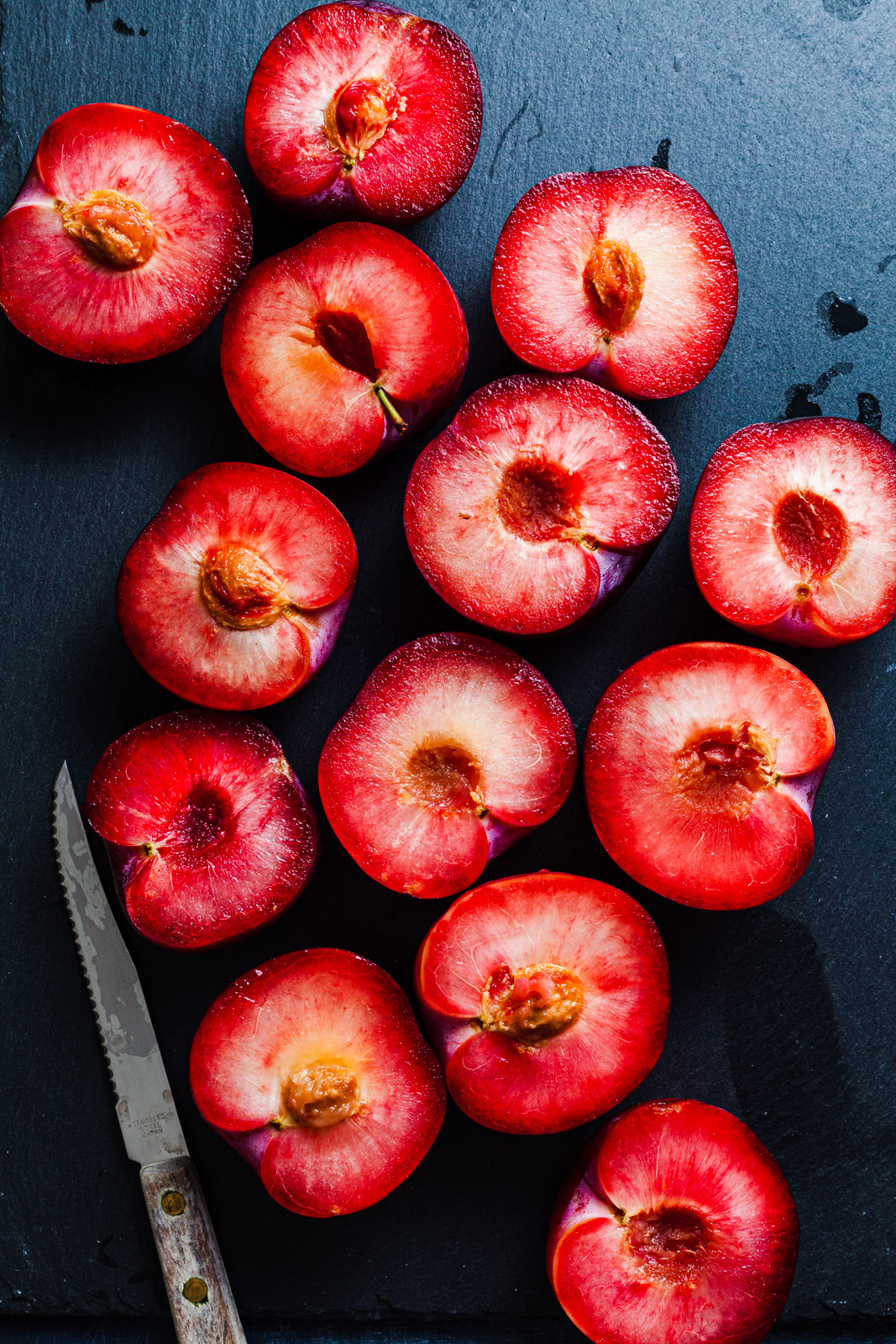 German Plum Cake Ingredients:
Plums – Fresh plums is what works in this recipe and I use ones that are small and firm (all varieties welcome)
Flour – All-purpose flour works best, although for a gluten free version you can use a good quality all purpose 1-1 gluten free flour
Vanilla Pudding or Powdered Vanilla Sugar – In Europe and many other places its common to bake with vanilla sugar - this works well in this recipe or instant vanilla pudding powder works great too (see below for substitutions)
Lemon zest – Fresh lemon zest adds the perfect note or hint of citrus that goes so well in a fruit cake
Butter – unsalted butter and room temperature butter for both the cake and the streusel
Eggs – large eggs and room temperature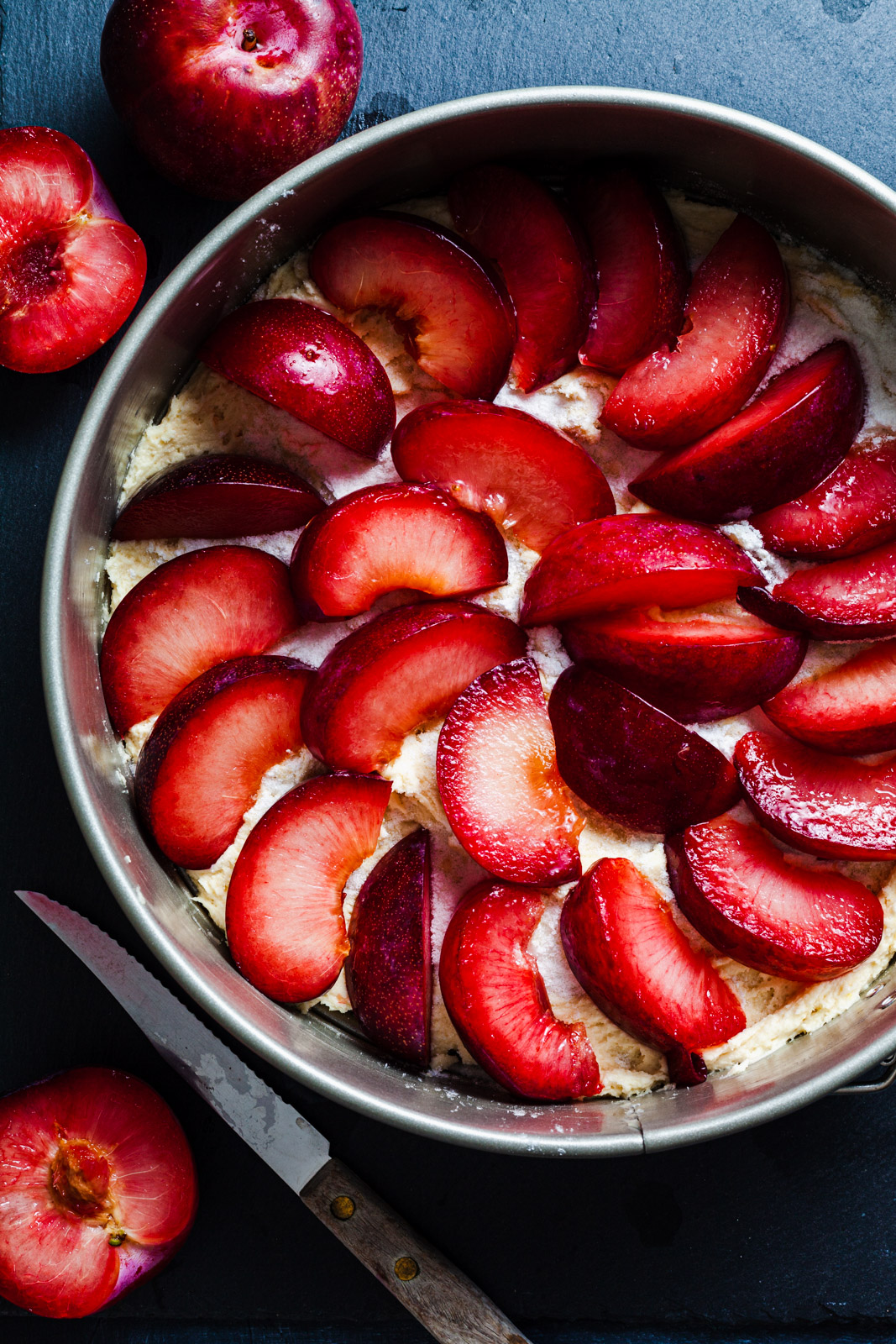 4 easy steps to making German Plum Cake:
Make the Streusel: Combine flour, sugar, salt and cinnamon. Add softened butter and using a fork press and mix it in until you have coarse crumbs
Make Batter/base: Combine dry ingredients then cream butter and sugar adding the lemon zest (vanilla extract if using and eggs until combined then the dry ingredients. Spread batter evenly into prepared pan. Sprinkle batter with half the powdered vanilla sugar, vanilla pudding or the almond flour.
Prep the Plums: Pit and slice plums into quarters or eighths if the plums are on the larger side. Gently place them over batter and sprinkle them with remaining vanilla sugar, vanilla pudding or almond flour.
Add Streusel & Bake: Sprinkle the streusel evenly over plums. Bake cake for aprox 50 minutes or until the top of the cake is lightly golden.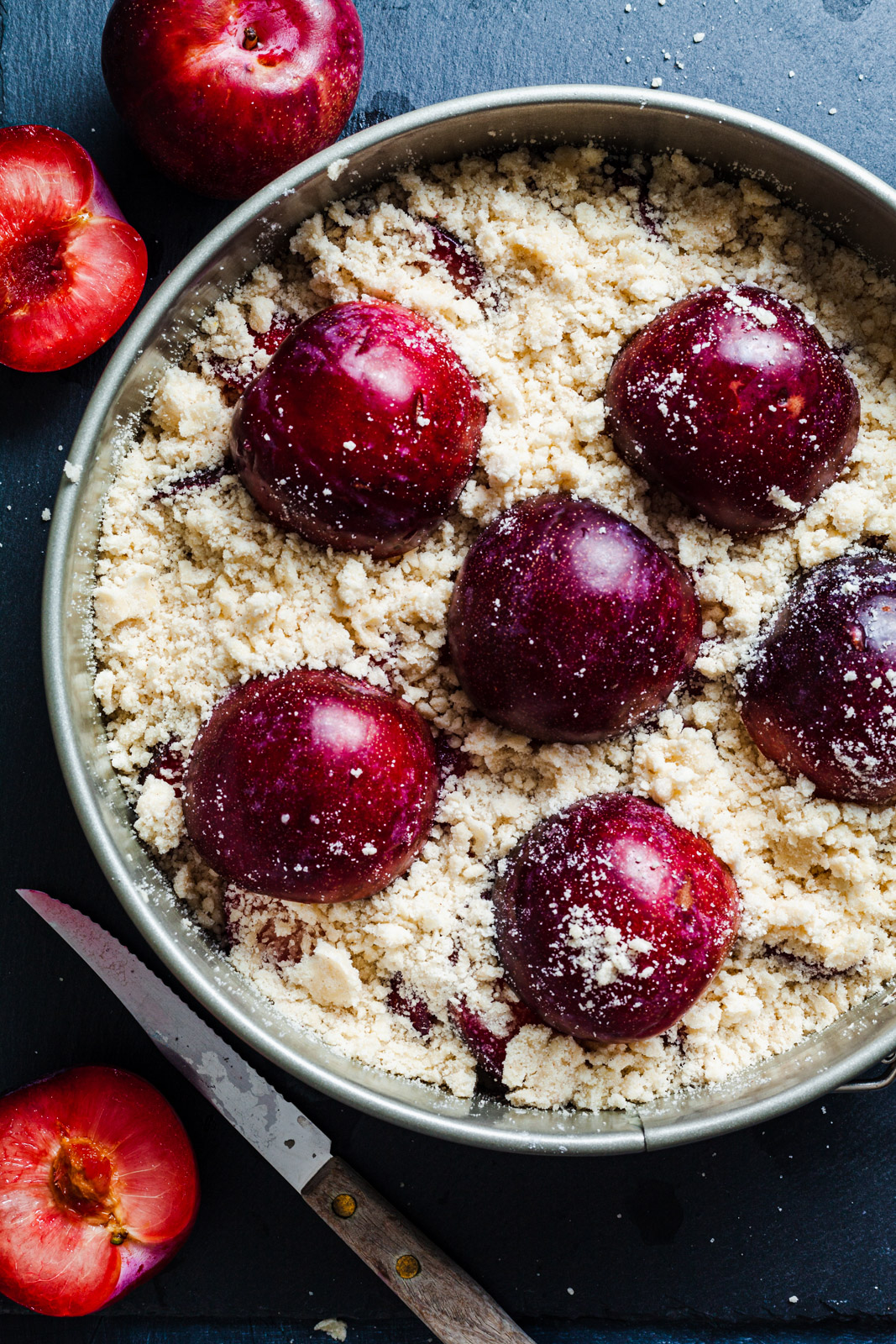 Do I Need To Add the Vanilla Pudding to the Cake?
The cake has three layers essentially. The base which is between a cake and tart shortcrust in texture. More accurately the very bottom of it gets slightly crust-like and the top part of it remains a bit spongy - likely due to the moisture from the jammy plums. That brings me to an important part of those to layers. Just like making a pie or a galette - there is a fine line between damp squidge in your cake/crust layer from the jammy fruit which is desirable, but sogginess certainly isn't. That is why the dough the batter is lined with a sprinkling of vanilla pudding or powdered vanilla sugar or if you are opposed to instant vanilla pudding than semolina or almond flour/meal is a great alternative. A sprinkle over the dough and then over the fruit layer does the trick. It soaks up the crimson juices of the ripe plums as they get jammified and delicious in the oven while baking. If you do not have vanilla pudding powder don't fret - feel free to sprinkle over some semolina or almond flour - will do the trick. If you substitute with either of those I recommend adding ½-1 teaspoon of vanilla extract to the batter for flavour. In Germany they would normally use Powdered vanilla sugar which would also work too. This is an optional step of adding the layer of vanilla pudding or the almond flour or semolina but I do recommend it because it guarantees a cake that is moist but not soggy from the fruit layer. Some like to sprinkle sugar and spices over the fruit as well but I found that my plums were sweet enough and didn't need the extra sugar, and the streusel toppings has a bit of spice in it too - although a little sprinkling of extra spice won't hurt the plums at all - so feel free to sprinkle on some if you wish - cinnamon, nutmeg, or cardamom.
What Variety of Plums can I use in This German Plum Cake Recipe
Any type of plum will work with this recipe. The only thing I recommend when it comes to choosing the type to use is that they are small and ripe but firm. If they are already quite soft they will add a lot of extra moisture to the cake. When it comes to the plums themselves, they do not need to be tossed in sugar or anything. I scored some fabulously sweet ones. Regardless the plums have just the right amount of sweetness with just enough tart to add a nice brightness to this cake. The dough and the streusel itself have enough sweetness in them already so no sugar is needed for the fruit layer.
Do I Need to Peel the Plums?
There is no need to peel the plums. If you prefer them peeled though that is totally fine just use a peeler to peel them whole before removing the pits and slicing them. I topped the cake with plum halves but that is totally optional - you can tell they were unpeeled from their wrinkly skin
Can I Use Other Fruit in This Cake?
You absolutely can. Yo can use any stone fruit you like like apricots and peaches, nectarines and cherries. I recommend c smaller sized fruit and firm fruit as it will melt away in this cake.
Do I Need To Use a Spring-form Pan for This Cake?
I always find that this recipe works best in a springform. It makes it way easier to remove from the pan but feel free to use a regular cake pan if you wish - it slices up like a dream so you can slice it in the pan and remove it easily that way too. You can also double this recipe and bake it in a 9×13-inch cake pan. The baking time will need to be adjusted by a few extra minutes but easily can be made into a cake to feed a crowd.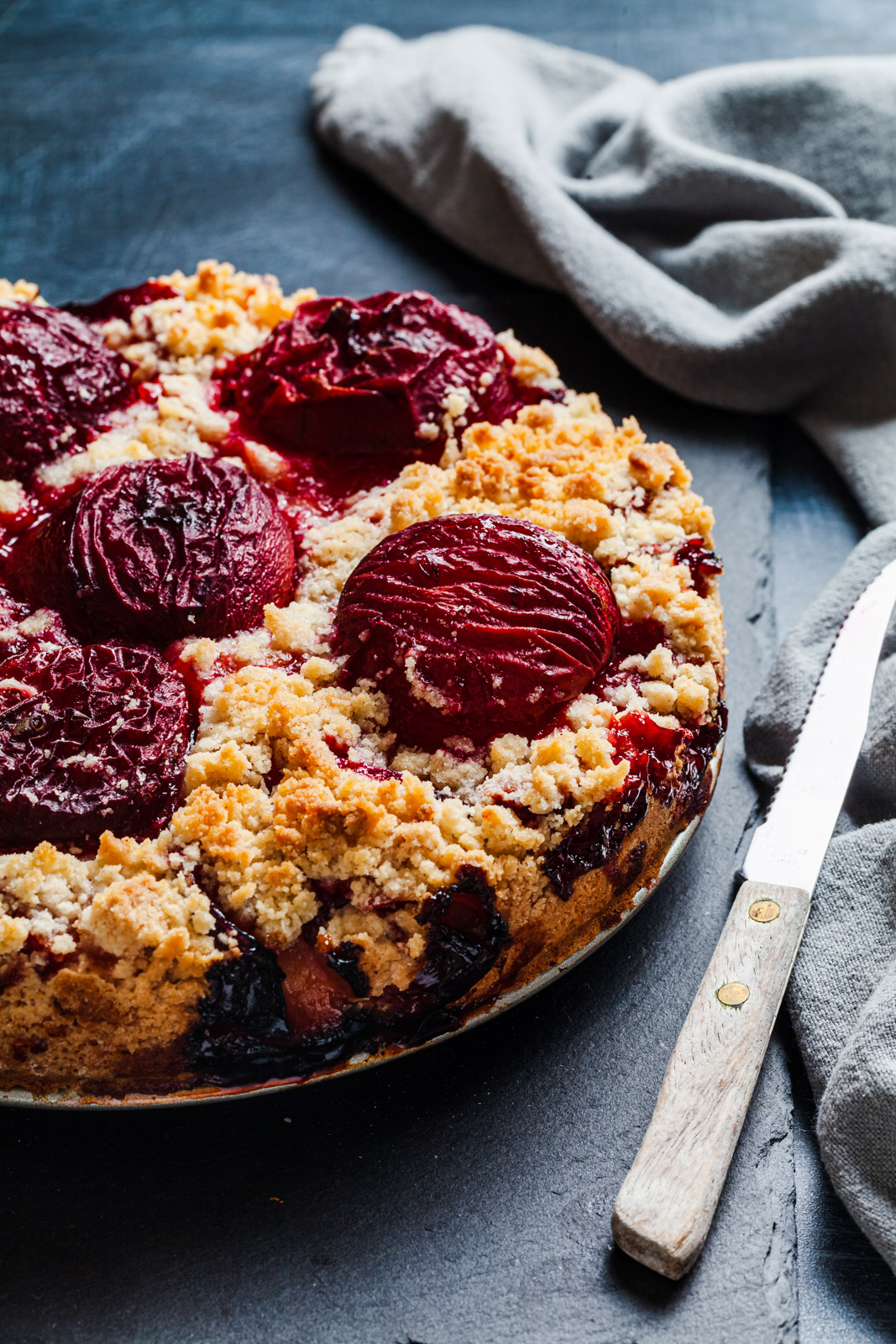 Storage and Freezing:
The German Plum cake keeps well for 3-4 days. Room temperature: keep for one day covered with a clean towel. Refrigerate it after the second day in an airtight container. Freeze: Once completely cool, cut the plum cake into slices. Place in airtight container or wrap well in plastic wrap and foil and freeze for 3-4 months. Defrost on the counter overnight in the fridge. Once at room temperature, you can serve it directly or warm it in the oven at 350 degrees F for 5-10 min on a baking sheet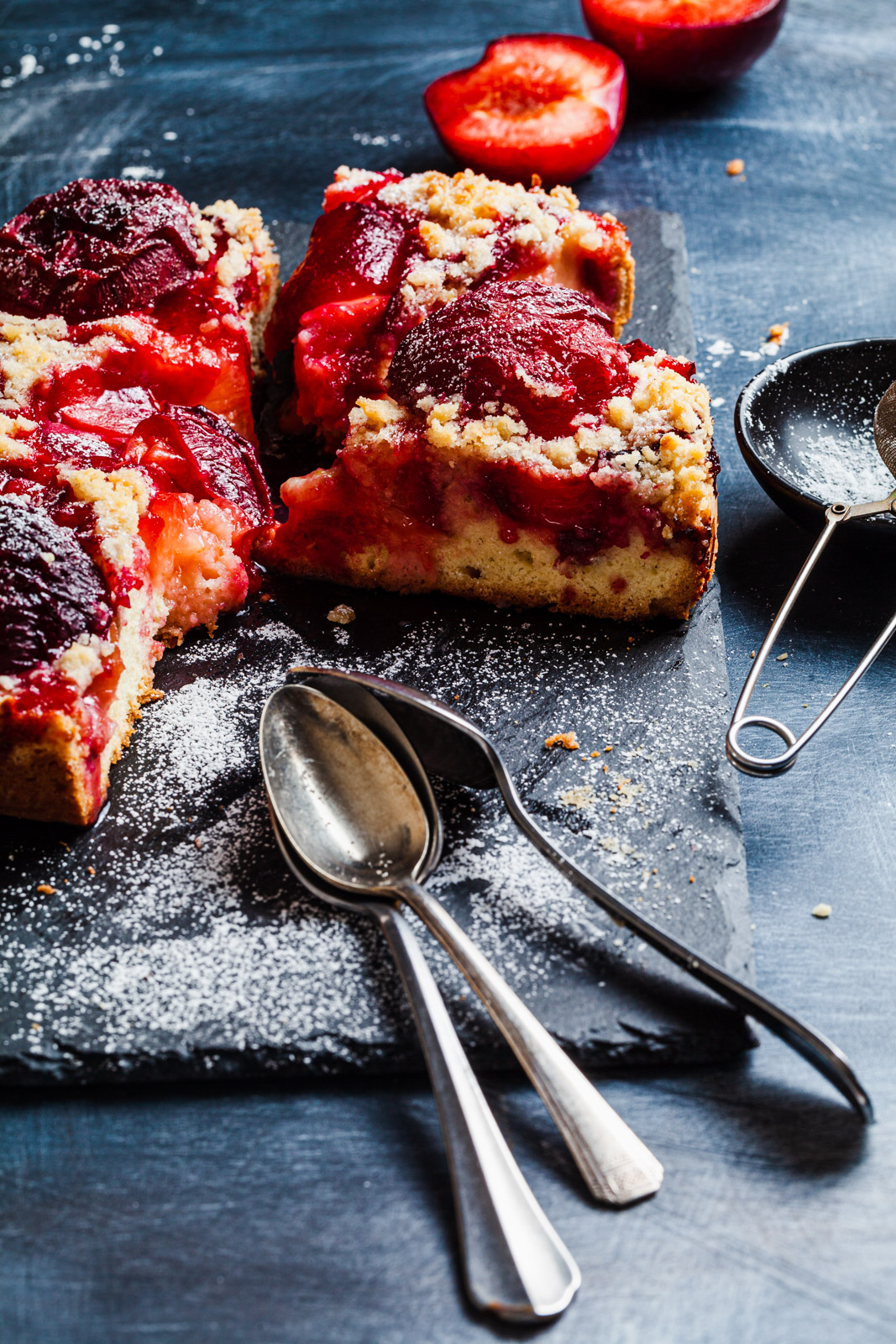 More Desserts/Cakes You Will Love:
Recipe
Servings:
one 9 inch round cake (serves 8-10)
Prep Time: 20 mins
Cook Time: 50 mins
Ingredients
For the Cake
½ cup unsalted butter, room temperature

½ cup granulated sugar

1 teaspoon lemon zest

2 eggs, room temperature

1½ cup all purpose flour

1 teaspoon baking powder

2 lbs Plums, pitted and sliced in four (I used plummet red plums but Italian plums, black plums or any variety of plums will work)

1 small package vanilla pudding or vanilla sugar – approximately 4 tsps divided (substitute with 4 tsp of almond flour or semolina - add 1 teaspoon vanilla extract to batter for flavour if not using pudding)
For the Streusel Topping
1 cup all-purpose flour

½ cup sugar

Pinch of salt

¼ teaspoon cinnamon

½ cup butter, room temperature</span>
Directions
Preheat the oven to 350°F and grease a 9 inch round springform cake pan and line the bottom of it with parchment paper for easy removal from pan
Make the streusel: In a small bowl whisk together flour, sugar, pinch of salt and cinnamon. Stir in the butter and using a fork gently work in the butter into the flour mixture until everything is combined and your crumbs have a coarse and clumpy texture. Set aside
In a small bowl whisk together the flour and baking powder and set aside.
In a large mixing bowl, cream the softened room temperature butter and sugar until light and fluffy, approximately 5 minutes. Add the lemon zest and then the eggs one at a time until incorporated, scraping down the sides of the bowl as needed.
Slowly add the flour mixture to the butter mixture and mix until incorporated scraping down the sides of bowl as needed. Do not over mix.
Spread the batter into the prepared pan (it is thick and may be a bit sticky - I used a greased spatula to smooth it out evenly). feel free to use your fingers to press it into the bottom of the springform pan if needed.
Sprinkle the dough with 2 teaspoons of vanilla pudding powder. Spread the plums over the batter and then sprinkle them with remaining vanilla pudding powder if using otherwise use almond flour. (I sliced a few of my plums in half for decorative purposes - that is optional)
Spread the streusel evenly on top of the plums.
Bake for 50-55 minutes until the streusel is golden brown and the plums are bubbling and a toothpick inserted into the center of the cake comes out clean.
Once done remove from oven and allow it to cool on cooling rack for 10 minutes before removing the springform ring. Allow to cool further 30 minutes and then transfer to plate or slice and serve from the spring form bottom
Recipe Notes
See blog post above for more about vanilla pudding and substitutions