Pomegranate Ricotta Cheesecake Tart
It's a happy day when you spot all the pomegranates making it into the grocery stores. I realized when going through my dessert section on the blog that I don't have too many pomegranate recipes at all so I was keeping my eyes peeled for some pomegranate inspired recipes. I didn't need to look too far - I found some inspo via Southern Living magazine. I actually follow the photographer on Instagram that shot the beautiful pomegranate chess tart that caught my eye from the magazine and it was brilliant looking. My family loves cheesecake so I decided to make a cheesecake version instead of a chess tart. It has hints of citrus in the filling which is so creamy. The ricotta keeps the filling light and delicious also.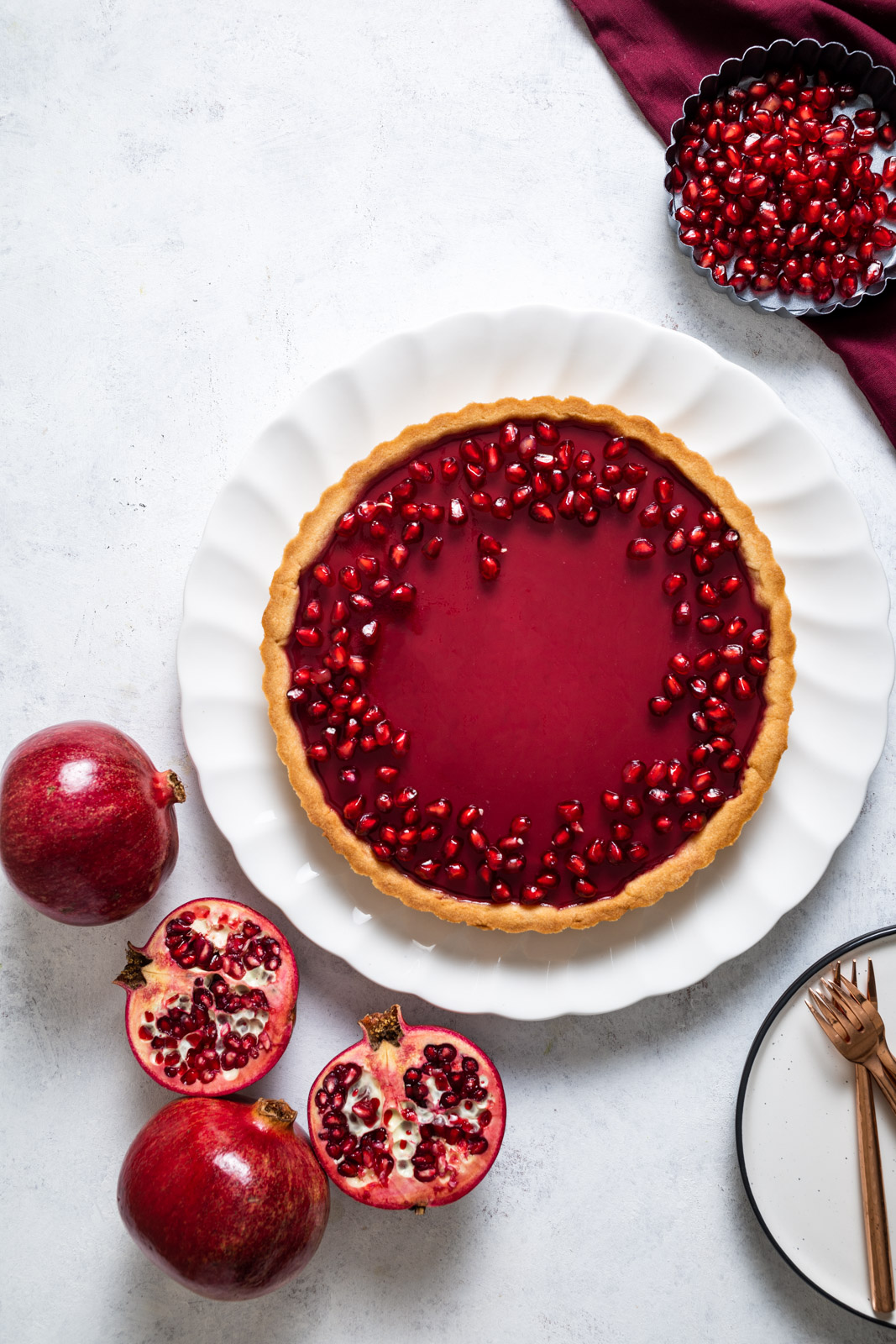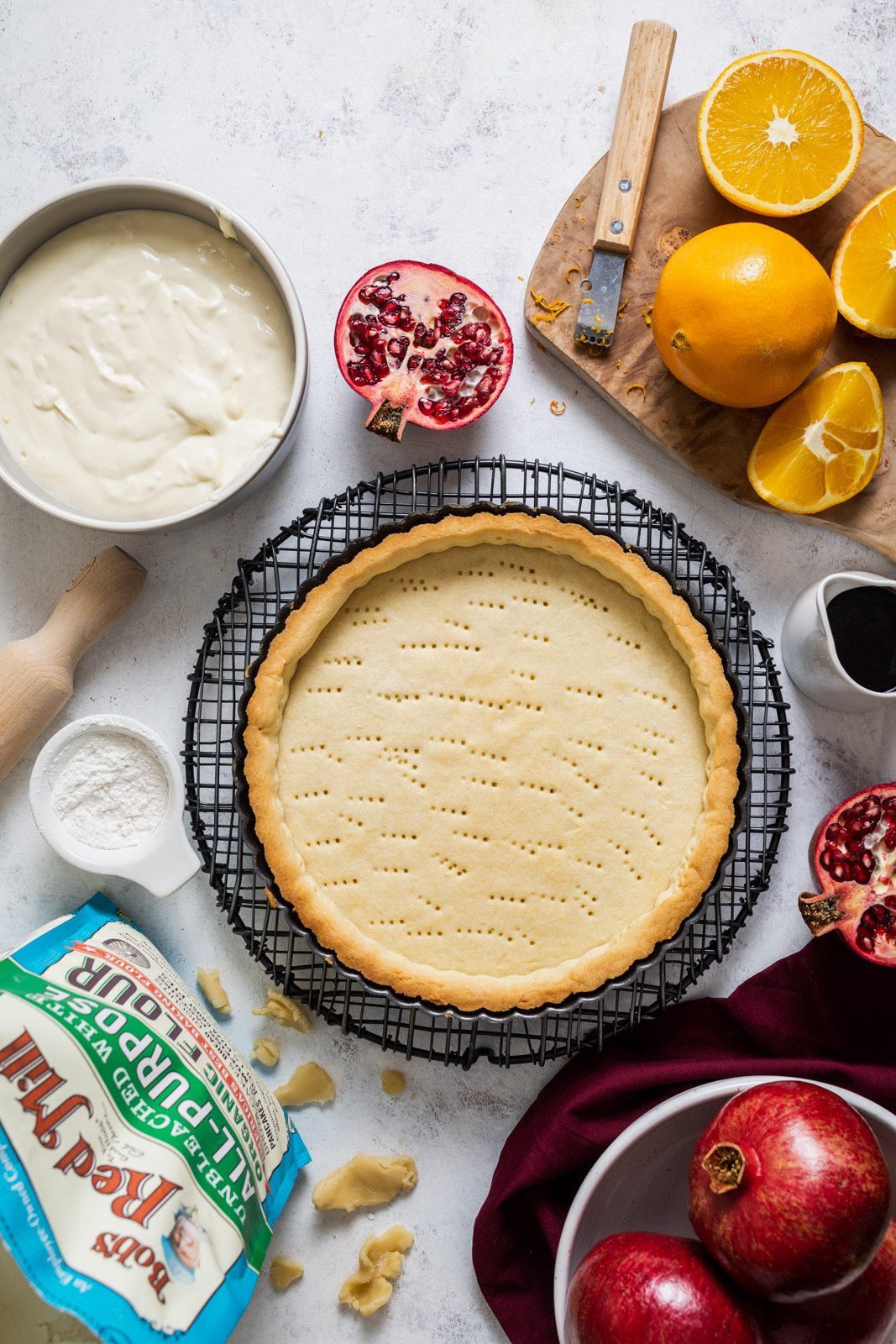 I used my favourite recipe of all time for my tart base - it comes out perfect every time and when I blind bake it it stay perfectly still, no shrinkage or bubbling - just a perfect tart case to fill to your hearts content. It's a recipe I have been using for a while now and I can't even remember who it's from - it's definitely not from me - but it's the best one I have used for this sort of crust. I used Bob's Red Mill Unbleached White Organic all-purpose flour to make the tart base and for the filling as per usual. As I have mentioned in my other posts about this Bob's Red Mill flour, its a premium baking flour milled from certified organic, it's unbleached and unenriched, with no potassium bromate added and that is why it's always stocked in my pantry. In fact all of Bob's Red Mill products are certified Kosher and made with ingredients grown from non-GMO seeds.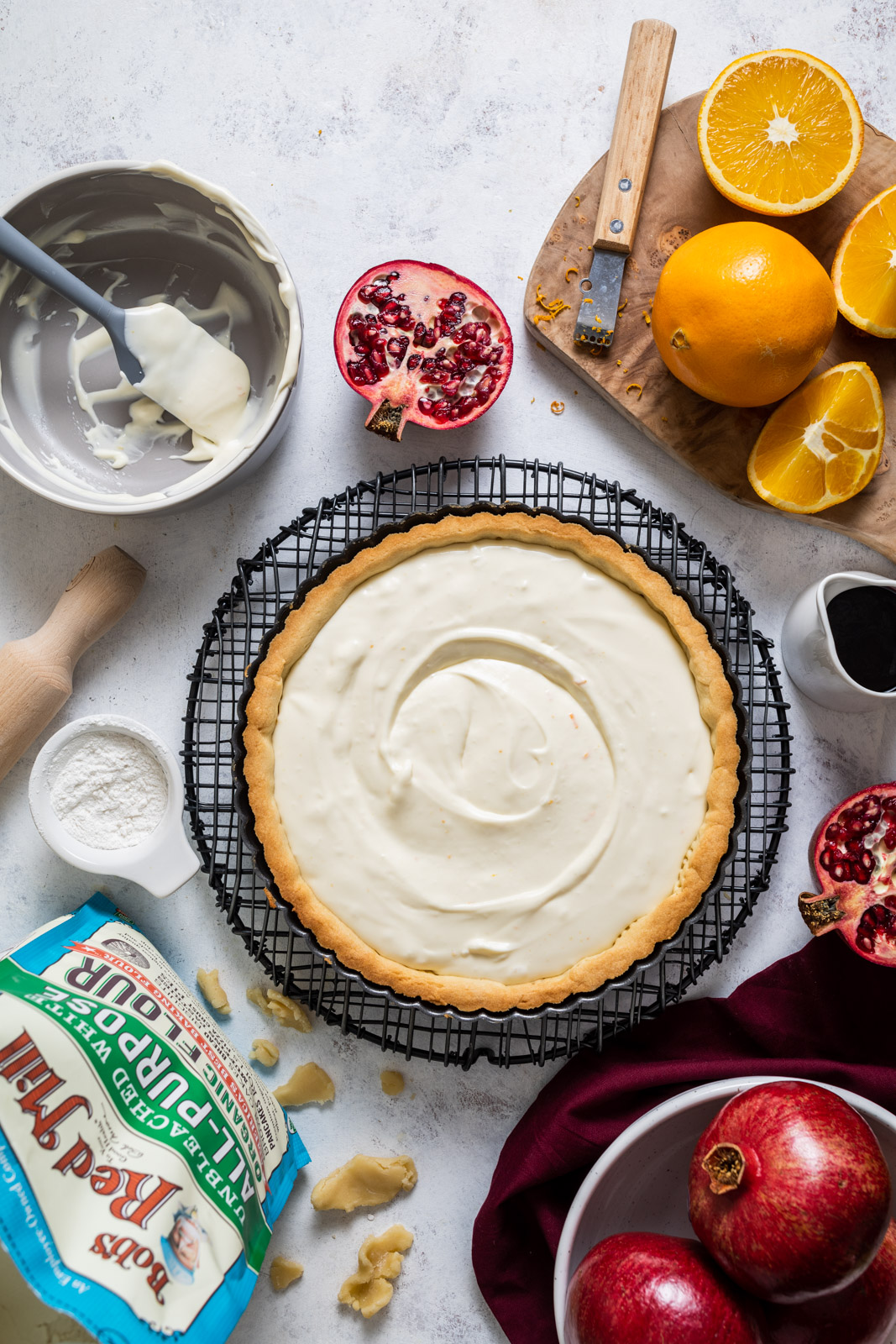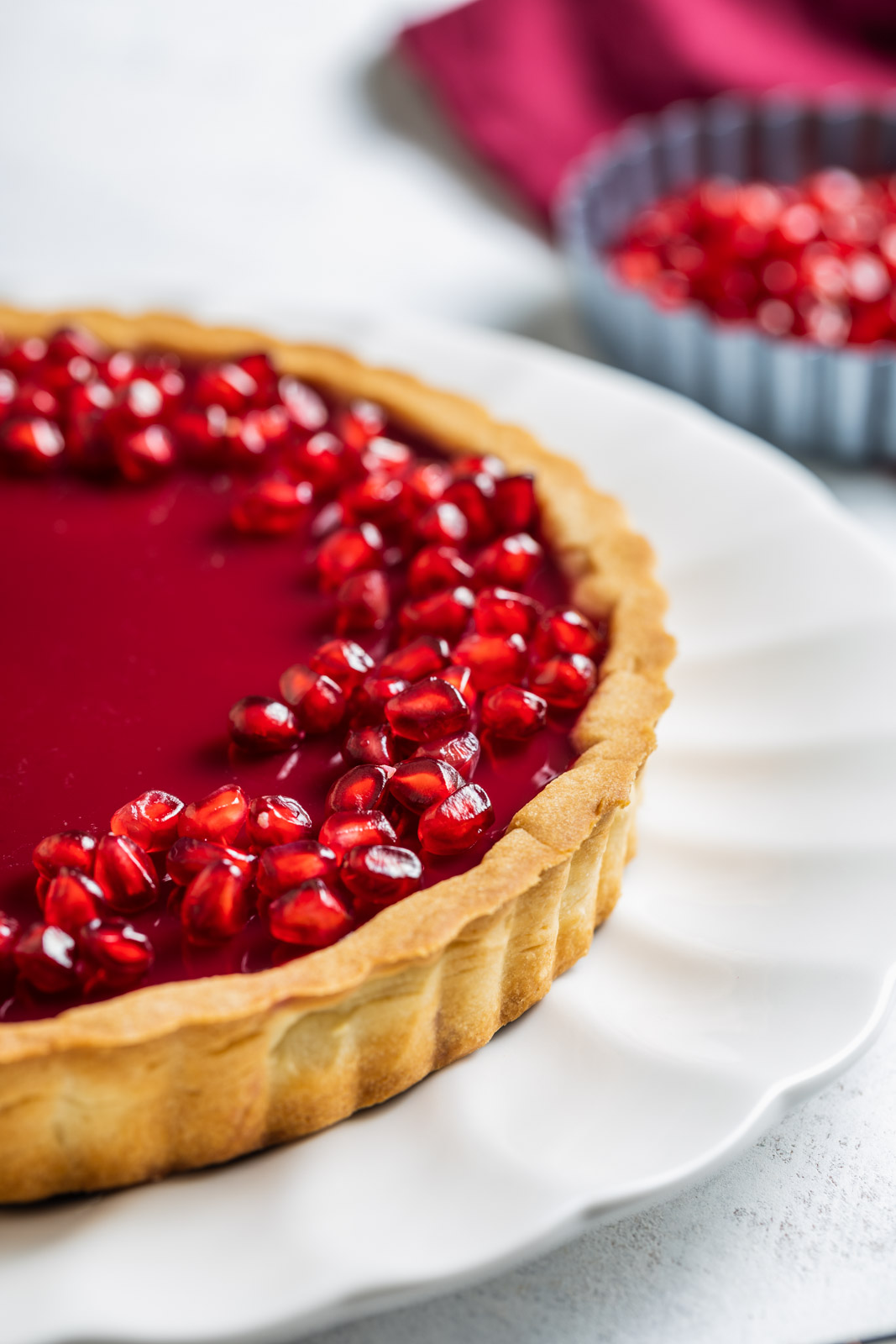 So far it's sounding pretty good right?!? Great tart crust, great filling, but what pulls it all together and gives it it's wow factor is the pomegranate gelée, which is basically like a thin layer of pomegranate jello over the top of the cheesecake layer. It elevates the look of the tart but it also does wonders for the taste and texture of the tart itself too. It balances out the creaminess of the cheesecake layer and adds a hint of tartness to it which balances the sweetness. It's three layers you have to build to make this beauty but let me tell you - it's totally worth it. It's so easy to make ahead and can be made in steps too. You can bake off the crust and cheese cake layer and then make the gelée the same day you want to serve it - you just need to make it an hour before as it takes an hour for it to set. This went fast as any cheesecake does in our house but everyone raves about how light it tastes and how nice the textures in it are - from the crispy base to the creamy filling and then that smooth gelée topping. It's a total winner and it's so eye catching because of the brilliant red colour and ofcourse those beautiful pomegranate arils/seeds. I know you will love this one - enjoy! I have partnered up with Bob's Red Mill to bring you this fabulous recipe, but all opinions are my own. Thank you for supporting Olive & Mango.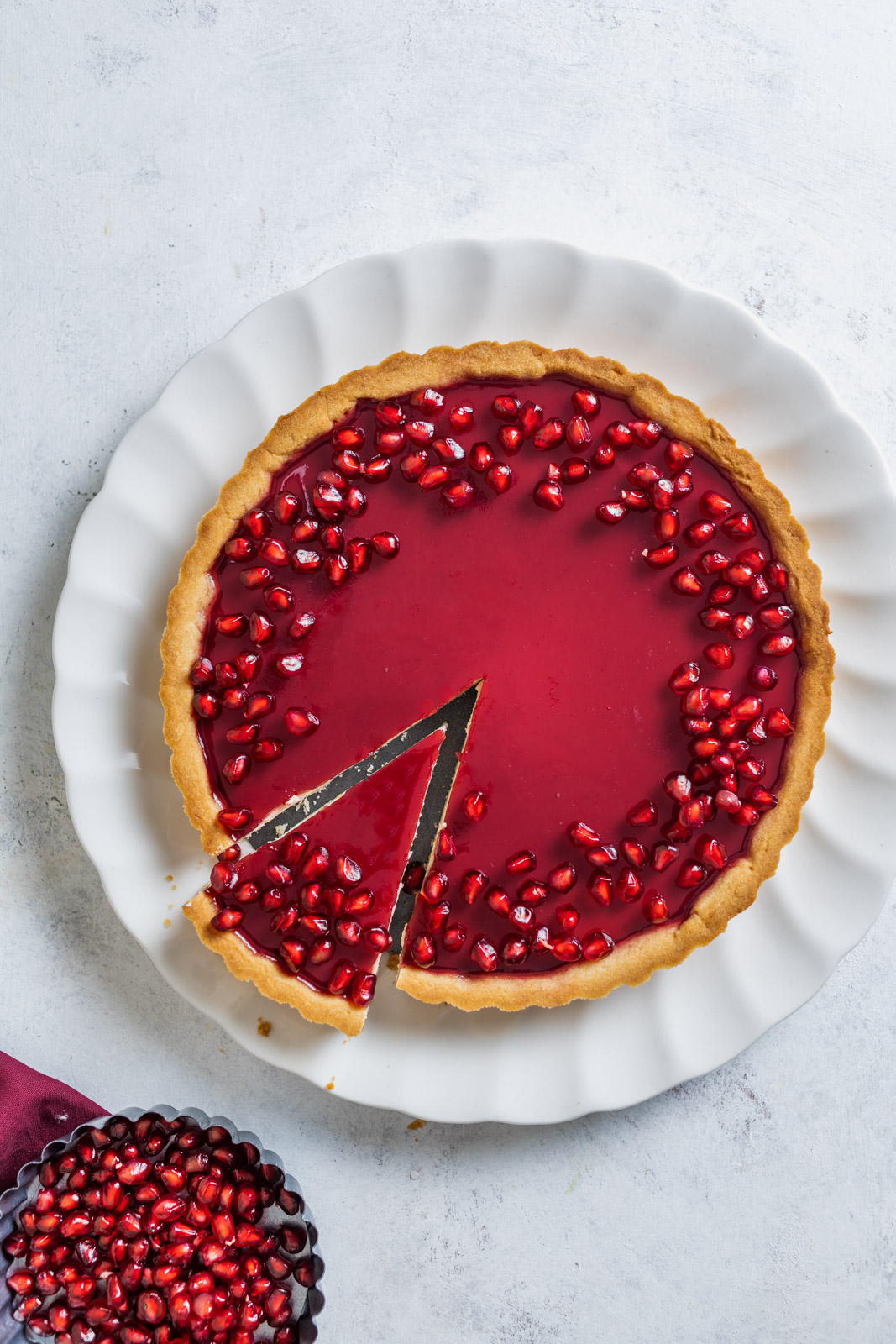 Recipe
Ingredients
For the crust
⅓ cup powdered sugar

¼ teaspoon salt

½ cup unsalted butter (cold)

1 large egg yolk

2 teaspoons heavy cream

½ teaspoon vanilla extract
For the filling
8 ounces cream cheese, room temperature

½ cup ricotta

¾ teaspoon finely grated orange zest

¼ cup sugar

½ tsp vanilla extract

1 egg
For the pomegranate gelée
1 ¼ cups fresh pomegranate juice

2 tablespoons granulated sugar

2 ½ teaspoons unflavored gelatin (from 2 [¼-oz.] envelopes)

3 tablespoons orange liqueur (such as Cointreau or Grand Marnier) – optional

⅔ cup pomegranate arils (seeds)
Directions
For the crust
Place the flour, powdered sugar, and salt in the bowl of a food processor and pulse to combine.

Add the cold butter, and continue pulsing until the mixture resembles coarse meal.

Whisk the egg yolk, cream, and vanilla together in a small bowl, then pour it through the feed tube in a slow stream with the processor running on low speed.

Process until the mixture gathers itself into a ball, then wrap the dough tightly in plastic wrap and refrigerate for one hour.

Roll out pie crust to fit pan. Press into 9 inch tart pan, use the rolling pin to roll over and trim the edges, use a fork to prick entire surface of dough. Chill in the freezer for 20 minutes. Preheat oven to 350°F and then bake for 20 minutes. Once done remove from oven and allow it to cool on a rack while you make the filling.
For the filling
In a food processor, pulse cream cheese, ricotta with ¼ cup sugar and 2 tablespoons flour, and orange zest, and vanilla until smooth. Add the egg and pulse to combine.

Spread cream cheese mixture into crust. Bake until filling is set in center, 25 to 30 minutes. Allow to cool to room temperature and then refrigerate approximately 1 hour before making the gelée.
For the gelée
Combine pomegranate juice and sugar in a saucepan. Sprinkle gelatin over mixture, and let stand 5 minutes. Cook over medium heat just until mixture is steaming and dissolves, about 5 minutes. Remove from heat; cool 20 minutes. Skim off foam, if needed. Stir in liqueur.

Gently and slowly pour pomegranate mixture over top of chilled tart until just below edge of crust, being careful not to overfill (you may have extra pomegranate mixture). Continue to chill tart until gelée sets, about another 1 hour. Sprinkle with pomegranate arils just before serving, slice and enjoy.