Roasted Carrots and Chickpeas
Ottolenghi's One-pot Chickpeas With Carrots, Dates and Marinated Feta is one of my favourite ways to have chickpeas these days - I mean I love chickpeas all kind of ways but this was a new and delicious way to enjoy them. They braise low and slow in this recipe and it produces super tender chickpeas that are naturally gluten free and vegan friendly without the marinated feta. The carrots are melt in your mouth tender too and sweeten up the entire dish a little - it is warming and delicious and my idea of the perfect cozy meal. This roasted chickpeas and carrots recipe is the perfect side dish or main served with a side of rice, naan or farro or if you would like you could serve with a protein like roasted chicken. This wonderful Ottolenghi recipe comes from Ottolenghi Test Kitchen - Extra Good Things Cookbook by Noor Murad & Yotam Ottolenghi which was sent to me as a gift from Appetite by Random house and I'm so happy to share this tasty recipe with you guys - I strongly recommend making the marinated feta to go over top - it's one of those "extra things" that the book is all about that works with this dish or over just about anything!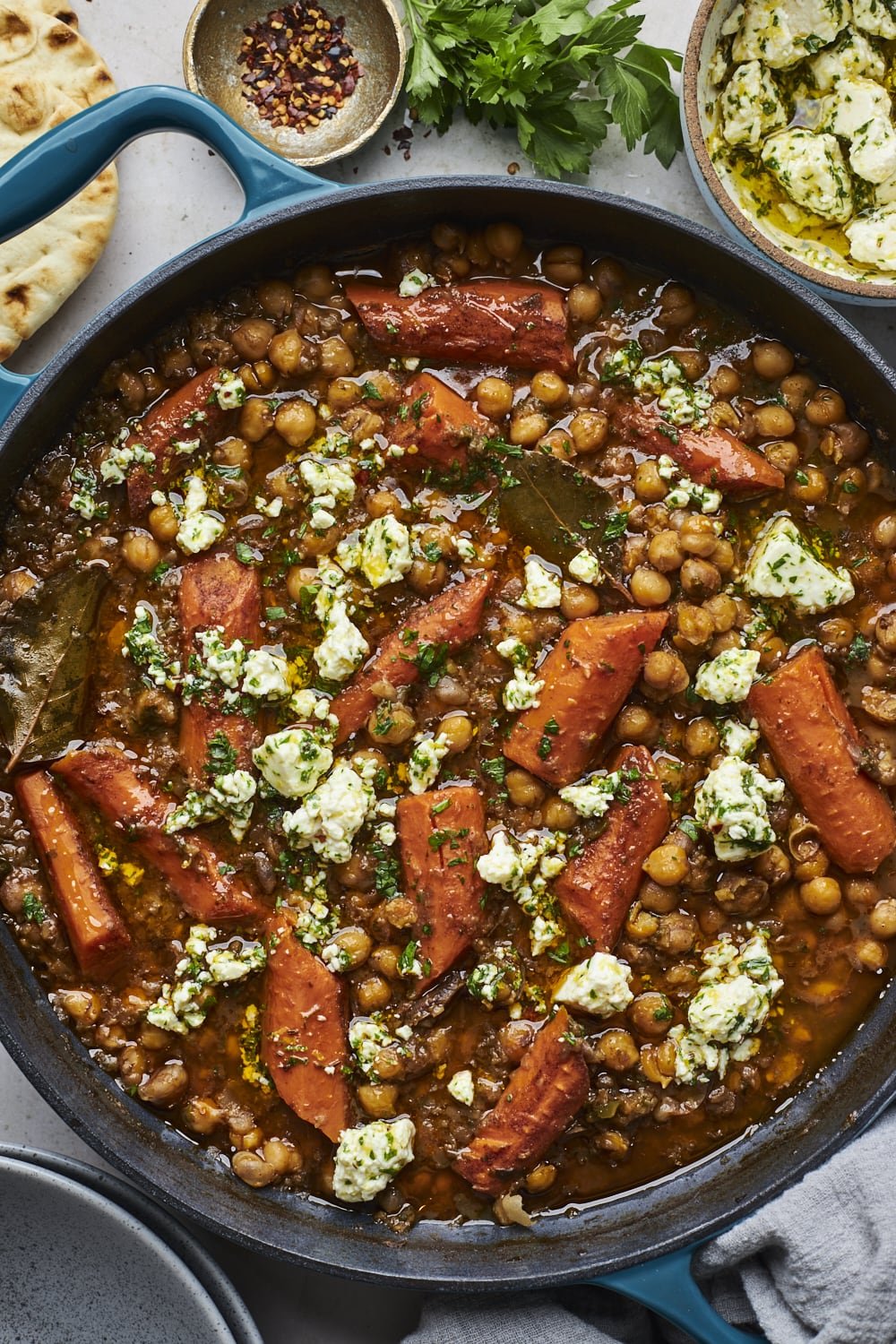 More About Ottolenghi Test Kitchen - Extra Good Things Cookbook
This is one of Ottolenghi's books from his Test Kitchen series which I love and it focuses on bold, veggie forward recipes like this roasted carrot and chickpea dish plus homemade sauces, condiments and more to build a flavour packed pantry. The marinated feta made the perfect briny lemony bright addition to this sweet and savoury chickpea and carrot dish and I loved it and actually made a double batch to add to to other things. That is what the book is all about - sharing not just amazing recipes (which Ottolenghi is well known for) but also the special things you learn from each of them like a technique, a process, a flavour combination, and idea. And some even offer something you can use in your future meals: a sauce, a sprinkle, a marinade or a dressing - these are the Extra Good Things. The book is spilt up in chapters not necessarily by food type but by flavor and texture: A little bit of funk, A whole lotta sauce, Crunch time, Something fresh, A good drizzle of oil, Dessert one-basics - except this one is by food category. Another thing I love of about the Test Kitchen Book series is the little pull out chart that comes at the front of each of them that lists the recipes under categories of foods or meals you can include them in - super handy. So the categories for Extra Good things are: Toast, On Pasta, With Eggs, With Rice, With a Roast Chicken - a very practical and fun way to categorize the recipes. This is no surprise. I have loved every single Ottolenghi book I have and his recipes never disappoint and they are great for introducing you to new and delicious flavours and flavour combos. Grab a copy of any of his books here.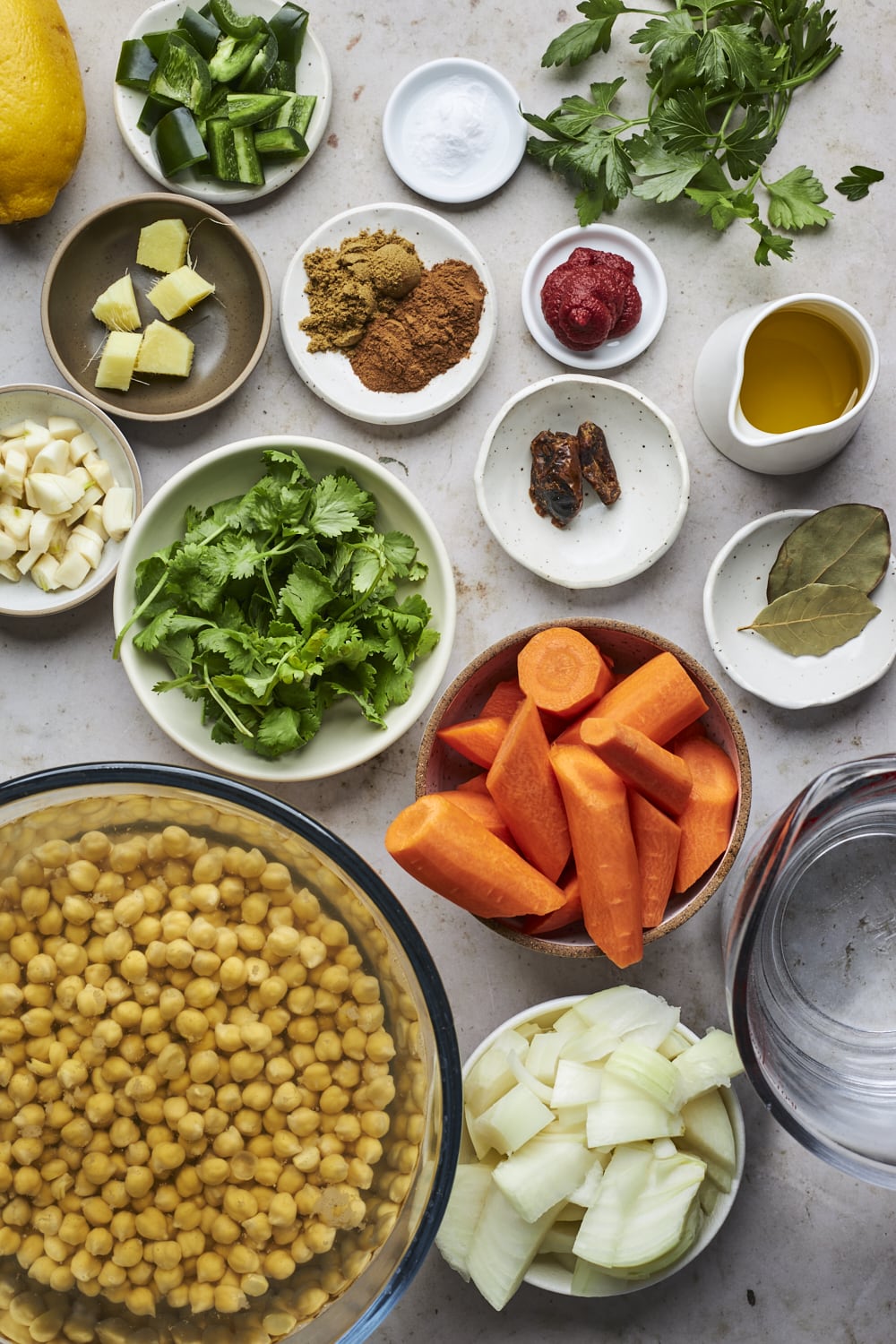 Ingredients For This Roasted Chickpeas and Carrots Recipe
Chickpeas - this recipe is for using dried chickpeas and they need to be soaked overnight in cold water then drained before they are slow roasted with the carrots
Onion - yellow or red onion will work
Garlic - 6 in total and it's not too garlicky as the garlic sort of sweetness up after being roasted low and slow
Serrano Chile - a jalapeño will work as well
Cilantro & Parsley - fresh is always best for the actual dish and for garnishing
Olive Oil - just 2 tablespoons is needed
Spice Blend - there is a blend of ground cumin, ground cinnamon and bay leaves in this recipe along with salt and pepper
Medjool Dates - just as mall amount but they add a delicious sweetness to the chickpeas
Tomato Paste - adds richness to the sauce the chickpeas are in
Carrots - you will need approx 4 large carrots or 1 lb - peeled and chopped into large segments as they will be cooking for a long period
Baking Soda - this helps tenderize the chickpeas while they soak and cook
Lemon Juice - for a little tang - feel free to add more to taste
For the Marinated Feta - feta cheese, caraway seeds, lemon zest and parsley
Extra Add Ins - a touch of honey for extra sweetness, drizzles of tahini sauce or dollops of yogurt to finish the dish, swap some of the warmer spices with zaatar and sumac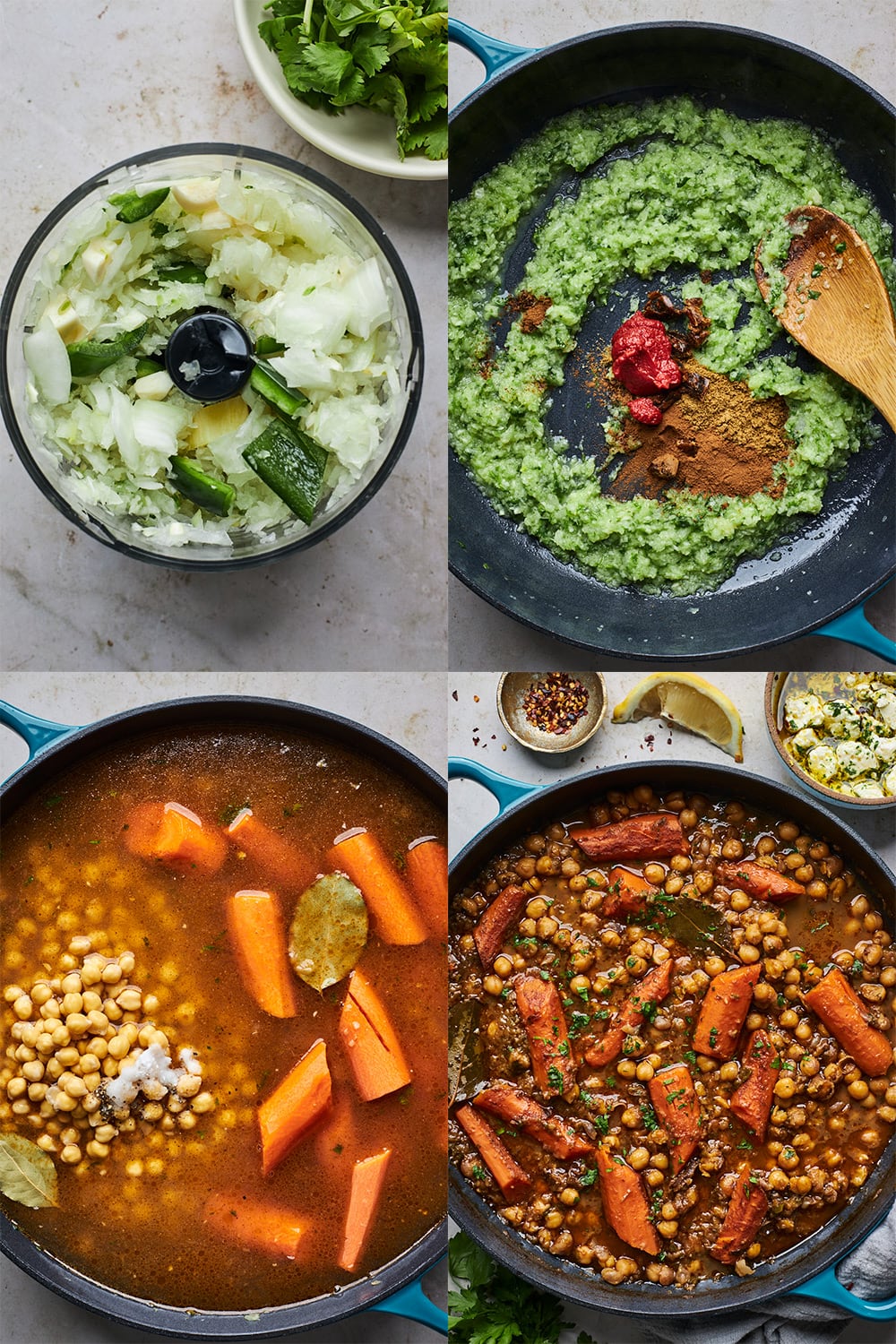 Simple Instructions for Roasted Carrots with Chickpeas
SOAK the chickpeas overnight in cold water with 1 teaspoon of baking soda. Once ready to cook them drain them from their liquid and set aside.
Preheat oven and CHOP veggies - In a mini chopper or food processor chop/ pulse the onion, garlic, ginger and Chile until finely chopped or finely chop them by hand along with the cilantro
Heat olive oil in large Dutch oven or braiser that is oven safe and SAUTE onion mixture for a couple of minutes
Add the dates, spices and tomato paste and COOK stirring 1 min
Add chickpeas, carrots, bay leaves, baking soda, water and salt and pepper and Bring to a BOIL
Cover with lid and transfer to oven to ROAST for 2 hours or until chickpeas are perfectly tender and sauce is thick
Finish off with lemon juice and GARNISH with fresh parsley and serve with marinated feta if desired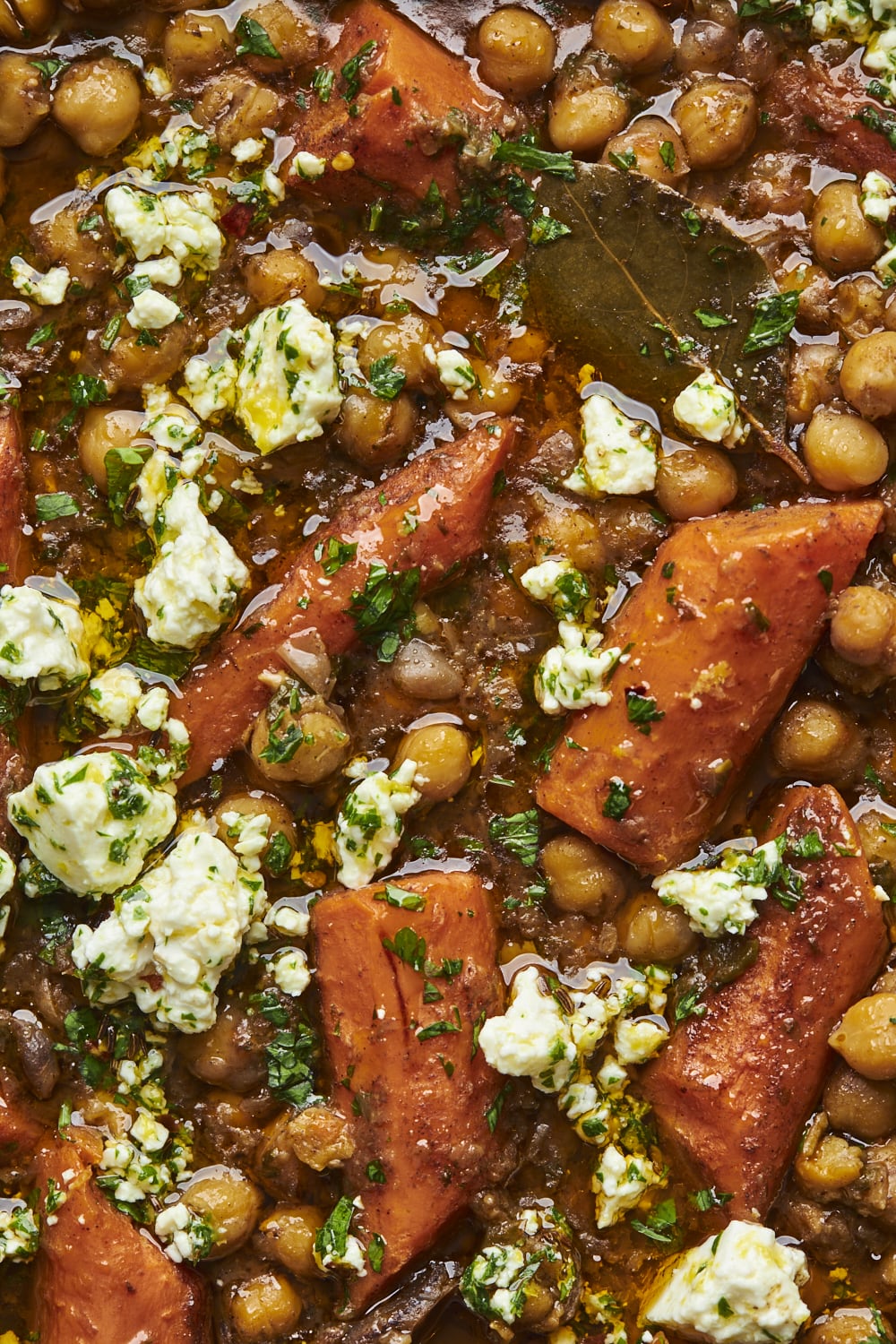 Storage
Leftover roasted chickpeas and carrots that are room temperature can stored in an airtight container for put to 3 days. Reheat stove top or in the microwave or in the oven on low heat until heated through.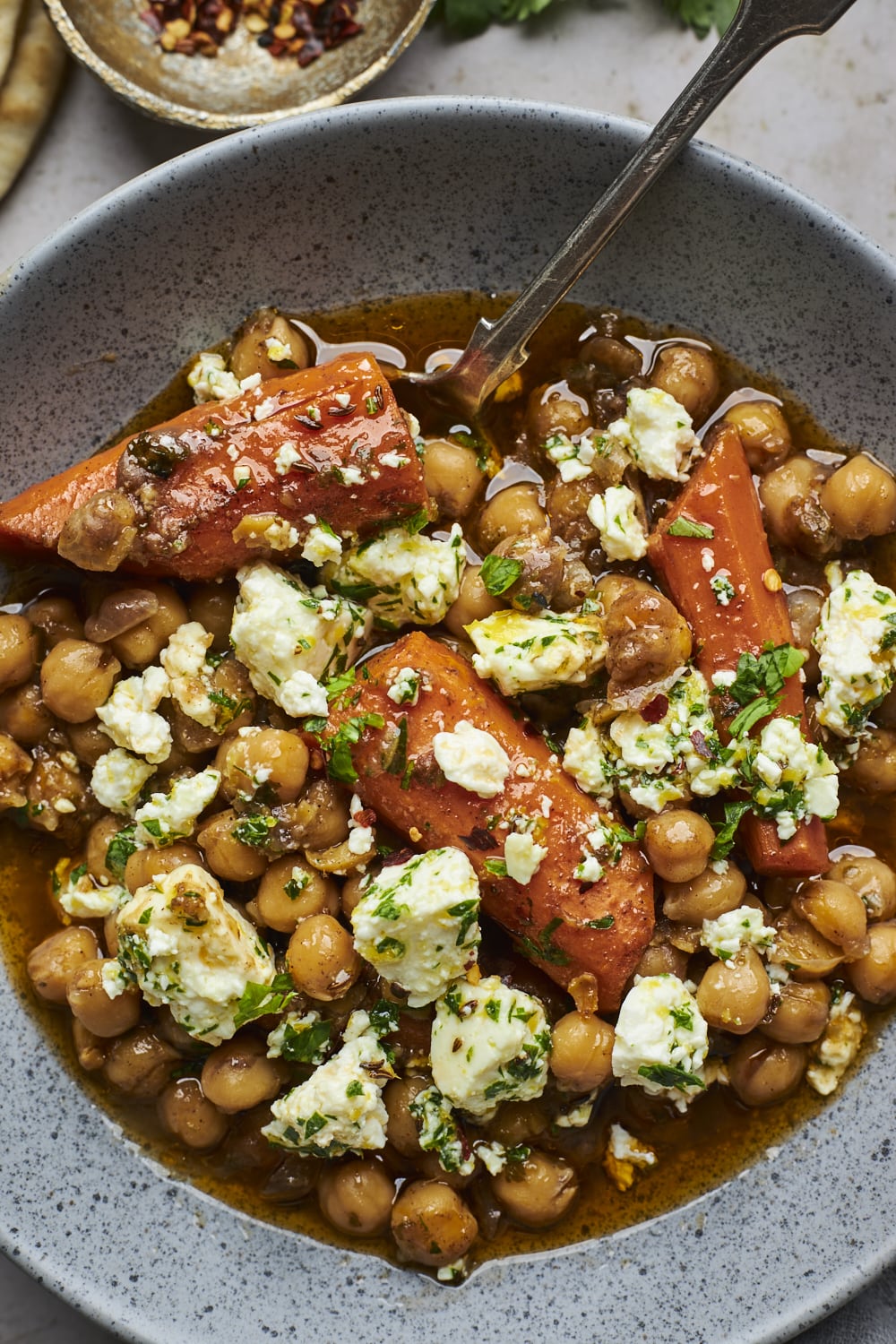 More Chickpea Dishes You Will Love
Recipe
Prep Time: 30 mins
Cook Time: 2 hours 25 mins
Total Time: 3 hours
Non Active Time (Soaking time): 12 to 24 hours
Ingredients
1½ cups/300g dried chickpeas, soaked overnight in plenty of cold water with 1 tsp baking soda

1 onion, peeled and roughly chopped (1 cup/150g)

6 garlic cloves, peeled and roughly chopped

¾ oz/25g fresh ginger, peeled and roughly chopped

1 large serrano chile, roughly chopped, seeds and all

¾ cup/15g cilantro, roughly chopped

2 tablespoon olive oil

1½ teaspoon ground cumin

1½ teaspoon ground cinnamon

2 Medjool dates (1½ oz/45g), peeled, pitted, and roughly chopped (40g)

1 tablespoon tomato paste

4 carrots (1 lb 2 oz/500g), peeled and cut at an angle into 2-3 large chunks

2 fresh bay leaves

¼ teaspoon baking soda

5 cups/1.2 liters water

2 tablespoons lemon juice

¼ cup/5g parsley, chopped plus more for garnish

Salt and Black pepper
For the Marinated Feta Cheese
5¼ oz/ 150g Greek feta, roughly crumbled
1 tsp caraway seeds, toasted and roughly crushed with a mortar and pestle 1½ tsp finely grated lemon zest
¼ cup/5g parsley, chopped 5 tbsp/75ml olive oil
Directions
Preheat the oven to 350°F.
Drain the chickpeas from their liquid and set aside.
Put the onion, garlic, ginger, and serrano chile into a food processor and pulse a few times until very finely chopped but not pureed, scraping down the sides of the bowl as needed. Add the cilantro and pulse a couple of times more, to incorporate.
Heat the oil in a large, ovenproof cast-iron pan, for which you have a lid, on medium-high heat. Add the onion mixture and cook for about 4 minutes, stirring occasionally, then add the cumin, cinnamon, dates, and tomato paste and cook for 1 minute more, or until fragrant.
Add the drained chickpeas, carrots, bay leaves, baking soda, 1¾ teaspoon salt, the water, and a good grind of black pepper and bring to a boil, skimming the scum from the surface as needed.
Cover with the lid and bake/roast in the oven for 2 hours, or until the chickpeas are completely softened and the sauce has become thick and rich. Stir in the lemon juice and parsley and let cool for about 10 minutes.
While the chickpeas are cooking, make the marinated feta by mixing all the ingredients together in a small bowl and setting aside for the flavors to infuse.
Divide the chickpea mixture among 4-6 bowls and top each with some of the feta and more chopped fresh herbs serving any extra alongside.
Recipe Notes
Marinated feta cheese
Make the feta sans parsley, seal it off with more oil, and keep it in a sterilized iar in the fridge for up to 1 week.
Spoon it over salads or soups or just about anything