Roasted Lamb and Potatoes
This herb roasted leg of lamb is a classic Greek dish that is wonderful for family dinner. It's the perfect meal with the lamb roasting along with the greek style lemon potatoes all in one pan. The potatoes are tender and so flavourful as they cook along with the lamb and lamb drippings. Roasting a lamb leg is just as easy as roasting a chicken. All you need to do is rub your roast with a mixture of fresh herbs, garlic, and olive oil and throw it in the oven over a bed of potatoes. Coated with an herb paste and roasted on the bone, this leg of lamb is so flavorful and is large enough feed a crowd. The juices from the lamb flavor the potatoes, which stay moist beneath the lamb but form a crisp crust elsewhere. Here's a meal elegant enough for any special occasion - but don't wait for one to try it. Don't forget to serve this with a Greek horiatiki salad or Classic Greek Lettuce Salad or a side of steamed veggies. Enjoy!!!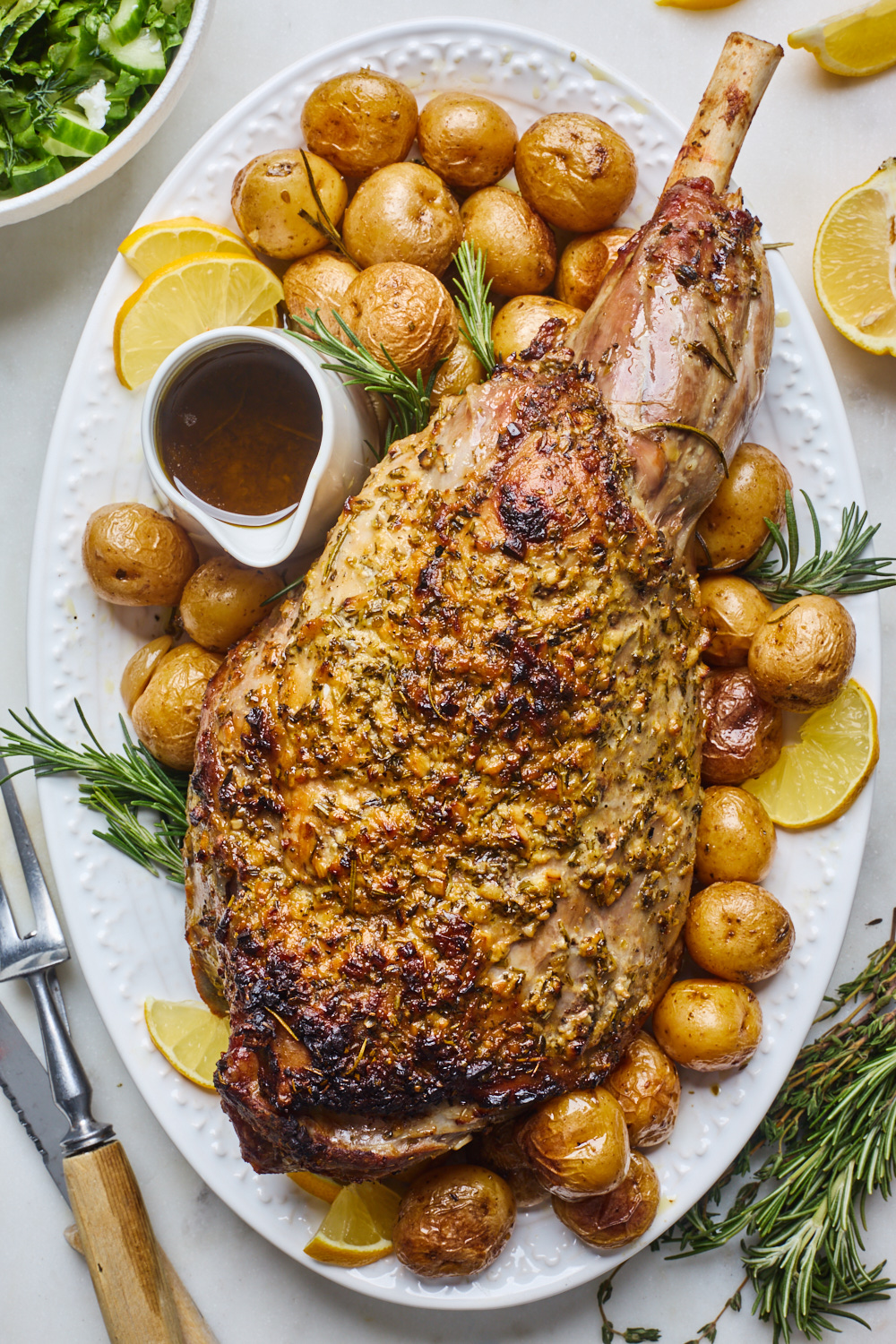 Why you will love this roasted lamb and potatoes recipe - roasting a leg of lamb can seem so intimidating to cook but don't worry: It's actually incredibly easy!
The entire recipe roasts in the oven, complete with potatoes in the same pan!
The lamb is wonderfully seasoned with lemon, garlic and herbs for so much flavor without having to do much hands-on work.
This is such an easy recipe to make for family dinners and the leftovers make a great sandwich, too!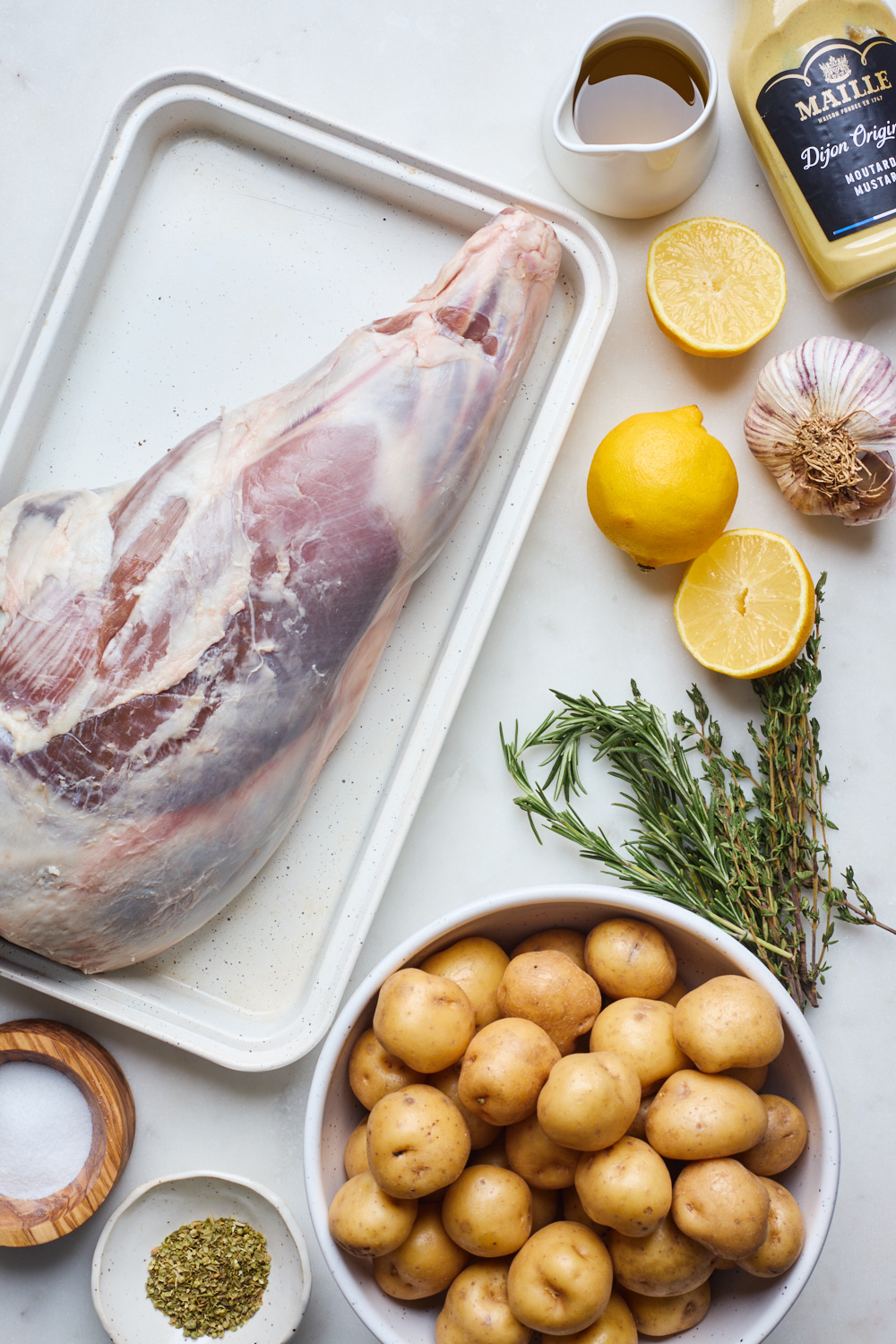 Ingredients to Make Roasted Leg of Lamb:
This recipe is so good yet it doesn't require too much time, effort or ingredients. It's easy & fool-proof, even for you first-timers! Here is what you will need - full measurements in recipe below.
Lamb - this recipe uses a 5 lb leg of lamb with the bone in but can easily be adjust for a 4 or 6 lb one too. Feel free to make this recipe with a boneless leg of lamb too if you prefer. Bone in usually cooks a little faster then boneless so be sure to check and adjust cooking time - use the thermometer to determine doneness
Garlic - for loads of flavour. Minced for the run and whole for the pan - they slip right out of their outer layer and are likely butter
Lemon - a must for Greek lamb and Greek Potatoes - both the lemon juice and lemon zest
Herbs: I like to use fresh rosemary and thyme ans dried oregano for the potatoes. If you don't have any fresh herbs on hand, you can substitute dried. If you want to mix it up, you could also try chopped oregano, mint, or basil. You could even throw some spices in, such as some chili flakes or ground coriander.
Mustard: I used a Dijon mustard, but regular yellow mustard or whole grain mustard works just as well.
Potatoes: I used baby potatoes, but small fingerling potatoes or small Yukon Gold potatoes can also work.I leave them unpeeled because I love the extra texture it gives them and they hold their shape as they roast.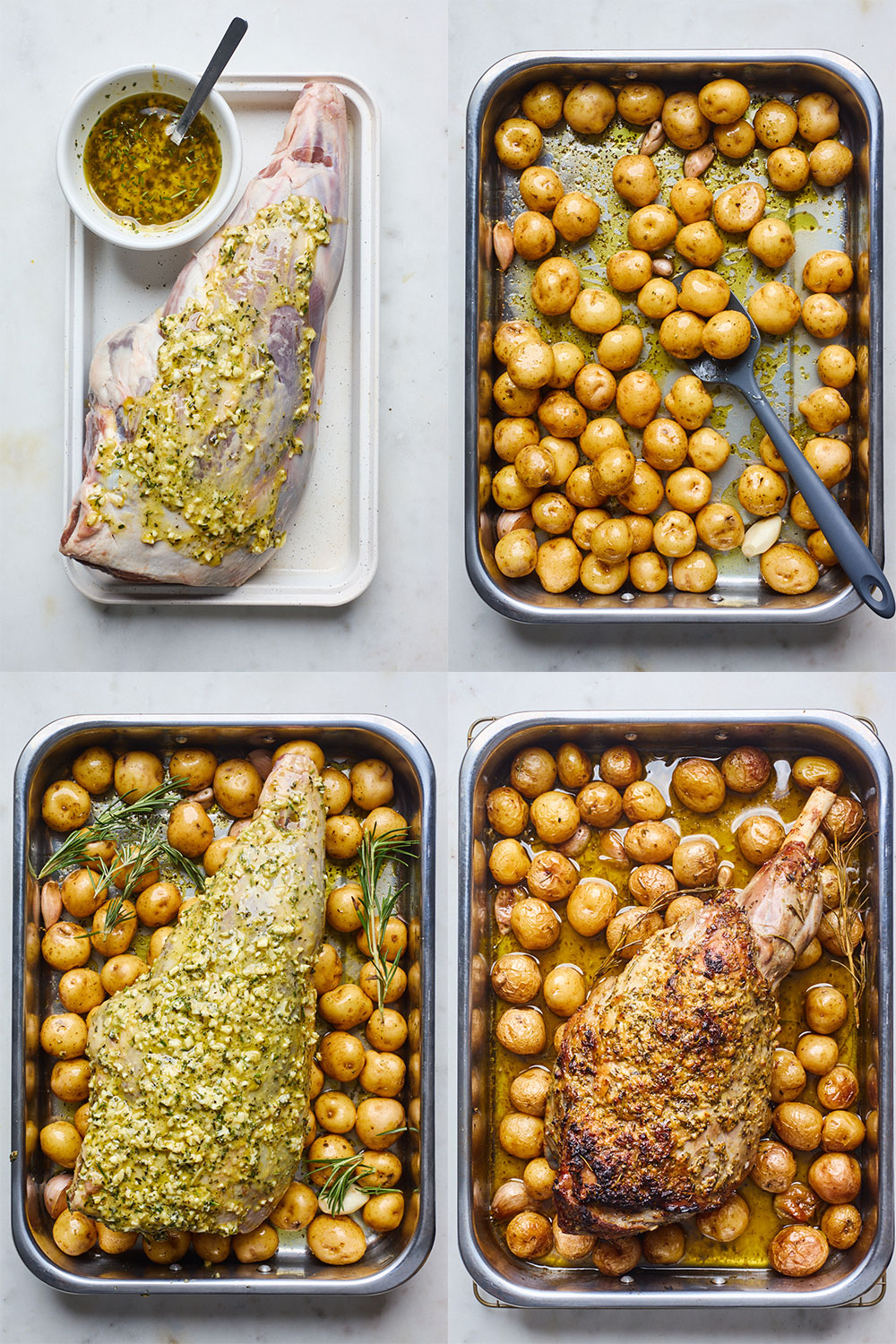 How to Make this Roasted Leg of Lamb with Potatoes:
Remove lamb from fridge 30 min to 1 hour before roasting. It needs to come up to room temperature for more even cooking
Prepare the lemony herb rub and spread it all over the lamb, making sure to evenly coat the whole surface
Prepare the potatoes and place in roasting pan with the lamb leg over them. No need to place over a rack
Now you'll want to roast the lamb at 450°F for 10-15 minutes, then reduce the temperature to 360°F and roast for 60-90 minutes, until your preferred internal temperature is reached. The exact time will depend on your exact size and shape of lamb, and what internal temperature you prefer.
Test the doneness of the meat by using a meat thermometer. The internal temperature of medium rare lamb is 55-59°C/ 130-138°F and 67-74°C/153-165°F for well done.
Once your meat reaches the right temperature, do NOT be tempted to cook it longer! Trust your thermometer for juicy, succulent roast lamb.
Take the meat out of the oven and loosely cover it with aluminium foil
Rest your cooked leg of lamb for 20 minutes before serving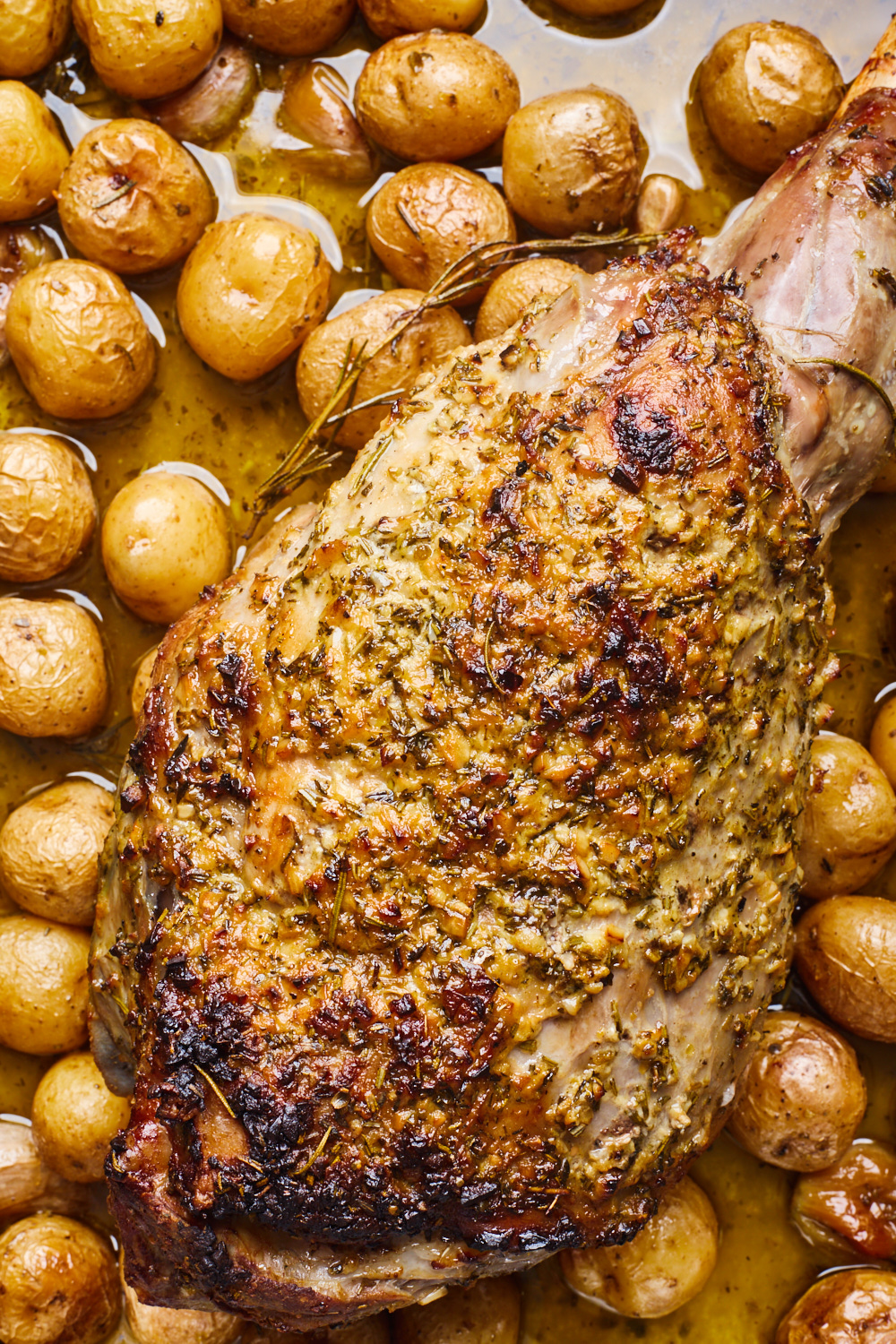 Recipe tips for Roasted Lamb:
Please test the internal temperature of the lamb with a meat thermometer to make sure it has reached a safe temperature.
Do not skip the 10-20 minutes of resting time, otherwise the meat juices cannot redistribute and the lamb may turn out dry.
If your vegetables are not done once your lamb is done, remove the lamb to a large cutting board for its 10-20 minute rest. Return potatoes to oven and continue roasting until cooked through
Cooking this lamb at high temperature, but for shorter time first then reducing the temp, produces the most tender and juicy roast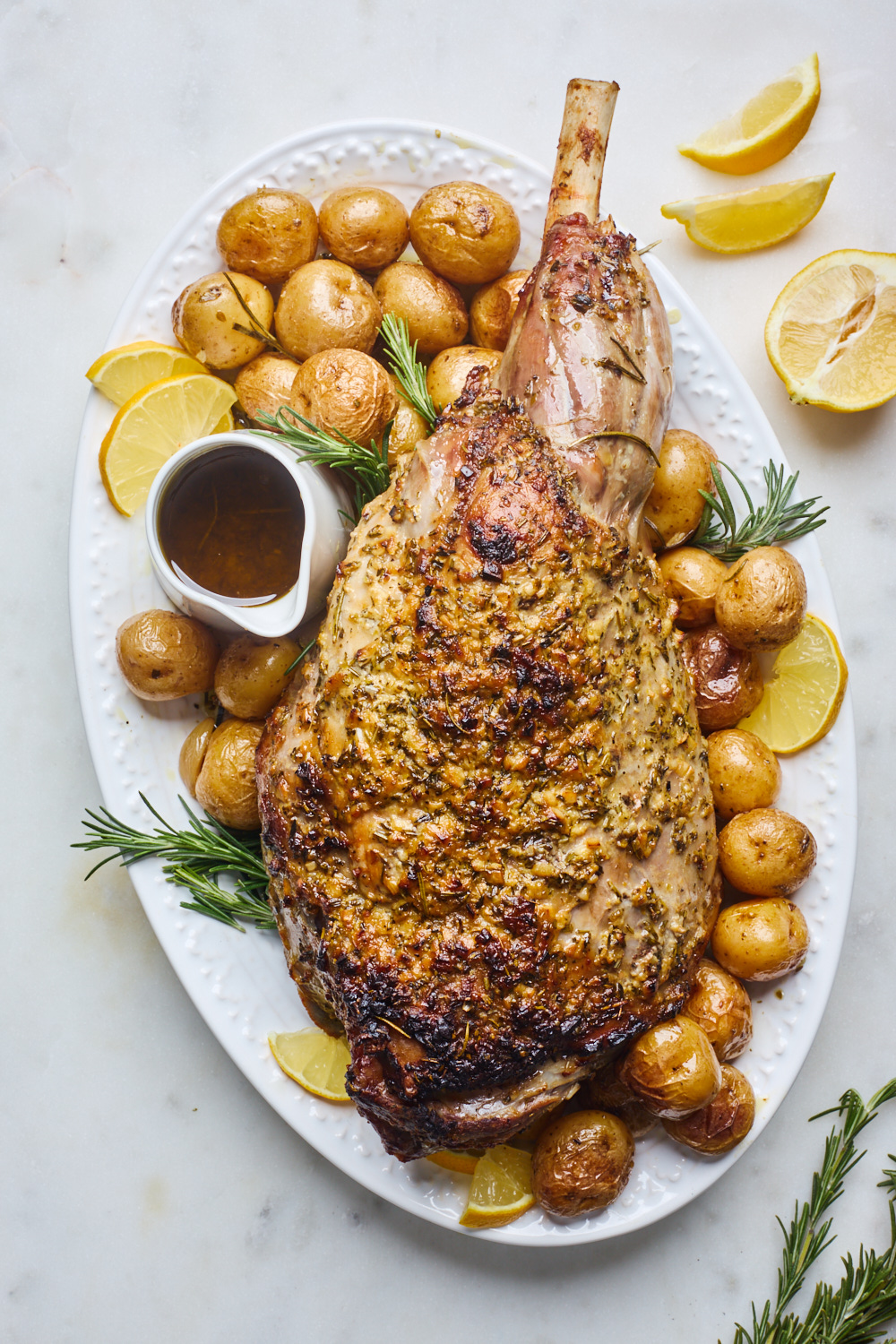 Make Ahead and Storage
You can safely store cooked lamb for up to 3 days in the fridge, or for up to 2 months in the freezer. Make sure it's fully defrosted before using and, if it's been frozen once, don't re-freeze.
If you wanted to marinate the lamb overnight you can for even more flavour. Just be sure to remove it from the fridge 30-60 min to come to room temperature before roasting
If you like this recipe you will love these too:
Recipe
Prep Time: 15 mins
Cook Time: 1 hour 25 mins
Non Active Time: 30-60 min for lamb to come to room temperature and resting
Ingredients
Lamb
1 (4 to 6 pound) trimmed bone-in leg of lamb
For the rub/marinade:
4 cloves garlic, minced

3 tablespoons extra virgin olive oil

1 tablespoon chopped fresh rosemary sprigs

1 tablespoons thyme

1 tablespoon Dijon mustard

1 tablespoon sea salt

2 teaspoons black pepper

1 lemon zested and juiced
For the potatoes
3 lbs of baby potatoes

3 tablespoons olive oil

Juice of one lemon

1 tablespoon dried oregano

Salt and pepper to taste

4 cloves of garlic unpeeled

1 cup chicken/vegetable broth (plus more if needed)
Directions
Prepare rub: In a small bowl combine all the rub ingredients
Remove the lamb from the refrigerator. Pat dry and make shallow slits but not quite deep incisions, into the leg of lamb using a sharp knife (optional).
Spoon the rub over the lamb and rub it all over leg - let sit at room temperature for 30-60 minutes to room temperature
Preheat oven to 450°F
Toss potatoes in large roasting pan with the olive oil, lemon juice, oregano, salt and whole garlic
Place lamb on top of the potatoes. Pour broth into pan over potatoes
Roast for 10-15 min until lamb starts to get some colour then REDUCE heat to 350°F and roast for another 1 to 1¼ hours, or until a meat thermometer registers 130 to 135°F for medium-rare. (I like to baste it a few times with the pan juices while it roasts but that is optional.)
Place the lamb on a cutting board, cover or tent with aluminum foil, and allow to rest for 10-20 minutes. Slice and serve or serve whole on a platter with the potatoes and with the garlic squeezed out the skin and the pan juices. Sprinkle with fresh chopped parsley or rosemary or thyme and a squeeze of lemon juice before serving


Recipe Notes
Cooking times may differ from oven to oven so please remember to check and cook your lamb according to your own taste. The safe internal temperature for cooked lamb is 145°F. Measure by using a meat or instant-read thermometer inserted into the thickest part of the meat that's not touching any bone