Rosemary and Squash Chicken Soup
Updated 4th December 2023
There's nothing more comforting then chicken soup especially when you might be feeling a bit under the weather or simply when you want to warm your belly on a cold day. This one adds the sweetness of squash in it and the aromatic flavours of rosemary and thyme. It's quick and easy to make and the perfect soup to use up any leftover chicken or turkey from a roast or rotisserie and any odds and ends you might have left when it comes to squash - any squash you may have on hand. I seem to always have half a butternut squash leftover from a recipe. Instead of roasting it off I add it to this soup for another tasty version of a classic chicken noodle soup.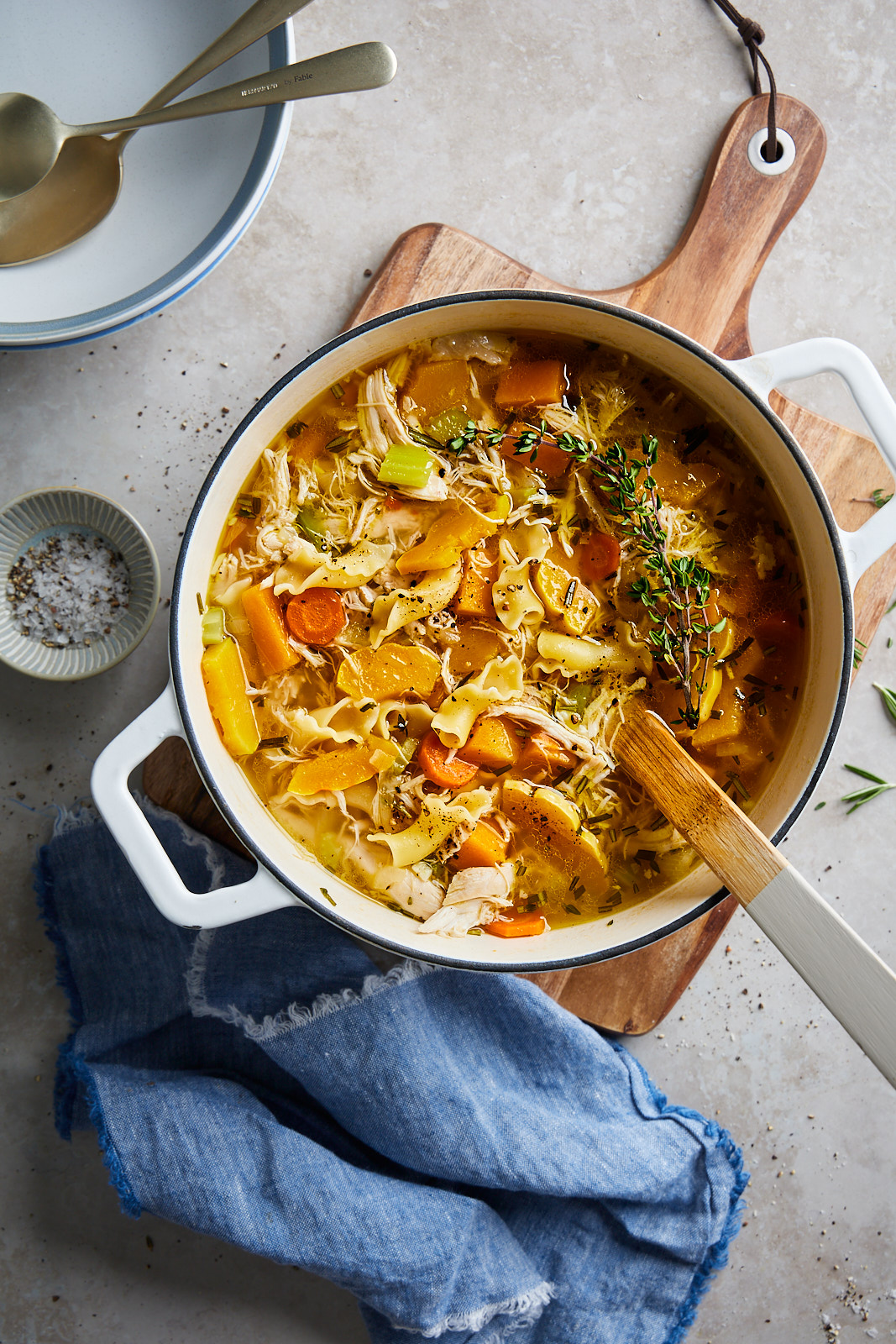 I love having soup recipes like this on hand as I tend to have leftover veggies and meats/protein in the fridge at all times (plus cake and pie) - occupational hazards of a food blogger and food photographer. That is why this type of soup happens at least twice a week in our home. It's a great way of using up leftovers and reducing waste. A recipe like this can be quite adaptable. You can use any squash you like or a variety of them in it. When it comes to the noodles I find that any short pasta works well. I usually use a gluten free one. When it comes to the meat - as I mentioned above - leftover rotisserie chicken or leftovers from a chicken or turkey dinner work really well. But if you wanted to use ground chicken or turkey feel free to do that, just make sure to brown it before adding the onions garlic and veggies. Then continue with recipe as written.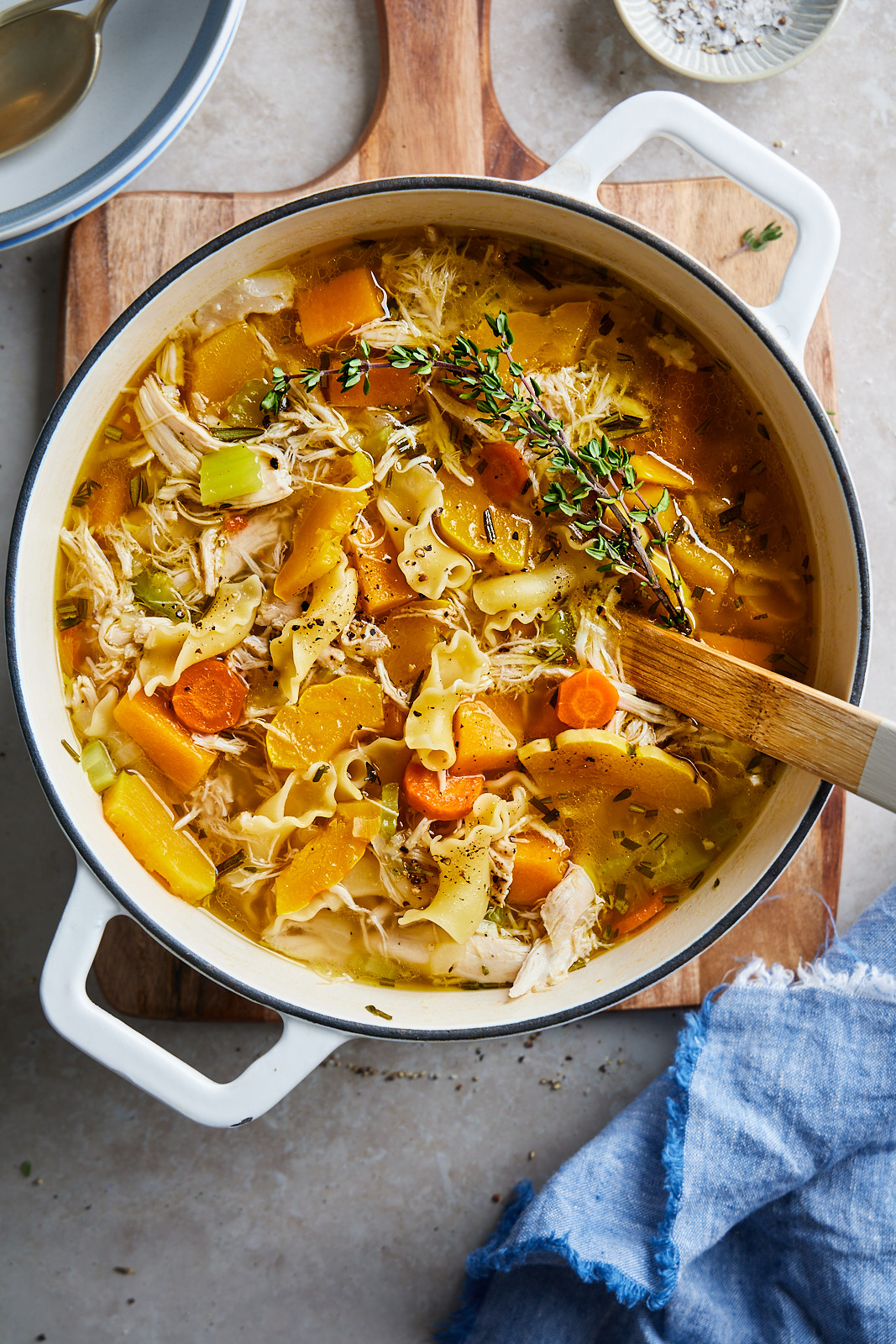 Rosemary and Squash Chicken Soup
OLIVE OIL & BUTTER: Extra virgin olive oil and butter is what I use to saute the veggies in. If you prefer to use all butter or all olive oil to do this that is fine too
CHICKEN: You will need approx ¾-1 lb cooked chicken. You could also use ground chicken or turkey and brown it before sautéing the vegetables. Or if you prefer, you can also use uncooked skinless boneless chicken breast or skinless boneless chicken thighs. simply sear before sautéing the veggies until cooked through then chop and shred, or add to the pot with the broth (leaving out the pasta) simmer until cooked through then remove and shred. (I usually add in the pasta and simmer until cooked through after I remove the chicken) If using uncooked chicken you may need extra broth.
NOODLES: Use any short pasta you prefer. You will need approx 6 oz or approx 1 1/2 cups of uncooked pasta. Use regular or gluten free pasta
SQUASH: I used delicata squash here but use any squash you like.
HERBS: I used a combination of fresh rosemary and fresh thyme but you can definitely use dried herbs too. 1 tablespoon (tbsp) of fresh herbs to 1 teaspoon (tsp) of dried herbs. And if you prefer a different blend of herbs and spices please adjust and substitute to taste.
VEGETABLES: Along with the squash I love to start the flavors of the soup off by sautéing onion, garlic, carrot and celery. A perfect combination creating a foundation of flavor for soups and sauces.
BROTH: I like to use either store bought or homemade chicken broth and if you are using store bought chicken broth or chicken stock - I recommend using low sodium chicken broth
ALTERNATIVES: Feel free to add in a handful or two of fresh chopped greens like baby spinach or kale for extra veggies. Switch out the veggies to suit your taste as well.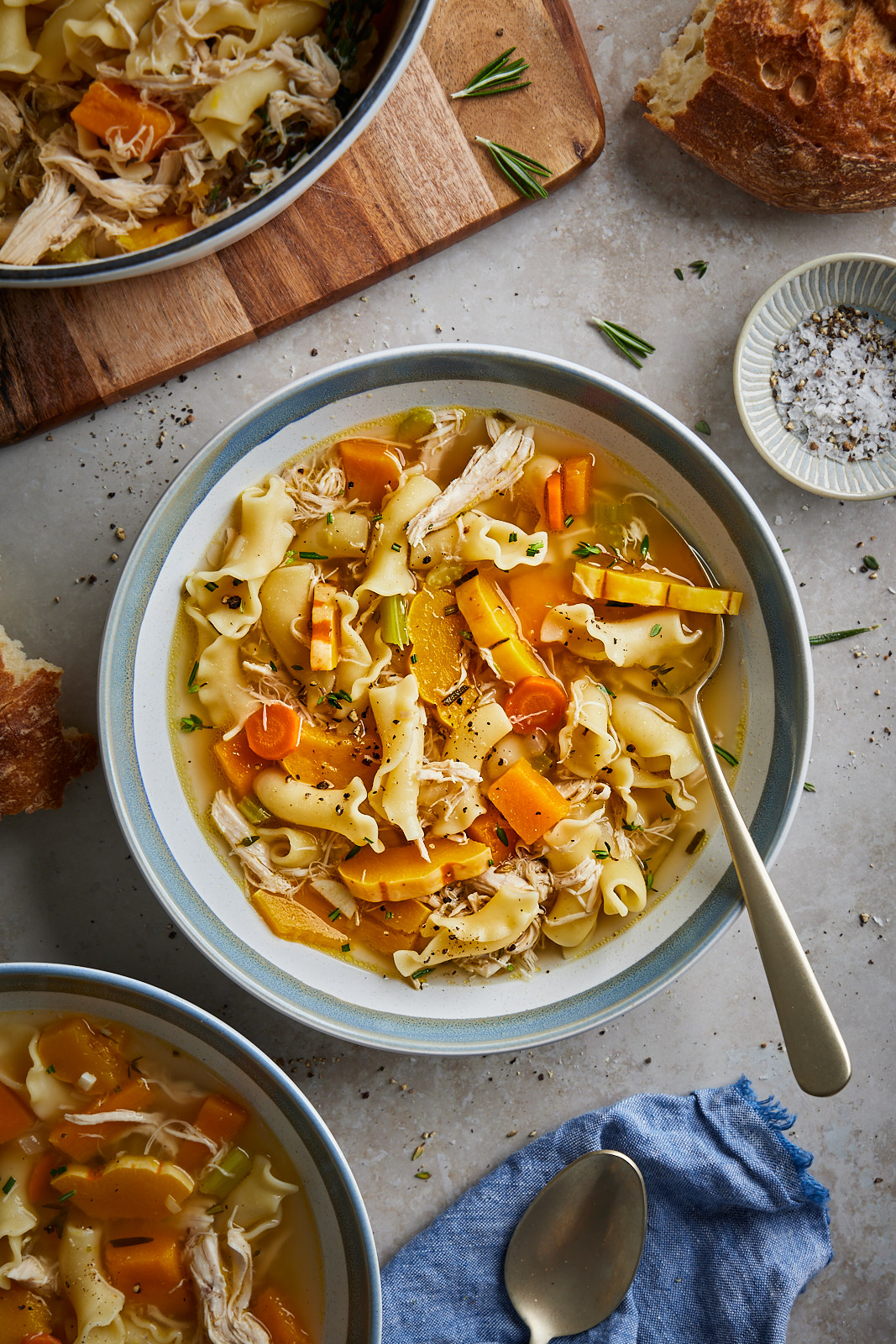 Rosemary and Squash Chicken Soup Instructions
In a Large pot SAUTE onion, garlic, carrots and celery with rosemary followed but the squash and thyme
Add broth bring to a boil then add pasta and chicken and SIMMER until pasta and veggies are tender. (if you are using uncooked chicken either sear and cook before sautéing veggies remove and shred and add back to pot as directed or add uncooked chicken in with the broth and simmer until cooked, remove and shred and add back with pasta - you may need to add more broth)
STIR in lemon zest and check and adjust seasoning to taste
Ladle out into bowls and SERVE with lemon wedges and sour cream or creme fraiche.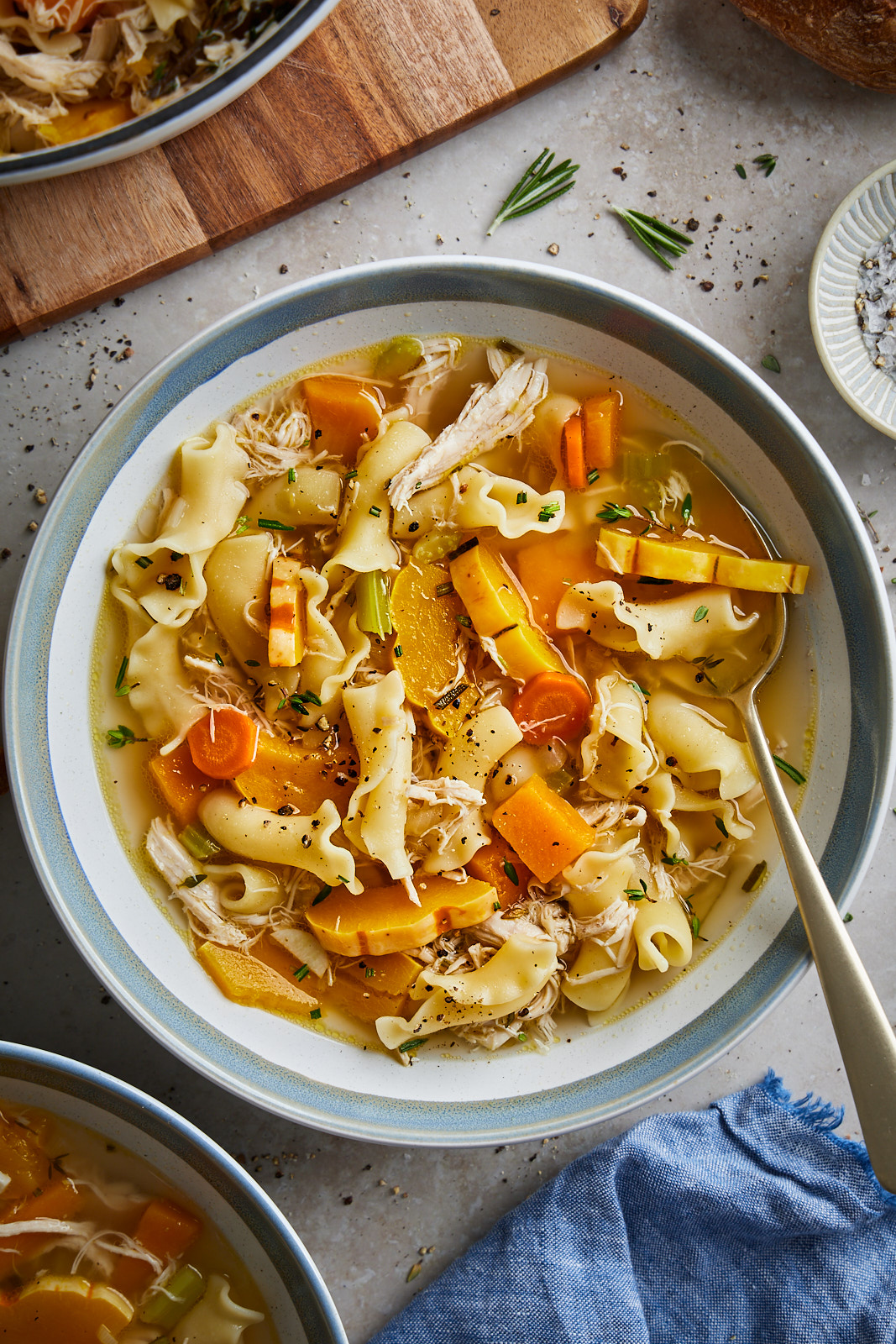 Don't be afraid to season your soup. When it comes to soups, season with salt and pepper early and check the seasoning often. Herbs are always a must in soup — I add fresh rosemary at the beginning in this one which help to add a herby backbone to the broth. Later I add the thyme which is the the perfect partner to rosemary when it comes to flavour. I love to stir in some lemon juice and zest into mine but that is optional. A dollop of sour cream or creme fraiche adds a nice bit of creaminess to it, but that too is optional. Extra garnish of fresh thyme or chopped parsley are also great just before serving. This just like any chicken noodles soup brings warmth and comfort and is perfect for sick days and cold nights. I hope you enjoy it!
More Fabulous Soup Recipes & Squash Recipes You Will Love
Recipe
Prep Time: 15 mins
Cook Time: 20 mins
Ingredients
2 tablespoons olive oil

2 tablespoons butter

¾ lb. cooked chicken or turkey shredded (could use leftovers or also use ground chicken or turkey)

1 tbsp. finely chopped fresh rosemary

½ lb. butternut or delicata squash, peeled and cut into ½-inch pieces

2 stalks of celery chopped

1 large carrot peeled and chopped or sliced

1 large onion peeled and chopped

2 cloves of garlic peeled and minced

1 tsp thyme . chopped fresh thyme

6-8 cups cups chicken stock

6 oz. short pasta of choice

¼ cup crème fraîche or sour cream for serving (optional)

1 tsp. finely grated lemon zest and extra lemon wedges for serving
Directions
In a large soup, heat oil and melt butter over medium-high. Add the onion, garlic, carrot and celery with the rosemary; season with salt and pepper. Sauté stirring occasionally until veggies are softened 5-8 min
Add the squash, and the thyme and cook another 2 minutes, until the vegetables are well coated with butter. 
Stir in the broth, bring to a boil and then stir in pasta and chicken/ turkey and cook, uncovered, over medium, stirring occasionally, until the pasta is al dente and the vegetables are tender, about 6 minutes.
Serve hot topped with the crème fraîche or sour cream, lemon zest and served with lemon wedges.
Recipe note
If using ground chicken or ground turkey in this recipe make sure to brown it before adding the onions garlic and veggies. Then continue with recipe as written. Adapted from Rachael Ray