Creamy Chicken And Wild Rice Soup
Updated 25th November 2023
This Creamy Chicken And Wild Rice Soup is warm, hearty and comforting. It's made with chicken or turkey (the perfect soup to make with leftovers from a roast), tender vegetables cooked in a creamy and flavorful broth, mixed with nutty wild rice. Thyme, bacon if using and garlic adds aromatic depth to the soup, along with the classic base of onions, carrots, and celery. The chicken soup is finished of with a drizzle of cream to add that nice creamy touch of richness. Pure creamy comfort food to warm the soul especially on the coldest of winter days. So quick, easy, and hearty with veggies, rice and chicken.
Chicken Wild Rice Soup Recipe Ingredients
BACON: Bacon is optional but I like to start the soup off by cooking bacon which adds a layer of flavor to the dish. If you do not want to use bacon you can use pancetta or prosciutto or omit and simply use 3 tablespoon olive oil of butter
CHICKEN: You will need 3-4 cups cooked shredded or chopped chicken, or from two large chicken breasts or you can use boneless skinless chicken thighs. I like to make this dish with leftover chicken, rotisserie, or leftover turkey from turkey dinner.
ONION & GARLIC: Use a yellow, white or red onion and use as much garlic as you like
CARROT & CELERY: These are basics for flavor and for a soup. Feel free to use more or less of each according to taste. Feel Free to add extra veggies like green peas or chopped green beans.
MUSHROOMS: I love mushrooms and I generally use cremini mushrooms but any sliced mushrooms will work here.
FLOUR: This will thicken the soup and you end up sort of creating a roux with it. For a gluten free alternative use a good gluten-free 1-1 all purpose flour or rice rice flour. I use ¼ cup but for a thicker base soup increase about up to ½ cup.
WHITE WINE: I like to deglaze the pot with it and it adds really nice flavour to the soup - if you don't want to add it no problem just omit and no need to replace it with anything
BROTH/STOCK: Feel free to use chicken broth or chicken stock or vegetable broth for the filling. I tend to use low-sodium chicken broth but regular is fine too.
HEAVY CREAM: I use heavy cream for a richer flavour but feel free to use half and half cream if you prefer. I use ½-1 cup but I know some like their soup really creamy and double that amount. Adjust amounts to taste
WILD RICE: I use a wild rice blend. Typically it wild rice takes a bit longer to simmer than white rice that is why the soup simmers for longer than other chicken rice soups. Also wild rice typically absorbs more water so you may need up to 8 cups of chicken broth for this recipe depending on how thick you want the soup. Wild Rice is rich hearty and has a earthy flavour and chewy texture
SPICES & HERBS: I kept things pretty simple with salt, black pepper, fresh parsley, fresh thyme (use fresh or Dried thyme) and bay leaf but you can switch things up or add more flavour by adding sage, rosemary (fresh herbs or dried herbs), mustard powder, chili flakes, paprika, or even some cayenne pepper or poultry seasoning, seasoning salt. Adjust herb and spice quantities to taste.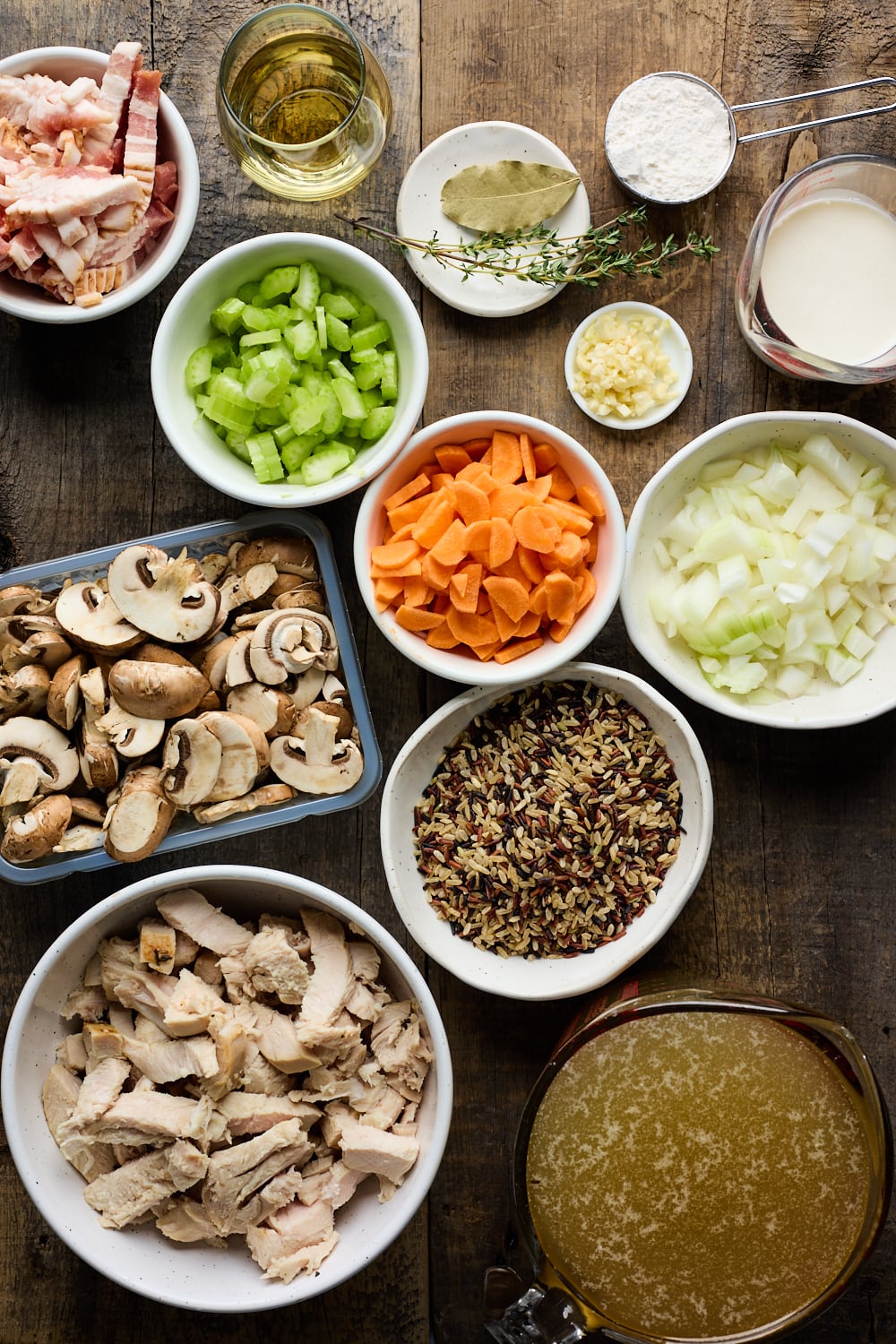 Short Cuts & Variations
For an even quicker version you can use precooked wild rice and reduce the simmering time accordingly and reduce the amount of broth by 1-2 cups adding more as needed. You will need 3 cups cooked wild rice. Simmer for 7-10 minutes or so then finish off with the cream and no need to simmer and cook rice for 20-30 minutes
Make a flour slurry by mixing flour with with ½-1 cup of the broth - whisk and add mixture in with the rest of the broth to save a little time making the roux
Make it creamier by doubling the amount of flour to ½ cup and heavy cream or half and half to up to 2 cups.
Sear and cook chicken breasts in pot with olive oil before making the soup, once cooked remove from pot and allow to cool enough to shred or chop and add back to pot later. OR When you add the broth add uncooked chicken breasts right into pot to simmer and cook along with everything else. remove when done and shred and add back into pot.
Don't want to remove the mushrooms and bacon from pot only to add them back in later (btw this done so that the mushrooms don't overcook and bacon says a little crispier) then keep them in the pot while you add the rest of the veggies - continue making soup as directed.
Stir in ½ cup of fresh finely grated Parmesan cheese when you add In the cream for extra flavour and richness.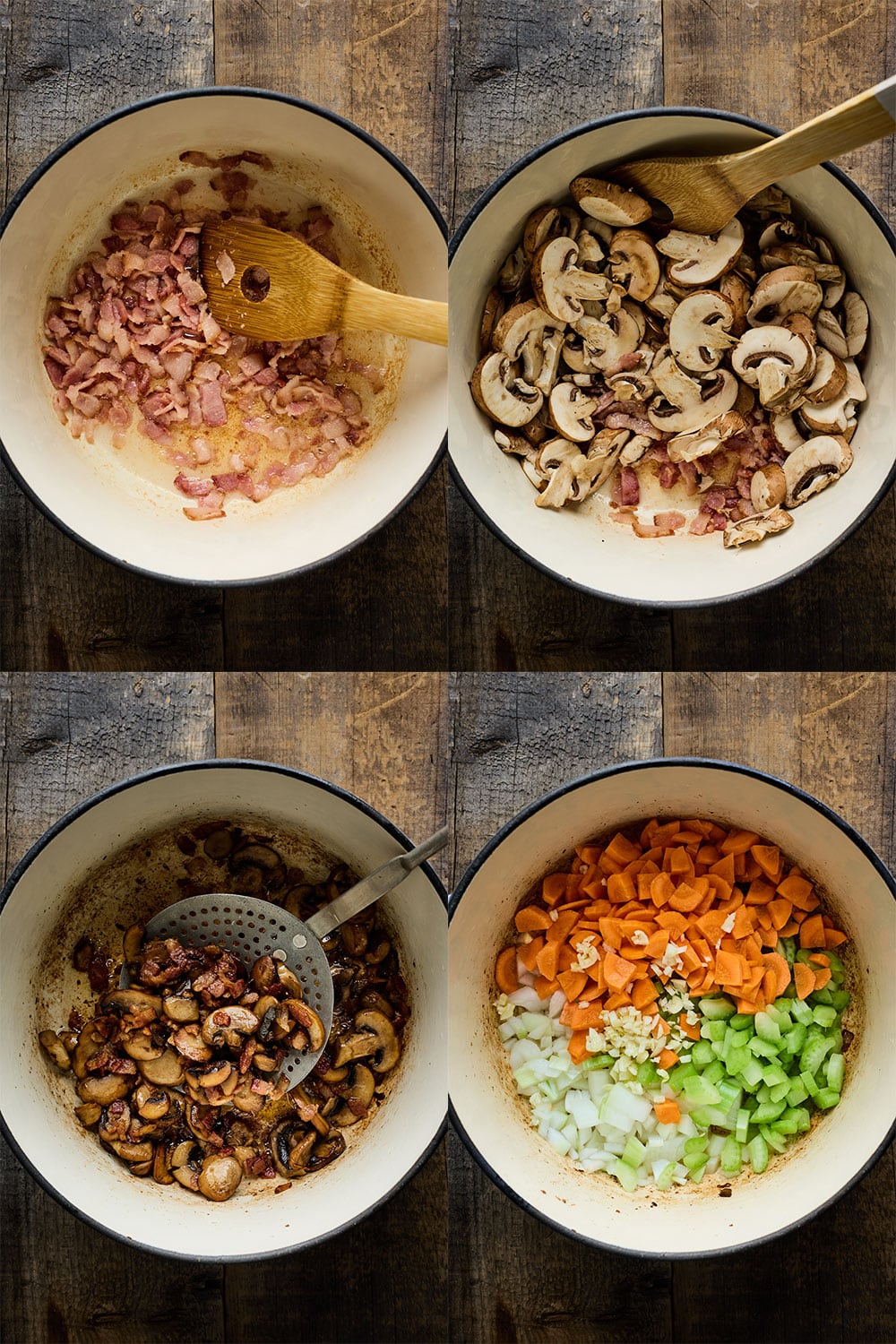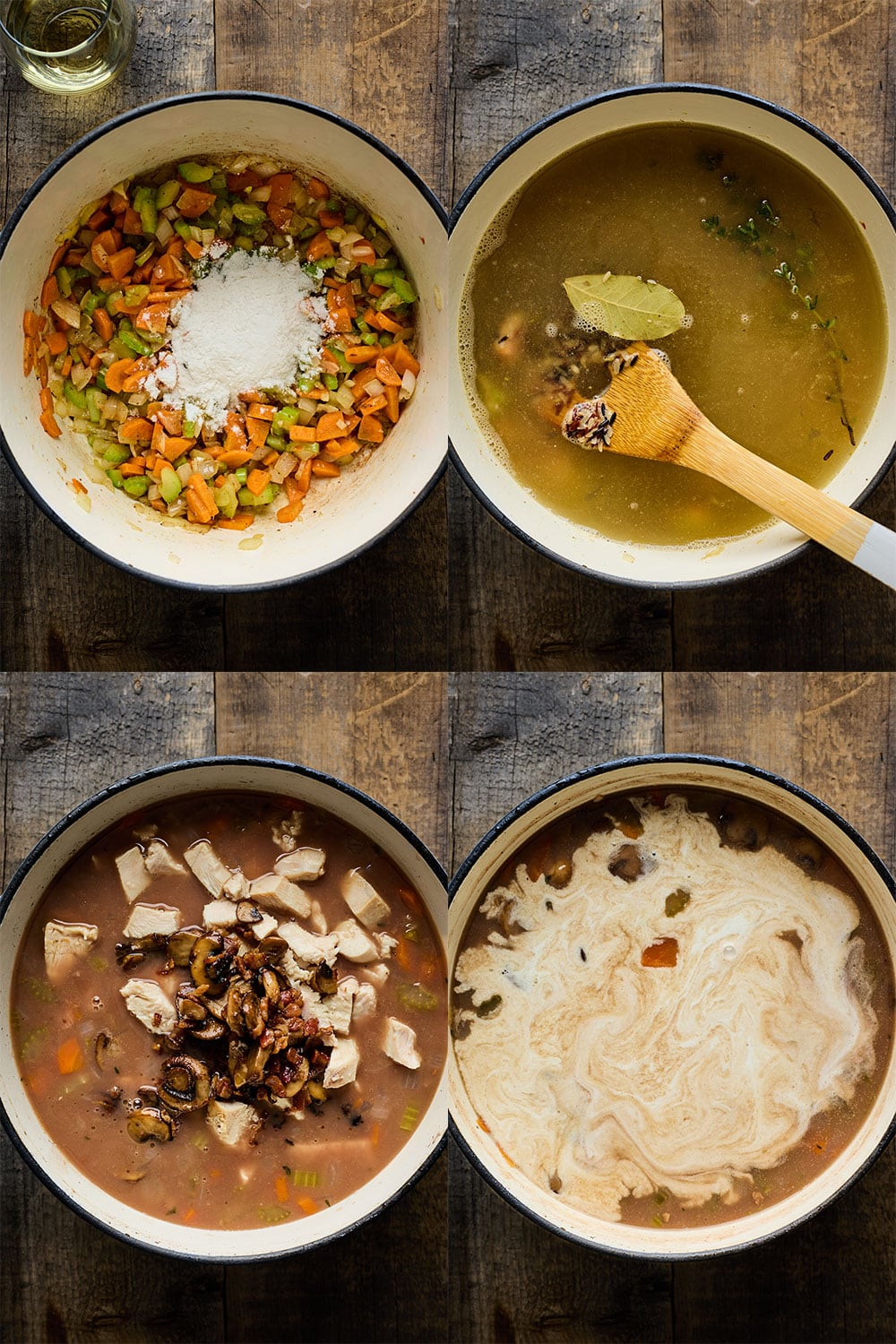 How to Make Homemade Chicken and Wild Rice Soup
SAUTE bacon followed by the veggies until bacon is golden crisp and veggies start to get tender ( I usually remove the bacon and mushrooms to add them to the pot later so they hold up some of their texture but that is optional)
SPRINKLE over the flour and stir cooking 1 min to make the 'roux'
DEGLAZE with wine if using
STIR in broth, rice, aromatics
SIMMER then add in the chicken (and mushrooms and bacon if you removed them after sautéing)
FINISH soup by stirring in the cream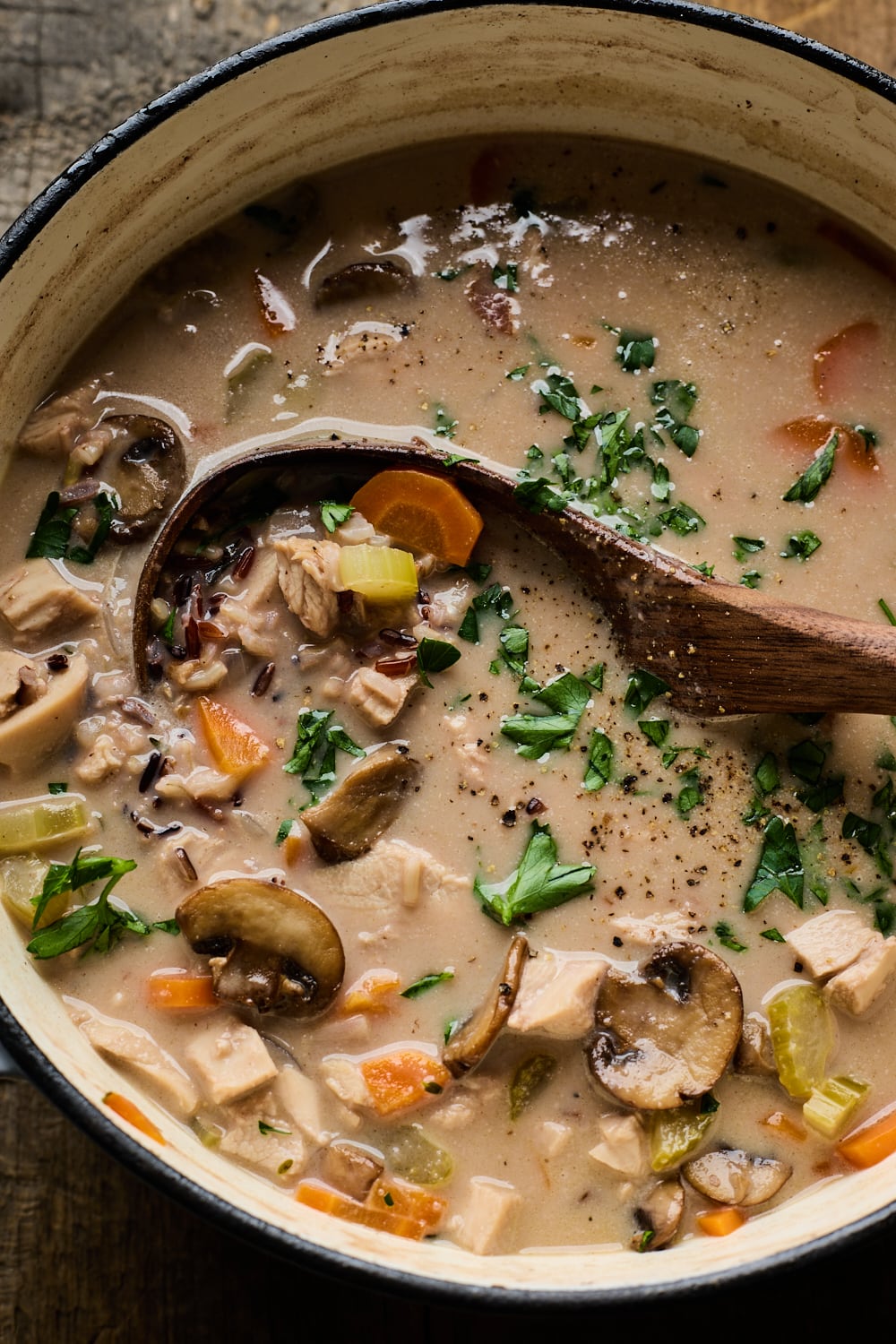 Chicken Wild Rice Soup Storage, Make Ahead & Freezing Instructions
STORAGE: Cooked and cooled soup can be stored in airtight containers in the fridge for up to 4 days. Reheat stove top or in the microwave adding more broth or cream to loosen up the soup a little as needed as it will thicken as it cools in the refrigerator and as rice continues to absorb liquid.
MAKE AHEAD: This is great soup to make ahead as it tastes even better the next day as all the flavours meld. Make it the day before and store in the fridge and reheat right before serving add more broth or water as needed. See above for more make ahead tips and short cuts like precooking the rice and using cooked chicken ahead of time, shredding and chopping it to make this soup even faster. You can even chop up your veggies (carrots, celery, onions and garlic) and store in a sealed bag or container in the fridge the night before to save time.
FREEZING: Cooked and cooled soup can be stored in airtight containers in the freezer for up to 3 months. The texture of the rice will not be the same though so expect the rice to be a lot softer. Thaw in the fridge over night and reheat stove top or the microwave adding more broth or cream if needed.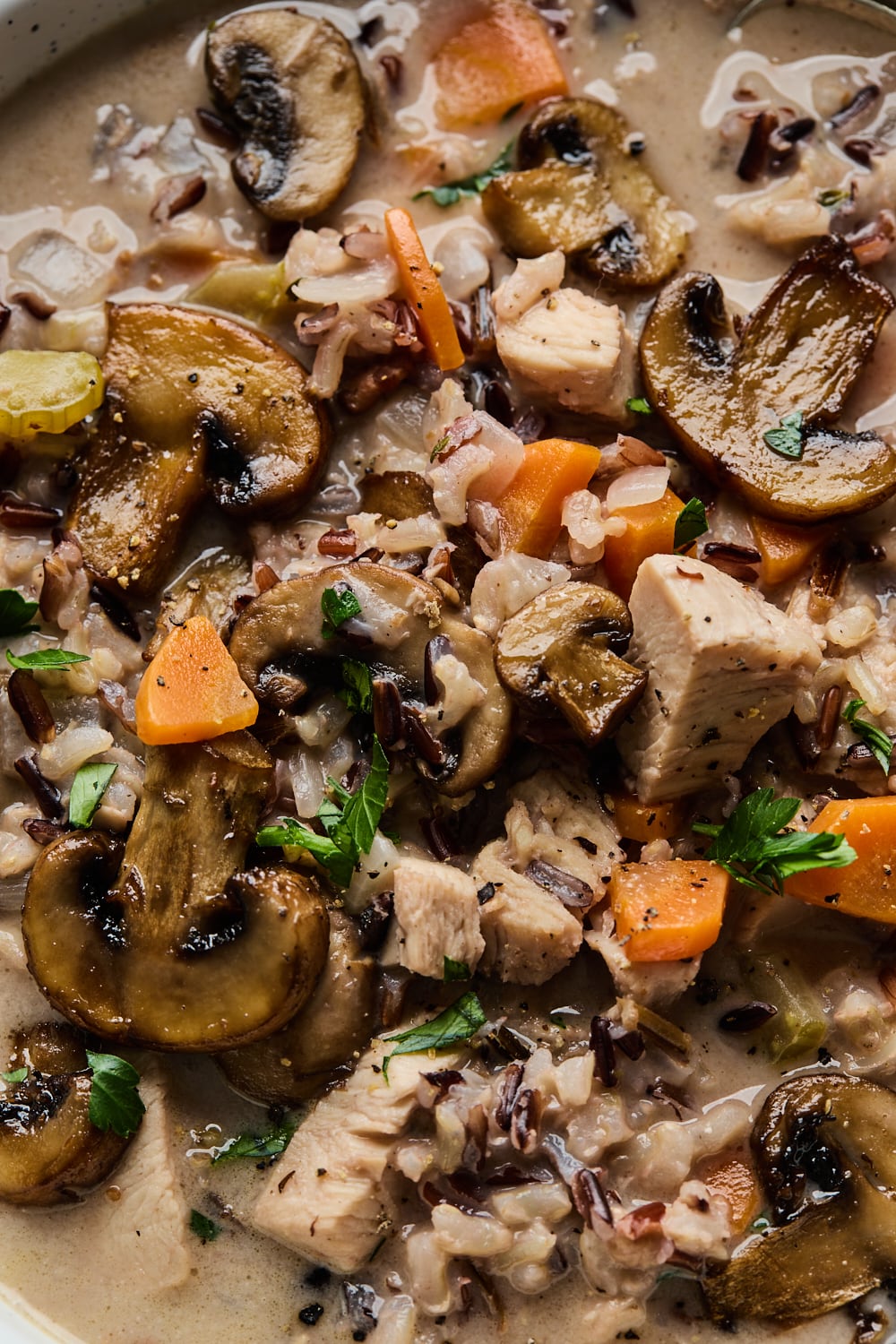 This makes quite the pot of soup and is great for company. It's my favourite to make for a nice Sunday lunch on a cold day with a big loaf of country style crusty bread and maybe a glass of Pinot and then off to bed for a Sunday afternoon nap afterwards. The beauty of this homemade chicken and rice soup is that it doesn't take long to make at all, especially if you are using up some leftover turkey or chicken and it makes such a delicious bowl of comfort food that you will be craving days after you finished it all off. Its loaded with veggies and lots of chicken and I love the bite and texture the wild rice adds to it too. It's rich and delicious and I know it will be a hit with your family!!
More Delicious Soup Recipes
Recipe
Prep Time: 20 mins
Cook Time: 50-60 mins
Total Time: 1 hour 20 min
Ingredients
5 slices of bacon rough chopped (or 3 tablespoons of unsalted butter or olive oil)

8 oz sliced cremini mushrooms

3 celery ribs, chopped

2 large carrots, peeled and chopped

1 large onion, peeled and finely chopped

3 cloves of garlic, peeled and minced

Salt and pepper to taste

¼ cup all-purpose flour

¼-½ cup white wine (optional)

1 cup wild rice blend

7-8 cups chicken stock or low-sodium broth (homemade or store bought) plus more depending on desired thickness

1-2 bay leaves

1-2 sprigs of thyme

3½-4 cups shredded or diced cooked chicken or turkey (approx 1-1½ lbs chicken meat)

1 cup heavy cream or more to taste
Directions
In a large saucepan over medium to medium-high heat, cook bacon until rendered and starting to crisp up, 5-7 minutes.
Add the mushrooms and sauté until golden brown, 5-7min. Remove bacon and mushrooms from the pot with a slotted spoon onto a paper towel lined plate and set aside. (this is optional so you don't overcook mushrooms, you can leave everything in the pan)
In the same saucepan, add onion, carrot, celery and garlic and a generous pinch each of salt and pepper and cook over moderate heat, stirring occasionally, until the vegetables just start to soften, about 6-8 minutes.
Sprinkle the flour over the vegetables and cook, stirring, until evenly coated and lightly browned, about 1-2 minutes.
Pour in the wine to deglaze the pan and be sure to scrape up any browned bits on the bottom.
Then add in the stock. Add in the wild rice, thyme, and bay leaf
Bring the soup up to a boil, then cover, reduce the heat and let simmer for about 15 minutes.
Then add in the shredded chicken and continue to cook for another 10-15 minutes, until the chicken is warmed through and the rice is tender. Note: It using raw chicken breasts, simmer until the chicken is fully cooked through (15-20 minutes). Then remove and shred.
Add in the heavy cream, and crispy bacon and mushrooms and simmer for another couple of minutes until warmed through.
Taste and adjust seasoning as needed. Ladle the soup into bowls and serve with crusty bread.
Recipe Notes
See Blog post above for short cuts, tips and variations
Recipe adapted from Country Living