Salty Honey Pie
Salt honey pie or salted honey pie is a custard pie recipe that is simple to make from the buttery crust to the creamy sweet with a hint of salt custard filling. This is perfect served with a dollop of whipped cream and a sprinkling of pink Himalayan salt or flaky sea salt. This version is from Four & Twenty Blackbirds Pie. It's only the best pie to ever touch my lips. I had heard about the Four & Twenty Blackbirds Pie Book and their pie shop in Brooklyn from some foodie friends, and naturally when we were in NYC last month I needed to try a piece of pie from them to see what the hype was really all about. It definitely lived up to the hype. I am not a pie person per say. Pie isn't going to be my first choice for dessert. That being said though, its not my least favourite either. One of my favourites of course before this one, is warm apple pie with vanilla ice cream. What can I say – I'm pretty basic.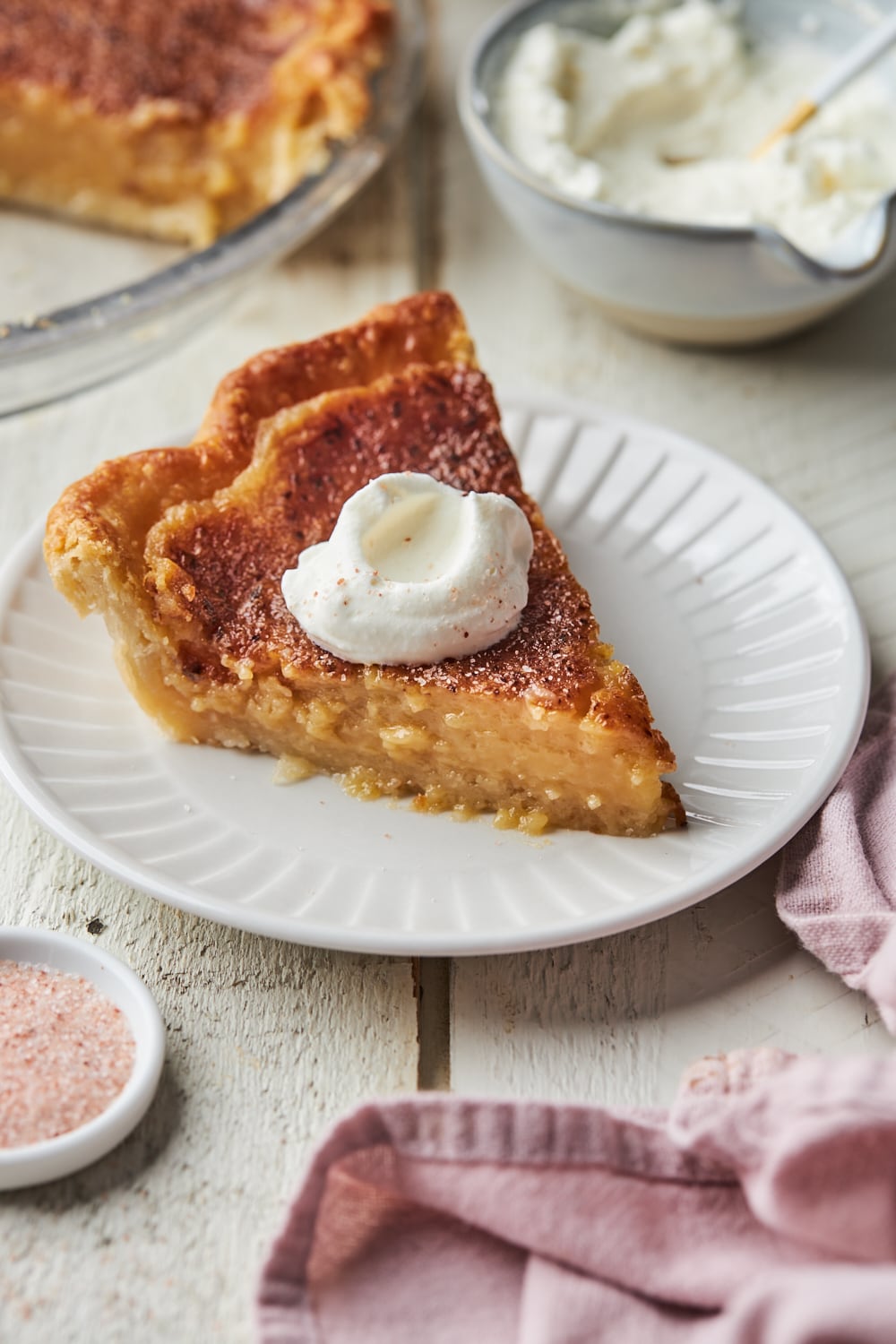 Pumpkin pies or custard pies are generally not my fav pies so I had my doubts about this pie that was actually served to me by accident. I had ordered the salted caramel apple pie and I think the girl must have heard salted and then full stop. Well I'm glad she did cause if I had a choice I would choose this one every time. Although in their defence, I'm sure if I tried any of their pies I would feel the same way about all of them. UPDATE: I went again years later and the pie is just as good as I remembered - it wasn't just nostalgia their pies are really that fantastic!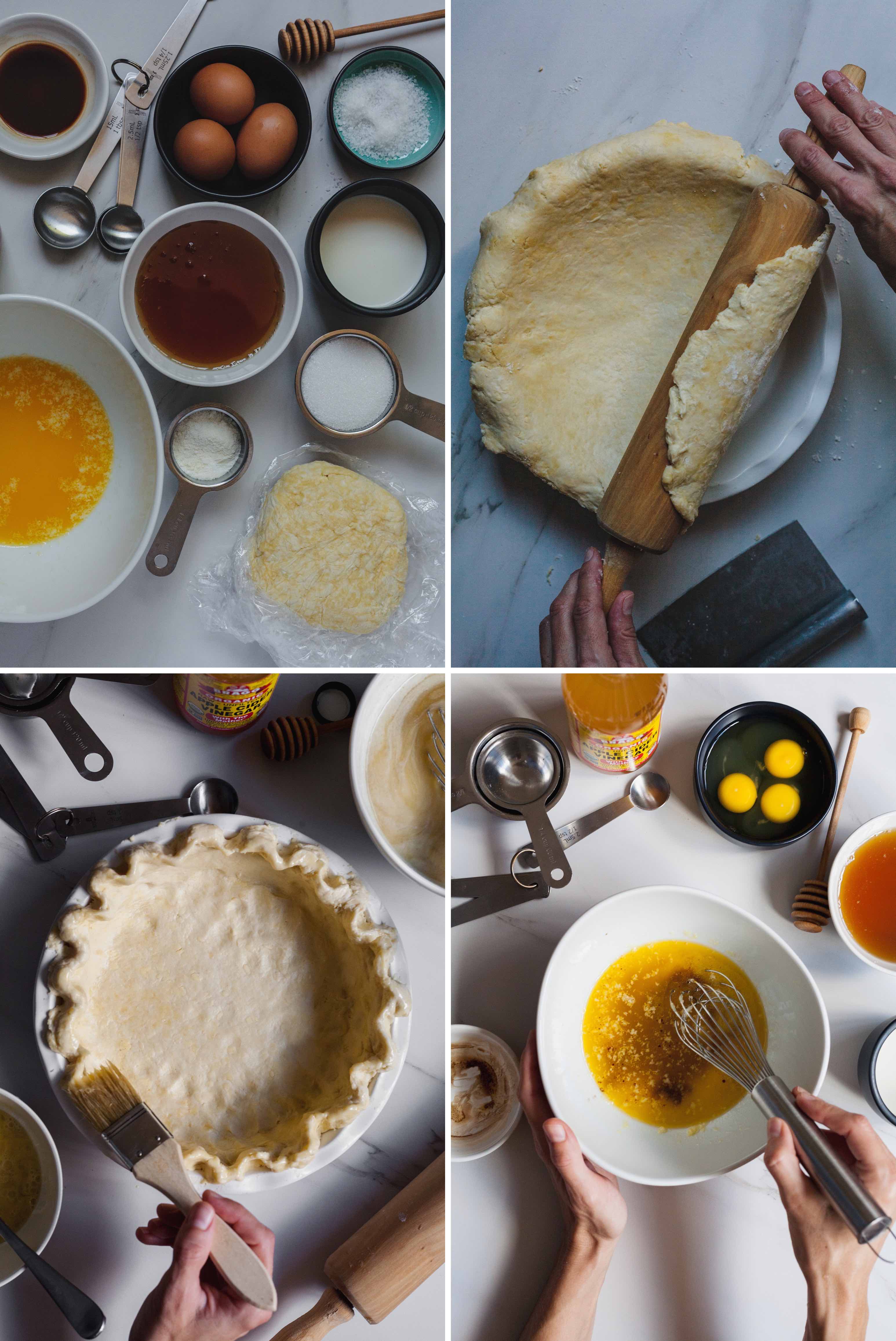 The crust was everything you want a crust to be, buttery with the right amount of flakiness and density to hold up that custard. And that custard is absolutely fabulous. Creamy, with just the right amount of sweetness. Every bite feels kind of sinful and oh so sweet. Topping it with whip and a sprinkle of salt really offsets and balances the sweetness. Honey gives this pie a beautiful flavour and a different kind of sweetness. Our local raw honey is fragrant and almost floral and went perfectly with this pie. I'm sure if you use a raw flavoured honey you could change up the taste of the pie itself. Joy the Baker used a sage one so I can only imagine how that tasted. Not that it needs it but it's worth experimenting with. I used her version of the pie crust because it's one of the easiest ones i have seen out there and it's a tasty one too. I loved the outcome of it and have used it as a base for other pies and love it. I especially love the simplicity of it. It rolled out perfectly also and freezes well too. I will be testing it out with cutouts this weekend and I'm sure it will be wonderful!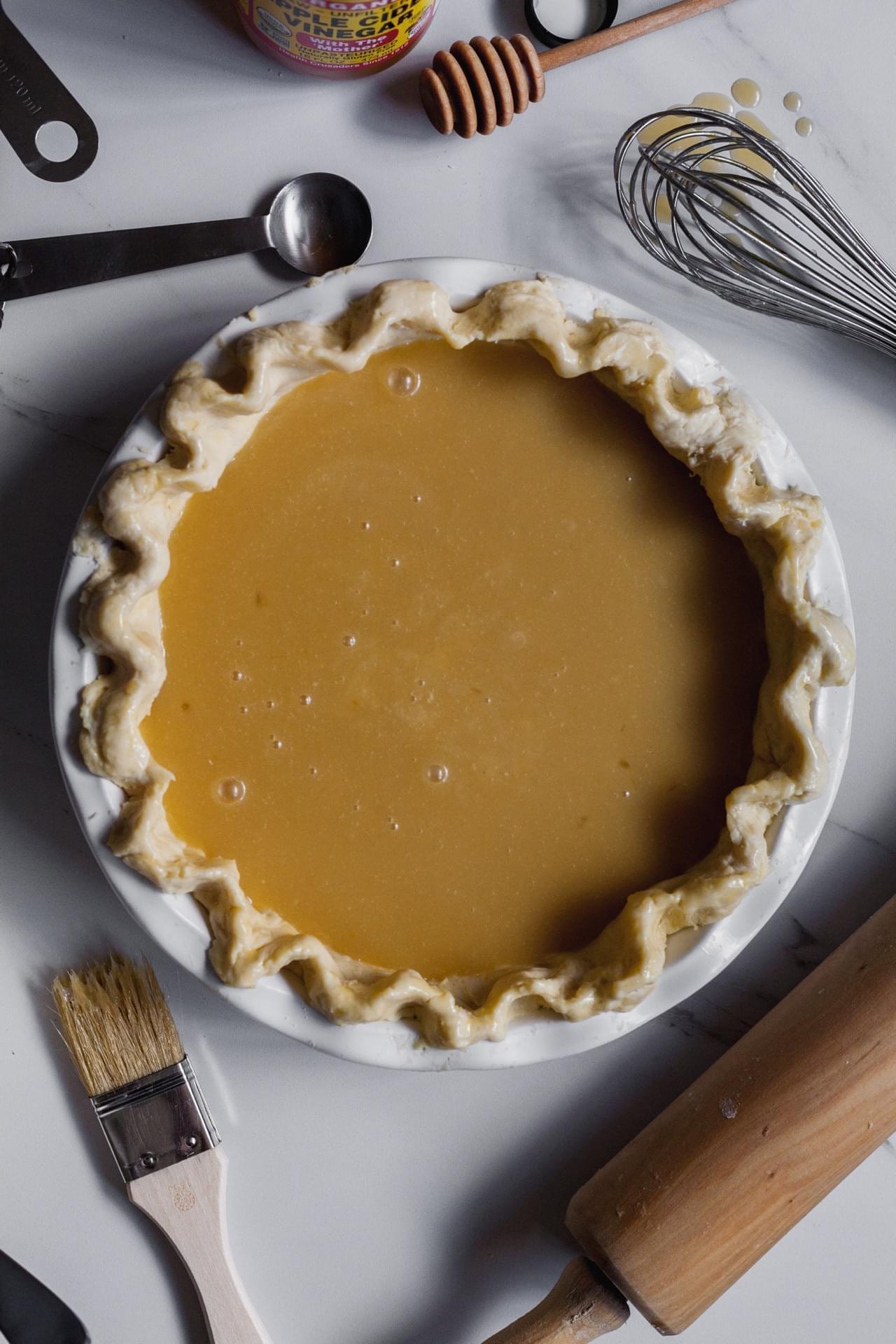 Salty Honey Pie Recipe Ingredients
For the Filling
Honey: raw honey is what the recipe calls for but any honey will work but a good quality one or a wildflower honey would be nice adding loads of flavour to this pie
Butter: unsalted butter for the crust and the
Sugar: I used granulated sugar for this pie
Cornmeal: White fine cornmeal is recommended but yellow fine cornmeal is totally fine to use as well
Vanilla: Pure vanilla extract is always recommended
Eggs: 3 large eggs that are room temperature
Heavy Cream: Make sure to use heavy cream to help this custard set and for best flavour and make sure it is room temperature
Apple Cider Vinegar: Helps balance the flavours and adds a slight tang and also helps filling set
Flaky sea salt: Perfect for topping your pie with - I used pink Himalayan salt for a dash of colour - sprinkle on whole pie or over each slice - optional but recommended cause it truly is the best with the sweetness of the honey pie (which by the way is quite sweet and what you would expect in a honey pie!!)
For the Crust
Feel free to use any 9 inch pie crust recipe you like - I have included my own in the recipe below if you would like or instead of a buttermilk based one you could do a simple and delicious all butter pie crust or if you prefer to use a storebought one that is totally fine too. If you are making this one you will need Flour, Unsalted Butter, Sugar, Salt, and Buttermilk (feel free to substitute with ice water). Be sure all ingredients are ice cold for optimal results and ensure pie crust is chilled or frozen before filling and baking. Blind baking or partially baking crust instructions below in recipe notes.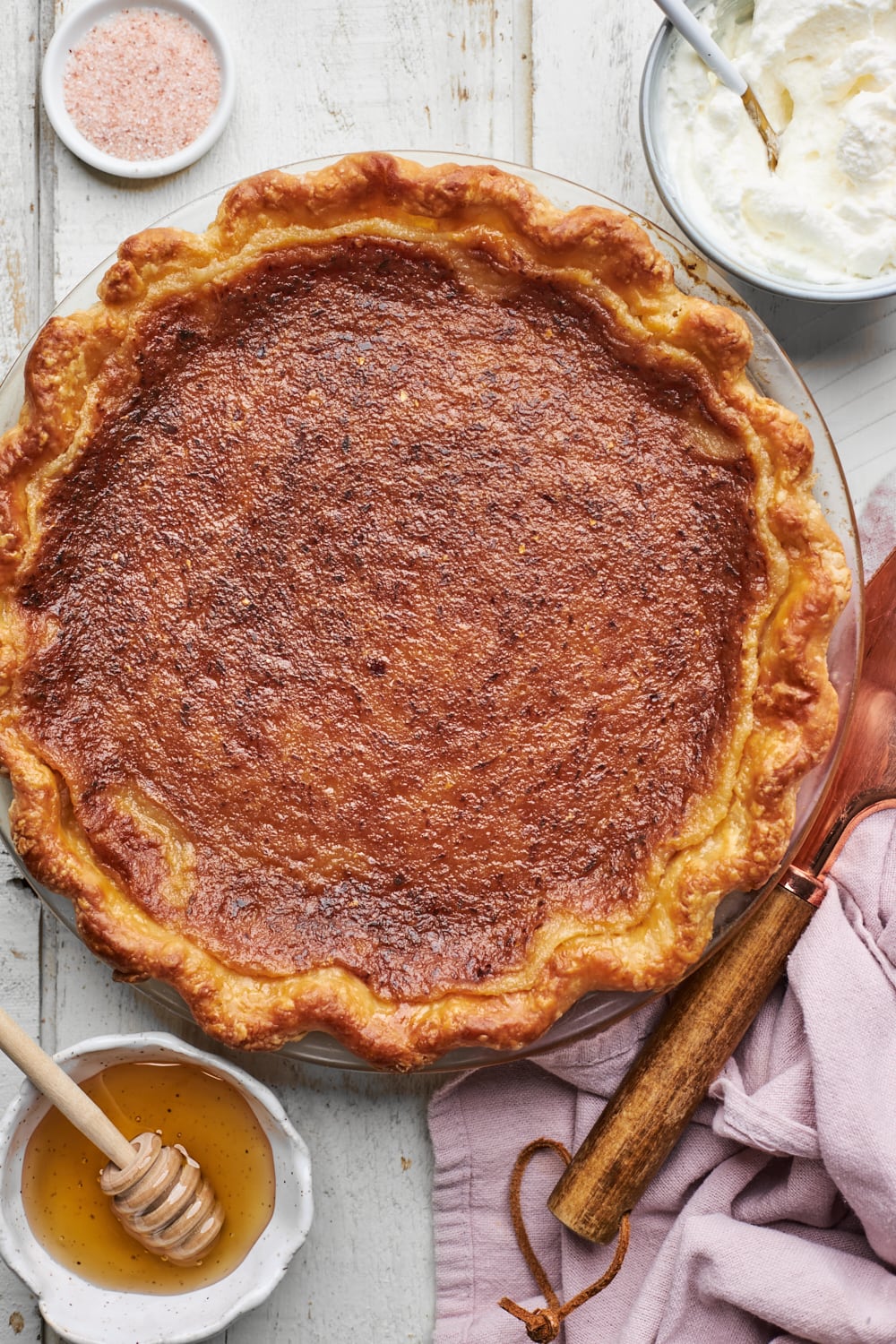 How To Make Salty Honey Pie
Make Pie Crust: Whisk the dry ingredients, toss with grated butter or cut in butter then drizzle with buttermilk and stir until shaggy dough forms - knead a few times then form into a disc and cover tightly with plastic wrap and let rest and chill for a least 1 hour or overnight. Roll out dough, fit into pie plate crimp and cover with plastic warp and chill while making filling
Make Filling: Whisk together filling ingredients and preheat oven
Assemble Pie & Bake: Pour filling into chilled pie crust and bake until golden and set. Allow to cool completely before slicing and serving
This pie was truly unforgettable for me and I'm so glad I could replicate it. It tasted as close as I remembered it tasting having my first bite seated at one of the rustic long tables at the pie shop in Brooklyn. If you're a pie lover or not this is definitely one to try. I won't promise conversion but I do promise a very enjoyable tasty bite after bite that is worth the effort that comes in making this pie.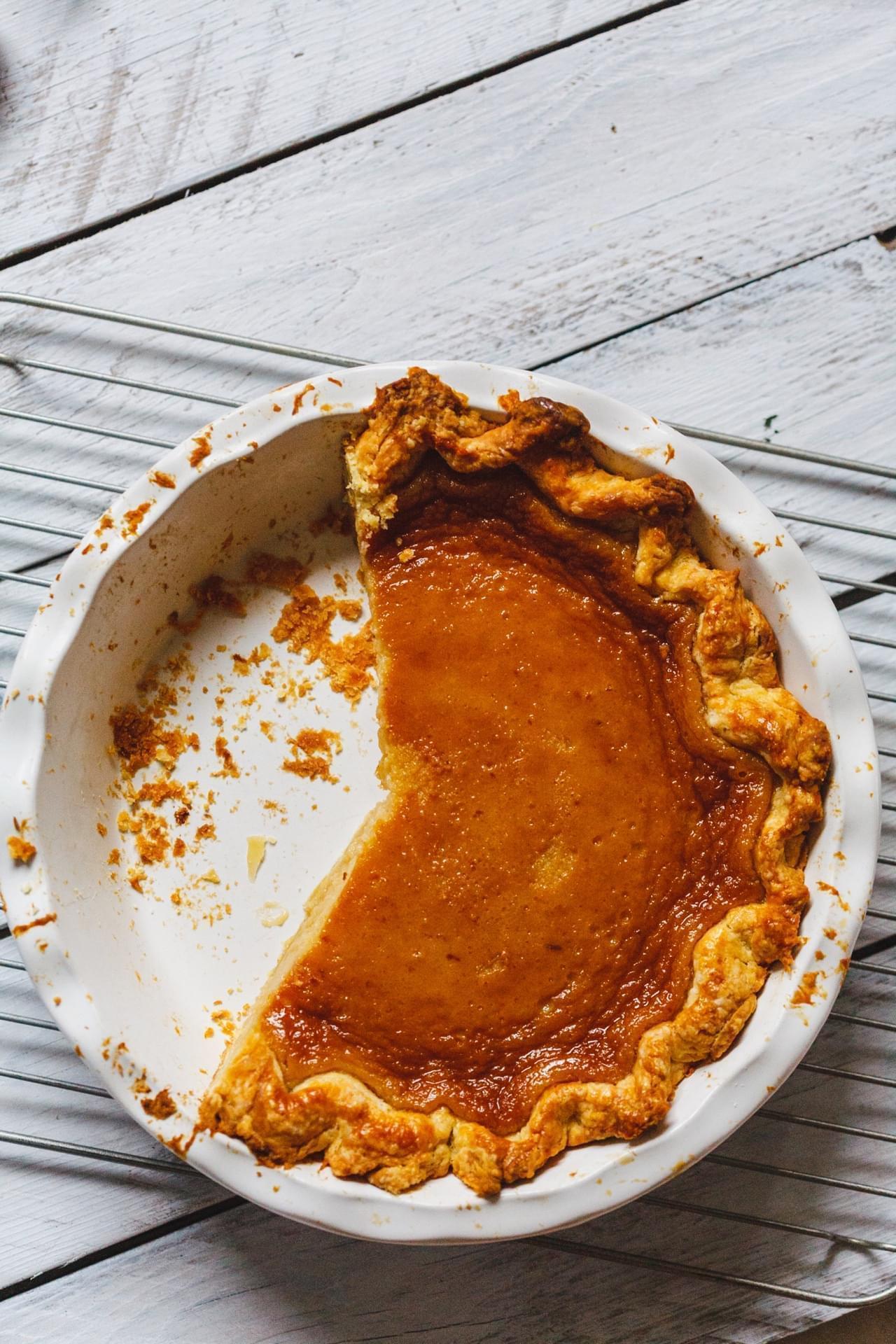 Make Ahead, Storage & Freezing
How To Store Salty Honey Pie?
The pie will keep refrigerated for 4 days or at room temperature for 2 days.
How to Freeze Salty Honey Pie?
Can baked Honey pie be frozen? You can. Follow the recipe instructions for baking and cool the pie completely to room temperature. After that, tightly wrap the entire pie (or any leftovers!) in two layers of plastic wrap and freeze for up to 3 months. To serve, thaw overnight in the refrigerator. Serve chilled, or reheat in the microwave or by baking in the oven at 350°F for 10 to 15 minutes or until a knife inserted into the center of the filling comes out warm.
Make Ahead Tips For Salty Honey Pie
You can defiantly make parts of this pie ahead of time to help save you sometime. You can split the recipe up over a few days! The pie crust can be made and refrigerated for up to two days and frozen for up to 3 months. You can even roll out the pie dough and fit it into your pie plate to save you some time then wrap with plastic and store in the fridge or freezer. The custard cannot be made ahead of time but it is super easy to whisk and pour into the crust and bake in a matter of minutes.
If You Like This Recipe You Will Love These:
Recipe
Yield: One 9 inch pie (regular not deep dish)
Prep Time: 30 mins
Bake Time: 45-50
Non active Time: 3-4 hours for chilling dough and cooling pie
Ingredients
Pie crust (makes one 9 inch pie crust)
Adapted from Joy the baker
1 stick of cold unsalted butter grated (I freeze mine for 1 hour, grate and put the grated butter in a bowl back in the freezer until I need it), unsalted

1½ cup of all purpose flour

2 teaspoons granulated sugar

½ teaspoon salt

⅓ cup buttermilk

1 egg lightly beaten for an egg wash
Filling
Adapted from The Four & Twenty Blackbirds Pie Book
1 stick of unsalted butter melted (½ cup of butter)

½ cup of granulated sugar

1 tablespoon of white cornmeal (yellow cornmeal is fine too just make sure its fine)

½ teaspoon salt

2 teaspoons pure vanilla extract

¾ cup raw honey

3 large eggs

½ cup of heavy cream

2 teaspoons apple cider vinegar

1-2 tsp flaked sea salt (I used pink Himalayan)
Directions
For the crust
In a large bowl whisk together the flour, sugar and salt and then add the grated butter and work it into the flour mixture with your fingers.
Create a well in the middle of it and pour in the buttermilk. Use a fork to bring the dough together and stir, and try to moisten all the flour bits. You want the mixture to be quite shaggy and not wet but do add a little more buttermilk (no more than 1 tablespoon at a time)to bring it together if needed.
Dump the mixture onto a lightly floured surface. Gently knead into a flat disk, wrap it in plastic wrap and refrigerate for 1 hour at least or overnight like I usually do. Roll dough on a well floured surface until it is about 12 inches in diameter and then transfer it to the pie pan. Gently fit into pie plate gentry pressing it into the bottom and up sides without stretching dough. Trim the edges so that they are pretty much even with the pie pan and then fold the edges under and crimp them using your fingers. Cover it with plastic wrap and store in the fridge or freezer while you prepare the filling (I prefer the crust frozen before filling)
For the filling
In a medium bowl whisk together the melted butter, sugar, cornmeal, salt and vanilla extract until combined.
Then add the honey whisking it well to fully incorporate it.
Then add the eggs one at a time whisking thoroughly to combine. Whisk in the heavy cream and vinegar.
Assembling Pie & Bake
Preheat oven to 375°F
Take the crust out of the fridge and lightly brush the edges of the pie crust with egg wash. (feel free to brush the bottom of the crust too with a thin coat) Then pour the filling into the crust and bake for 45-55 minutes until pie is a deep golden brown and puffed around the edges and set in the centre. The centre should jiggle a bit and be sort of gelatinous - its should not seem liquid if you shake the pan a little. (I recommend placing pie on a sheet pan to bake as custard pies can get bubbly and messy)
Please Note the edges of the pie and the top of it will brown and can burn quickly so please keep an eye on the pie and if its starts to brown too quickly tent loosely with foil or use pie guard.
Once done remove it from the oven and allow it to rest and cool on a wire rack for 4 hours before serving.
Serve with a dollop of whip and a sprinkle of salt and enjoy. The pie will keep refrigerated for 4 days or at room temperature for 2 days in an airtight container.
Recipe Notes
This recipe doesn't require blind baking but if you prefer to blind bake the crust first feel free to line the bottom of pie with parchment paper and fill it with bean or brown sugar or pie weights and bake (par bake) at 400°F for 10 minutes then remove and brush the bottom and edges of crust with egg wash. And allow to cool while you make your filling. Then add the filling and bake as directed in recipe above. If you are blind baking I STRONGLY advise using a pie guard when baking pie after adding the filling otherwise it edges of pie will burn
Tip - I like to use a glass pie plate especially when I'm not blind baking the crust - it gets perfectly golden brown and crisp on all sides even the base of it. It's not required but recommended for even baking. But if you prefer a metal one that is totally fine too many of you have had better success with a metal pan for a crispier crust - its all relative and even ovens are different the way they conduct heat and bake things is different - my advice is alway keep an eye on your pie especially a custard one - no two pans or ovens are alike
Make sure to chill or freeze pie crust while making the filling - I always stick mine in the freezer while prepping the filling and preheating the oven.
Make sure all you pie crust ingredients are ice cold and your filling ingredients are room temperature
I recommend placing pie on a sheet pan to bake as custard pies can get bubbly and messy
Some recipes for this particular pie recommend pouring the filling into curst through a fine mesh sieve but I have never done this - I find that the corn meal adds a really nice texture to the pie even when I have used a larger grain cornmeal (not recommeded but just mentioned because that is all I had in my pantry and it still worked our deliciously)
You will notice in some of the photos the pie is more golden and the others are more deeply brown - that goes to show you that different ovens and different honeys can yield a different looking caramelization and so can different pie plates - The lighter one I tented earlier and the darker one I allowed to caramelize more - both were fabulous and the latter darker one more closely resembles the Four & Twenty Blackbirds Pie in look and texture