Shrimp Saganaki
Updated 31 May 2023
This Greek Shrimp Saganaki / Garides Saganaki is a quick and easy sheet pan dish made of tender spiced and herbed shrimp baked with tomatoes, garlic and feta and finished off with a squeeze of lemon juice and fresh herbs. It's the perfect dish served as an appetizer or a full meal (main course) either with pasta or orzo, rice, or just crusty bread to scoop up the flavourful sauce right out of the pan. It's typically made in a large frying pan or skillet on the stove top or bakes in a casserole dish, but I decided to make it into a sheet pan dish resulting in a quicker cooking/baking time, minimal prep time and maximum flavor.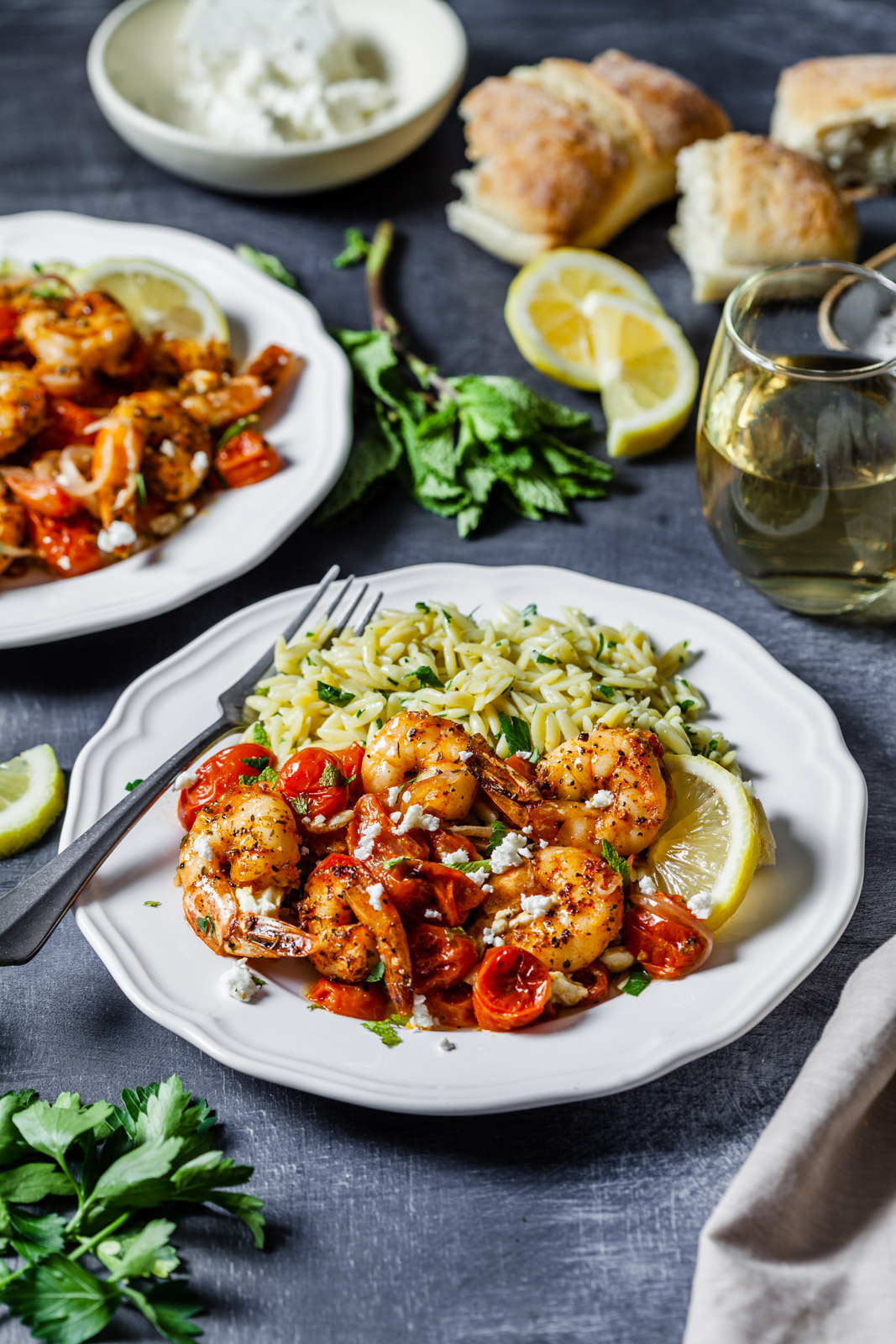 What Is Shrimp Saganaki or Prawn Saganaki?
When I first made this for my husband he looked a bit confused as he was expecting bubbling cheese saganaki in a pan to be served on the dinner table not saucy shrimp. You may feel the same way as most people think sagananki should be followed up by a loud OPA and a shot of ouzo or something potent being poured into a hot pan with cheese and then poof - a burst of flames. That is definitely the the most common dish people associate with saganaki. Saganaki in Greek actually refers to the two-handled dish or frying pan the dish is typically cooked in. The name saganaki actually from the Greek work sagani and has nothing to do with cheese. Indeed, sagani means "frying pan with two handles". So you see, saganaki can be associated with many other foods other than the cheese it's so famously known for in Greece and around the world. This shrimp saganaki dish has three main components to it - the tomatoes and aromatics, the shrimp and of course the feta. They all come together beautifully in this dish - now let me tell you more about them!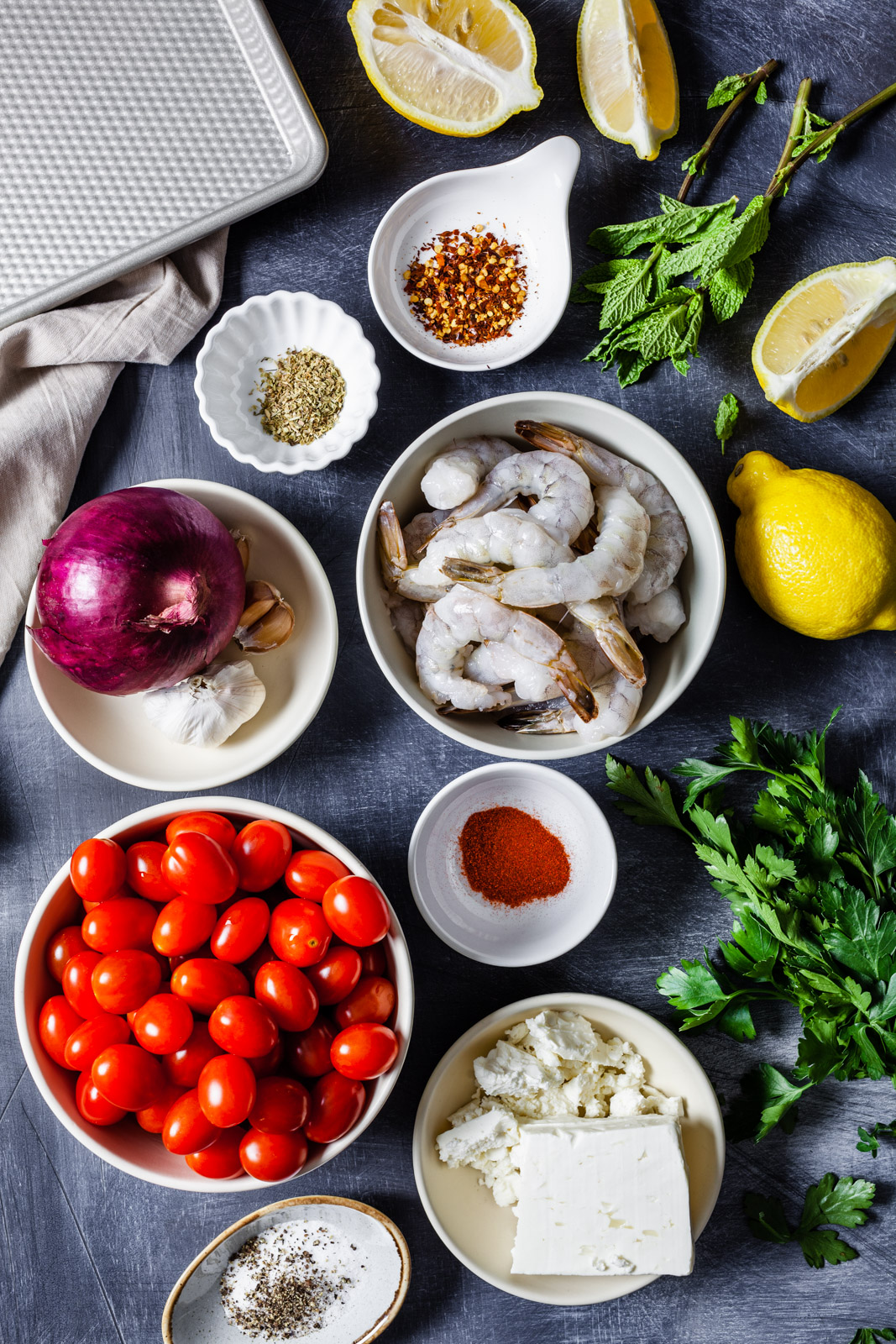 Shrimp Saganaki Recipe Ingredients
Shrimp: Feel free to use fresh or frozen. If using frozen make sure to thaw completely and pat shrimp dry. Use whatever shrimp you prefer but I recommend using large shrimp - if you use smaller shrimp they will cook a lot quicker and if you use jumbo shrimp they will take a bit longer to cook. Peeled and deveined makes it easier but feel free to leave the tails on which are handy to grab and eat if serving as an appetizer
Tomatoes: I like to use cherry tomatoes because they have thinner skin and a higher water content than grape tomatoes—giving them a greater juiciness adding to the delicious pan juices - but feel free to use grape tomatoes or even chopped Roma tomatoes or canned (more info below on all those options) Feel Free to leave the cherry tomatoes whole if you want them more intact or slice them in half for extra pan juices and flavour
Shallot/Onion: adds flavour to the dish - feel free to use a small red onion or yellow onion or a shallot fo a sweeter milder flavour
Garlic: measure with your heart - I love garlicky shrimp! Feel free to adjust amount to taste
Olive Oil: extra virgin olive oil for the shrimp and tossing the veggies with
Feta Cheese: measure with your heart - you literally cannot have enough feta in my books - adjust amount to taste. Some people don't like baking the feta so if that Is the case just crumble it over after the shrimp is out the oven.
Fresh Herbs: My favorite combo for this dish is parsley and mint but feel free to use what you like
Lemons: I love to finish the dish off with lemon zest and a squeeze of fresh lemon juice - and I like to serve it with extra wedges
Seasoning: salt, pepper, paprika, oregano and chili flakes is what I like to use to keep things simple but feel free to add, remove or adjust according to taste
Variations: Switch up the seasoning and herbs to your liking. toss in some capers or chopped Kalamata olives for more briny flavour To use fresh or canned tomatoes?
Not that big of a dilemma actually. It's completely up to you whether you use fresh tomatoes or canned for more of a tomato sauce situation. You can even use larger chopped fresh tomatoes in place of cherry tomatoes. Approx 4-6 small/ medium sized tomatoes would do in place of the cherry tomatoes. Really and truly this dish works well with whatever you have on hand. If tomatoes are in season definitely use them and if not use canned whole tomatoes or canned cherry tomatoes. If using whole ones just make sure to choose them up into smaller pieces. If you are using canned try to use good quality canned tomatoes which enhance the flavour of the dish. If I can get fresh I will always use fresh because I love the taste of roasted fresh tomatoes. Choose fresh herbs over dry where and when you can especially in this case when the fresh herbs are tossed in and on after the dish has been cooked as they add so much to the dish. If you like an extra bit of freshness you can even toss some fresh dill to the herb mix to add some more vibrancy to the dish. Make sure that your tomatoes, garlic, and onions are well seasoned with salt and pepper as each layer adds to the whole dish.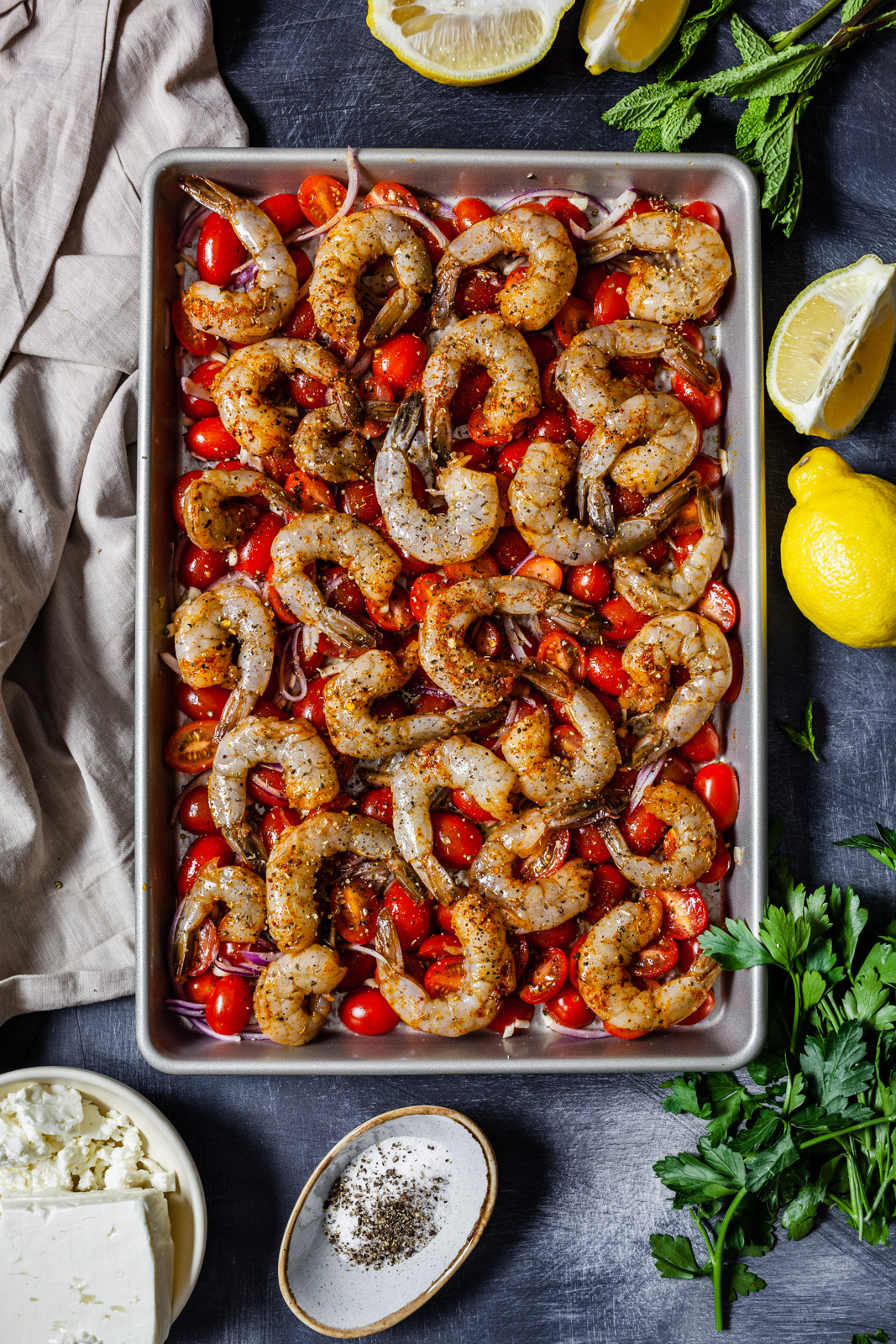 How To Make Sheet Pan Shrimp Saganaki
TOSS Shrimp with salt pepper, paprika, chili flakes, oregano and half of the olive oil
TOSS the tomatoes, onions and garlic with remaining olive oil and salt and pepper in a large sheet pan
SPREAD seasoned shrimp evenly on Sheetpan with the vegetables
SPRINKLE feta cheese over top
ROAST until shrimp is cooked and tomatoes have burst (feel free to broil for the last 1-2 minutes of cooking time for a little char if you wish)
GARNISH with lemon zest, fresh herbs and a squeeze of lemon juice and enjoy How to get the most delicious shrimp?
This one is easy guys. I toss mine well with the spices and let them hang out, while I chop my veggies and seasonings and make sure that each of them are fully coated with seasoning. They get a few minutes of marinating while I prep and it's literally like they are getting a nice flavour bath. Shrimp don't need a lot of time to absorb the flavours that they are marinating in, so that quick little 'bath' will ensure they are covered in flavour and bake up deliciously! I always buy shrimp that has already been peeled and deveined but still has the tail on – makes for a prettier presentation and I find my family is much happier that they don't have to peel the whole shrimp when they are served. I usually have frozen shrimp on hand at all times. It's so versatile and cooks up so quick. Either frozen or fresh works great with this recipe. Just be sure that when you use frozen shrimp, make sure to thaw them out completely and pat them dry with a paper towel before placing them in the marinade. They cook/bake up quickly which is great for a quick meal.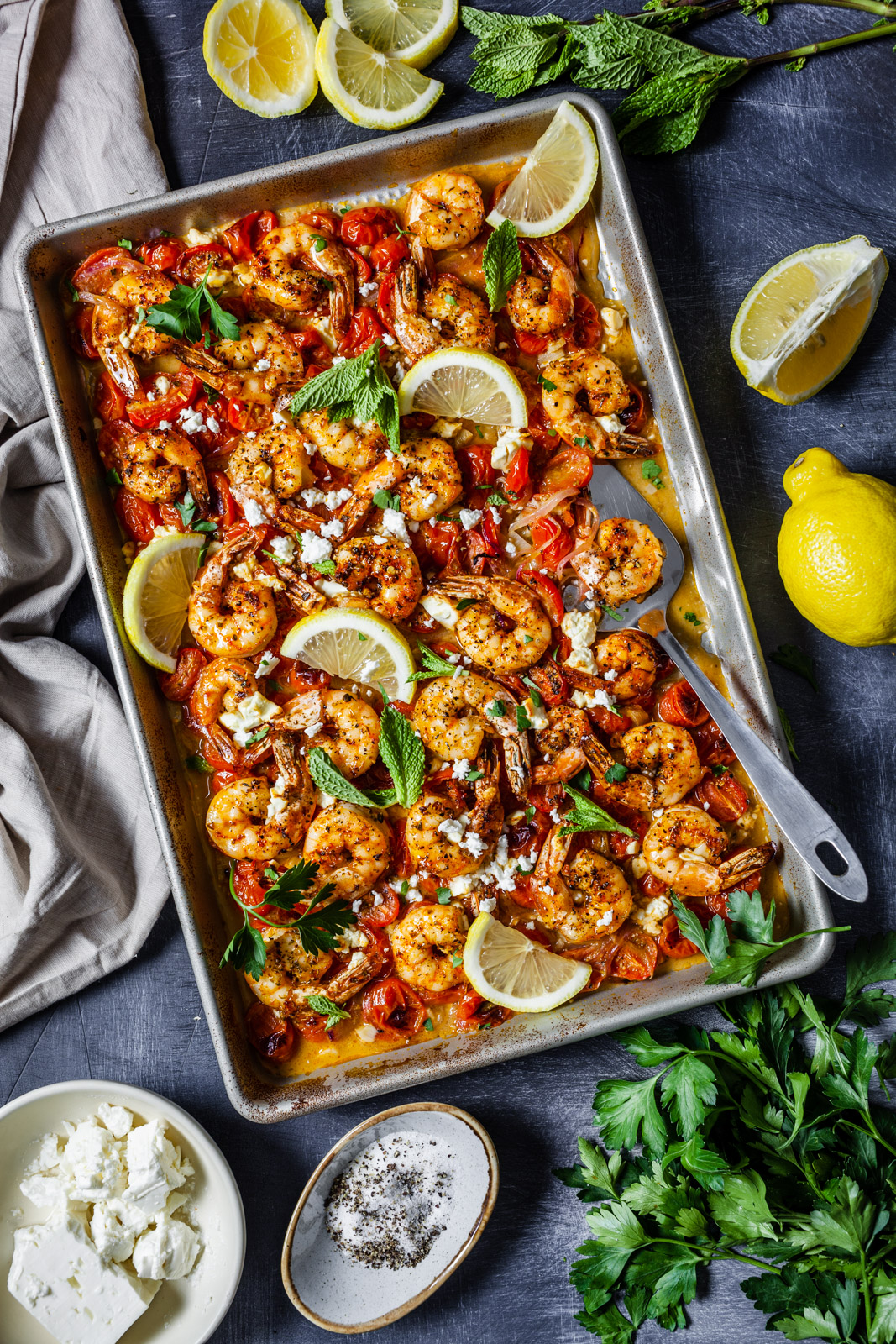 Should I have dairy with seafood?
Scientifically there is no proven reason why you should avoid having the two together. This traditional Greek dish (in good company with many creamy pasta shrimp dishes) disregards the notion that seafood and cheese don't mix and it works beautifully resulting in a delicious balance of flavours. Make sure and use a good quality feta and one that you like. Some like a softer brinier feta and others like harder more crumbly feta. You can use anyone one you prefer. There are slight variances however, in flavour and texture, depending on what type of milk is used (cow, sheep or goat) and where the feta is made. What you use boils down to taste, and availability. I'm not picky when it comes to feta and neither is this dish.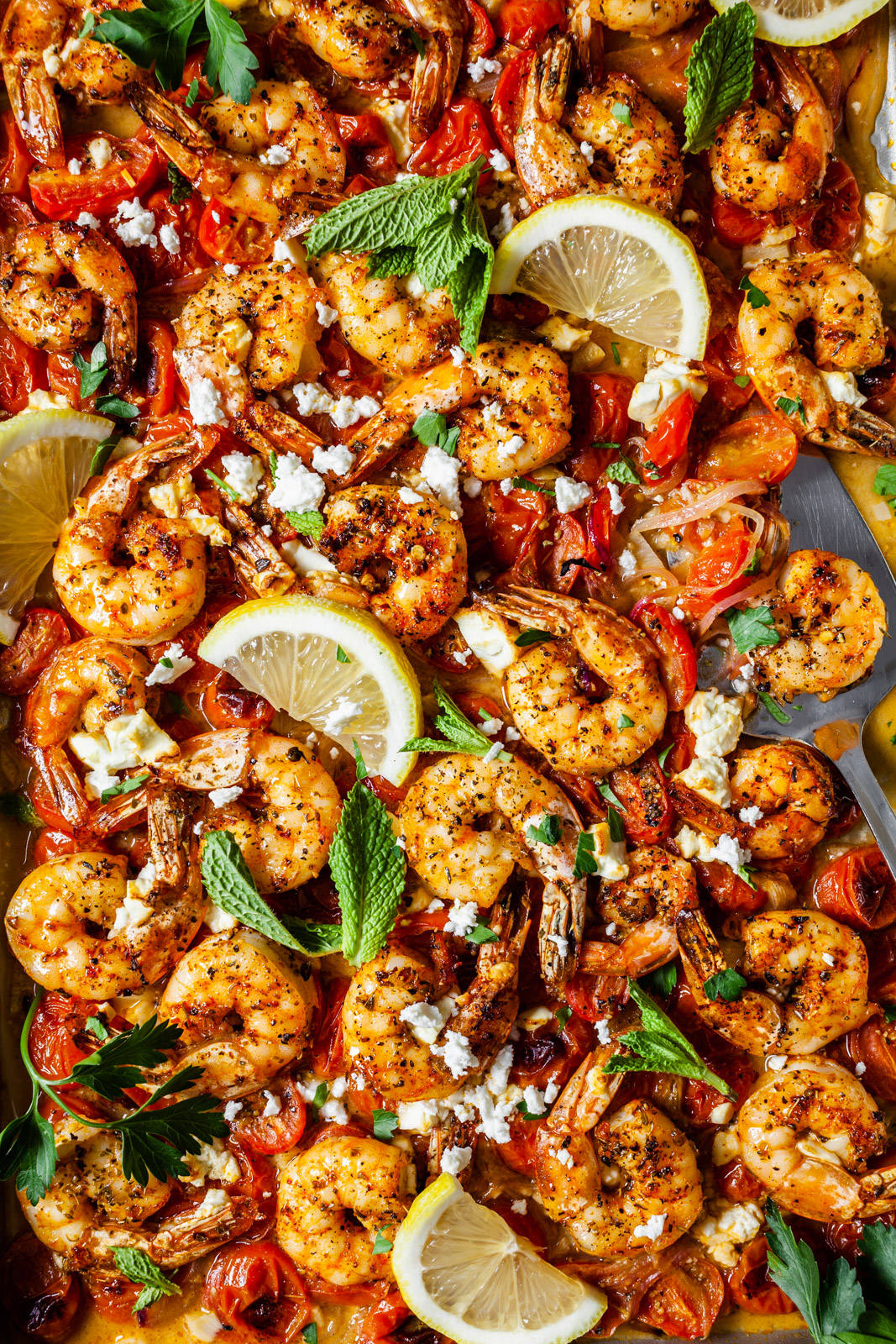 I love serving this dish with my lemon parsley orzo. It goes really well with the flavours of the shrimp and I'm a sucker for pasta. We could have eaten this right off the sheet pan with crusty bread though and next time we may just do that. If you are a shrimp lover I know you are going to love this dish. Trust me on this one and definitely give it a try.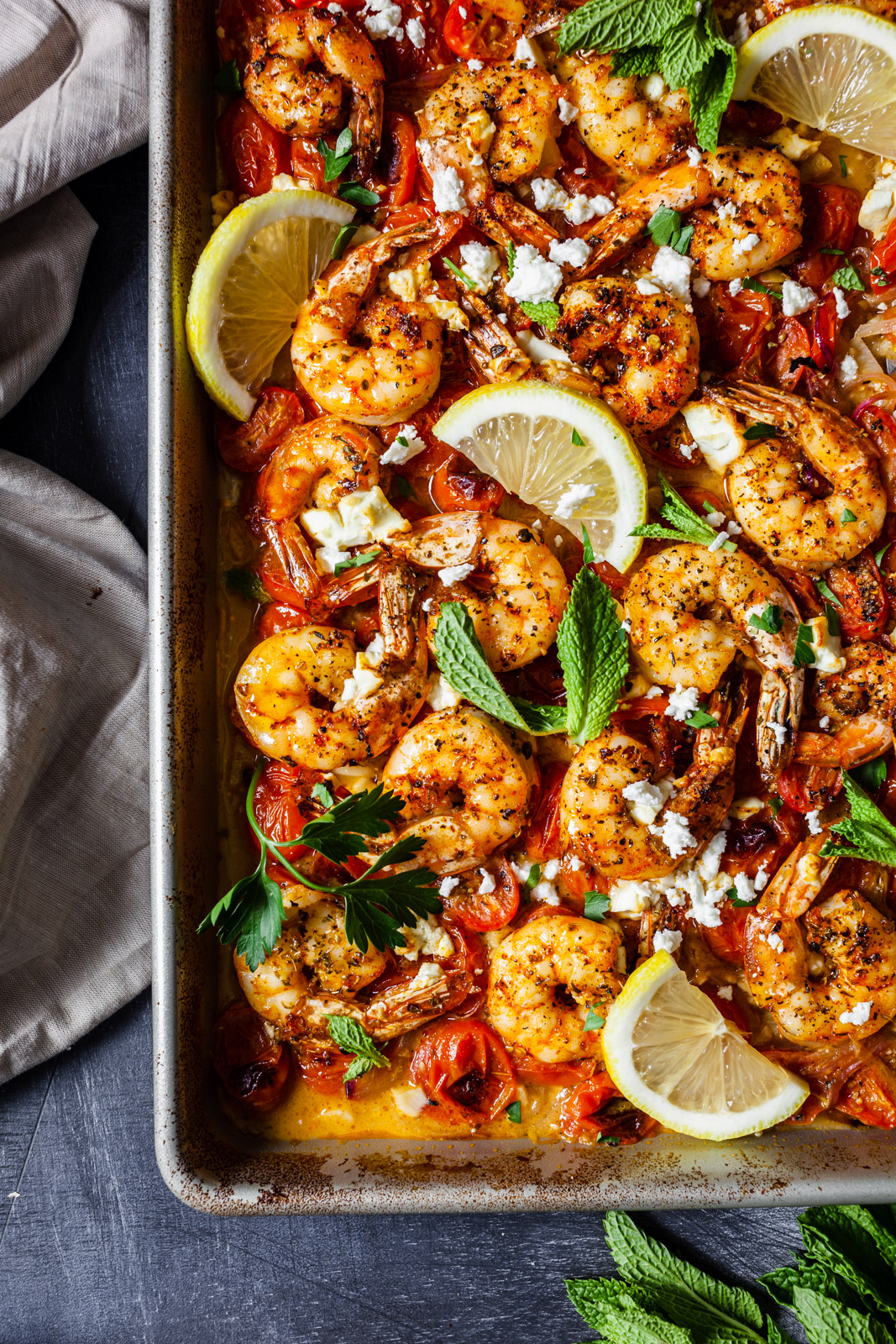 More Shrimp Recipes You Will Love
Recipe
Prep Time: 10 mins
Cook Time: 10-15 mins
Ingredients
4 tablespoons Extra-virgin olive oil divided

1 small red onion or shallot, peeled and finely sliced

4 garlic cloves, peeled and minced

Salt and pepper to taste

2 cups cherry tomatoes, left whole or halved, or 1 can (14½ oz.) tomatoes, drained and rough chopped

½ teaspoon crushed red pepper flakes (or more according to taste)

½ tsp sweet paprika

1 - 1½ pounds large shrimp, peeled and deveined (thawed if frozen)and patted dry

½ cup of Greek feta cheese, crumbled plus more for serving

1 teaspoon dried oregano

2 tablespoons each chopped mint and parsley plus extra for garnish while plating

Lemon zest, lemon slices or wedges for garnish and serving
For the lemon parsley orzo
1 teaspoon salt

½ teaspoon pepper

8 oz./ounces orzo pasta (about 1 - 1⅓ cups)

2 tablespoons, unsalted butter or olive oil

1½ teaspoons lemon zest

½-1 teaspoon lemon juice

2 tablespoons fresh parsley, minced

½ cup crumbled feta
Directions
For the Shrimp Saganaki
Preheat the oven to 425°F.
Toss shrimp with chili flakes, paprika and oregano, 2 tbsp of olive oil and a pinch of salt and pepper and set aside
Arrange cherry tomatoes, garlic and onion on a rimmed baking sheet, then drizzle with remaining olive oil and toss. Season with salt and pepper.
Arrange shrimp over tomato mixture evenly in one layer.
Crumble cheese over surface
Roast until the shrimp are opaque and the tomatoes begin to burst, 10-15 minutes depending on the size of shrimp (smaller ones will cook faster than the larger ones) If you want a little extra colour on your shrimp you can put the oven on broil for the last minute or two of baking (no more as you don't want to overcook your shrimp) until the edges are golden.
Remove them from the oven and finish them off with a generous squeeze of lemon juice and sprinkling of fresh mint and parsley along with extra cheese and lemon zest if you would like.
Serve with salad, bread, or pasta. I served mine with lemon parsley orzo and it was fantastic. Leftovers can be stored in an airtight container in the fridge for three to four days. When reheating, use a lower temperature to avoid overcooking.
For the Lemon Parsley Orzo
In a large saucepan, bring 1 quart (4 cups) of water to a boil.
Add the salt and orzo and cook until the orzo is tender and has absorbed almost all of the cooking liquid, 8 to 9 minutes or according to package instructions.
Drain any remaining liquid then return to pot or place into a serving bowl, stir in the butter, lemon zest and juice, parsley and feta if using and season with more salt if needed and pepper to taste and set aside while making the Shrimp Saganaki. This lemon parsley orzo with feta can be eaten warm or cold and leftovers last about 3 to 5 days in the fridge in an sealed container. Reheat in the microwave or stovetop adding a little more lemon juice or olive oil as needed