Skillet Balsamic Chicken With California Figs
With the Autumn/Fall season upon us, the idea of a recipe that incorporates both some sweet and some savoury flavours is always a delicious one. This Skillet Balsamic Chicken & Figs recipe is a wonderful one pan dish to serve in late summer when fresh figs are in season. It's fancy enough to serve to guests but also easy enough to make for weeknight dinner. Chicken is pan-seared in a skillet then braised in the oven with a fresh fig sauce. Fresh figs are added as a finishing touch and provide a sweet, delicious, seasonal accompaniment to the chicken, all garnished with savory fresh thyme! The sauce is seriously drinkable and perfect over rice or feel free and enjoy with crusty bread right from the skillet.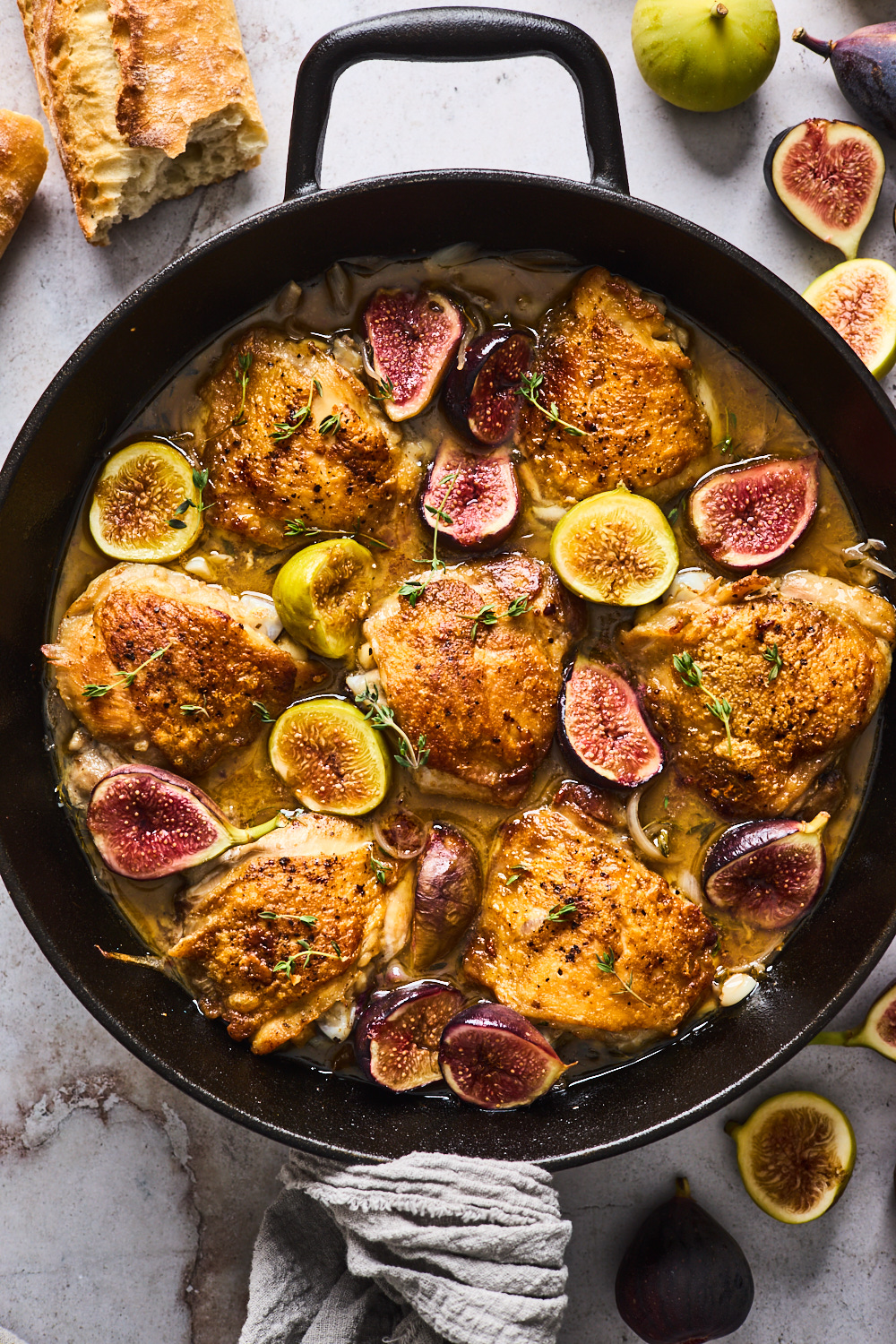 Sweet and savoury combinations are not new to the blog. I really love the way fresh fruit caramelizes and adds a delicious sweetness to some of the tastiest mains on the blog. I'm pretty sure I have you covered when it comes to fruit incorporated dinners. Chicken Marbella on the blog incorporates prunes into the dish, My Moroccan Grilled Chicken With Apricots is also a seasonal favourite,  along with my Sheet Pan Sumac Spiced Chicken With Plums, Rosemary Garlic Lamb Chops With Grapes and my Cider Braised Chicken Thighs. There is definitely something to be said about fruit braising along meat.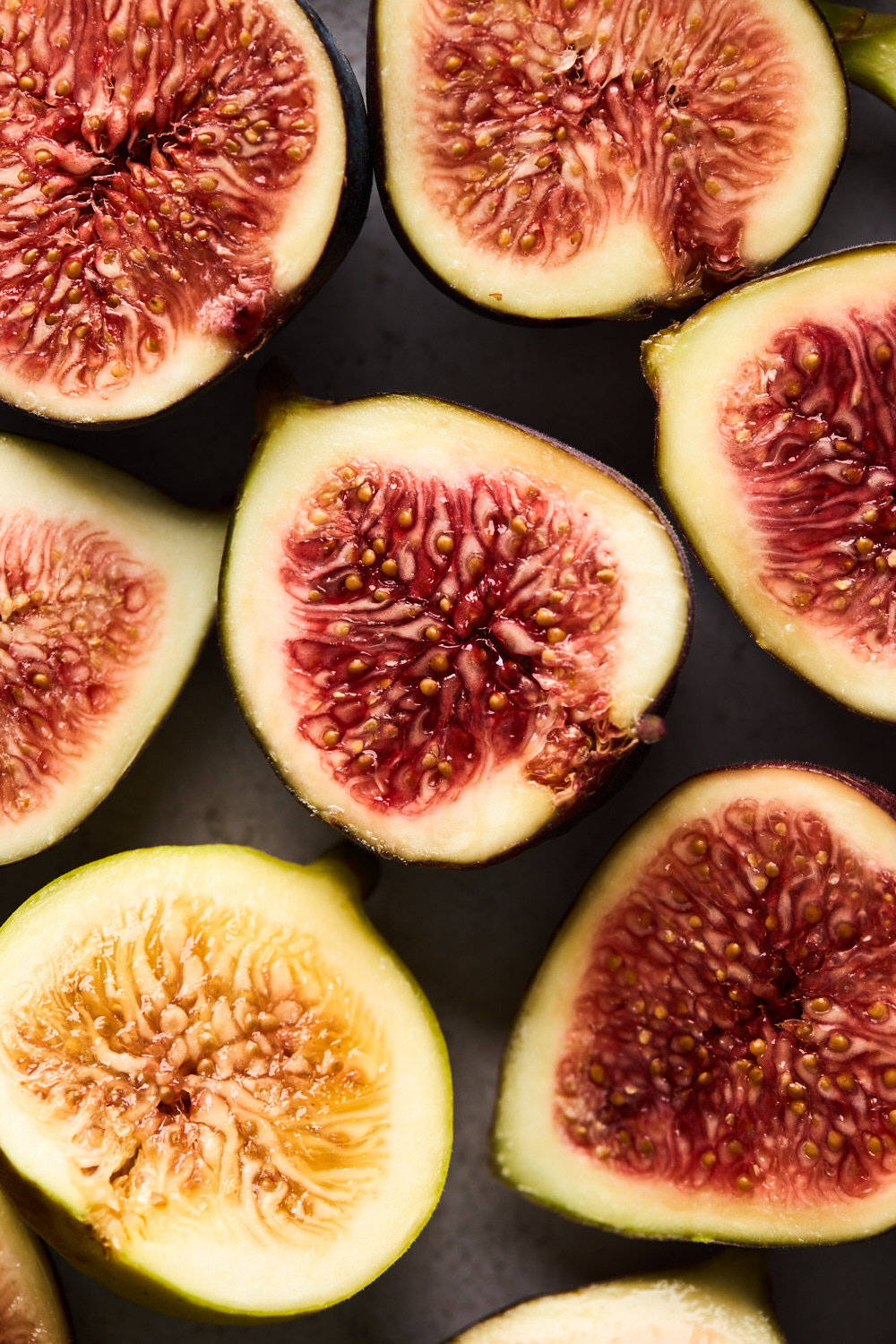 I partnered up California Figs to share a recipe I love that incorporates fresh California Figs into it. As you see from the links above I'm a fan of partnering proteins with fruit so that is why I wanted to share this recipe. This recipe is based off a Rachael Ray one. She totally gets me with the whole sweet savoury combination. I adjusted the recipe to suit our tastes. I used a lot less onions in the recipe and I also switched up the herbs a bit, and I added a few extra figs because I just love fresh figs. I also reduced the amount of liquids in the the recipe as the figs naturally create their own. I prefer using bone-in skin-on chicken thighs (as you can tell from all the thigh recipes on the blog) because I find the bones give the meat a lot more flavour and the skin gets nice and crispy, but you could also use boneless thighs or breasts instead. If using chicken without the bone I reduce the cook time in the oven. And if you are using chicken breasts you may have to increase the cooking time depending on the thickness of them.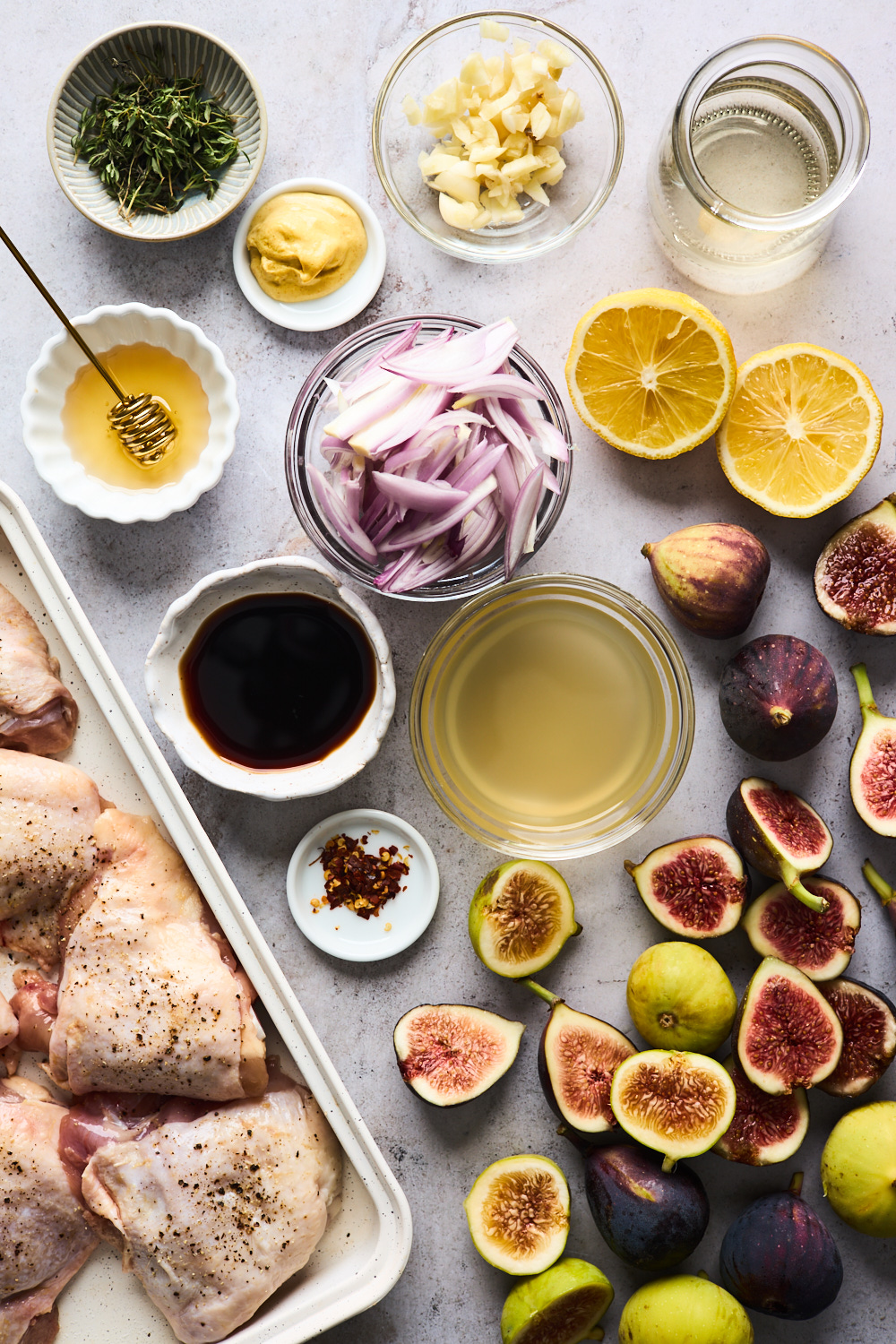 Back to the figs. I remember my first off the tree experience with figs like it was yesterday - it was my aunts fig tree in Greece and we literally ate all the fruit on it in an afternoon! It wasn't a very big tree mind you but we did clear it. I have always loved figs and California figs are like no others. California produces 100% of the dried and 98% of the fresh figs grown commercially in the U.S. under the best growing conditions and highest quality standards in the world. They are a good source of dietary fiber. Just three to five dried or fresh figs provide five grams of dietary fiber, and they are also rich in antioxidants. In addition to unmatched nutrition, California Figs offer unmatched flavors. There are six major varieties of figs grown in California and each variety has its own, one-of-a-kind flavor. Canada Fun Fact: Nearly 50% of California Fresh Figs are exported to Canada. Canada thanks you California Figs!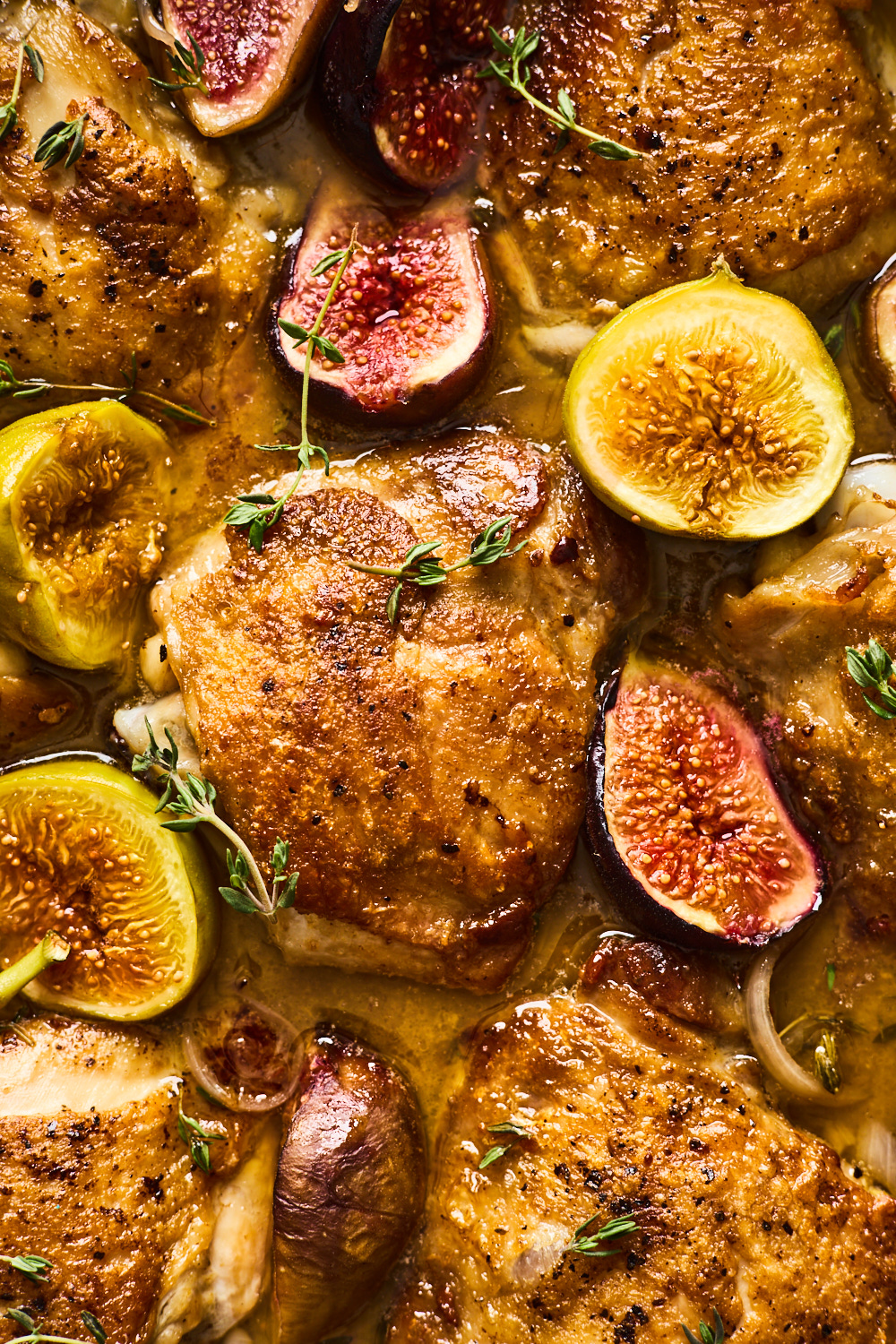 How to make this easy one pan Chicken and figs dish: 
Start by seasoning the chicken and then searing it in an oven proof pan. I like using either my cast iron skillet or my shallow dutch oven. This will result in a crispy skin and will also give the chicken extra flavour. Don't worry about cooking the chicken through, you are just aiming for a golden sear on both sides. Remove the chicken from pan and set aside
Then the aromatics get added to the pan with a bit of butter. First the shallots get cooked until they are softened and start to caramelized then the garlic and the herbs and seasonings are added. This is the base of the sauce and helps to give the sauce it's flavour.
Then the liquids are added in and reduced slightly. The balsamic vinegar, chicken stock, mustard and honey.
The chicken is then returned to the pan along with the sliced figs. Then the pan is slid into the oven to finish off. To check if the chicken is cooked through you can slice into a thigh or alternatively use a meat thermometer which should read 165º Fahrenheit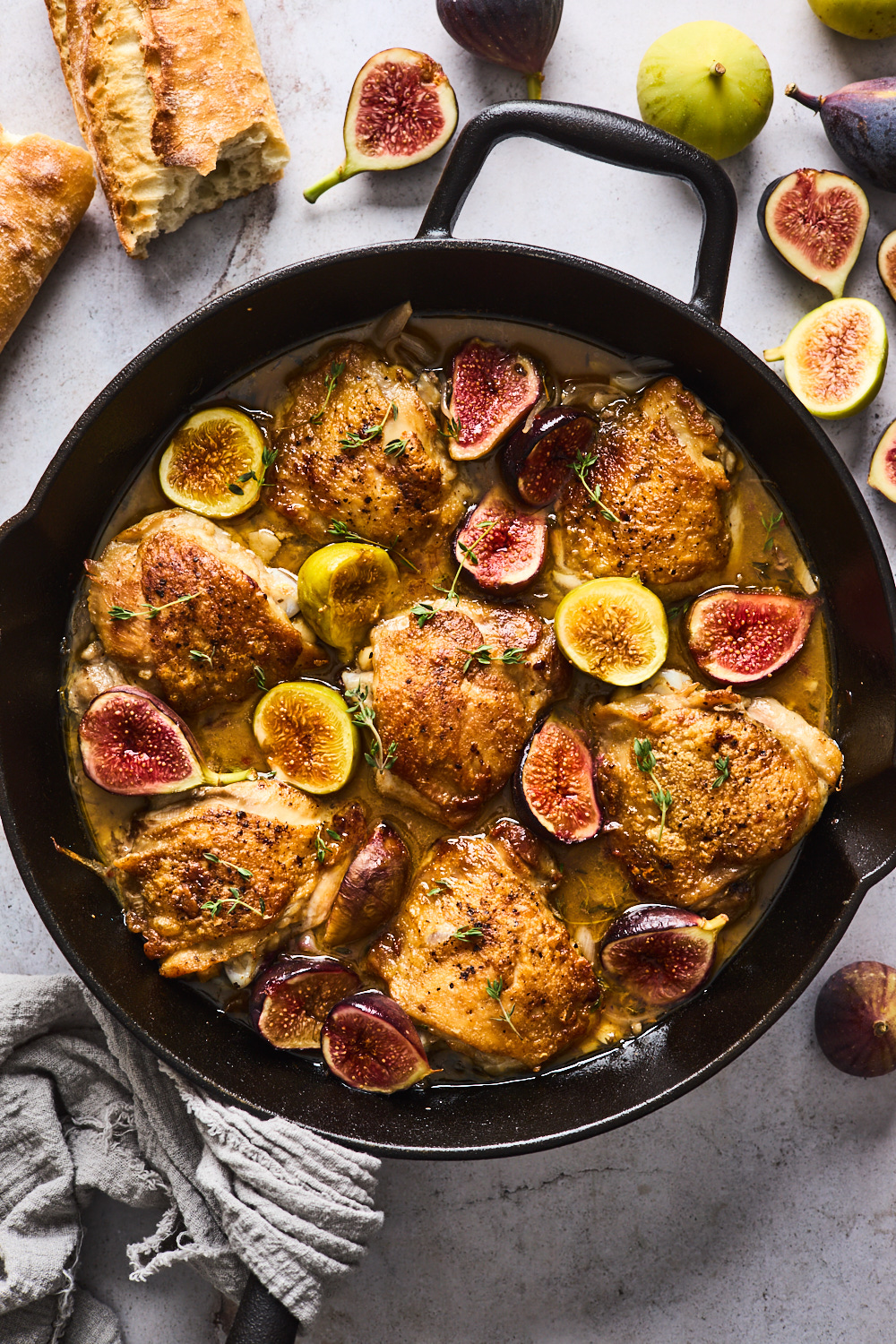 Here are a few more date night dinner recipes that I think you guys will enjoy:
Recipe
Prep Time: 10 mins
Cook Time: 40-50 mins
Ingredients
6 bone-in, skin-on chicken thighs

Salt and pepper

2 tablespoons extra-virgin olive oil

2 tablespoons butter

2 shallots, peeled and finely sliced

4 cloves garlic, peeled and chopped

1 heaping tablespoon fresh thyme leaves off the stem

1 teaspoon red chili flakes

3 tablespoons balsamic vinegar

½ cup chicken stock

¼ cup white wine

1 tablespoon Dijon mustard

1 tablespoon honey

6 to 7 fresh California Figs, halved

½ lemon, juiced
Directions
Preheat oven to 350˚F.
Season the chicken generously with salt and pepper.  
Heat olive oil in a large skillet over medium heat. Add the chicken skin side down and brown on both sides, approx 3-4 min per side. Remove chicken from pan and set aside.
Add butter to skillet and then add the shallots season with salt and pepper and cook stirring often until softened, approx 3-4 min.
Add garlic, thyme, and red chili flakes, stir for 30 seconds until fragrant. Then stir in the balsamic vinegar, chicken stock, mustard and honey. Cook 1 minute until it starts to simmer.
Place chicken back into skillet and add the figs to pan as well. Transfer to oven and cook for 15- 20 minutes or until chicken is fully cooked through. Feel free to broil for the last minute or so for more colour on the chicken.
Remove from oven carefully, squeeze over the lemon juice and serve with your favourite side