Spicy Butter and Herb Baked Oysters
Updated 19th October 2023
Oysters are always a treat whether you make them for a summertime party, appetizer or just to snack on with a cold one or a glass of crisp white wine or some bubbly. Perfect for the summer but really and truly I could have oysters all year round. These spicy herb and butter baked oysters are my version of oysters Rockefeller - flavored with a buttery Parmesan herb crumb topping. A little lemon zest plus some hot sauce adds a nice bit of zing to the oysters and the cheesy garlicky breadcrumbs make the topping extra crunchy and delicious. Oysters on the half-shell topped with a rich sauce of butter, parsley, chives and bread crumbs - a pretty excellent starter and easy to make!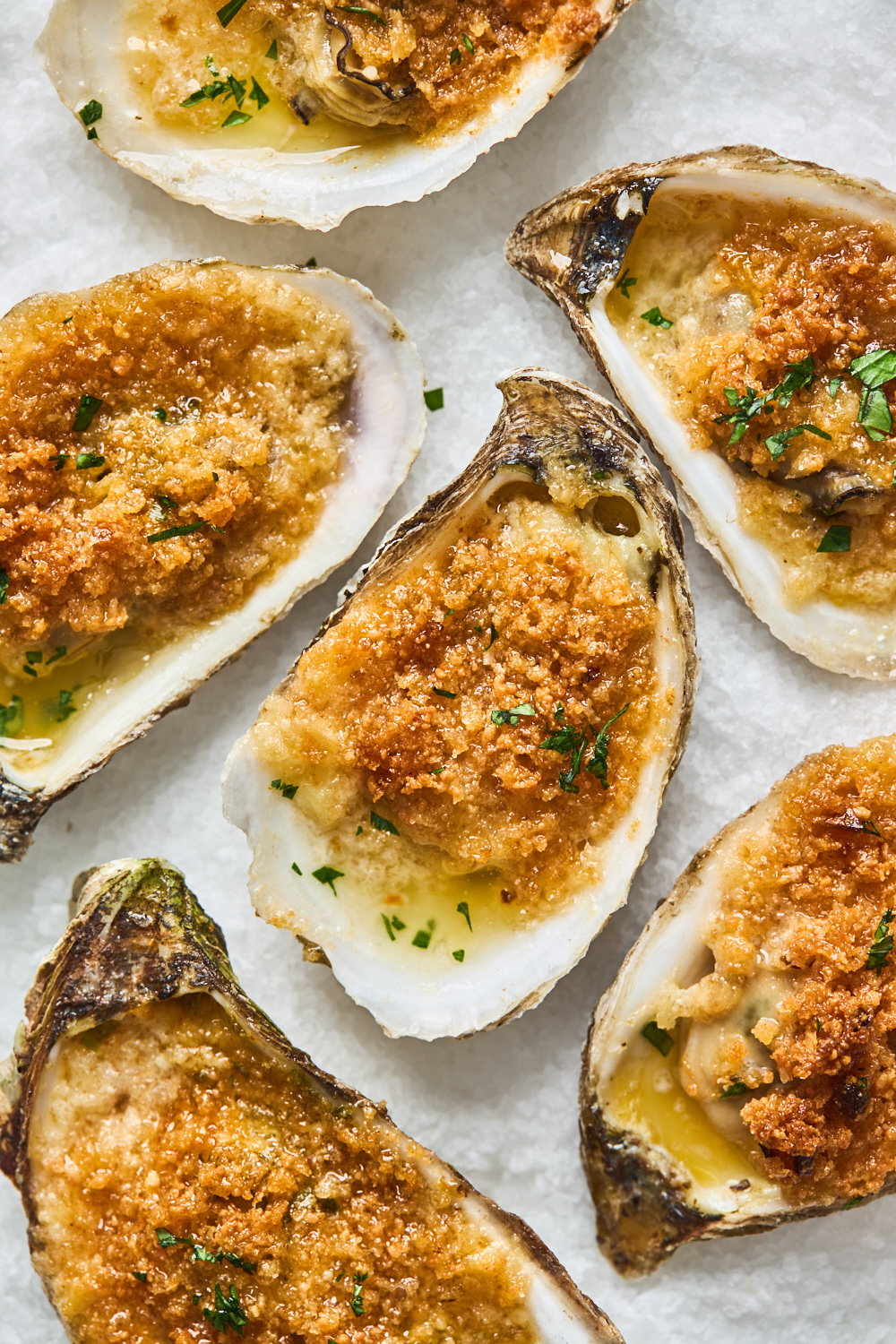 If you have never baked oysters before you are in for a treat. It's a simple way to prepare them. This recipe also works on the grill and you can even broil them instead too - I have all those directions included in the recipe notes below. Make sure not to lose a drop of the juice by nestling your shellfish in a layer of rock salt, uncooked rice or baking them on a cooling rack over a sheet pan - this will keep the oyster shells from wobbling in the baking pan as you fill their shells and while you move them in and out of the oven. You can serve them as is on the bed of salt - not only does it make for a lovely presentation but the salt also retains heat so they will stay warmer longer.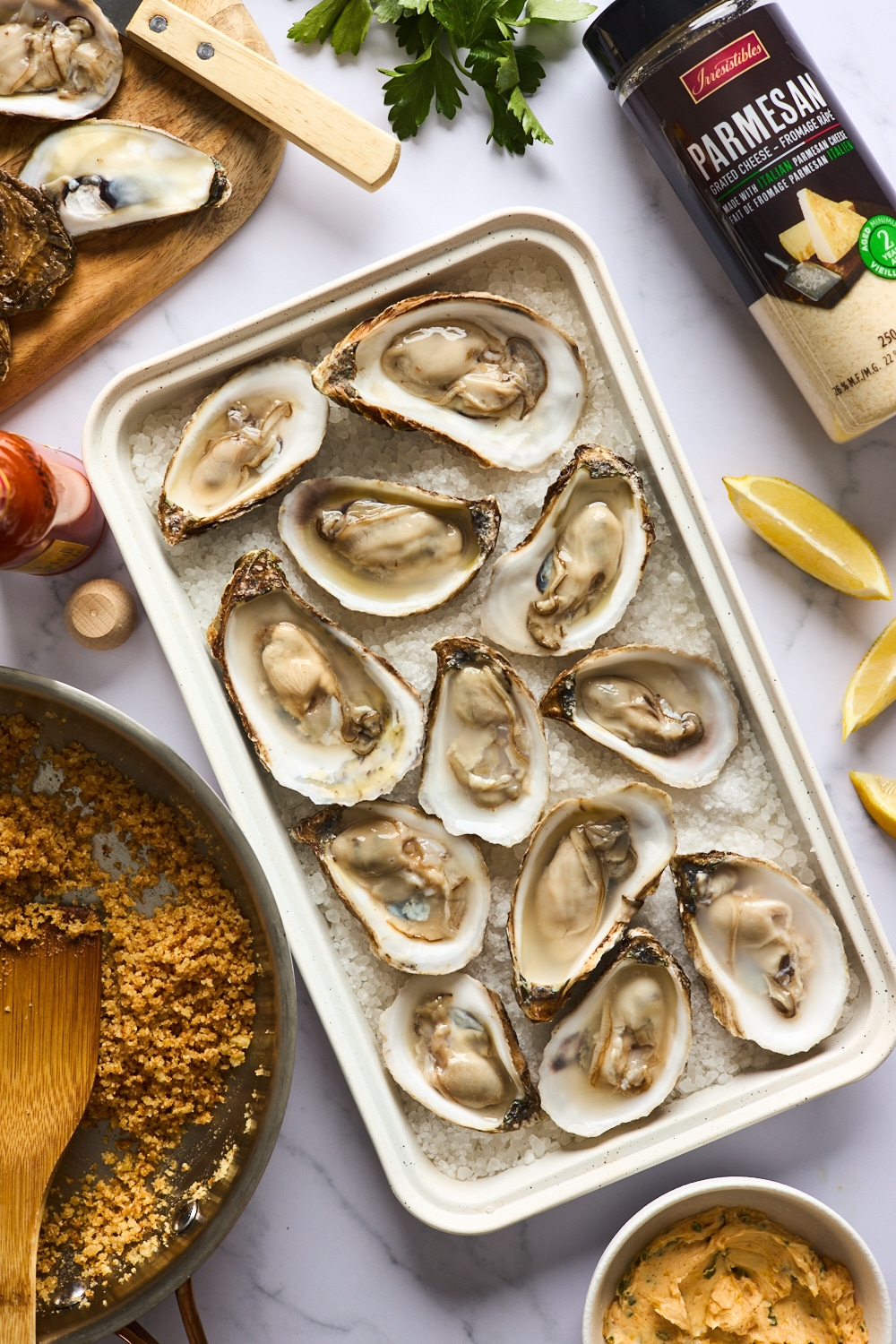 What do I need to make these Butter and Herb oysters?
The ingredient list is short with the stars of the dish being the oysters and herb butter. You can customize the seasoning and spices in these according to your taste. Here is what you will need:
FRESH OYSTERS: Select 12-14 average sized oysters, or 16-20 small oysters. Make sure the oysters are completely closed and that there are no cracks in the shells. Try to buy them the day you plan to use them, so you don't have to store live oysters. Then give them a quick rinse and scrub before shucking. They are not only delicious but a great source of high quality protein.
PANKO BREAD CRUMBS: For that delicious outer layer - any bread crumbs will do though. Use gluten free ones if you are gluten free
BUTTER: I use salted butter for my herb butter but you could use unsalted and just add a bit salt to the compound butter, and if you are off butter you could use any butter alternative
FRESH HERBS: I chose chives and parsley for these but feel free to use other fresh herbs you might prefer like chopped thyme leaves or fresh marjoram.
GARLIC: Always.
SPICES: Cayenne, paprika and red pepper flakes – For kick! Feel free to switch up the spices and seasoning according to taste - a lemon pepper is so good and so is a good Cajun one too if you want to switch up the flavour profile.
PARMESAN CHEESE: Creates the perfect nutty golden top along with the panko bread crumbs
LEMON JUICE & LEMON ZEST: I use the Lemon zest in both the butter and the bread crumb topping - it's the perfect flavour for both. I refrain from using lemon juice in the butter as it affects the texture of it. I love to squeeze it on after they have baked
HOT SAUCE: For that extra spicy kick. Use any one you like and also add as much or as little as you like for your taste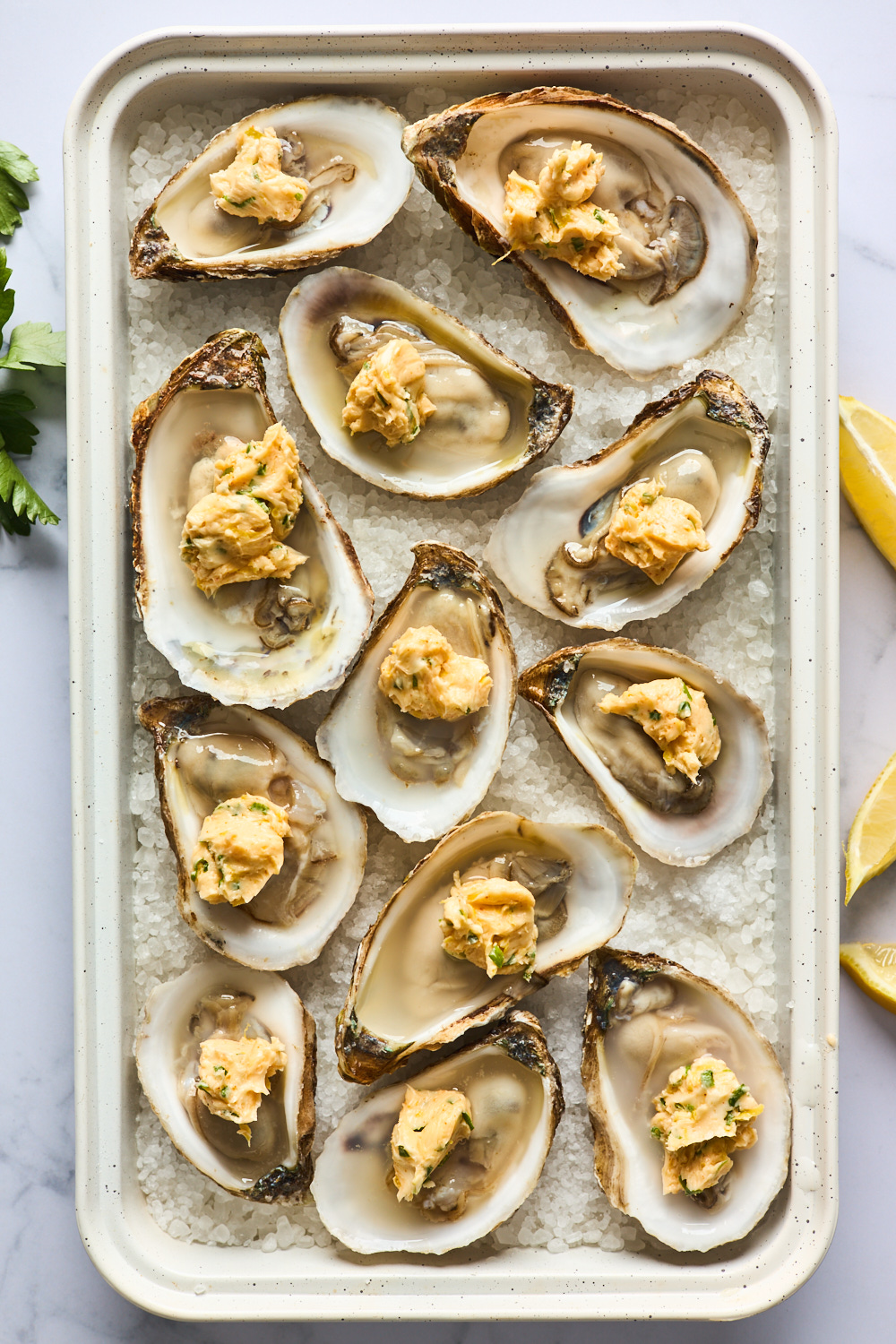 Steps to shucking oysters (see video for demonstration)
What you need: a short knife or another thin-edged instrument. An actual oyster knife is great, which is nice because it has a guard around the blade to keep your hand from slipping, but a screwdriver (flat head) and even a table or butter knife will work. I also always use something to hold the oyster like a kitchen towel or oven mitt to protect hand while shucking. And I do it over a towel or over something to catch the juices.
Scrub the fresh oyster shells with a stiff brush and rinse well.
Locate the hinge - the point where the shells are joined. Whether you inserted the knife at the hinge or near it, get the knife into the hinge and "pop" it open by twisting the knife blade.
Slide the knife between the shells, keeping it along the bottom of the top shell
Remove the top shell. If there is a lot of meat attached to it, use the knife to cut (or, really, scrape) it off.
Run the paring knife under the oyster and cut the muscle loose. Flip the oyster over and you're ready to serve them on the half shell or stuff them - easier to eat without fussing or trying to pull it away after.
While shucking try to keep as much of the liquid (oyster liquor) in the shell as possible. It's delicious.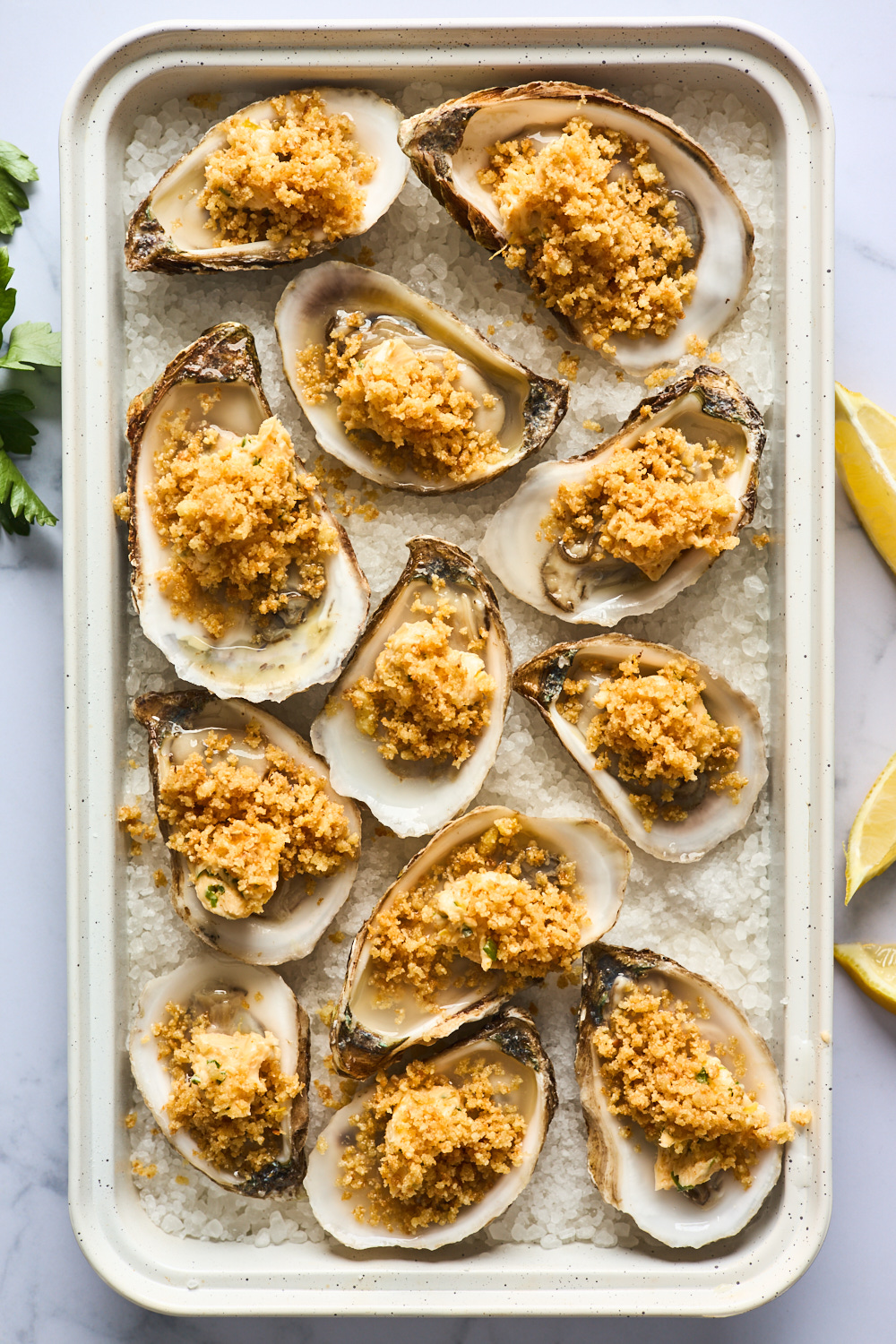 How to Make this Butter and Herb Baked Oyster Recipe
Prepare your sheet pan: Either layer rock salt onto it or substitute with dry, uncooked rice. You could also use a cooling rack that fits over a baking sheet.
Make the bread crumb toppings: pan fry and lightly toast the bread crumbs with the garlic and lemon zest then stir in the cheese
Make the compound butter: mix butter with the lemon zest, spices and hot sauce until smooth
Shuck oysters and place gently over rock salt in pan
Top each oyster with some of the compound butter then top with breadcrumb mixture
Bake until golden
Garnish with fresh chopped parsley the serve with extra hot sauce on the side a lemon wedges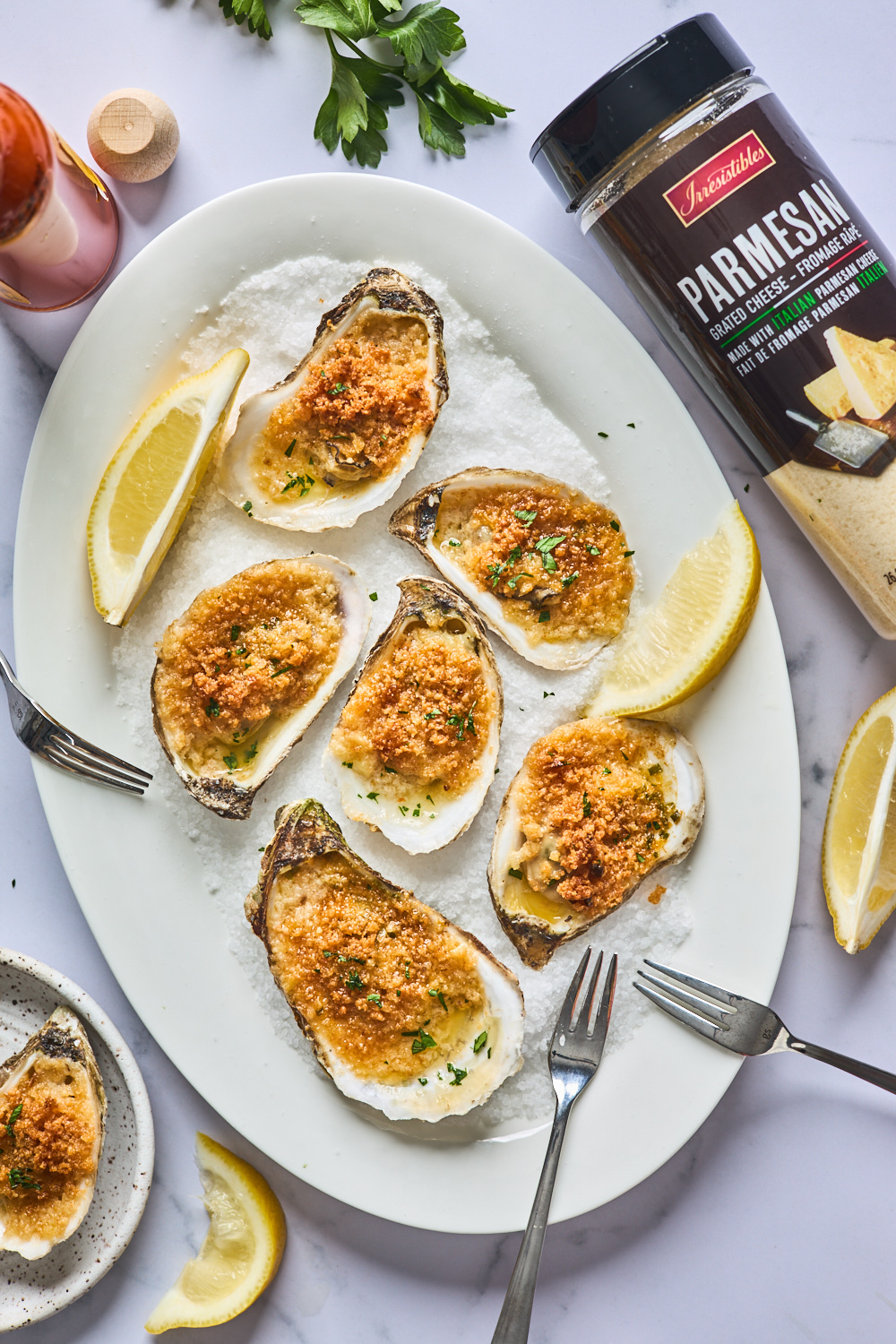 If you like this recipe you will love these:
I have partnered up with Metro Ontario to bring you this fabulous recipe, but all opinions are my own. Thank you for supporting Olive & Mango.
Recipe
Yields: 12-14 oysters
Prep Time: 20 mins
Cook Time: 12-14 mins
Total Time: 35 mins
Ingredients
1 dozen fresh oysters, in the shell

2 cups rock salt or uncooked rice, for lining the pan

1 stick (8 tablespoons) salted butter, softened, divided

2 tablespoons finely chopped chives

1½ teaspoons lemon zest, divided

1 pinch of Sweet paprika

1 pinch of cayenne pepper

¼ teaspoon chili flakes (optional)

½-1 teaspoon hot sauce according to taste, plus more for serving

¾ cup panko breadcrumbs

1 garlic clove, peeled and minced

½ cup grated Parmesan cheese ( I used Irresistibles brand)

Fresh chopped parsley for serving

Lemon wedges or slices for serving
Directions
Preheat the oven to 425°F. Add a layer of rock salt to a rimmed baking sheet or substitute dry, uncooked rice or a cooling rack that fits into baking sheet which will help keep oyster shells stable.
Shuck oysters: Run the knife along the bottom of the inside of the shell to loosen the oyster. Discard the top shells and arrange the oysters with their liquid in the prepared baking sheet.
Mix butter, chives, hot sauce, paprika,cayenne, chili flakes if using, and 1 teaspoon of zest together in a small bowl and set aside.
Heat a medium pan over medium heat, add remaining 4 tablespoons of butter, the panko breadcrumbs, garlic, remaining ½ teaspoon lemon zest. Cook, stirring often until crispy and golden brown, 3–4 minutes. Fold in the parmesan cheese and mix well. Set aside.
Top each oyster with a teaspoon of the butter mixture and then sprinkle each one generously with the buttered panko crumbs.
Bake the oysters in the preheated oven for about 8 to 10 minutes, or until the oysters are cooked through and the topping is golden brown.
Garnish with fresh chopped parsley and serve with lemon wedges and extra hot sauce.
Recipe Notes
Can you freeze these herb butter oysters? Yes! After adding the butter and panko breadcrumb topping, first place the sheet pan in the freezer allowing the oysters to freeze completely. After they have frozen solid place them in a sealed container or Ziploc bag and freeze for up to 4-6 weeks. Bake straight from frozen. They may need a couple of extra minutes of baking time. It is not recommended to freeze cooked oysters.
Leftover Cooked Oysters can keep in and airtight container in the fridge for up 2-3 days (left in bottom shell or removed). Reheating is the tricky part and why most people don't recommend keeping leftovers as most shell fish don't reheat well - the texture is affected.
Important Tip: When purchasing any seafood, shellfish especially, look for a safe food source. If the oysters are open prior to opening before their use, make sure to discard them. When in doubt about cleaning or preparing make sure to ask the knowledgeable staff behind the fish counter.
Grilling Instructions: Preheat grill to 450°F. Make your compound butter and your breadcrumb topping. Shock others and too with both the butter and breadcrumbs. Arrange oysters in a single layer on grill. Spoon 2 tsp. butter mixture into each oyster; grill, uncovered, 7 minutes or until edges curl.* Broiling Instructions: Preheat broiler with oven rack 3 inches from heat. Prepare recipe as directed, placing oysters in a single layer in a jelly-roll pan. Broil 4 minutes or until edges curl and butter drips over the shell.