Thai Chili Yellowfin Tuna Steaks With Spicy Drunken Noodles (Pad Kee Mao)
This simple and super quick one pan meal has just the right amount of heat and loads of flavour. Drunken noodles or Pad Kee Moa is a popular street food dish in Thailand and also a popular dish in North American Thai restaurants as well. There are so many variations of Drunken Noodles both in Thailand and here. In Thailand the two constants in the region are chicken and Thai Basil, and many times it comes with baby corn as well.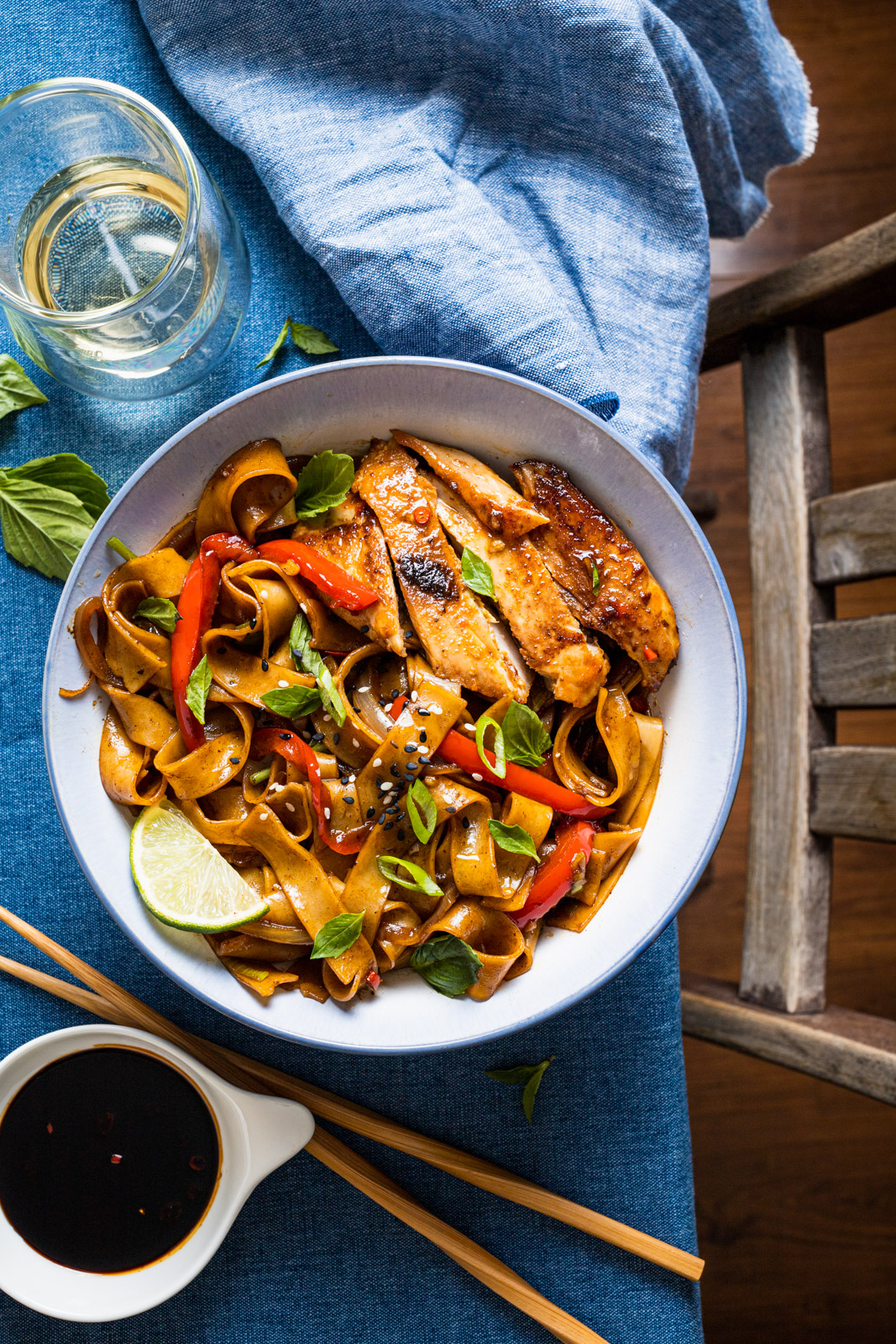 The original version is super spicy but making it at home allows your to control the amount of heat you want to add to the dish. This version is just as delicious as any other but a little less authentic when it comes to some of the ingredients. I swapped the chicken for Ocean's Thai Chili Yellowfin Tuna Steaks. It made sense as they are perfectly marinated with Thai seasoning. I have seen other versions that use ground chicken or ground pork as the protein so you can see how versatile this recipe can be.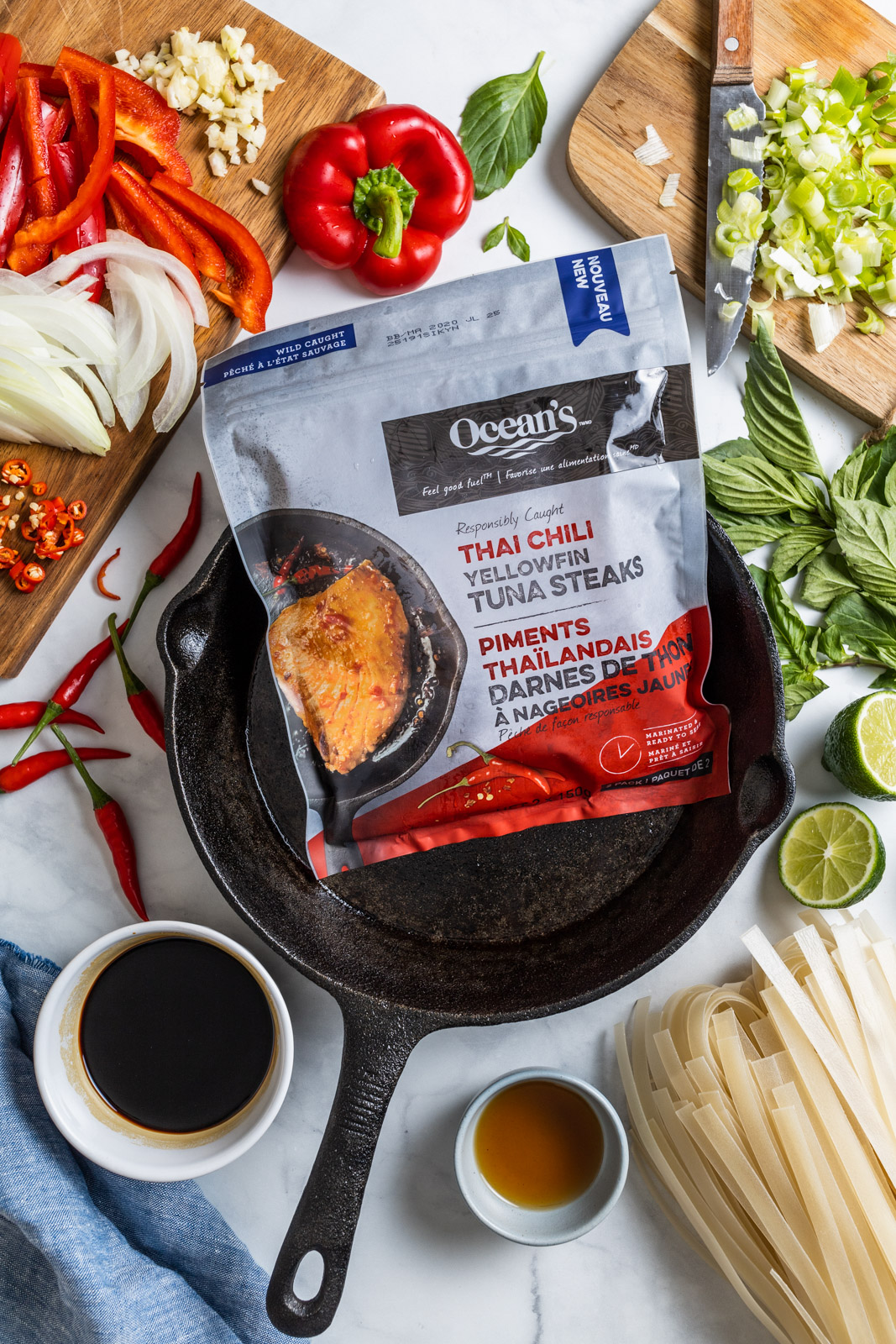 Drunken noodles take no time to make especially after the protein is cooked. That is another reason I decided to use these tuna steaks in this recipe. Not only are they delicious from the tasty marinade they come in (literally do not need to add a thing to them) but they are so quick and easy to prepare.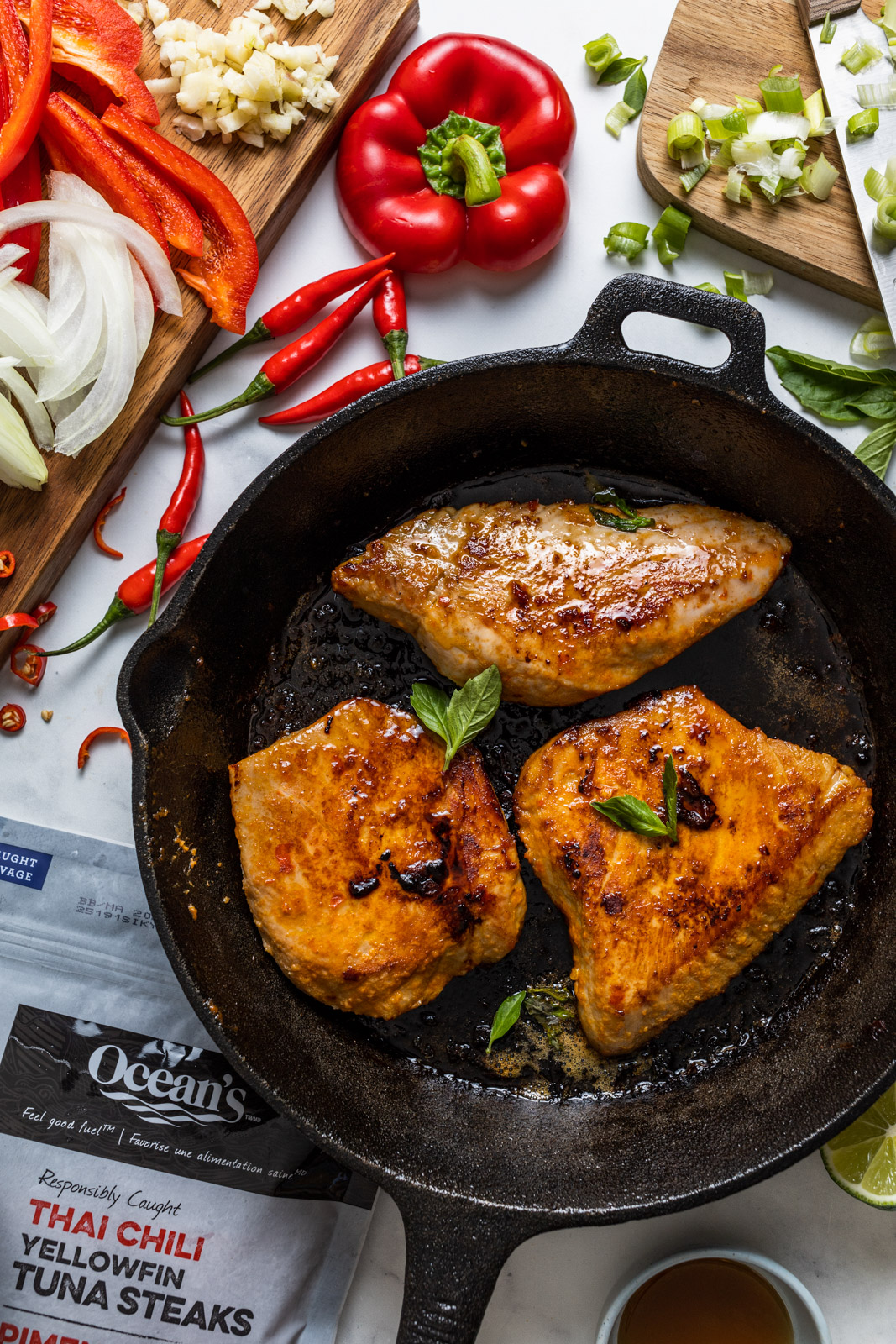 In less than ten minutes your steaks are done. They come frozen and can be cooked from frozen but I thawed mine over night in the refrigerator which made them even quicker to cook. The tuna is a great protein addition to this noodle dish - each steak gives you approximately 27g of delicious protein. And this particular brand of tuna ensures that all their tuna products are responsibly caught. All in all it's a great tuna steak and you can see why I chose to use it with these noodles.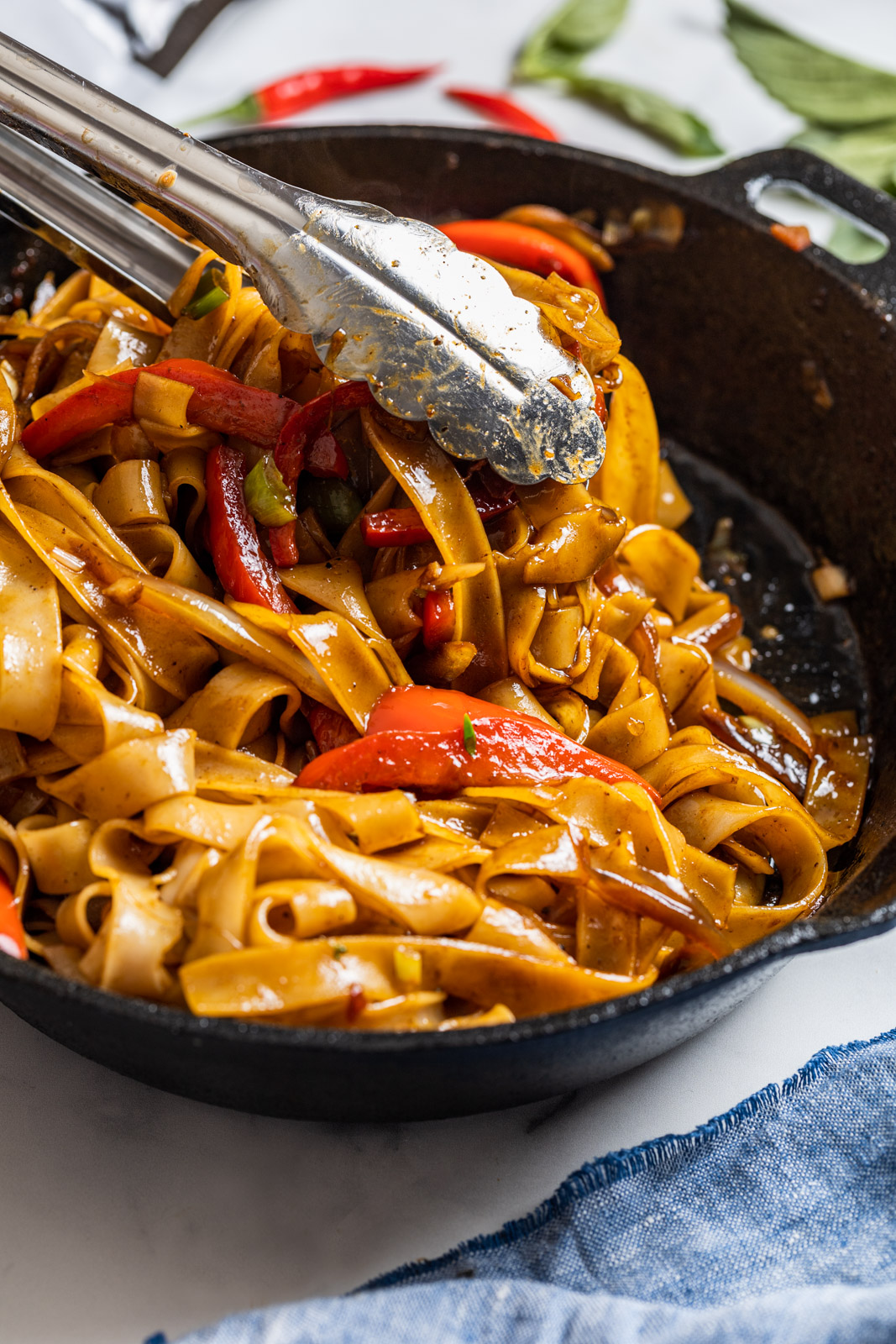 If you are craving saucy, spicy, slurpy Thai noodles - look no further. This is quickly going to become one of your favourite midweek meals. It's fantastic and I know you are going to love it. Enjoy! I have partnered up with Ocean's to bring you this fabulous recipe, but all opinions are my own. Thank you for supporting Olive & Mango.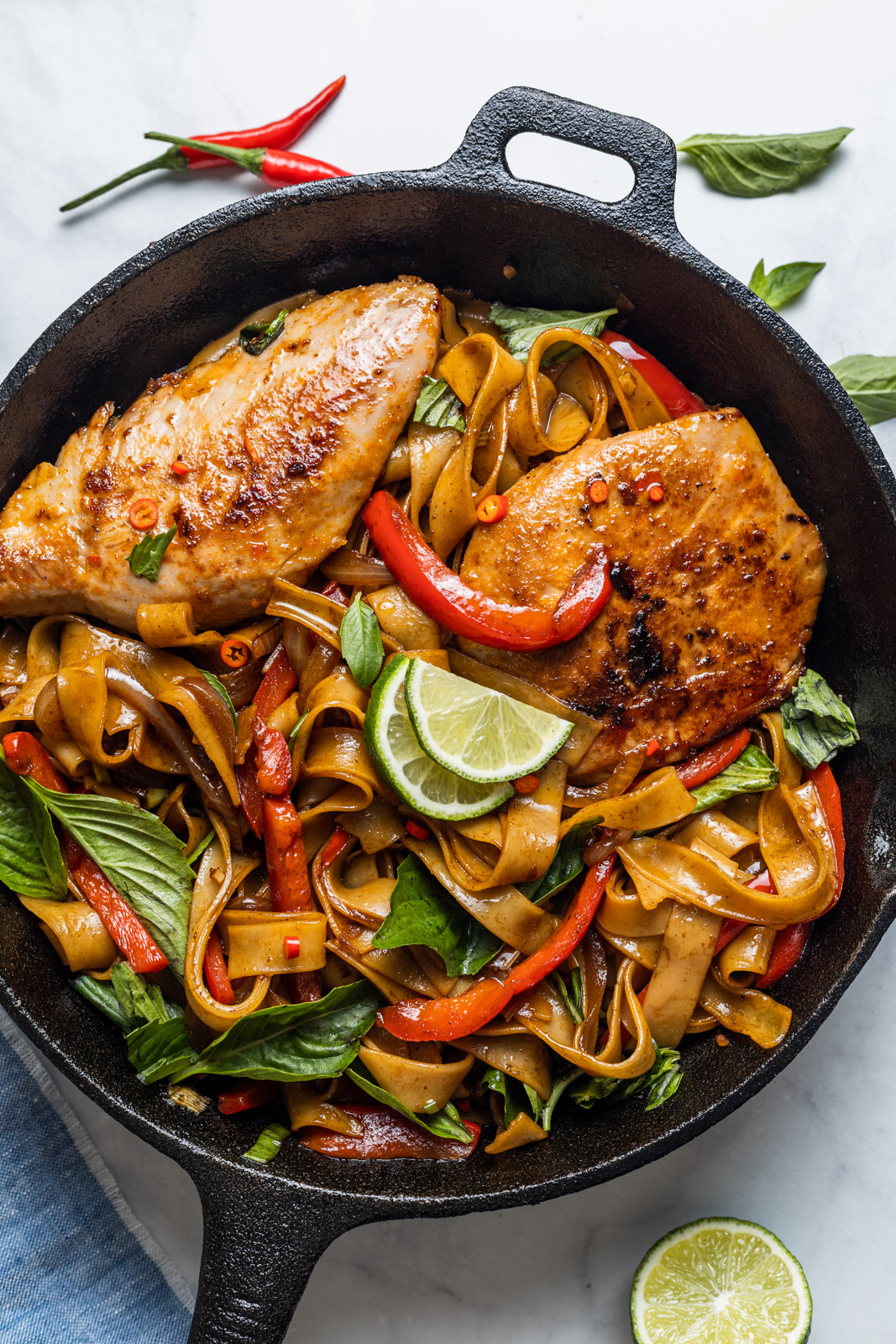 Recipe
Serves 4
Ingredients
For the noodles
10oz dried wide rice noodles cooked according to package directions (either soaked for 30 minutes in lukewarm water or boiled for a couple of minutes until al dente - can also use regular spaghetti noodles too)
For the stirfry
2 Packs of Ocean's Thai Chili Yellowfin Tuna Steaks (4 pieces in total)

2-4 tbsp of vegetable oil

3 large cloves of garlic , minced

2 birds eye chilli or Red chilies , deseeded (for less heat) very finely chopped

½ onion , sliced

1 sweet red pepper, sliced

2 tsp fish sauce

2 green onions, slices plus more for garnish

1 cup Thai basil leaves plus more for garnish (sub regular basil)

1 lime juiced plus extra lime slices for serving
For the sauce
3 tbsp oyster sauce

1 ½ tbsp light soy sauce

1 ½ tbsp dark soy sauce

2 tsp sugar

1 tbsp water
Directions
Mix Sauce ingredients in a small bowl and set aside

Heat 2 tbsp of the oil in a large heavy based skillet over medium-high heat and pan fry the tuna steaks according to package (approx 3.5 minutes on each side) then remove and set aside on a plate.

Heat remaining 2 tbsp of oil in the pan and then add the onion and red sweet pepper and sauté for 2-3 minutes until onion is translucent then add garlic and chilli and cook for 10 seconds until fragrant

Stir in the fish sauce

Add green onions, noodles and sauce and cook for 1 minute until the sauce reduces and coats the noodles.

Remove from heat and immediately add basil and like juice and toss until just wilted, then serve the noodles out into 4 bowls and top with tuna steaks (sliced or whole). Garnish with extra basil, sliced green onions and sesame seeds