Upside Down Orange Cake
This easy Upside Down Orange Cake, packed with Citrus Fruits, is the perfect Winter dessert. The slightly caramelized Oranges are baked under a soft moist cake making it a deliciously fresh yet comforting winter cake perfect with a warm tea. Upside-down cakes are always delicious and this orange upside-down cake is no exception. Oranges make a great fruit upside-down cake. The cake is made with fresh orange zest and vanilla which makes for a great combination with the oranges. Top the tour slices with whipped cream or creme fraiche and enjoy. It's eggless and vegan friendly and a cake you will love whether you are vegan or not. It's one you can whip up in no time without too much fuss. I just love a dessert recipe like that! Plus, how fun is it to make upside down cakes!?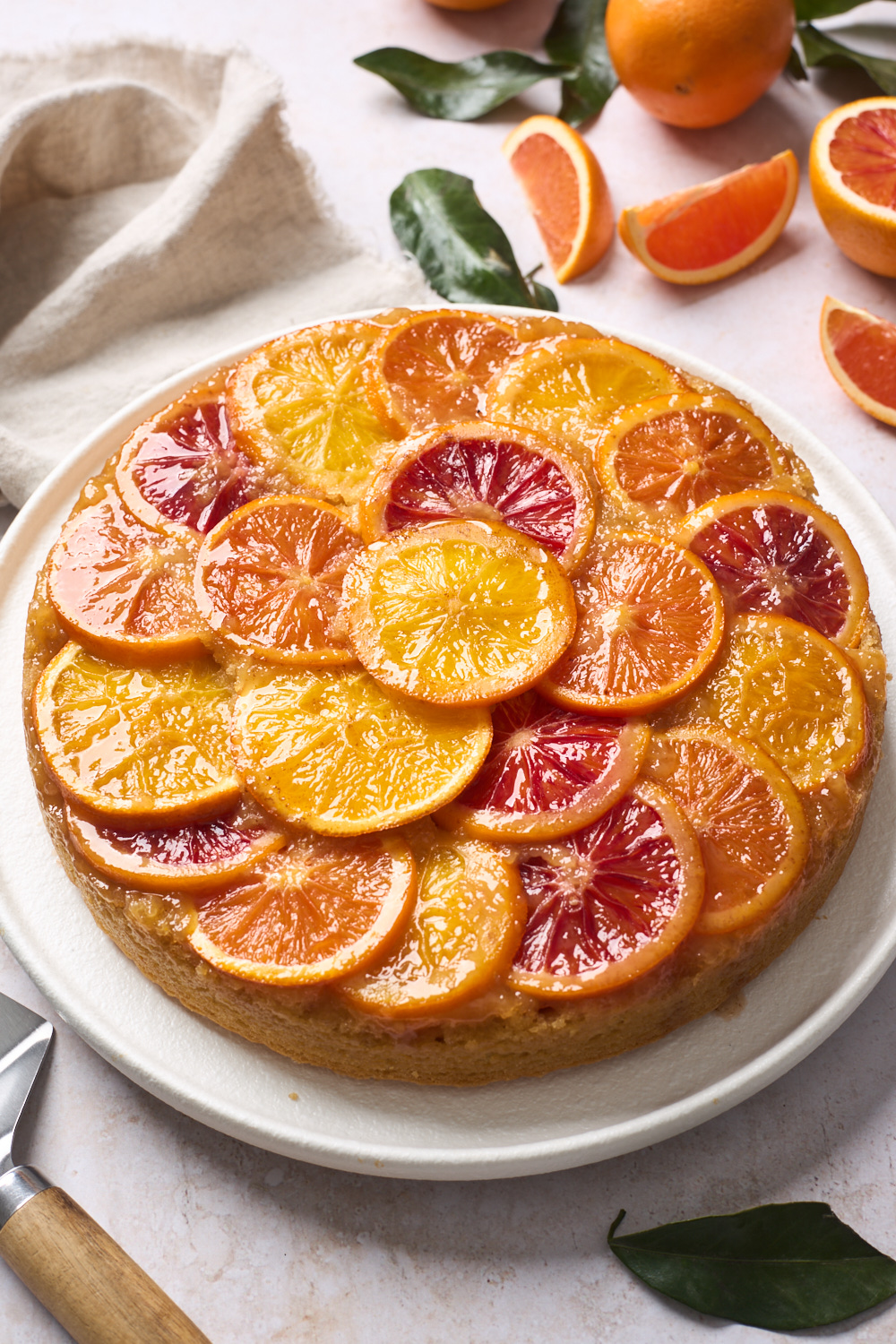 Why you will love this upside down cake:
Very easy to make - only a bowl and whisk/spatula required
Basic pantry Ingredients involved in this recipe
It's egg free and very vegan friendly
It's takes little effort but yields an impressive looking dessert
It's moist and tender and a delicious cake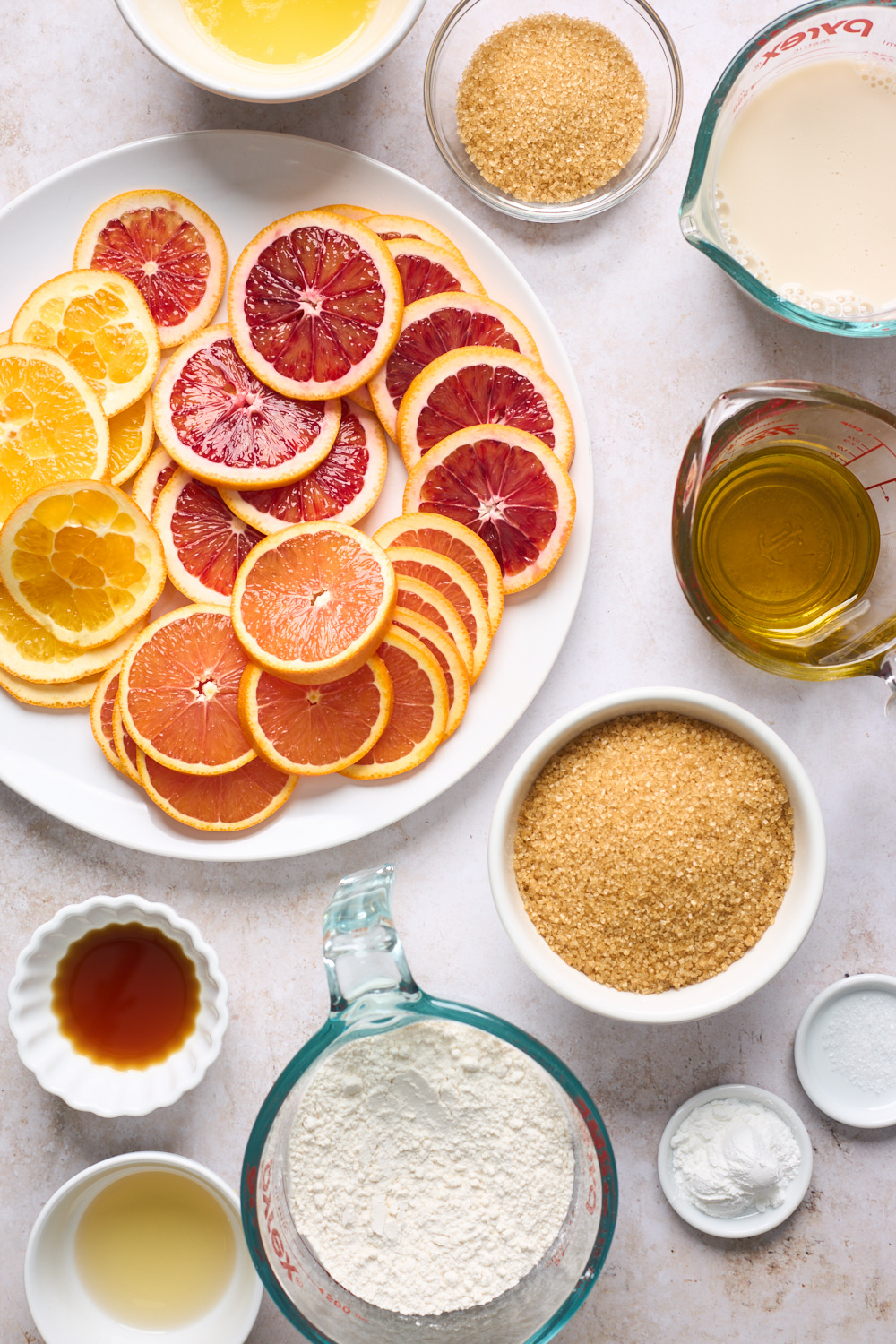 Upside down orange cake ingredients:
(Scroll down to recipe card for all quantities)
Butter or Olive Oil: a simple Unsalted Butter. You could substitute with olive oil, or vegan butter as it's melted in the recipe. I used olive oil in this one
Sugar: I used Demerara Sugar but Brown Sugar or cane sugar also work - white sugar does too but Brown sugar is a nice way to go if you want to really play on those caramelised flavours.
Oranges: the star of the show! I used relatively small to medium size oranges here, so if the ones you find are larger, you might only need 3 instead of 4. I used a variety of cara cara, blood oranges and navel - you can use any variety.
Orange Zest: Adds a flavor punch to the cake.
Milk/Mylk: you can use any milk or mylk - Dairy or non dairy you like. Make sure its room temperature before adding to recipe. I used almond milk in this one.
Vanilla: always optional, but vanilla is an easy way to boost the flavours of the other ingredients.
Vinegar: Helps activate raising agents in cake and also adds depth of flavour especially to vanilla bakes. Feel free to use apple cider vinegar or white vinegar.
Baking Powder: used as a raising agent and is essentially a blend of baking soda, cream of tartare and corn starch.
All-Purpose Flour: AP flour provides structure for the cake.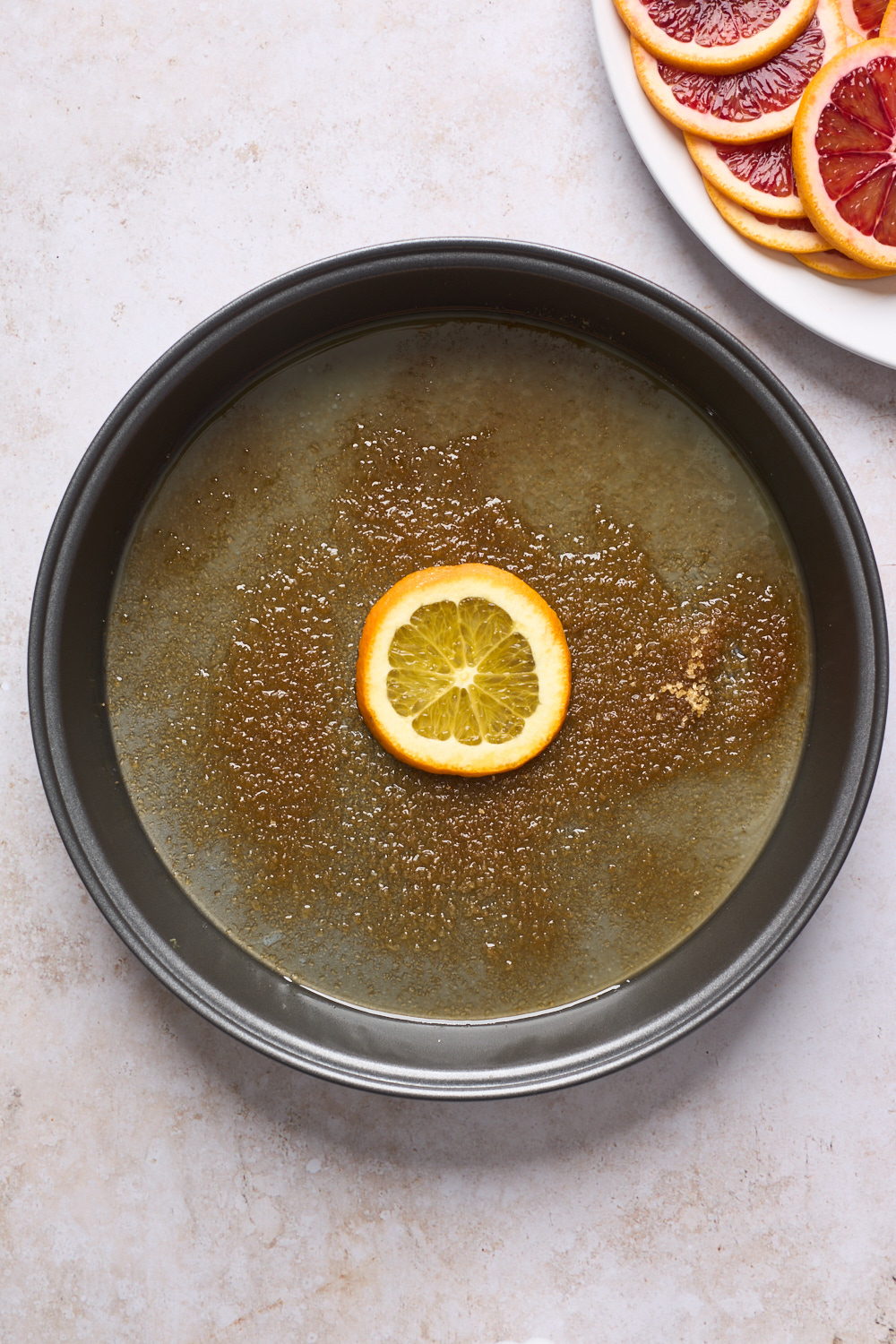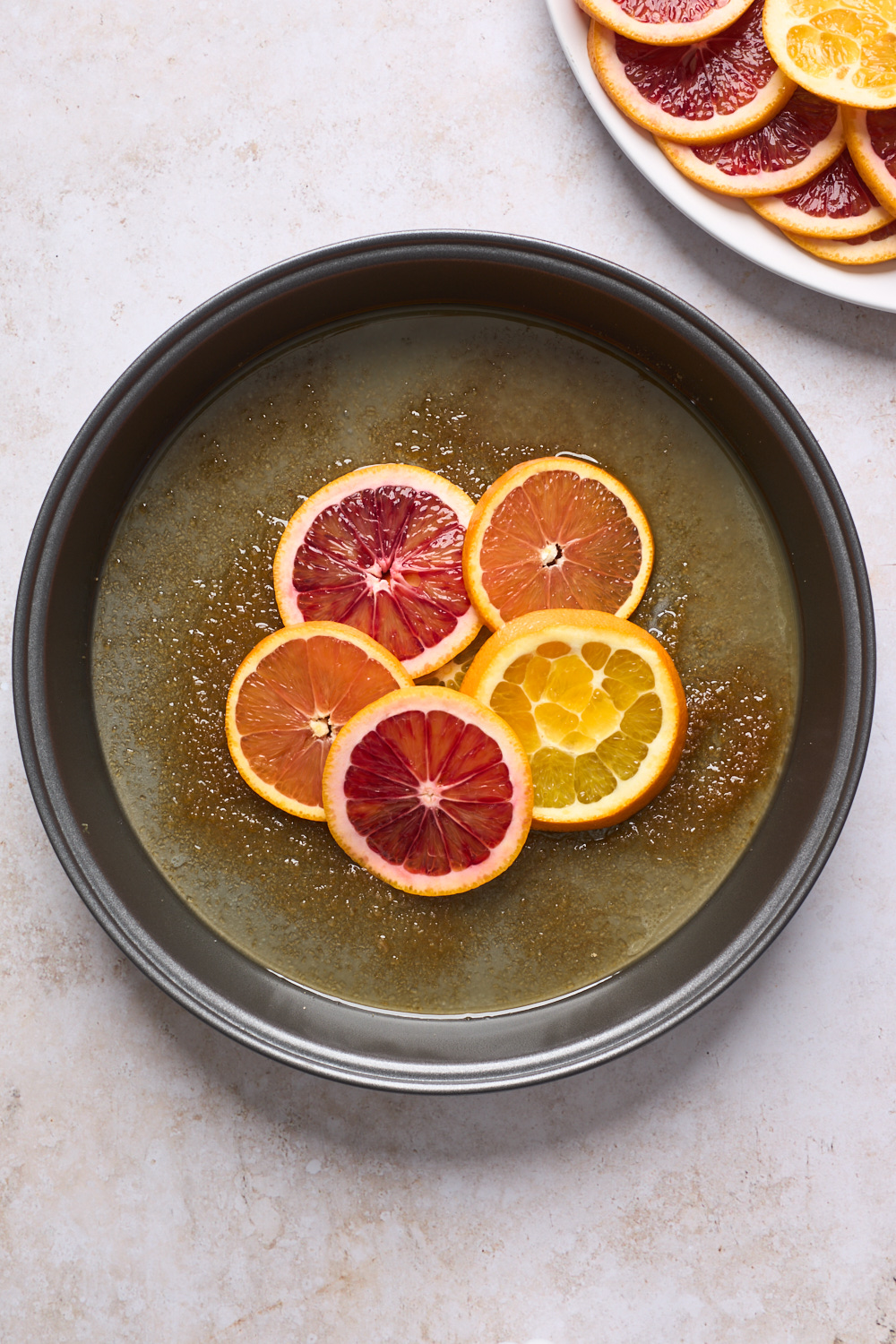 How to make this upside down cake:
Preheat your oven 350°F. Prepare pan by greasing the pan well and for extra measures to avoid cake/fruit from sticking you can line the bottom of pan with parchment paper.
Slice oranges - peeled or unpeeled.
Pour melted butter over the bottom of pan
Sprinkle sugar all over the bottom of the pan in an even layer.
Arrange orange slices over the layer of Sugar. Start from the centre of the pan, then go around in circle toward the edges of the pan, slightly overlapping each slice of blood orange. Or you can arrange them in a different pattern if you want to slice the orange slices in half or quarters.
Prepare batter: whisk dry ingredients, then the wet ingredients separately. Then mix the two together until combined
Pour batter over oranges and very gently use a spatula or spoon or spread batter evenly
Bake then allow to cool on cooling rack a few minutes
Invert cake carefully onto a plate or serving platter. Remove pan and allow cake to cool. No need to panic if one or two orange slices stick to the pan. Simply remove them and place them back on the cake.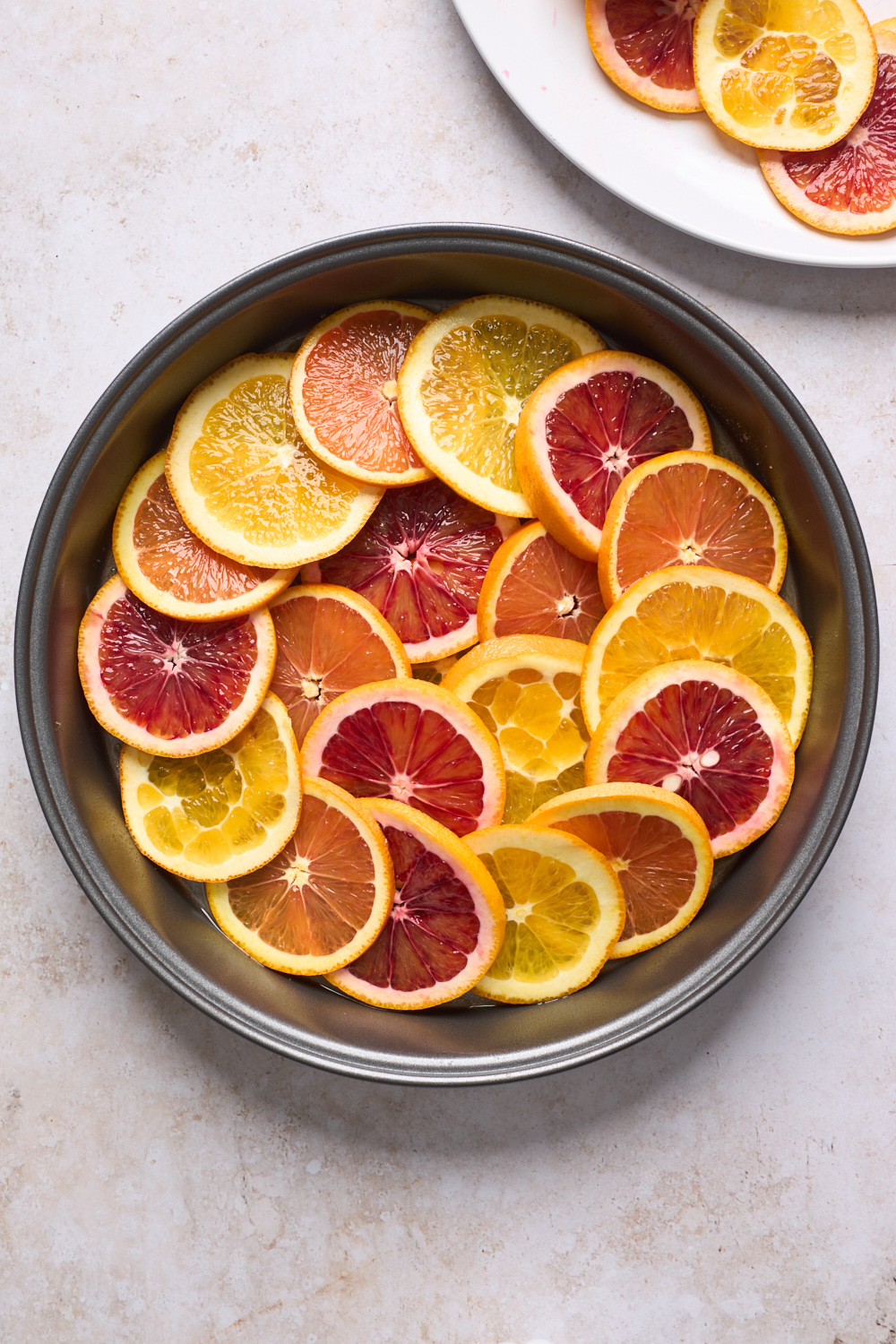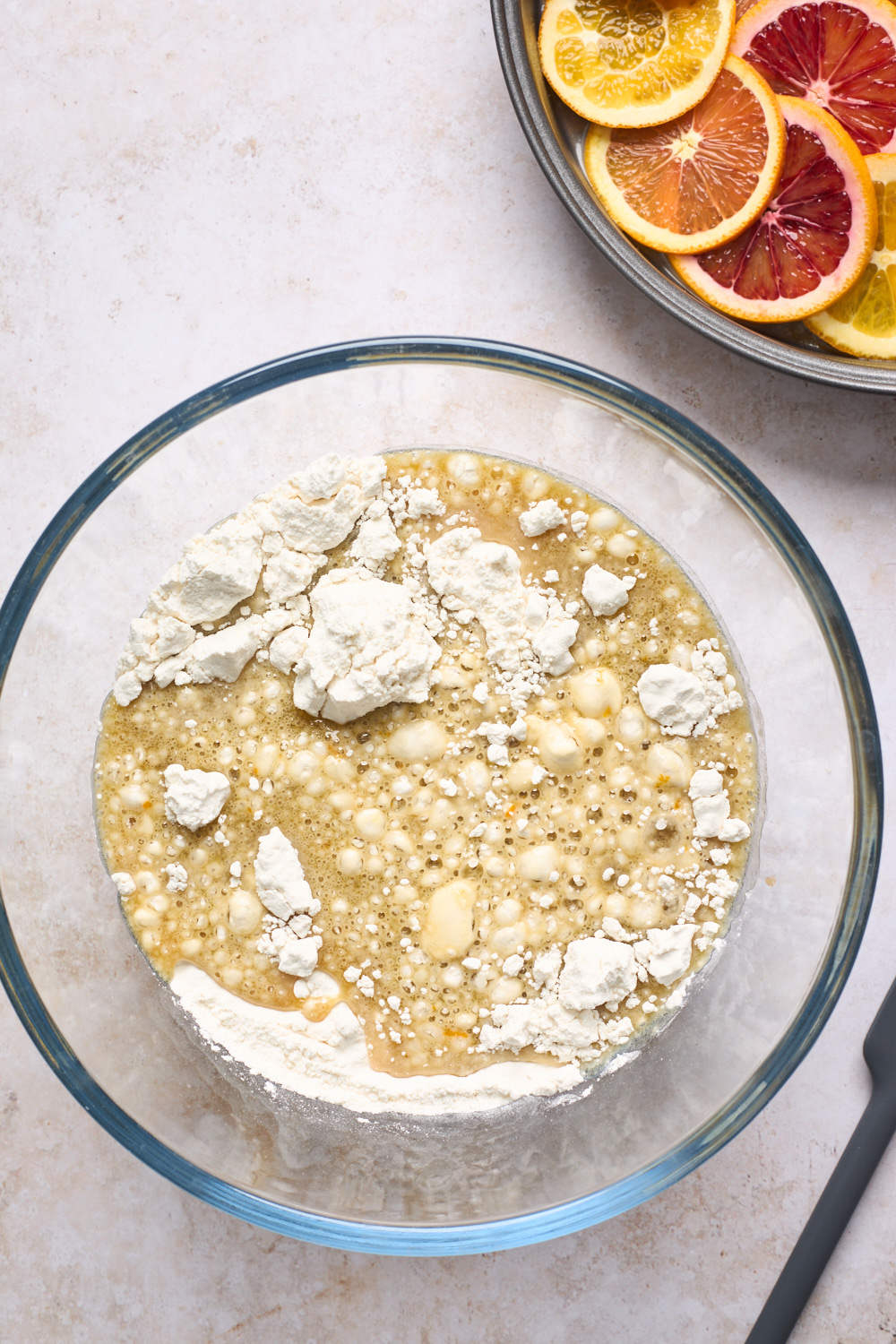 Tips to make a delicious upside down cake
Caramelised fruits will tend to stick to a pan so make sure to not over bake or if you are concerned about it sticking just be sure to line the bottom of baking pan with baking paper. It will make flipping the cake much easier and avoid having the fruit layer getting stuck at the bottom of the pan.
Make sure the Oranges Slices aren't too thick if you want them to caramelize nicely in the oven.
Add some spices: for a lightly spiced cake, you can also toss the Orange Slices in a little bit of Sugar mixed with your choice of Spices (Ginger, Cinnamon,…) or add a little bit of ground spices into the cake batter. You can even infuse them cake with fresh herbs like rosemary or thyme - by rubbing a little into the sugar or adding a pinch of chopped fresh thyme or rosemary right into the batter.
Do not over-mix the batter to avoid getting a tough and chewy cake. As soon as you cannot see any flour, it is time to stop. Feel free to sift your flour if you prefer.
Wait for the orange cake to cool a few minutes before flipping it. Place your serving plate over the top of the cake. Flip it over in one quick movement, then remove pan from plate and baking paper if you lined the bottom of pan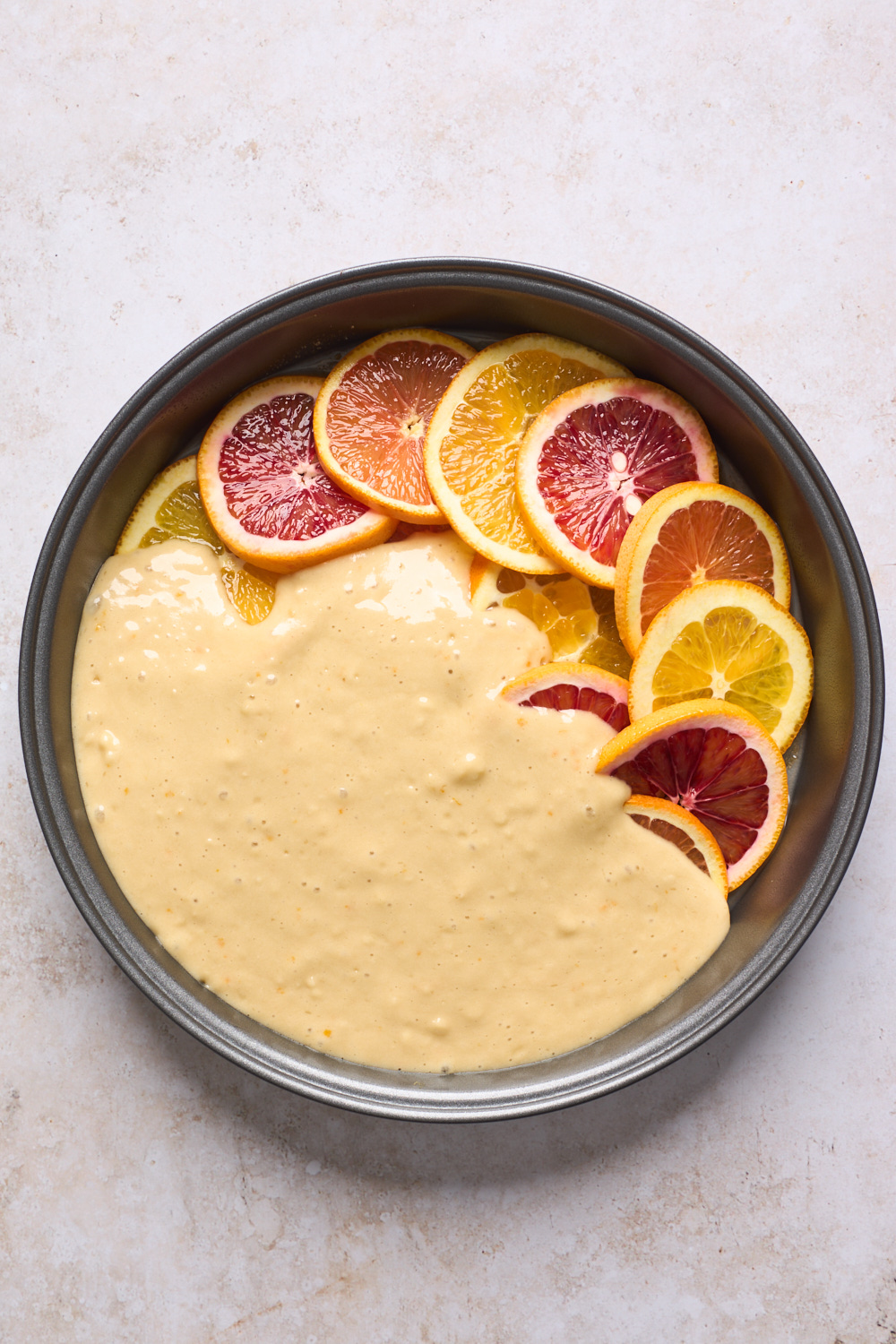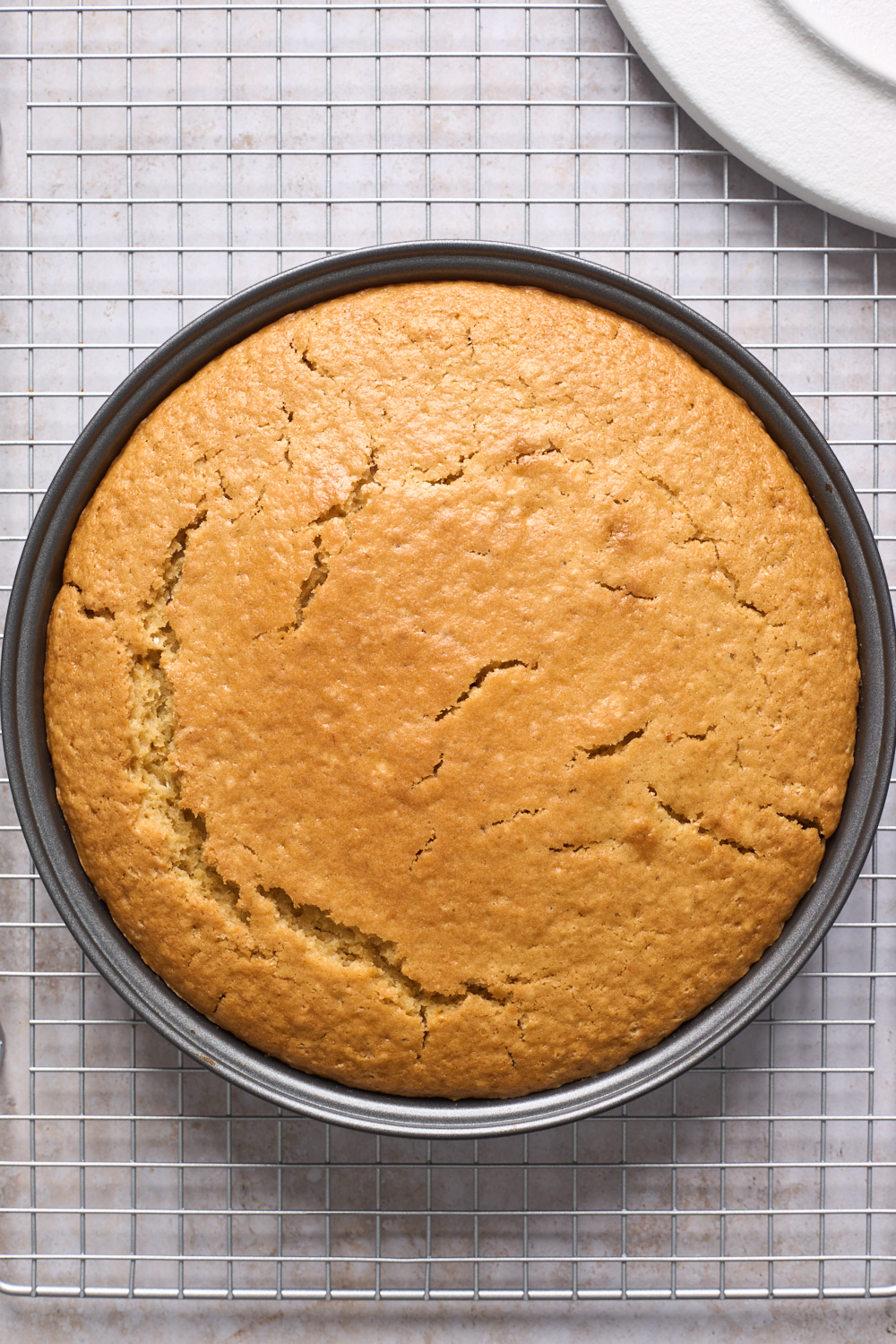 Should I remove the orange peels?
I personally did not, but if you don't like the slightly bitter taste orange peels can have, you definitely can remove them first. Peeling them definitely makes it easier to slice and eat the cake after it is baked. What to serve with this upside-down cake? This cake will be delicious on its own, with a scoop of Vanilla Ice Cream, Whipped Cream or even a Crème Anglaise (pouring custard). How long will the cake keep? You can store the cake at room temperature for 2 days in a covered container or in the refrigerator for up to a week. Can I use other oranges or other fruit for this cake? Yes, you can use any oranges that you like or have a available. You can also use lemons. You can definitely use other fruit like stone fruit or even pineapple slices too. Can I make this recipe with gluten-free flour? I have not tested this recipe using gluten-free flour. You can try it with a good quality 1-2 all purpose gluten free flour, it usually yields good results, but I can't guarantee the results.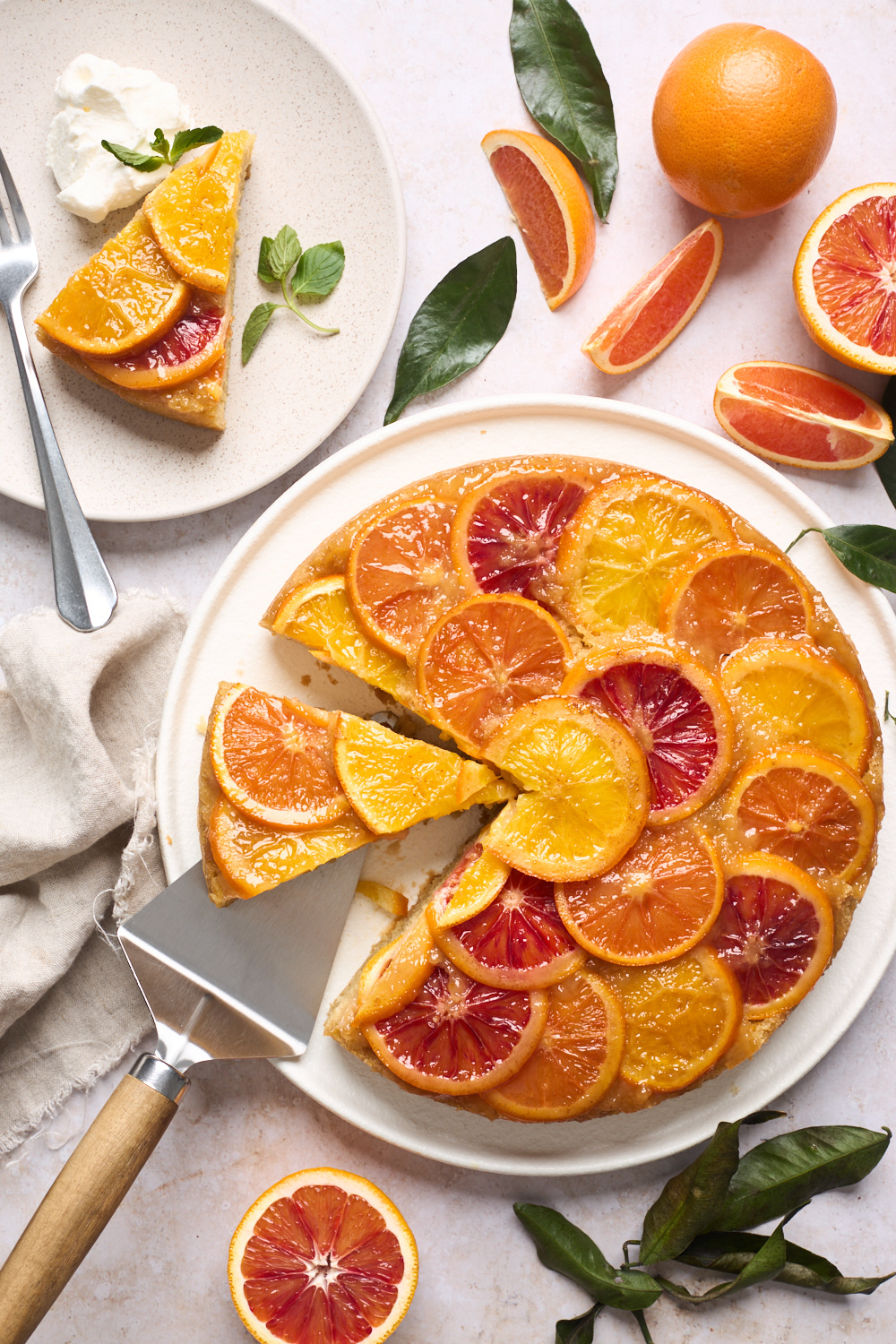 More Citrus Desserts you will love:
Recipe
Yields: one 9 inch cake
Prep Time: 10 mins
Cook Time: 25-35 mins
Ingredients
4-6 small - medium oranges any type (zest one of them before slicing)

1½ tablespoons butter,melted (or extra-virgin olive oil or vegan butter)

3½ tablespoons cane sugar (or raw sugar or demerara sugar)

1¾ cups all-purpose flour

2 teaspoons baking powder

¼ tsp salt

1 cup milk (dairy or non dairy)

⅓ cup extra-virgin olive oil

1 cup cane sugar

1 tablespoon apple cider vinegar or white vinegar

2 teaspoons vanilla extract
Directions
Peel oranges and slice into ⅛-¼ inch rounds (peeling is optional- makes it easier to eat but not as decorative)
Preheat oven to 350°F. Grease 9 inch cake pan generously (line bottom with parchment paper -optional for easier removal)
Add melted butter to pan and swirl to coat bottom
Sprinkle sugar evenly over the bottom then place the orange slices over the sugar overlapping them in a circular pattern covering the whole pan, set aside.
Whisk together the flour, baking powder and salt together in a large bowl
In a medium bowl whisk together the milk, oil, vanilla, sugar, vinegar, and orange zest until well combined
Pour wet ingredients into the dry and mix until combined
Pour batter gently over oranges - using a spatula to gently spread it evenly without moving the slices around too much
Bake 25-35 min or until cake is set and golden
Allow cake to cool in pan 5-10 min (use a knife to loosen edges around cake if needed) then place plate over top of cake pan and carefully invert cake onto plate. Peel off parchment paper if you lined the bottom of pan.
Allow to cool, slice and enjoy!