White Chocolate Macadamia Nut Cookies
These White Chocolate Macadamia nut cookies are soft, chewy and full of classic comforting delicious flavors! Loaded with white chocolate chips and macadamia nuts this recipe will be your favorite cookie recipe, I just know it. These have some major chunkiness happening - thanks to lots of chopped toasted macadamia nuts and white chocolate. These bakery style white chocolate macadamia nut cookies are extra buttery, with chewy centres and slightly crisp edges. They are truly irresistible and I'm so happy to finally have my all time favourite cookie on the blog for you guys to enjoy!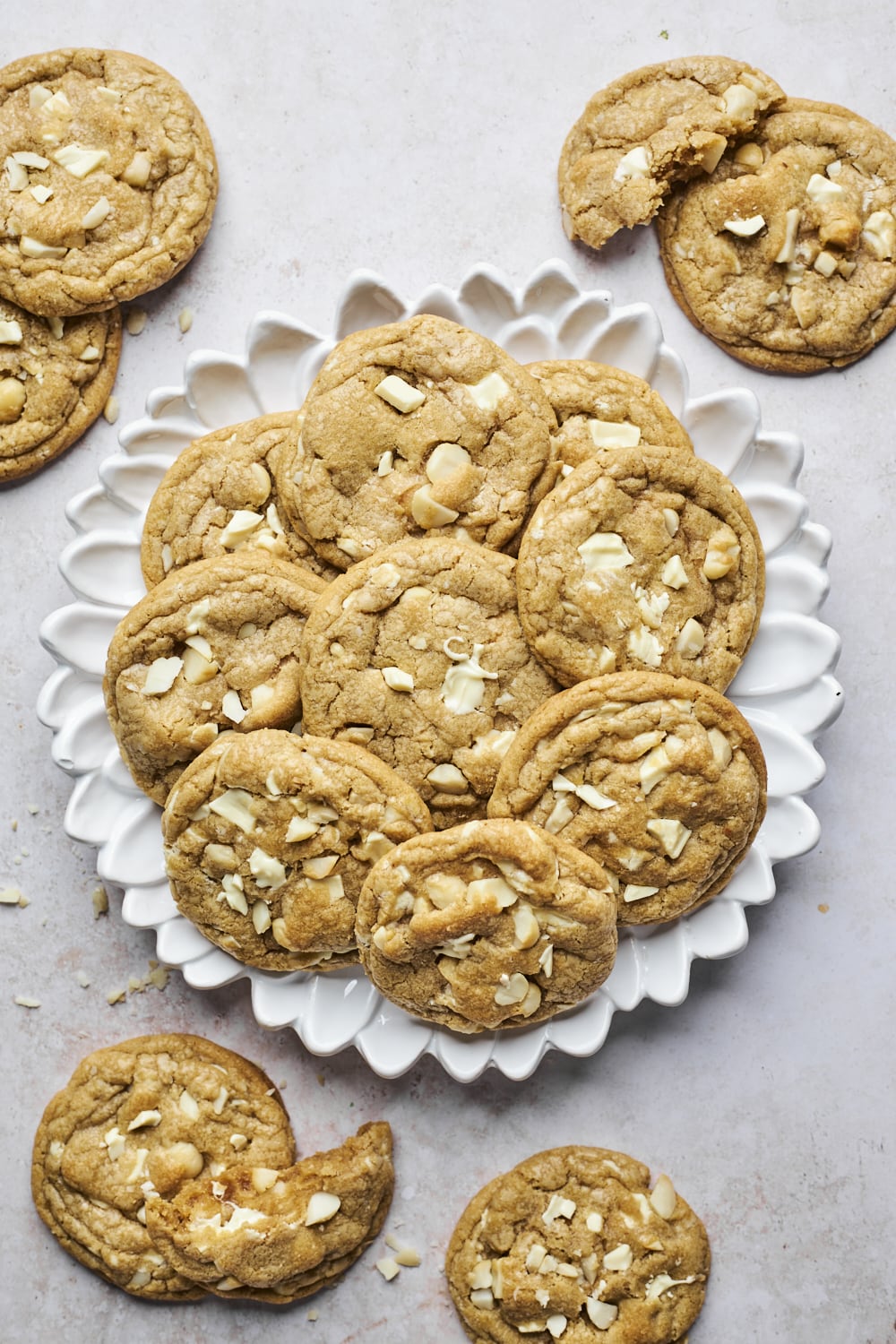 Ok I know I don't share tons of stories on here - I tend to stick to the recipes as you know - but I thought I would share my love for these white chocolate macadamia nut cookies. I have tried so many recipes out there and yes there are some really good ones but these ones come the very closest to my favourite ones. There was a tiny lunch spot/cafe (cafeteria would be a stretch to call this place) in the basement of a courthouse I use to work near by and the girls who ran it were two sisters and they made everything from scratch - we're talking buttery biscuits, scones, muffins, salads, sandwiches and soups. They made my favourite cream of mushroom soup, the best BLT sandwich and these amazing white chocolate macadamia nut cookies - chewy centers and sort of softish in the middle and nutty and so so flavourful - they for sure chilled the dough to get those delicious sort of complex flavours in the cookies. All the girls I worked with just loved them and we would preorder our soups and cookies 2 hours before lunch cause they would be sold out if we went over to order at lunch time. Anyways this recipe is pretty much spot on when it comes to the flavour and texture of those cookies! I'm not too sure what ever happened to that little cafe/lunch spot but I m sure happy I got to enjoy those cookies and now I can enjoy them whenever I want! Enough about all that - let's talk ingredients and how to make these little beauties…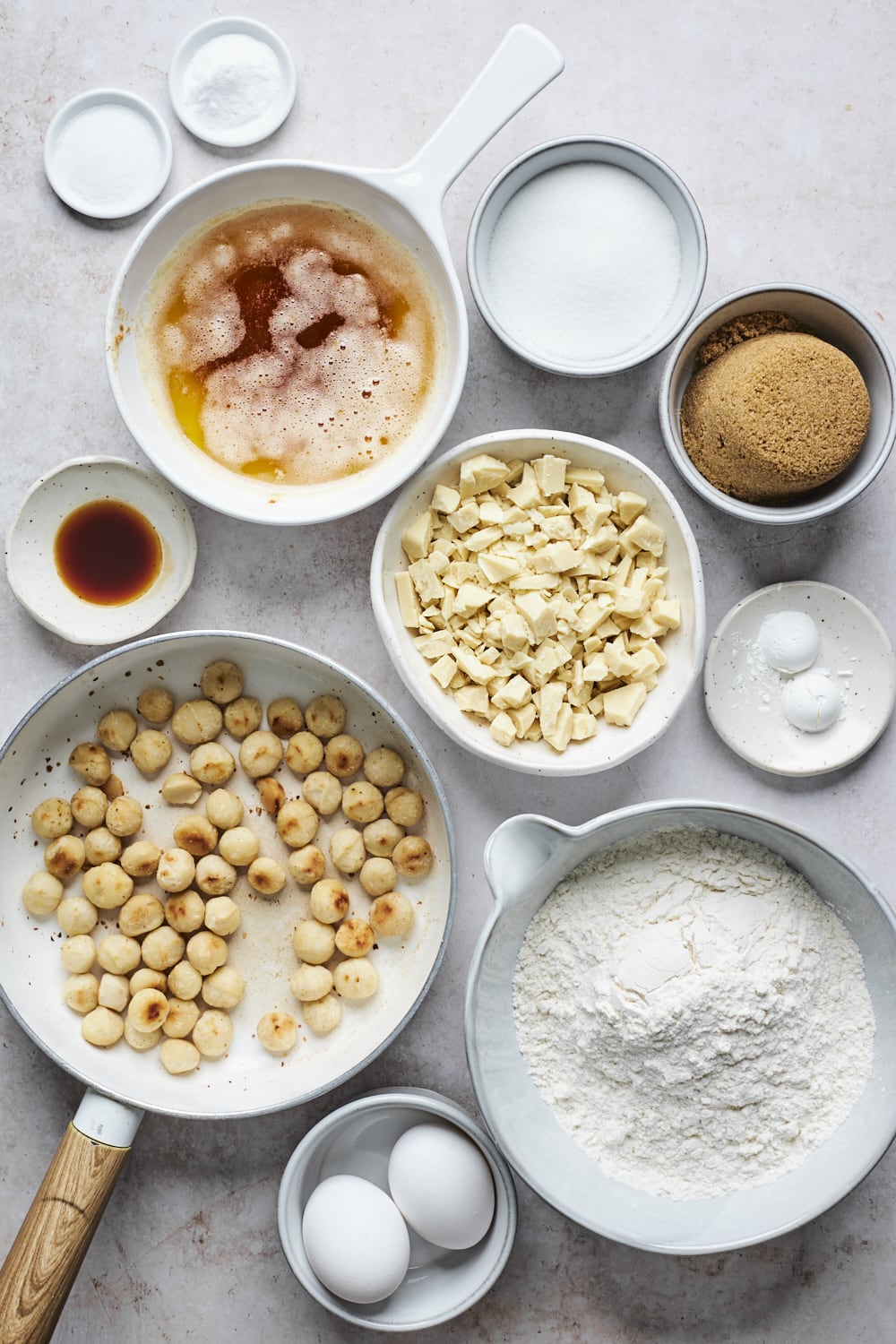 White Chocolate Macadamia Nut Cookies Ingredients:
Butter - I used unsalted butter because it makes it easier to control the amount of salt in recipe. You will melt or brown the butter for this recipe so no need to soften the butter (no need to cream the butter) 
White Sugar & Brown sugar - The combination of white sugar and brown sugar give these cookies their distinct texture.
Flour - I recommend using all-purpose flour to make these brown butter pecan chocolate chip cookies. You could definitely make them gluten free with a good quality flour like Bob's Red Mill 1-1 gluten free baking flour.
White Chocolate - Feel free to use white chocolate chips or chopped white chocolate or morsels - either would be delicious in this recipe. If you are not a fan of white chocolate chip cookies feel free to use milk for dark chocolate chips instead - If you are going to splurge on something for this recipe splurge on good Quality white chocolate and the same goes for the macadamia nuts as well 
Macadamia Nuts - dry-roasted macadamia nuts will give these cookies more flavor and are what I use. If you only have raw macadamia nuts it is definitely worth toasting them yourself on a dry skillet until lightly golden and fragrant - allow to cool them then chop with a Chef's knife 
Eggs - There are two in this recipe. Make sure they are room temperature.
Baking Soda - just a bit but essential for leavening - no baking powder in this recipe 
Cornstarch - a little goes a long way - cornstarch helps make these cookies more tender. Don't skip it even though it may seem Unusual - it helps make these cookies tender and soft in the middle
Vanilla - A definite must in this recipe - they just won't be the same without it for that delicious flavour vanilla adds to them. Make sure to use pure vanilla extract if possible 
Almond extract or Coconut Extract - the extra extract is optional but I find both of these flavours are very subtle but enhance the flavours of the white chocolate and macadamia in the cookies - I have tried both and love both versions 
Additional Add Ins - topping these with a little flaky sea salt is not a bad idea to enhance the flavours on these already delicious cookies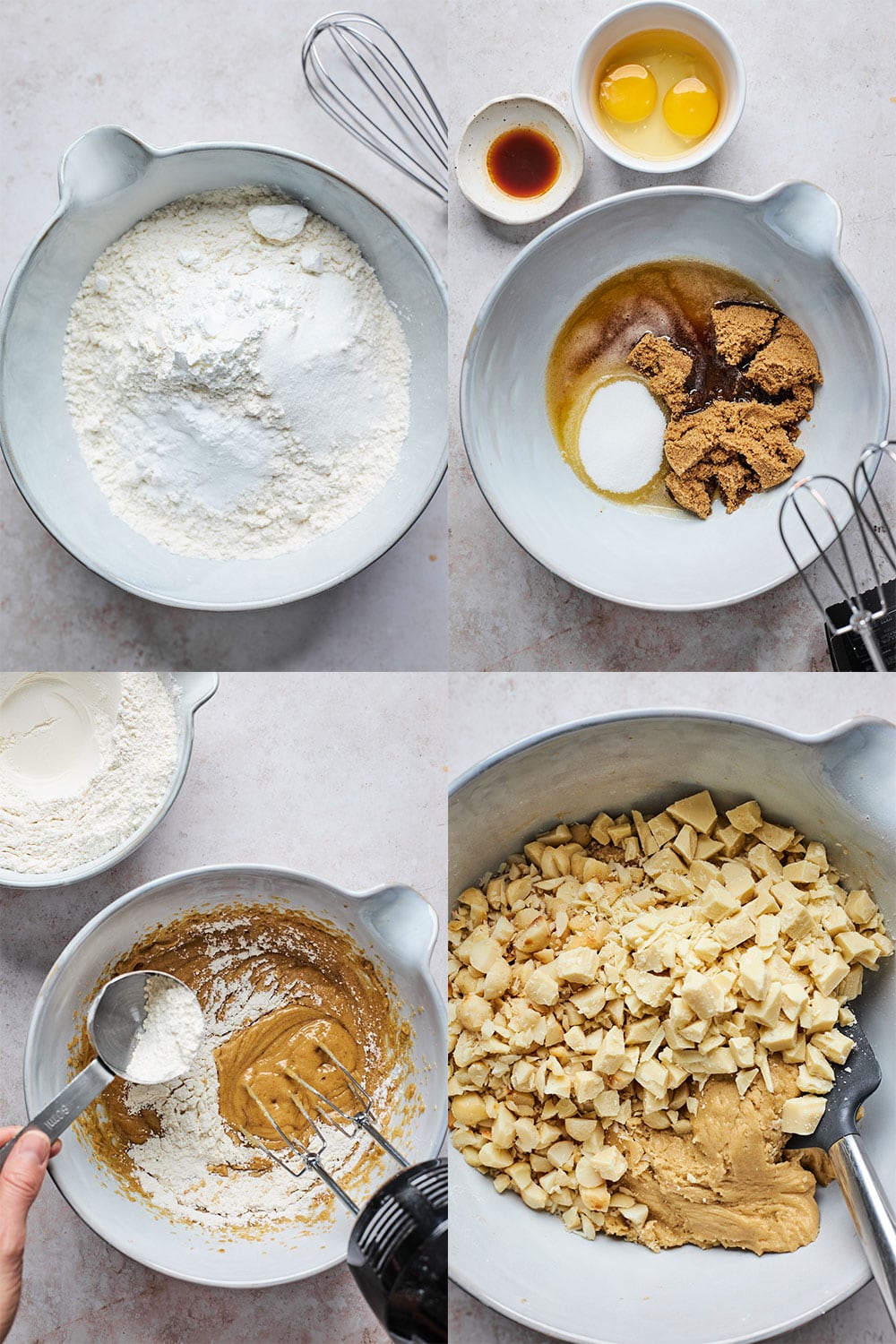 How To Bake These White Chocolate Macadamia Nut Cookies
Here are the simple Instructions/steps involved in making these tasty cookies:
Brown the butter or simply melt it if you don't like the flavour of brown butter then set aside to cool to room temperature 
Lightly toast and chop macadamia nuts with a chef's knife 
Whisk together your dry ingredients
Beat the butter with the sugars, then add the eggs and vanilla and mix until smooth and ribbony
Gently fold in the dry ingredient/flour mixture into the wet ingredients until just combined. Do not over mix
Mix or fold in the the white chocolate chips or chunks and chopped macadamia nuts 
Cover and chill the dough for 30 min or overnight
Scoop dough onto prepared pans and bake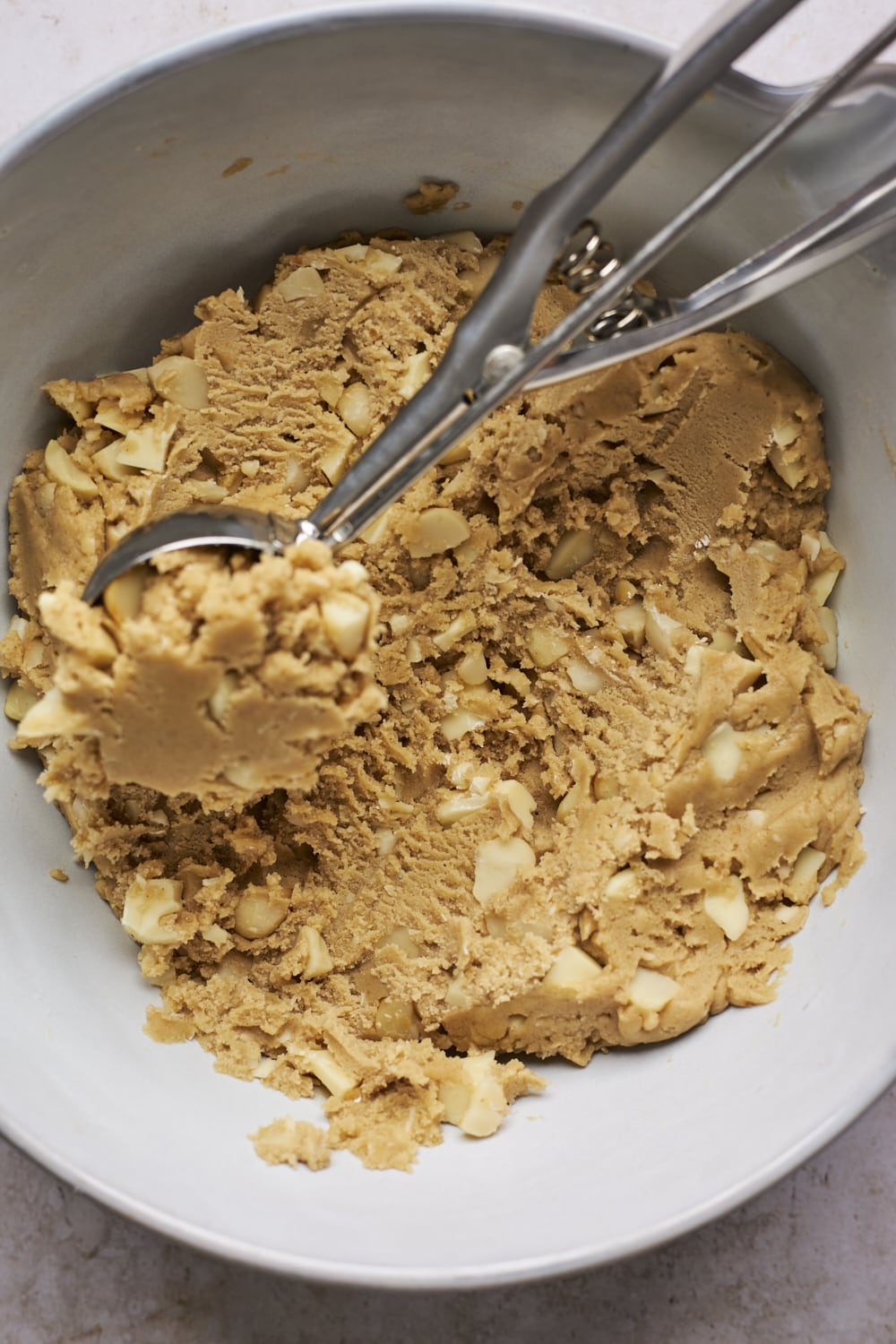 Why Chill the White Chocolate Macadamia Nut Cookie Dough Before Baking
Chilling the dough allows more time for the dough to hydrate and results in chewier thicker cookies. Here is the breakdown.
No chilling: What happens if you don't refrigerate dough before baking? The cookies will spread out a little more and the edges will be crispier.
Chill for 30 min to 1 hour: The cookies will be little thicker, chewier and crispy edges, chill the dough for 1 hour.
Chill for 2+ hours: The cookies will be thicker with less crisp, chill the dough for 2 hours or longer. I usually chill the dough between baking each batches and the result is always perfect.
Is it better to put cookie dough in fridge before baking? that is up to your taste and also how much time you have on hand and how strong your craving is for these cookies. If you prefer thicker chewy cookies than by all means chill the dough - if you need to fill that cookie craving fast then feel free to bake these off right away
My Cookie Baking Tips for Making the Best Cookies Every time
Here are some of my favourite cookie baking tips and also tips for baking perfect white chocolate macadamia nut Cookies:
I recommend using high-quality chocolate chunks for this recipe or chocolate chips. You can buy bars of chocolate and chop them into chunks that is what I usually do. I prefer this method because it allows me to control the size of the chunks and I find they melt better too. Of course, you could also use an equal amount of chocolate chips.
Don't over bake! Your cookies should be set at the edges and golden but may still look soft in the center.They will continue to bake on the hot pan out the oven.
Be sure to allow the cookies to cool on the baking sheet for 5 minutes before transferring baked cookies to a cooling rack or wire rack so they don't fall apart as your transfer them.
Chill dough in between batches 
Start checking cookies at the ten minute mark because all stoves are different and ensure your oven is preheated 
For that bakery style look ( or Instagram/pinterest worthy look) make sure to add extra white chocolate chips to the cookies after baking - simply press some into the cookies they will settle into the dough from the heat of the cookies - then sprinkle them with some flaky sea salt if desired 
The pan you bake these cookies on definitely matters - I use heavy duty light coloured non stick baking sheets which really distribute the heat evenly. Stainless steal pans will cause some spreading and possible uneven baking. Never use dark colored pans to bake cookies - they tend to over bake cookies
Try to measure your ingredients carefully using a measuring cup to prevent a dry crumbly cookie and also do not over mix the dough because it will affect the texture of the cookies.
Have you tried the pan banging method for cookies - this gives your cookies extra crinkles. This is optional but at the 10 minute mark I take the pan out of the oven rice a few taps on the countertop then place it back in the oven to finish off baking for the remaining 1-2 minutes. This will cause your cookies to spread slightly more just and FYI
Do you want more uniform looking cookies - sometimes no matter how hard you try even when you measure your your dough balls carefully you will get uneven looking cookies and that is normal especially when you have all the extra nuts and chips in the dough. A very quick fix is to use a small rubber spatula and just gently tuck in or gently press in uneven edges with it as soon as the cookies are out of the oven and still warm and moldable. 
Avoid dropping the cookie dough onto warm cookie sheets. Let them cool before scooping the next batch onto them or use a separate cookie pan 
The amount of dough you scoop for each cookie will impact the baking time. So if you make smaller cookies, reduce your baking time, and increase it for larger ones.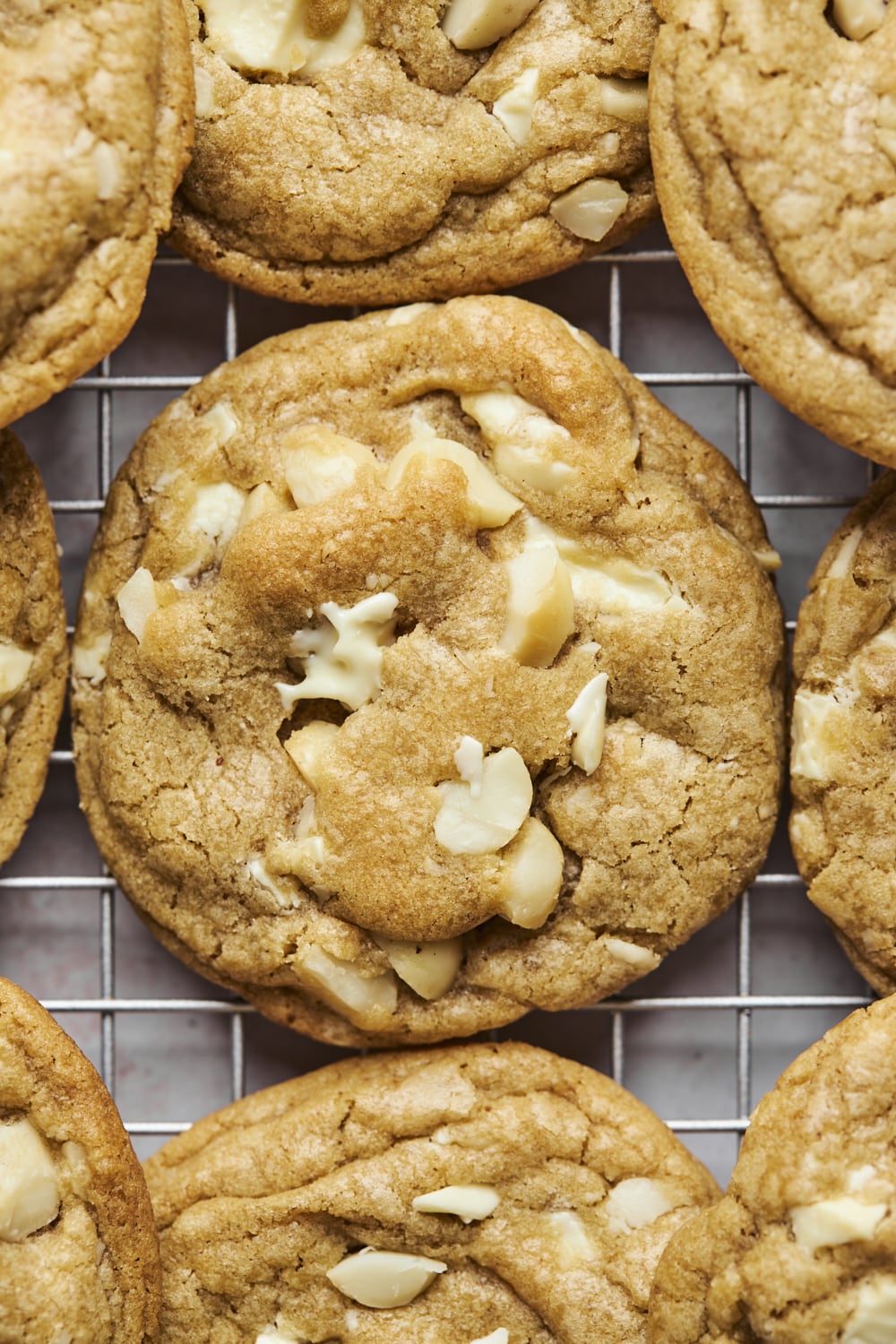 Storage & Freezing
Room Temperature – Place cooled cookies in airtight container and keep at room temperature for up to 5 days. Make sure cookies are completely cooled before placing in container. They are best enjoyed during days 1-2 but will keep up to 1 week - totally doubt they will last that long - these babies go fast in our house
Freezing Cookies – Place in airtight container or ziplock bag. Make sure cookies are completely cooled before placing in container. They will keep well in the freezer for 2-3 months. To thaw let them thaw on counter or warm in the microwave.
Freezing Dough – Drop the cookie dough balls on a large sheet pan and flash freeze by putting the sheet pan in the freezer until dough is frozen solid. Transfer dough balls into an airtight container or freezer bag and freeze up to 3 months. To bake place on cookie sheet and add 1-3 minutes to cooking time.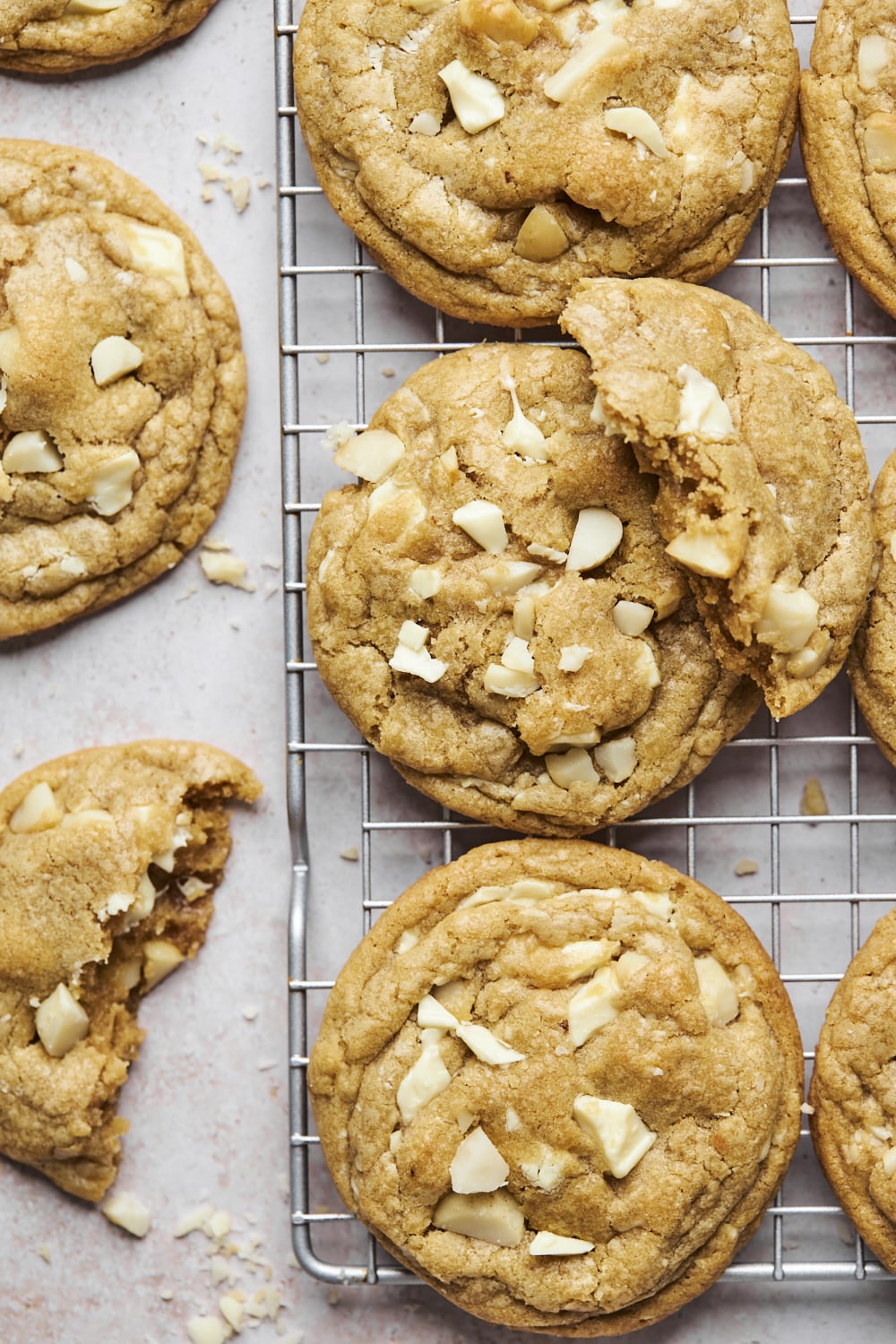 More Cookie Recipes You Will Love:
Recipe
Prep Time: 15 mins
Bake Time: 10-12 min per batch
Non-Active Time: 30 min to overnight for chilling dough 
Ingredients
1 cup unsalted butter, browned or melted 

1 cup brown sugar

½ cup granulated sugar

2 teaspoon pure vanilla extract

⅛ teaspoon almond extract or coconut extract (optional) 

2 large eggs, room temperature

2½ cups all-purpose flour

2 teaspoons cornstarch

¾ teaspoon salt

1 teaspoon baking soda

1 cup white chocolate chunks or chips

1 cup chopped macadamia nuts (lightly toasted)
Directions
Brown the butter: In a small sauce pan, melt the butter over medium heat, until the butter begins to foam, 3 to 4 minutes. Swirl the butter around in the pan until it begins to brown lightly, smell nutty, and form tiny brown flecks, 3 to 4 minutes. Remove from heat and pour in to a large mixing bowl and allow to cool for at least 15-20 minutes. (If You prefer to not brown the butter that is fine just melt the butter and pour into large bowl)
In a medium bowl combine dry ingredients: the flour, corn starch, salt and baking soda. Set aside.
In a bowl of a stand mixer fitted with the paddle attachment or a large bowl with a hand mixer, beat the butter and sugars together until light and fluffy, 2 to 3 minutes. 
Add in the vanilla, almond extract or coconut extract, and eggs and continue mixing until combined and creamy. 
Gradually add flour mixture to butter mixture, mixing just until combined. Do not over mix
Fold in or stir in white chocolate chunks or chocolate chips and macadamia nuts with wooden spoon or rubber spatula.
Refrigerate dough for at least 30 minutes (I like to refrigerate mine at least 24 hours for extra chewy cookies and extra flavourful ones
Once ready to bake preheat oven to 350°F and line baking sheet with parchment paper or silicone baking mat and set aside.
As the oven preheats, scoop and roll dough, about 2 Tablespoon cookie scoop of dough each, into balls. The dough may be slightly crumbly, but will come together as you work it with your hands. Arrange dough balls 3 inches apart on the prepared baking sheets.
Bake for 10-12 minutes or until lightly browned around the edges. The centers will still look soft. If cookies didn't spread much, lightly bang the the baking sheets on the counter a couple times while the cookies are still warm. They'll stretch and deflate. Feel free to press in a few extra white chocolate chips into cookies as they are still warm for extra white chocolate puddles. 
Allow the cookies to cool for 5 minutes on the baking sheet / cookie sheet as they will still be soft, then carefully transfer them to a wire rack to cool completely.
Store cookies at room temperature in an airtight container for up to 5 days.
Recipe Notes
Should you toast macadamia nuts for cookies? Yes I highly recommend it for extra flavour or use store bought ones that are already dry roasted. Then use a chef's knife to roughly chop your macadamia nuts. You can bake with raw macadamia nuts but they won't be as flavourful as toasted ones.
One of the most popular questions on line about white chocolate chip cookies is how may calories is in one cookie - the next is about how many carbs - all I can say is that these are definitely not low fat or great for your diet/nutrition and cookie season might not be the best time to start counting calories, protein, saturated fat, or carbohydrates - cause these babies are sure to wreck your diet! They are definitely made to share so please enjoy responsibly ;) One goodd thing is that macadamia nuts are high in healthy fats. One serving of macadamia nuts also contains dietary fiber, protein, and several other nutrients.