Easy Roasted Tomato Soup
Updated August 15th 2023
Nothing says comfort food than a delicious bowl of soup. One of my all time favourites is tomato soup. This tomato soup recipe is made with roasted fresh tomatoes, caramelized shallots, garlic, olive oil, and optional add-ins for extra creaminess. The fresh basil and broth/stock add just the right amount of balance to the soup. The knob of butter adds depth and also gives this soup its luxurious texture. The cream is optional - I usually don't think you need it but if you like your tomato soup extra rich and indulgent - feel free to add it in. Once you've roasted the tomatoes, the soup comes together in no time, just another reason to love this soup. I love an easy no fail recipe like this and hope you do too! I serve mine with a pesto grilled cheese sandwich, a standard grilled sandwich will work so will a BLT sandwich, mozzarella sticks, garlic bread, crackers or any crusty bread.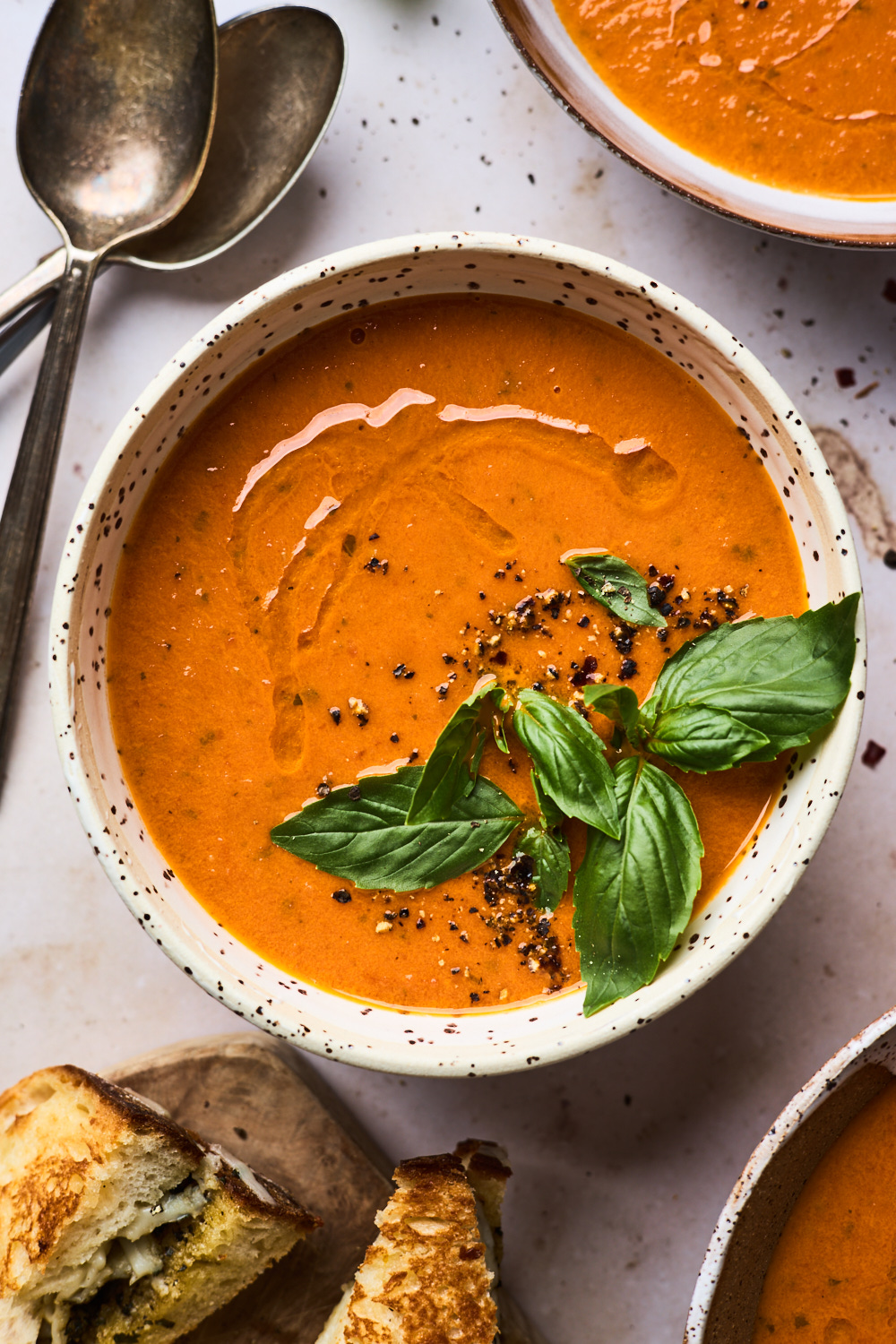 What tomatoes are best for homemade tomato soup?
This tomato basil soup is full of flavor and the best way to use up fresh tomatoes from your garden! I like to use Roma or plum tomatoes for homemade tomato soup because they have the best flavor when roasted, and they are also typically available all year round. Removing the skin and seeds is optional - I usually don't remove them but if you prefer the soup without them feel free to peel and remove them. You can easily do a variety of tomatoes in this recipe - use what you have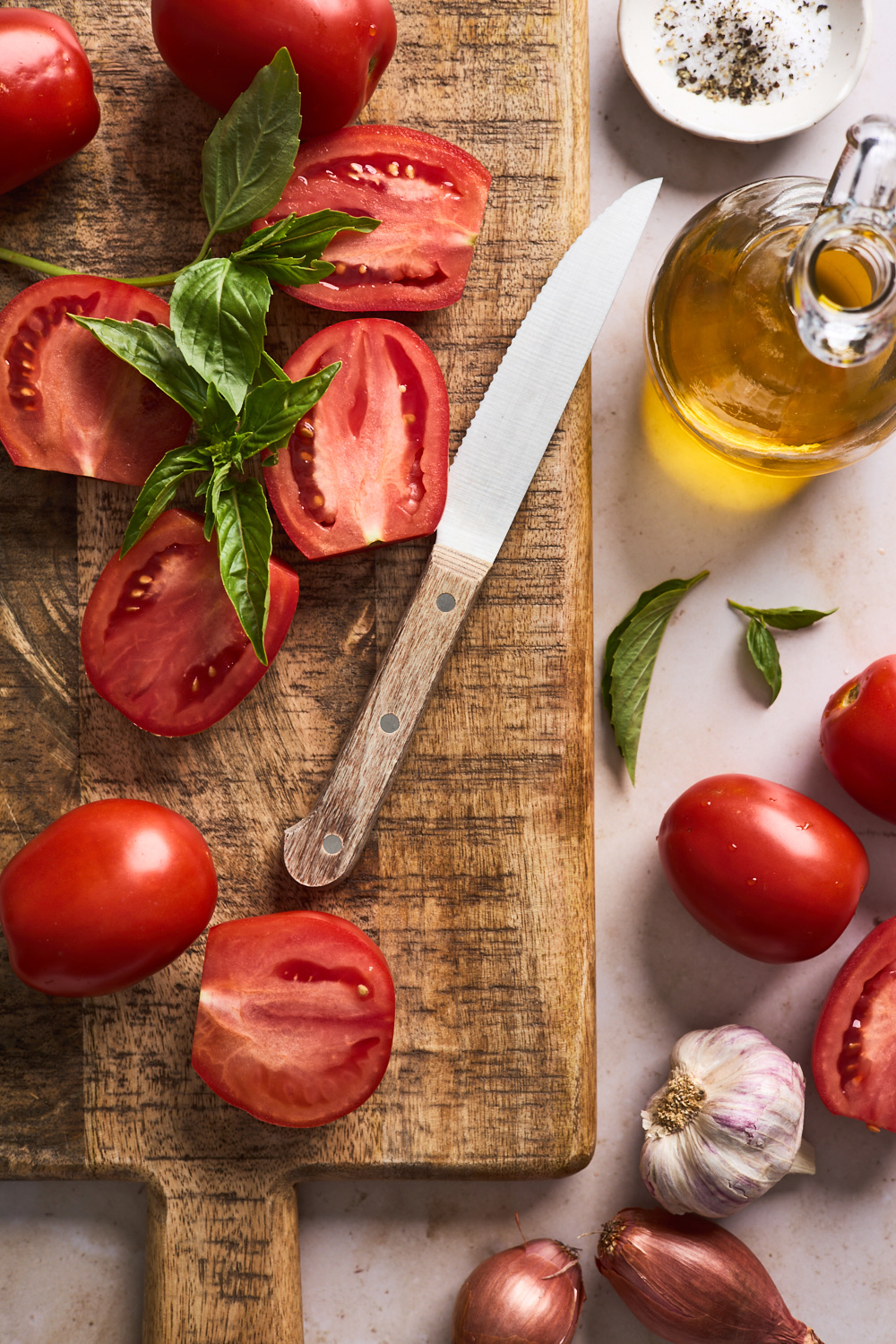 Ingredients for This Roasted Tomato Basil Soup
Another thing to love about this recipe is that it's got a minimal list of ingredients. Here's what you will need:
Tomatoes: Roasting the tomatoes for this easy tomato basil soup delivers a deeply satisfying taste for the soup. I recommend using Roma tomatoes for this recipe but really any tomatoes will work like any fresh garden tomatoes or cherry tomatoes
Olive oil: Its perfect for drizzling over the tomatoes before they are roasted - the combination of rich olive oil and cooked tomatoes is the perfect way increase the absorption of lycopene
Butter: It may seem like an odd add in but it not only adds flavour but it also gives it a luxurious texture without the addition of the cream if using
Garlic: They roast up beautifully sweet and delicious with the tomatoes. I use 6 cloves because I love the flavour - feel free to reduce the amount if you prefer
Shallots: I prefer them to onions because of their sweetness and subtle flavour but yellow onions or red onions will work just fine here
Oregano: It is perfect for seasoning the tomatoes before they go in the oven but any herb or spice will work - use the one you love (thyme and rosemary are great too). I used dried herbs but feel free to season tomatoes with fresh herbs if desired
Basil: Fresh Basil is best. Nothing compares to the fresh tomato Basil combo. Add it in right before you blend the soup - for best flavour and some extra for garnishing
Vegetable or chicken broth: Choose whichever one you prefer. You can also use water instead but the broth adds more flavour and balances out the flavours in the soup. Feel free to use a low sodium option if desired
Heavy cream: Optional. I don't always add it but for extra richness feel free to drizzle some in after you have puréed the soup. You could sub it out for half and half or whole milk or any non dairy option too like full-fat coconut milk
Add a Protein: Feel free to serve this soup as a side to any protein or feel free to add some cooked white beans when you puree the soup for an added boost of protein (and fiber) plus they will naturally thicken the soup.
Variations: Feel free to add a flavour booster like miso paste, a splash of sherry, balsamic vinegar or even some soy sauce for extra flavour when you simmer the tomatoes with broth. Add some heat by adding chili pepper flakes while simmering soup as or while the tomatoes are roasting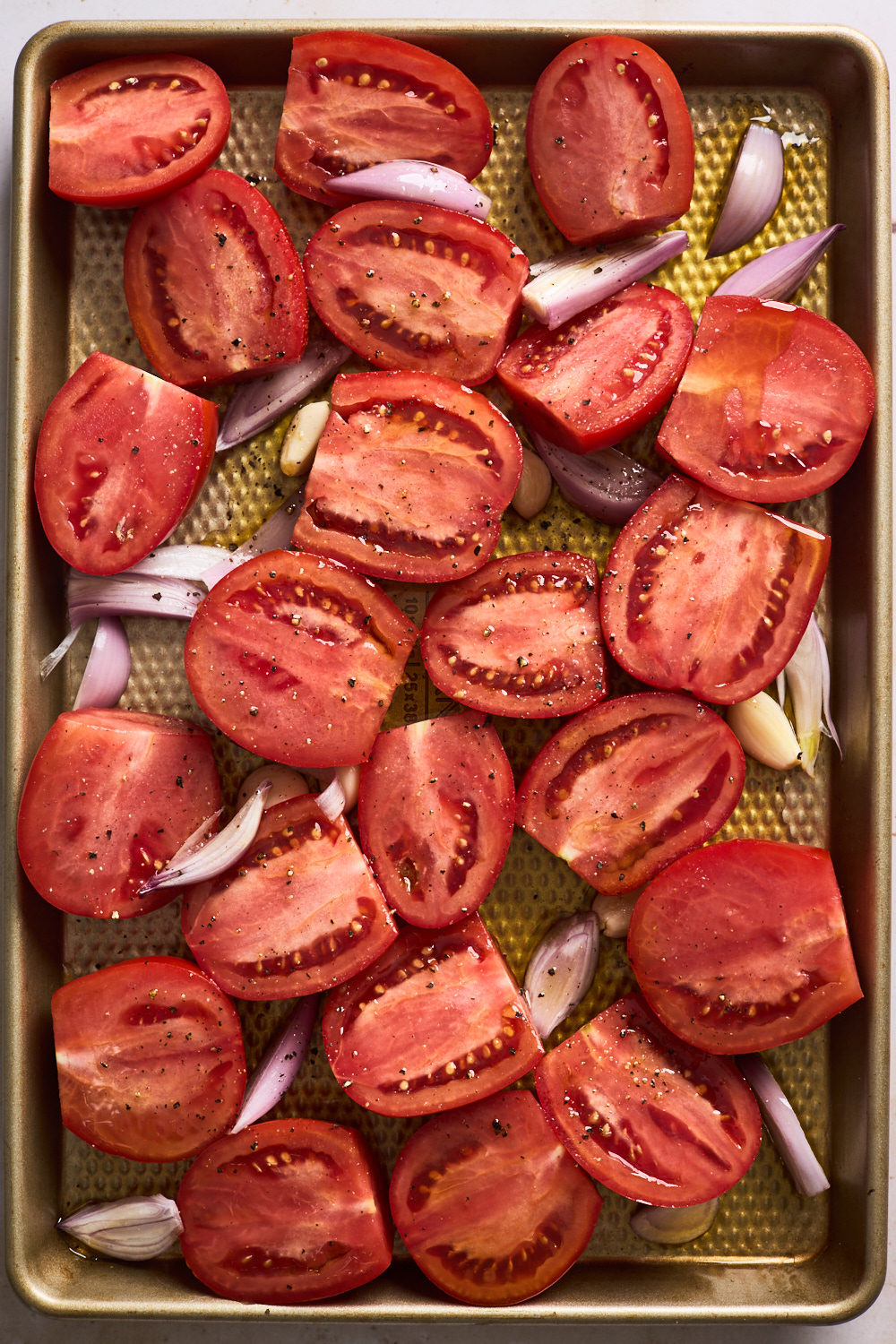 How to make roasted tomato basil soup
Roast the tomatoes in a single layer, with shallots, garlic with a generous drizzle of olive oil until softened and caramelized.
Transfer all the contents to a soup pot carefully along with the stock, butter and bay leaves and simmer until reduced.
Remove bay leaves, add basil to pot and purée to the consistency you prefer.
Return to pot and add cream if using, test for seasoning and then serve and enjoy!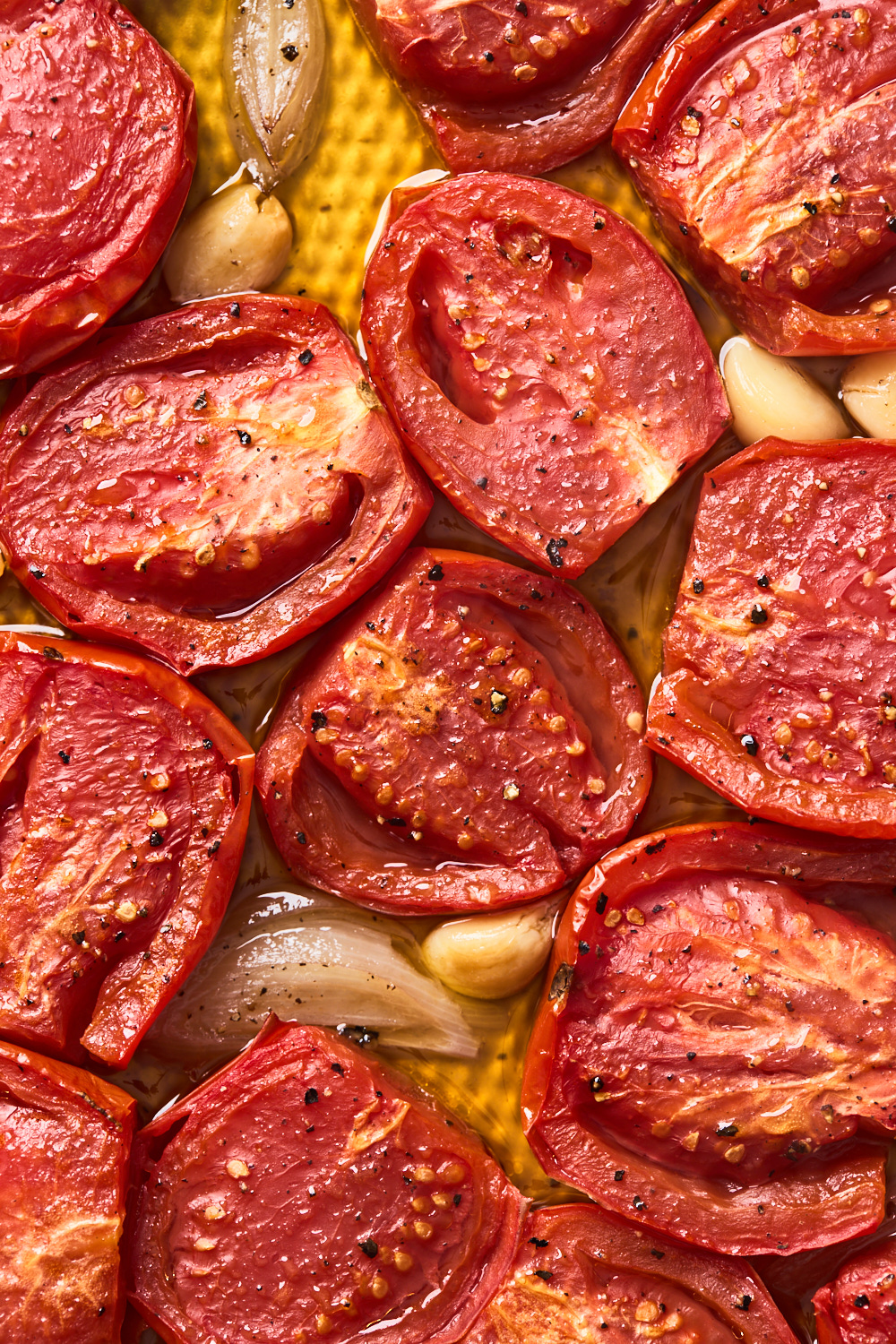 Roasted Tomato Soup Recipe Storage, Make Ahead & Freezing
STORAGE: Leftovers can be stored in an airtight container in the fridge for 3-4 days.
MAKE AHEAD: The whole soup can be made a few days ahead of time, stored in the fridge. I think it even tastes better as it sits and the flavors have time to blend. OR The tomatoes can be roasted in advance, up to 24 hours. Once the pan is cool enough to handle, scrape out the tomatoes, garlic shallots and juices from pan into a container. Seal and refrigerate 1 day ahead.
FREEZING: This is a great soup to make ahead and freeze. Once it has cooled place soup into an air-tight freezer-safe container in the freezer for up to 2-3 months. To reheat, let the soup thaw in the fridge overnight before heating it through on the stovetop or in the microwave.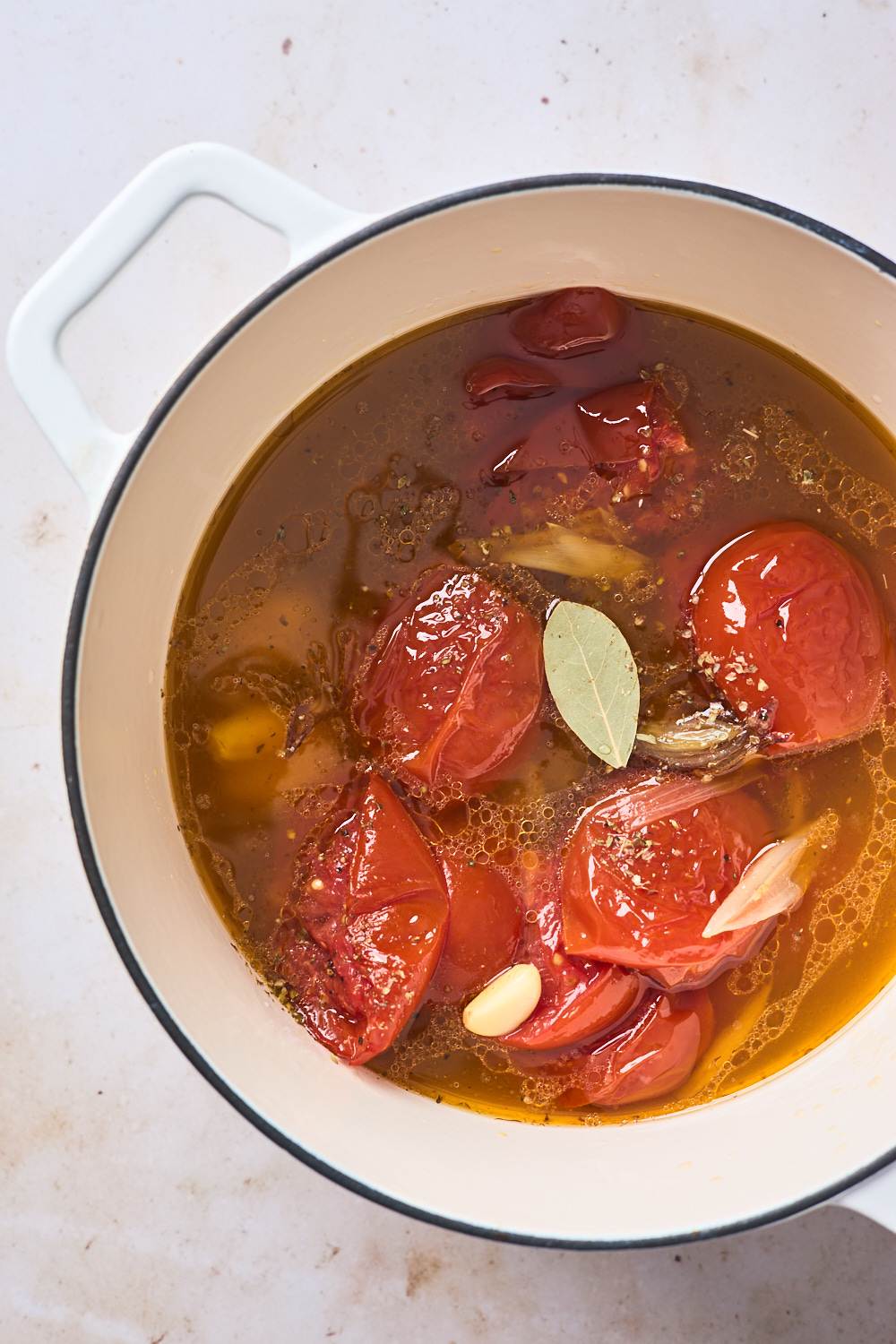 More Fresh Tomato Recipes You Will Love: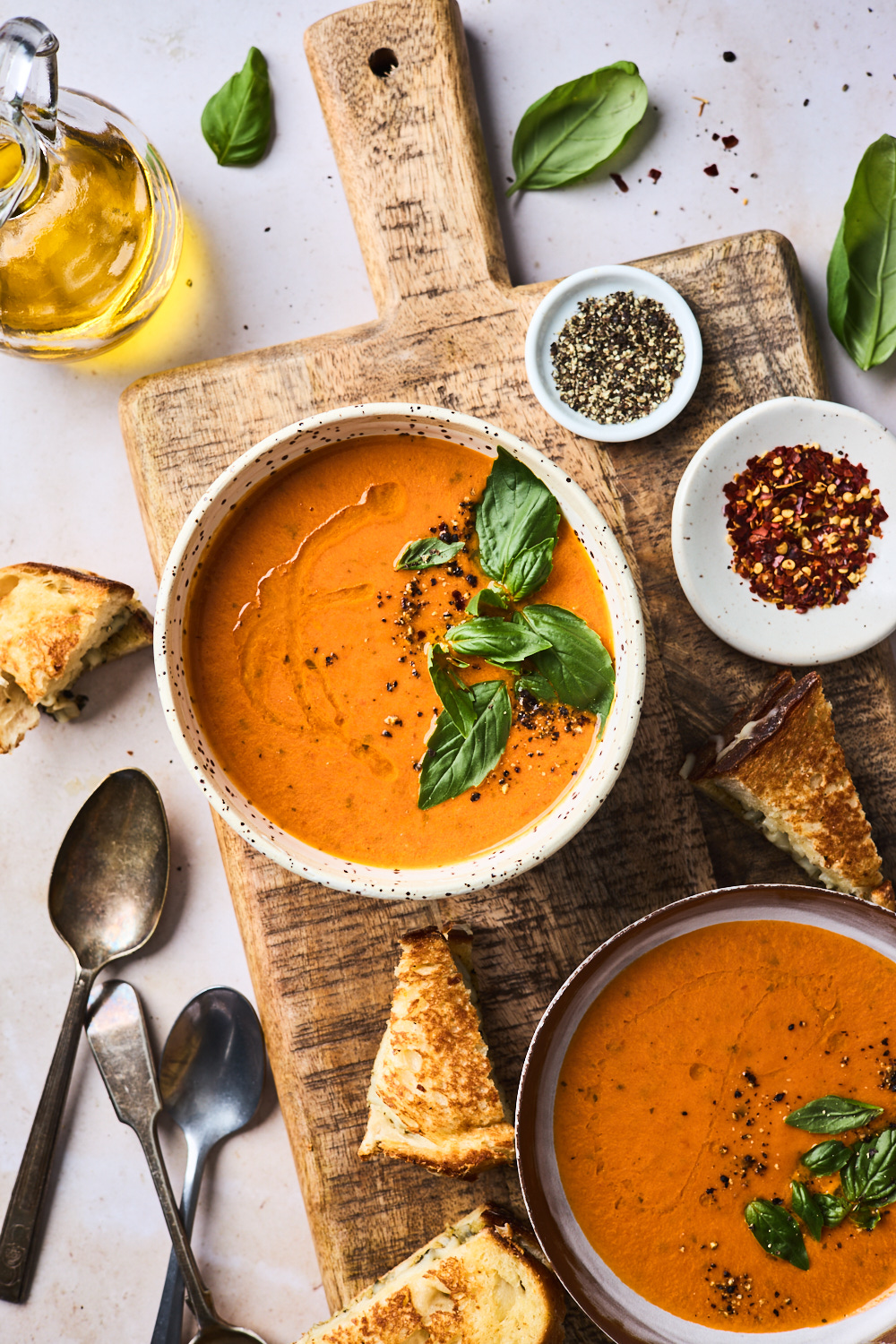 For more tasty soup inspiration check out these:
Recipe
Prep Time: 15 mins
Cook Time: 45-50 mins
Ingredients
3 pounds Roma tomatoes sliced in half or assorted tomatoes (heirloom, vine and plum)

¼ cup extra-virgin olive oil, plus more for drizzling

6 cloves garlic peeled

2 shallots, peeled and quartered

Salt and pepper to taste

½ tablespoon dried oregano

2 cups chicken or vegetable stock, plus more if needed

1-2 bay leaves

4 tablespoons unsalted butter

½ cup chopped fresh basil leaves plus more for garnish

½ cup heavy cream (optional)
Directions
Preheat the oven to 450°F.
Place halved tomatoes on baking sheet along with the garlic and shallots. Drizzle with olive oil, sprinkle with salt and pepper and oregano and then toss to combine. Roast until the tomatoes are caramelized, 20 to 30 minutes.
Remove the roasted tomatoes, garlic and onions from the oven and transfer to a large stockpot over medium high heat. Add 2 cups chicken stock, the bay leaves and butter. Bring to a boil, then reduce to medium heat and simmer until the liquid is reduced by one-third, 15 to 20 minutes.
Remove the bay leaves.
Add the basil to the pot. Use an immersion blender to purée the soup until smooth (or puree in a regular blender and return to the pot).
Reduce the heat to low, stir in the heavy cream if using and adjust the consistency with more chicken stock, if needed. Season with salt and pepper. Divide among bowls and enjoy. Drizzle with olive oil, red pepper flakes, and a sprinkle of Parmesan cheese if desired.
Recipe Notes
How to Make Ahead this roasted tomato soup. The tomatoes can be roasted in advance, up to 24 hours. Once the pan is cool enough to handle, scrape out the tomatoes, garlic shallots and juices from pan into a container. Seal and refrigerate until ready to use.
How long does tomato soup keep? As with so many soups and stews, this gets even better the next day. It will keep in an air-tight container in the refrigerator for up to 3-4 days and freezes beautifully for up to 2 months. To reheat, let the soup thaw in the fridge before heating it through on the stovetop or in the microwave.
How to Blend/Purée soup. Use a stick blender or regular blender for o purée soup. Using either of these appliances will give you a very smooth texture. The immersion blender allows you to make the soup as smooth, or textured, as you desire. Whichever method you opt for, use caution. The soup is hot and can splatter and burn.
To make this soup vegan, you can omit the cream or use a non-dairy milk in it's place. You can also use vegetable broth an vegan butter