Almond Flour Brown Butter Pecan Sandies
These Delicious Pecan Sandies are buttery, crumbly, loaded with chopped pecans and just barely sweet with a buttery shortbread cookie taste everyone loves. This recipe is so easy to make, you only need seven ingredients. They are made with almond flour for even more of that sweet nutty flavour making them gluten free and egg free so can easily be made vegan. These are, hands down, my absolutely fave cookie of this cookie season - just the absolute best gluten free pecan sandies I have ever had!! It's impossible to keep them in the house, everyone gobbles them up as soon as I make a batch. It's a small batch recipe which is also made in the food processor. It can easily be doubled. For added flavour I browned the butter and I sweetened them with maple syrup which is optional but what's better than brown butter, pecan and maple? I just love it! I made these in partnership with Bob's Red Mill using their almond flour which is my favourite for baking and couldn't wait to share them with you guys!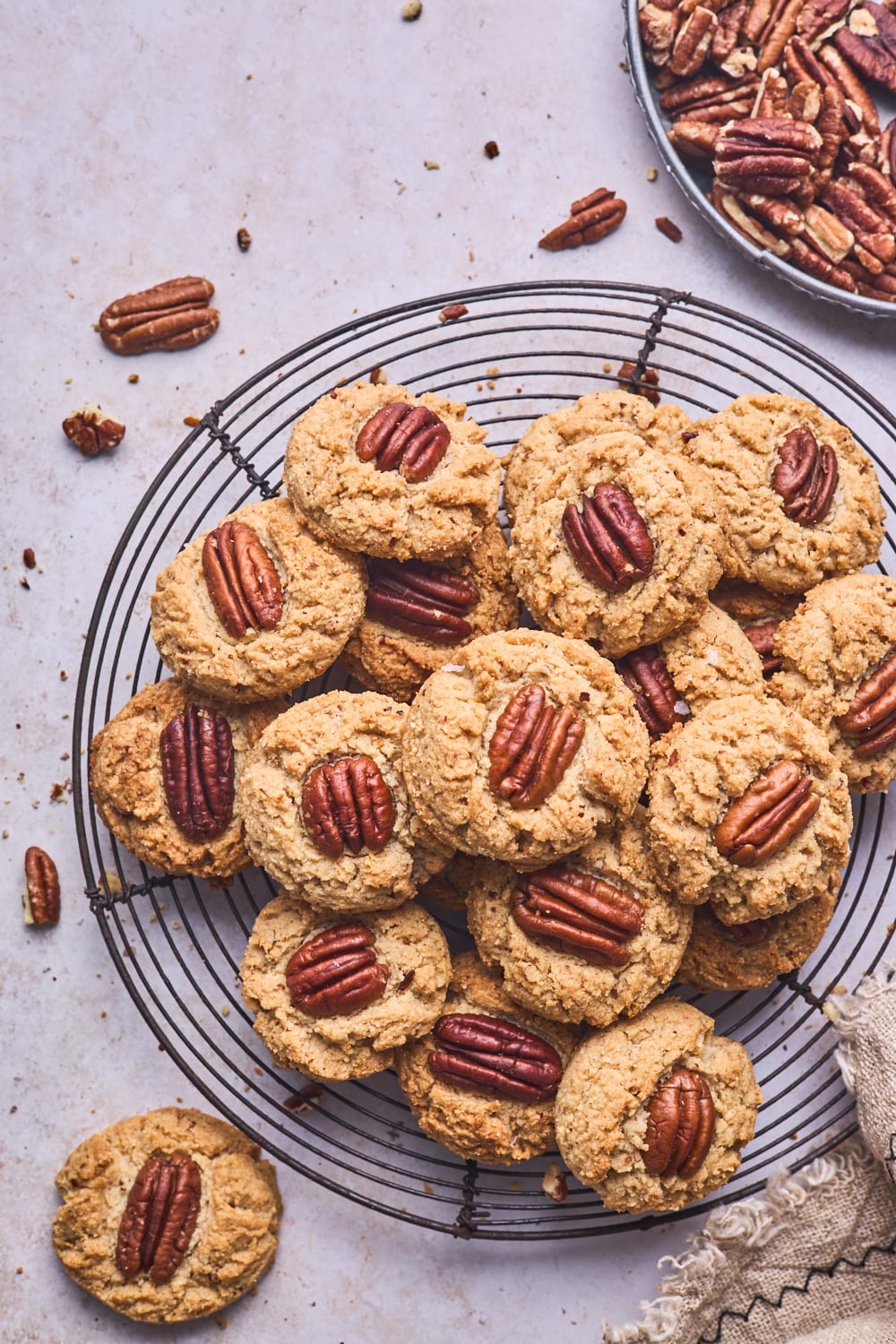 Why you will love these pecan sandies:
Beyond easy to make
Not too sweet and loaded with delicious pecans
Perfectly buttery with a delicious crisp crumbly texture
No need to chill dough before baking (bonus!!!!)
The whole Recipe can be made in the food processor if you have one - Making cleanup quick and easy
Gluten free and very easily vegan adaptable using a vegan butter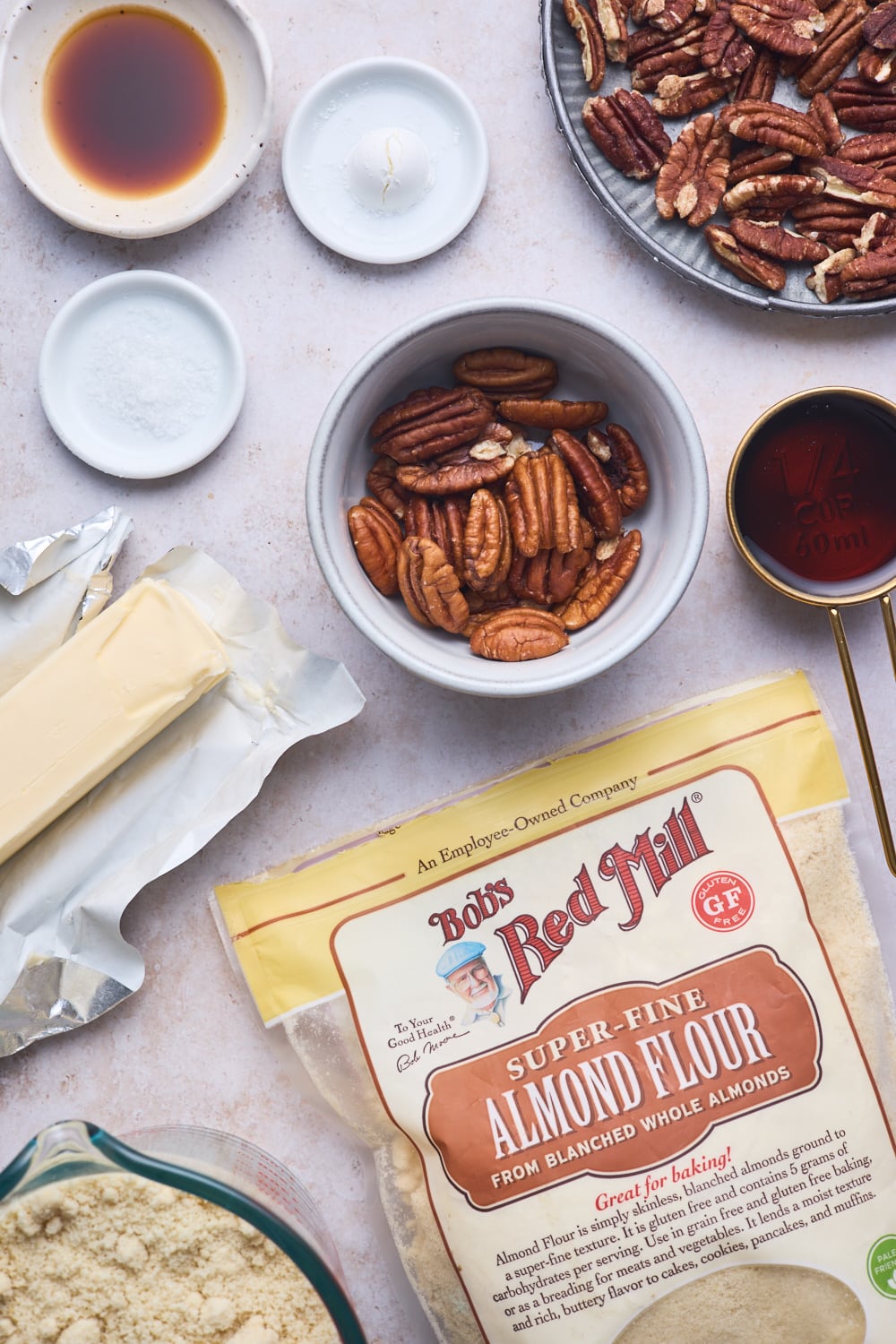 What are pecan sandies?
Homemade pecan sandies are a shortbread style cookie that is simple, yet flavorful. They have a shortbread-like texture with finely chopped pecans throughout. They have a sand like, fine texture which gives them their signature flavour and name. I think these are one of my favourite cookies for colder weather because they pair well with hot tea or coffee. They are also a great cookie to add to your cookie platter and also make great gifts. Many group these into the same family as Mexican wedding cookies. And while they are similar, in ways, they are actually a little different from Mexican wedding cookies which are actually pecan snowball cookies. These pecan sandies are not rolled in powdered sugar the way a Mexican wedding cookie is. And these particular ones are a little different because they are made with almond flour.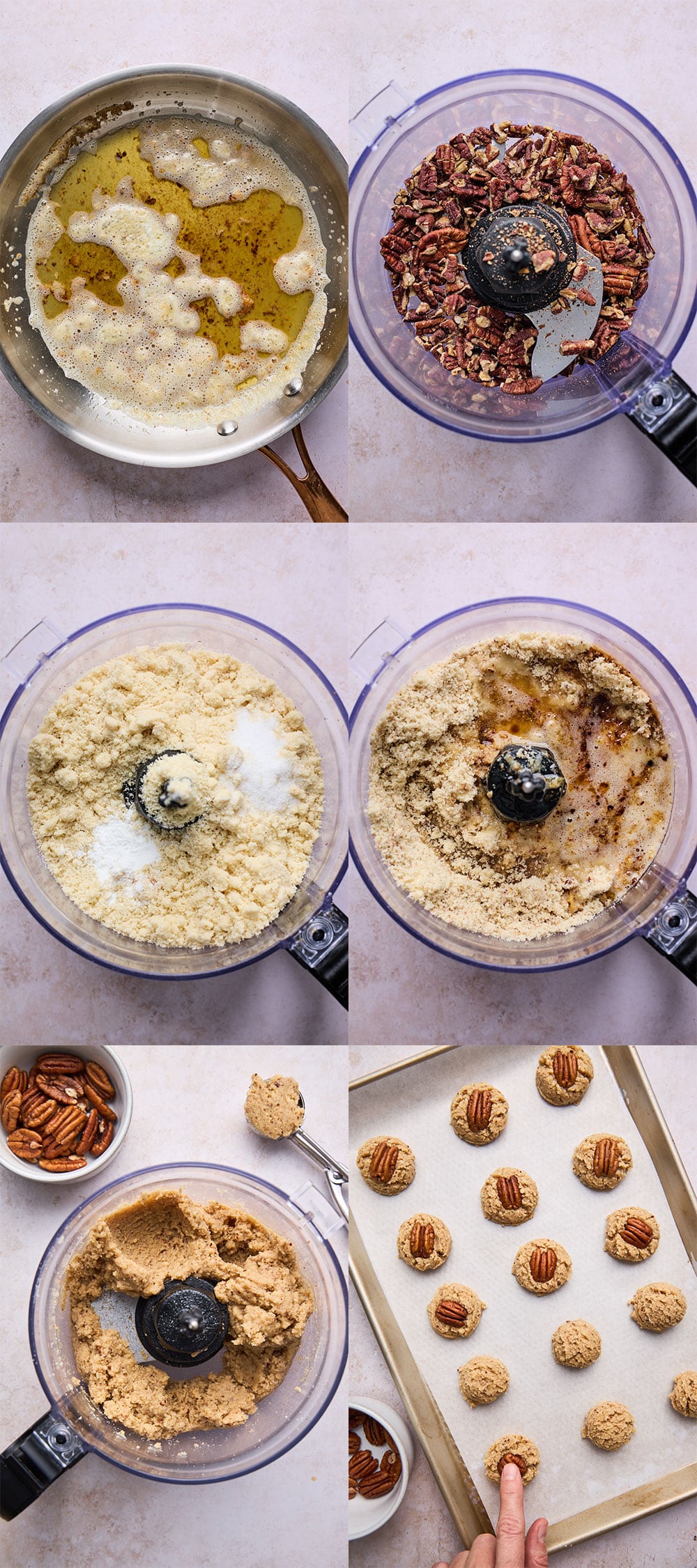 Ingredients to make pecan sandies:
Butter - I used unsalted butter
Maple syrup - the perfect way to sweeten them - although you could sub with ½ cup powdered sugar for a more traditional sweetener for this cookie
Salt - I always add some to balance the flavours
Vanilla extract - go for the good stuff, not the artificial vanilla extract
Pecans - you'll want to chop these up really well and I always recommend roasting before hand for maximum flavour. It's important that they are chopped fine to allow the cookie dough to come together. I like to use my food processor to get them fine enough and then leave them In there and make the dough right in the food processor. These can also be made with walnuts, hazelnuts or almonds too.
Almond Flour -I used Bob's Red Mill Super fine almond flour. It's my favourite Almond Flour to use. These will work with blanched Almond Flour or unblanched. Almond Flour cannot be substituted in this recipe - see recipe notes below.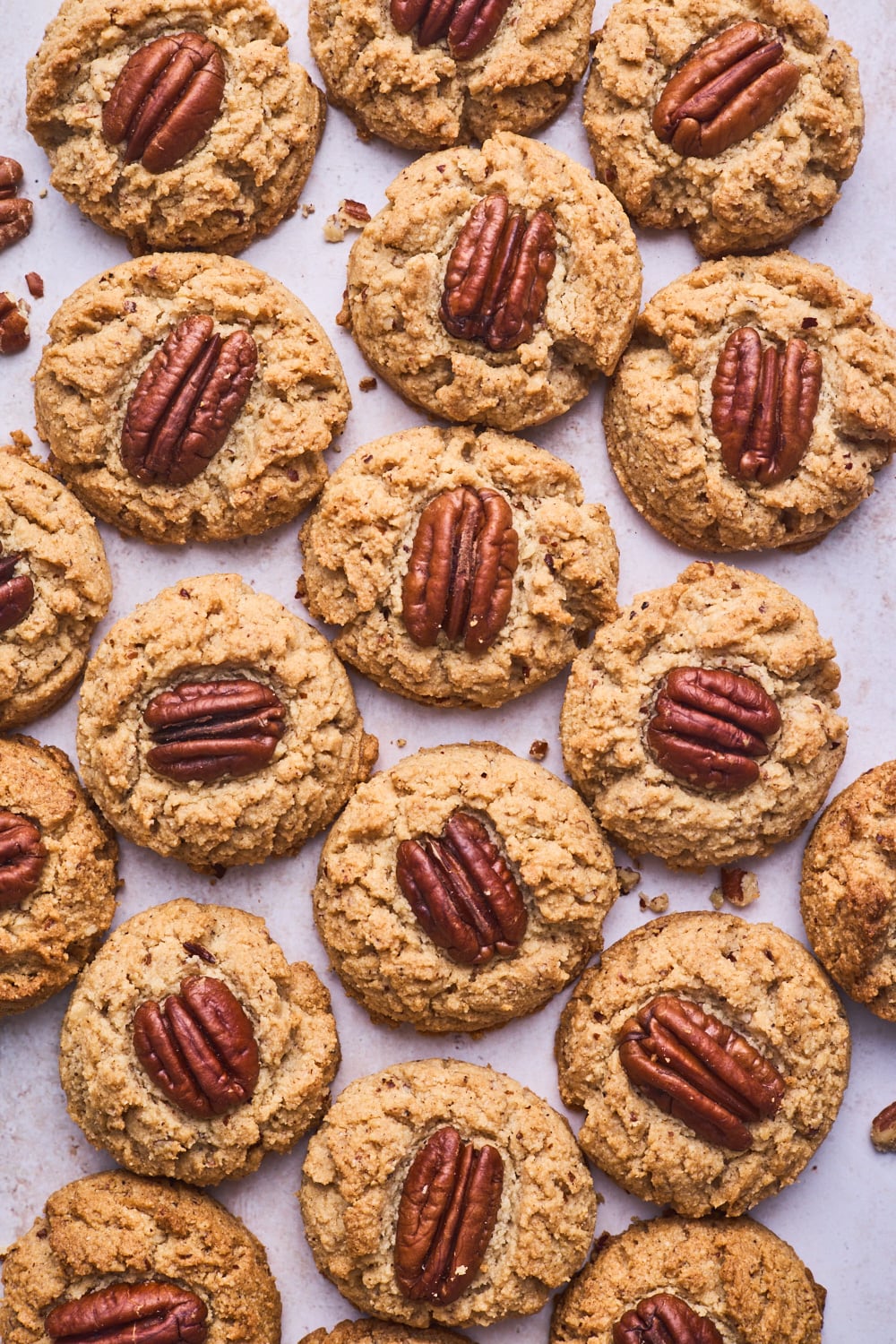 How to make pecan sandies?
A few simple steps involved in making these delicious pecan Sandies
Brown the butter - this is optional but adds delicious flavour. Once it's browned allow it to come to room temperature before using it in the recipe.
Chop your toasted and cooled pecans fine - I like to use my food processor
Add the dry ingredients to the chopped pecans in the food processor and pulse to combine
Add the wet ingredients to food processor and pulse to combine and form a soft dough
Scoop out dough onto lined baking sheet
Press pecan onto the top of each cookie
Bake until golden, cool and enjoy!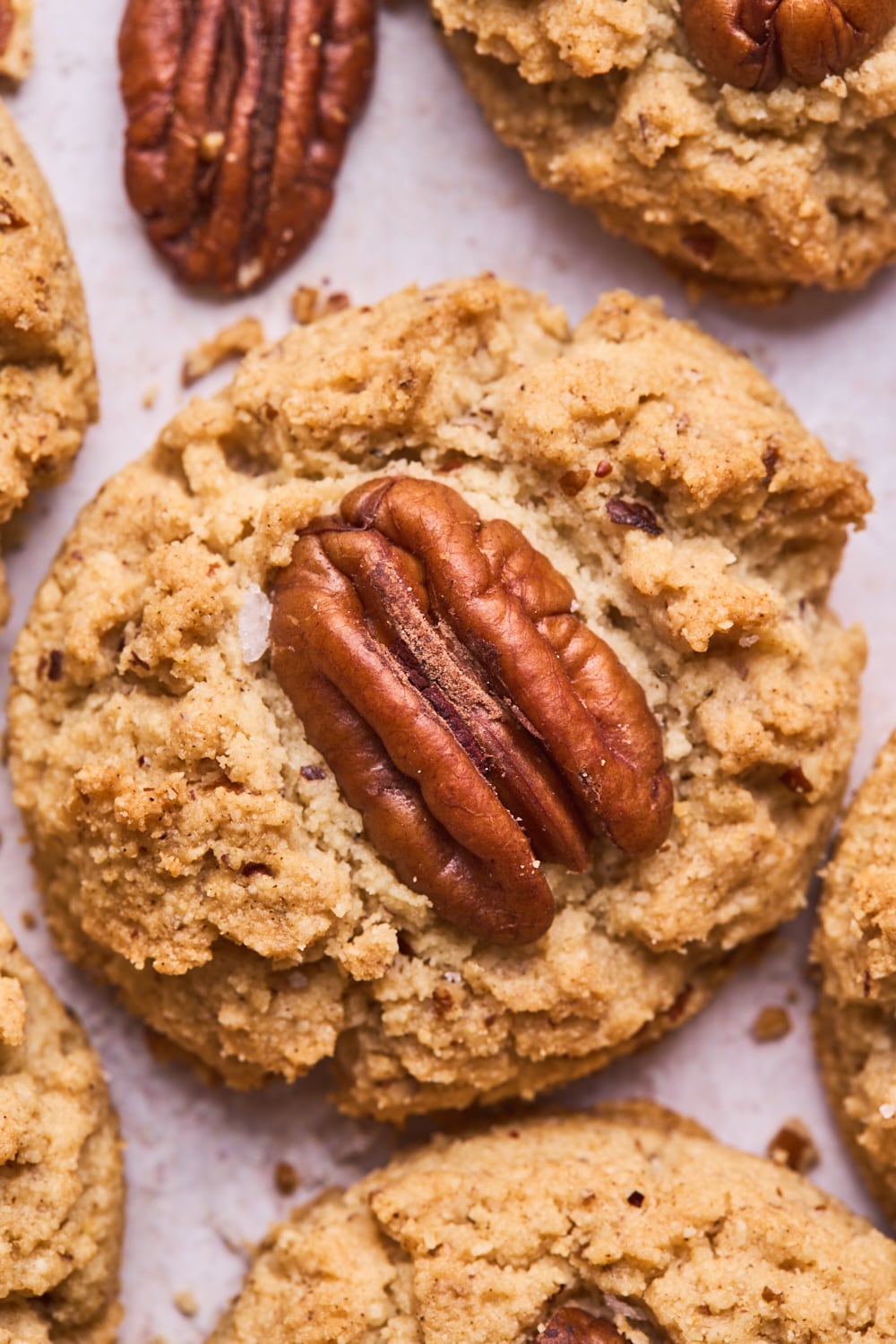 Tips for making delicious pecan sandies every-time:
Don't try and cut corners and not toast the pecans. Toasting the pecans adds so much flavour to these cookies.
It's your choice on the sweetener - I love using maple syrup but you could use honey for a 1-1 substitute for it or replace the maple syrup with ½ cup of powdered sugar
Don't try to make these with any other flour unless it's a ground nut flour like hazelnut flour
Make sure the pecans are chopped very fine
Don't over bake - as soon as you see the edges just start to get golden they are done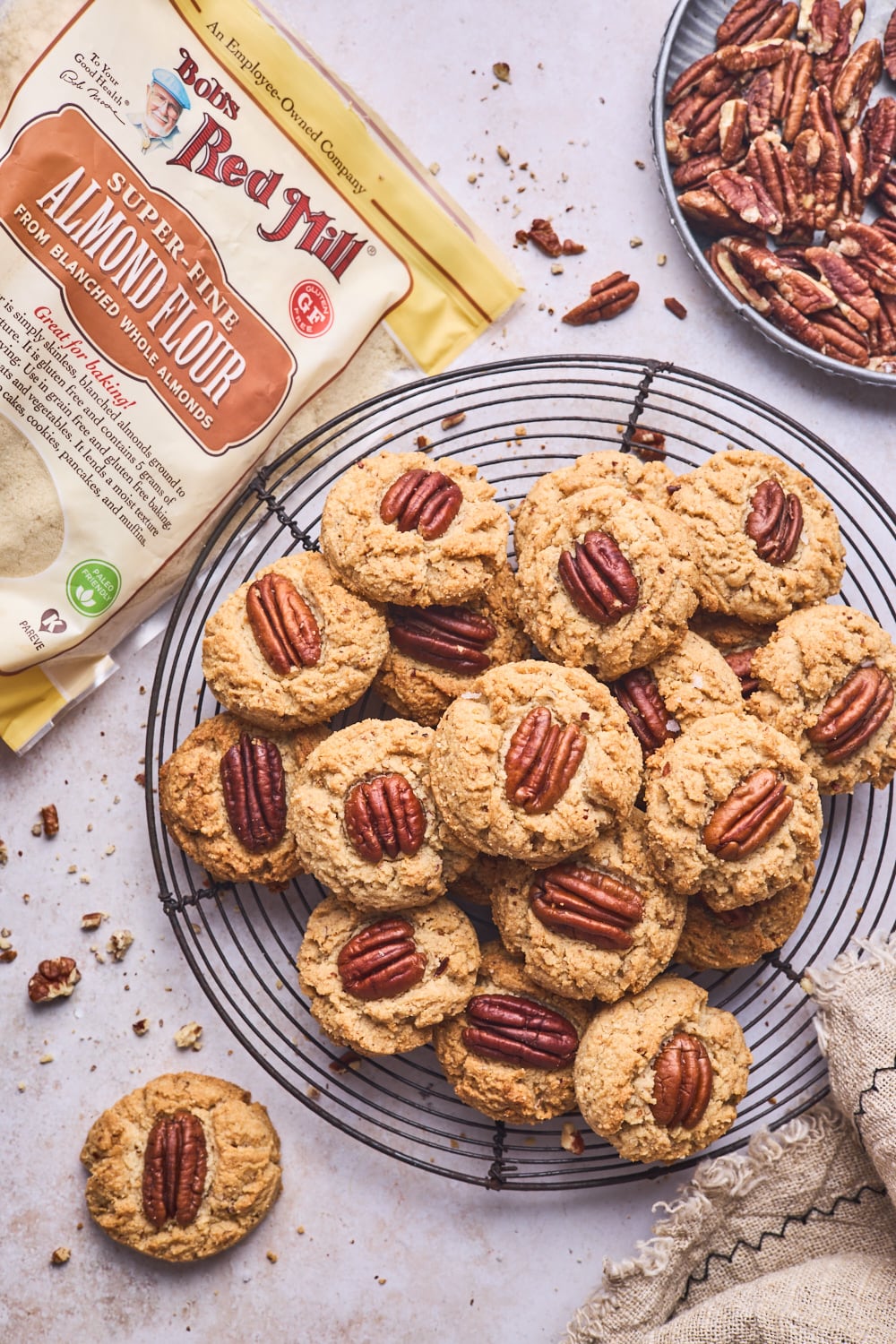 More cookies and other treats you will love:
Recipe
Prep Time: 10-15 mins
Bake Time: 10-12 mins
Ingredients
2 cups almond flour - I used Bob's Red Mill Super fine almond flour

½ cup (1 stick) unsalted butter *

½ cup finely chopped pecans (lightly toasted)

¼ cup maple syrup or honey *

½ teaspoon salt

½ teaspoon baking powder

2 teaspoons vanilla extract

15 whole Pecan halves for topping cookies
Directions
For the brown butter (optional -butter can simply be melted too):
Place butter in a stainless steel or light coloured shallow pan. Don't use a dark cast iron skillet because you won't be able to see when the butter has browned.
Heat the pan over medium high heat and stir the butter until it is light brown and smells a little like hazelnuts. It's important to watch it closely or it will burn, but browning the butter is what makes the dough so delicious. Allow the butter to cool to room temperature before using it in this recipe.
For the cookies:
Preheat your oven to 350°F and line a cookie sheet or baking sheet with parchment paper.
Place the cooled roasted pecans in the food processor, pulse a few times until they are finely chopped.
Add all dry ingredients in food processor and pulse a few times to combine.
Add the wet ingredients to the food processor and pulse until it forms a soft dough that can easily form into a ball.
Scoop out the cookie dough in 1 tablespoon increments, and place right onto baking sheet (for a smoother less craggily cookie you roll each one into a ball first then place on baking sheet)
Press the whole pecans onto top of the cookies.
Bake at 350°F for 10 - 12 minutes or until cookies just begin to brown. Remove from the oven and allow to cool on the baking sheet at least 10 minutes before transferring to a wire rack to cool completely.
Cookies stay fresh in an airtight container up to 1 week. Baked cookies may be frozen, up to 3 months
Recipe Notes
If you do not want to use maple syrup or honey you can use ½ cup of powdered sugar in its place
If you do not want to brown the butter that is fine - just add softened butter or melt it and allow to cool to room temperature.
For vegan version just use vegan butter or margarine
If you do not have a food processor simply use a bowl and wooden spoon to mix the ingredients into a soft dough adding them in the same order as noted on the recipe
Storage
Counter. If you plan on devouring these within a few days, you can store them on the counter in an airtight container.
Refrigerator. Store them in an airtight container or a ziploc bag. They will stay fresher longer if you store in the refrigerator.
Freezer. Fill up a ziploc bag of pecan sandies to store them for another time. Best eaten within 3-4 months, cookies can develop frost on them and that doesn't taste good.
Can I make this cookie recipe with gluten-free all purpose flour?All purpose flour absorbs liquid differently than almond flour and unfortunately cannot be used as a substitute in this recipe. The cookies, would be really, really dry.
Cookie dough balls: if you want a smooth texture/finish on the cookies, gently roll the dough into balls with your hands and place on the baking sheet.