Apple Cheddar Galette
Galettes are impressive yet a surprisingly easy homemade dessert to make for your guests any time of year. This buttery cheddar cheese pie crust and sweet cinnamon apple filling make a show stopping dessert. The cheddar pie crust is extra flaky and each slice is mostly sweet, a little savory, and perfectly satisfying. If you're craving an upgrade to traditional apple galette, this recipe is definitely it! Today's recipe celebrates an amazing cookbook that just hit the shelves not too long ago. This recipe comes directly from Pie All The Time pg's 25 and 56 with the permission of the talented author Taylor Harbin creator of All Purpose Flour Child. A dynamite recipe from a dynamite book!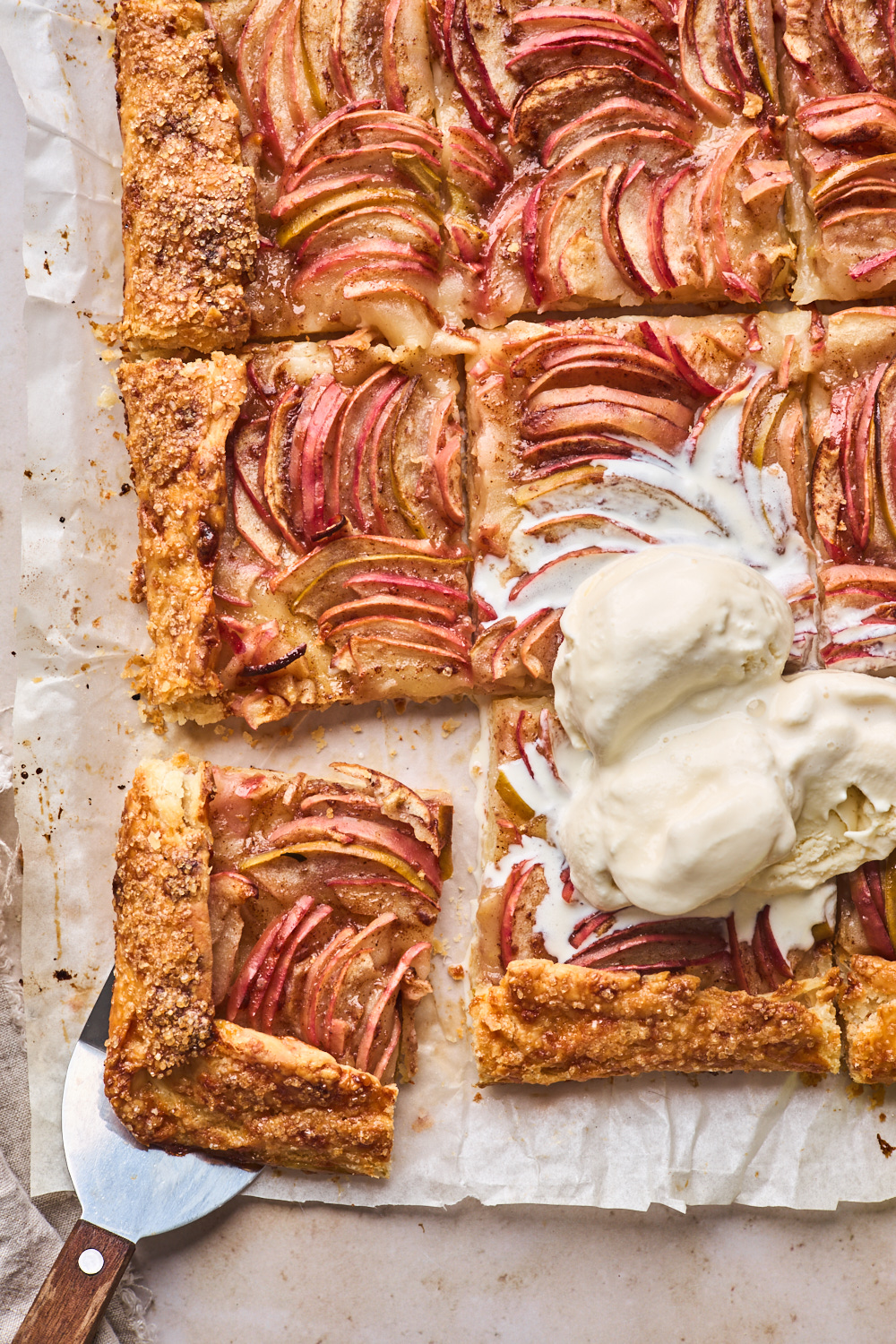 In her book Pie all The Time, Taylor shares recipes that are both exciting and approachable, each with a stunning image. I'm drooling over everything and want to make literally every pie in the book. I chose this apple cheddar galette because I'm a huge fan savoury and sweet and I know this would be a hit with my hubby too - and I was right - he loved it!! I have been an insta friend of Taylor's for a while now and when I heard about her book I knew right away it would be an amazing one. I don't know her well but I could tell from her blog and my interactions with her on insta that she was dedicated and a great baker - both essentials when making a great pie cookbook.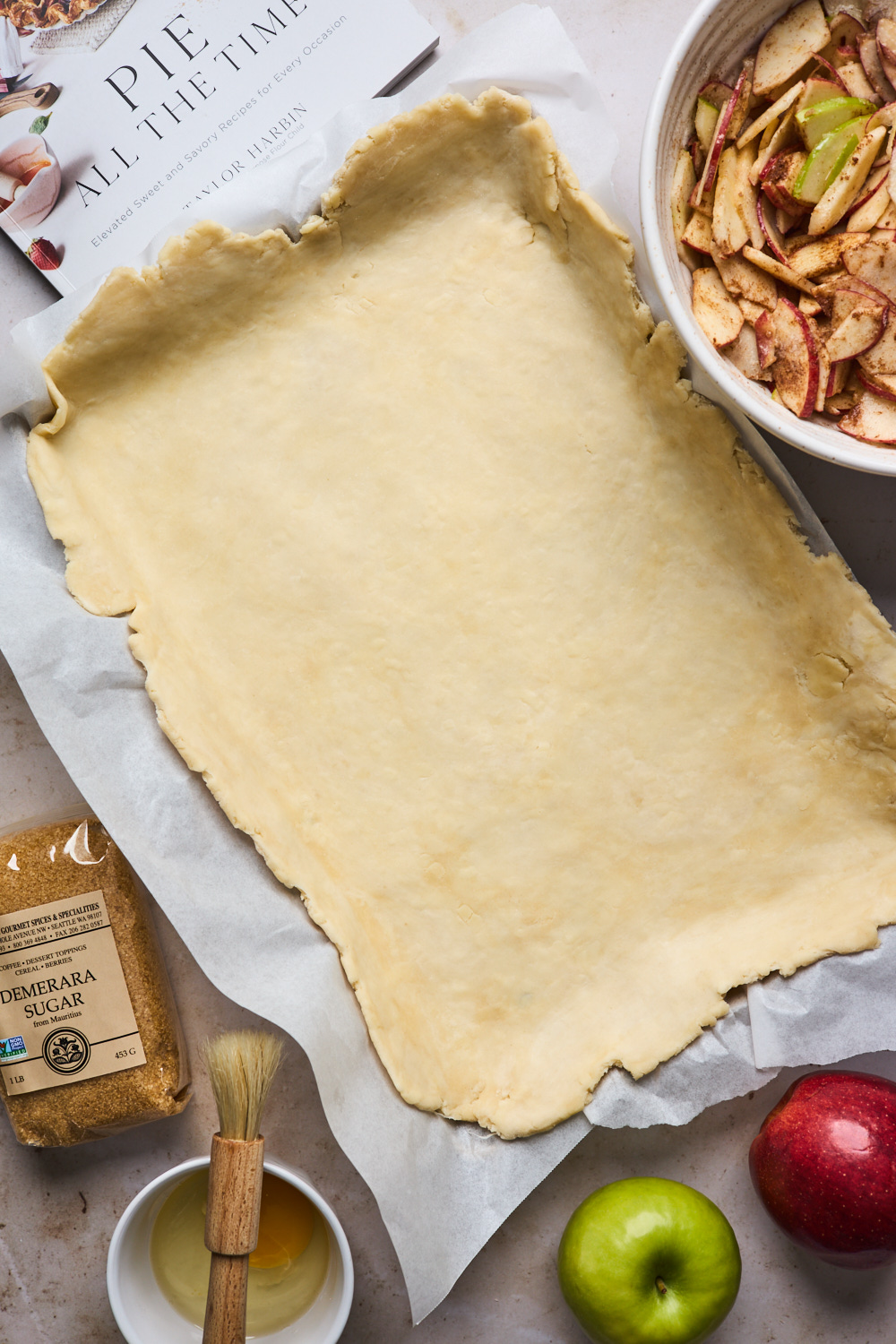 There is so much to say but I will hit a few of the high points for me in this book. 1) her photos are excellent and the how to photos are exactly where you would want them to be and for what you would want them for. (Which makes this book a book for every kind of baker beginner to novice) 2) her recipes are clear and easy to follow and her directions are clear as well - they are concise and leave no room for questions - it's all covered. 3) it's very well written -I love a balance of anecdotes, history, personality and data - she hits them all just right. 4) there are so many creative pies in this book it's amazing. There is an excellent balance of pies, tarts and savoury pies as well. Yes she has her classics but she also has some unique ones in there too like her mocha coconut cream pie and her beef bourguignon skillet pie. It's divided mindfully and logically starting with the variety of doughs then it goes to the actual pies by season then custards curds and meringues, then savoury and smaller pies like hand pies. I love the last two sections so much - clever and practical. She has included a section for friends of pie - things to top your pie with or serve on the side of it, and also a section for what to do with those dough scraps - some super fun and creative ways to use them up. It's a great book and you must check it out!!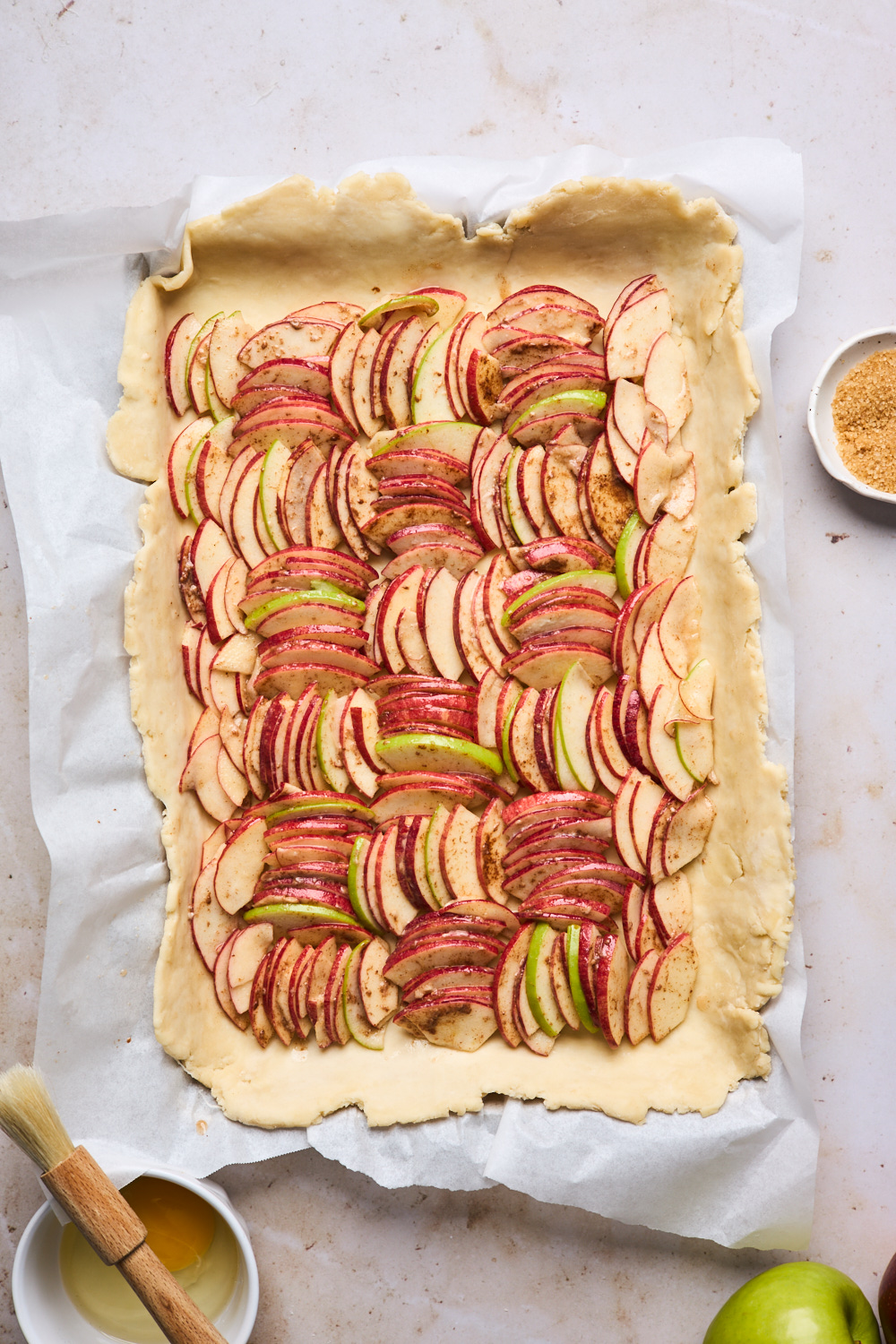 Cheddar and apple pie?
Why yes! Adding cheddar cheese to apple pie is nothing new or groundbreaking, but there's many who haven't heard of this dessert and/or are reluctant to try. Apparently it is a tradition prevalent in New England, and some parts of the midwest, to serve a slice of cheese, usually sharp cheddar, alongside a piece of apple pie, or even melted on top. Well as it turns out, the combination of cheese and apple pie is totally underrated! A little salty, a little sweet, a lot of deliciousness. It's good. Like "where has this been all my life?" good. If you haven't tried the combo, you must.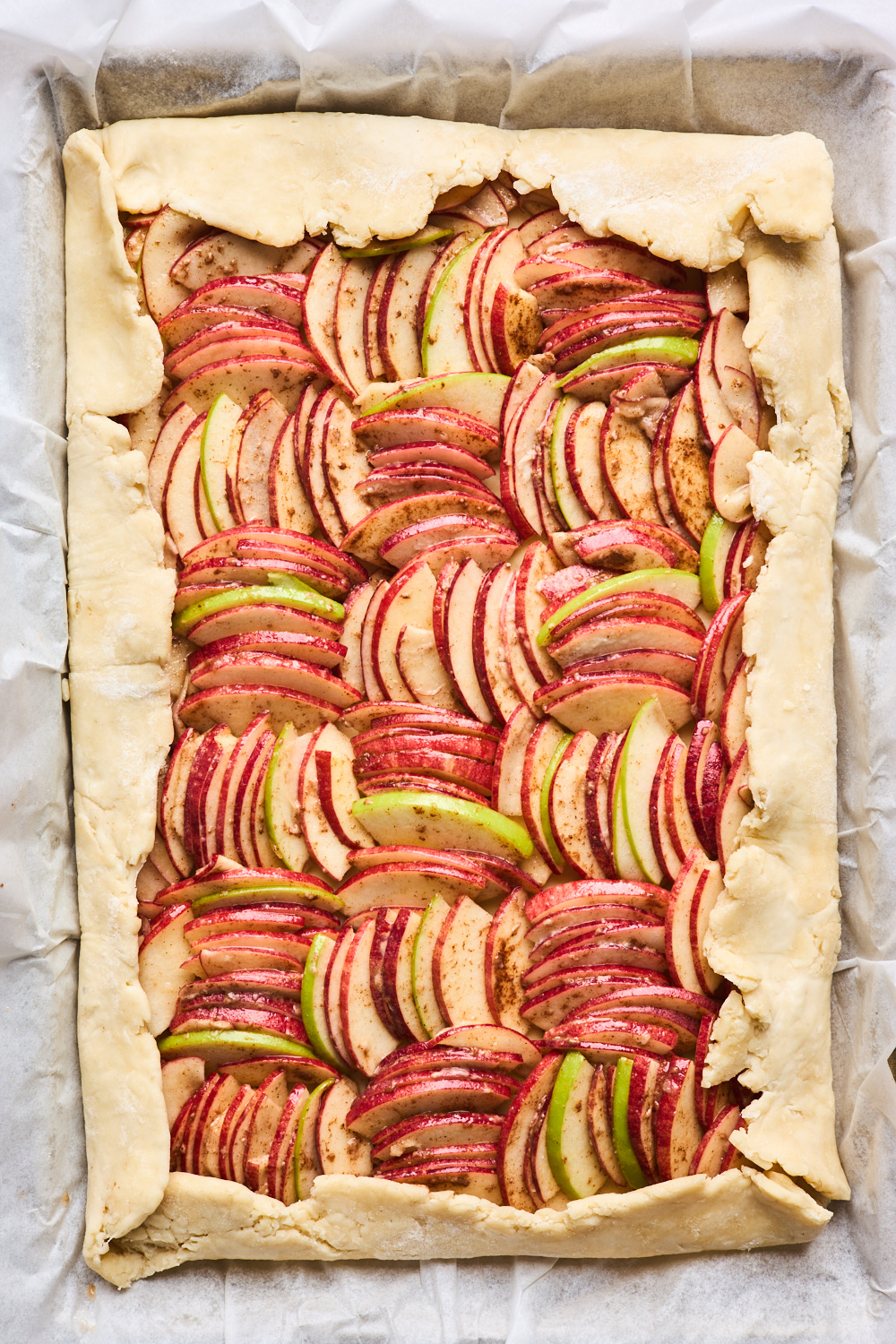 About the dough/crust and the filling
This time the cheddar isn't melted over top the pie or served over it (although by all means if you would like to serve it like that) - but instead it's in the pie dough. It's enough to know there's something something in this crust that gives it a savoury flavour yet not too savoury - and it's sooo crispy! No soggy bottom here and it bakes evenly and deliciously too! The filling is simple and the flavours are delicious and well balanced - not overly sweet or too tart just the right amount of both. Taylor definitely knows where it's at!!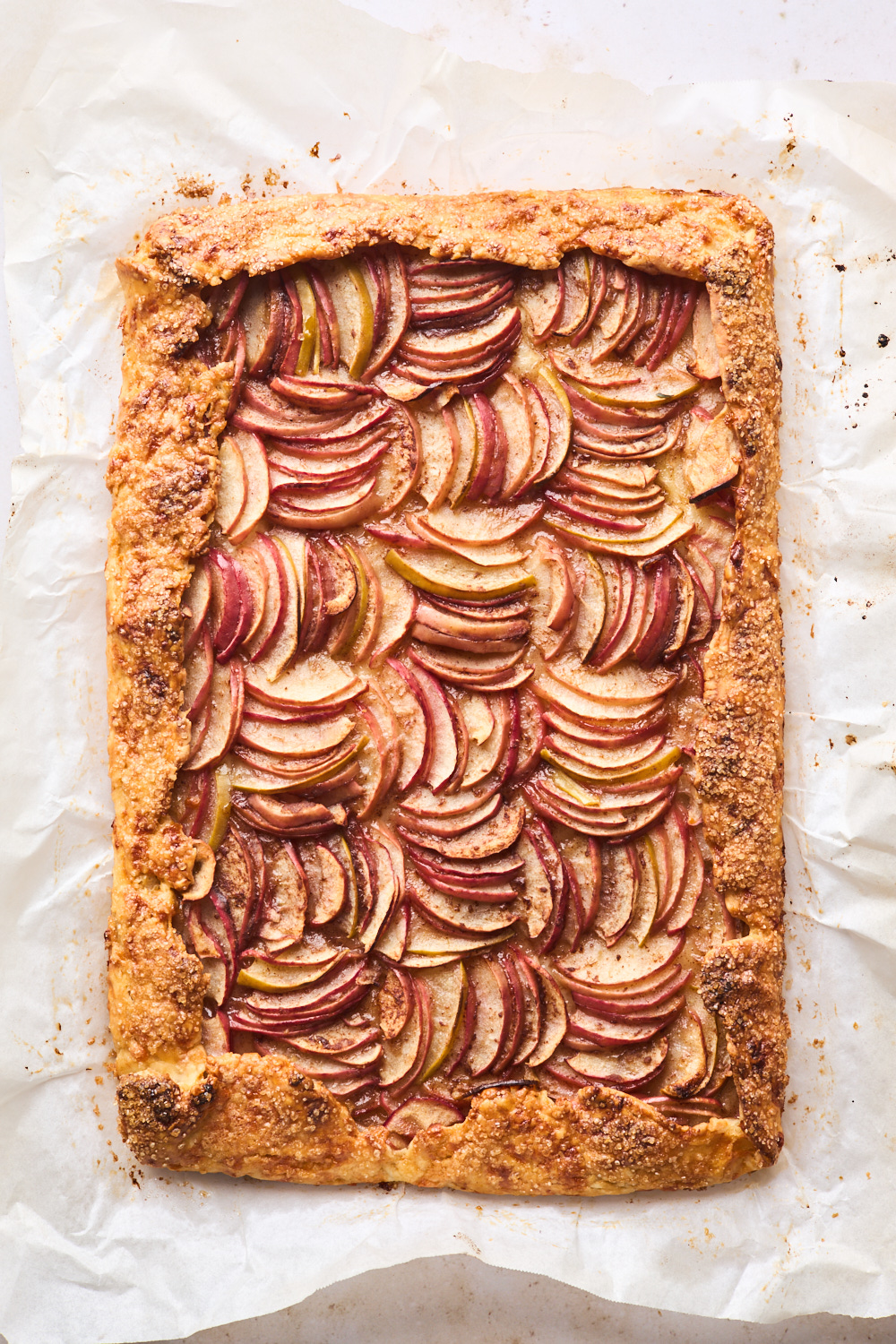 Apple cheddar galette key ingredients:
Flour: The structure of pie crust. All purpose flour for this recipe.
Butter: Supplies the pie crust's unbeatable flavor and flaky texture. Use unsalted butter. The amount of salt in different brands' salted butter varies, so for better control over the flavor, it's best to begin with unsalted and add your salt. Make sure it's chilled - or I freeze mine then I grate it and chill the grated butter after too.
Apple cider vinegar - helps create flavours layers - feel free to use regular white vinegar as a substitute
Ice water – holds all the ingredients together. Use just enough so the dough holds its shape when rolling out.
Salt – Flavor. Use table salt instead of coarse salt. Smaller salt crystals dissolve and disperse more evenly throughout the dough.
Apples: I always like to do a bit of a variation - I used gala and Granny Smith in this recipe (they are great for baking because they soften but maintain a bit of structure and don't become mushy) but feel free to use what you like or what you have on hand. I don't always peel my apples either. They are sliced so thin for a galette you can get away with it and it adds some interest to the layers too.
Cheese: extra sharp cheddar - I like to use white cheddar but yellow cheddar is fine too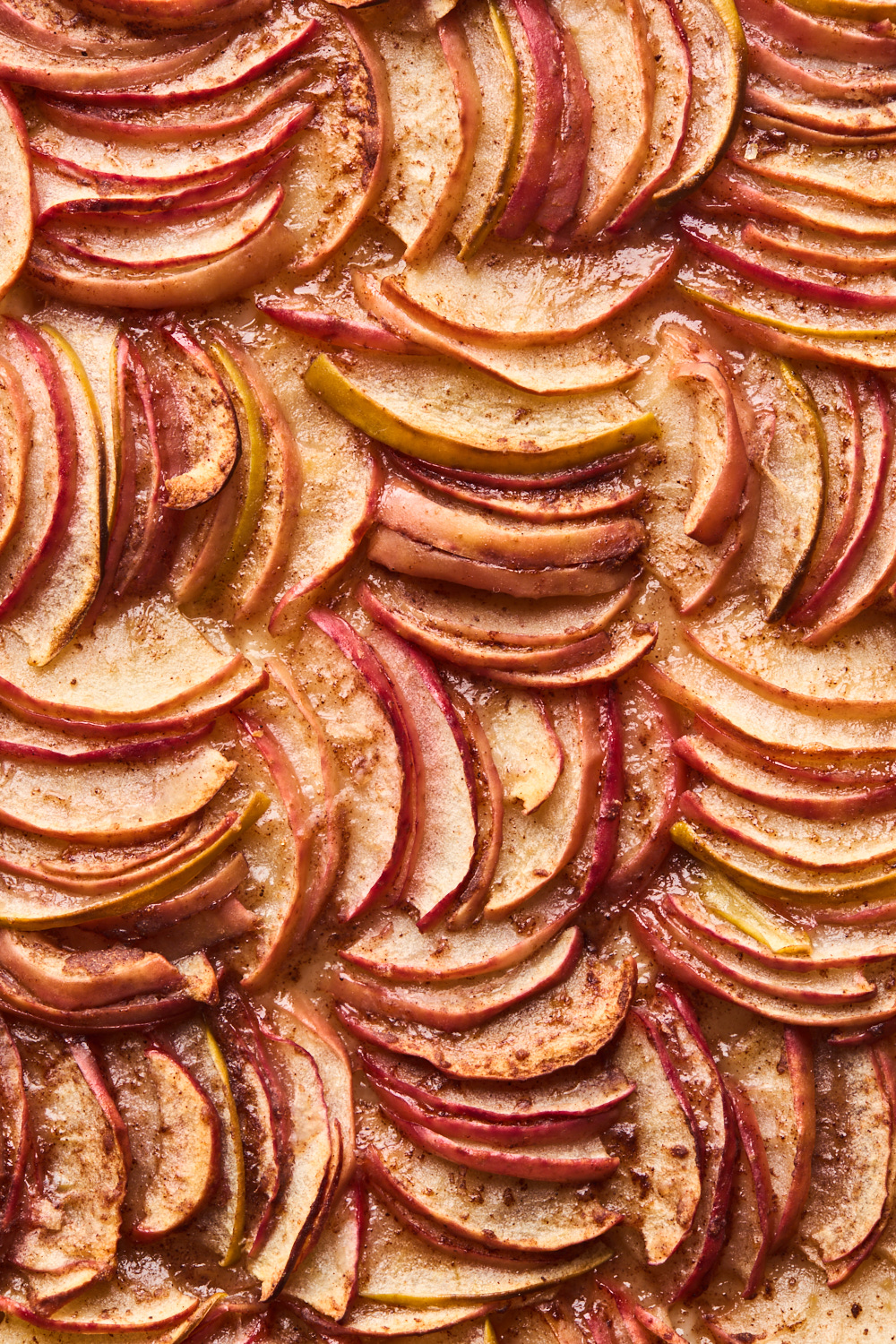 How to Roll Out Pie/Galette Dough
After you chill the galette dough, roll it out. Keep a small bowl of flour nearby to keep your work surface, rolling pin, and hands lightly floured, which helps prevent the pie dough from sticking. When rolling pie dough out, always start from the center and work your way out in all directions, turning the dough as you go. If the pie dough feels too warm or the butter is melting, stop. Lift it up, place on a baking sheet, and chill in the refrigerator for at least 10 minutes before continuing.
How do you store a galette?
You'll want to keep the galette at room temperature on the day it is baked. Wrap leftovers in plastic wrap or foil and place in fridge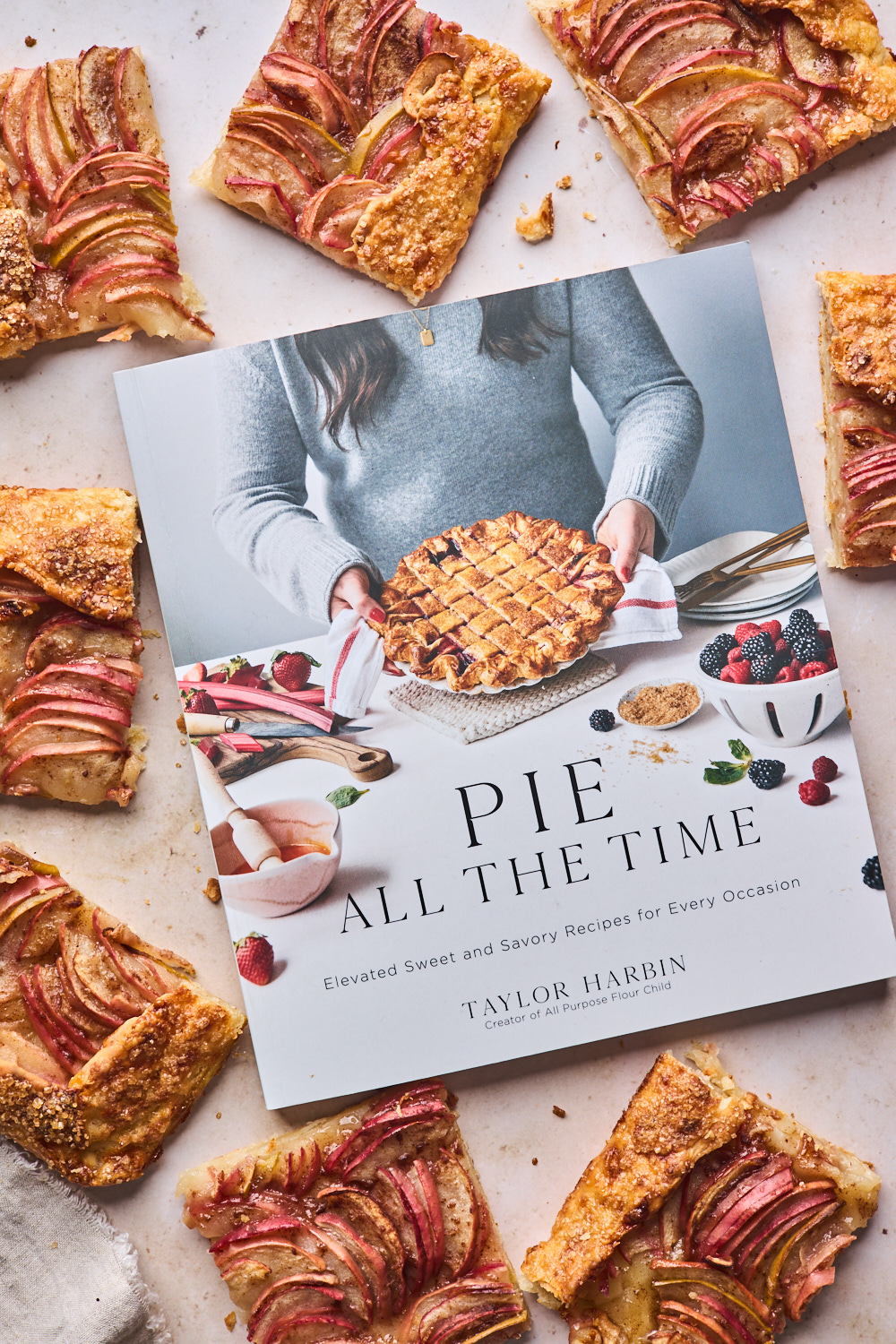 For more tasty pies & galette check these out:
This recipe comes directly from Pie All The Time pg's 25 and 56 with the permission of the author Taylor Harbin creator of All Purpose Flour Child
Recipe
Prep Time: 40-50 mins
Bake Time: 45-50 mins
Non Active Time: 2½ hours to overnight for chilling dough
Ingredients
For the cheddar dough:
1 tbsp (15 ml) apple cider vinegar

8-10 tbsp (120-150 ml) ice water, or more, divided

2½ cups (312 g) all-purpose flour

½ tsp salt

½ cup (113 g) unsalted butter, cold and cut into

½-inch (1,3-cm) cubes

6 oz (170 g) extra sharp cheddar cheese, grated
For the apples:
1½ lbs (681 g) apples, about 4-5, peeled, cored and thinly sliced (I like a mix of Gala and GrannySmith - and I didn't peel mine for the photos)

1 tsp freshly squeezed lemon juice

3 tbsp (23 g) all-purpose flour

½ cup (100 g) granulated sugar, or more or less,depending on the sweetness of the apples

1 tsp ground cinnamon

Big pinch of sea salt
For Finishing:
1 egg, lightly beaten

Demerara sugar for sprinkling
Directions
For the dough:
I'm a small bowl mix vinegar and 8 tablespoons (120 ml) of the ice water, and set it aside.
In a large bowl, combine the flour and salt. Add the butter pieces, and toss to coat them in the flour mixture. Using your hands, pinch the pieces of butter between your thumbs and pointer fingers to flatten them into thin shards. Continue until all the butter has been flattened, working quickly to prevent the butter from getting too warm. Add the cheese, and toss to thoroughly coat it in the flour. (I grated the butter this time - either or works)
Drizzle the vinegar mixture over the flour mixture, and toss the mixture with your hands to incorporate the ingredients. Drizzle over the last 1 to 2 tablespoons (15 to 30 ml) of ice water as needed, a little at a time, just until the dough comes together and is no longer dry and crumbly. You may not need all of the remaining 2 tablespoons (30 ml), depending on the humidity of the day, or you may need even a bit more. You want to add just enough water for the dough to feel crumbly, but not so much that it's soft, wet and sticky to the touch.
Pat the dough into rectangle, wrap it tightly in plastic wrap and chill it in the fridge for at least 2 hours or, ideally, overnight. Allow the dough to sit at room temperature for a few minutes to soften slightly before rolling it out.
For the apples:
Once ready to make galette in a large bowl, toss the apples with the lemon juice to coat them, then add the flour, granulated sugar,cinnamon and salt and toss to coat. Set aside while you prepare the dough.
Assembly
Line a rimmed baking sheet with parchment paper. On a well-floured surface, roll the dough out into a ¼- to ⅛-inch (6- to 3-mm) thick rectangle, about 14 x 16 inches (36 × 41 cm).
Transfer the dough to the prepared baking sheet. Spread the apples in an even layer over the dough, leaving a 2-inch (5-cm) border around all sides.
Fold up the sides of the dough over the apples and gently press it into place. Freeze the galette for 30 minutes.
Preheat the oven to 400°F (204°C). Brush the dough with the beaten egg and sprinkle it with the demerara sugar.
Bake the galette for 45 to 50 minutes, until the crust is very deep golden brown and the filling is bubbling and thick. Cover the top of the galette with foil, if necessary, if the dough is browning in places too quickly. Cool the galette slightly before serving it.
Recipe Notes
This recipe Yields 1 (10 x 12-inch [25 x30-cm]) galette (Dough makes enough for 1 large galette, a recipe of hand pies or a double-crust pie)