Beef Shawarma
Updated 4th December 2023
This Beef Shawarma recipe is made with tender juicy sliced beef that is marinated with the most aromatic shawarma spices then seared to perfection in a skillet stove top and served in pita wrap with veggies and tahini sauce — It's always a favorite! Shawarma is a close relative to Greek gyros and Turkish döner kebab. Its a popular street food especially in the Middle East. This easy version is made with flank steak, wrapped in pita bread with vegetables & tahini sauce and garlic sauce too - a delicious mouthful of flavours and textures. Traditionally its prepared on a vertical rotisserie but this very simplified version of beef shawarma is surprisingly really easy to make at home with very minimal ingredients and effort. This Beef Shawarma recipe will leave you completely satisfied, whether you serve it plain, as a wrap, salad or bowl, because the flavors are so extraordinary.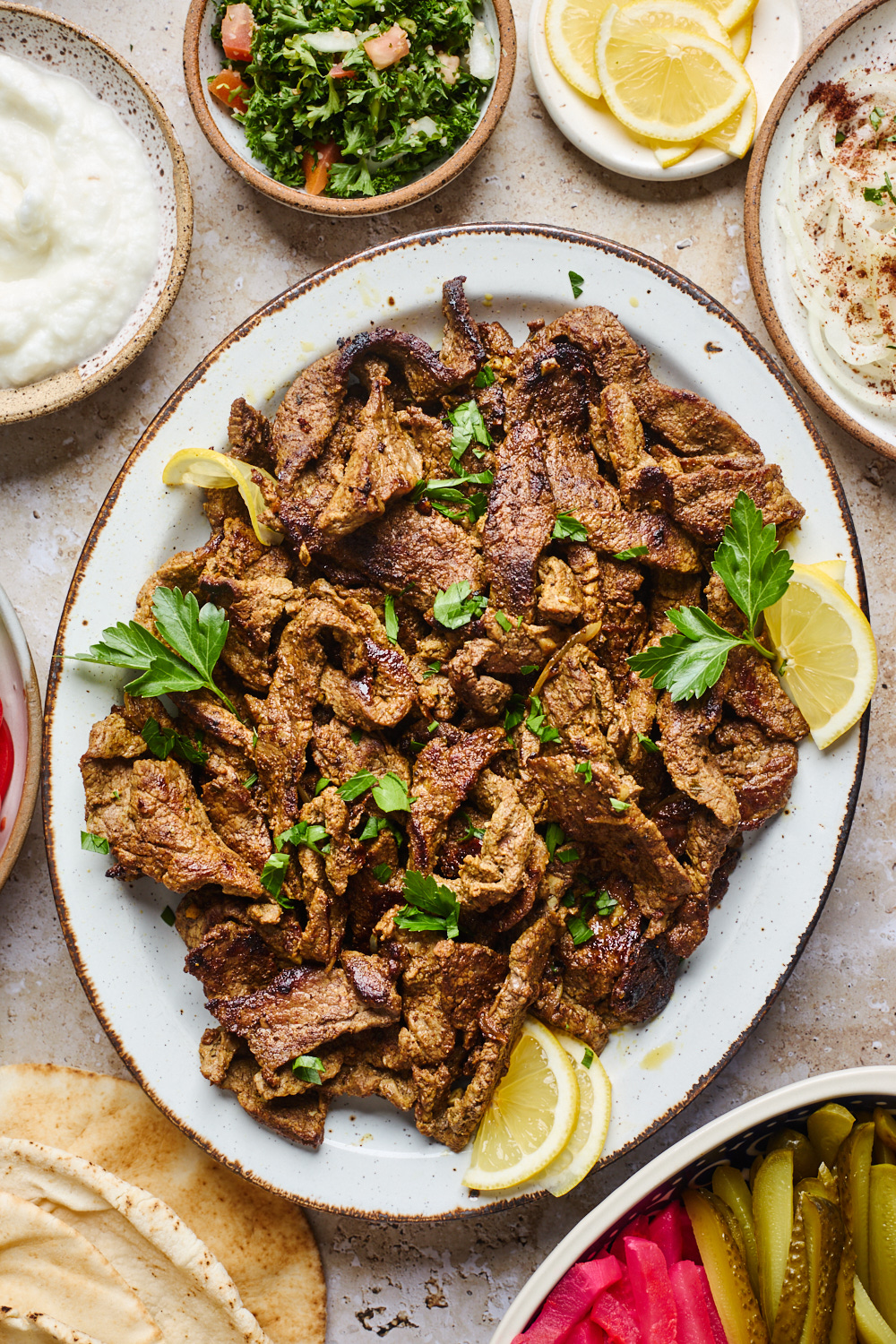 Why you will love this Beef Shawarma recipe
Easy - not only is it easy to prepare it is also easy to cook and enjoy at home
Flavour - you will love the deliciously marinated spiced beef
Make ahead - marinating the beef ahead of time means when it comes down to cooking it - it takes no time at all. Marinated meat also freezes well to
Family friendly + Great for entertaining - You can prep all of the wrap or salad ingredients ahead of time then just cook the meat while your guests enjoy some appetizers or drinks then everyone can assemble their own Shawarma Wraps or bowls.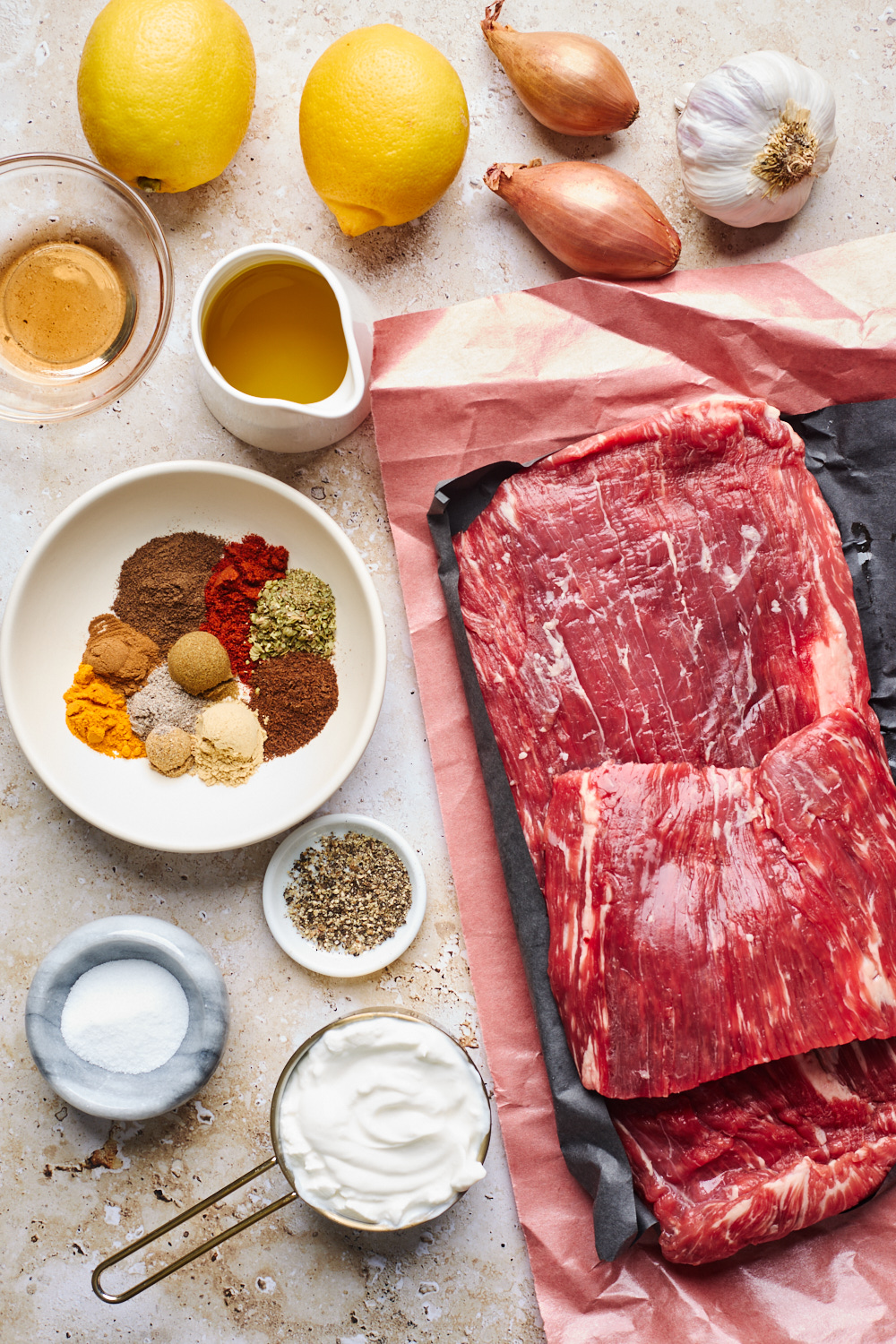 What Is Shawarma?
Shawarma is a Middle Eastern style of street food and cooking that involves stacked, spice-marinated meats – lamb, turkey, chicken, beef, or a mix of meat – that is cooked on a slowly-rotating, vertical spit in front of a rotisserie for hours. The caramelized outer layer of meat is shaved off and served over rice or in a flatbread sandwich along with lettuce, tomatoes, red onions, cucumber, pickled veggies and either tahini, hummus or garlic sauce or garlic yogurt sauce. Even though we don't all own a rotisserie, we can still make this beef Shawarma-style recipe at home. To replicate this favorite, I've marinated sliced beef in the same aromatic warm shawarma spices, then cooked stove top. The result is juicy flavourful beef that can be served in wraps, rice bowls, in salads or sandwiches. No matter how you serve it, you will love this new easy favorite.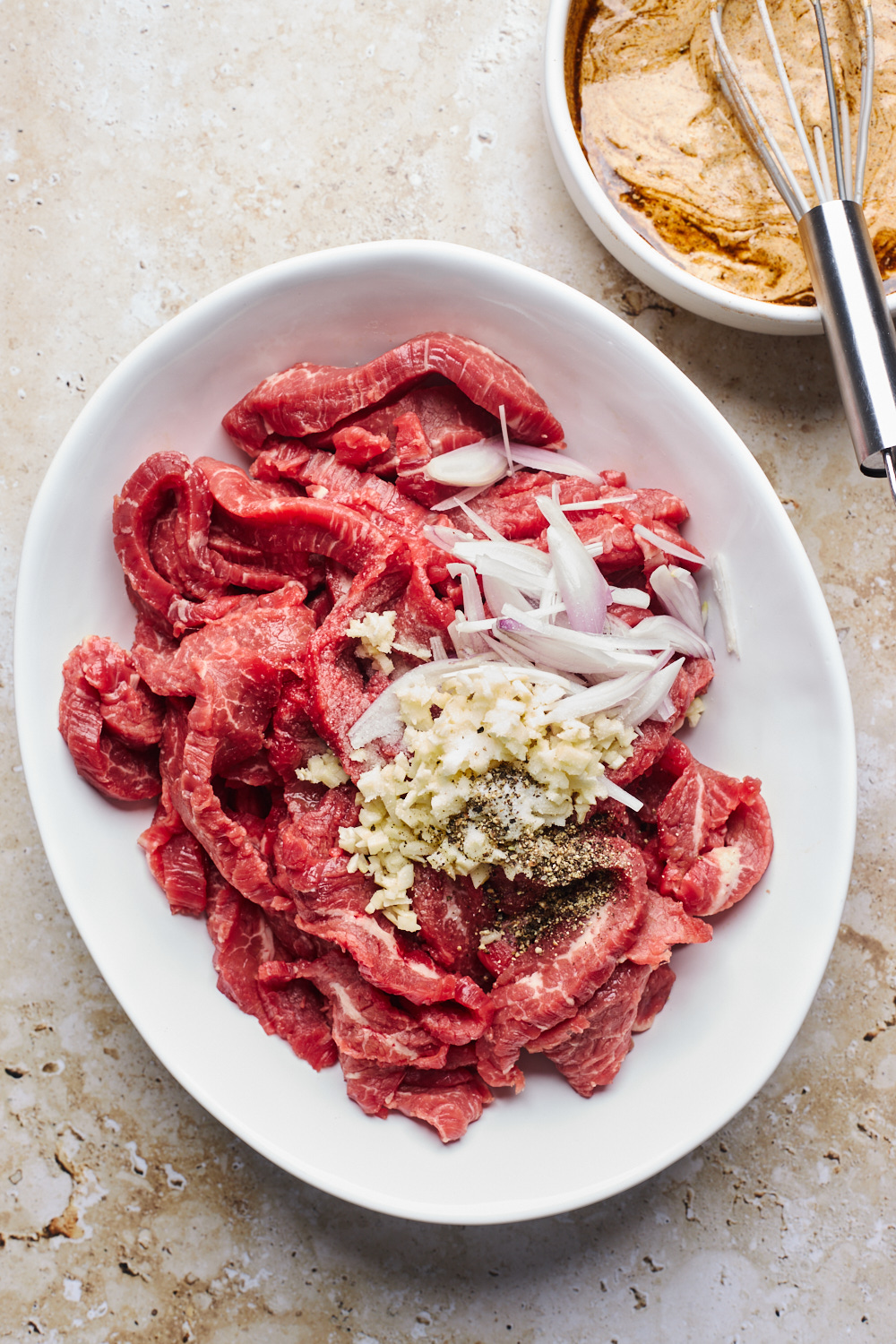 What's the difference between a Gyro and Shawarma?
The two may look the same but there are some differences. Both shawarma and gyros are popular street foods consisting of a marinated stacked sliced meats that are roasted on a rotating spit then thinly shaved off to order. The spices, seasonings and what they are served with differ. The Greek gyro is primarily seasoned with a blend of lemon juice, or red wine vinegar, oregano and garlic with a few additional herbs for a strong, bright lemony/oregano flavor. Shawarma is seasoned with a variety of spices like cumin, cardamom, turmeric, cinnamon and cloves to create a warm, earthy, smoky warm flavor. Now about how they are served: both can be garnished with lettuce, onions and tomatoes, Greek gyros are always finished off with tzatziki – and often stuffed with some French fries too and crumbled feta if you like. Shawarma Wraps or a beef shawarma sandwich are finished with a garlic sauce or garlic yogurt sauce but without the cucumber or herbs, but can also be finished with hummus, or tahini.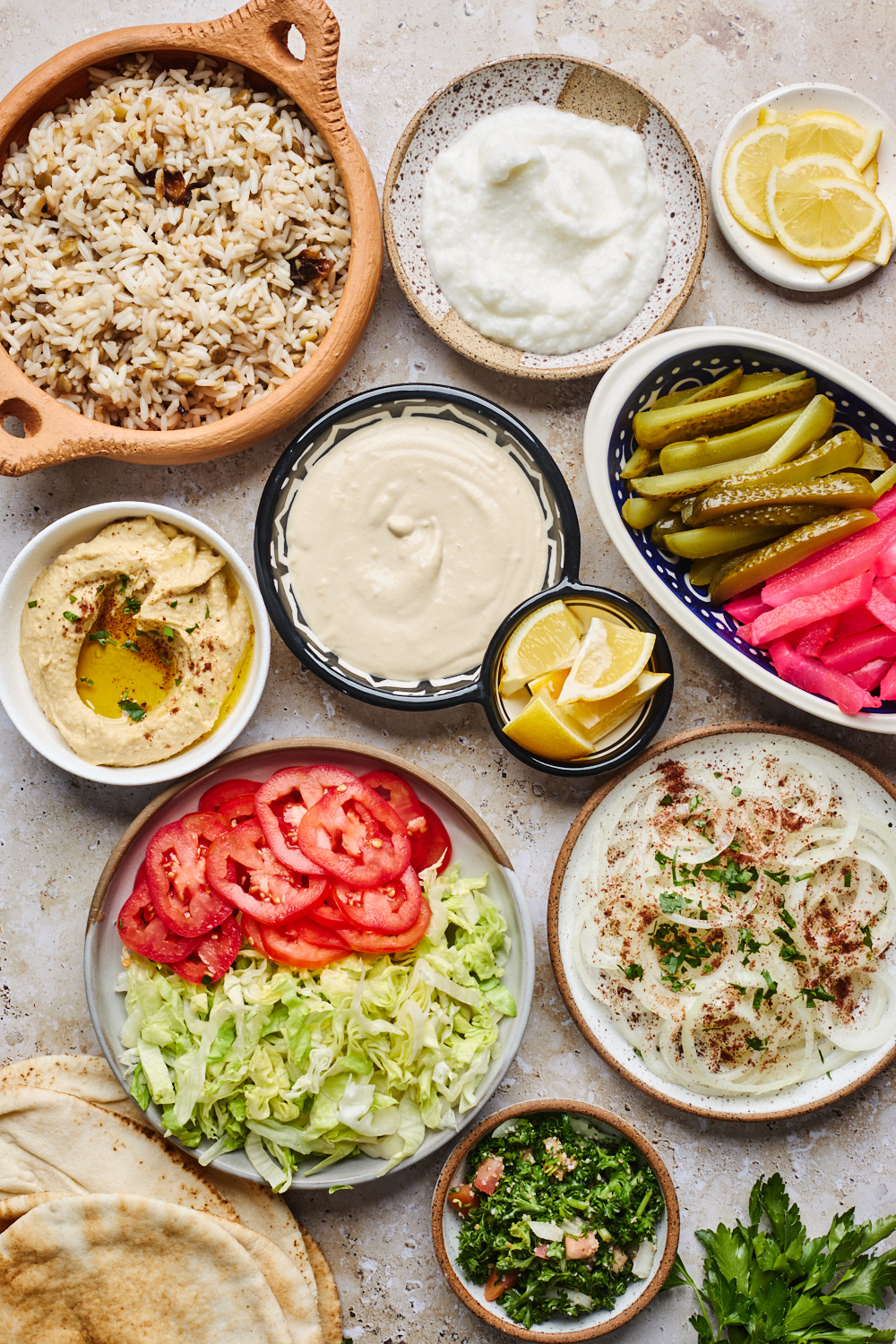 Beef Shawarma ingredients
__BEEF:__I used flank but more options below for different cuts of beef to use. You can use chicken instead for a chicken shawarma version but keep in mind the cooking time will differ
MARINADE: Olive oil, lemon juice, red wine vinegar, yogurt, onion and garlic - to flavour and tenderize the beef
SEASONING: Feel free to use store-bought or use the homemade blend below. Its a long list of spices but if you don't have all of them don't sweat it - stick to the 6-7 main ones being: Cumin, Coriander, Cardamom, Smoked paprika, Cinnamon and cloves or allspice - and your blend will still be delicious.
PITA BREAD: Feel free to use store bought or homemade
SAUCES: feel free to use store-bought or homemade sauces like tahini, garlic sauce or hummus. I have included the home made recipes I use for my tahini and garlic sauce below - they are optional.
VEGETABLES: lettuce, tomatoes, onions, pickles, pickled turnips are all good options - you can include all or just your favourites.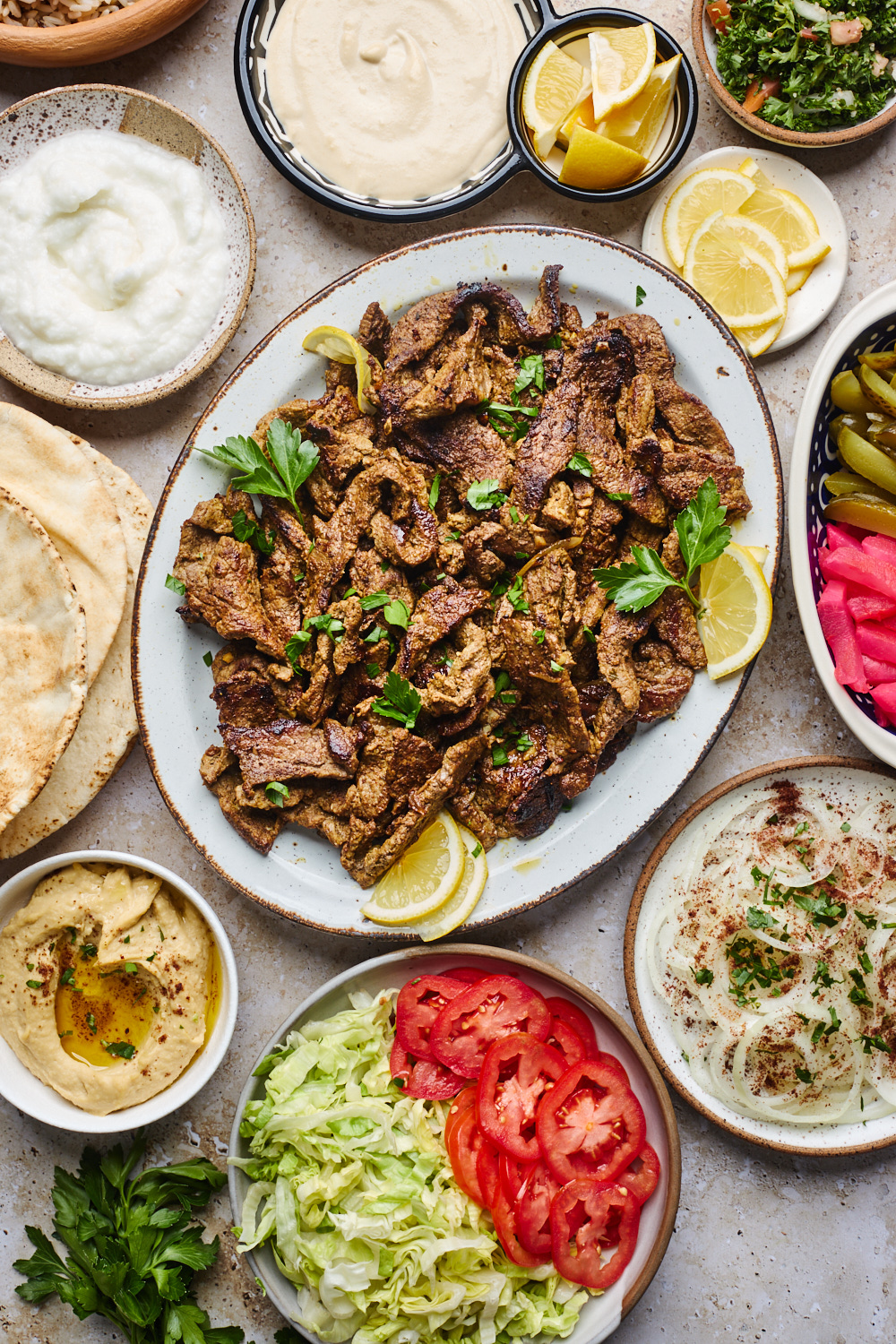 What cut of beef is best for beef shawarma?
You can make shawarma with any beef cut if you slice it thin. The most common cut to use for shawarma is either flank steak or skirt steak. I usually use flank but its up to you. All you need to do is cut the beef into relatively slender strips, cutting against the grain. Sirloin steak can also be used as its a good marinating cut. You could also definitely use ribeye as well if it's in your budget.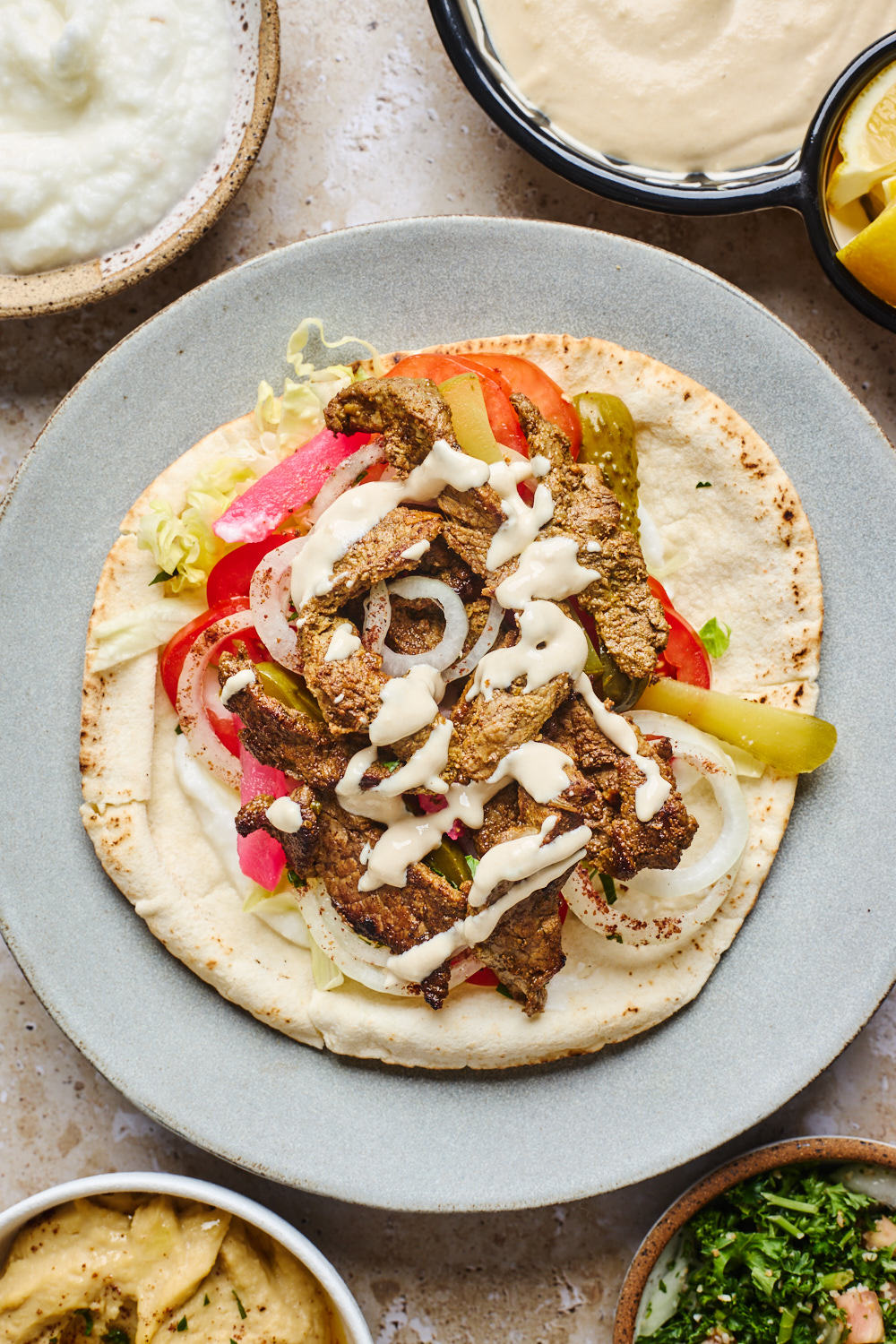 How to make homemade Beef Shawarma
There are just a few simple steps to making delicious beef shawarma and here they are ( full directions in recipe below)
Prepare spices and marinade
Prepare beef and marinate - thinly slice and combine with spices and marinade. Marinate for 1-2 hours or overnight.
Prepare sauces and veggies
Cook the beef - sear the beef stove-top in a skillet until cooked through with caramelized edges
Serve - with your choice of sauces and veggies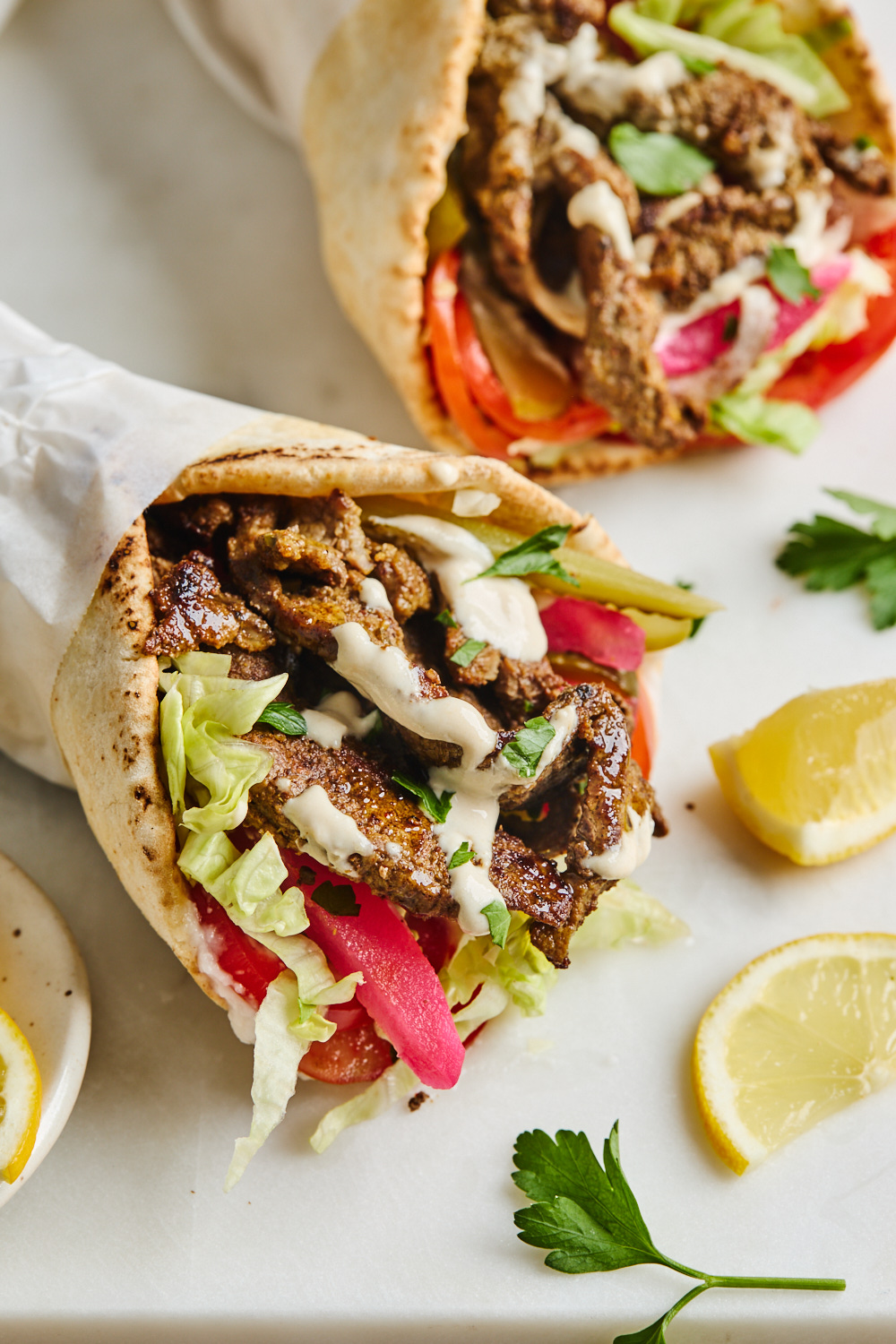 How to Serve Beef Shawarma
Beef shawarma can be served as a sandwich in pita bread wrap or plate style or in a shawarma bowl with tabbouleh, rice and salad along with a few dollops of the sauces you would like to serve it with.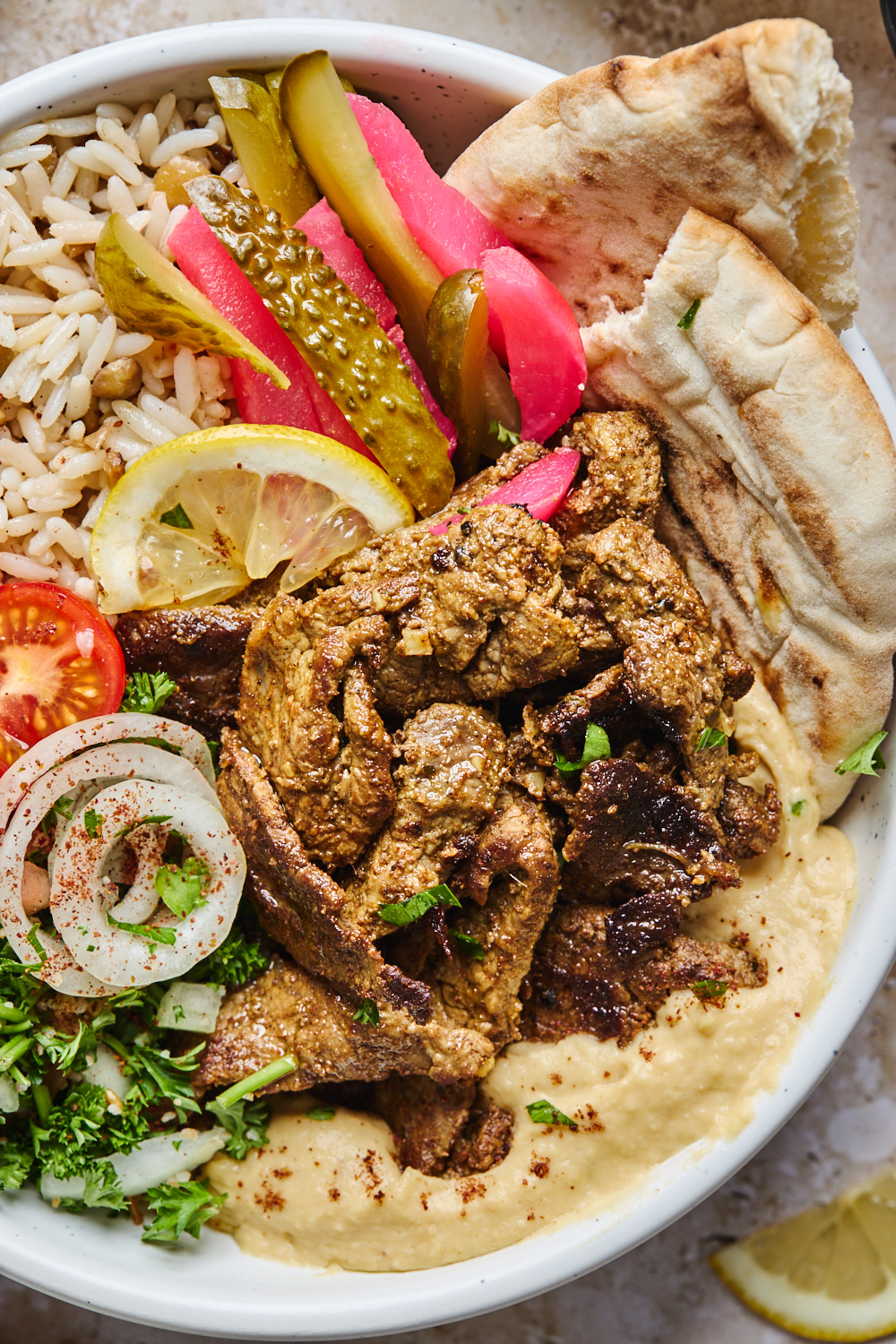 If you like this recipe you will love these:
Recipe
Prep Time: 10 mins
Cook Time: 10-15 mins
Non Active Time: 1-2 hours or overnight for marinating
Ingredients
For the marinade
2 lbs of flank steak

½ cup of plain or Greek yogurt, or plain yogurt

2 tablespoons freshly lemon juice

½ teaspoon ground black pepper

1 teaspoon salt

1 tablespoon olive oil + 1 tablespoon for cooking

1 tablespoon of red wine vinegar

4 garlic cloves, peeled and minced

1 small onion or shallot peeled and sliced
Shawarma spice mix / seasoning
½ teaspoon cumin, ground

½ teaspoon Allspice, ground

½ teaspoon paprika

½ teaspoon dried oregano

½ teaspoon clove, ground

½ teaspoon ginger, ground

¼ teaspoon turmeric, ground

¼ teaspoon cinnamon, ground

¼ teaspoon cardamom, ground

¼ teaspoon coriander, ground
Tahini Sauce (optional)
½ cup Tahini paste
⅓ cup fresh lemon juice
2 garlic cloves crushed
½ tsp salt
¼ cup cold water
Garlic sauce (toum)- Optional
1 cup garlic cloves peeled
2 teaspoons Kosher salt
3 cups neutral oil such as canola or safflower
½ cup lemon juice
For Serving
Pita

Sliced tomatoes

Sliced onions with sumac

Fresh Parsley

Iceberg lettuce

Sliced pickles

Pickled turnip
Directions
Prepare the Meat: Slice beef against the grain into thin strips, about 2-3 inches long.
Make marinade: in a small bowl whisk together the spices, yogurt, lemon juice, vinegar, and olive oil. Place sliced steak, garlic and onions in a bowl. Pour over the marinade and toss well to coat. Cover and let it sit in the fridge to marinate for 1-2 hours or overnight.
Cook Beef: Heat a large skillet or frying pan over medium high heat along with remaining tablespoon of olive oil. Add the beef strips to hot skillet and spread it out evenly so that as much of it is touching the hot surface as possible (you may have to cook beef in batches - I usually wipe out the pan and add an extra tablespoon of olive oil between batches) Cook for 8 to 15 minutes, flipping and tossing occasionally. It's done when the liquid's evaporated and the beef is browned and caramelized.
Assembling and Serving: Assemble the beef shawarma with pita, drizzle tahini sauce and vegetables of choice or make into shawarma bowls with veggies and hummus and tabbouleh and rice
Storage: Leftover beef shawarma can be stored store separately in the fridge in an air tight container. It will keep well for 2 to 3 days.
For the Tahini sauce (optional)
To make the tahini sauce, place all the ingredients except for the water, together in a food processor or bowl and blend until well combined.
Slowly add the water to reach desired consistency.
For the Toum (optional)
Slice the garlic cloves and transfer to a food processor and add the salt. Process for a minute until the garlic becomes finely minced, scraping down the sides of the food processor.
Slowly pour oil into processor while its running, stopping to scrape down the bowl periodically. Keep processing until the garlic starts looking creamy.
Once the garlic looks emulsified by the few tablespoons of oil, increase the speed of pouring the oil and alternate with the ½ cup of lemon juice until all the oil and lemon juice is incorporated. This will take about 15 minutes to complete.
Transfer the sauce into a glass container and cover with a paper towel in the fridge overnight. Makes about 4 cups.