Greek style souvlaki with homemade tzatziki
Chicken or pork Souvlaki is quick and easy to prep, and so delicious! Marinated chicken breasts or pork tenderloin are threaded onto skewers and grilled until juicy and tender. Serve souvlaki over rice or wrap it in a pita (warm homemade pita is the best) with lettuce and tomatoes for a perfect meal or enjoy it over a bed of greens for an epic souvlaki salad.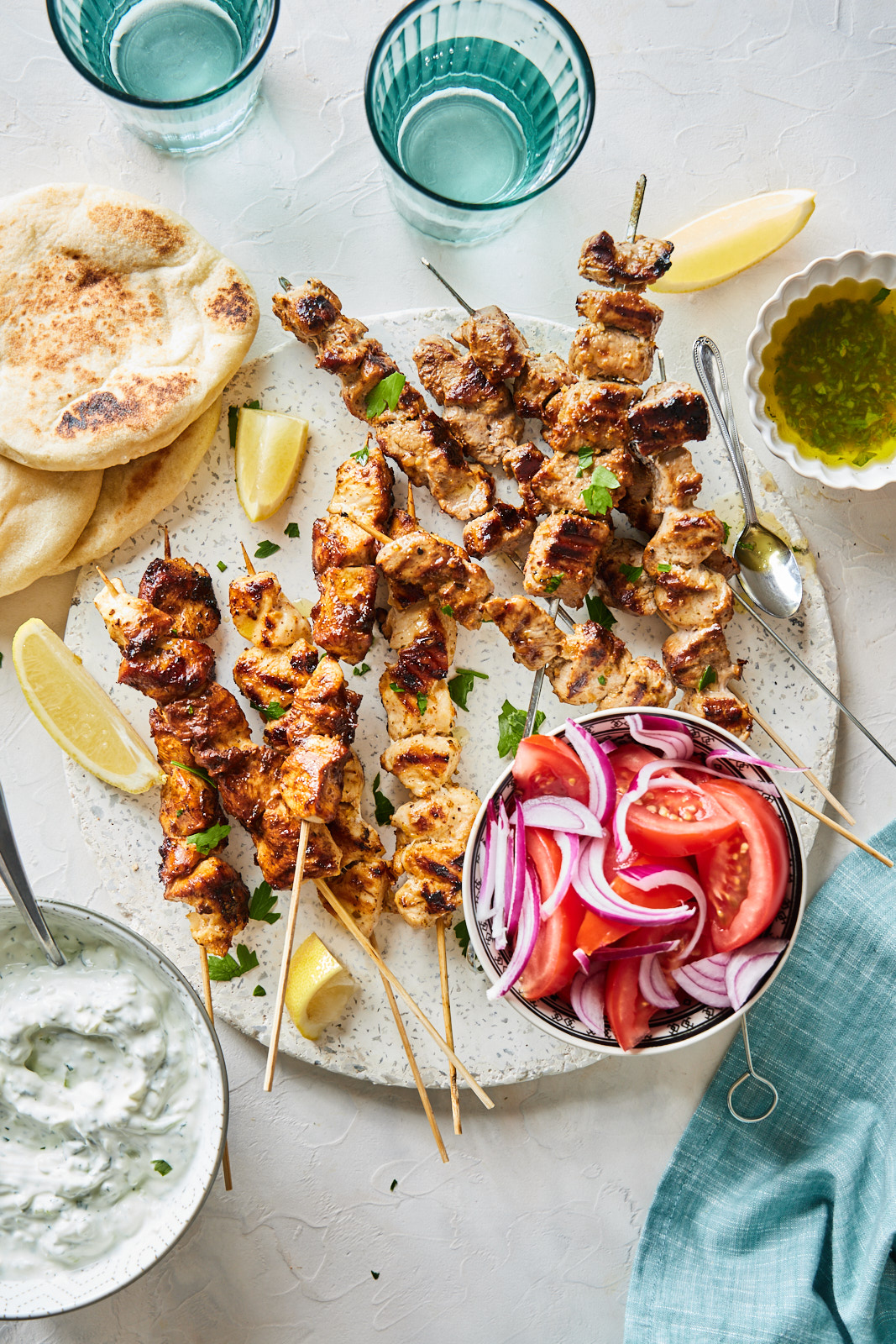 What is souvlaki?
In short Souvlaki, plural souvlakia, is a popular Greek fast food (street food) made of small pieces of meat and sometimes vegetables grilled on a skewer. It is usually eaten straight off the skewer while still hot. These Greekstyle kabobs are marinated in a herby marinade with oregano garlic, lemon, olive oil and seasonings. So simple, but amazingly flavorful. Nothing beats the smell of a hot grill going with either meat or veggies on it. You can smell it wafting in the air a mile away. Souvlaki comes from the word Souvla which means "spit" or "skewer" in Greek — the rod on which meat is roasted.). Appropriately since souvlaki or also commonly known as kalamaki, is meat or veggies grilled on skewers. The most common meat used in souvlakia or kalamakia is pork, but chicken, beef and lamb also make the cut. Regardless of the meat, although for souvlaki I'm totally partial to pork, it's the marinade that really makes these little guys irresistible! For the most flavourful souvlaki I like to marinade the meat overnight. It allows ample time for the meat to soak in all the flavour and when it comes to the pork it tenderises it a bit too. The lemon and vinegar almost act like a brining liquid which helps make the pork a little more tender and juicy. Of course you're not using even close to the amount of salt you would in a brining liquid but it still does the job.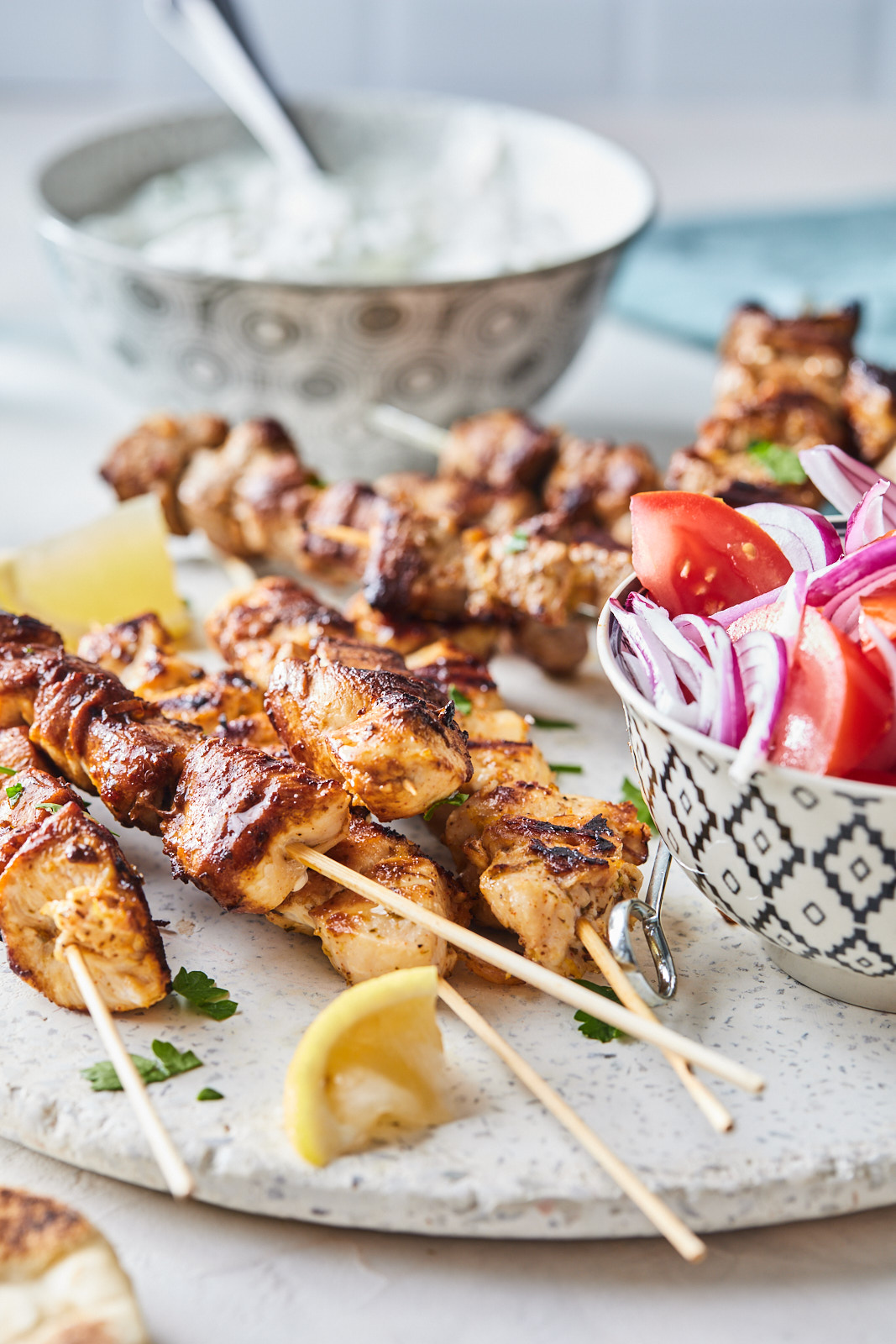 Once they are grilled to perfection you give them a good dowsing of lemon juice and a sprinkle of sea salt and they are ready to plate or put into pita/flat bread with the usual suspects — some chopped tomatoes, onions as pictured. Some other popular toppings included chopped lettuce, feta and french fries. I also love them loaded with some grilled red peppers or eggplant too! Yum! Of course you cannot have souvlaki with out tzatziki — basically what Greeks use to fend off close talkers. Hehe! Yes beware and be warned you will have some pretty pungent garlic breathe going on after eating even just a little bit of it. But so worth it! I'm so partial to it and also take it so for granted in a way!! It's a fabulous almost refreshing sauce which adds so much to grilled meats. I love it with Greek style rice too and just about anything really! It's the raita of the Greek world.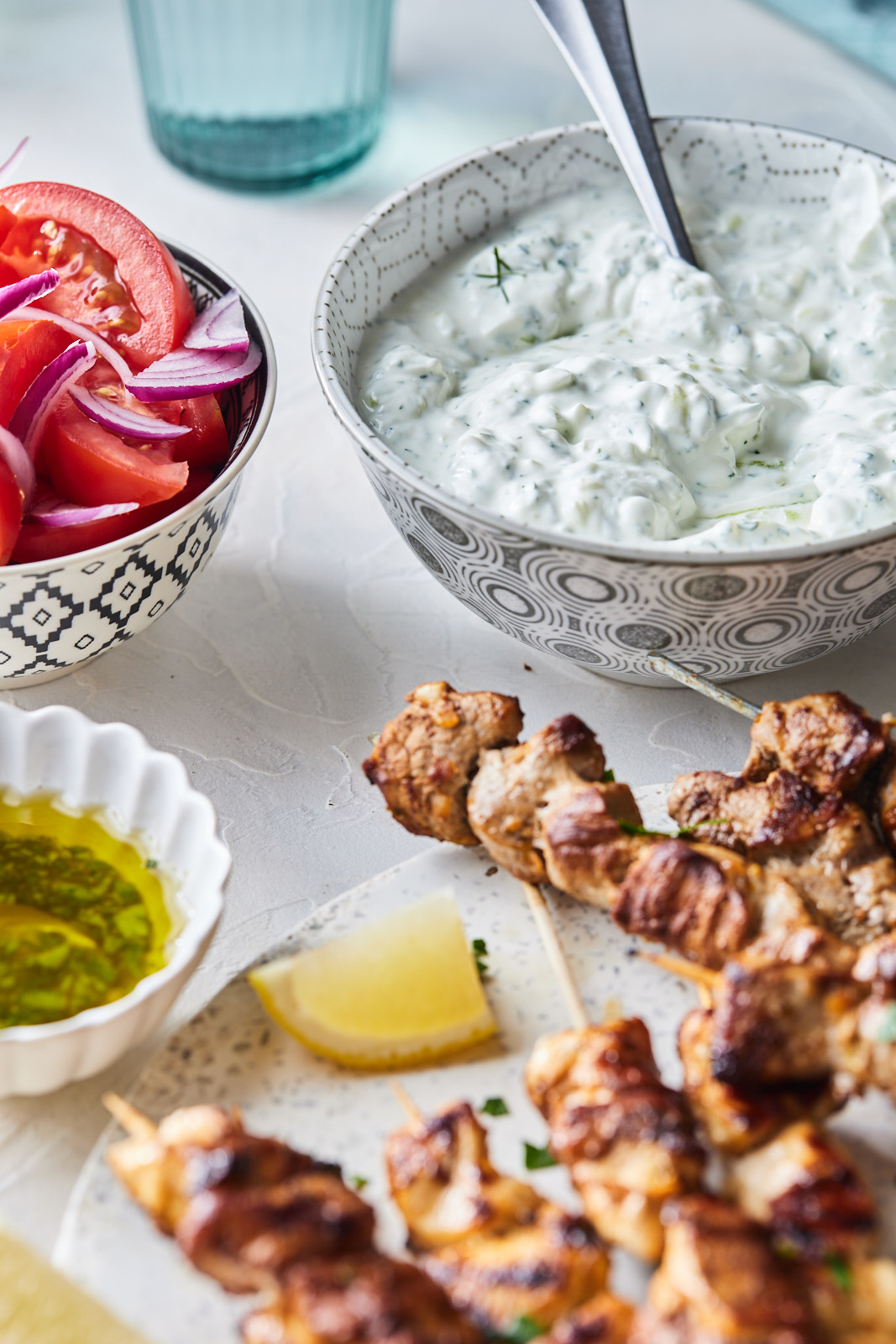 You guys just have to try this super basic and easy recipe. Do roast them in the oven if you don't have a grill and to get them a little charred just broil them on each side for a few minutes when they are just about cooked through. Or instead of threading the meat onto skewers, simply cook it in a grill pan until it's nicely charred. They will be equally delish! I love mine with my homemade pita bread that is so soft and chewy and delicious.  Like I said before souvlaki isn't souvlaki without a creamy tzatziki sauce.  I love to prep my easy and delicious tzatziki when I'm marinating the meat. I usually strain the yoghurt and marinate the meat overnight. Then they are both ready the next day to grill and to mix with the rest of the ingredients. Add a Greek Horiatiki salad and you are good to go! It's the perfect dish for outdoor grilling and entertaining and also great for meal prep! Enjoy!
If you liked this recipe you will love these:
Recipe
Prep Time: 10 mins
Cook Time: 8-10 mins
Ingredients
2 lbs of pork or chicken cleaned and cut up into ½-1 inch chunks

1 tbsp of oregano

1 tbsp of red wine vinegar

2 tbsp of olive oil

Juice of one lemon

Pinch of salt and pepper

1 tsp of paprika

3 cloves of garlic grated

1 small red shallot chopped finely

10 inch skewer sticks
Directions
In a large bowl toss the pork with all the ingredients (except the skewers of course- hehe) and cover and marinade overnight for best results.
½ hour to an hour before you are ready to grill soak your skewers in water to help them stand up to the heat of the grill
Place or thread meat on skewers removing any big chunks of onion or garlic and set aside while you heat the grill (I use larger skewers so you can let the unused part of the skewers hang outside the grill — makes for easy handling and turning and a less charred skewer)
Heat the grill to medium-high and grease it before putting on the skewers
Place the skewers on the grill and let them grill untouched for 5-7 minutes, flip them and let them grill for another 5-7 minutes or until fully cooked (cooking time may be a little longer with chicken and with larger chunks)
Remove from grill when they are done squeeze some lemon juice on them and sprinkle with a little extra salt and tent them with foil for a few minutes letting them rest
Serve them with warm pita or flat bread heated up in the oven or you can lightly oil a frying pan and fry them lightly on both sides as well as topped some chopped tomatoes, onions and definitely a good dollop of tzatziki and if you dare add some feta and French fries in there too.
Recipe Note
I often like to make a lemon parsley oil with 1 tbsp  olive oil, 1 tsp lemon juice, 1 tsp chopped fresh parsley to drizzle over the skewers right after they come off the grill and it's delicious- I especially love drizzling it on them if I'm serving them as appetizers. It's optional but delicious!