Blood Orange Vodka Sparkler
It's that time of year again. It's citrus season and it seems that blood oranges have taken front stage again. Blood oranges make a beautiful and refreshing cocktail. A little more sophisticated than its older brother/sister the 'screw driver' (orange and vodka cocktail). What makes it so? The addition of carbonated water gives it that refreshing fizzy taste. Using blood oranges makes it a lot more pleasing to the eyes and the rosemary simple syrup adds a wonderful warm and woodsy flavour to this and any cocktail.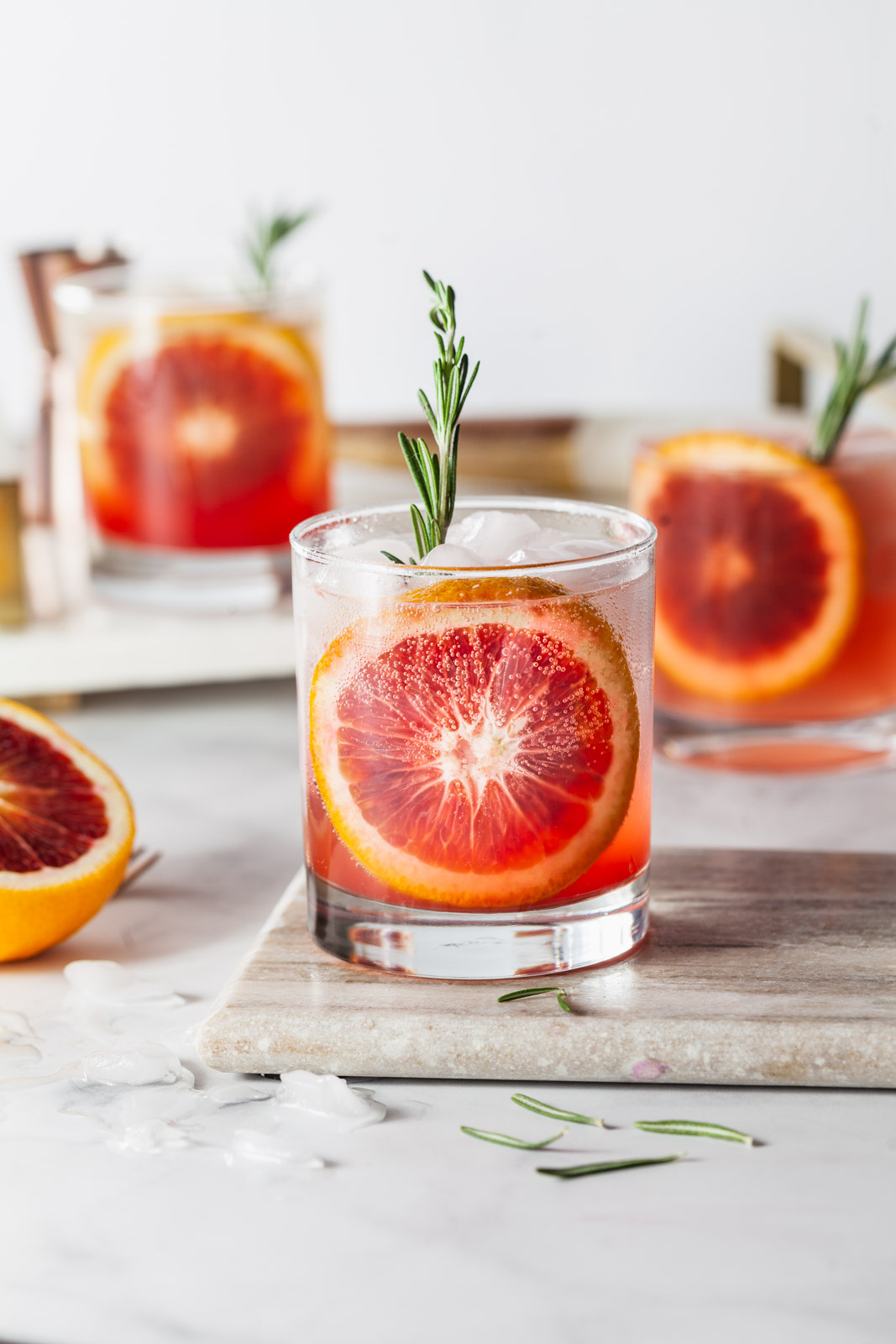 How to make a citrus based cocktail?
I find citrus based cocktails are some of the easiest to make as citrus fruits and flavours lend themselves well with many of the harder liquors that they are mixed with. The basic formula when you are building a citrus based cocktail is 1 part alcohol and 2 parts juice. You can play around with those measurements according to how strong you want your drink. Freshly squeezed orange juice is best for the freshest tasting although store-bought is fine. If you are using store-bought juice make sure you use 100 percent pure orange juice. Additives will change the flavour of the cocktail especially when it comes to sweetness. Just something to keep in mind. You can use any citrus you like and that's available to you. This cocktail is beautiful with the blood oranges but equally lovely with pink grapefruits as well, but not limited to pink citrus alone. You can use lemon juice, navel oranges and regular grapefruits as well.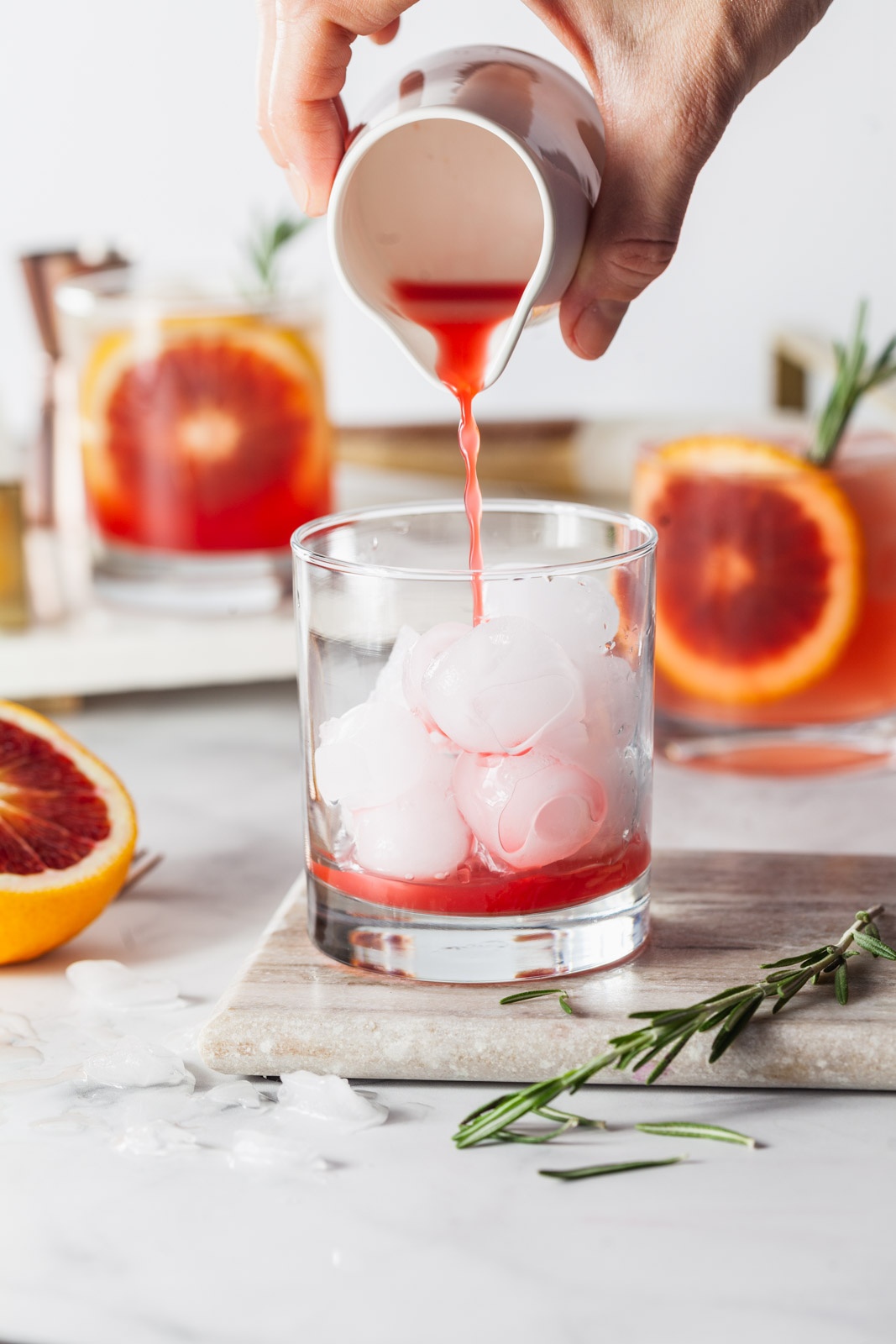 How to choose the alcohol to mix?
This really and truly is up to your taste and what you have available. Citrus goes well with rum, bourbon, vodka, tequila and gin as well. Those are pretty basic mixers but I have had citrus cocktails with tequila, aperol and even amaretto. You can also intensify or develop the citrus flavours even more by adding Triple Sec, Grand Mariner, Cointreau or using citrus infused vodka's or tequila's. The options are endless and really guided by your taste and what you have in your liquor cabinet. This is why I love citrus bases cocktails – you can get as fancy as you like or keep them as basic as you like. We are just building back our liquor supply after our move and basic is fine with me.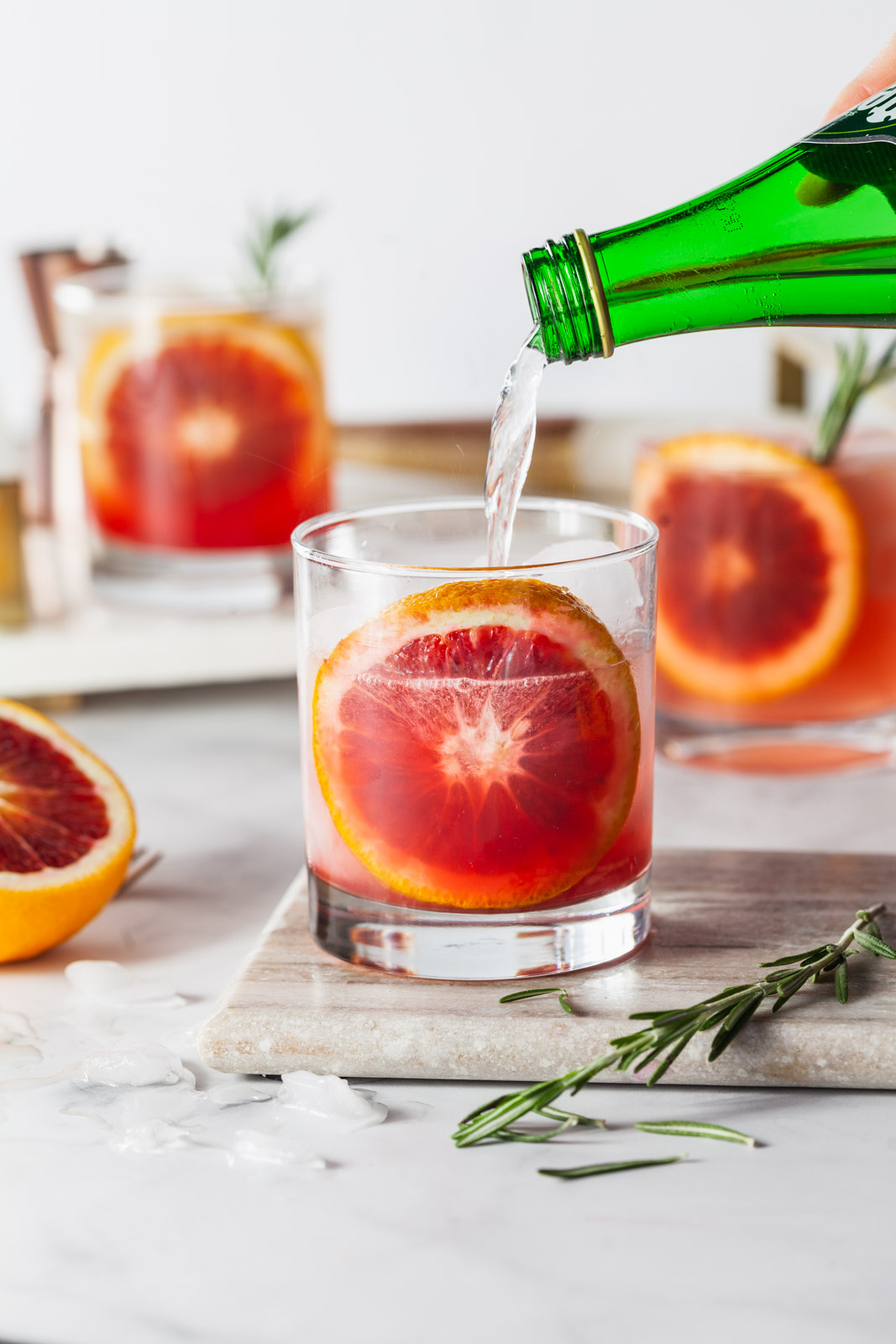 Why add bitters or simple syrups to cocktails?
Adding either of these is optional but a nice way to add flavour. Bitters are boozy flavoured extracts made by infusing barks, flowers, roots, berries, and various other bits and pieces of plants in alcohol. Just like baking extracts, they are added in dashes or drops and improve and align and accentuate flavors in cocktails. Simple syrups do the same except as the name implies, they are simple to make and infuse, and are simple enough to make at home infused with herbs and spices. They enhance and add subtle hints of spice to cocktails, cakes, and even hot beverages like coffee, tea and cocoa. You just need to infuse equal parts boiling water to sugar and then steep with the herbs and spices of choice, strain and store in a sealed container in the fridge from 2 weeks up to 6 months. A great way to elevate any cocktail and a fairly inexpensive way to do so.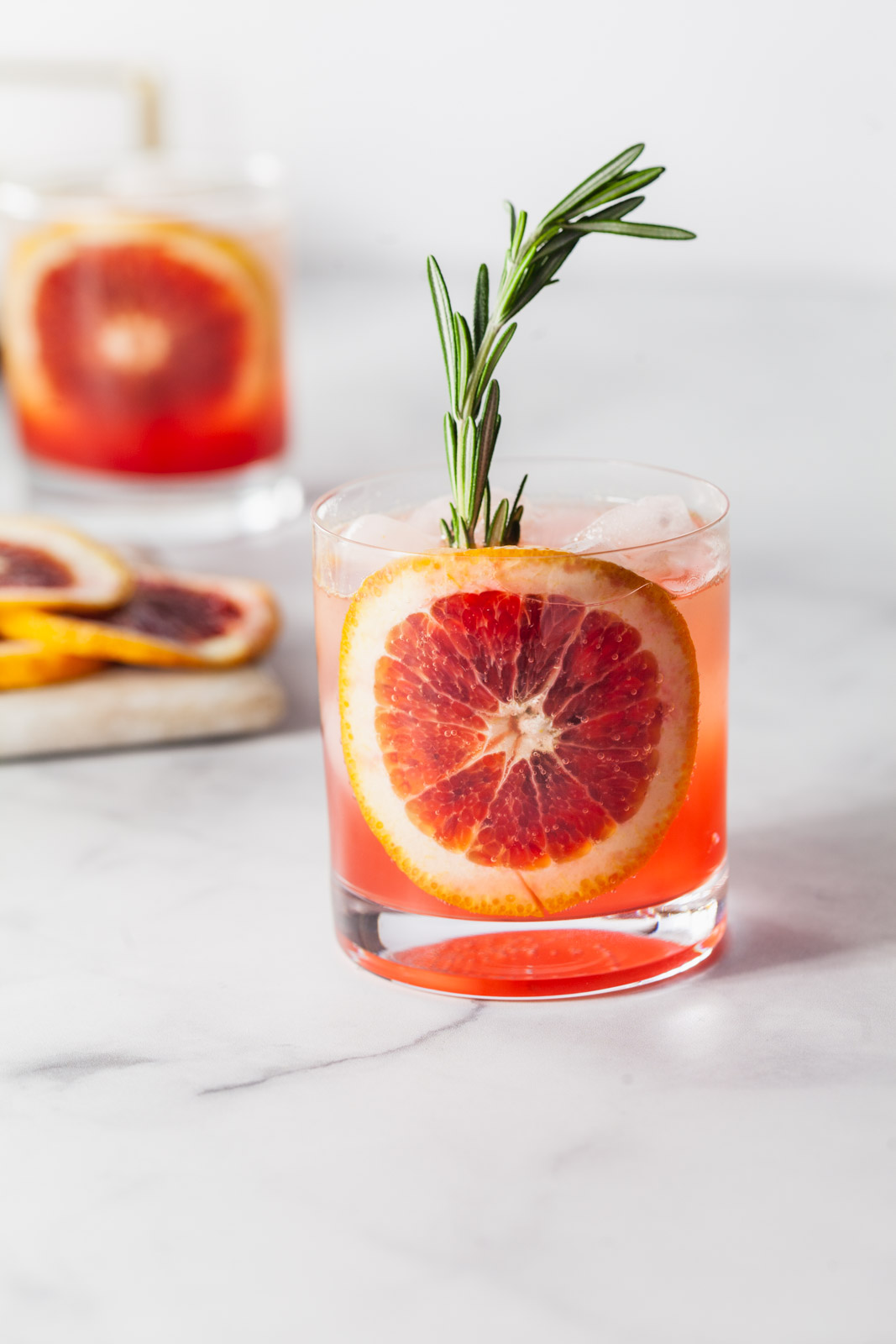 How to garnish your cocktail
The next step to an elevated cocktail is the garnish. The best way to garnish is using part of whatever is in the cocktail. So if you are doing a citrus cocktail - use sliced or wedges of the citrus or perhaps reserved citrus peel. If you are infusing the cocktail with thyme or citrus definitely add a sprig to the cocktail over or in for garnish. If you are muddling your drink with mint or basil - definitely garnish with fresh stalks of those also. Making a cocktail doesn't have to be complicated at all. I love keep things simple, not too sweet and refreshing. This blood orange vodka sparkler is exactly that and I know you will love it. Enjoy!
Recipe
Serves 1
Ingredients
1½ oz of vodka

3 oz freshly squeezed and strained blood orange juice

Dash of angostura orange bitters (or original) optional

1 tbsp of rosemary simple syrup (recipe below)

4 oz of carbonated water of choice (I used Perrier)

Sliced blood oranges and sprigs of rosemary to garnish

Ice cubes or crushed ice to serve
Directions
Fill a glass with ice.
Then add the vodka, blood orange juice, bitters and the rosemary simple syrup.
Top up with the carbonated water and stir gently.
Garnish with orange slices and fresh springs of rosemary
Rosemary simple syrup
Ingredients
½ cup water
½ cup sugar
2 sprigs of Rosemary
1 bay leaf (optional)
Directions
In a small sauce pan over medium heat, bring the sugar and water to a low boil.
Remove from heat and add the rosemary sprigs along with the bay leaf if using and allow to steep and cool to room temperature.
Discard the rosemary and bay leaf and store the simple syrup in a sealed container in the fridge until ready to use. Can be stored for at least two weeks and up to 6 months.